The question should not be if you go to Hawai'i, but rather when. With vast biodiversity, rich cultural heritage, magnificent natural features, and consistent temperatures, Hawai'i offers something for all visitors at any time of year. Hawaii vacations may be the stuff of dreams, but there's every reason to turn that dream into a reality. Deciding on where to go will help the rest of the trip fall into place. Here's what you need to know to choose the best Hawaiian island for your trip.
Choosing the Best Hawaiian Island to Visit for You
Whether you go to learn about the history of Native Hawaiians in places like the Bishop Museum (O'ahu) or the City of Refuge (Hawai'i), to play on magnificent beaches like Big Beach (Mau'i) or Hanalei (Kauai), or to hike awe-inspiring trails like the one to Hanakapi'ai Falls (Kauai) or across Kilauea Iki Crater (Hawai'i'), the Hawaiian Islands will not disappoint.
But with so much to do and see, it can be tricky figuring out how to plan a Hawaii vacation. Here's everything you need to know about how to choose a Hawaiian island and plan your Hawai'i family vacation.
Jump to:
Know Before You Go
Time Zone
Hawai'i does not abide by Daylight Savings, so the time will be either two or three hours behind Pacific Time, depending on the time of year. 
Getting There
The Hawaiian Islands are the most isolated land mass in the world, so getting there will take you a hot minute. But, with direct flights from the West Coast (about five hours) and even from cities such as Boston, New York, Charlotte, Atlanta, and Austin, flying to Hawai'i is relatively straightforward. You'll find the most flights to Honolulu (O'ahu), Kahului (Maui), and Kona (Hawai'i'/The Big Island). Airlines that fly to Hawaii from the U.S. mainland include:
FARE FLIGHTS: 16 Great Sites for Booking Cheap Airfare
How to Be a Good Tourist in Hawai'i
Even before the pandemic, Hawai'i's identity as idyllic tourist spot was a tricky one for locals; yes, tourism means jobs, cash flow, and business opportunities for local entrepreneurs, but it also means congestion, higher prices, and most importantly, a seeming sense of disregard for the the a'ina (land) and Hawaiian tradition and culture. Covid led to a significant increase in mainland transplants from the continental United States, and with it came a more deep disconnect between mainlanders and locals.
CONNECT DEEPER: Hawaii Invites Visitors to Volunteer on Vacation
That said, as a tourist to any island in Hawai'i, you can demonstrate your humanity (and common sense) by showing respect and deference to local ways. Be sure to treat the land as if it is one giant national park, abiding by the principle of LNT (leave no trace = anything you bring in should end up in its proper receptacle) and local guidelines; this means giving marine life wide berth (minimum six feet with turtles), applying reef safe sunscreen (it's the law) long before you go in the water, and appreciating lava rock and plant life but leaving them in their place.
Also, ask questions about local practices, read about local activism, visit historic sites and museums, and even seek out service opportunities. Imagine Hawai'i as another country—the cultural norms, language, arts, and landscape are unique to this rich and beautiful land and people.
Hawaiian Islands Overview
There are six Hawaiian Islands open to visitors: Kaua'i, O'ahu, Maui, Moloka'i, Lana'i, Hawai'i (also known as The Big Island). There's plenty to do on each of the islands. They are quite different, one from the next, but travelers generally do best limiting a first visit to one or two islands.
Interisland travel is easy, but like any air travel, cost fluctuates from reasonable to exorbitant depending on the time of year. Flights between islands should be planned and booked ahead of time as last-minute flights can be prohibitively expensive.
KICK BACK: 4 Best Hawai'i All-Inclusive Resorts
Each Hawaiian Island has its own unique charm and attractions and of course, all are worth visiting. So, how do you decide? Here's a rundown on the appeal and character of each Hawaiian island.
Kaua'i is known as the Garden Island and visitors will find plenty of experiences and adventures in nature here—think hiking, boating, and beach-ing. Lush greenery meets the beach in many spots, and visitors can find challenging hikes or simply drive to sweeping vistas.
O'ahu, the "Heart of Hawai'i" and what visitors sometimes refer to as the "main" island, is home to Honolulu and the famous North Shore surf spots. With multiple historic and cultural sights including The Bishop Museum, Punchbowl Cemetery, Pearl Harbor and the Polynesian Cultural Center, those who don't want to do the beach-all-day thing will have more than enough experiences to choose from (though of course, beautiful beaches circle the island).
Mau'i's reputation for beauty and activities is well-earned. From the other-worldly landscape of Haleakala to the winding Road to Hana, natural wonder abounds on Mau'i. Other popular attractions include the Maui Ocean Center aquarium and Maui Arts and Cultural Center.
Moloka'i feels most like what people think of as "Old Hawai'i". Only 38 miles long and 10 miles wide, sea cliffs, coral reefs, and Papohaku Beach, one of Hawai'i's largest white-sand beaches, make for the perfect outdoor adventure setting for visitors year round.
Lana'i offers both luxurious resort accommodations and rugged terrain. With only a few lodging options, Lana'i both welcomes visitors and challenges them to take on the adventure of its mountainous back roads.
Hawai'i, also known as The Big Island, offers vast diversity of experiences, from black sand beaches and white sand beaches to exceptional snorkeling. You'll also find the otherworldly landscapes of Volcanoes National Park, stargazing opportunities at 9,000 feet, and bustling farmers' markets with a seemingly infinite supply of tropical fruits. Made up of five distinct volcanoes, Hawai'i is one of the most ecologically diverse places on Earth. Note that the west side (Kona and north) of the island tends to be dryer than the rainier east (Hilo) side.
Getting Around on the Islands
No island has significant public transportation (though O'ahu's system is the most elaborate, and around Honolulu, buses are readily available), so no matter where you're headed for your Hawaii vacation, you will either need to rent a car or hire out taxis, tours, and/or shuttles.
Most tour companies will do pick-ups at larger hotels and resorts, and there are both independent and hotel-run airport shuttles in some locations. Uber/Lyft operate on Kaua'i, O'ahu, Maui and The Big Island, but be aware that they are readily available only in places that are densely populated/touristed. In recent years, rentals cars have sometimes been in short supply so if you're thinking about renting a car in Hawaii, this is one of those times you'll want to book well in advance.
WHEELS FOR MILES: 10 Best Car Rental Booking Sites
Popular Destinations in Hawai'i
On Kaua'i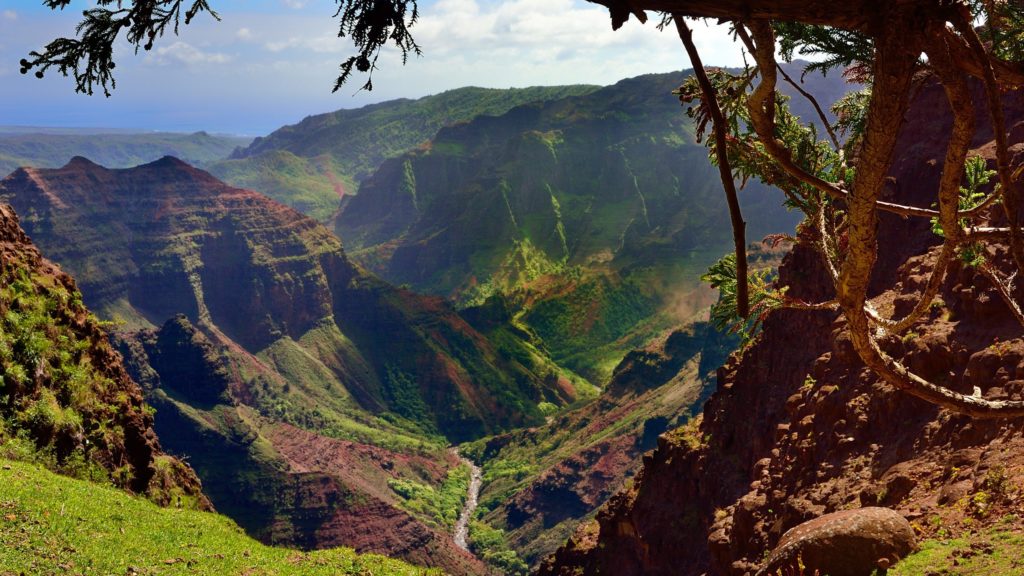 Hanakapi'ai Falls: The Kalalau Trail is the only one visitors can use along the Na Pali coast of Kaua'i. Though you don't need a permit to undertake this challenging—but amazing—trip, you do need a reservation. Parking is limited, and you will be grateful that the trail isn't full of throngs of people.
Prepare for an intense hike; even the "easy" four-mile round trip will take you up to two hours. The eight-mile round-trip hike is an all-day experience. Come prepared with the right shoes and plenty of water and be ready to turn back if the water crossings seem too intense along the way. You will be rewarded with magnificent views and lush forest on this hike, but just know that it isn't a stroll.
KEEP IT LOCAL: How to Travel Sustainably on Kauai
Waimea Canyon: Though dramatic in its landscape, Waimea Canyon is actually accessible in a variety of ways. Four drive-up lookouts pepper the road at mile markers 10, 13.5, 18 and 19.
Visitors can also hike in from a variety of trails in Koke'e and Waimea Canyon State Park. Cliff Canyon and Black Pipe Trail works well for families because of its relative ease, great views, and culminating swim near Waipo'o Falls. Visitors can also experience the Canyon via bike tour; it's best to do this through an outfitter. Lastly, the most impressive views of Waimea Canyon are via helicopter tour. Both breathtaking and expensive, it's up to you if this is the best option for your Hawaii family vacation.
O'ahu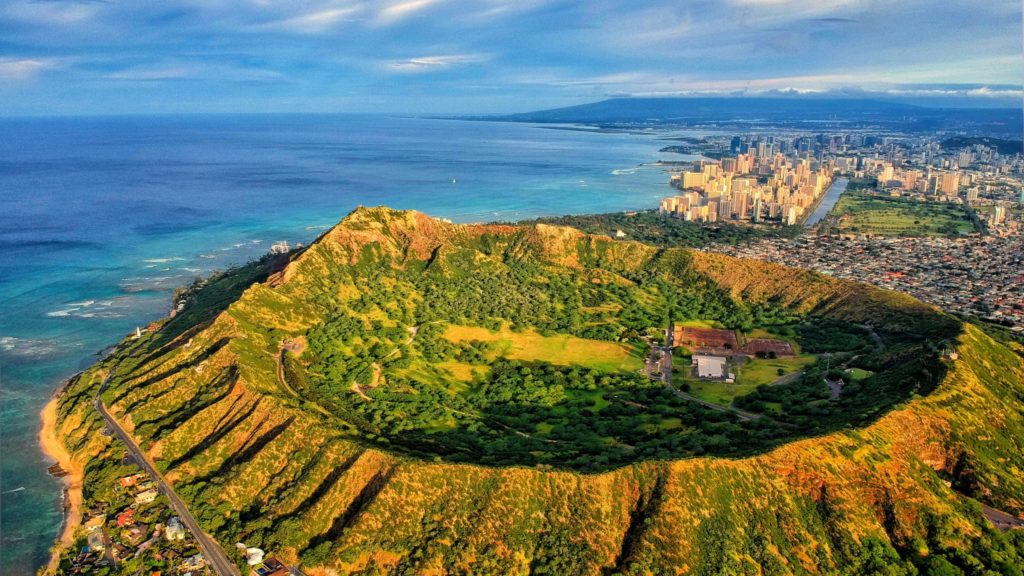 Diamond Head Crater: This iconic feature of O'ahu can't be missed from any Waikiki vantage point. Hiking Diamond Head is an awesome experience. Perched high above and slightly beyond Honolulu, the perspective from the top, after a dramatic staircase climb, is unforgettable. You'll get a windswept selfie and a memory that you won't forget. Despite the dramatic vista, this is actually only a 1.6 mile round-trip hike and is considered moderate; that said, the terrain is dark gravel and dry, so come prepared with sunscreen and plenty of water.
ALL THE WOWS: 7 Iconic U.S. Attractions Kids Should See Before They Grow Up
Polynesian Cultural Center: Identified as a TripAdvisor Top 10 US Experiences attraction, the Polynesian Cultural Center combines the history, culture, food, arts, and music of island influences in one place.
Though at first glance, it may seem a bit too touristy and like Hawai'i-as-Disney, but the Polynesian Cultural Center is the real deal. Through hands-on activities, food, and entertainment, visitors learn about the origins of the people who came to make up the Hawai'ian Islands. Different packages give visitors a variety of access options, but young and old alike will be captivated by the learning and beauty at this awesome spot.
Maui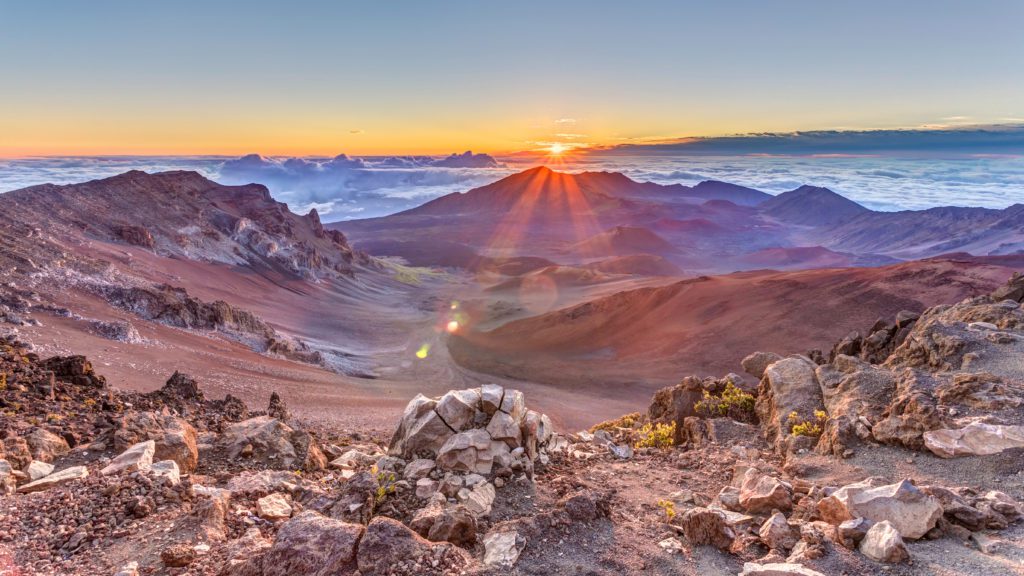 Haleakala: Haleakala National Park includes the southern flank of the dormant volcano and extends to its 10,000+ foot summit. Known for its other-worldly terrain, particularly at the summit, Haleakala is worth the visit, especially if you plan ahead. Many are drawn to the incredible sunrise views, and while it is extraordinary and a rare lifetime experience, it is also crowded and now requires reservations if you're arriving between 3 a.m. and 7 a.m.
Equally awesome is a sunset visit, and while reservations are not needed, parking areas close once they are full. A bonus to a sunset visit is the amazing stargazing opportunity that this isolated, high elevation setting provides.
Permits are required for overnight camping, but day hikers certainly can get a great experience on any number of the 30 miles of summit trails. Any visitor to Haleakala at any time of day should come prepared—it's quite hot by midday and quite chilly before and after sunrise, and always high altitude, so pack layers and lots of water. 
Makena Beach State Park: Comprised of two beaches—Big Beach and Little Beach—Makena State Park reflects the idyllic setting Hawai'i is known for. With white sand and a beautiful shore break, visitors to Maui shouldn't miss Makena Beach State Park. Note that it's best to swim only at lifeguard-stationed beaches, so while a stroll or a sit down at Little Beach is encouraged, swim only at Big Beach when lifeguards are present and say it's safe to do so.
Moloka'i
Kalaupapa: This low-lying peninsula was once a quarantine site for those suffering from Hansen's disease (leprosy), but today, the historical park is designed as a meeting place for those impacted by the disease and the visitors (ages 18+) who want to learn about them. Kalaupapa is both a historical landmark and a refuge for those who are now cured of the disease but were once isolated to this spot.
Temporarily closed (as of Summer '22) to visitors due to Covid-19, once open again, this National Park will have restrictions for visitors including number per day, access method, and age. Though certainly worth the trip, it's essential to research and plan ahead prior to visiting Kalaupapa.
Popahaku Beach and Maunaloa Town: One of Hawai'i's longest beaches, Popahaku Beach is three miles long and over 100 yards wide and is very lightly trafficked year-round. With views of O'ahu, one can sit for hours at this magnificent beach; that said, from October to May, visitors should be mindful of dangerous conditions and should heed all signs.
During calmer surf months, there are still no lifeguards and visitors swim at their own risk. Up the hill from Popahaku is Maunaloa, the former pineapple plantation community. A stroll through the quiet and beautiful neighborhood necessitates a stop at the Big Wind Kite Factory; large open swaths of grass and the expansive beach at Popahaku will give your family ample opportunity to test out Big Wind's awesome designs.
Lana'i
Hulopoe Beach: Enjoy a white sand beach, a great snorkeling opportunity, and hiking access at this Lana'i beach. Once you've had your fill of relaxing, swimming, and experiencing the abundance of the reef thanks to the Manele-Hulopoe Marine Conservation District, you can, from here (shoes on), stroll to Puu Pehe and experience the tide pooling at the end of the trail while catching a glimpse of Cathedral Rock and Shark's Bay. From the other end of Hulopoe Beach lies Fisherman's Trail, a hike dotted with signage that teaches you about local history and culture.
Hawai'i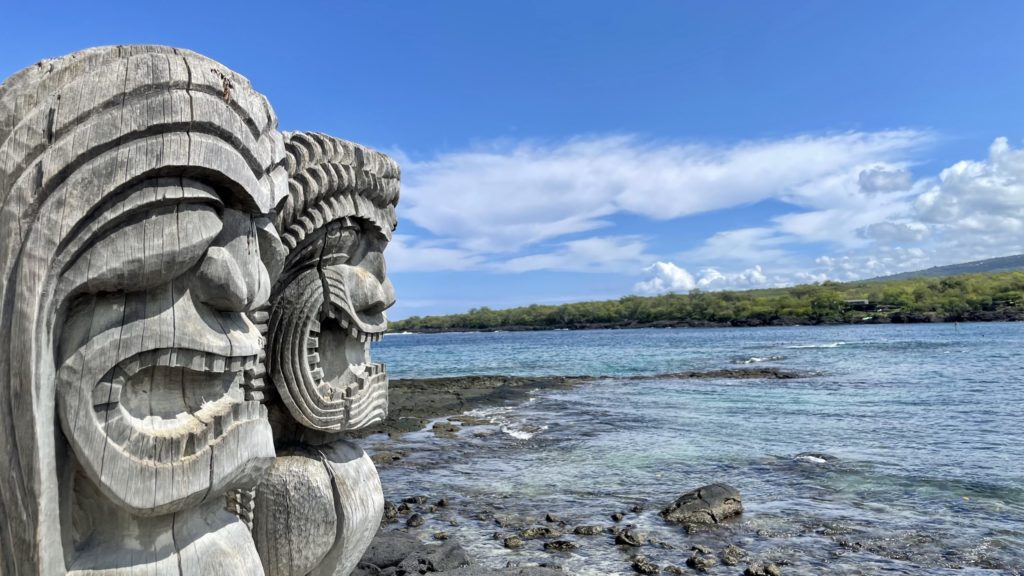 City of Refuge: Pu'uhonua O Honaunau National Historical Park, also known as the City of Refuge, should not be missed. With both NPS App-guided tours and on-site talks, Honaunau is one of the best places to learn about and see Hawai'ian history.
A self-guided tour along the half-mile trail will take you back in time and teach you about the kapu laws that led ancient Hawai'ians to this safe haven. Divided into Royal Grounds, Place of Refuge and Village, visitors learn about the lifestyles of both the people of Hawai'i and the royalty and its corresponding intrigue. In addition to being a treasured historic site, this beautiful spit of land gives visitors a unique perspective on the bay it faces (where there is outstanding snorkeling) and the lush hillside that abuts it.
Volcanoes National Park: Arguably one of the most impressive national parks in the country, Hawai'i Volcanoes National Park offers visitors unparalleled access to earth formation in progress. While it may or may not have active lava flowing or bubbling at the time of your visit, this national park should not be missed.
Those looking to get a bird's eye view, can experience the park by and large from a guided drive with an NPS audio tour or a much beloved "Shaka Guide" audio tour. Visitors willing to stroll a bit will enjoy the the dimly lit Nahuku (formerly Thurston) Lava Tube and the flat, paved, yet impressive Devastation Trail. More adventurous walkers will love the Kilauea Iki trail—an unparalleled opportunity to hike alongside then across a lava lake surrounded by native forest.
LAVA-TASTIC: Tips for the Best Trip to Hawaii Volcanoes National Park
Depending on eruption status (check with the national park before you go), visitors might be treated to a view of Halema'uma'u bubbling (as of Summer '22, this is about a one-mile walk from a parking area to the viewing area) or even lava flows downslope. In addition to checking on eruptions, anyone looking to go to Volcanoes should also check the weather (oftentimes socked in with clouds or rain) and bring plenty of water, very sturdy shoes (no flip flops/slippahs), and a strong flashlight for night viewing. Though it takes some preparation and forethought to make this visit, you will not be disappointed.
More from FamilyVacationist: