When the Midwest is ablaze in amber, auburn and crimson, it's time to pack up your family for a leaf peeping adventure. Whether you want to stick closer to home or travel further afield with a Midwest road trip, these Midwest fall getaways deliver gorgeous turning leaves, relaxing outdoor pursuits, and family vacation ideas that are fun for both kids and adults.
FAMILY TRIPS: 12 Midwest Vacations That Are Packed with Fun
1. Door County, Wisconsin
In northeast Wisconsin, Door County has been called the "Cape Cod of the Midwest." With more than 300 miles of rugged shoreline, the long, tall peninsula features some of the best fall foliage in the region, and makes for a perfect Midwest fall getaway.
"The tapestry of colors is like therapy," says John Berns, a friendly driver for Door County Trolley, whose favorite fall spot is Nicolet Bay Overlook. Sit back and enjoy the coastal scenery and charming villages on a Family Tour, Ghost Tour or even Wine and Spirits Tour.
ALL ABOARD: 12 Best Amtrak Vacations and Scenic Train Rides in North America
Take a ferry to Washington Island for captivating views of the changing colors. Build a cairn or skip stones over the clear, calm water at Schoolhouse Beach, one of the few beaches in the world with smooth, limestone rocks. Cave Point County Park is serene to paddle with Peninsula Kayak Company. Hug Lake Michigan's sparkling shoreline and duck into a limestone sea cave.
Peninsula State Park, with the new, accessible Eagle Terrace, provides a lookout across Green Bay. More views come courtesy of Door County's 11 picturesque lighthouses. Visit Cana Island Lighthouse via bumpy wagon ride or walk through the shallow water for a dose of maritime history and pristine views.
Whitefish is the dish du jour in Door County.  Try it smoked at Charlie's Smokehouse or savor a fish boil, an authentic Door County epicurean experience, at White Gull Inn. Local whitefish is boiled in a large pot with potatoes over an open flame. Served up with coleslaw and tart cherry pie, it's a tradition you won't want to miss.
FALL FUN: 13 Best National Parks for Families to Visit in the Fall
With autumn in the air, you'll want to pick apples and sip hard cider at Lautenbach Orchard. Kids will get a kick out of the goats grazing on the roof of Al Johnson's Swedish Restaurant & Butik and bottle feeding baby goats at The Farm. Be sure to check out Egg Harbor's pumpkin patch or Jack-o-lantern Days in Fish Creek.
Where to Stay in Door County
B&Bs, cottages and condos freckle Door County. Bailey's Harbor Yacht Club Resort is a great choice for families looking to be relatively close to restaurants but tucked away in a quiet enclave close to the water.
2. Marquette County, Michigan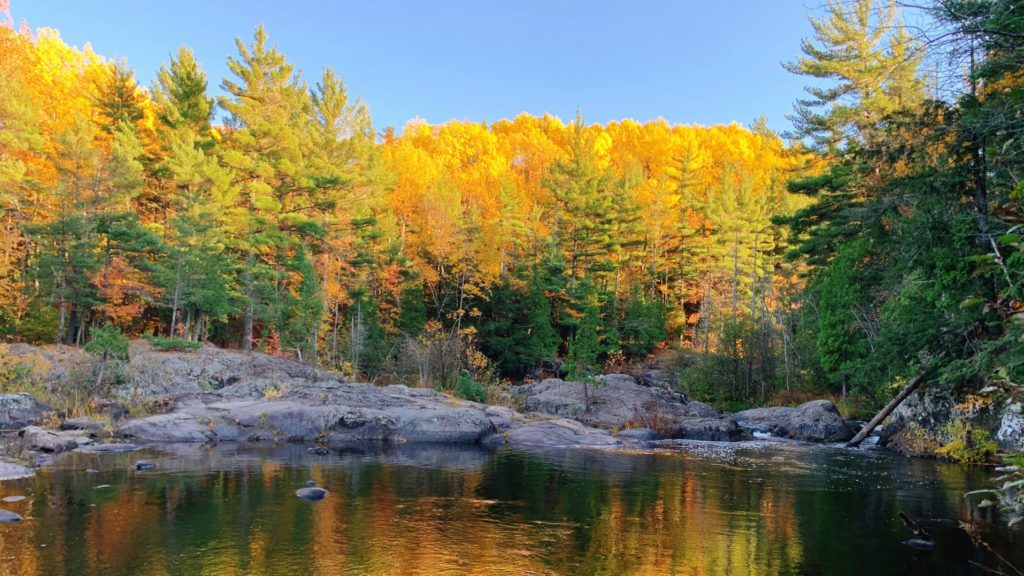 In the Upper Peninsula of Michigan, the deep blue waters of Lake Superior make a stunning contrast to the brilliant fall foliage blanketing the terrain. Marquette County stands out with 77 waterfalls, hiking and biking trails, mountains, and breweries, all key elements of a Midwest fall getaway.
COZY UP: 10 Best Fire Pits for Staycations (Plus Portable Options)
A short trek up Sugarloaf Mountain rewards you with 360-degree views of the surrounding forest, lake, parks, and nearby Hogsback Mountain. Take it all in on three observation decks that sit about 1,000-feet above sea level. Kayak Escanaba River Basin for its wild, peaceful beauty. Seek out Morgan Falls, a fan-favorite, and don't forget to bring your mountain bike—the dirt bike trail by Morgan Falls is exciting and challenging.  For guided explorations, Marquette Recreational Tours is fantastically knowledgeable and can plan out the ideal itinerary for your group.
Presque Isle Park offers scenic splendor, especially at sunset. Check out Marquette's famous Blackrocks, ancient rock formations that daredevils jump from into cold, clear Lake Superior below. The Iron Ore Heritage Trail is a 47-mile waterfront trail that's fun to ride, especially if you rent an ebike from West End Ski & Trail. Stop by Lakenenland Sculpture Park, a free junkyard art exhibit you can drive or walk any time of day. Over 100 quirky creations line the winding, wooded road. 
SEASONAL ESCAPES: This Year's Best Fall Vacations in the U.S. for Families
Donckers is a family-owned chocolate shop that's been open for 125 years. The kids will love the Michigan mitten-shaped chocolates and chocolate rocks. Head upstairs for a soda fountain, from-scratch breakfasts and lunch at the restaurant. If you're in the mood for steak, Elizabeth Chop House receives accolades for serving the best in the area. Visit historic Vierling Restaurant for a tasty meal and a beer. Other notable breweries include Ore Dock Company—try a flight with hard seltzer (or root beer)—and Blackrocks, which features live music and plenty of outdoor seating. Pick up pasties at Lawry's or Jean Kay's and see why locals love these pastries stuffed with meat and potatoes or veggies.
Where to Stay in Marquette County
Cozy up around a campfire and sleep in a tent or log cabin at Rippling River Resort. Next to the Carp River and close to hiking and mountain biking trails, this resort and campground also features a bubbling outdoor hot tub, playground, and general store. It's at the base of Marquette Mountain for winter skiing.
3. Starved Rock State Park, Illinois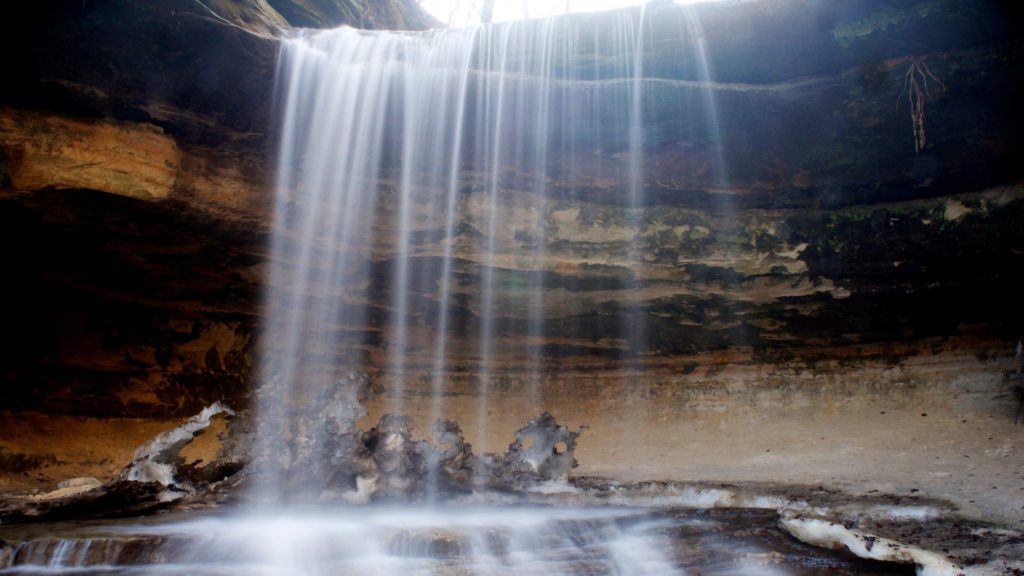 In fall, Illinois's most popular state park, Starved Rock, is spectacularly aglow in fiery fall colors. Located less than a 100 miles southwest of Chicago, this wild stretch along the Illinois River is known for its 18 sandstone canyons, scenic bluffs, and seasonal waterfalls. Your best bet at seeing a waterfall in fall is after a heavy rain. Wander the 13 miles of hiking trails and reward yourself with views of the Starved Rock Dam. Free guided hikes are offered through November.
PLAN YOUR NEXT BIG TRIP: 20 Best Family Vacation Spots in the U.S.
Then explore nearby Utica. The whole family will enjoy Bruce & Ollie's, which serves ice cream, coffee, craft beers and sodas, sandwiches and salads, and even scratch-made dog treats. You'll also find plenty of outdoor dining and farmers markets in Utica.
Where to Stay Near Starved Rock
If you appreciate nature but aren't fond of roughing it, the new Camp Aramoni luxury campground might be just the treat for you. Eleven safari tents with full bathrooms, heating/air conditioning and plush linens line the 96-acre property. Not only do you enjoy all the comforts of a hotel room, but your stay includes chef-created, seasonal meals. You can even request extras, like a champagne picnic by the creek, or help from the 24-hour concierge.
4. Parke County, Indiana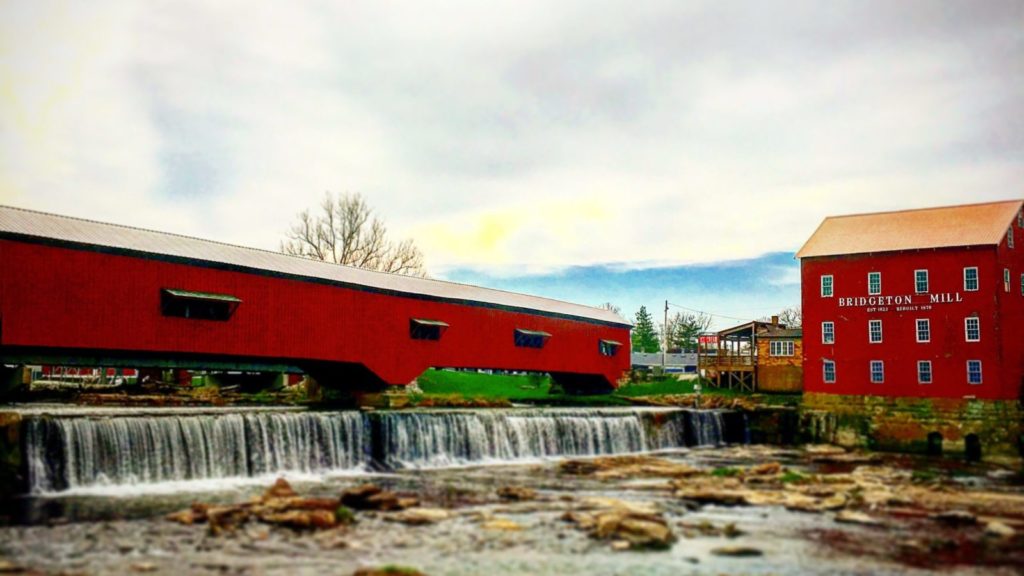 Indiana's Parke County is known as the Covered Bridge Capital of the World. With 31 covered bridges scattered throughout the county, there are plenty of fall photo opportunities. And for 10 days in October, the Parke County Covered Bridge Festival serves up fall favorites like apple butter, arts and crafts, wagon rides, and buried beef, a culinary tradition involving meat cooked underground in the town of Tangier. Grab your pumpkins, select some gourds and devour some persimmon pie, an Indiana favorite.
BRING THE KIDS: 5 Best Mid-Atlantic Fall Getaway Spots for the Whole Family
Get your hike on at Turkey Run State Park, a perennial Indiana park favorite. Cross the giant, swinging suspension bridge to discover miles of rugged trails. Scramble up wooden ladders in deep sandstone ravines, admire Mother Nature in the quiet hemlock groves, and allow the autumn breeze to soothe your worries away.
Kayak or canoe down Sugar Creek. Hear the clip-clop of horse hooves on a pony ride or guided horseback excursion with Turkey Run Saddle Barn. Pick a peck of apples at Ditzler Orchard. Pack a picnic for Raccoon Lake and savor an afternoon of fishing and playing horseshoes or basketball.
Where to Stay in Parke County
Rooms at the Turkey Run Inn and Cabins book up fast. If you can't snag a room, remember that fall is the perfect time to snuggle up in a tent at the campground. Stargaze at the Turkey Run Nature Center Planetarium and point out constellations to the kids. October offers trick or treating and a campsite decorating contest.
5. Cuyahoga Valley National Park and Cleveland, Ohio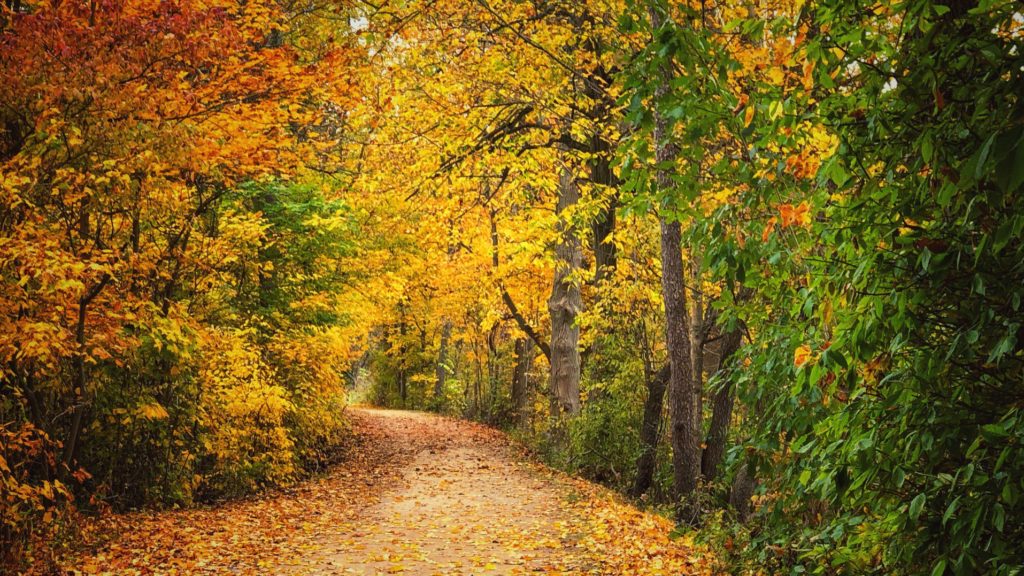 A national park close to two cities (Cleveland and Akron), Cuyahoga Valley National Park brings nature close. Start your explorations early, trekking to 65-foot high waterfall Brandywine Falls. Stand on The Ledges for fall foliage views for miles. Visit via Cuyahoga Valley Scenic Railroad or take a hike through the forest, rolling hills, and farmland. Bonus: At the park, kids can earn Junior Ranger badges through fun nature activities.
AMERICA'S BEST IDEA: 12 Most Iconic National Park Lodges in the U.S.
Through September, kayak the Cuyahoga River (voted the best urban place to paddle in North America by USA Today 10Best readers) with Great Lakes Water Sports. Branch out on the Murch Canopy Walk at the Holden Arboretum. Walk 65 feet above the forest floor among the trees and see autumn leaves from a new perspective. Catch a Cleveland Indians baseball game through early October or Cleveland Browns football throughout the fall.
Kids who appreciate music history will enjoy the Rock & Roll Hall of Fame. A tandem zip line experience recently opened at the Cleveland MetroParks Zoo. And the Greater Cleveland Aquarium helps families explore near and far, with galleries focusing on both Ohio lakes and rivers and destinations like Asia and Indonesia.
Paint pumpkins and make corn husk dolls at Lake Metroparks Farmpark Corn & Pumpkin Weekends. For a dash of witchcraft and magic, visit the Buckland Museum with older kids. Owner Steven tells tales with such a sense of mystery and intrigue that his tours could spook tweens all the way to Halloween. Get in the holiday spirit touring A Christmas Story House, where the classic holiday movie was filmed. Your social media will light up with pictures of the famous leg lamp.
COOL KICKS: 10 Comfortable Travel Shoes That Can Handle a Whole Day of Walking
Cleveland provides plenty of places to satisfy your sweet tooth. Mason's Creamery serves delicious homemade ice creams in inventive flavors like sweet potato pie as well as the classics. My son loved their color-changing spoons. Mason's egg waffle is like wrapping your ice cream in a warm, breakfast waffle. Pretty much every candy available can be found at b.a. Sweetie Candy Company, the largest candy store in North America. You can also visit its soda fountain and play a round of mini golf there. And Mitchell's Homemade Ice Cream offers autumn flavors like Caramel Apple and Pumpkin Spice.
Where to Stay in Cleveland
Stay at Drury Plaza Hotel Cleveland Downtown, an upscale urban hotel in a renovated historic building.
6. Otter Tail County, Minnesota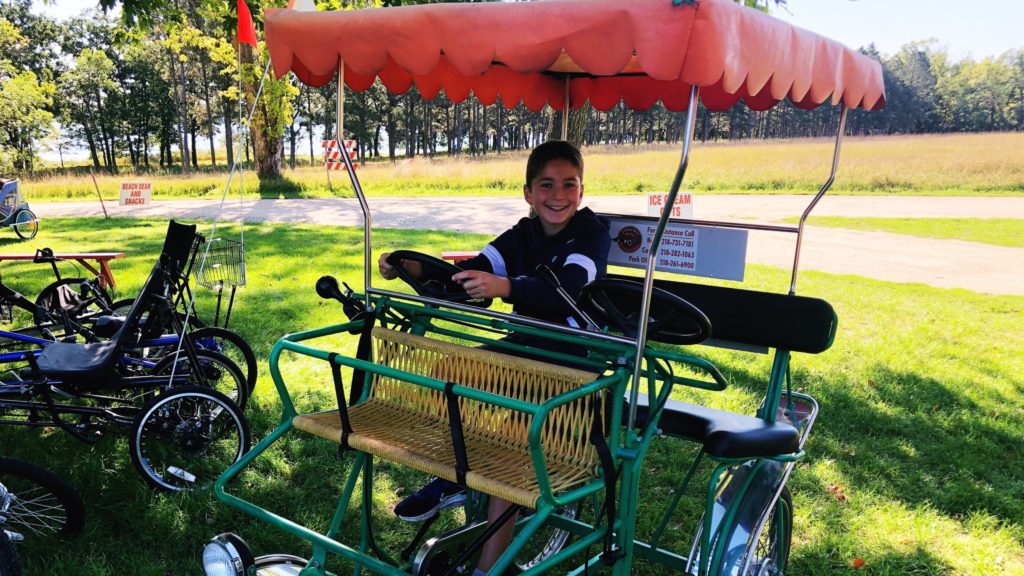 Up north, relax away from it all in a rustic lakeside cabin with ample fresh air. Minnesota is the land of 10,000 lakes and Otter Tail County, in west-central Minnesota, is proud to claim the most lakes of any county in the United States—1,048 to be exact. Even though the weather may be cooling, you can still have fun on or near water.
Boating, kayaking, and hiking offer serene activities by sparkling water. Listen to the leaves rustling in the breeze and feel your family's pace slow down.
HALLOWEEN STORIES: 33 Books Like Harry Potter to Binge on Your Next Vacation
Fishing is a must-do in Minnesota. Grab a pole and try to catch a northern pike, bluegill or bass. Novelist John Buchan once said, "The charm of fishing is that it is the pursuit of what is elusive but attainable, a perpetual series of occasions for hope." Who couldn't use a dash of good hope?
You'll want to try the walleye, Minnesota's state fish. Spanky's Stone Hearth in Frazee is a lovely, lakeside establishment serving fresh, local farm-to-table fare. Don't even try to stop yourself from eating all the buttery croissants served with maple butter in the breadbasket. Blackboard in Vergas is a newer restaurant in a historic schoolhouse dishing out fresh, inventive food. The kids will love the flavorful food so much they won't even realize they're eating healthy.
Don't miss out on caramel rolls served at Dent's Nootzi's On Main. Yup, like a cinnamon roll, but drenched in caramel. My son couldn't think of a better way to start the day. The kids will love Goose Gang, a toy store and candy shop. Try the locally made Wiley Wallaby licorice.
Pelican Rapid's Oktoberfest features small town fun like the largest pumpkin contest and an old-fashioned polka party. Snap a pic with the Pelican Pete statue or the world's largest loon in Vergas surrounded by autumn leaves. Happy pumpkin season!
Where to Stay in Otter Tail County
East Silent Lake Resort is family-run resort with luxury lake homes, guest rooms, suites, and cabins spread across its well-groomed, 50-acre lakeside property. Play sand volleyball, canoe, make s'mores around a toasty fire or watch the kids on the playground. Hike and bike two nearby state parks, Maplewood and Glendalough.
More from FamilyVacationist:
Updated: September 2022
Posted: September 2021