Photo: Courtesy of Airbnb
Road Affair is reader-supported and may earn commission from purchases made through links in this article.
Thanks to the Sonoran Desert and mountain ranges around it, Tucson in Arizona, is a charming tourist destination with countless opportunities for outdoor activities. The city is home to the University of Arizona and brimming with Southwestern character, meaning there's no shortage of reasons to pay it a visit. Just as you won't have to worry about staying busy, you won't have to worry about finding quality vacation rentals in Tucson if you enlist the help of Airbnb.
To help you choose the best Airbnb in Tucson for your stay, we've compiled this list full of superhosts to ensure that we've only selected the best of the best. Superhosts are Airbnb owners who have a clear history of great service and strong reviews. By booking with an Airbnb superhost, you can be confident that your vacation is in safe hands.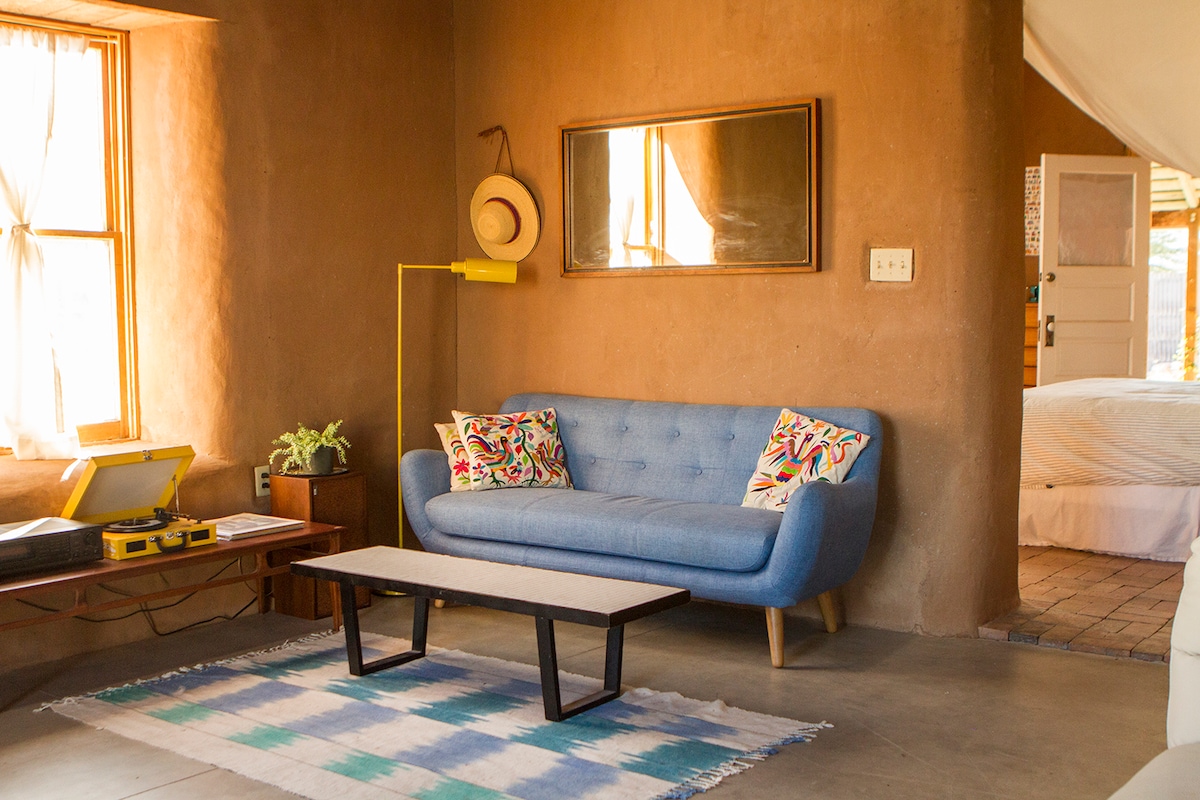 The Root Beer Adobe
If you're seeking classic desert vibes from your accommodation, there's no better pick than this Airbnb in Tucson. Located in the historic neighborhood of Barrio Viejo, this old but charming house is within walking distance of downtown Tucson. However, you'll find some great coffee shops, restaurants, and shops close by as well.
This vacation home for rent in Tucson may date from the 1890s, but it has been thoughtfully furnished and updated to ensure that guests have a pleasant stay. Its thick adobe walls, open layout, and abundance of cacti inside and out are guaranteed to provide the desert atmosphere you'd expect from southern Arizona. The house has two bedrooms with king-size beds and therefore can comfortably sleep four guests. As such, it is best suited to couples on vacation together or young families. 
Other spaces in this historic abode include a full kitchen, a family room, a proper dining room, and even a small office. Outside, guests can relax in the backyard full of fruit trees. A washer/dryer, Wi-Fi, and air-conditioning are among the amenities.
View on Airbnb
Tucson Poet's Studio
This adobe, in Santa Fe style, is a great choice if you're after a place with character surrounded by peaceful mountain scenery. Found in Poets Square, a pleasant residential neighborhood in Tucson, this guesthouse's location puts you within driving or cycling distance of downtown and the University of Arizona. The local area also features a great selection of restaurants, shops, and parks.
Since this Tucson Airbnb is a studio guesthouse, it can accommodate at most two guests but does so in style with a luxury queen-size bed. Although the studio is a little short on space, you're more likely to be focused on the superb mountain views out its northern-facing wall of  windows or the secluded courtyard and plunge pool outside that guests have to themselves. Couples and solo travelers may even enjoy the cozy nature of this compact Airbnb as they sit by its indoor fireplace.
Rather than provide a full kitchen, the guesthouse comes with a modern space-conscious kitchenette equipped with a hot plate, microwave, coffee maker, and fridge. Other amenities include air-conditioning, Wi-Fi, a smart TV with Direct-TV, and a gas BBQ.
View on Airbnb
Mid-Century Pool House
For a Tucson Airbnb with a pool, look no further than this delightful pool house for your stay in the city. The Airbnb is situated in the neighborhood of Jefferson Park, which will show guests what a classic Tucson residential area feels like. Getting to other parts of the city isn't hard either, with downtown less than 10 minutes by car and the University of Arizona even closer. 
The pool house and adjacent pool are found in the backyard of superhost Britt's Spanish Colonial house. While guests have private access to the guest house and the covered patio outside it, the rest of the outdoor area, pool, and BBQ grill are all shared spaces. Inside the pool house is one large studio space and a private en suite bathroom, with two walls of windows that let plenty of light in.
At the center of the main room sits a queen-size bed and other furnishings, including several chairs and a work desk. This accommodation does not come equipped with a kitchen, but a minifridge and coffee maker are provided. Additional amenities include a wood-burning fireplace, Wi-Fi, air-conditioning, and access to laundry facilities.
View on Airbnb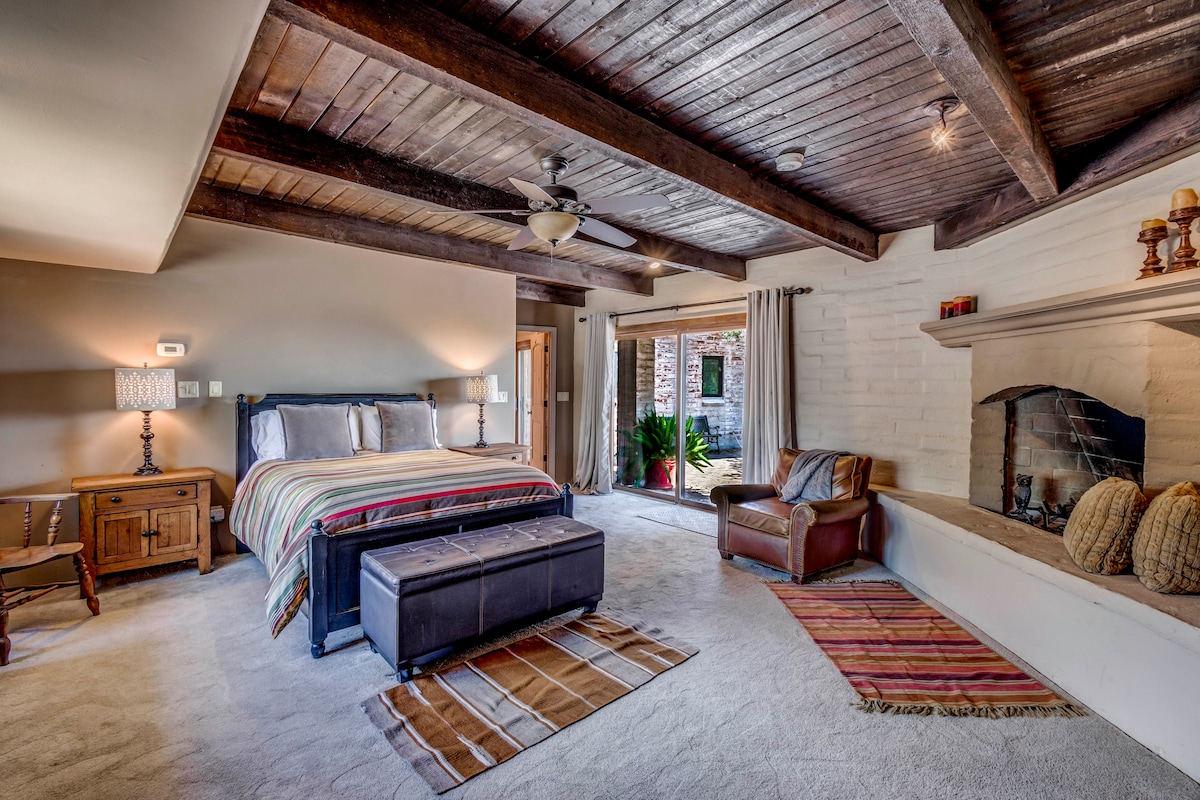 Catalina Foothills Suite
Rather than book an entire house or condo for your trip, why not consider booking an excellent guest suite like this Tucson Airbnb? Here you'll be located out of the city in the Catalina Foothills and surrounded by the breathtaking wilderness of the Sonoran Desert. While it may seem remote, the center of Tucson is still only a 20-minute drive away.
Guests at this Airbnb will enjoy plenty of privacy, even though you'll be staying in one part of the house. That's because this guest suite features a private entrance so that you can come and go as you please, as well as its own outdoor space, including a private rooftop deck and BBQ grill. Another nice aspect of this guest suite is how spacious the room is, especially considering it's only meant for up to two people.
Inside the guest suite, there is a comfy queen-size bed, a sitting area, a desk, and an indoor fireplace, all of which guarantee a restful stay. The room doesn't have a traditional kitchen but is instead equipped for the basics with a minifridge, coffee machine, and microwave. Cable TV, Wi-Fi, and air-conditioning are also offered.
View on Airbnb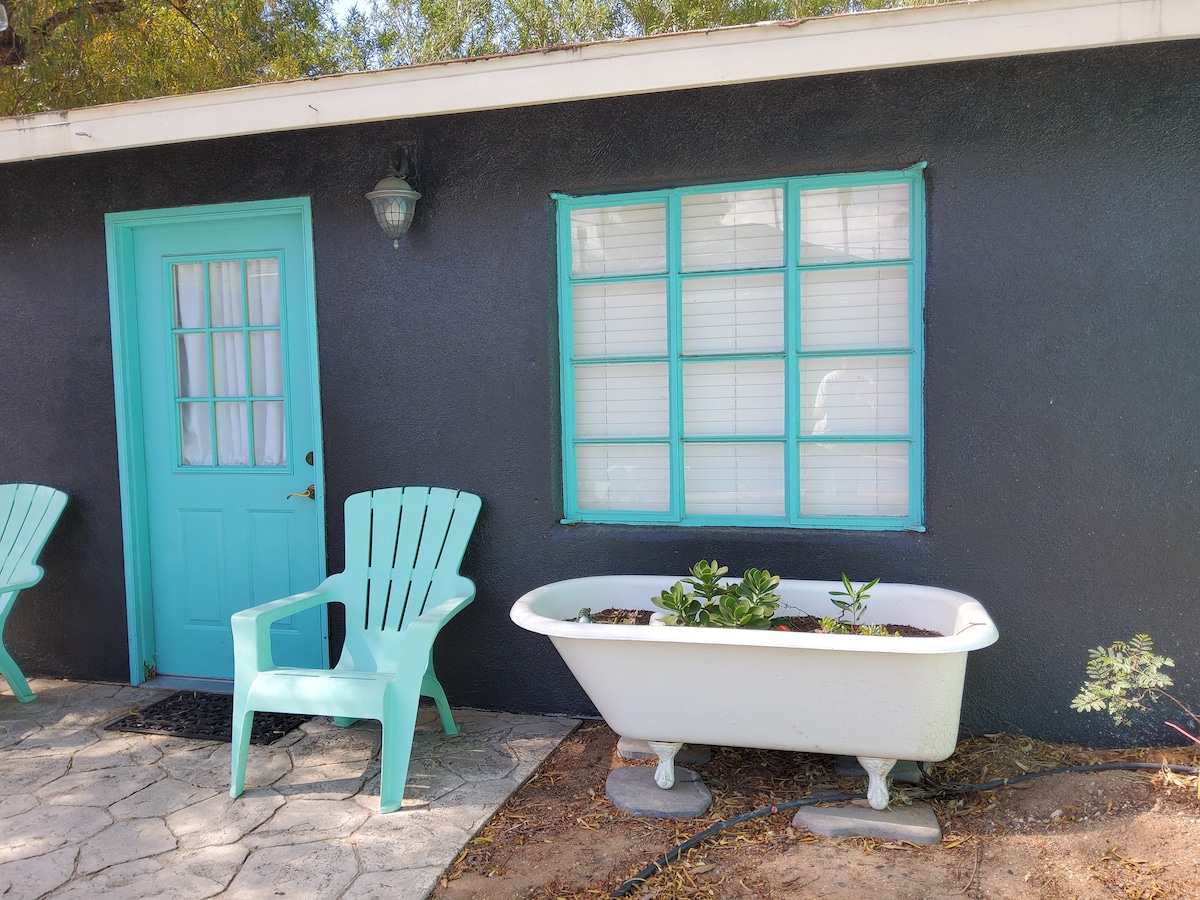 The Blue Room
Another great option for travelers who don't need much space is this cute and colorful guesthouse. This Airbnb is found in the historic San Clemente neighborhood close to the greenery of Reid Park and the Reid Park Zoo. Both the University of Arizona and downtown are only around 10 minutes away by car.
For your time at this Airbnb in Tucson, you'll be staying at the guesthouse in the backyard of superhost Sabrina. Guests will have access to their guesthouse and its separate private bathroom attached to the main house, as well as free use of the shared patio, pool, and BBQ grill. This setup is therefore clearly best suited to solo travelers and couples wanting somewhere that is affordable and convenient for a short-term stay.
The room itself is relatively compact, with just enough space for a queen-size bed, breakfast table, and kitchenette that consists of a microwave, minifridge and coffee maker. Additional amenities include access to a washer/dryer, Wi-Fi, a smart TV, and air-conditioning.
View on Airbnb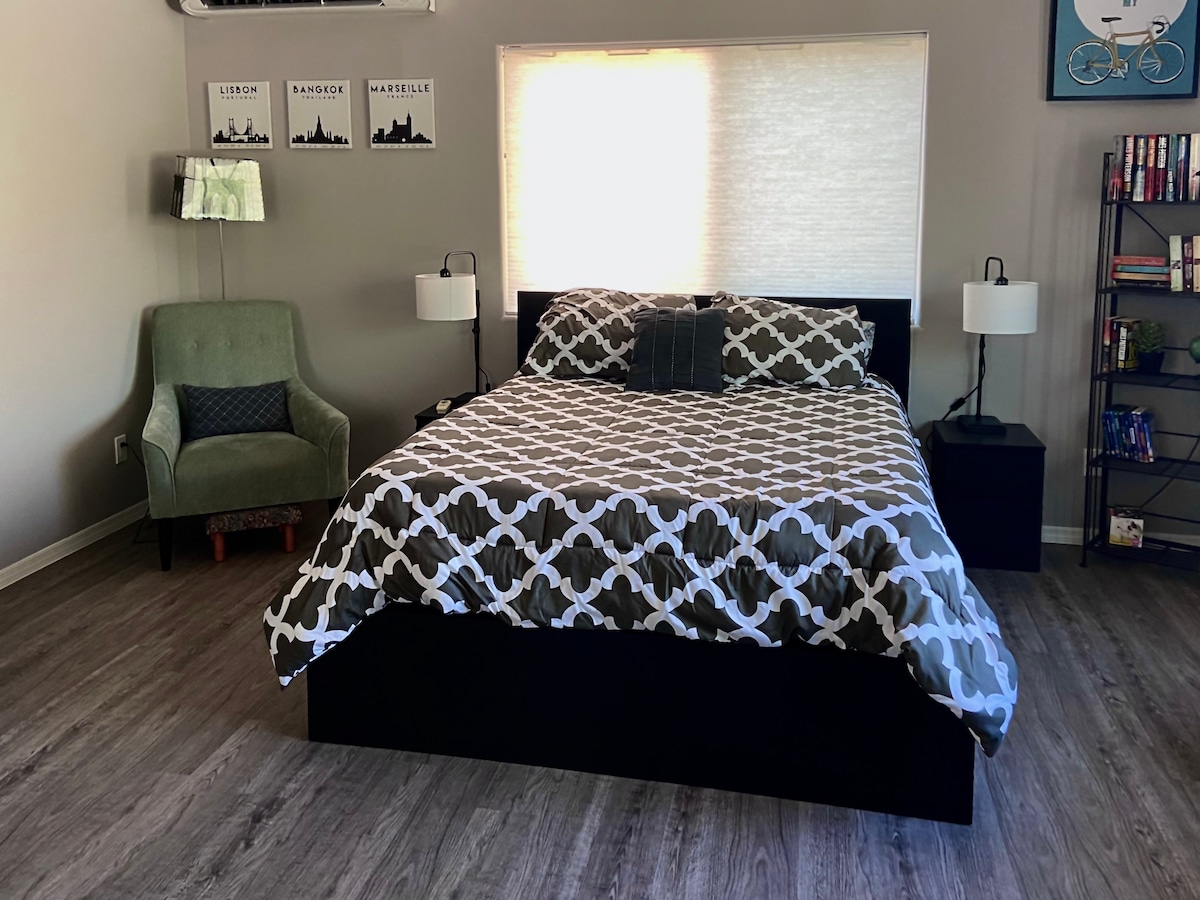 Tucson Desert Guest House
To experience one of the best Airbnb rentals in Tucson, take a peek at this wonderful guesthouse. Situated in northeast Tucson with views of the Catalina Mountains, this Airbnb is just minutes from the hiking trails and scenery of Sabino Canyon. As such, this isn't the place to choose if you need to be in or near downtown.
You should have everything you need for a restful getaway at this desert retreat. With its cozy queen-size bed, the guest suite is best suited to individuals and couples, but it can sleep up to four people thanks to a bonus air mattress and floor mattress. To ensure that you have a comfortable stay, the room also features a large, private bathroom, dining table, and modern kitchenette equipped with a microwave, coffee maker, and refrigerator.
While this guesthouse is rather compact, guests are also free to use the backyard, including its covered outdoor dining area and pool. Among its other amenities are a  BBQ grill, TV with cable, Wi-Fi, air-conditioning, and use of laundry facilities on request.
View on Airbnb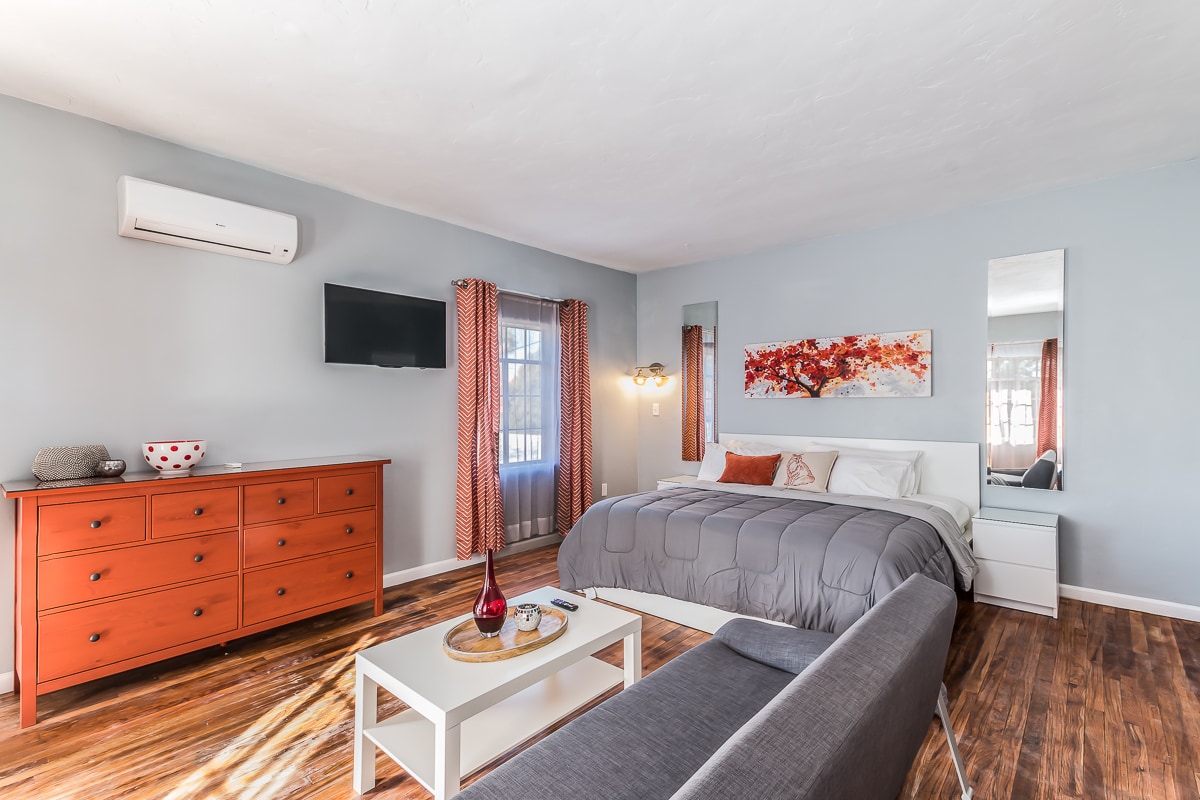 Historic Studio
Those who need a really central location for their time in the city should take a moment to see if this Airbnb is right for them. Located in the West University area, it is one of the most affordable and central Tucson short-term rentals you're likely to come across. From the house, you can take the streetcar downtown or to the University of Arizona without much trouble, while there is also plenty of local nightlife around if that's your thing.
This recently remodeled upstairs studio is a fine choice for a short stay in Tucson and sleeps at most three people. You'll find a king-size bed and a sofa bed, meaning guests won't have much privacy from each other during their stay. The rest of the unit provides a full bathroom and well-equipped kitchen that should make it easy to sort out breakfast in the morning.
Guests craving a little outdoor space will be glad to learn that the unit has a private patio with seating that overlooks a covered common area that they are also free to use. Extra perks of staying here include free on-site parking, Wi-Fi, a TV, air-conditioning, and access to laundry facilities.
View on Airbnb
Elegant Desert Hideaway
With its bright and contemporary interior, this Airbnb in Tucson gives you a pretty place to stay with superb desert views. The guest suite is found in a private community among the Catalina Foothills roughly a 20-minute drive from downtown. But the location of this Airbnb has other things to offer, such as its impressive mountain scenery and many local walking paths.
Stepping into this brand new guest suite, you'll be able to tell that a lot of thought has gone into making it cozy for guests. Featuring a studio design, the suite comes with a queen-size bed and sofa bed so that it can accommodate up to four people. It seems best suited to couples on a private getaway or parents hoping to explore the hiking trails around Tucson with their little ones.
Aside from being somewhere to sleep, the Airbnb provides general comforts like a sitting area and private bathroom. A nice extra touch is the small patio where you can sit and appreciate the striking desert surroundings. There is no formal kitchen, but the suite has a fridge, coffee maker, and microwave. Additional amenities include keyless entry, Wi-Fi, a TV, and air-conditioning.
View on Airbnb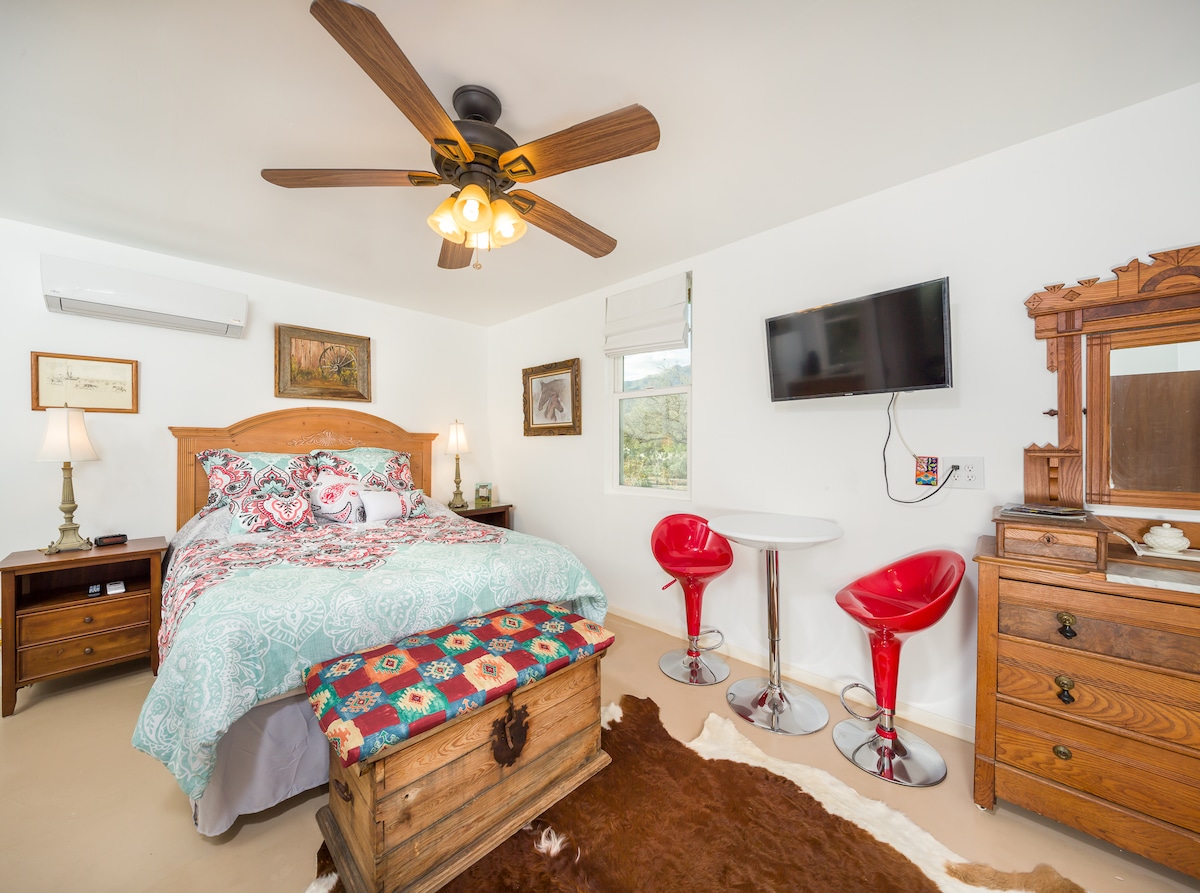 Ayda's Casita
When space isn't a priority, you can always count on a tiny house like this to make your trip feel special. This Tucson Airbnb enjoys the serene rural setting of the Tanque Verde Valley in the far east of the city. From there, you can easily reach trails for cycling, hiking, and horseback riding or just sit back and enjoy the mountain and desert views.
In case you're not familiar with the tiny house concept, these small dwellings are cleverly designed to fit a regular living space into a small space. It should be no surprise, then, that this tiny house in Tucson is only able to fit at most two people. Inside its single studio space is a proper queen-size bed, a small bar table with stools, and a surprisingly well-appointed kitchenette that even has a stovetop. Thankfully, there's still room for a full bathroom, saving you from having to walk outside during the night.
Outside the tiny house, guests have access to a patio area, where they'll find a BBQ grill, covered seating area, and a hot tub. Wi-Fi, air-conditioning, and a TV are also provided.
View on Airbnb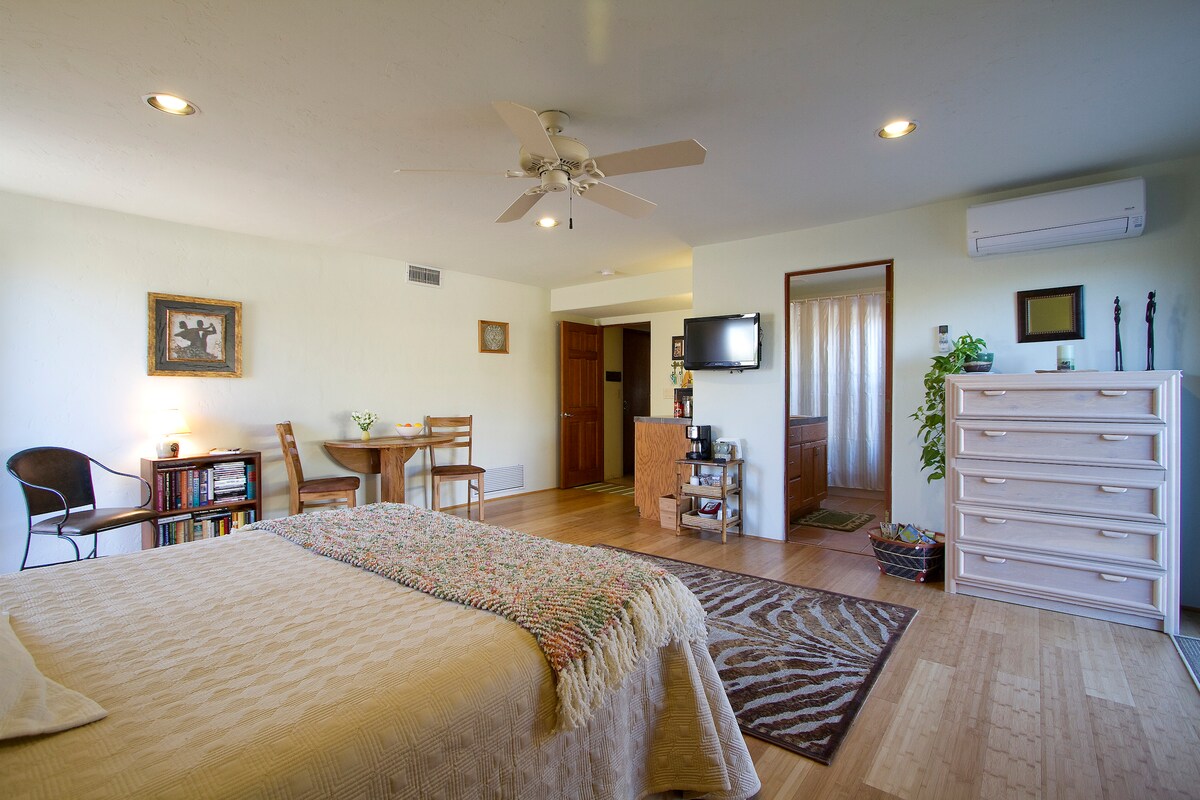 Sonoran Desert Retreat
Thanks to its spacious interior and tempting poolside location, this affordable guest suite is a hard option to resist. It helps that it's situated outside of Tucson in the Catalina Foothills, where visitors can go hiking and enjoy some majestic desert scenery. And while downtown Tucson isn't that far by car, there are plenty of local restaurants and shops nearby.
It's hard to believe that this impressively renovated guest suite is only meant to sleep two guests. The room comes with a luxurious queen-size bed and a small dining area, not to mention an equally spacious bathroom. While the room is clearly best suited to couples or individuals, there is a portable baby crib available for those traveling with a baby or toddler.
In a corner of the room, you'll find a kitchenette featuring a microwave, coffee maker, and fridge stocked with complimentary juice and yogurt. Guests additionally have access to the swimming pool, BBQ grill, and outdoor dining area. Further amenities include access to a washer/dryer, Wi-Fi, cable TV, and air-conditioning.
View on Airbnb
Clean, Quiet Self Check-In Studio
For a clean and uncomplicated Tucson Airbnb that's great value for money, it's difficult to pass up this homely guest suite. The studio room is located in northwest Tucson near Flowing Wells, a typical middle-class area of the city. Downtown is just a 15-minute drive away, so you can get in and out for sightseeing without much hassle. 
This studio guest suite is attached to the home of superhost Shawn but comes with its own private entrance so that you can freely come and go. Guests also have a private covered patio area outside the room. While the room is compact, it has enough space for a queen-size bed, a small sitting area, and a two-person dining area. There is a kitchenette equipped with a fridge, Keurig coffee maker, and microwave.
There is free parking in the driveway for guests with their own car, as well as an EV charger for electric vehicles. The room comes with air-conditioning but also has a ceiling fan if all you want is air flow. Extra amenities include keyless entry, Wi-Fi, and cable TV. Although there are no laundry facilities in the room, there is a laundromat nearby.
View on Airbnb
La Casita de Agave
High ceilings, first-rate amenities, and breathtaking views make this rental home in Tucson an absolute delight for guests lucky enough to stay here. Found in a friendly Catalina Foothills neighborhood, this Airbnb offers visitors tranquil desert surroundings that are just begging to be explored.
While the interior and furnishings of this short-term house rental in Tucson are quite contemporary, it still has plenty of character to make it feel special. Its high ceilings and many windows let in plenty of light and help bring the wonderful views inside. The great room of the guesthouse, with its open living area, dining table, well-equipped kitchen, and doors leading out to the fantastic deck, is likely where you will spend most of your time. This Airbnb also comes with Wi-Fi, a TV, air-conditioning, a Pack 'n Play, and a BBQ grill.
With enough beds for seven guests, this spacious guesthouse has clearly been set up with families and groups in mind. However, besides the king-size bed in the bedroom, the beds are either air mattresses or the sofa bed in the living area. Larger groups may also find sharing one bathroom difficult, even a modern one like the bathroom of this rental.
View on Airbnb
Treat Guest House
Located in the historic Sam Hughes neighborhood near the University of Arizona, this little guesthouse may not look like much from the outside. But step inside and you'll be delighted by the bold and modern design of this convenient Airbnb in Tucson. It doesn't hurt either that the local area is known for its leafy streets, local markets, and diverse selection of restaurants.
The guesthouse has a studio layout and is quite compact, meaning that it's best suited to solo travelers or couples away on vacation. On one end of the studio is a queen-size bed with a memory foam mattress and a small sitting area. The other side of the room is divided by a stylish breakfast bar, behind which is a full kitchen outfitted with stainless-steel appliances. Even the private bathroom with its vivid bursts of color shows how much care has gone into the design.
Guests don't just have access to the guesthouse but also the private patio and yard outside its door. Coming and going won't be a problem with the possibility of luggage drop off and ample parking in the driveway. Further amenities include a washer/dryer, central heating and cooling, Wi-Fi, and a TV.
View on Airbnb
Saguaro Suite
This last Tucson Airbnb is a great choice if you want to experience the nature for which the city and Arizona are famous. The suite is part of a nature lodge sitting on 40 acres within Saguaro National Park to the west of the city. Unwinding and recharging tend to be the priorities at this luxurious lodge surrounded by stark but beautiful desert landscape.
The Saguaro suite is split across two levels with the bedroom and bathroom downstairs and living space on the mezzanine level. Everything about this suite screams luxury, from the elegant four-poster king-size bed to the pristine bathroom with walk-in shower and separate tub. Upstairs, the living room offers a plush sofa by the indoor fireplace and a huge window to enjoy the desert view.
A light breakfast of granola, fruit, and coffee and tea is provided free of charge. However, should you feel like doing your own thing, the room comes with an impressive kitchenette as well. One benefit of this Airbnb is the long list of communal areas, from the pool and firepit to the yoga room. Of course, there are also general amenities such Wi-Fi, a TV, and air-conditioning.
View on Airbnb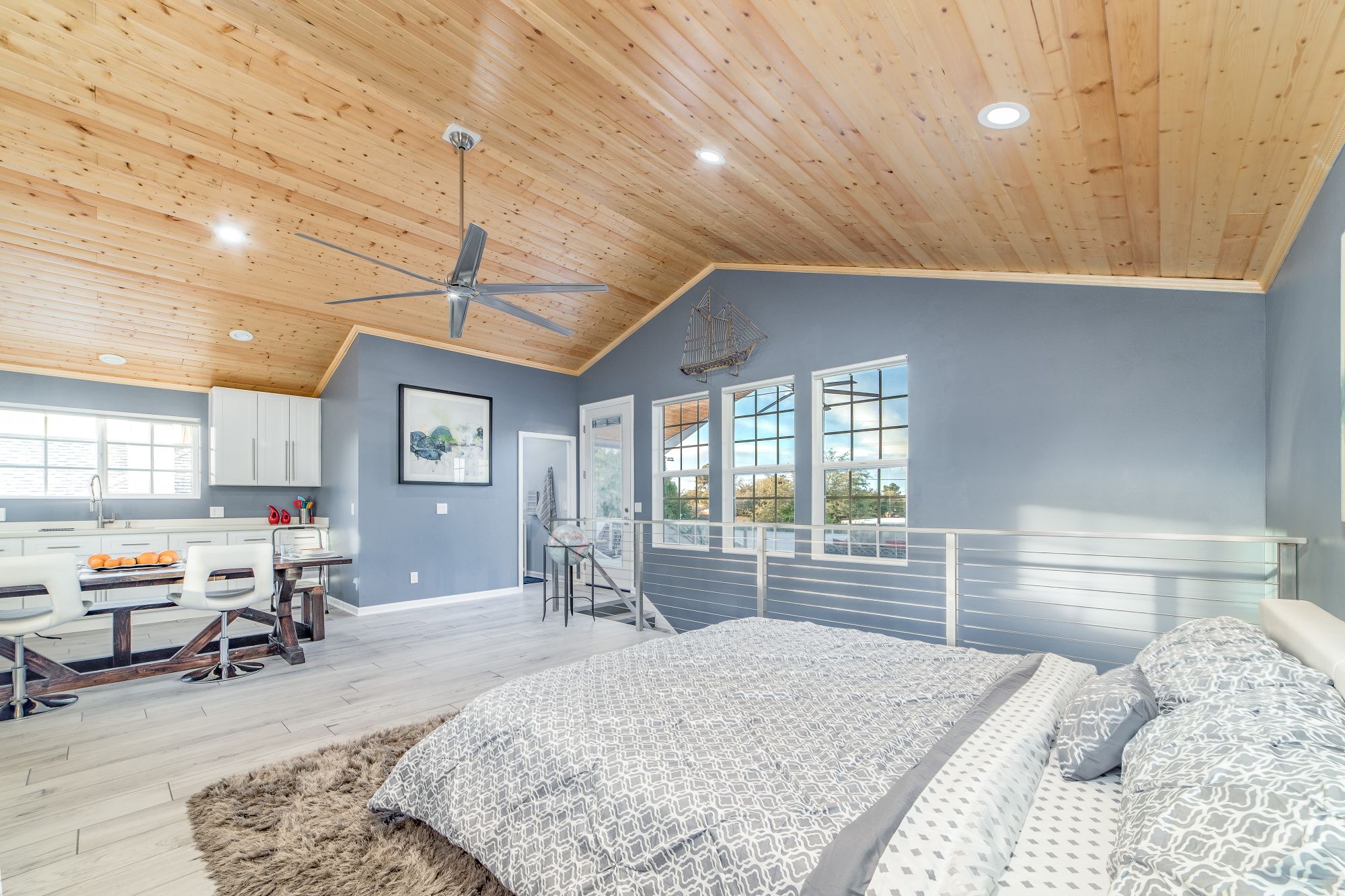 Modern Luxurious Studio
A great alternative to renting a house in Tucson for your vacation is staying somewhere spacious like this exceptional studio. Located in the highly desirable Blenman–Elm Historic District just east of the University of Arizona, this loft-style studio puts you within close range of the city center. You'll also find a great assortment of local eateries in the area should you not feel like cooking something up in the studio's modern kitchen.
While this unit has a studio layout with a combined living and sleeping space, there's no way you'll feel cramped here. The massive studio has more than enough room for a king-size bed, a huge sectional sofa, a proper dining table, and the fully equipped kitchen. As such, it has more than enough room for the two-to-four guests it's designed for, thanks to the available air mattress.
On top of all that, the studio also boasts an impressive balcony furnished with outdoor furniture, several hammocks, and a sun lounge. A private laundry room, Wi-Fi, a TV, air-conditioning, and a driveway parking spot are also available to guests.
View on Airbnb
There are clearly loads of Airbnb in Tucson that will help you have a fun time visiting the city and its surrounding areas. So, no matter what you hope to do in Tucson, it's a good bet that Airbnb has something for you.
Reader Interactions