Road Affair is reader-supported and may earn commission from purchases made through links in this article.
Scenic drives, thrilling adventures, and unique cultural attractions await in the great state of Oklahoma. Whether you're interested in Western heritage, Native American history, or classic Southern charm, there's something for everyone in this incredible vacation destination. With its cozy towns and an abundance of gorgeous natural scenery, Oklahoma also offers a vast selection of great places to stay. 
To help you choose the perfect rental for your trip, we've created this list of the best Airbnbs in Oklahoma. Since all of the following rentals are hosted by superhosts and some even hold Airbnb Plus status, you can be sure that they are well rated and consistently outstanding. Superhosts have a proven track record of providing exceptional hospitality, while Airbnb Plus properties have been verified through in-person inspection.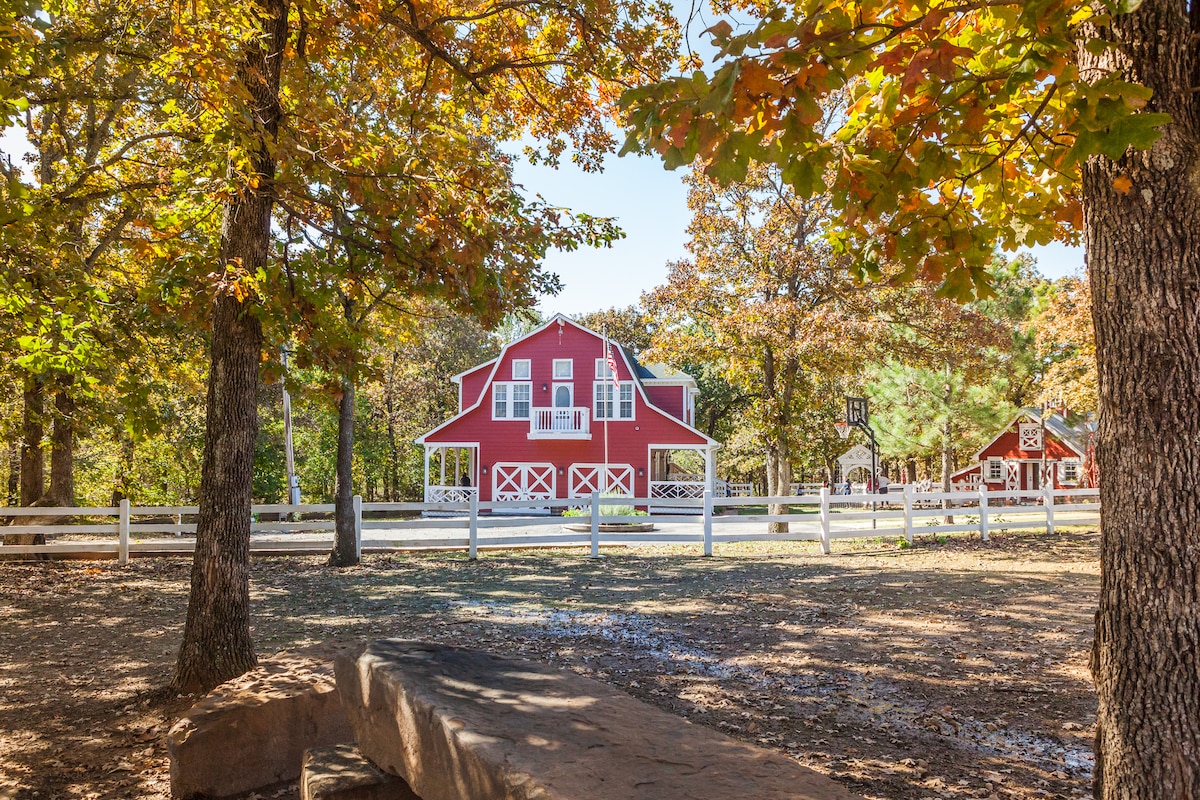 Secluded Farm Stay
First on our list is a secluded stay on a gated hobby farm filled with friendly animals. 
The two-bedroom rental boasts a classic red barn exterior and a modern interior with luxurious amenities and welcoming touches. With two full bathrooms, two bedrooms with queen-size beds, and extra sleeping arrangements in the living room, the space can comfortably sleep up to six guests. The focal point of the spacious living room is the velvet red and cherry wood pool table positioned in front of a wall-mounted Smart TV. Adjacent to the sitting area, you'll find a wooden dining table with bench seating next to a traditional woodstove. Gorgeous wood finishes adorn the entire home, and guests can also enjoy access to a separate full kitchen with a two-person breakfast bar that extends into the dining area. 
Situated on Okie Grown Farms, this Airbnb in Oklahoma is an animal lover's paradise. Home to mini donkeys, mini pigs, alpacas, llamas, cats, cows, and dogs, the property is bustling with life and family-friendly activities all year long, and your hosts are happy to facilitate animal interactions and introductions upon request. Downtown Bixby is conveniently located just 10 minutes away in case you're in need of some urban amenities and attractions. 
View on Airbnb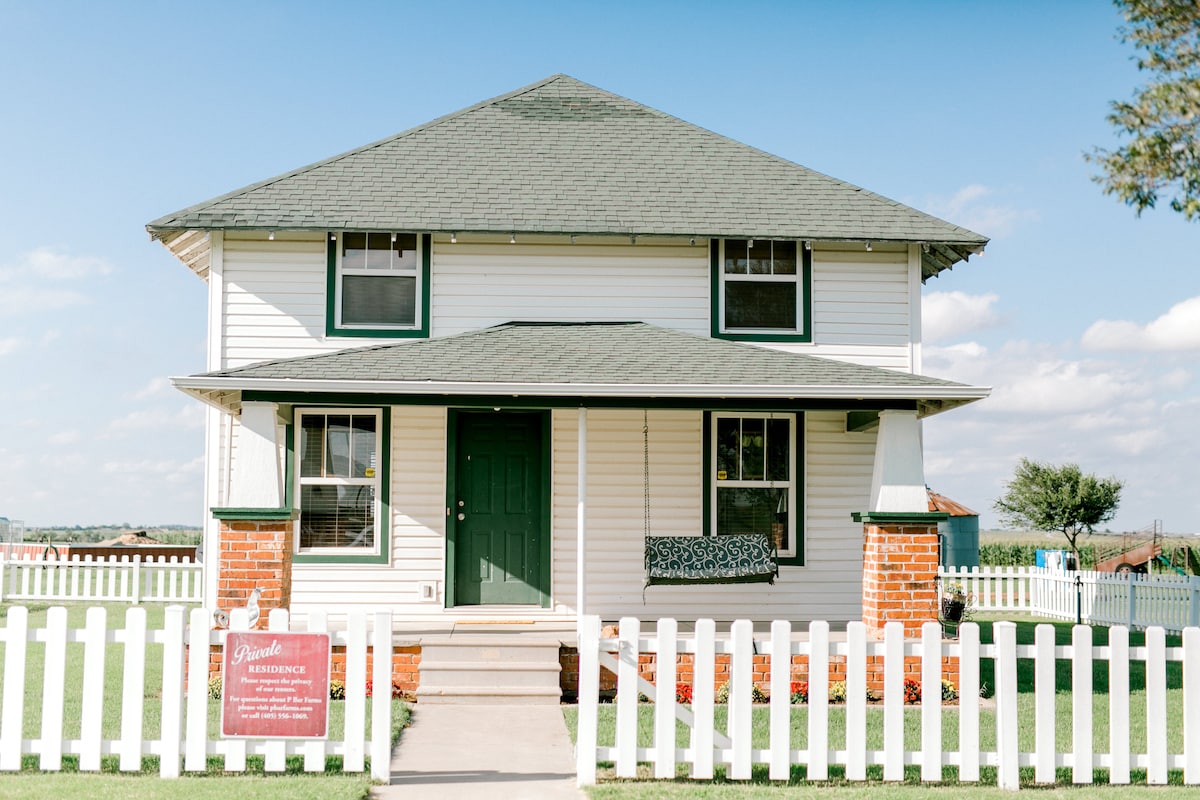 Fun Farmhouse at P Bar Farms
If you're interested in exploring Oklahoma's famous agritourism attractions, consider a stay on P Bar Farms. 
This modern vacation home for rent in Oklahoma is a fantastic rental for a family-friendly stay and can sleep up to six guests. The home is absolutely charming from the inside out and offers a quaint green porch swing perfect for relaxing and enjoying the classic country setting. Inside, you'll find a main floor with a modern full kitchen and a cozy living room that boasts leather sofas and a Smart TV. The first floor also offers a full bathroom with a washer and dryer and a small dining table. On the second floor, there is a half bathroom as well as two bedrooms furnished with three queen-size beds between them. The best part about the farmhouse is that it offers a fun stay on an authentic and operating farm but is still fully equipped with modern amenities such as Wi-Fi and air-conditioning. 
P Bar Farms offers a ton of fun activities, including corn mazes, hay rides, train rides, petting zoos, and playgrounds, and there are even haunted attractions available in October. The nearby city of Weatherford is just five minutes away as is the small town of Hydro, which offers a free fair every August. 
View on Airbnb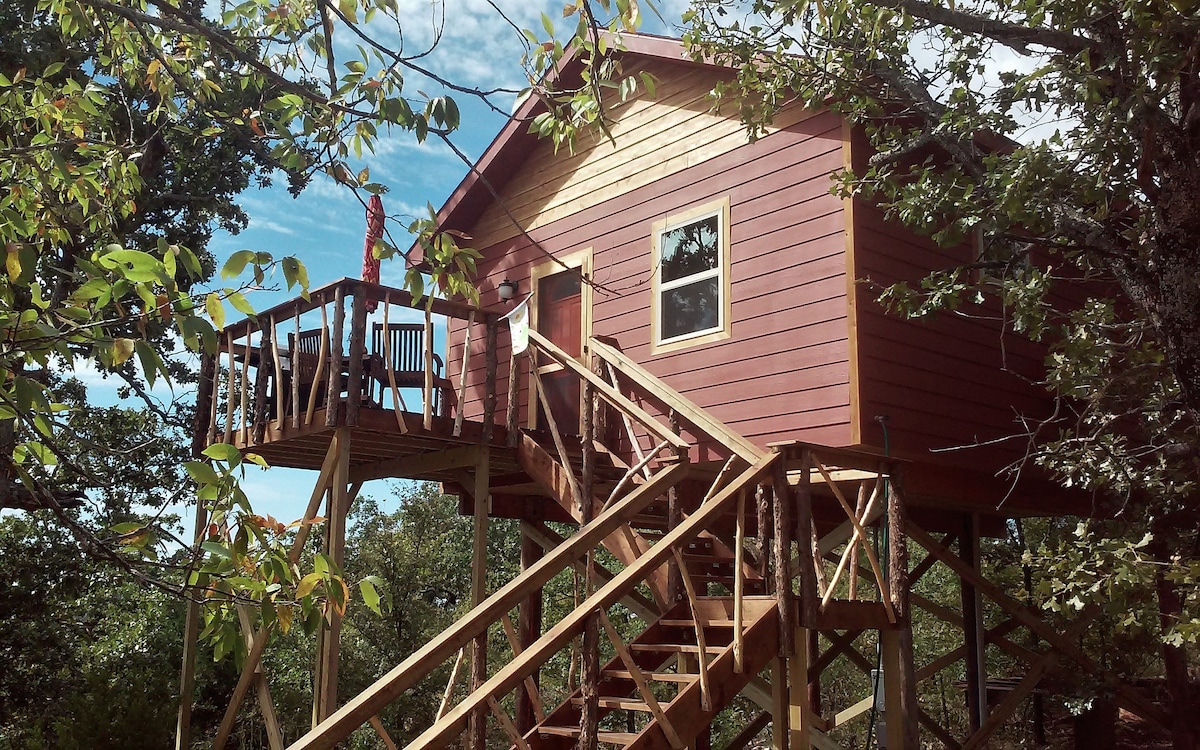 Romantic Treehouse With Gorgeous Views 
Enjoy perfect lake views and exciting outdoor recreation with this treehouse cabin in Oklahoma. 
Elevated 15 feet above ground, the treehouse is surrounded by oak trees and crafted from pine and cedar. Vaulted ceilings, premier finishes, and oversized windows ensure that your stay is nothing short of spectacular. The open living space comes with a small kitchenette and a comfy living room, and the single bedroom is furnished with a queen-size bed, making the space suited for a solo traveler or a couple. There is also a full bathroom with a separate walk-in shower and a Jacuzzi tub, and behind the home, you'll find a spacious deck for grilling out among the trees. Pets are allowed in the cabin, and additional amenities include Wi-Fi, TV, and air-conditioning. 
Located on a secluded property overlooking Lake Eufaula, this Oklahoma Airbnb offers a fun retreat just a few minutes away from the in-town attractions of Stigler. The property comes with a great selection of outdoor amenities, including a hiking trail, a horseshoe pit, and free kayak rentals. 
View on Airbnb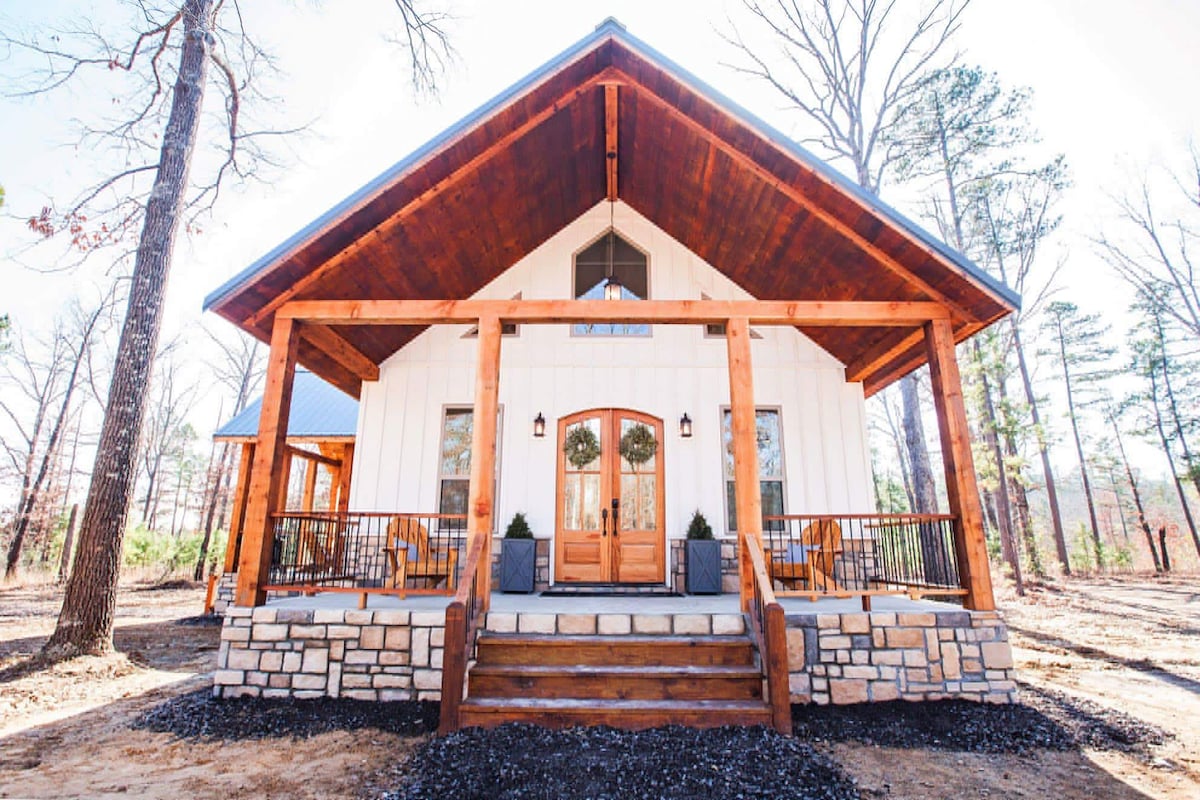 Glamorous Cabin in the Woods
For a cozy Airbnb in Oklahoma with stylish finishes and desirable modern amenities, check out this quiet cabin rental. 
From the moment you step onto the front porch, this cabin is sure to take your breath away. Characterized by soaring cathedral ceilings and eight-foot doors, the studio rental feels surprisingly spacious. The common areas include a large living room and a gorgeous full kitchen with granite countertops and stainless-steel appliances. A large pillar with an indoor fireplace and a wall-mounted TV separates the living room from the gorgeous bedroom area, which is complete with a queen-size bed, its own TV, and a set of French doors that lead onto a spacious patio. The generous outdoor space is completely covered and offers a luxurious hot tub and a grill. 
Situated on 10 acres of private land, this cabin for rent in Oklahoma can be found in the small and friendly community of Octavia. The property is filled with towering trees and offers a propane grill and an outdoor firepit by which to enjoy the incredible mountain views. 
View on Airbnb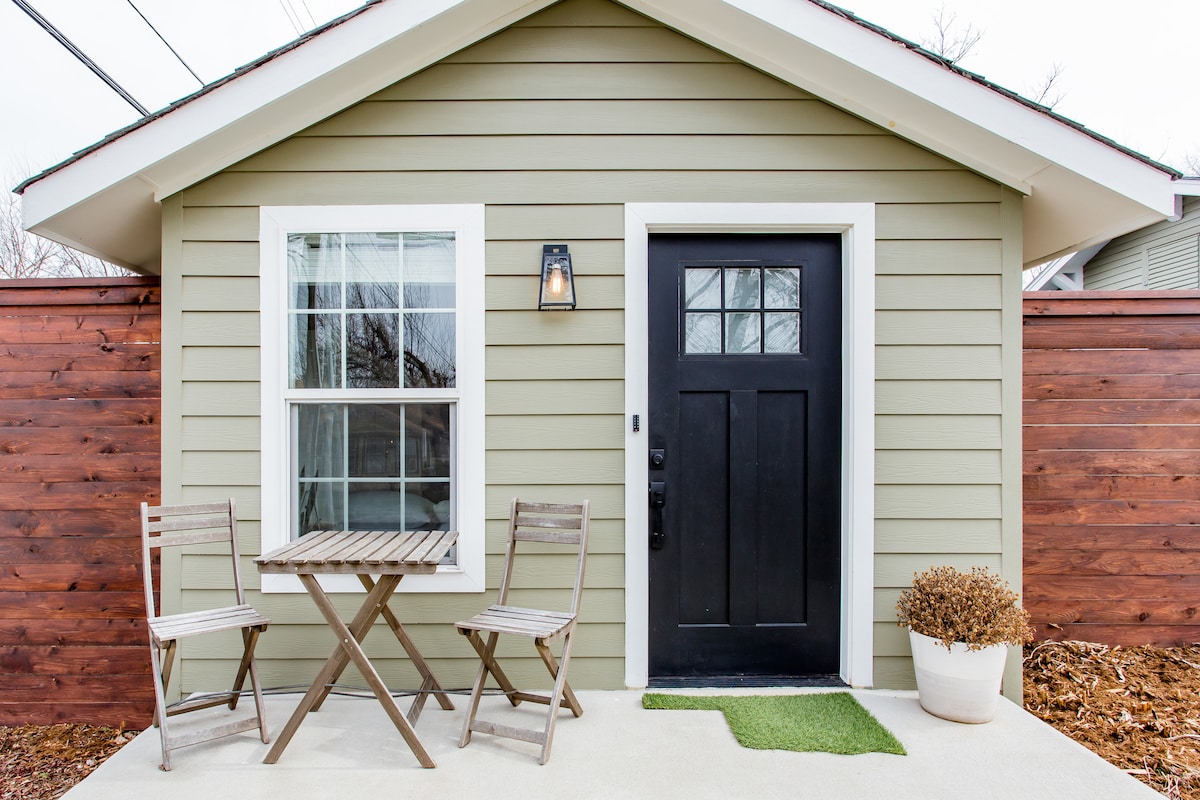 Historic Tiny Home
Not only is this studio Airbnb in Oklahoma City presided over by an experienced superhost, but it also boasts Airbnb Plus status and a fantastic selection of amenities. 
The interior is awash in bright white finishes and stunning wood accents, and the studio space offers an efficient layout ideal for one or two guests. With a marble-tiled full bathroom and a stunning kitchenette with a glistening breakfast bar, this rental is as well equipped as it is stylish. The main living space doubles as a sitting room and a bedroom and comes with a small sofa, a TV, and a Murphy bed. Guests will also have access to a shared front yard and a private patio, and the rental offers a plethora of modern amenities, including Wi-Fi and air-conditioning. 
The property is shared with the host's main house and is located just a few minutes away from downtown and the Plaza District, where guests can find restaurants, shops, galleries, and entertainment venues. 
View on Airbnb
Charming Bungalow Home
For those looking to rent a house in Oklahoma with a historic location and matching old world charm, check out this newly updated bungalow. 
Originally built in the 1920s, the two-bedroom home offers the perfect combination of modern amenities and gorgeous antique accents. The interior spans over 2,000 square feet and features one full bathroom, one queen-size bed, and one king-size bed. When you enter the home through a stunning arched doorway, you're sure to be impressed with the unique selection of elegant furnishings, gorgeous artwork, and eye-catching accents. Crystal chandeliers adorn the living room, the dining room, and the bedrooms, and guests will love the addition of comfortable amenities such as Wi-Fi, a Smart TV, and in-unit laundry facilities. 
The rental's downtown Bartlesville location is perfect for checking out the town's restaurants and nightlife, and there are a few historic mansions nearby. In addition to the walkable attractions, the town offers several great museums and natural sites that are just a short drive away. 
View on Airbnb
Secluded Cabin Near a State Park 
Rent a cabin in Oklahoma that offers a desirable location and a breathtaking interior with this stylish Broken Bow abode. 
Known as Burning Lights Cabin, the one-bedroom, one-bathroom rental is exquisitely designed with authentic wood finishes and a modern rustic flair. Large windows and glass doors surround the full kitchen, the dining room, and the living room and bring the incredible surrounding scenery inside. Step onto the patio and enjoy a relaxing soak in the luxurious hot tub or stay cozy and warm in front of the Smart TV and the stone-adorned indoor fireplace. The patio is completely covered and furnished with comfy outdoor chairs, and there is a grill available for preparing meals outside. Pets are allowed in the cabin, and the space is appointed with a ton of convenient features, including Wi-Fi, stainless-steel appliances, and laundry facilities. 
Surrounded by trees and a walkable wooded hillside, this cabin is one of the few in the area that offers a completely private setting where no other cabins are visible from the property. Guests can enjoy hiking around the immediate area, and an expansive state park can be found just minutes away. With its private atmosphere and beautifully appointed outdoor space, this is certainly one of the best Airbnbs in Oklahoma. 
View on Airbnb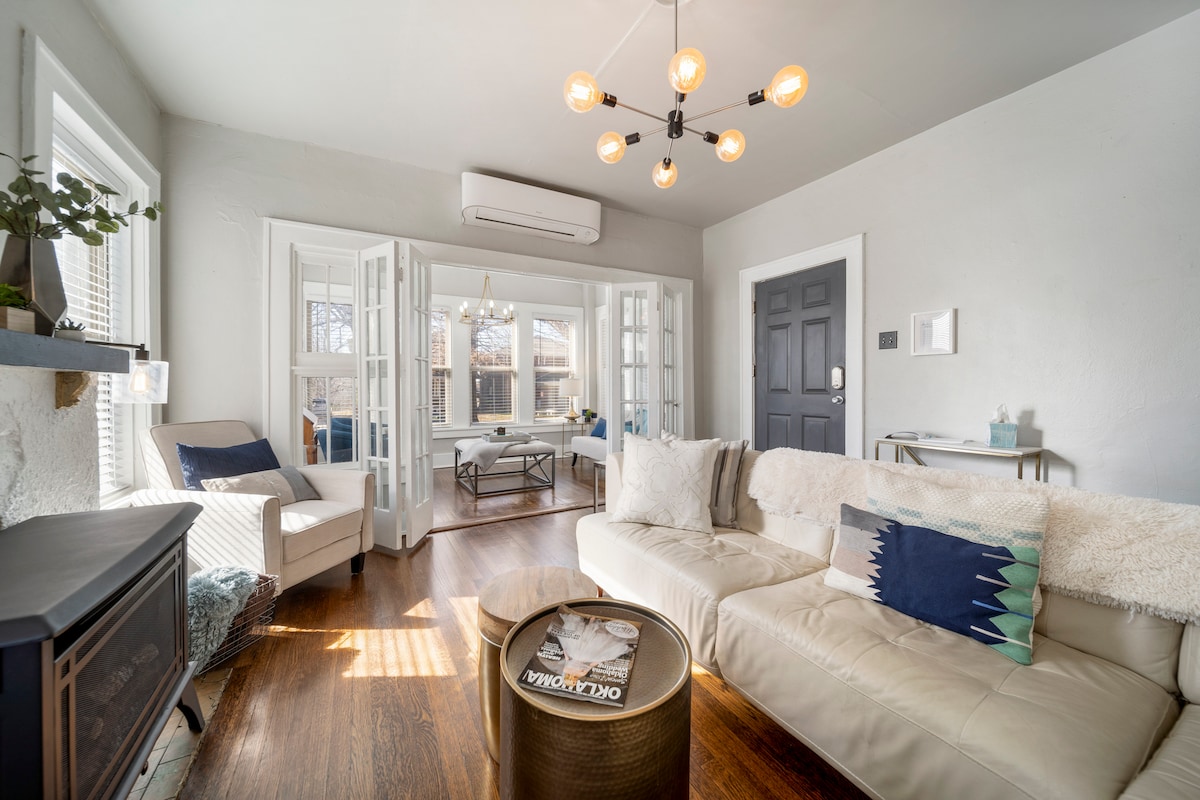 Downtown 1920s Apartment
Historic charm meets modern living with this tastefully renovated Airbnb in Tulsa, Oklahoma. 
The apartment is situated in a century-old brick building and features original exposed brick accents and antique details. Surrounded by three walls of windows, the spacious and separate sun room is bright, beautiful, and decorated with a golden chandelier and elegant furnishings. The elegance continues in the main living room, which offers a wall-mounted TV and an indoor fireplace, and the full kitchen is equally as impressive with stainless-steel appliances and granite countertops. The space also offers one bedroom with a queen-size bed, a separate laundry room, and a full bathroom with a separate walk-in shower and an antique claw-foot tub. 
Nestled on a tree-lined street in a historic Tulsa neighborhood, this incredible Oklahoma Airbnb is just a 10-minute walk from downtown attractions. Grab a bite to eat at a local restaurant, enjoy a show at one of the nearby venues, or just marvel at the incredible architecture that surrounds the apartment. However you spend your stay, you can't go wrong with this charming apartment rental. 
View on Airbnb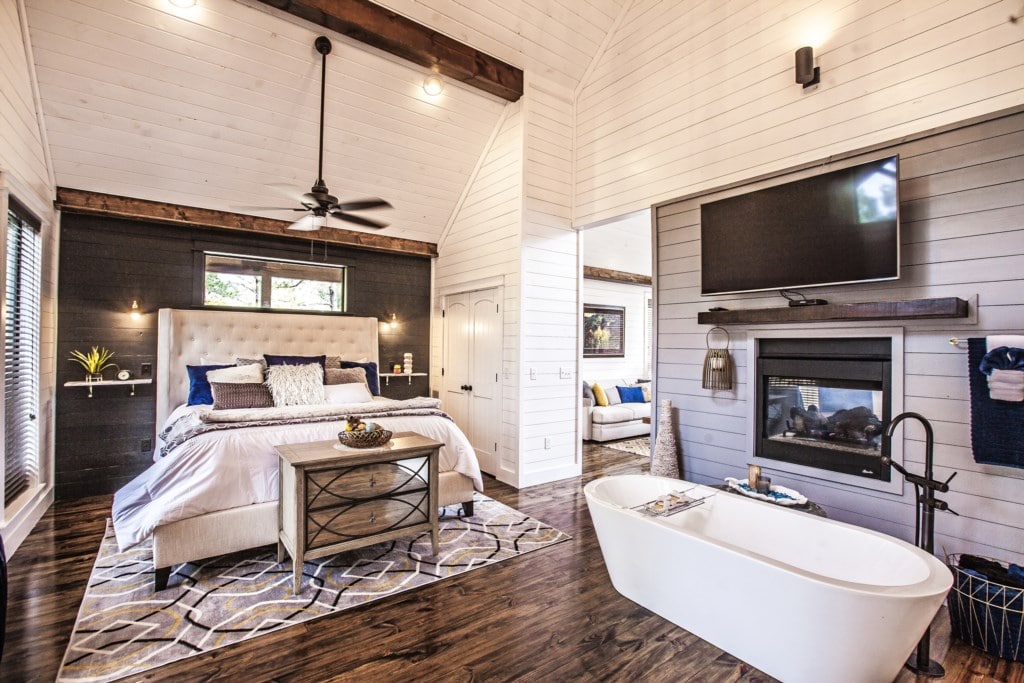 Luxurious Broken Bow Cabin
Few cabins in Broken Bow, Oklahoma, offer the style and luxury of this brand-new and completely modern rental. 
Designed as a couples retreat, the cabin offers one bedroom and one bathroom and can sleep two guests. Characterized by two-story cathedral ceilings and designer furnishings, the interior boasts an eclectic style and mid-century modern décor. Elegant chandeliers hang throughout the open living space, which features a gourmet kitchen, a cozy living room, and a high-end dining table with blue velvet chairs. The spacious and luxurious bedroom is appointed with a king-size bed, a wall-mounted TV, an indoor fireplace, and a deep soaking tub. There is also a massive full bathroom with a double-sink vanity, designer mirrors, and an oversized shower. The cabin is pet-friendly and offers almost every conceivable amenity, including Wi-Fi, air-conditioning, and laundry facilities. 
With a two-person hot tub, an outdoor dining table, and a firepit, the covered deck is the perfect spot to relax and enjoy the wooded scenery. The cabin is tucked away on 1.5 wooded acres in the Ouachita Mountains, making for a completely private stay surrounded by nature. It's secluded location, romantic atmosphere, and luxurious amenities make this one of the best Oklahoma Airbnbs for a couples retreat. 
View on Airbnb
Related: 15 Best Cabin Rentals in Broken Bow, OK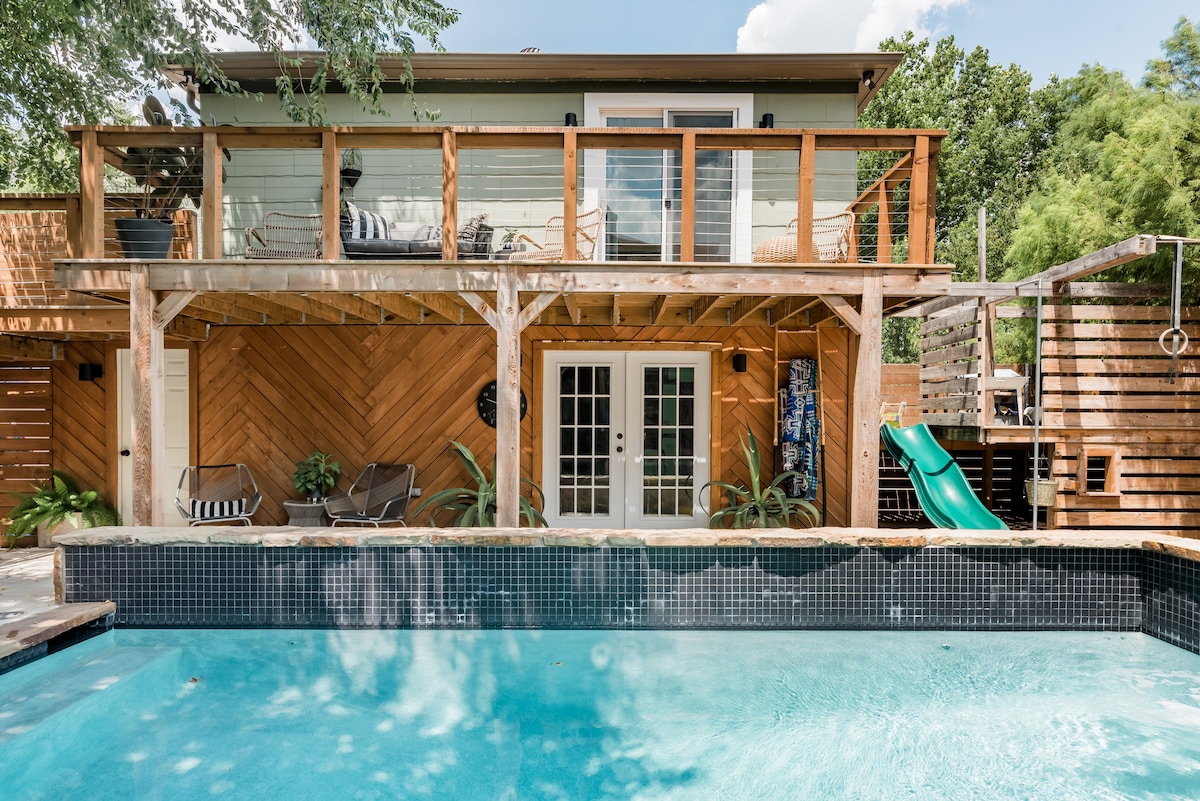 Poolside Guesthouse in Norman
This welcoming suburban guesthouse is another great option for couples and small groups interested in renting a modern Oklahoma Airbnb. 
The interior is bright and cheerful and offers a comfortable and spacious living room, a cozy breakfast nook, and an all-white full kitchen with modern appliances, including a washer and dryer. The bedroom is furnished with a queen-size bed and a wooden vanity, and the space is decorated with nautical-themed artwork and calming blue décor. There is also a crystal-clean full bathroom with a walk-in shower, and guests will have access to convenient modern amenities such as Wi-Fi and TV. 
Outdoor space includes a furnished balcony off of the bedroom, a fenced-in patio, and a gorgeous recreation area with an inground pool and a small playground. Surrounded by trendy restaurants, shops, and pubs, this Airbnb in Norman, Oklahoma, is convenient, fun, and family-friendly. 
View on Airbnb
Modern Farmhouse Cabin
Another great option in Broken Bow is this unique cabin rental tucked away in a cul-de-sac and surrounded by pine trees. 
The one-bedroom, one-bathroom home is furnished with a king-size bed, a day bed, and a trundle bed, making it ideal for a couple or a small family. Exposed wooden beams and a black accent wall compliment the all-white living space, which includes a spacious living room, a dining table, and a full kitchen. There is a 65-inch Smart TV mounted on a stone wall with an indoor fireplace, and large glass doors fill the space with natural light. Additional amenities include Wi-Fi, air-conditioning, a dishwasher, and a washer and dryer. 
One of the best features of this outstanding Airbnb in Oklahoma is the covered patio, which doubles as a luxurious second living room with a jetted hot tub, a wall-mounted TV, and an indoor fireplace. Enjoy a relaxing soak surrounded by trees as you watch your favorite show or take an afternoon nap on the outdoor sofa. If you're up for some outdoor adventure, Beavers Bend State Park is just a few minutes away as are plenty of opportunities for hiking, zip lining, fishing, and boating. 
View on Airbnb
Cozy Private Cottage
Secluded, quiet, and surrounded by gorgeous oak trees, this charming short-term rental in Oklahoma offers a cozy stay ideal for a solo traveler or a couple. 
The studio space is small but efficient and well appointed with everything you need for a comfortable stay. Furnished with a double bed and a two-person dining table, the one-room cottage also offers a small kitchenette, a modern full bathroom, and a TV with an accompanying selection of DVDs. The rental comes with high-speed Wi-Fi, it is pet-friendly, and guests will have the option to receive complimentary breakfast delivered to the front door on Saturdays and Sundays. 
A brand-new privacy fence separates the host's main home from the cottage and its private outdoor space, which includes a jetted hot tub and a cozy firepit. In addition to the private space surrounding the house, the property also offers a small pond and a hiking trail. 
View on Airbnb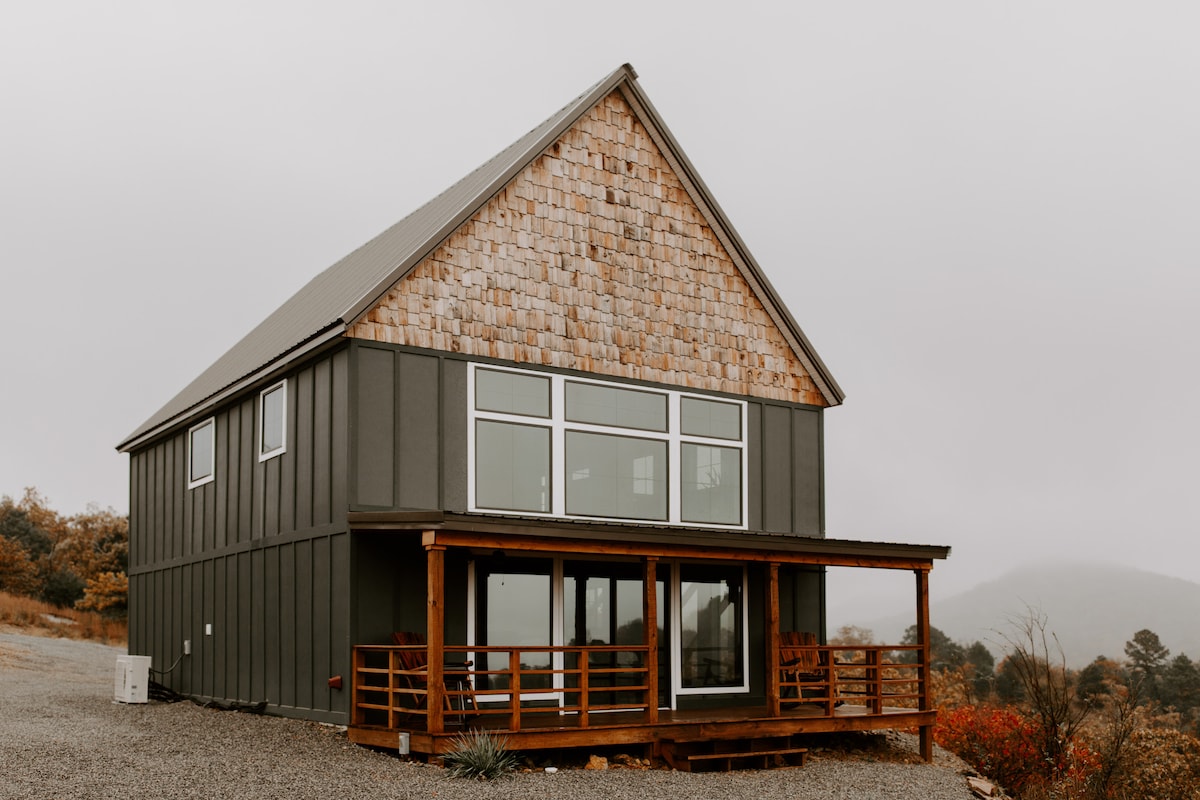 Secluded Mountain Loft
If you're looking for an Airbnb in Oklahoma with lake access and enough space for the entire family, you'll definitely want to check out this three-story mountain cabin. 
The first floor of the home boasts a rustic chic style with dark wood-planked walls, high ceilings, and a complete wall of windows that provides stunning lake views from the living room. Also on the first floor, you'll find a well-equipped full kitchen, a large dining table, and one bedroom with a queen-size bed. On the second floor, there is a small reading nook as well as a second bedroom with a queen-size bed, and the third-floor loft is furnished with two single beds. Guests will have access to two modern full bathrooms in the cabin, and indoor entertainment includes high-speed Wi-Fi and TV. The cabin is also pet-friendly and a great choice for children, as your host will include a travel crib and additional baby gear upon request. 
Relax on the second-floor balcony and marvel at the panoramic lake and mountain views or venture toward the water for hiking, swimming, and boating. The cabin's convenient location near Highway 75 makes it easy to access, but guests can still enjoy the tranquility of a private natural setting. 
View on Airbnb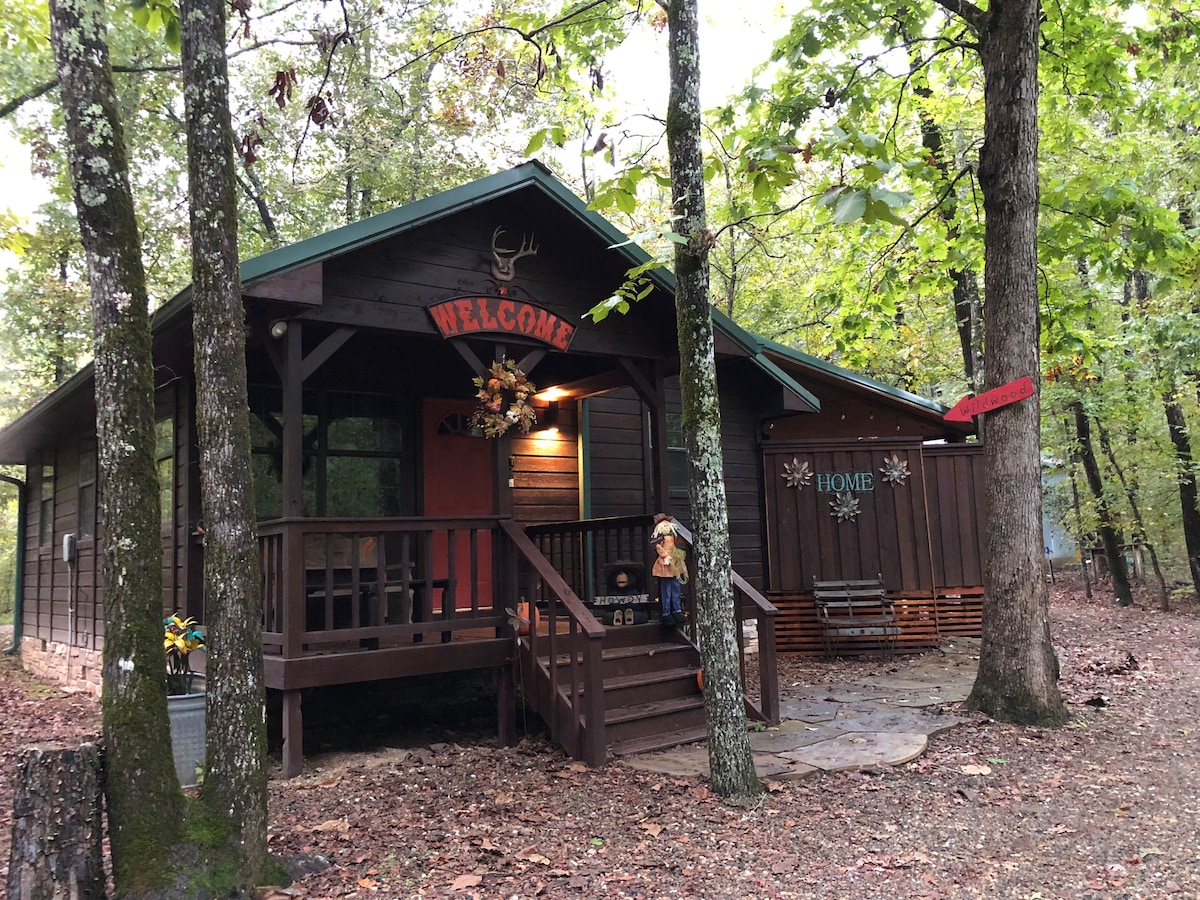 Wildwood Honeymoon Hideaway
As its name suggests, this secluded sanctuary makes the perfect romantic retreat for couples interested in being surrounded by nature. 
When you step inside of this heavenly cabin, you'll immediately be greeted by a welcoming living space, which boasts a full kitchen, cozy leather sofas, and a stone accent wall fixed with an indoor fireplace and a wall-mounted TV. The wood-planked interior is rustic and warm and styled with a dark wood dining table, dark exposed beams, and taxidermy mounts. There is one bedroom with a double bed, and the modern full bathroom features granite countertops and a copper vessel sink. 
Outside, you'll find a peaceful meadow with a running creek as well as a front porch meant for soaking up the views. The best part of the rental is the brand-new covered deck, which features a spacious jetted hot tub by a gas fireplace. 
Hidden away on seven acres of oak and pine trees, this Oklahoma Airbnb is truly secluded and completely surrounded by wildlife and spectacular natural scenery. 
View on Airbnb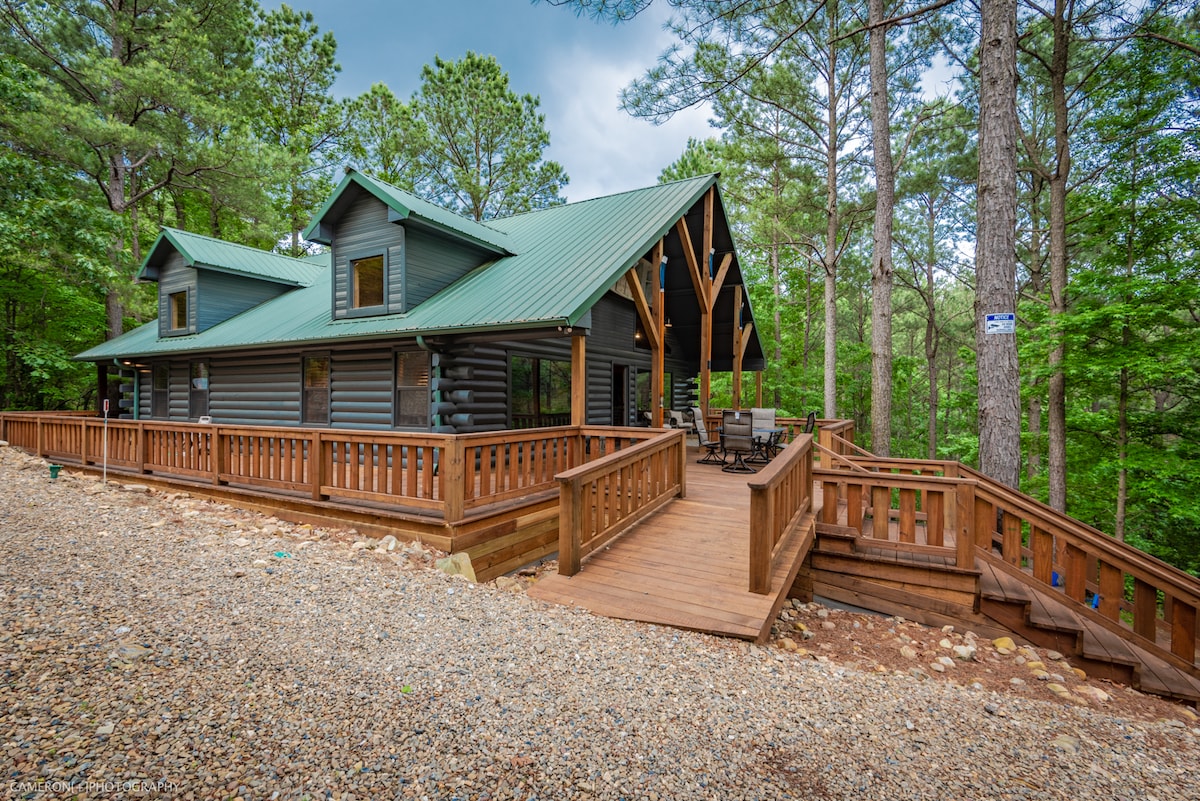 Serene Hillside Cabin
This vacation rental in Oklahoma makes another great option for larger groups interested in a modern Broken Bow cabin. 
Up to seven guests can stay in the cabin, which offers two full bathrooms and two bedrooms with a king-size bed, a single bed, a queen-size bed, and space for an air mattress. The entire family can relax in front of the fireplace and the TV in the spacious living room, and the several grand windows offer incredible views of the surrounding forest. Feel free to whip up a meal in the modern full kitchen complete with brand-new quartz and stainless-steel appliances. Pets are allowed in the cabin, and additional amenities include Wi-Fi, air-conditioning, and a washer and dryer. 
The hillside location makes for an elevated experience with great views from the back porch, which offers patio furniture, a hot tub, and a grill. There is also a cozy firepit in front of the cabin, and the entire rental is surrounded by trees. No other cabins or neighbors are visible from the home, but popular Broken Bow attractions are still just a short drive away. 
View on Airbnb
That concludes our list of the best Airbnb rentals in Oklahoma. With so many great accommodations to choose from, you're in for an incredible stay.