Road Affair is reader-supported and may earn commission from purchases made through links in this article.
For over a decade, Melbourne has been ranked one of the top 10 most livable cities in the world, according to the Economist Intelligence Unit. This has much to do with its fantastic culture, infrastructure, and fast public transport. The city is a popular tourist destination for many reasons but particularly for its vibrant music and arts scene.  
Booking a vacation can be stressful, which is why we here at Road Affair want to help make it a little easier. Save yourself hours of relentless searching by checking out our list of the best Airbnbs in Melbourne, Australia. 
All Airbnbs listed are hosted by superhosts – rental owners who have a history of outstanding hospitality toward their guests. Additionally, every rental listed below is also a certified Airbnb Plus home. This means they have been in-person verified to ensure a high-quality stay. 
Related: 15 Best Airbnbs in Sydney, Australia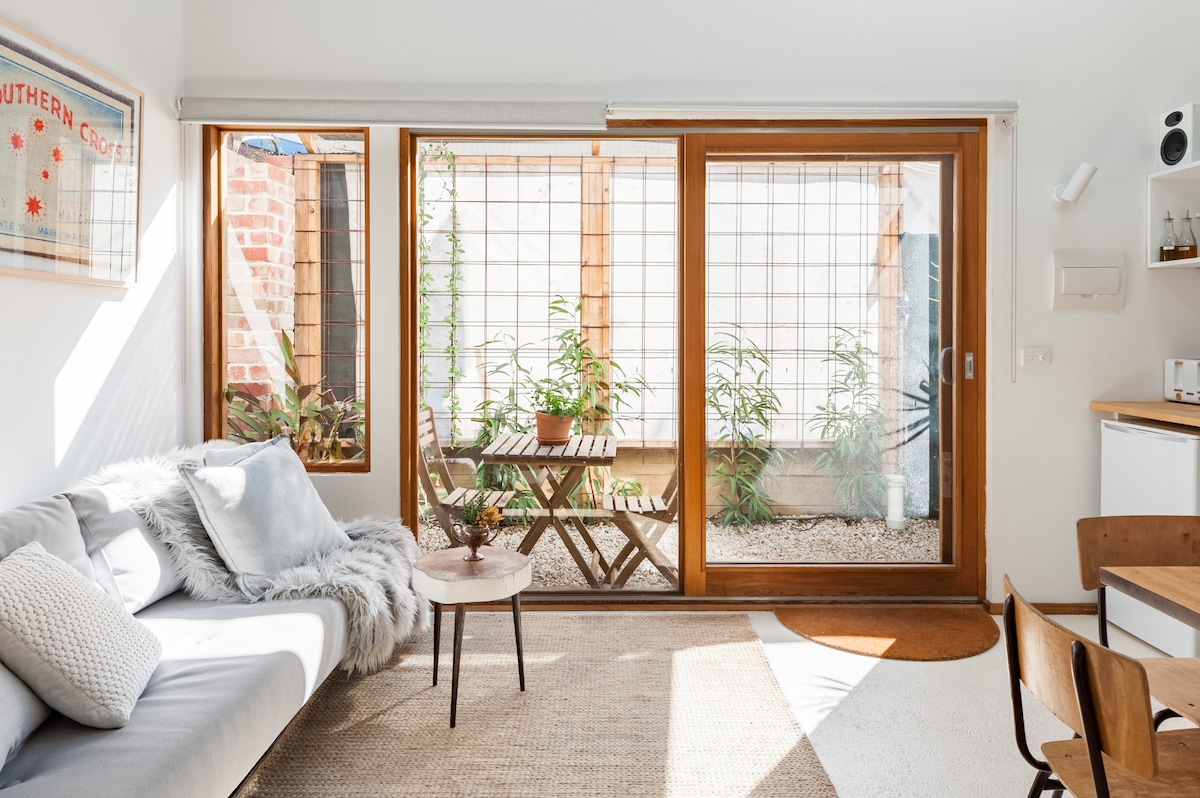 Cozy House for Two 
This breathtaking house rental in Melbourne has been fully designed to provide a tranquil and modern stay. 
This one-bedroom home lets guests relax in a space that is simply designed with natural wood accents and large floor-to-ceiling windows and skylights that allow for plenty of natural light. The loft-style bedroom boasts a queen-size bed as well as a dresser for storage. Downstairs, you will find a small kitchenette that includes a minifridge, a newly installed stove, and a microwave. There is also a selection of teas and coffees for guests. The entire downstairs is serviced by an Amazon Echo and is fully equipped with a sound system so that you can jam out to your favorite songs even while in the walk-in shower.  
Whether you start your morning off with yoga or a cup of joe, you'll have access to a private outdoor patio surrounded by climbing vines and greenery. 
The house is located around the corner from the Melbourne Zoo in the neighborhood of Fitzroy North. Within walking distance of this rental are many trendy coffee shops, parks, and vintage thrift stores. Buses and trams are also only a two-minute walk away.  
View on Airbnb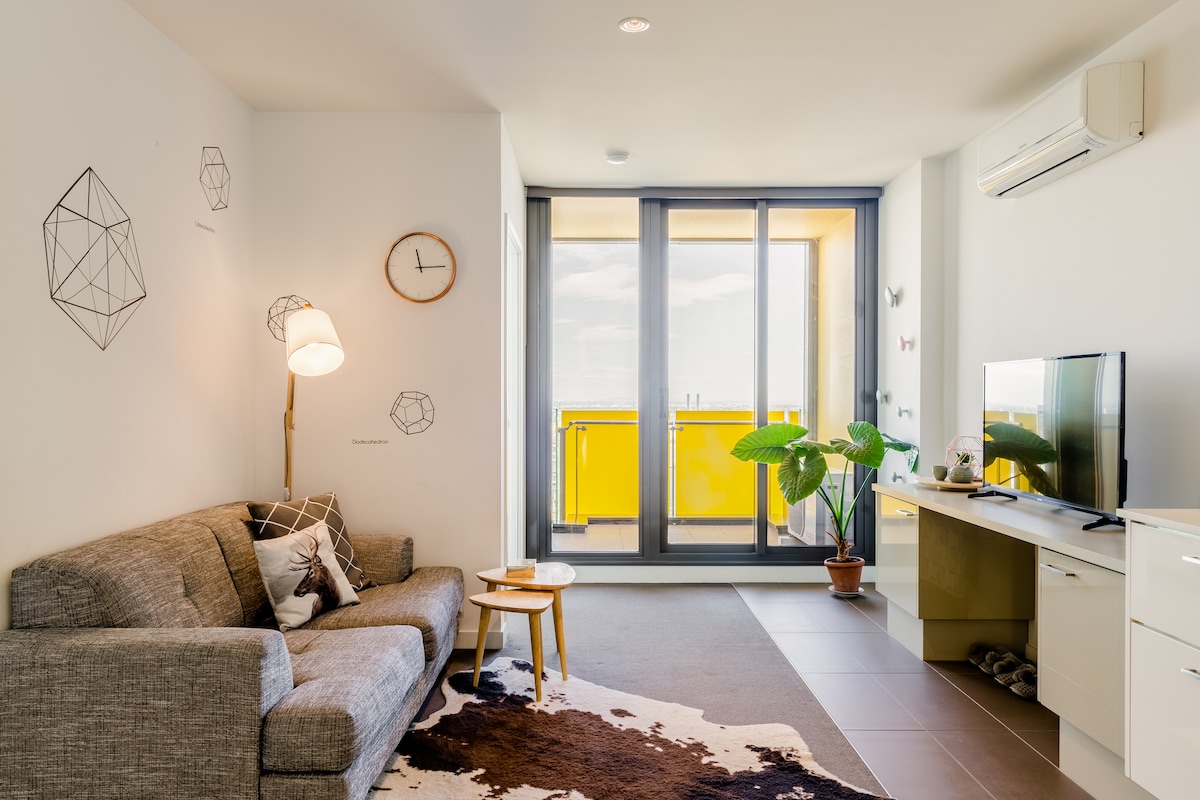 Contemporary Apartment With Phenomenal Views
Enjoy a luxury vacation with all the comforts of home in this stylish Melbourne Airbnb. 
Perfect for couples or those with accessibility needs, this one-bedroom apartment comes with access to an on-site pool, gym, and sauna. Inside this modern contemporary rental is an abundance of natural light from the floor-to-ceiling windows equipped with breathtaking harbor views. Enjoy a cup of coffee from the espresso machine in the full kitchen, and take in the views from the open air of the balcony. 
The apartment is located right downtown across from the Skybus Terminal at Southern Cross Station, which gives guests quick access to the airport. It is also in the area of town with free tram service. Make sure to try the renowned ricotta pancake at the famed Higher Ground Café  located in the same building as this rental. Also located nearby is Marvel Stadium, Sea Life Melbourne Aquarium, and the Central Business District. 
It should be noted that superhost Jackie does not allow pets. She also says the space is not suitable for children and infants.
View on Airbnb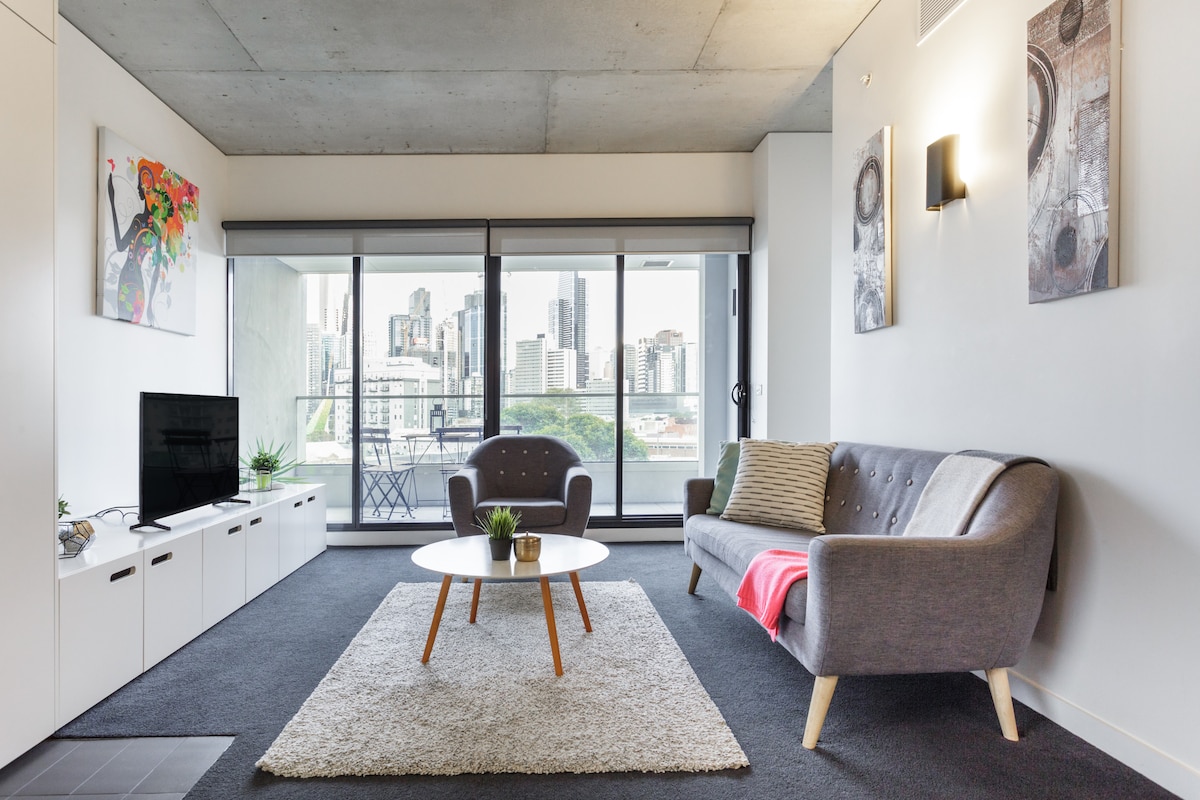 Airy Apartment in Botanical District 
Guests of this Airbnb in Melbourne will be pleasantly surprised by this apartment's comfort, views, and location. 
Look inside this minimalist and cozy two-bedroom apartment, and you will find plenty of upgrades to make your stay more relaxing. Floor-to-ceiling windows mean you get great views of the city from every spot, and the balcony provides guests with a space to enjoy the view with fresh air. 
Both bedrooms have queen-size beds, en suite full bathrooms, and modern pops of color. If you stay here, you'll have access to a washer and dryer to ensure your clothes are fresh for a night out. There is a large built-in closet in the bedroom as well, so you can hang your suits and dresses to keep them crisp. The bedroom also includes a large desk for those who need to get work done. Both full bathrooms in the apartment are full wet rooms as well. 
This rental can accommodate up to four guests and is in a perfect location for those looking to attend the Melbourne Grand Prix. It is also within walking distance of the Royal Botanic Gardens, the Crown Casino, and the National Gallery of Victoria. 
On-site shared facilities included in this rental are a jacuzzi, a large outdoor swimming pool, and a courtyard garden. There is also free on-site parking available.
View on Airbnb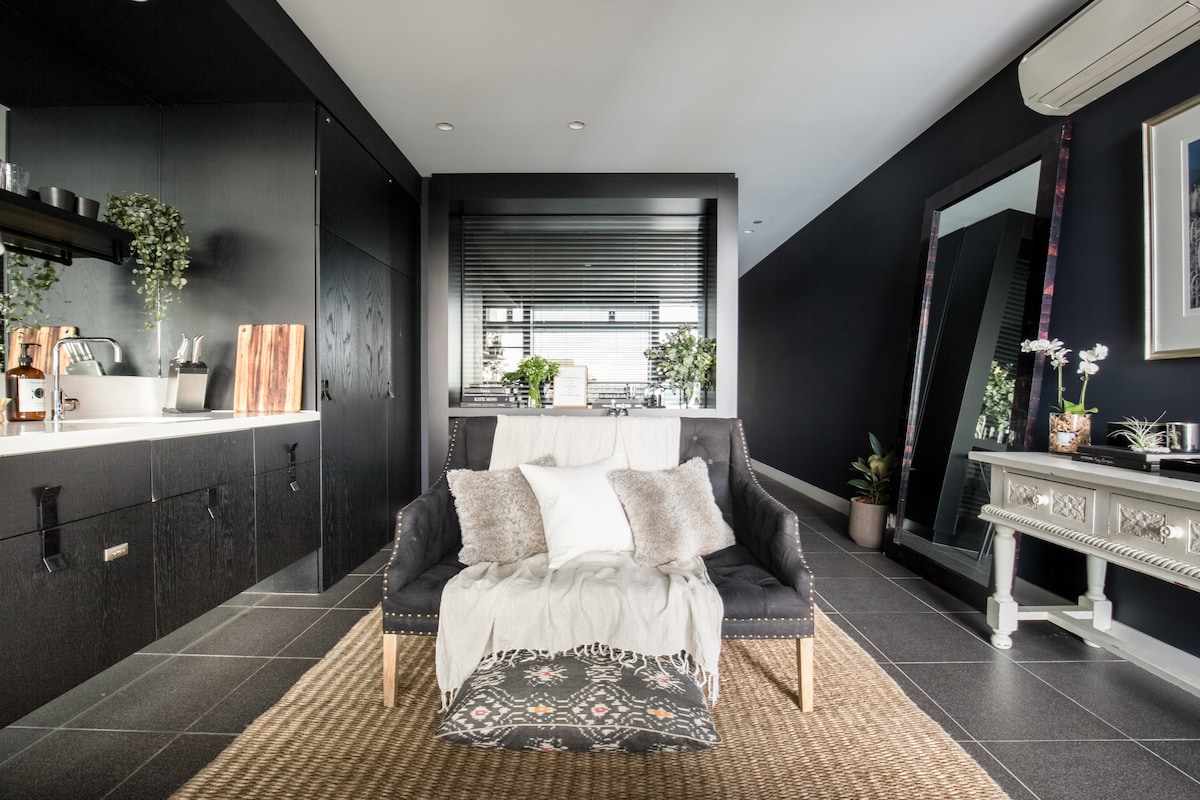 South Yarra Sanctuary
Superhost Mia would like to share her love of candles, plants, and ceramics by hosting you in her unique, contemporary apartment located in South Yarra. 
Much like the celebrities of today, this apartment has a distinct and dramatic personality. Its dark, moody atmosphere has made it a celebrity in its own right as many films and photoshoots have taken place here. 
Don't be fooled by its resume, though, as this rental offers a very comfortable and relaxed stay. A queen-size bed allows for up to two guests to sleep. There is also both a full kitchen and a full bathroom, as well as a laundry room with a washer and dryer. Guests will also have access to free parking and the use of a barbecue on the private balcony. 
Speaking of celebrities, if you're hoping to see a Hemsworth brother on your trip, you may be in luck. Melbourne native Chris Hemsworth's favorite restaurant is nearby. Hop on the 246 bus line from around the corner to Matcha Mylkbar and see if you can camp out long enough to spot him. 
The Royal Botanic Gardens, Chapel Street, and the Shrine of Remembrance are also within walking distance of this rental.
View on Airbnb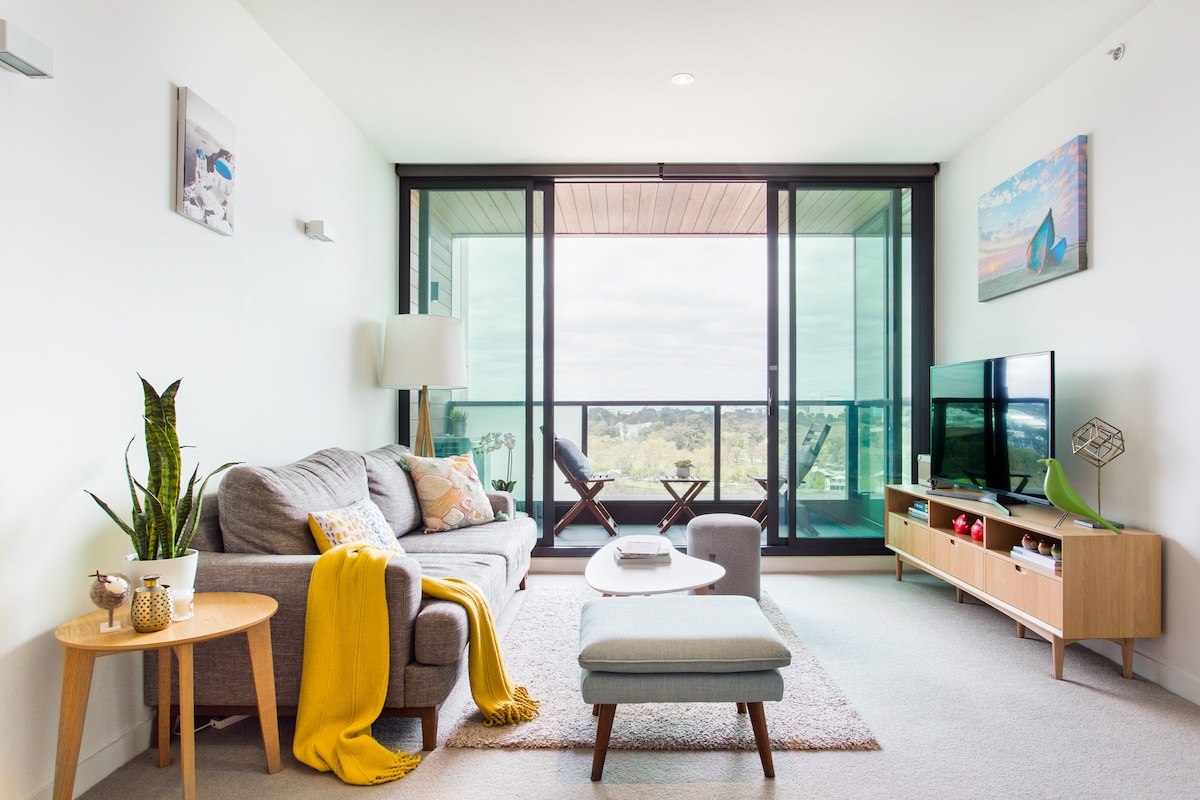 Stylish Downtown Apartment
Are you looking to stay in downtown Melbourne? Then look no further than this chic apartment located in the heart of the city. With the convenience of trendy restaurants, boutique shops, and the city square on the doorstep of this rental, you'll find that everything you need is only steps away from where you sleep. 
Location is only part of the reason this holiday apartment in Melbourne has made our list of the best Airbnb rentals in Melbourne. This spacious, two-bedroom apartment also has a laundry room and access to a shared on-site gym. Inside, there are two full bathrooms with walk-in rain showers and a full kitchen that includes a breakfast table and an espresso machine. Guests can also enjoy the views of Yarra River and the Royal Botanic Gardens Victoria from the balcony or the floor-to-ceiling windows. 
This rental is ideal for those who have accessibility needs as it has wider doorways for wheelchair accessibility and step-free paths in and out of the apartment. Up to four guests can stay in this Airbnb Plus.
View on Airbnb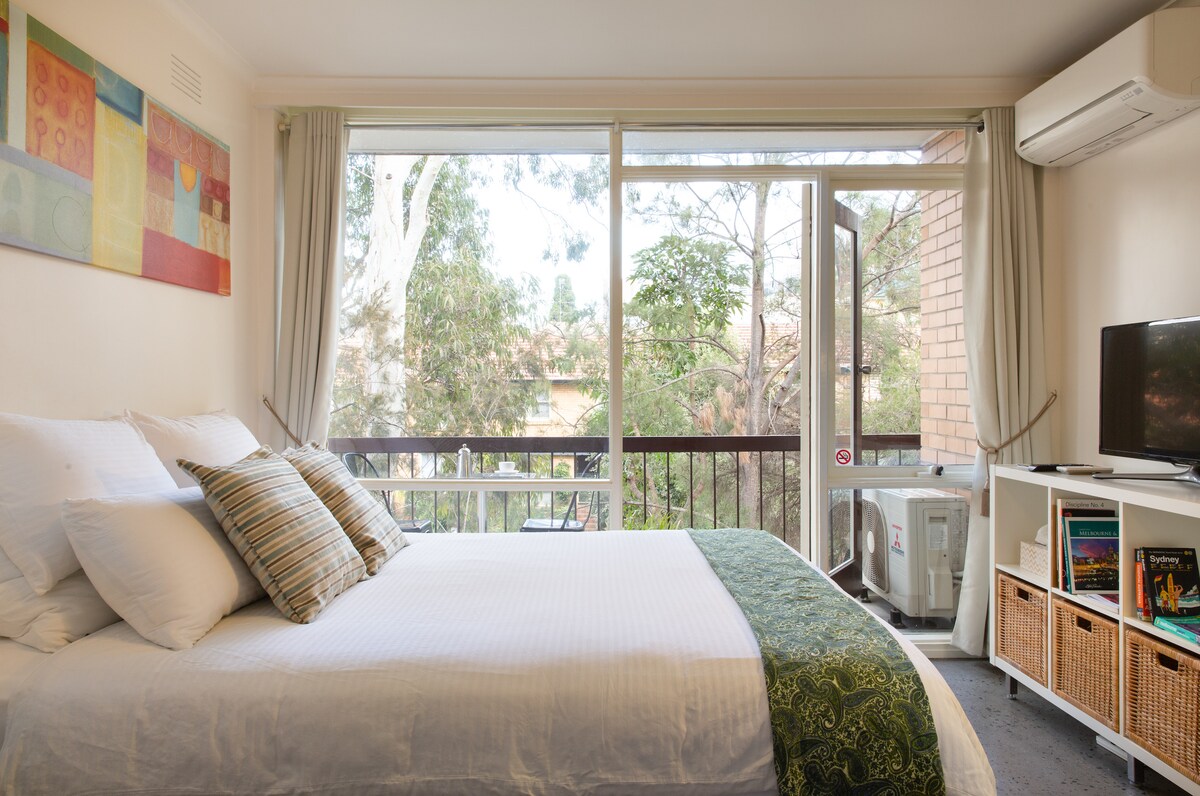 A Cozy Couples Retreat
This vacation rental in Melbourne is perfect for couples or solo travelers. Guests of this studio apartment won't be left bored as the Fitzroy neighborhood it is located in is known for its nightlife, live music, and trendy cafés. It is also within walking distance of many popular tourist destinations such as the Melbourne Museum, Brunswick Street, and Carlton Gardens. 
Inside the studio is a minimalist design that focuses on comfort over luxury; however, it is anything but out of style. Its abstract art pieces and smart storage design allow for guests to stay in a practical and relaxed environment. 
The full kitchen has plenty of counter space as well as a dishwasher. There is no couch in this rental, but guests can stream their favorite shows from the queen-size bed on the Smart TV in the living/bedroom area. Alternatively, visitors can opt to enjoy a cocktail on the private balcony.
Other amenities included in this Melbourne Airbnb are a shared washer and dryer room, free on-site parking, and extra free street parking.
View on Airbnb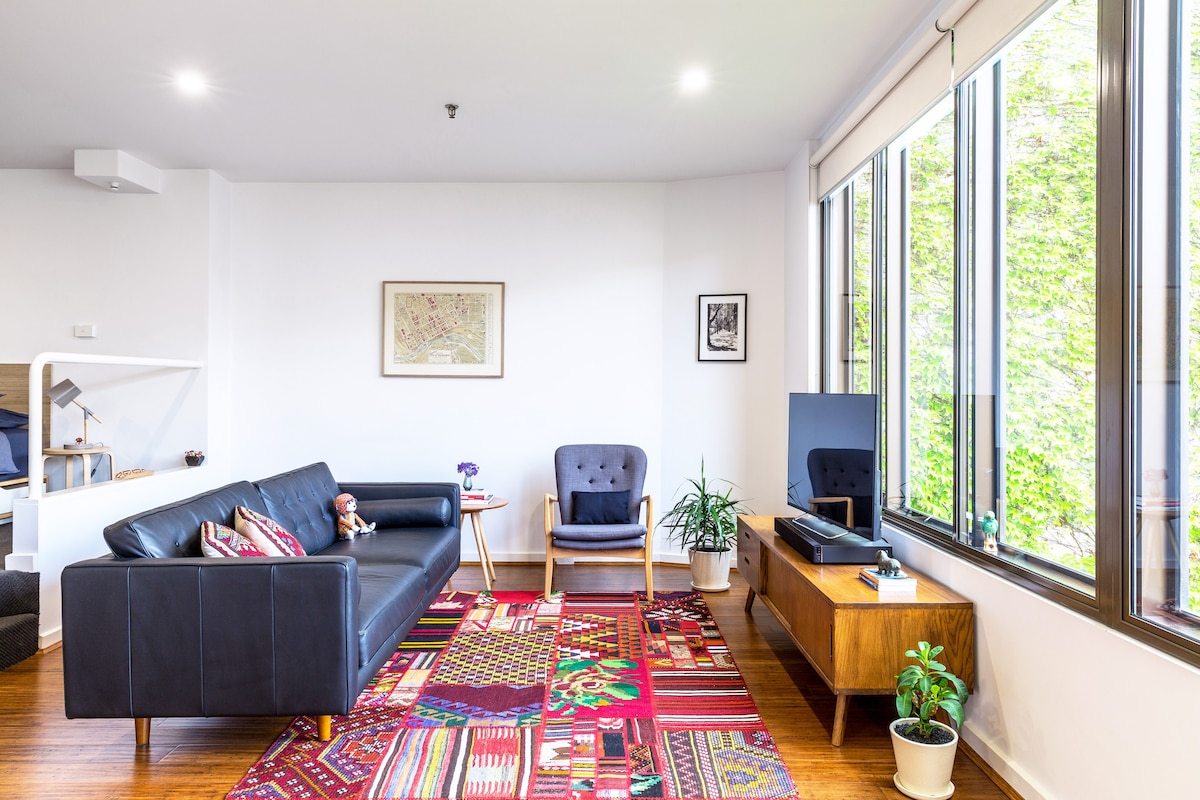 Trendy Studio near Parliament House 
Step inside this spacious studio and see for yourself why guests have rated it a whopping five out of five stars. 
Although located in the bustling neighborhood of Bourke Hills, guests who stay here don't have to worry about street noise keeping them awake. The large picture windows are double-glazed to make the apartment as peaceful and soundproof as possible. This studio has been designed for comfort in a contemporary style so that guests can make use of all the space. The bedroom area is distinctly separated from the living area by a raised platform with a queen-size bed on top. Beside the bed is a large, built-in closet to provide guests with tons of storage space. 
Superhost John has made sure that this rental is stocked with everything you could need during your stay. In the full bathroom, there are complimentary toiletries and a hairdryer, and in the full kitchen, there is an espresso machine and a toaster. 
Guests of this Airbnb in Melbourne are only steps away from Chinatown, Bourke Street Mall, Fitzroy Gardens, and many other popular attractions.
View on Airbnb
Converted Warehouse Apartment
Join superhost Anne in her beautifully converted warehouse apartment in the ever-popular Fitzroy neighborhood. 
Those looking to rent a room in Melbourne will be pleasantly surprised by the number of private rooms given to guests in this Airbnb. Not only do you actually get two private bedrooms but also a private living room, a private full bathroom, and a private study. Also included is a gorgeous private rooftop terrace, complete with sun loungers, a patio dining set, and a barbecue. There is also another separate patio area to enjoy some shade in. The only parts of this Airbnb that are shared with the host are the full kitchen, dining room, and common area. 
This upscale, artsy apartment comes with many modern upgrades to make your stay more enjoyable, such as a Smart TV, a soundsystem, and a daybed. One bedroom has a queen-size bed, while the other bedroom has a double. Up to two guests are allowed to stay in this rental. 
Potential guests of this rental should note that it does not allow pets or young children.
View on Airbnb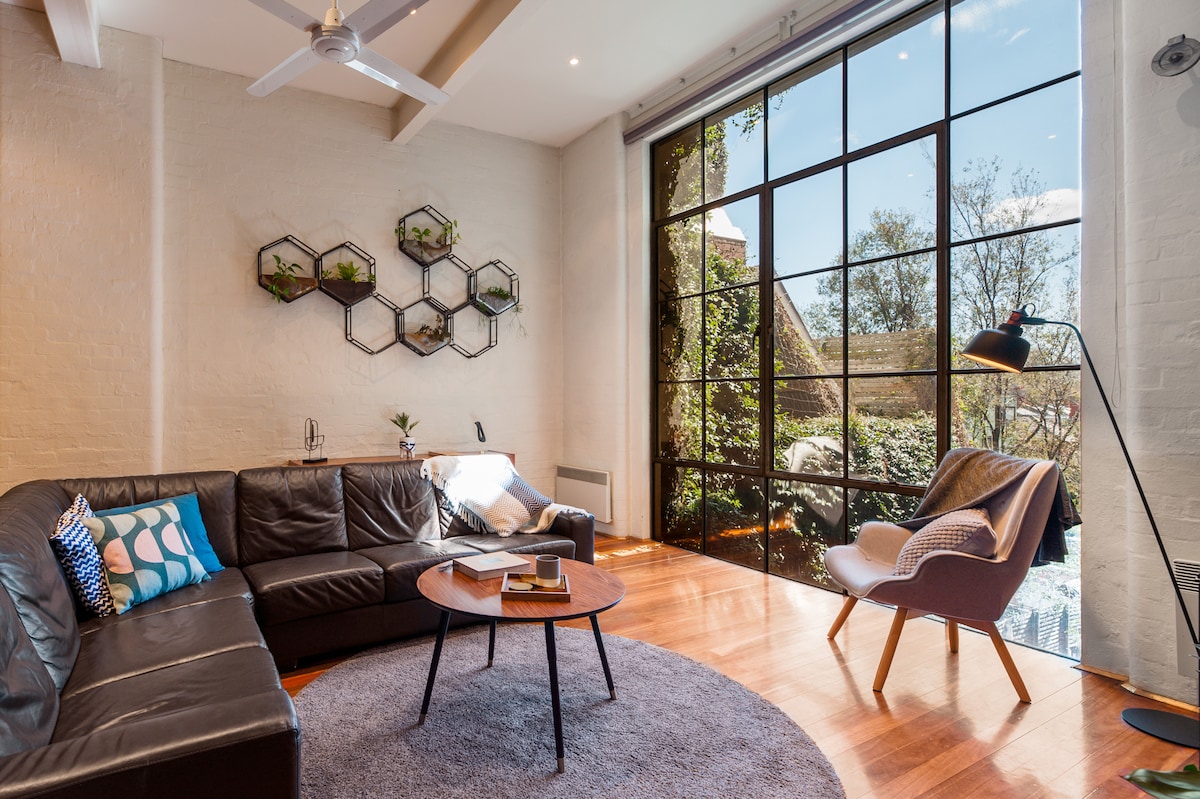 Converted Old Chocolate Factory Loft
Are you looking for an Airbnb in Melbourne that is both modern and spacious? Then take a look inside superhost Zhen's converted warehouse loft. 
This beautiful rental boasts exposed brick walls, original floor-to-ceiling windows, and a spiral metal staircase that help to create a warm, industrial-inspired space.
This two-bedroom loft can accommodate four guests and has plenty of room to entertain. Guests can sit back on the large sectional in the living room and take in beautiful city views or watch a movie on the Smart TV. The full kitchen has plenty of storage and a dishwasher. Also included in this rental is a small laundry area beside the kitchen that has a sink, laundry products, and a washer and dryer. 
The master bedroom is adjacent to the living room but can be separated using a curtain. The room has a queen-size bed, memory foam mattress, and room-darkening shades. The second bedroom is located upstairs and has a double bed.
This rental is in the heart of the Fitzroy neighborhood, which means guests who stay here are within walking distance to many popular restaurants, boutique shops, and art galleries.
View on Airbnb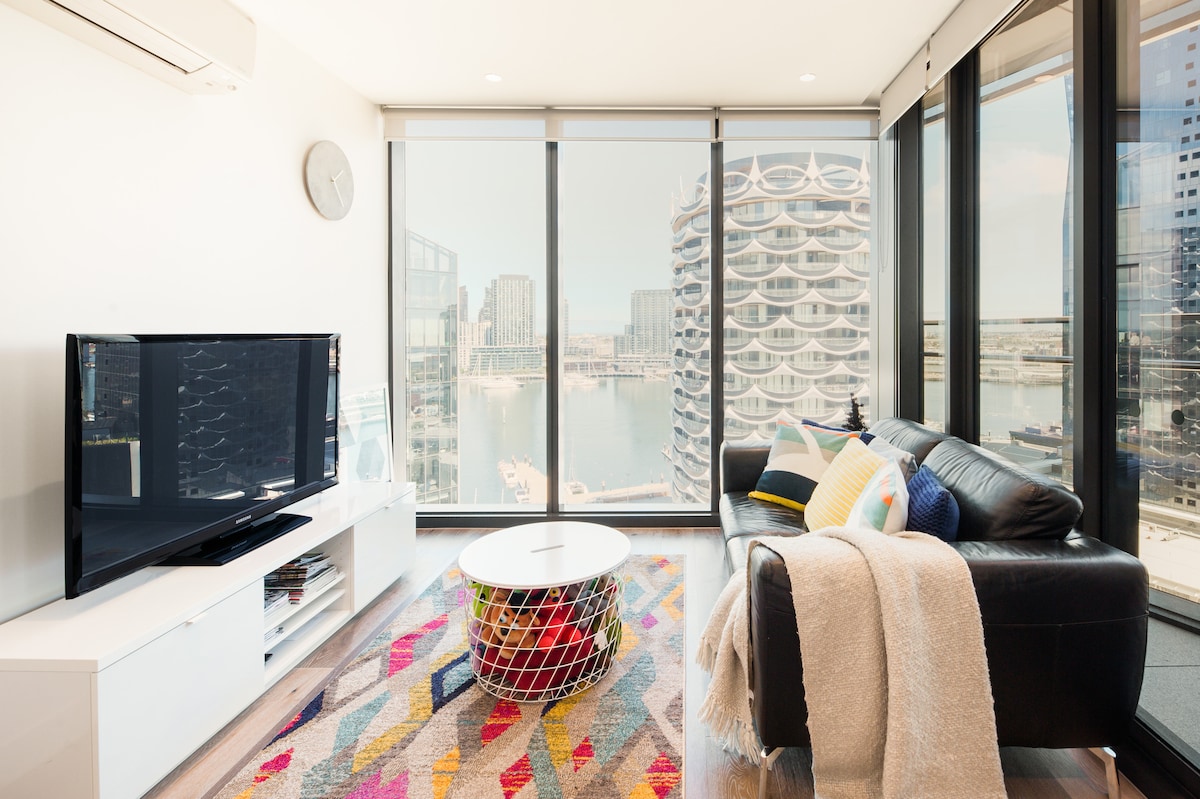 Designer Apartment With Panoramic Harbor Views
When renting an apartment in Melbourne, you want unbeatable style and comfort. Well, look no further than this beautifully designed apartment located in the Docklands District. It is perfect for families or small groups of up to four. 
An architect by day and superhost by night, Henfry would like to welcome you to his modern and custom-designed home. Decorated in minimalist white with wooden accents, it is sure to make every guest feel relaxed. Guests who stay here will have unbeatable views of the Yarra River and architecturally stunning buildings from the floor-to-ceiling windows found in almost every room. This rental also comes with access to free on-site parking, a shared on-site gym, and a pool.
Inside this bright and spacious apartment are two bedrooms. Both have a queen-size bed and a built-in closet with full-size mirrors for doors. There are also two full bathrooms, each with a large walk-in shower. 
The location of this apartment, between the Melbourne Star Observation Wheel and Marvel Stadium, is fantastic. It also has a free tram service to the downtown area.
View on Airbnb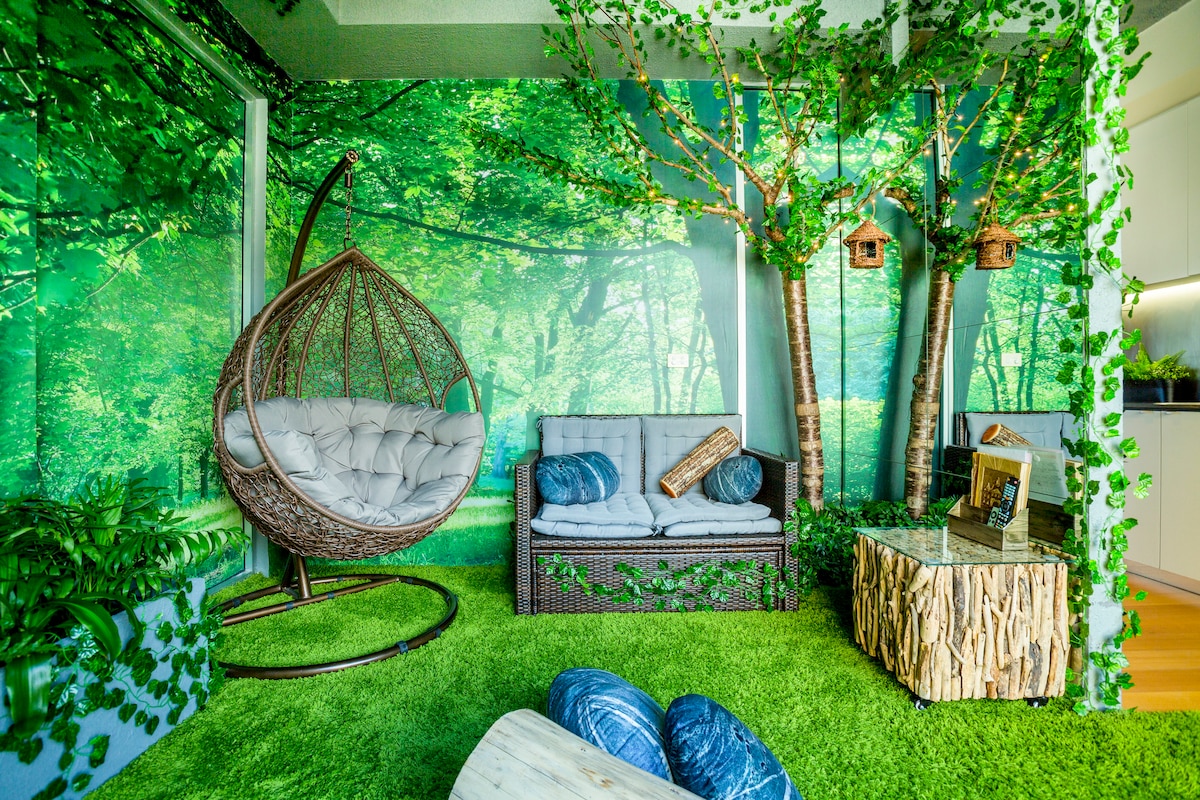 Forest-and-Heaven Themed Apartment
If you are looking for a truly unique Melbourne Airbnb, then consider staying in this jungle-themed apartment in the heart of downtown. 
Tarzan would definitely approve of this nature-inspired home as it transports its guests from the inner-city into a tropical oasis. The living room is an outdoor enthusiast's dream with its green forested wallpaper, fairy lights, faux climbing vines, and lush, fake green grass. Guests can relax in the hanging chair or pull up a stump or pillow seat in this truly one-of-a-kind room. 
Do you think this rental already sounds heavenly? Well, just wait until you see the bedroom. It is like stepping into a soft, warm cloud that has a king-size bed inside. The room is decorated with pictured sky wallpaper, cloud-shaped lights, and fluffy pillows that make you feel as if you're floating toward the heavens when you doze off to sleep. 
This stunning apartment also has a full kitchen that includes an espresso machine, and a full bathroom with a large soaking tub. 
Although this apartment sounds like it is something straight out of a child's dream, the superhosts of this rental do not allow young children.
View on Airbnb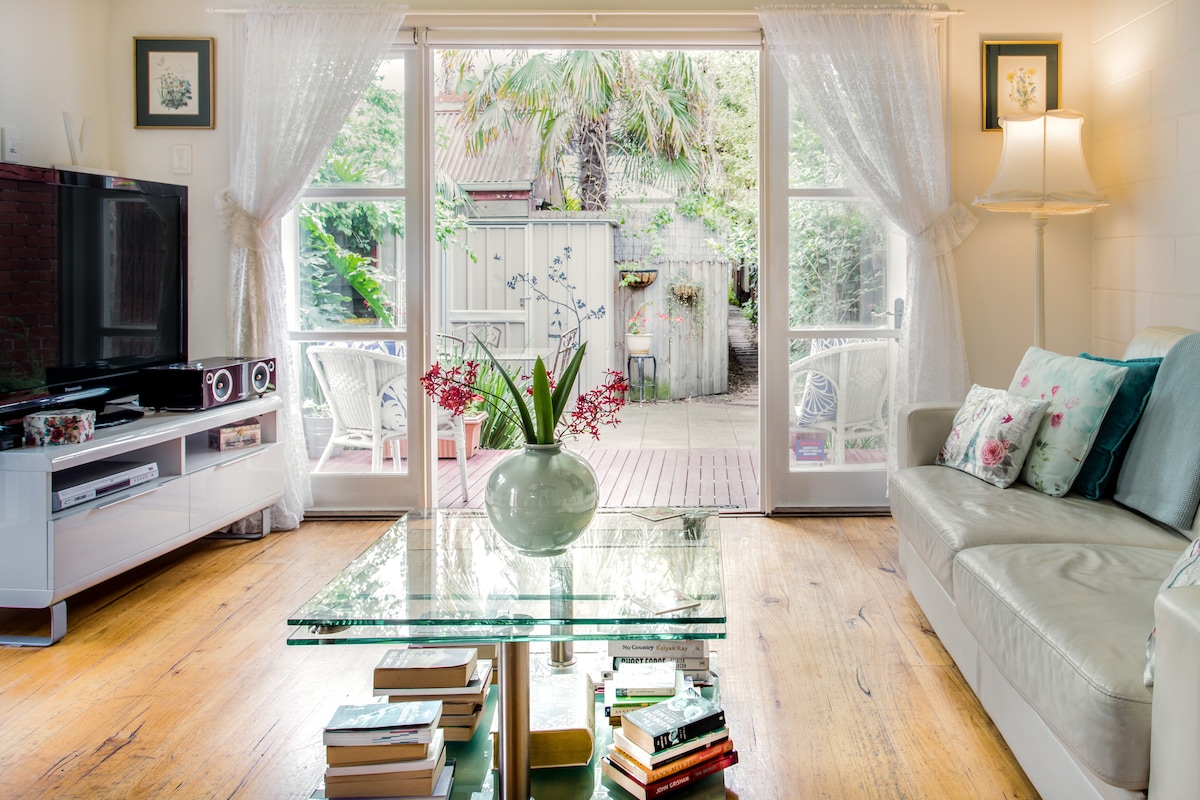 Country-Style House in Saint Kilda 
Here is yet another listing that will make you feel like you are nowhere near a city. This open-concept house in the heart of Saint Kilda is the perfect rental for a romantic getaway. 
This beautiful loft-inspired home is very spacious and decorated in a modern contemporary style. Guests can relax with a cocktail on the front patio or choose to have a little more privacy in the charming private courtyard. In the center of this home is an eye-catching spiral staircase that leads to the New York-style loft bedroom, which has a queen-size bed. Sprinkled with pop culture décor, this home is sure to make you feel as if you're on vacation in the countryside. 
In the living room, guests can choose to read one of the many books provided or tune into their favorite streaming channels on the Smart TV. The full kitchen has a pod coffee maker, a dishwasher, and a washer and dryer.  
This Airbnb located in Saint Kilda is within walking distance to Saint Kilda Beach and Pier. It is also only a short tram ride to get to City Square.
View on Airbnb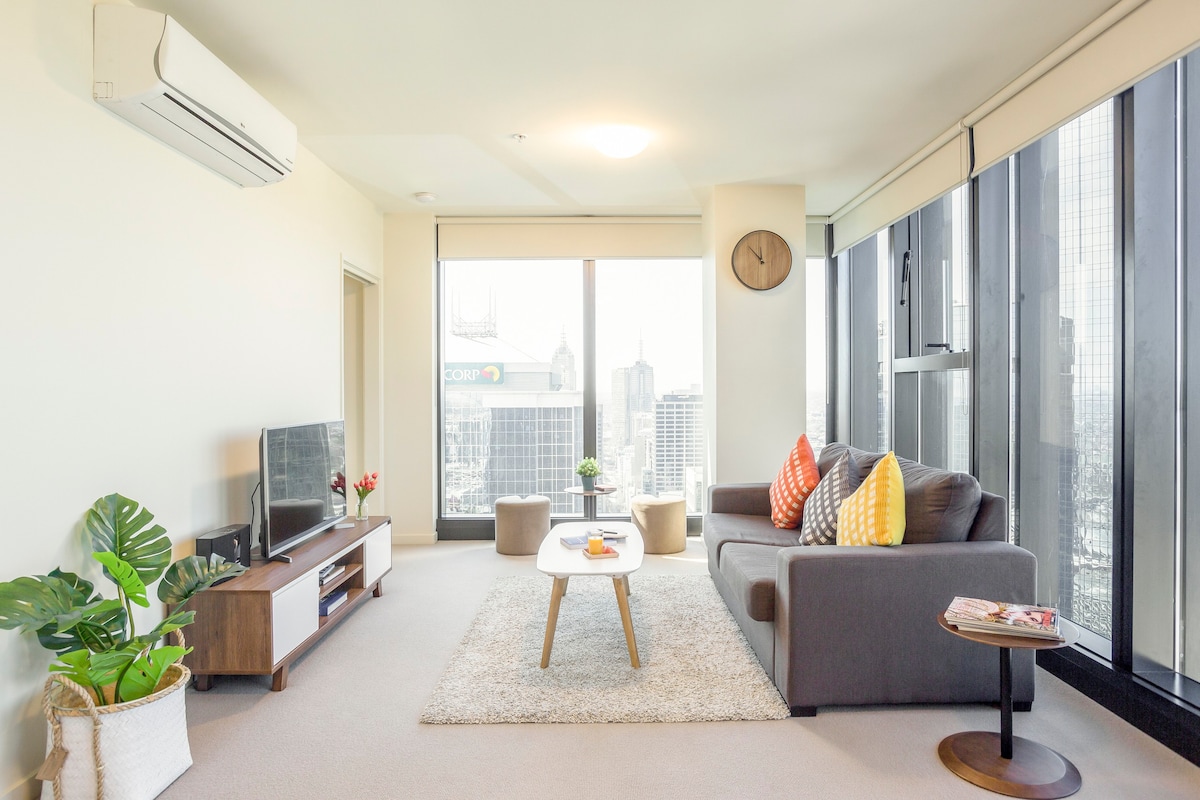 Bright and Modern Apartment 
This vacation apartment for rent in Melbourne is ideal for those with larger groups. Luxury meets comfort in this spacious and modern apartment located in Melbourne's Central Business District. 
This rental features many additional shared amenities, including an indoor pool, a gym, and a sauna. The entire interior of the living area is surrounded by floor-to-ceiling windows that allow for plenty of natural light. For those who are sleeping on the sofa bed, all of the windows have room-darkening shades to make sure the sunrise won't wake you. 
The rental has two bedrooms, making it fit for six guests. In the first bedroom, there are floor-to-ceiling windows with fantastic harbor views and a built-in closet for storage. The second bedroom also has a built-in closet, and both rooms have a queen-size bed.  
The Central Business District area is well populated with trendy restaurants, cafés, and public transport hubs. There is also a casino, Etihad Stadium, and many other attractions just steps away from this Melbourne Airbnb. For those with cars, there is free on-site parking as well.
View on Airbnb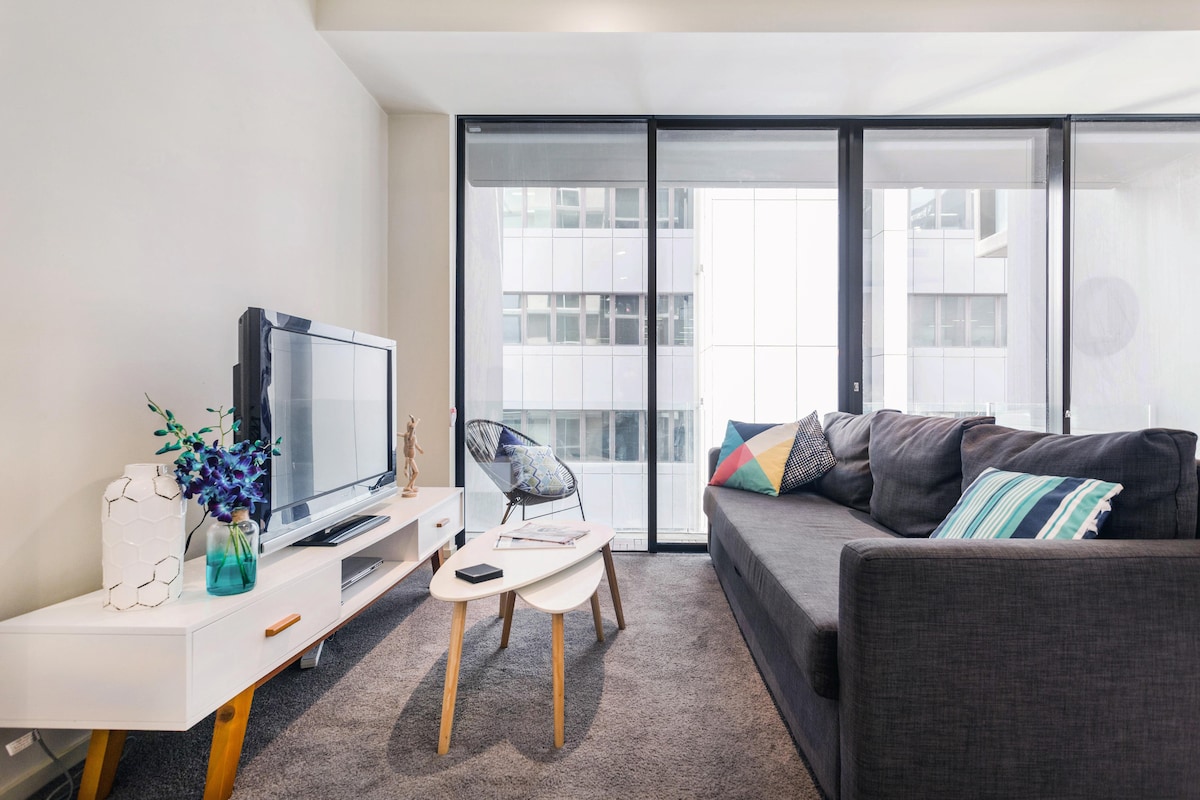 Colorful Downtown Condo
Perfect for those visiting on business, this downtown chic condo is the perfect mix of comfort and style. 
As you walk in the entrance to this one-bedroom apartment, you will find a dedicated workspace with a desk, monitor, and keyboard. Continuing into the condo, you will find an abundance of natural light from the balcony windows. In the fully carpeted bedroom, there is a queen-size bed and a wardrobe. With the addition of the pull-out couch, this rental can sleep up to four guests. 
The full kitchen is stocked with everything you need to make a meal including a microwave to warm up those leftovers. The full bathroom also comes with a hairdryer, washer, and dryer. 
Guests also have access to an on-site shared pool, jacuzzi, and gym. 
Many trendy bars and upscale restaurants are within walking distance of this Airbnb in Melbourne. The location is truly unbeatable as the tram stop is literally on the steps of this building. Southern Cross Station and the Airport Skybus are also located across the street.
View on Airbnb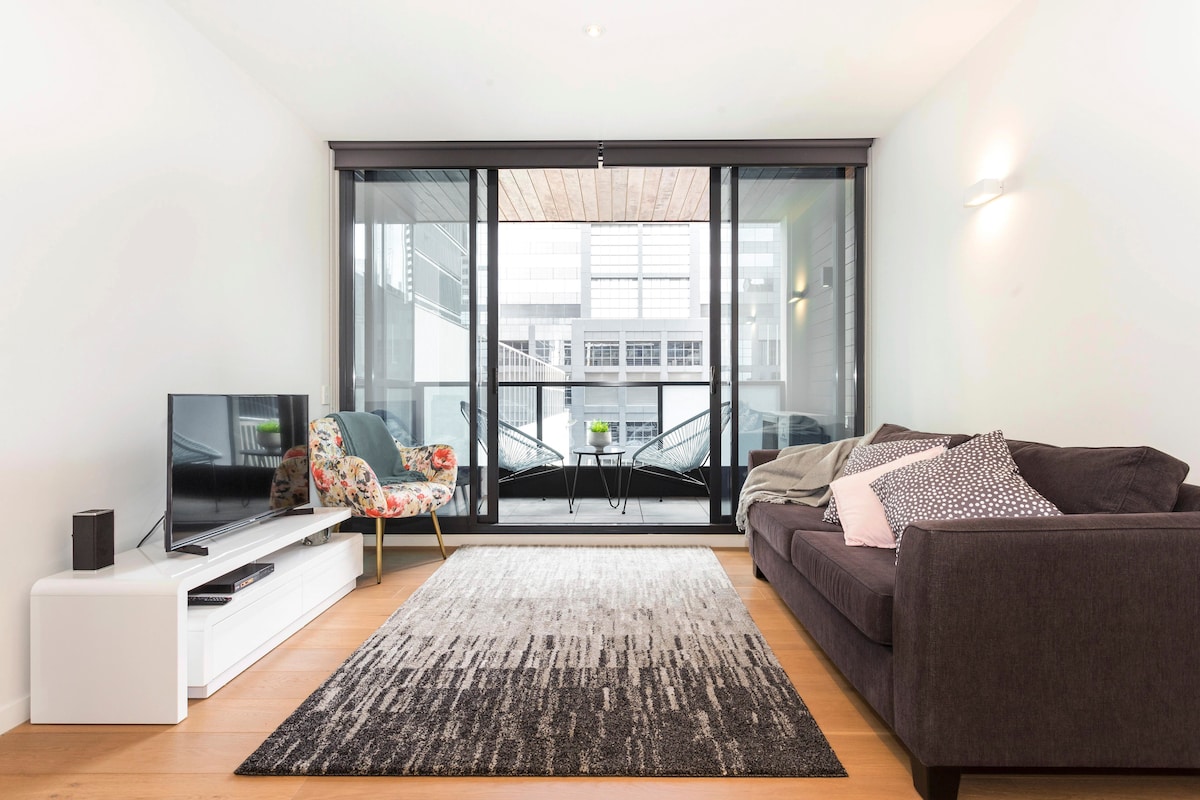 Family-Friendly Apartment in East End
For those traveling with smaller children, this short-term apartment rental in Melbourne provides everything you need for a stress-free city getaway. 
Relax on the balcony of this sleek apartment and have no fear that little ones might slip over the edge. The balcony is surrounded by a glass enclosure, so kids can enjoy the views, too, without the danger of falling. Superhosts Michael and Jenny have also provided a baby bath and a travel crib for families to utilize. 
This two-bedroom apartment is an urban sanctuary with its colorful patterns and bold accents. Both bedrooms include a queen-size bed, room-darkening shades for the floor-to-ceiling windows, and pillow-top mattresses. One of the bedrooms even has a desk and chair for those looking to get some work done while away in the city. 
The full kitchen has plenty of pantry space and is furnished with a dishwasher, an espresso machine, and a Miel Oven. There is also a washer and dryer in a small closet beside the kitchen. 
Guests of this Airbnb will have access to an on-site shared rooftop terrace, a gym, and free parking.
View on Airbnb
You can experience Melbourne like a true native with any one of these fantastic rentals. Whether your trip is planned around art, food, or local attractions, you'll find each of these Airbnbs offers a convenient location for a city vacation in Melbourne.