Finding cheap car rentals isn't as easy as it used to be, and sometimes even booking a rental car that matches your trip's needs can feel like a challenge. But the good news is that the best car rental sites can make it easier to compare prices and features in order to get the make, model, and size you want at a price you can feel good about.
Click on any of the car rental comparison sites in the list below to go straight to the site and start your search for the cheapest car rental rates. Or, scroll down to read our reviews detailing what you'll get from each of these car rental sites, including how to compare rates and find a deal that fits your budget, trip plans, comfort needs, and travel party size.
The Best Rental Car Comparison Sites for Cheap Car Rentals
Tips for Finding the Cheapest Car Rental
Is price the biggest factor in your rental car search? Do you need a car big enough for lots of kids and luggage? Are you willing to head to a car rental site away from the airport, or do you want to be able to stroll from the terminal right to your ride? These kinds of considerations impact the rental car options you'll turn up—and the price you'll pay for them.
You'll find some overlap when using the top comparison sites because many of them aggregate results from the same rental car companies and travel booking sites like Expedia and Priceline. But it's also possible to find some of the best car rental deals by taking advantage of the different sites' specialized search features and filters.
FIND A DEAL: 10 Best Hotel Booking Sites for Cheap Prices
There are a lot of comparison and booking sites out there, all purporting to be the best place to rent a car. In our extensive testing and comparisons across all of the best car rental sites, though, we found that there is no one single "best" site for deals. When shopping for a weekly rental car at multiple airport locations in the U.S. and Europe, we turned up a wide range of results for different car sizes—and in some cases the economy or compact size wasn't even the cheapest car rental option available.
Still, although no single price comparison site will offer the best rates every time, each of the top car rental sites offers unique features that can help you search for and filter results in the ways that best fit your travel style and needs. Here are some key tips to keep in mind when looking for the best car rental deals.
1. Comparison shop for cheap car rentals across different sites
To find the most affordable car rental, search for the kind of vehicle you need on booking sites like AutoRentals, RentalCars.com, and the other comparison sites reviewed here, but also check individual car rental company sites from big-name brands like Hertz and Alamo. Results can vary when booking a rental car, even among sites that are part of the same group of companies.
Many rental car agreements don't require pre-payment and also allow free cancellation, so you can keep looking for deals even after you book to see if anything better turns up. Rental car rates are often cheaper when booked last-minute, so if price is a major consideration, keep searching until just before your trip.
FAMILY CAR RENTALS: The Most Common Car Rental Problems for Families (and How to Solve Them)
2. Take advantage of credit card points and car rental company loyalty programs
Using travel credit cards and joining the loyalty programs for the top rental car companies (as well as car rental comparison sites like Priceline and RentCars) can give you access to deals and other special rewards. And when you download and use a rental car company's app, you can also sometimes find special deals on affordable rentals.
3. Think beyond the airport when booking a car rental
Yes, it's super convenient to pick up a rental car right at the airport—and if that level of convenience really matters to you, the higher price you'll pay can be worth it. But you can save some serious money if you're willing to pick up your rental car at another location.
One recent analysis found that it's about 26 percent more expensive to rent a car at the airport versus at a nearby offsite location. That's because rental car companies have to pay fees to the airport for use of that location, and naturally they pass those fees on to travelers. Some states in the U.S. also charge additional tourism fees on cars that are rented from sites at airports and hotels.
FLY AWAY: 16 Best Flight Booking Sites for Cheap Airfares
4. The cheapest rental car company for your trip may not be one of the big brands
Many of the best car rental deals we found in our test came from brands without the name recognition of more widely known companies like Avis or Enterprise. These include companies such as Kyte, which delivers and picks up your rental wherever you choose and operates in a number of U.S. cities; Zezgo, which has locations at several Florida airports; and Fox Rent-A-Car, which has 21 corporate locations in U.S. cities like Las Vegas, Orlando, and Los Angeles, plus affiliate relationship with independently owned locations around the world.
Generally speaking, the best places to rent a car online include customer ratings of the different providers, so you'll can have a good idea what to expect from the cheapest car rental options. That said, it's always a good idea to view user-generated online reviews with a critical eye. Professional organizations such as the Better Business Bureau (BBB) can help you learn more about any rental car company you're not already familiar with.
Best Car Rental Booking Websites: Our Unbiased Reviews
Pros: Routinely turns up the cheapest rental car prices. Easy to compare many options at once.
Summary: From a pure price point, AutoRentals.com tended to turn up the best cheap car rentals for most of the searches we performed in our test. Search results are displayed in an easy-to-read table that makes it simple to find the best daily and total rates (which aren't always the same) by car size and rental provider.
This independently owned car rental comparison website finds offers from well-known and less-well-known rental companies, online travel agencies (OTAs), car rental brokers, and car hire aggregators and puts them all in one place so you can assess all of your options. Searches can be filtered by car type, cancellation policy, provider, and price, and the site can help you find cars in the United States as well as Canada, Europe, and other international locations.
ROOM TO STRETCH OUT: 19 Best Vacation Rental Booking Sites
Pros: Easy comparison shopping. Good options for filtering results.
Summary: The Kayak search engine compares cheap rental car rates from a broad range of providers, but you can't book your rental through Kayak itself. Instead, you select the offer that's best for you and then you'll be taken to the provider's site to complete your reservation.
Results can be sorted by cheapest price, recommended offers (which is the default), or customer ratings of the rental car companies. Filtering options include car type, cancellation and payment policies, and rental providers. Some offers are exclusive to Kayak, and Kayak members get access to "Private Deals." Kayak also offers mobile-only rates through its app.
Kayak is part of a larger corporation called Booking Holdings, which includes popular travel deal comparison sites Booking.com and Priceline.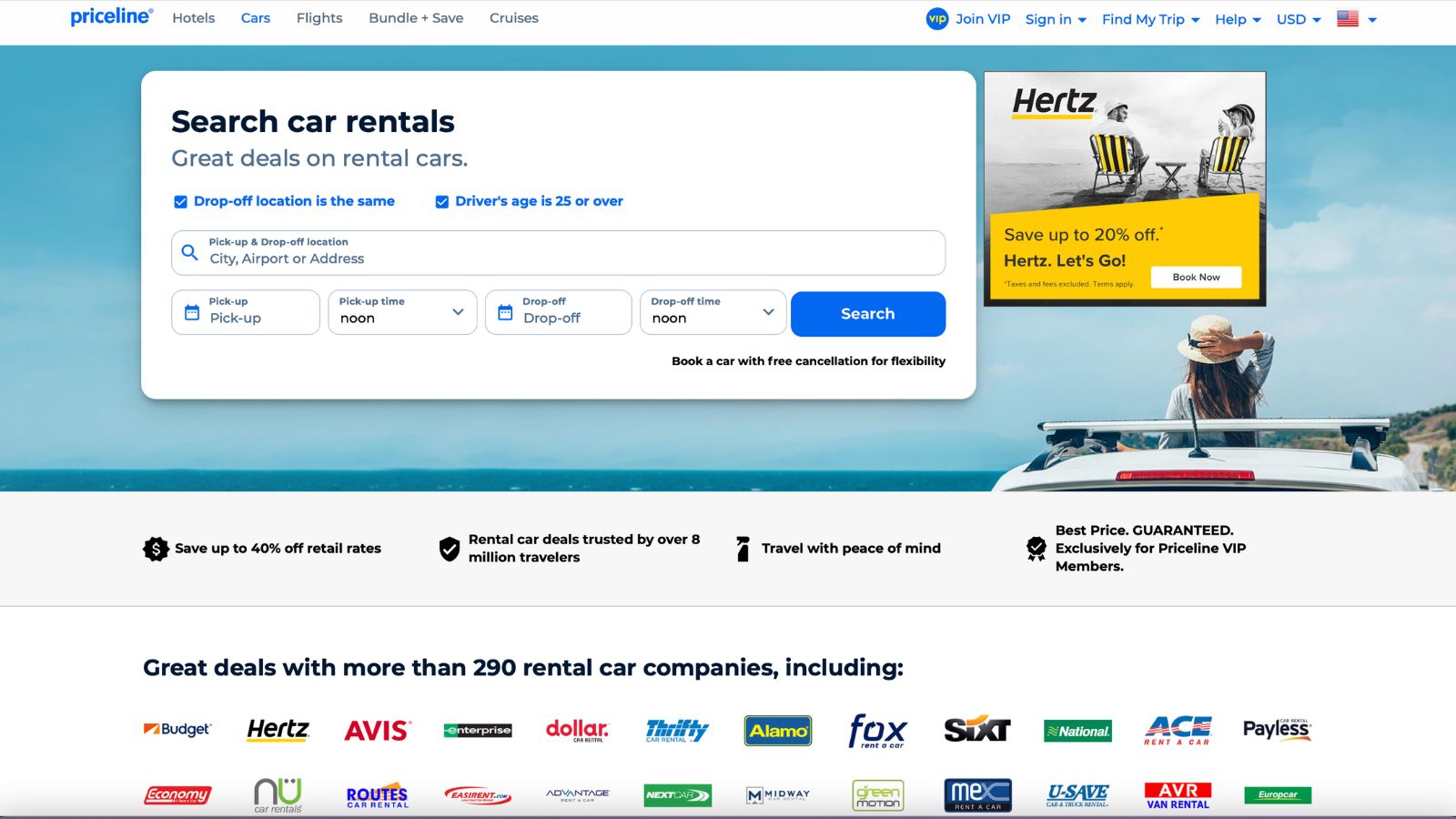 Pros: Information about deals includes easy-to-read ratings of rental car locations plus the average wait time. Cheap car rentals if you're willing to lock in your rate.
Summary: The popular travel booking site Priceline offers car rental deals from more than 290 companies. You can sort your search results by price, car type, or Priceline's "recommended offers" from companies with good customer ratings (that's what shows up first in the results). The usual filters can also be applied to narrow down the results, like price range, car type, rental car company, and cancellation policy.
Customers have the opportunity to lock in even lower rates by paying in advance or by choosing an "Express Deal" from one of several potential rental car companies that will be revealed after you make your reservation. Those deals are often nonrefundable, so make sure you understand what you're getting into. Expect to pay more if you want free cancellation.
You can join the Priceline VIP program to get extra savings on rental cars and hotels.
Pros: Easy-to-find information about cancellation policies. A handy option to see the best rates for each car size.
Summary: Part of the group of companies that also includes Travelocity, Orbitz, and Hotwire, Expedia turns up rental car deals from well-known brands. Results are sorted by recommended options as the default, but you can switch it to total price or traveler ratings to see everything displayed based on what's most important to you. 
Results clearly indicate whether cancellation is available for free or a fee and if you can save money by paying in advance. Each rental car company is displayed along with its customer rating, and it's noted whether online check-in is available.
You can filter the results by the "Great Deal" option to see the cheapest car rental option for each size category, and become an Expedia member for even more potential savings.
Pros: Some of the best nonrefundable cheap car rental deals available anywhere online. Excellent filtering options.
Summary: If finding the absolute cheapest car rental rates is your biggest concern, head to Hotwire and filter your search results by "Hot Rate" cars. These deeply discounted car rental deals can't be cancelled or changed, and you won't know which rental car company you're making your reservation with until after you check out (you're given some possibilities). But you could save yourself a lot of cash.
If you want more flexibility, you can filter your comparison search results by those that offer free cancellation, but the rates will be higher. You can also filter by pickup location—in the airport terminal, on airport property, or off airport property. Choose the "Special Car" option to get a compact size or potentially larger rental at a compact price, and make sure to check the Hotwire app versus the website to see if you turn up lower rates.
Pros: Lots of helpful and easy-to-find information in each search result. Free cancellation on most bookings.
Summary: Another car rental comparison search site that's part of Booking Holdings, Rentalcars.com offers free cancellations on most bookings and provides rental options from major car rental brands in more than 60,000 locations around the world. Sort results by price or the site's recommended picks (the default).
Search results detail whether free cancellation is available and if you need to pay at booking or pickup. Click the "Important Info" link to find the documents you'll need at pickup, forms of payment accepted, fuel policy, and other rental requirements. Results also include customer reviews that rate each car rental car company on elements like pickup speed, helpfulness, and car condition.
The Rentalcars.com website highlights the kinds of cars popular at each airport, and those are what tend to show up first when results are filtered by recommended options. You can provide your email address to subscribe to the site to get exclusive offers and deals on affordable car rentals.
Pros: Search results are automatically sorted by total price. Key information is easy to find.
Summary: Part of the Expedia Group, CarRentals.com compiles options from all of the top rental car companies. Results are sorted by total price as the default; sort them by the "recommended" option to see offers from well-rated rental car companies first.
It's easy to see if free cancellation is available, when you need to pay for your reservation, and if you need to take a shuttle from the airport to pick up your rental. If you're feeling lucky, opt for a Wild Card or Manager's Special and you could end up with a large car at a small car price. Results show what percentage of customers recommend each rental company, and filtering options include car type and total price range. Sign up to become a site member for even more savings.
Pros: The ability to get high-end rentals at lower price points. Attractive and easy-to-use website.
Summary: If the kind of car you drive matters to you more than finding the cheapest car rental, check out Sixt, which has more than 2,000 locations in more than 105 countries. Its rental fleet is made up mostly of premium cars (think BMWs, Audis, Range Rovers, and a variety of convertibles) available at not-so-premium prices. 
You'll get the lowest rate for these luxury car rentals if you prepay for your reservation; you can still cancel but there will be a fee. If you want to cancel at any time for no charge, plan to pay more. You can sort results by vehicle type (including by models guaranteed to be at your rental location) and by price. Roll the dice with a "Premium Mystery Car" to see what you end up driving away with.
Pros: Access to cheap rental cars at lots of locations around the world. Clear breakdown of the starting price for each car size.
Summary: Car rental comparison site RentCars offers budget-friendly car rentals from more than 180 companies at more than 20,000 pick-up points in some 160 countries around the world. Search results can be filtered by price or by recommended suppliers that are well-rated by customers (the default). 
Results offer specifics on whether you can pick up your car at the airport or if you need to take a shuttle, as well as if prepayment is necessary. At the top of the page is a breakdown of the starting price for each car size if you're in need of a specific type or want to compare prices for different categories. You can further filter your comparison search results by total price range, car type, and suppliers.
Pros: No booking or change fees, operates in a wide range of countries
Summary: An established leader for car rental deals in Europe and beyond, Auto Europe has been connecting travelers with cheap rental cars for more than 60 years and offers rental vehicles in more than 20,000 locations and more than 180 countries. It works with all the big names like Avis, Budget Rent a Car, and Hertz, and offers free cancellation up to 48 hours before your rental as well as 24/7 customer support.
Search results are displayed in an easy-to-read table organized by car type and supplier. The first column shows the cheapest car rental rate available rate for each car size, and the chart makes it clear if the rental would be picked up at the airport or an off-site location. Results can be further filtered by transmission type, number of car doors, and whether the car has air-conditioning or not.
The cheapest car rental rates are broken down by what they include (or don't) and there are options to add insurance coverage. The site also has a useful info page on the various insurance options for renting cars in Europe. Additionally, Auto Europe offers price matching if you find a better rate for a comparable vehicle with the same terms, locations, and rental car fees.
More from FamilyVacationist: