Road Affair is reader-supported and may earn commission from purchases made through links in this article.
A nature lover's paradise, Colorado offers visitors stunning natural scenery and unparalleled opportunities for outdoor recreation no matter the season. With its mountainous terrain, famous national parks, vibrant wildlife, and rushing waterways, the state's popularity among outdoor adventurers hardly comes as a surprise. 
If you're planning a trip to Colorado, consider renting a cabin to take full advantage of the state's gorgeous scenery and peaceful surroundings. What follows is a list of the best cabin rentals in Colorado, all of which are presided over by Airbnb superhosts – hosts who offer consistently well-rated properties and provide top-notch hospitality.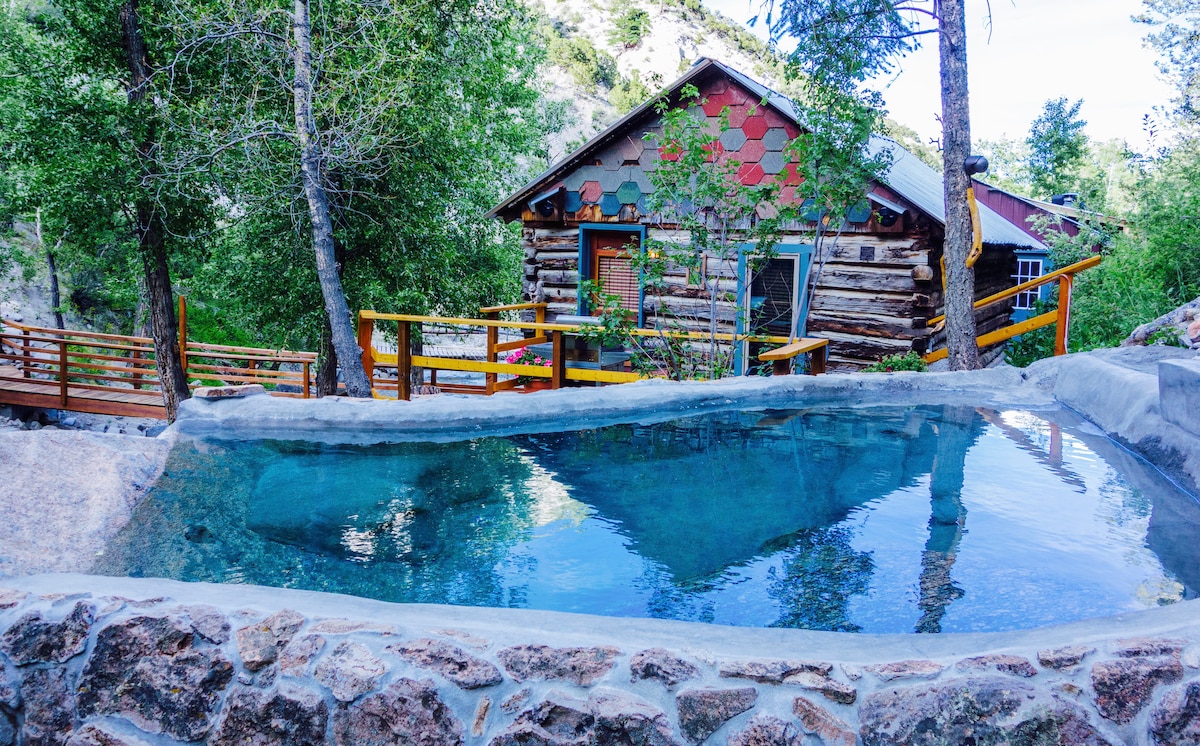 Holloway Cabin on Cottonwood Creek
Nestled in the heart of the Rocky Mountains, the first Colorado cabin on our list offers a one-of-a-kind experience and uniquely luxurious amenities. 
The cozy rental was restored from an 1800s mining cabin and boasts a rustic interior with space for up to four guests. The first floor offers a full kitchen with stainless-steel appliances, granite countertops, and unique bench seating. There is also a full bathroom with a walk-in shower and a comfortable living room with a sofa bed and a wall-mounted TV. The lofted bedroom is furnished with a queen-size bed and can be accessed by a handcrafted ladder in the living area. 
The focal point of the rental is the custom hot springs hot tub, which was built with rocks from the property and features LED lights, Bluetooth speakers, and an infinity edge with stunning creekside views. There are several exciting hiking trails nearby, and Cottonwood Lake and the Arkansas River are just a few minutes away, making this a great choice for anyone interested in a lake cabin in Colorado.
View Cabin on Airbnb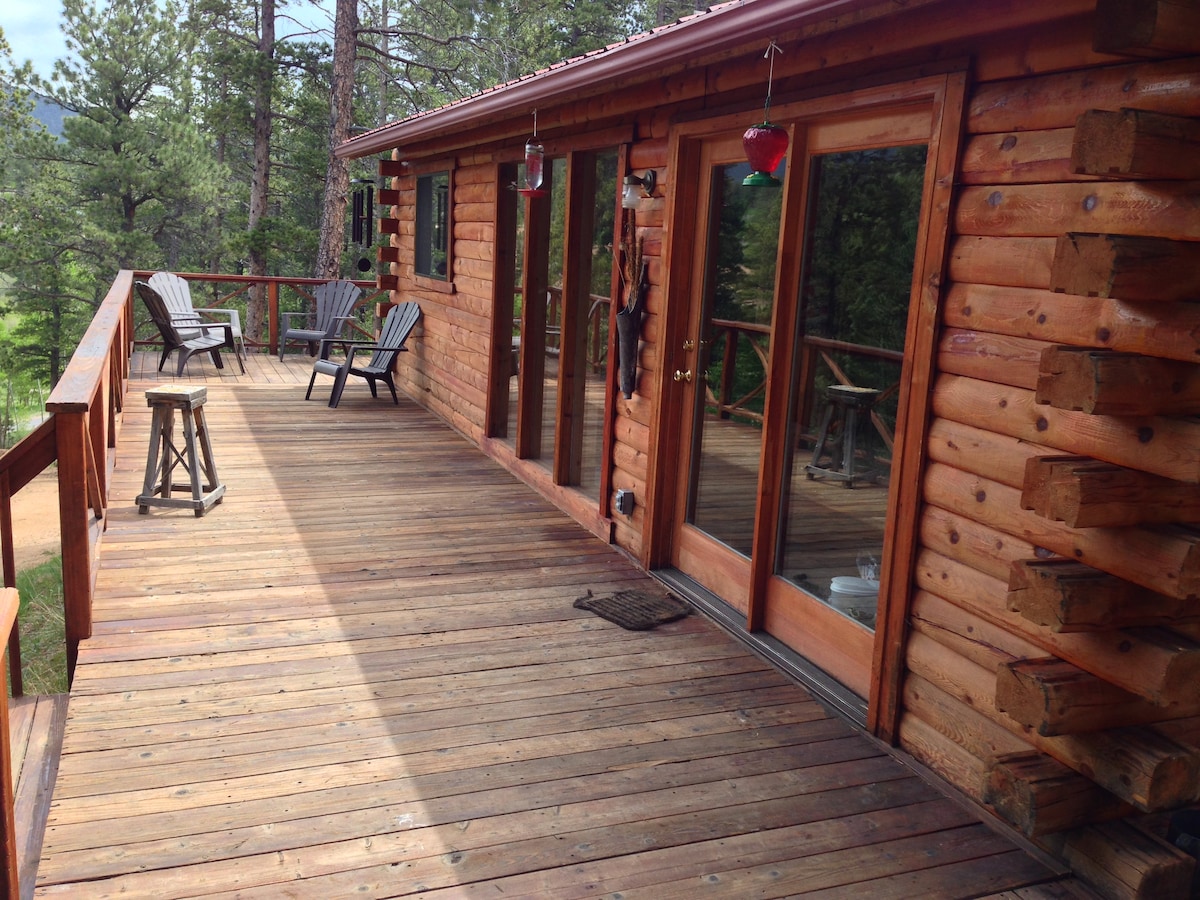 Deer Creek Log Cabin
This elevated log cabin offers its guests a stunning mountain retreat just 45 minutes away from Denver. 
Artistically crafted from logs, the cabin boasts a traditional wood-planked interior with a cozy wood stove, warm-toned furniture, and nature-themed décor. The two-bedroom home can accommodate up to four guests and is furnished with one queen-size bed and one double bed. There is also a full bathroom and a full kitchen with a dining table, and glass doors in the living room open onto a spacious deck. The deck offers ample outdoor seating and a private hot tub and can also be accessed from the larger of the two bedrooms. Pets are allowed in the cabin, and additional amenities include Wi-Fi, TV, and a dishwasher. 
There are two hiking trails within walking distance of the property, as well as a community pond for fishing. 
With modern amenities, a prime location, and stunning views of the Rocky Mountain peaks, this Colorado cabin rental is definitely one of the best in the state. 
View Cabin on Airbnb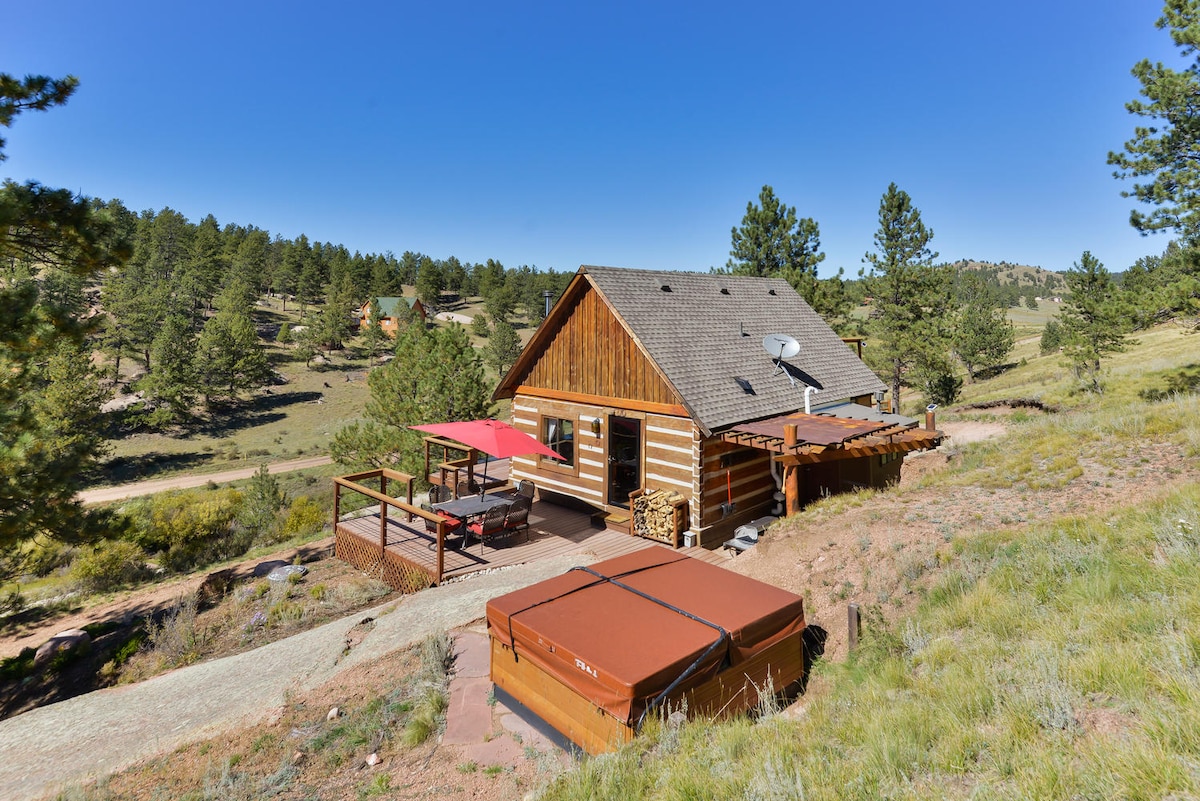 Mountain Cabin With a Hot Tub
Another rental cabin in Colorado with stunning views and luxurious amenities is this private abode near Cripple Creek. 
Known as Fawn Cabin, the home offers a stylish interior and modern amenities, including Wi-Fi and a Smart TV. There are two bedrooms in Fawn Cabin, one of which is completely private and furnished with a double bed, and another that is lofted on a separate floor and offers a king-size bed and deck access. The spacious common areas are part of an open floor plan and are marked by rustic exposed beams and a cozy wood stove. There is also a full bathroom, a full kitchen with stainless-steel appliances, a four-person dining table, and a cozy sitting area with a sofa. Step onto the spacious deck and marvel at the Colorado Rockies and the surrounding wildlife or enjoy a relaxing soak in the private six-person hot tub. 
Nestled on over five acres of private mountain terrain, Fawn Cabin offers a private and peaceful retreat surrounded by hiking trails and fishing waters. Guests can explore the soothing brook that runs through the property or take a short drive to Cripple Creek, a former gold mining camp that now offers historic sights and fun attractions. 
View Cabin on Airbnb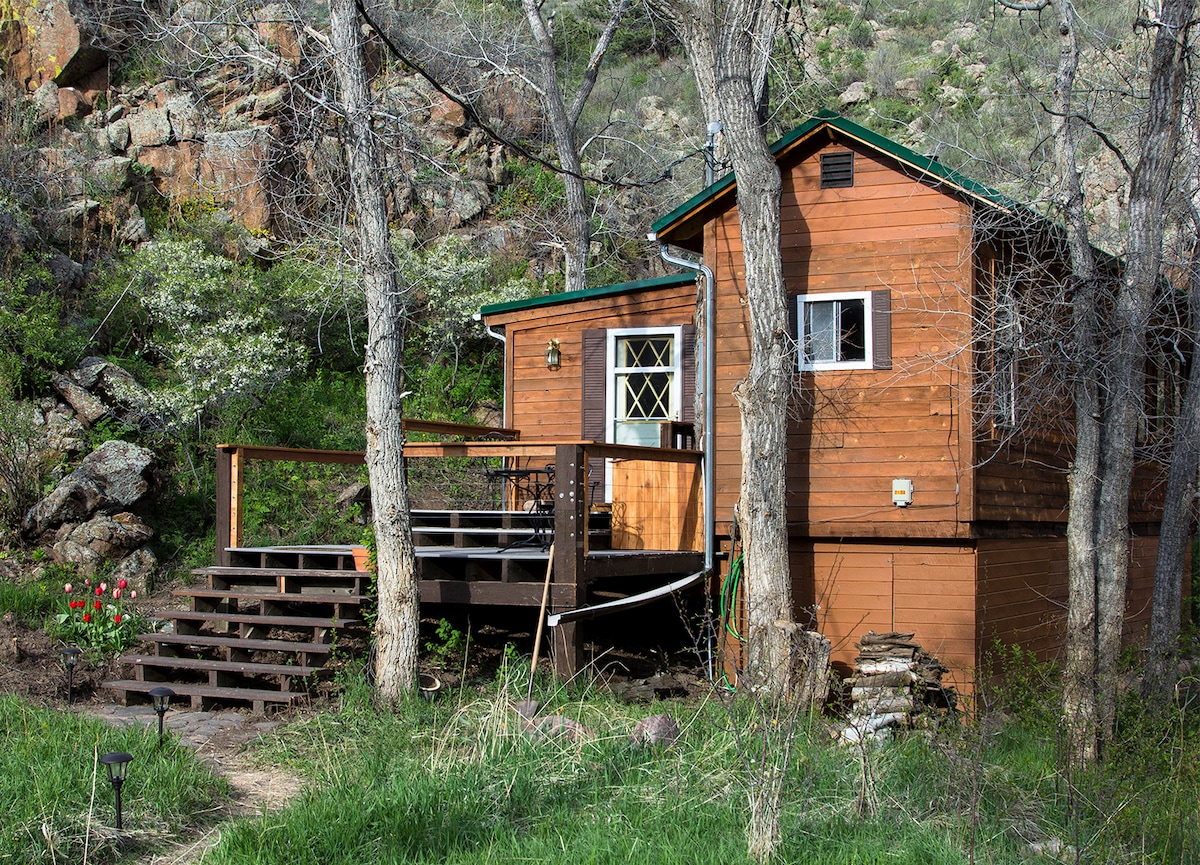 Nature Lover's Cabin
If you're looking for a Colorado cabin for rent that offers an immersive nature retreat, look no further than this private creekside home. 
The interior is classic and cozy with a wood stove, antique details, and creek views. There is no cell phone service or TV available in the cabin, making this the perfect place to escape into nature. For quick check-ins and emergencies, you will be able to access Wi-Fi from the front porch. The cabin can accommodate three guests with one bedroom offering two single beds and a sofa bed in the living room. There is also a modern full bathroom and a well-stocked kitchen with a full-size refrigerator and a cooktop. 
The Nature Lover's Cabin sits on 40 acres of wetland bustling with birds, butterflies, and native animals, and your stay includes a free guided nature hike. The property is shared with the host's home, but the cabin is far enough away that it feels completely private. If you feel like venturing off the property, the city of Lyons and the Rocky Mountain National Park are a 45-minute drive away. 
View Cabin on Airbnb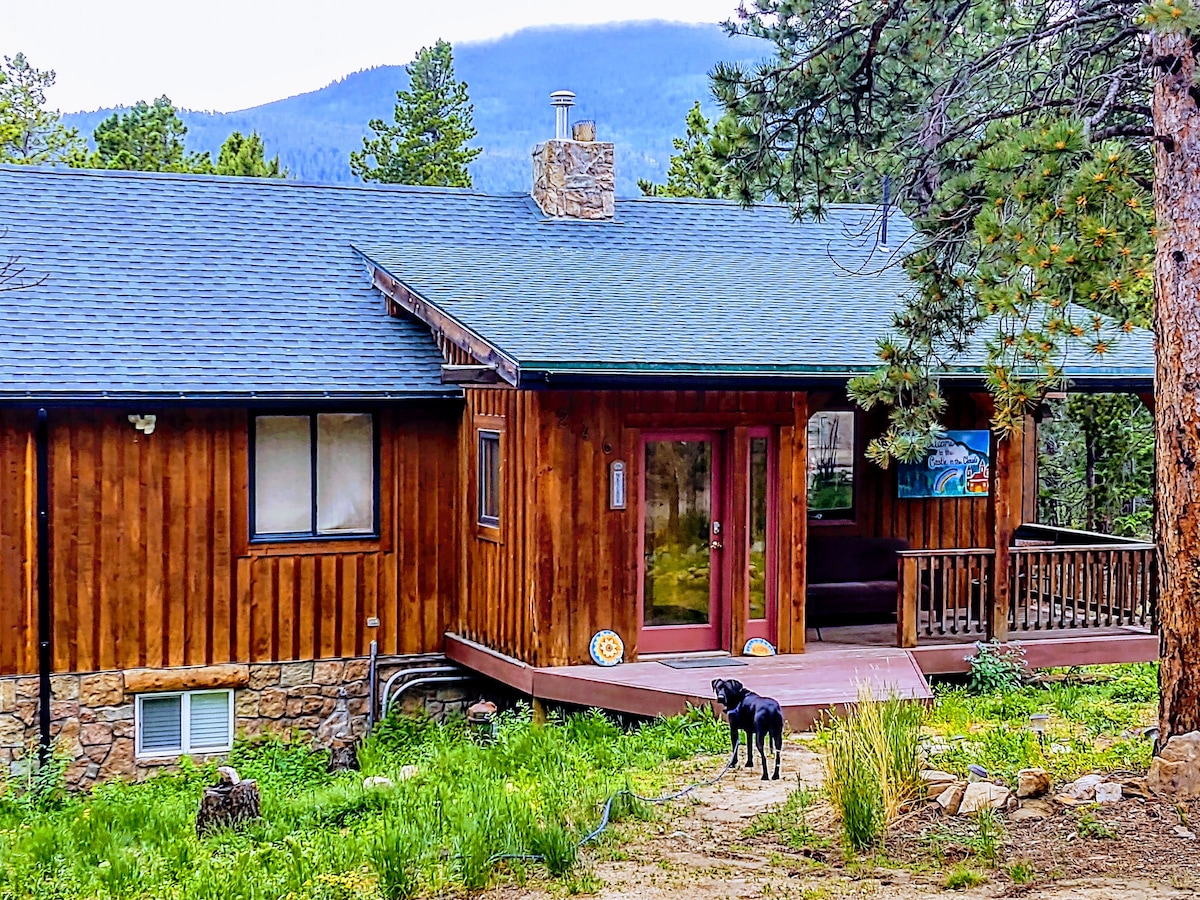 Castle in the Clouds
For travelers interested in remote rentals away from the city, this luxurious cabin in Roosevelt National Forest might be the one for you. 
This rental encompasses the upstairs unit of a duplex cabin and offers a completely private stay with no shared spaces. The one-bedroom home boasts a romantic atmosphere ideal for couples and can sleep up to two guests with a queen-size bed. There is also a spa-like full bathroom with a beautiful Jacuzzi tub situated against a window that provides clear mountain views. The spacious common areas are combined in an open layout characterized by wood finishes and an eye-catching stone pillar. The space offers a full kitchen and more than enough room to eat and relax with a dining table, a dedicated desk space, and a sitting area with a Smart TV. 
Perched at 8,800 feet, this incredible Colorado cabin offers a national forest as its backyard. Step through sliding glass doors onto the spacious deck to enjoy your own private views of the Rocky Mountains or venture out on a hike right from the front door. 
View Cabin on Airbnb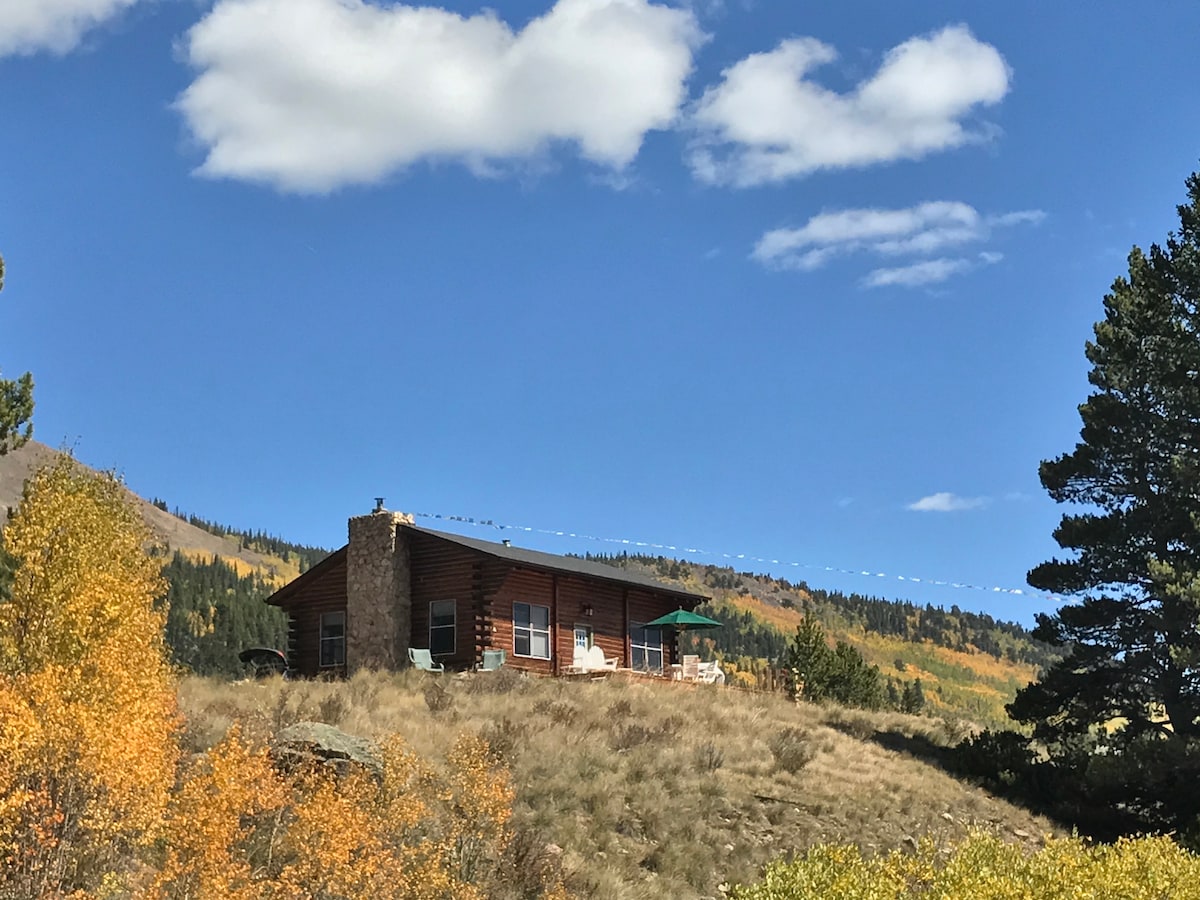 Off-Grid Creekside Cabin
Rent a cabin in Colorado that offers a secluded off-grid adventure with this rustic home on the Gold Dust Trail. 
Pet-friendly and ideal for a solo traveler or a couple, the cabin has one full bathroom and one bedroom with a double bed. The interior was recently renovated and now boasts brand new floors and a new kitchen with one-of-a-kind antique appliances. With a stone fireplace in the living room and farmhouse-style décor throughout, the home is rustic and cozy. 
The location is completely remote, and aside from the occasional hiker on the nearby trail, it offers total seclusion. Guests can enjoy vibrant wildlife, stunning mountain views, and a private stream that runs through the property year-round. 
View Cabin on Airbnb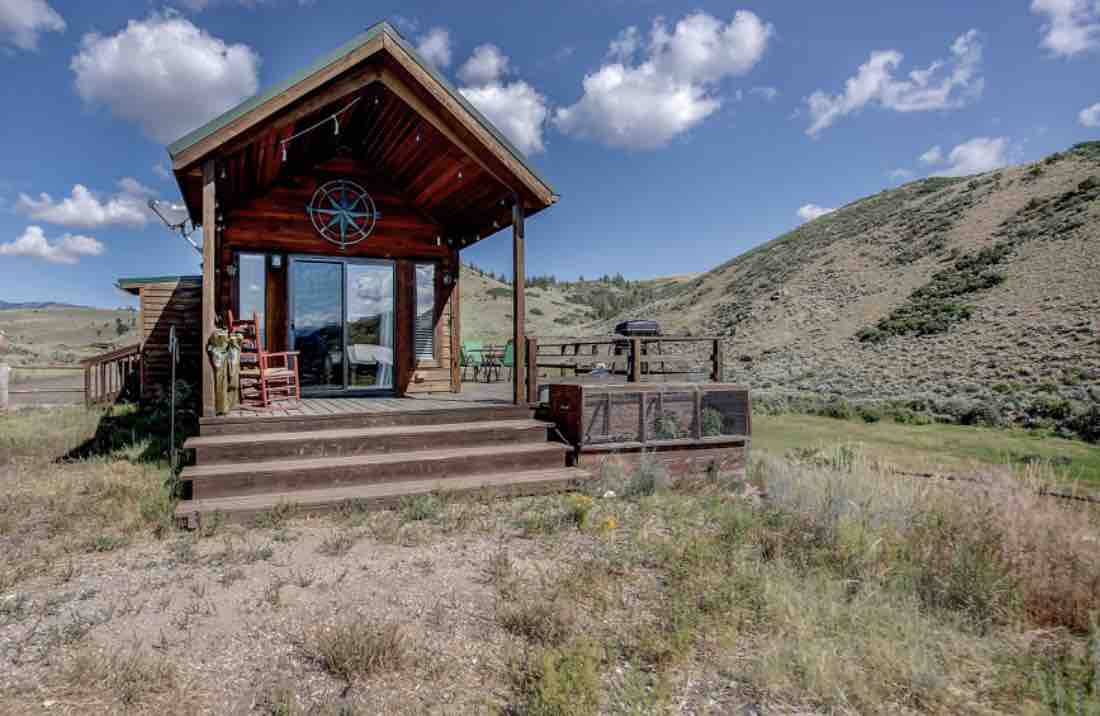 Cozy Cabin With Amazing Views
Another fantastic remote cabin surrounded by nature is this stunning rental on 100 acres of private land. 
With one full bathroom, one bedroom with a queen-size bed, and a second bedroom with two single beds, the space is well suited for up to four guests. The cabin offers a classic wood-planked structure with a beautiful, bright, and modern interior. Feel free to bring your groceries and prepare a home-cooked meal in the fully equipped kitchen complete with bar-style seating. For indoor entertainment, guests can enjoy the TV in the living room and a great selection of books and board games. The cabin's exterior is equally impressive, surrounded by a spacious deck and lit up with glistening fairy lights at night. 
Adjacent to National Forest, this lovely Colorado cabin for rent offers unbeatable views and endless hiking trails to explore. The property also has its own fishing pond stocked with trout. For urban amenities such as shops and restaurants, guests can travel 15 minutes to the nearby town of Salida. 
View Cabin on Airbnb
The Hygge Chalet
At an elevation of 9,000 feet in the iconic Rocky Mountains, this rental cabin in Colorado offers a welcoming atmosphere inspired by hygge, its namesake and the Danish word for the feeling of coziness. 
True to its name, the cabin boasts a cozy interior with ultra-comfy furniture, stylish décor, and plush carpets. There is one standard bedroom on the first floor as well as a lofted bedroom, both of which are furnished with high-quality queen-size beds. Fluffy blankets are strewn across the living room's large leather sectional, which is perfectly placed in front of a cozy wood stove. The full kitchen boasts stainless-steel appliances, granite countertops, a breakfast bar, and gorgeous hanging light fixtures. There is also a full bathroom with a rain-style walk-in shower, and additional modern amenities include Wi-Fi and an iPad loaded with streaming services and local information. 
Outside, you'll find a luxurious wood sauna and a spacious furnished deck that provides spectacular views. Located next to the Guanella Pass, the cabin is just a short drive away from world-class opportunities for hiking, fishing, zip-lining, snowmobiling, horseback riding, and more. When you book your stay at the chalet, your host will also direct you to a comprehensive website that provides a slew of information on the area. Nearby waterways include Wellington Lake and Silver Dollar Lake, making this a good option for those interested in lake cabins for rent in Colorado.
View Cabin on Airbnb
Log Cabin on the River
The next cabin on our list is certainly one of the best cabin rentals in Colorado, having earned near perfect reviews for its stellar reputation as the ultimate mountain getaway.
The two-story log cabin combines the peace and privacy of a remote rental with the luxurious amenities of a high-end hotel. The interior is completely true to that of a log cabin with the added benefit of elegant décor and stylish furnishings. On the first floor, you'll find the open layout common areas complete with a sitting area with a Smart TV, a wood stove, a four-person dining table, and a modern full kitchen with a breakfast bar. There is a full bathroom on this floor as well as a laundry room and a bedroom with a queen-size bed and an elliptical. The second floor offers one more bedroom furnished with a king-size bed and a desk as well as its own full bathroom. Glass doors in the living area open onto a stunning porch with a firepit, and down the porch steps you'll find a luxurious four-person hot tub and a yard with a hammock, a picnic table, and outdoor games. 
Situated on a forested mountainside lined by a gorgeous running river, the cabin offers unbeatable opportunities for skiing, hiking, biking, and fishing. There are also several quaint small towns in the area, and the lively downtown attractions of Black Hawk are just a short walk away. 
View Cabin on Airbnb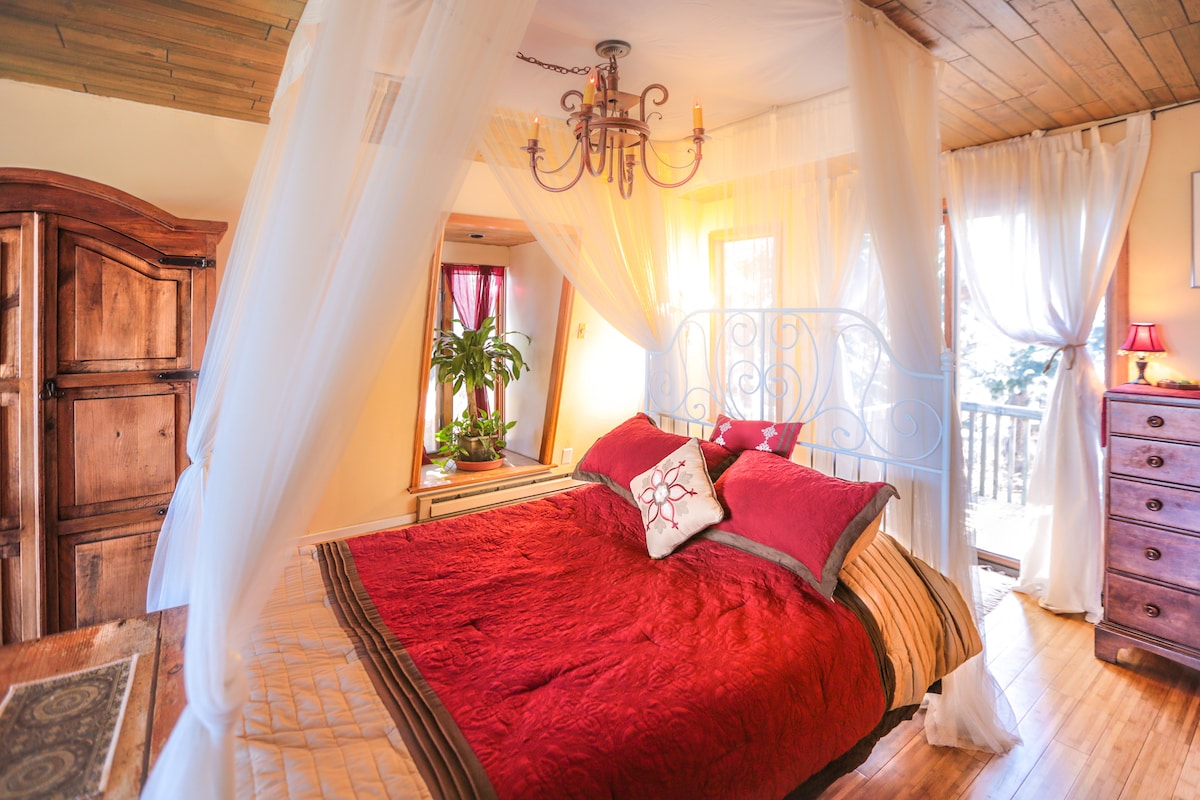 Romantic and Rustic Rocky Mountain Home
If you're interested in renting a cabin in Colorado, you might be looking for a place with a peaceful and completely private setting. If that sounds like you, consider this charming mountain retreat in a secluded neighborhood in Coal Creek Canyon. 
When you approach the cabin, you'll notice that the luxurious home exists seamlessly with the surrounding nature. Travel up the steps to the custom wrap-around wooden deck overlooking Eldorado Canyon. The interior is almost as incredible as what lies outside with a stunning Eastern-influenced design, exposed brick, and interesting décor that combines rustic elements with a touch of elegance. 
Ideal for a solo traveler of a couple, the cabin offers a lofted bedroom area furnished with a queen-size bed. The high ceilings and tall windows in the living area allow the property's stunning scenery to be visible from every room of the home. Newly renovated, the enchanting full kitchen offers modern appliances, granite countertops, lively indoor plants, and eye-catching decorations. There is also a full bathroom with a walk-in shower and a separate cedar spa room with an indoor soaking tub. 
Nestled on 1.6 acres of private land in the Rocky Mountains, the cabin is within walking distance of Boulder County Open Space Trails and Gross Dam Reservoir, which is great for fishing and boating. Walker Ranch State Park is also nearby as are a few restaurants and convenience shops. 
View Cabin on Airbnb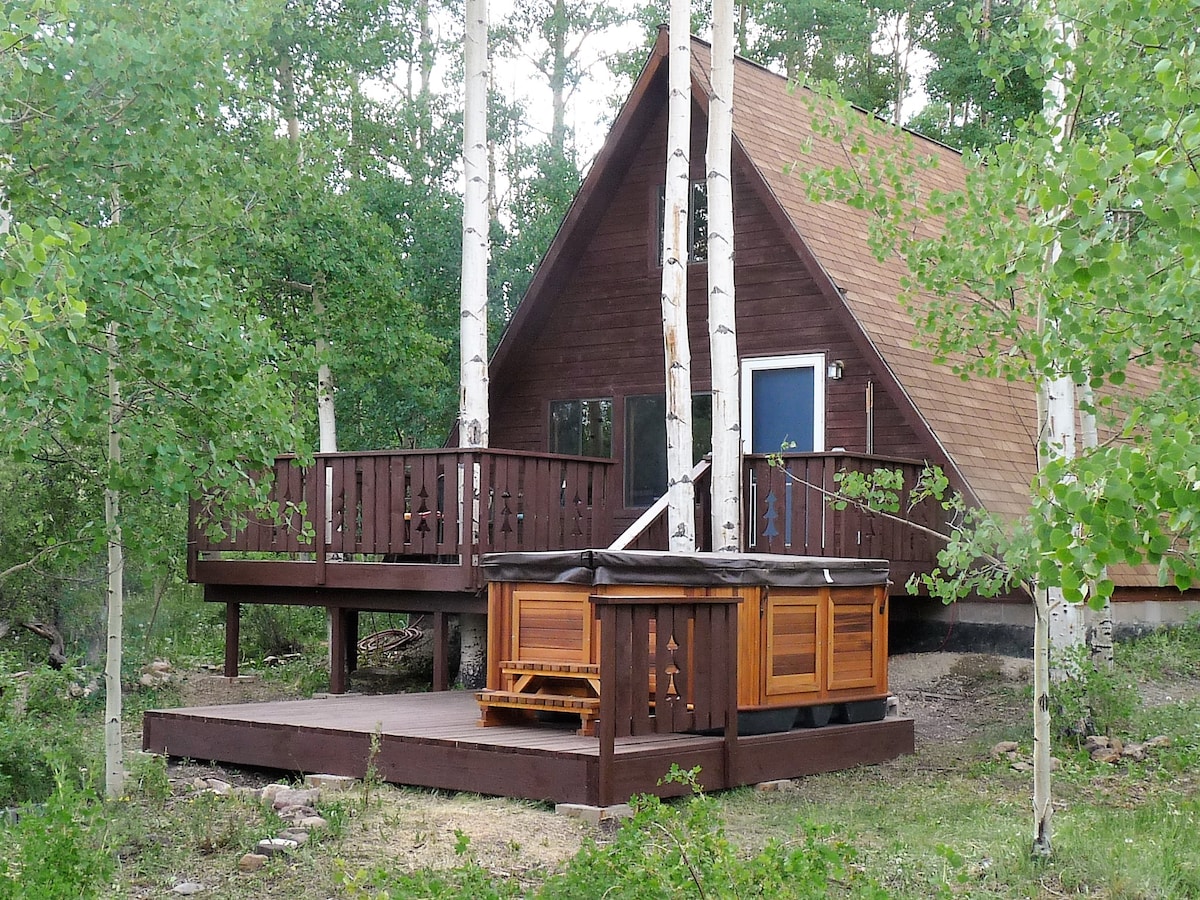 Hideaway Cabin in a Gated Mountain Community
This Colorado cabin in the Aspens is another great option for a cozy stay in a secluded setting. 
Nestled on 2.5 acres and surrounded by trees, the cabin offers an A-frame design, great views, and an incredible outdoor space with an elevated deck and a brand-new hot tub. The interior is rustic and warm with nature-themed décor and warm-toned furnishings. There is one full bathroom, a full kitchen, and a comfy queen-size bed lofted above the cozy living room. Simple but modern, the cabin is pet friendly and also offers Wi-Fi and a TV. 
Located in a quiet gated community, the property offers its own hiking trails that connect to Pike National Forest as well as private fishing ponds and incredible opportunities for spotting wildlife. If you're interested in historic sights and modern amenities, consider taking a short drive to the lovely downtown area of Fairplay.
View Cabin on Airbnb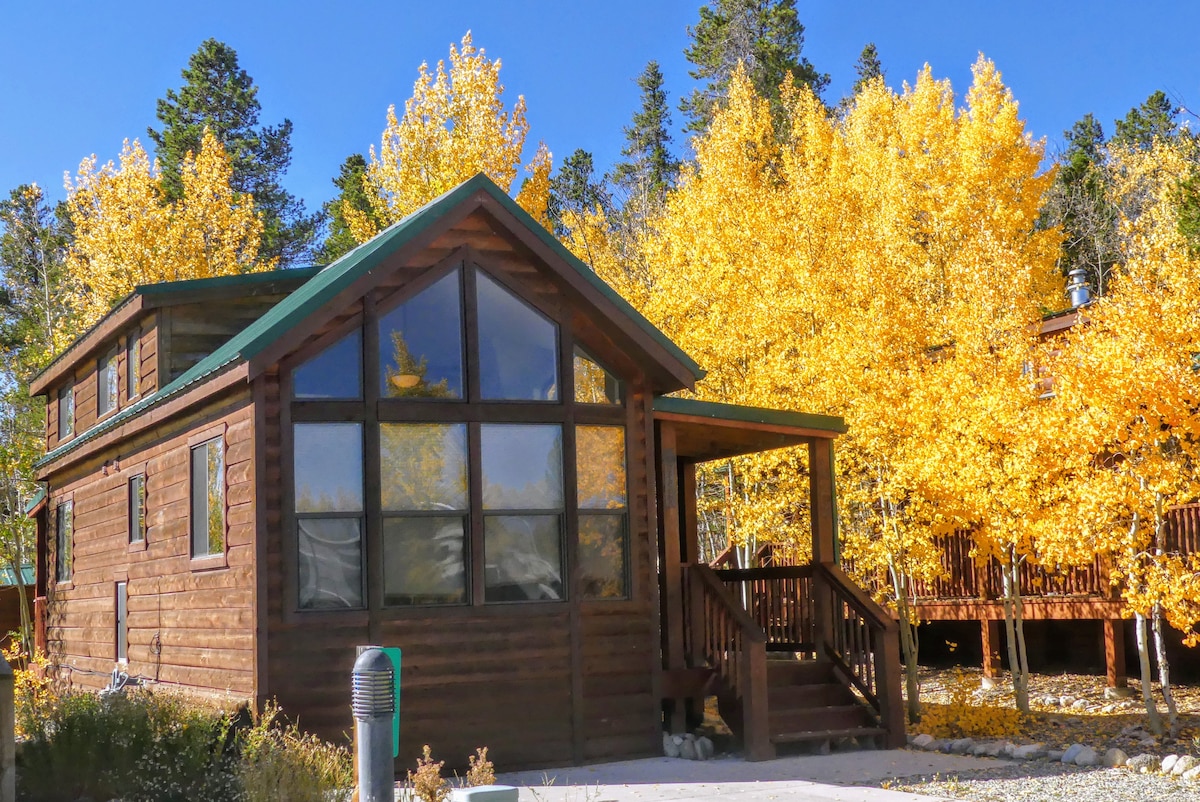 Aspen Grove Retreat
Another great rental in the Aspens is this cozy cabin in the tiny house community of Whispering Aspens Village. 
Suited for up to four adults and two children, the space offers a master bedroom with a queen-size bed and deck access as well as a cozy loft with a sofa bed and two twin-size beds. The interior boasts a full kitchen and a full bathroom and was recently updated to add brand-new floors and mattresses. There is also a cozy living area with a grand wall of windows, a TV, and a dining table. 
Outside you'll find a completely private outdoor space that includes a wrap-around deck, a grill, and a firepit. Guests will also have access to a community clubhouse, which offers great amenities, including Wi-Fi, a game room, hot tubs, a tennis court, and a laundry room. 
Located in the charming town of Fairplay, Whispering Aspens Village is a friendly community that boasts beautiful scenery and is just a 30-minute drive away from the larger town of Breckenridge.
View Cabin on Airbnb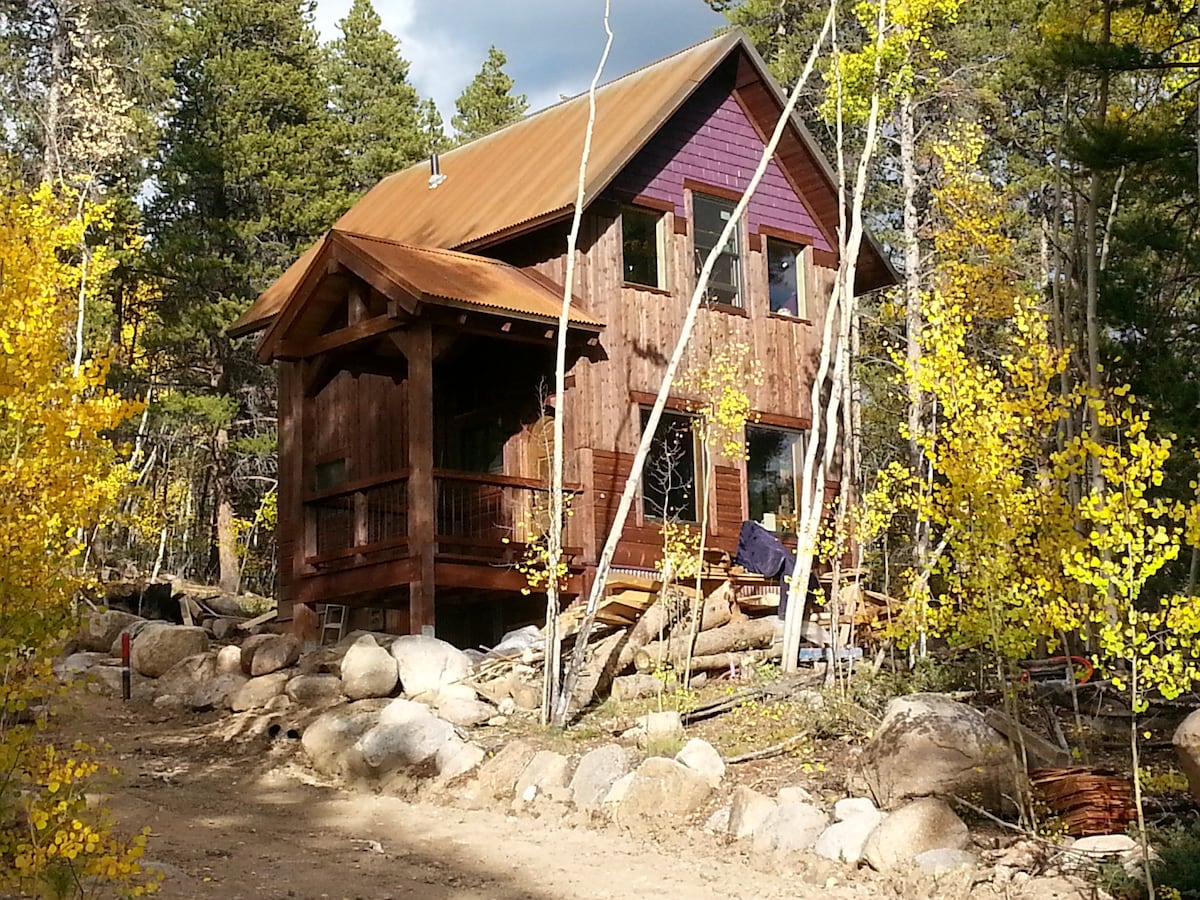 Long-Term Rental Cabin in the Aspens
If you're looking for a long-term Colorado cabin rental, this newly built home welcomes guests for one month and longer. 
The cabin features a classic pitched roof and a rustic interior design with comfortable amenities, including in-floor radiant heat, Wi-Fi, and a washer and dryer. On the first floor you'll find a comfortable living room furnished with two daybeds and surrounded by windows, as well as a full kitchen with wooden cabinetry. The bedroom is on the second floor of the cabin and boasts a queen-size bed, several large windows, and a spacious desk. There are also 1.5 bathrooms, the larger of which has a copper vessel sink and an oversized walk-in shower adorned in stone. 
Located in Beaver Lakes, the cabin offers beautiful forests and diverse wildlife. Guests are welcome to hike, ski, and snowmobile right on the property, and there are also a few alpine lakes nearby. 
View Cabin on Airbnb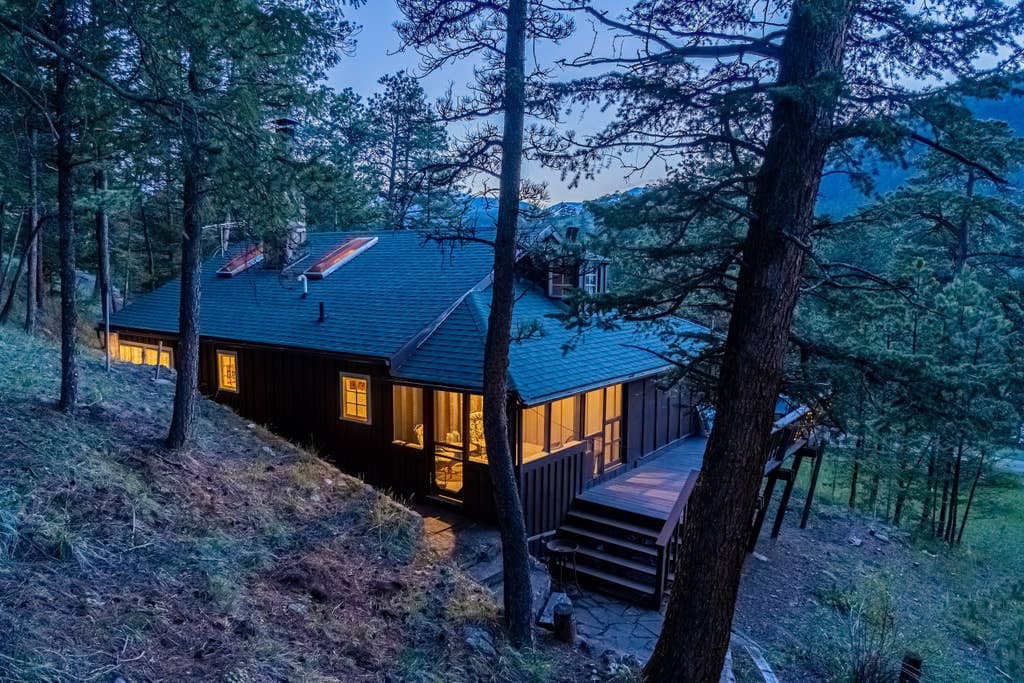 Vintage Hillside Cabin
This list wouldn't be complete if we didn't include this fabulous Rocky Mountain cabin for rent in Colorado. 
Built in 1914, the historic cabin has been thoughtfully preserved to add modern comforts while retaining its gorgeous vintage atmosphere. When you enter the cabin, your eyes are immediately drawn to the rustic wood beams and the exposed brick fireplace in the center of the living room, preserved from the home's original construction. Across from the living area, you'll find a full kitchen with red countertops and a designated dining area surrounded by windows. The huge master bedroom is on the first floor of the cabin and offers a king-size bed, a sofa, a towering bookcase overflowing with reading material, and a second indoor fireplace. There is also a fun loft with bean bag chairs and a TV, one full bathroom with a claw-foot tub, and a small room with a washer and dryer and a walk-in shower. Additional amenities include Wi-Fi and a wall-mounted Smart TV in the main living room downstairs. 
Outside, there is a screened-in porch with outdoor furniture, and the property is just a few minutes away from Rocky Mountain National Park. Plenty of wildlife are known to frequent the property, including elk, coyote, bobcats, foxes, bears, and raccoons. If you're traveling with children, you may also want to visit the neighborhood playground located a block away from the cabin.
View Cabin on Airbnb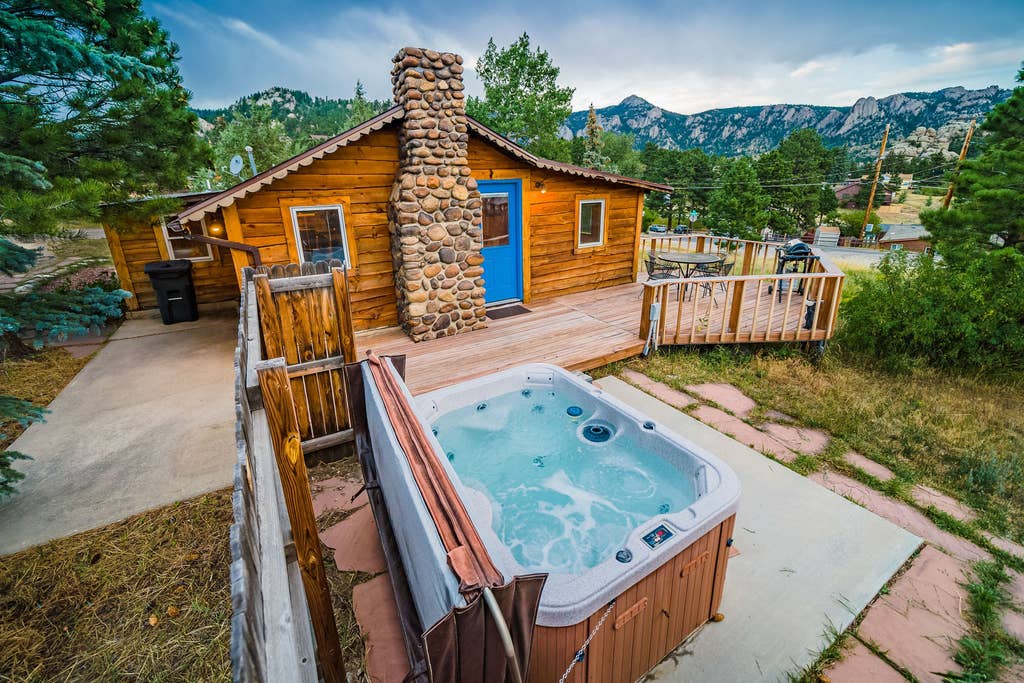 Historic Downtown Cabin
The last Colorado cabin on our list was built in the 1800s and has been completely modernized to include luxurious amenities such as Wi-Fi, a Smart TV, and a swirling outdoor hot tub. 
This wonderful mountain getaway can accommodate four guests with one full bathroom, a queen-size bed in the bedroom, and two sofa beds in the living room. The interior is spacious and cozy with an indoor fireplace, artistic pine accents, and a full kitchen with modern appliances. The hot tub can be found on the private fenced-in deck along with a grill and a patio table. 
The convenient rental is located in a quiet Estes Park neighborhood and is surrounded by other historic cabins. Rocky Mountain National Park is just a short drive away, and the area's downtown attractions are within walking distance of the cabin. 
View Cabin on Airbnb
With so many great cabins to choose from, it may be hard to settle on just one, but no matter which cabin you go with, you're sure to have an incredible stay in the great state of Colorado.