Road Affair is reader-supported and may earn commission from purchases made through links in this article.
More than just the capital of the country, Washington DC is an exciting place for travelers to visit. Home to a huge number of famous landmarks, from the White House to the Lincoln Memorial, as well as world-class museums like the Smithsonian, you won't be stuck for things to do. To enjoy all that DC has to offer, you have a broad selection of accommodation options open to you, with Airbnb being one of your best bets for vacation rentals in Washington DC.
Here are some of the best short term rentals in DC available through Airbnb. In order to share only the best Airbnbs in Washington DC, this list focuses on properties owned by superhosts and ones with Airbnb Plus status. Superhosts are owners on Airbnb that have a proven record of great service and strong reviews, while an Airbnb Plus has had an actual in-person inspection to confirm what's on offer.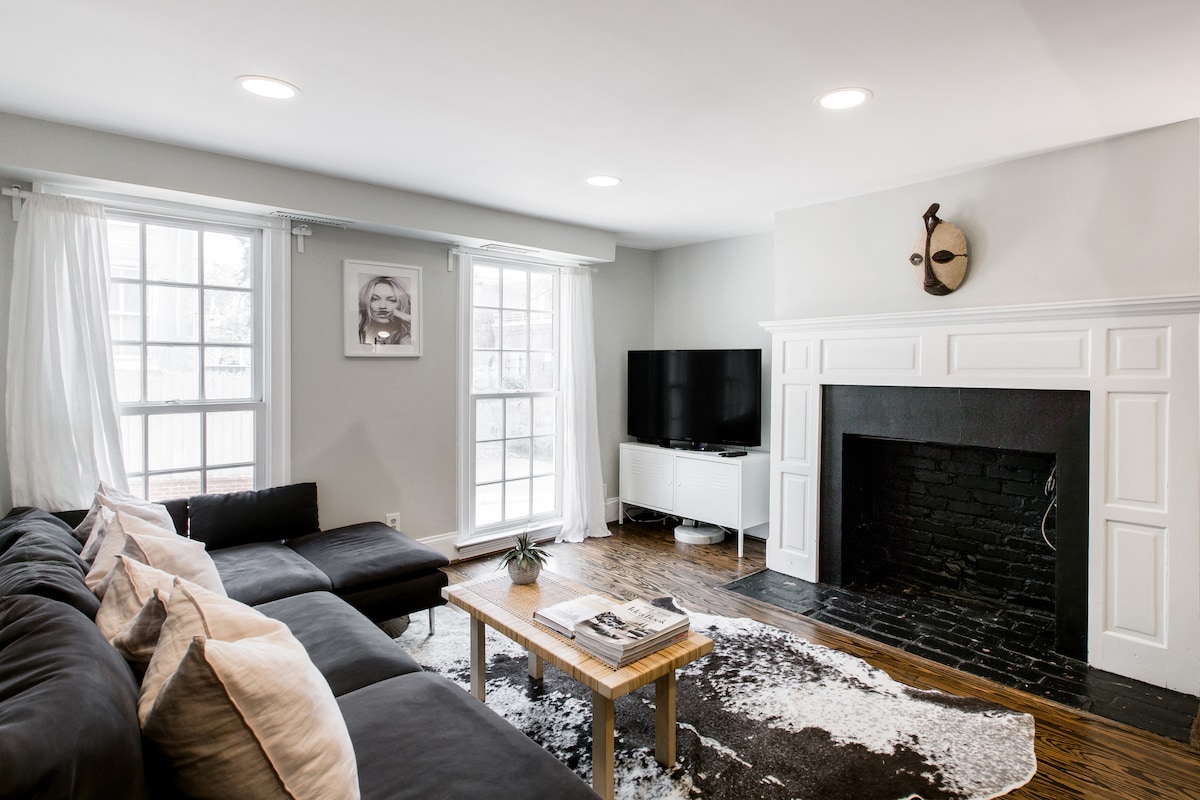 Style, Luxury, Historic Four Bedroom Home in Best Location
Those seeking an amazing Georgetown Airbnb will be hard pressed to find somewhere better than this townhouse. Located in a prime spot, mere steps from Georgetown's Main St., you'll have easy access to local shops and restaurants with this Airbnb Plus. As for sightseeing, both the White House and Potomac River are a short walk away.
Perhaps the most striking thing about this Washington DC Airbnb is just how many people you can fit in it. The townhouse boasts four bedrooms with five large beds total and three full bathrooms, catering for up to 13 guests. This configuration and space makes it highly flexible, which is ideal for large groups of friends or families traveling together. With a large living room and dining room, this townhouse isn't short on space for people to spend time in together.
To help cater to such large groups, the Airbnb comes with a full kitchen, equipped with a stove, oven, microwave, fridge, and dishwasher. You'll also find a washer/dryer, childcare amenities, Wi-Fi, TV, air-conditioning, the option for self check-in, and free street parking.
View on Airbnb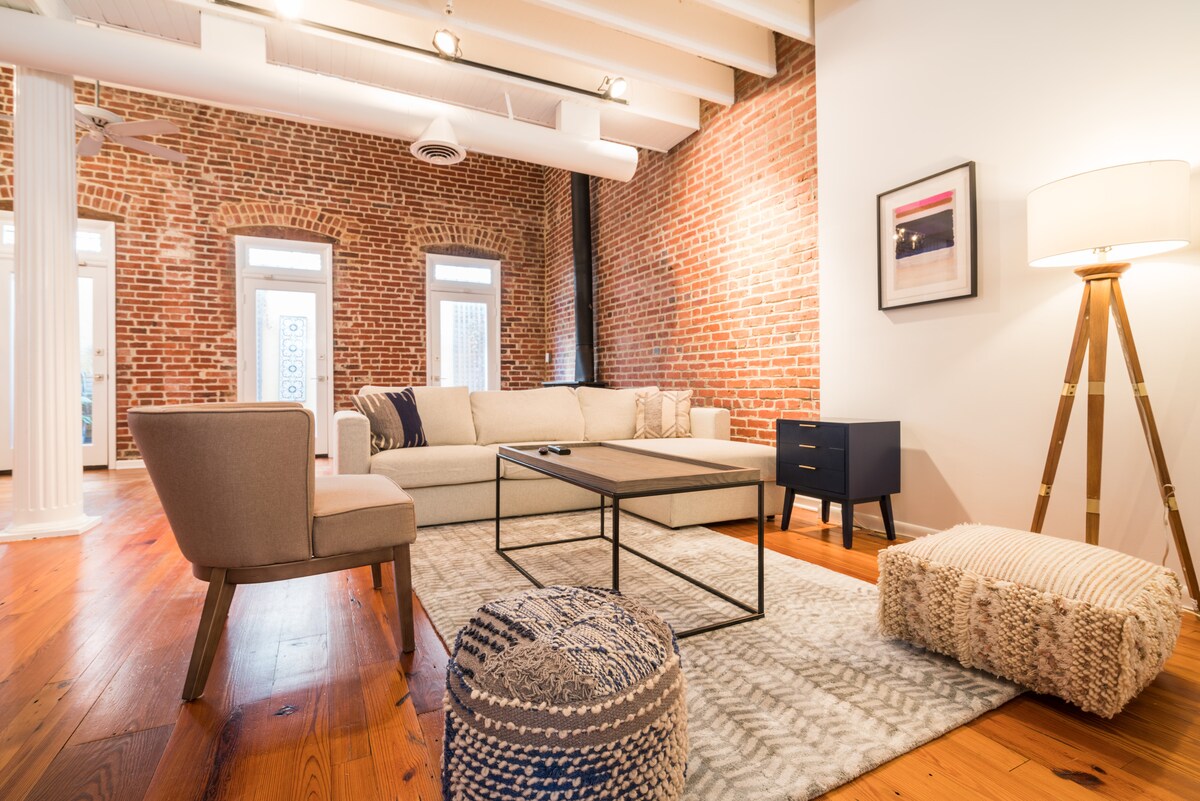 Huge, Historic 1916 Carriage House (2,400sf!)
You won't find many Airbnbs in Washington DC that are quite as charming and stylish as this historic carriage house. Situated in the popular and lively neighborhood of Dupont Circle, you'll be surrounded by eateries, coffee shops, bars, and clubs. It's the perfect location for those who want to be out and about in the evenings, while also enjoying good access to the metro.
In fitting with its traditional design, the house interior features a lot of brick walls, hardwood floors, and high ceilings. Within this spacious house there are two bedrooms, one with a king bed, the other with a queen. These, combined with a double sofa bed in the den and 2.5 baths, mean that the Airbnb can comfortably accommodate up to six guests. There's no way you could feel cooped up in here as the house even has two private patios for you to hang out on.
The benefits don't stop there though, the house features a huge modern kitchen with everything families or groups will need to dine in. Other nice touches include the indoor fireplace, the attached garage with one parking spot, Wi-Fi, a smart TV with cable, a travel crib, and air-conditioning.
View on Airbnb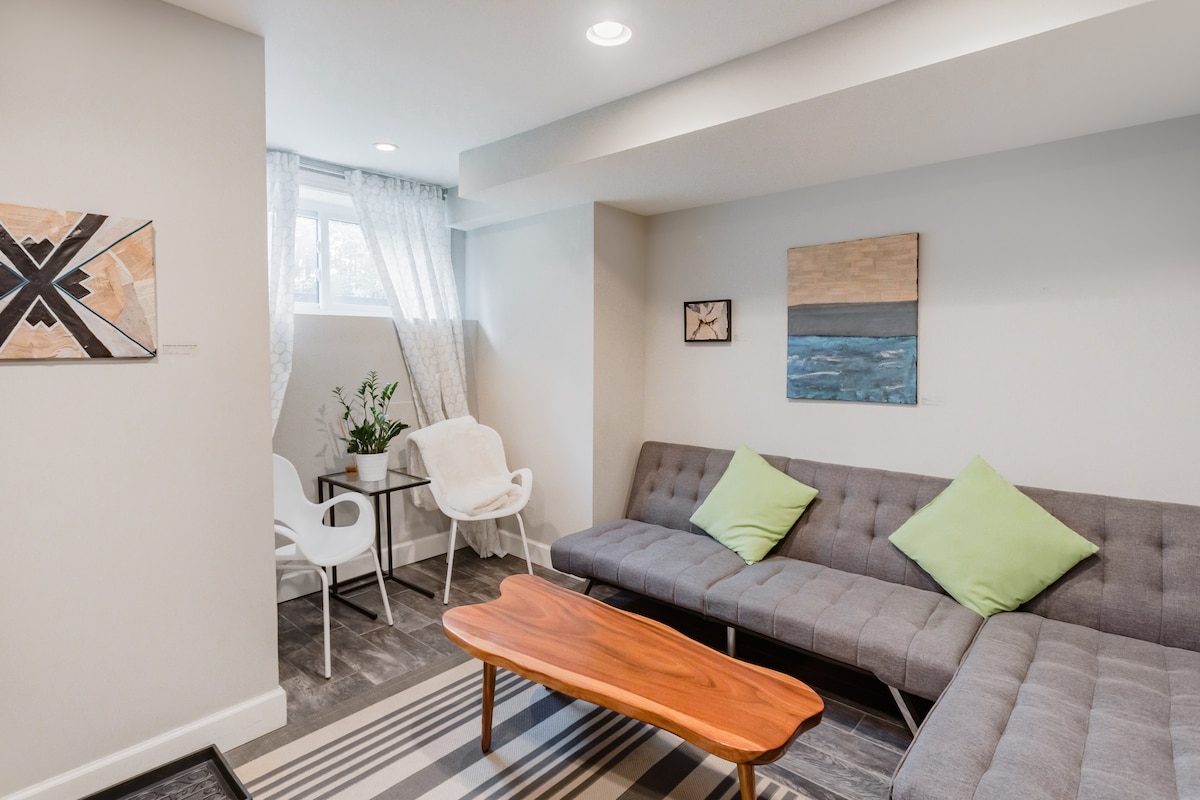 Walk to H Street From an Upscale Apartment
When talking about the best Washington DC Airbnbs, there's no way you can overlook this wonderful apartment. Found in the H Street area, known for its cool and quirky vibe, this Airbnb Plus is near a great selection of interesting local cafes, restaurants, and boutiques.
As this is a one bedroom apartment, it is best suited for couples or solo travelers. That said, there is the option for a floor mattress in the living room in addition to the bedroom's double bed, meaning two guests could sleep separately if needed. Throughout the basement apartment the decor is a blend of grey with wooden accents and pastel colors. This helps make it feel even cozier inside.
Even though space is limited, the apartment provides guests with a full kitchen that includes a dishwasher, as well as complimentary coffee and snacks. Other amenities include a small private laundry room, free on-site parking, Wi-Fi, TV, and air-conditioning.
View on Airbnb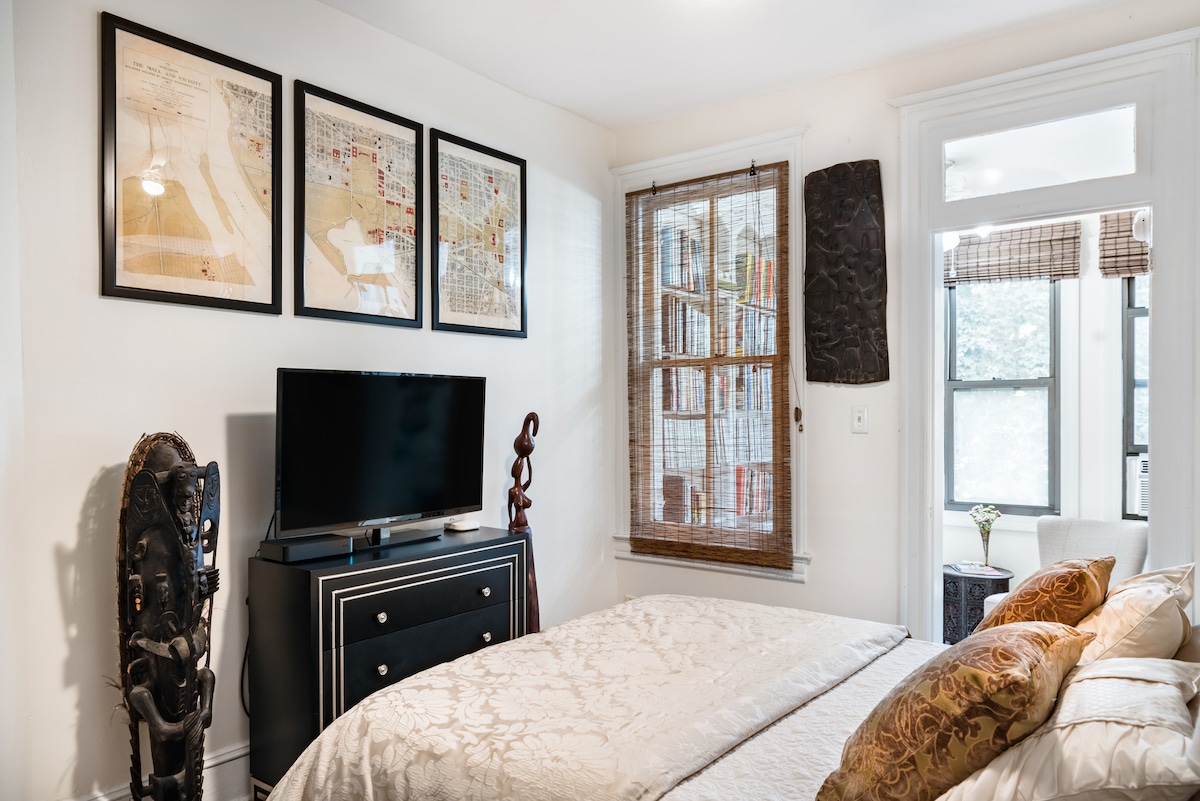 Private Bedroom With En Suite in Historic Capitol Hill Home
Find yourself in a private room in a beautiful home with lovely hosts by staying in this fantastic Airbnb Plus. Well-positioned in the Capitol Hill area of DC, you couldn't ask for a better location from which to discover the city's sights.
Staying in the home of hosts Cristina and Orestes, you'll have a private bedroom and private bathroom to call your own. Interestingly, the room can sleep up to three people if you use the  inflatable air mattress as well as the room's queen bed. This second story bedroom, much like the rest of the home, is full of interesting and eclectic decorations that give the home plenty of character.
Besides your private space, you also have access to shared spaces like the living room and dining area, as well as the kitchen where you can make a cup of tea. Guests may also hang out on the beautiful front patio and enjoy its leafy surroundings. Amenities include Wi-Fi, a smart TV, air-conditioning, and free permits for street parking.
View on Airbnb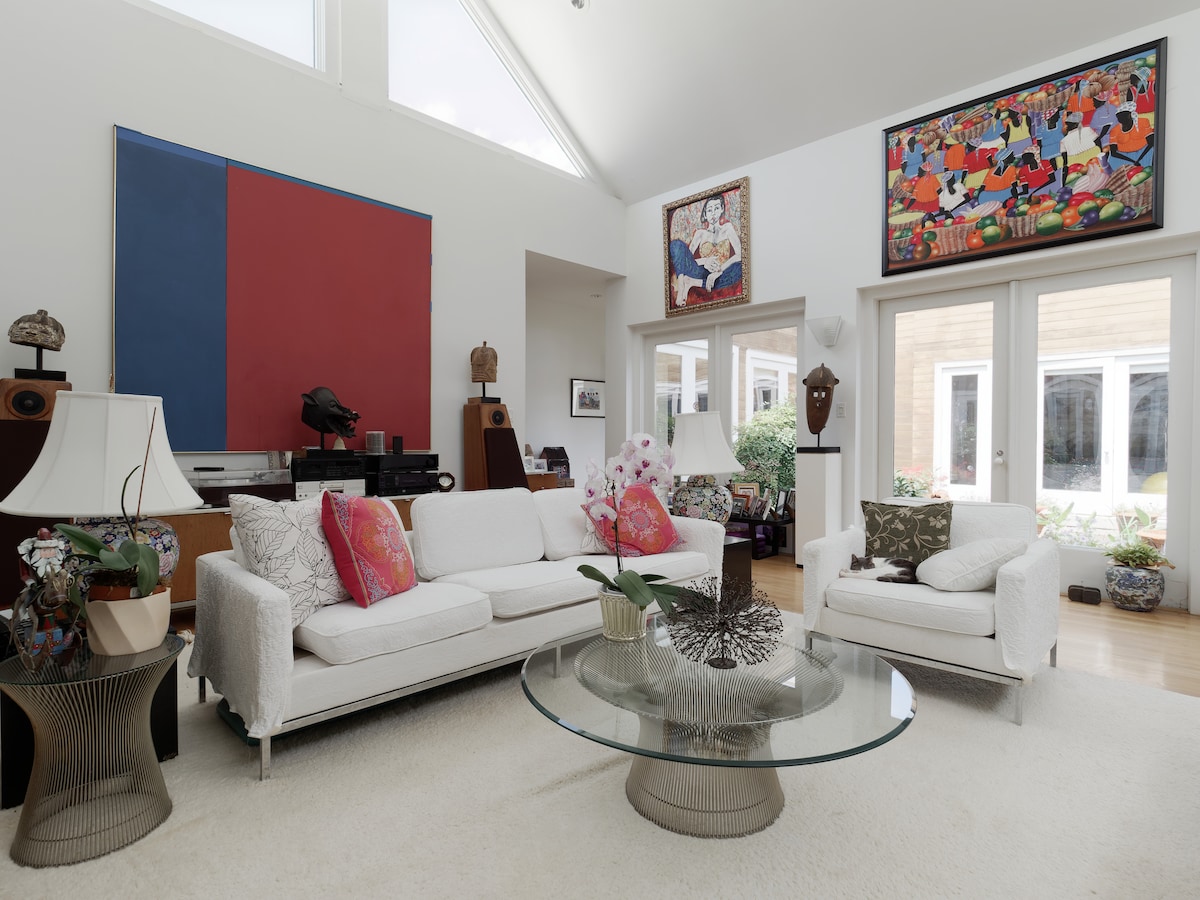 Attractive 2 Twin Beds Near Capitol
Not everyone needs loads of space when visiting DC, which is why private rooms like this one are so handy. Located in the historic residential area around Capitol Hill, you'll be staying in a quiet part of the city with good access to the subway, supermarkets, and major attractions.
At this Capitol Hill Airbnb you'll have a pleasant private room that has two twin beds. Along with the bedroom, you'll also have a private bathroom nearby and access to shared spaces including the kitchen, living room, and dining area. Perhaps just as important, you'll have superhost Heather who is ready to provide advice for getting around and sightseeing.
Another perk of this bright and spacious home is that it even has an outdoor swimming pool, which guests are able to use during the warmer months. Then there are the regular amenities like cable TV, Wi-Fi, air-conditioning, free street parking, and the chance to use laundry facilities. One thing worth noting is that Heather's home comes with a cat and dog.
View on Airbnb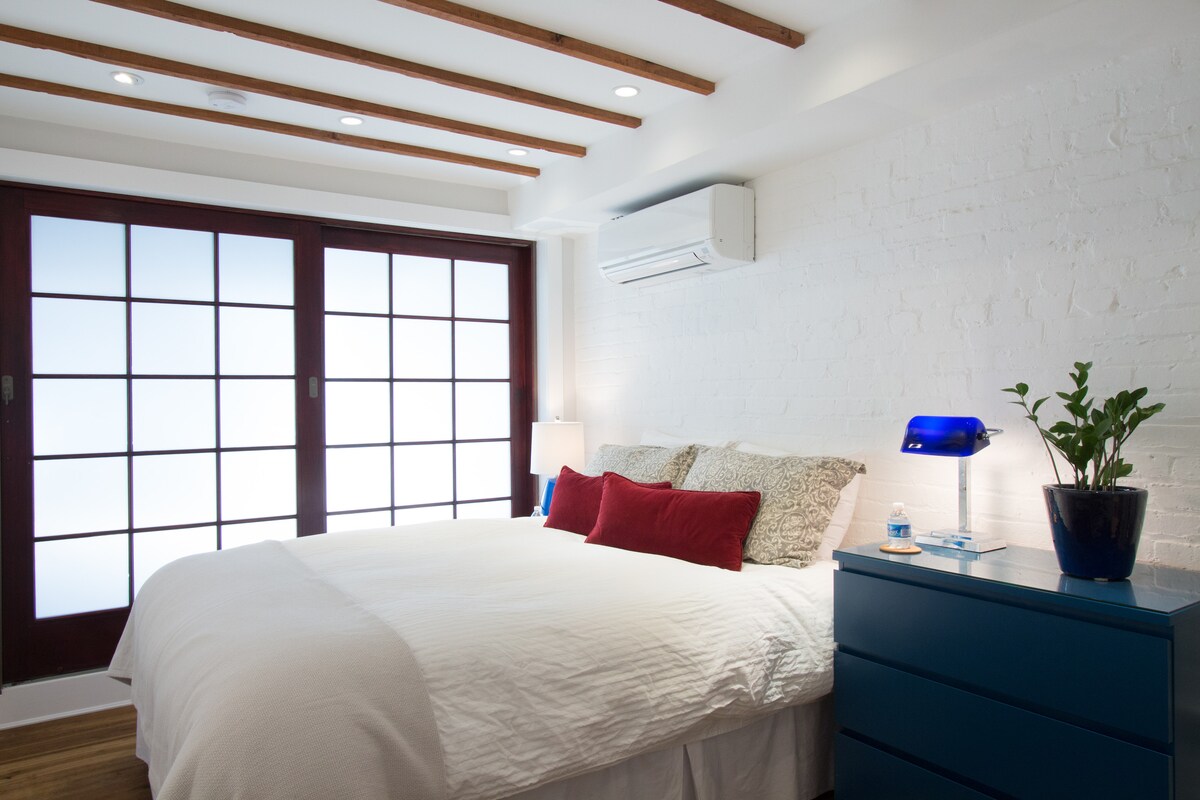 Brand New English Basement in D.C.
For one of the best Airbnb rentals in Washington DC look no further than this recently restored townhouse apartment. Situated in highly sought-after Bloomingdale, this neighborhood north of the Capitol is full of picturesque rowhouses, local markets, and diverse restaurants.
Although this is a basement apartment of a townhouse, you'll be surprised just how much light it gets. Separate from the rest of the house where superhost Kevin lives, you'll have complete privacy. While it only has a queen bed in the spacious bedroom, the options of a double air mattress and crib mean it can sleep up to four adults and an infant. One word of warning though, the basement's ceilings are low, so those over 6'1", will need to watch their heads.
To help you feel at home, the apartment comes with an inviting living room and a small kitchenette. You'll have a coffee maker, kettle, mini-fridge, and microwave, which should be plenty for basic meals. Guests also have access to a washer/dryer, a permit for on-street parking, Wi-Fi, TV with Netflix, and air-conditioning.
View on Airbnb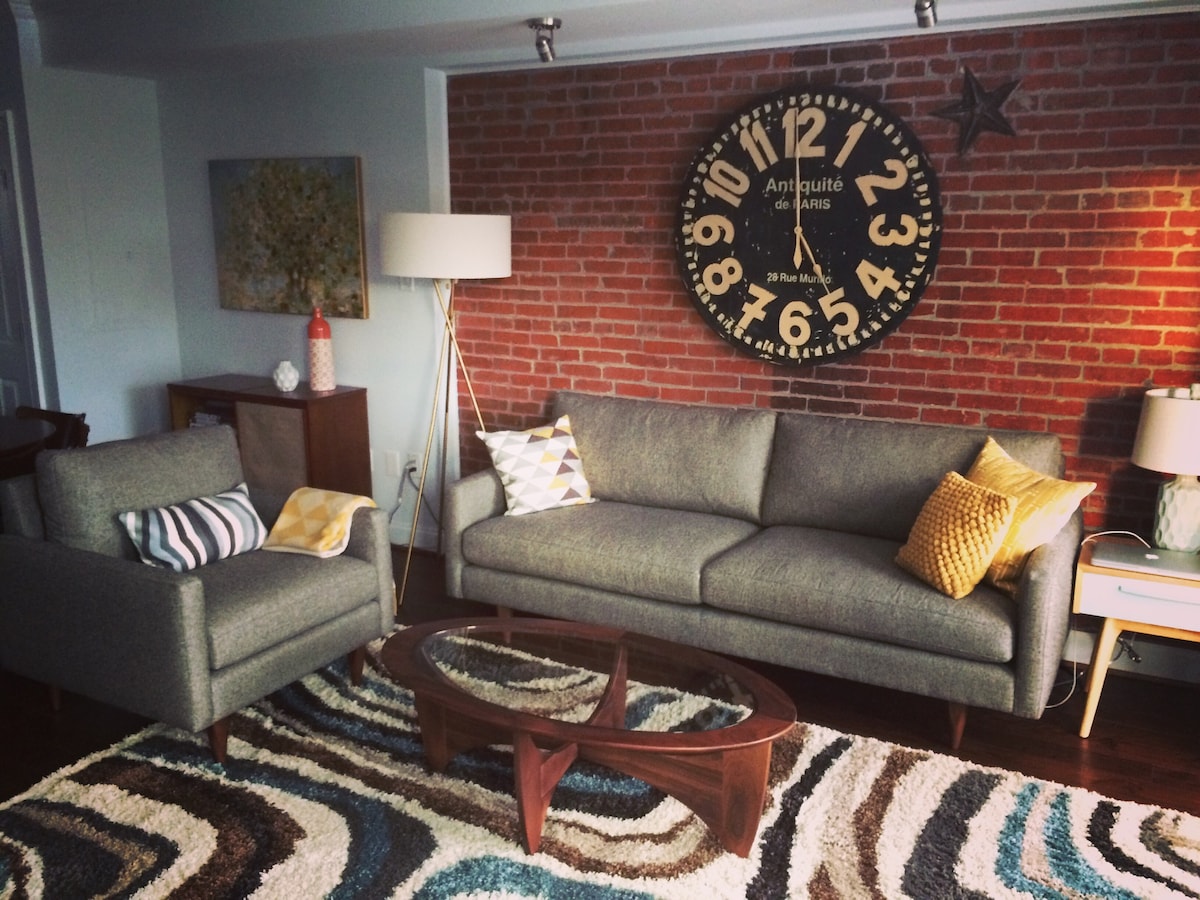 En-suite Bathroom/10 mins to Metro/No Cleaning Fee
If you're simply looking for a room, rather than a whole apartment or home, this Airbnb is likely to meet your needs. Also found among the quiet residential streets of Bloomingdale, there are plenty of bars, cafes, and restaurants in the area. Sightseeing from here isn't hard either with a metro station ten minutes walk away and the National Mall just a few stops over.
This Airbnb in Washington DC provides guests with their own private suite within the home of superhost Kevin. It features a bedroom and ensuite bathroom, with a queen bed for two, a lock on the door, and plenty of storage space. This makes this private room best suited to couples or solo travelers. 
Beyond the room, guests have access to shared spaces like the living room, dining room and roof deck patio. In the kitchen, it's possible to store things in the fridge and use the coffee maker, plus the washer and dryer in the laundry are also available. Other amenities for guests include Wi-Fi and a TV in their room, air-conditioning, and free on-site parking.
View on Airbnb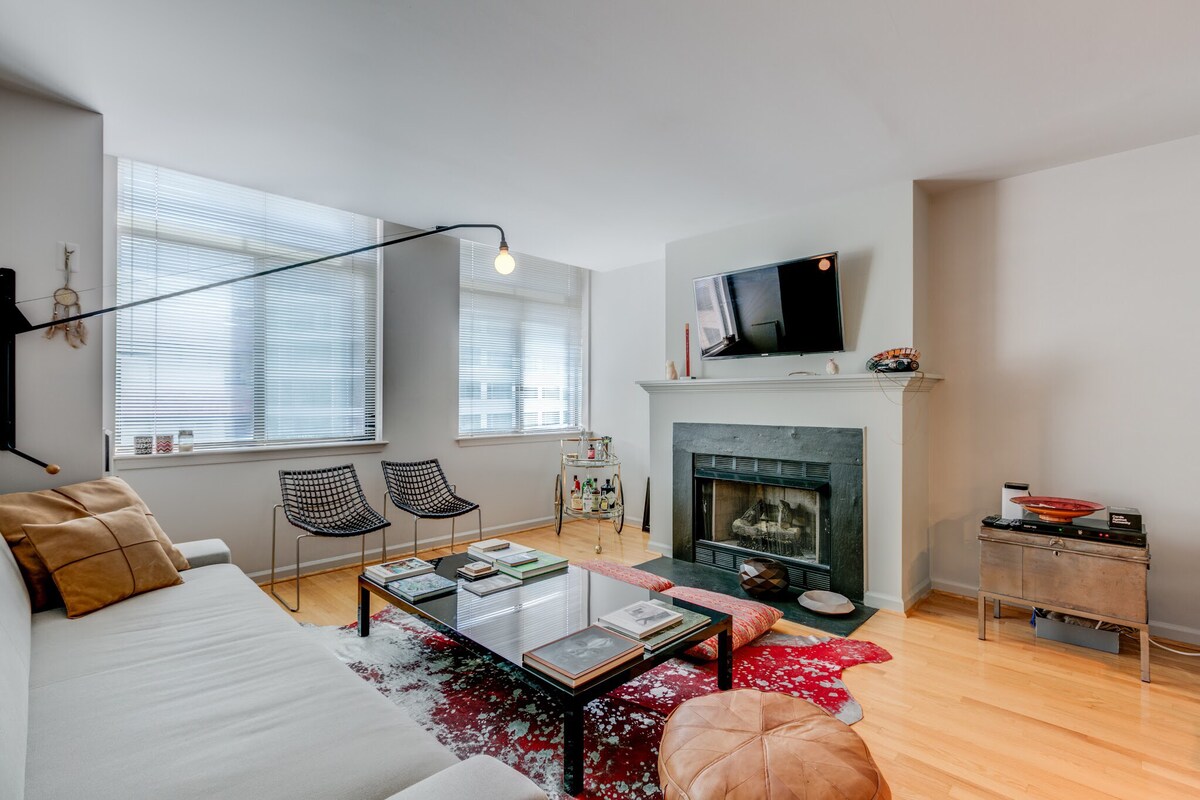 Private 1 Bedroom Centrally Located
With its great sense of style and homely touches, this Airbnb in Downtown Washington DC is the kind of place you'll easily settle into. Located a short walk from The White House and the Convention Center in the Downtown area, you couldn't ask for a more central place to stay. Being in the heart of the city, there are naturally a whole lot of bars and restaurants nearby.
Even though it's just a one bedroom condo meant for two people, guests should find that this Airbnb offers plenty of space. Not only is there the bedroom with hanging space, a desk, and a luggage bench, but also a large living room and dining area. The living room is especially welcoming with its contemporary European design that features a large sofa, floor cushions, and an indoor fireplace. Outside you'll also have access to a communal south-facing patio with a little garden.
But this condo doesn't just look good, it's also quite practical. For starters there's the full kitchen with its stove, oven, microwave, fridge, and dishwasher, where you can easily prepare meals for yourself. Then there's the Wi-Fi, smart TV, laundry facilities and air-conditioning which help ensure a pleasant stay.
View on Airbnb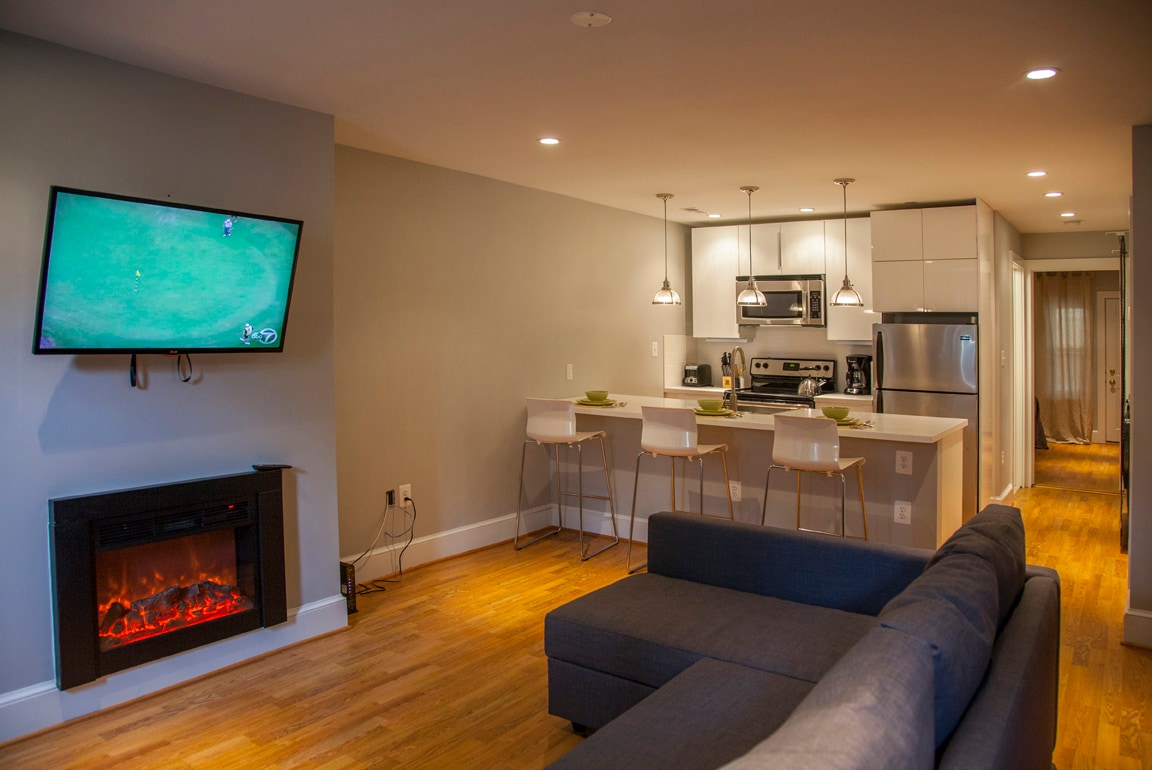 Capitol Hill Luxury English Basement
While there's no shortage of Washington DC Airbnbs that are basement apartments, few feel quite as spacious as this one. Situated in the Near Northeast area of DC, you'll be close to the dining spots and bars of the H Street Corridor. And while the immediate surroundings are nice and quiet, it's not far to the metro and street car.
What elevates this from other English basements is that it boasts high ceilings and large windows that allow plenty of light in. These two factors, combined with its simple modern decor make the Airbnb an inviting place to stay. The one bedroom apartment can sleep up to four adults, thanks to the bedroom's queen bed and a sofa bed in the living room. It also comes with a toddler bed which young families will appreciate.
Alongside an open-concept living room and a private bathroom, this Airbnb features a fully-equipped kitchen with a microwave, stove, oven, fridge, and dishwasher. Further amenities include a fireplace, washer/dryer, Wi-Fi, cable TV, and air-conditioning. One final touch is that there's free on-site parking, which is always handy.
View on Airbnb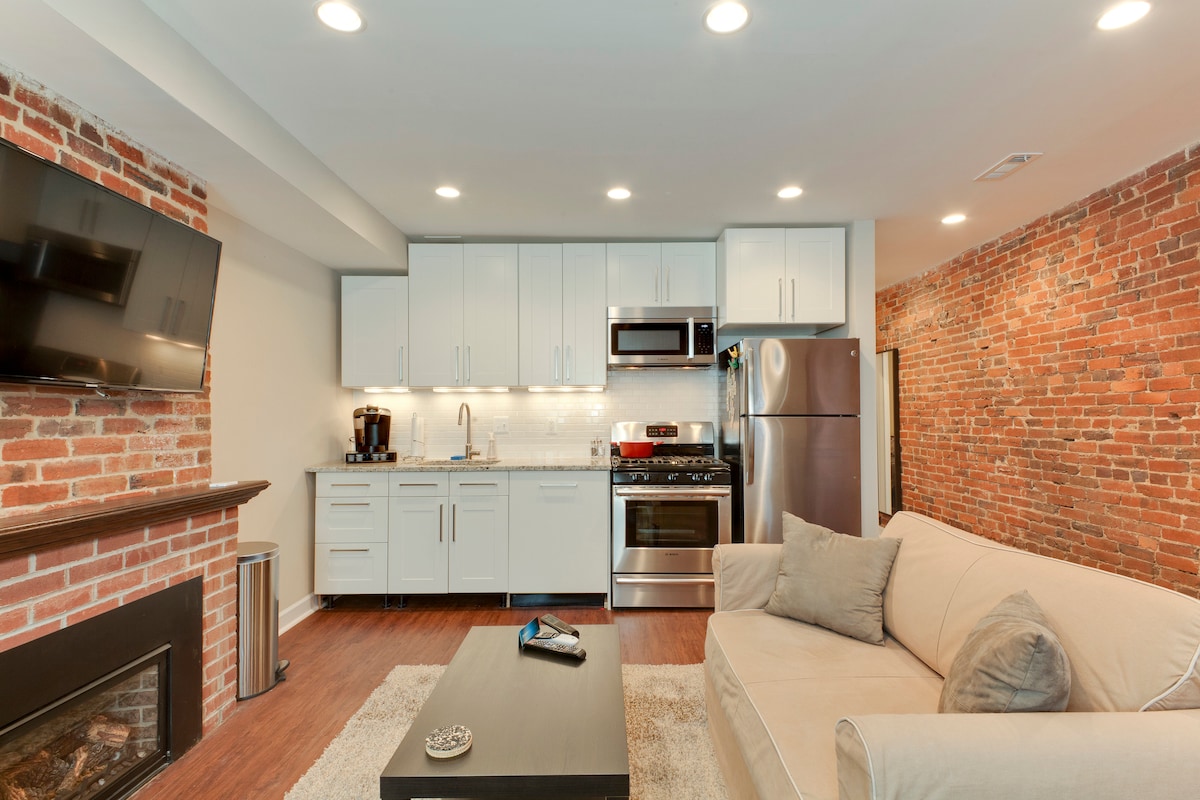 Charming Row House With Fireplace near Everything
This charming Airbnb is another English basement among the many vacation apartments for rent in Washington DC. It's found in the trendy neighborhood of Shaw, just outside of Downtown, which is home to some colorful old row houses and a fine selection of bars and restaurants.
Within this apartment it's possible to comfortably fit four adults. The bedroom features a queen bed, while there's also a queen-size pull-out sofa in the living room. Superhost Alan is able to provide an additional air mattress for families traveling with kids, but the space really isn't suited to large groups. That's because besides the bedroom, there's really only the living area and attached kitchen, as well as the full bathroom.
To help you settle in, the apartment comes with a full kitchen equipped with a fridge, microwave, stove, oven, and dishwasher. Other nice touches are the gas fireplace and heated bathroom floor that are both welcome come winter. More amenities include cable TV, Wi-Fi, air-conditioning, laundry facilities, and a permit for free on-street parking.
View on Airbnb
Cozy Modern Apt. Heart of G-Town. King Bed-Parking
There's so much to like about this chic upstairs apartment. Located in the heart of Georgetown, you'll have no trouble finding college bars, trendy coffee shops, and upscale restaurants in this part of the city. There's a reason this neighborhood is extremely popular with visitors.
Staying at this Airbnb in Georgetown Washington DC you'll have everything you need for your vacation. The apartment has one bedroom with a king bed, as well as a sofa bed in the living area, and a single sleeper sofa. All up, this Airbnb can accommodate five people, which makes it quite flexible for families and groups of friends. Other spaces include a bathroom and a kitchen/dining area, plus a small balcony with table and chairs outside the front door. 
While its cozy interior is immediately endearing, it's worth highlighting the apartment's modern kitchen and other amenities. Not only is there a full kitchen with a dishwasher for self-catering, you'll also have other extras like Wi-Fi, cable TV, air-conditioning, laundry facilities, and free parking. To make check-in easier, this Airbnb has keyless entry and the option to leave luggage in storage.
View on Airbnb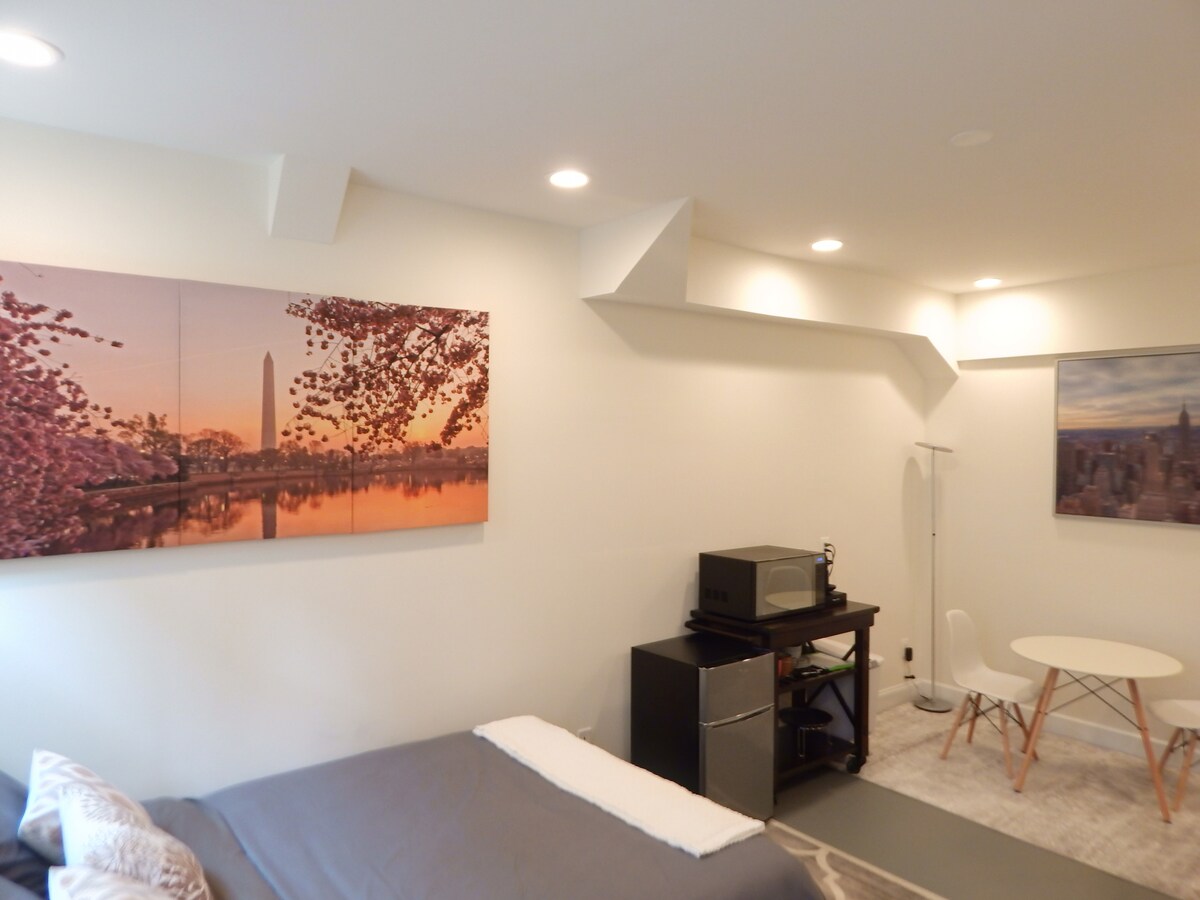 Dupont Circle Studio w/ Private Patio
A great little studio apartment, this Airbnb makes a wonderful base for those looking to explore the city. Situated in Dupont Circle, this residential neighborhood feels like it's the beating heart of the city, with plenty of local haunts and parks that help make it such a popular place to live.
Since it's a studio apartment, this Dupont Circle Airbnb sleeps two and is best suited to couples or single travelers. The apartment has been freshly renovated to give it a modern feel, and although it's quite compact, it's more than suitable for a short term visit. On one end of the main room is a plush queen bed. A breakfast table, kitchenette, and entertainment unit fill the rest of the space. There is also a private patio should you need some fresh air.
While it lacks a full kitchen, the studio's kitchenette comes with a coffee maker, mini fridge, and microwave. Additional amenities include Wi-Fi, cable TV, air-conditioning, and communal laundry facilities.
View on Airbnb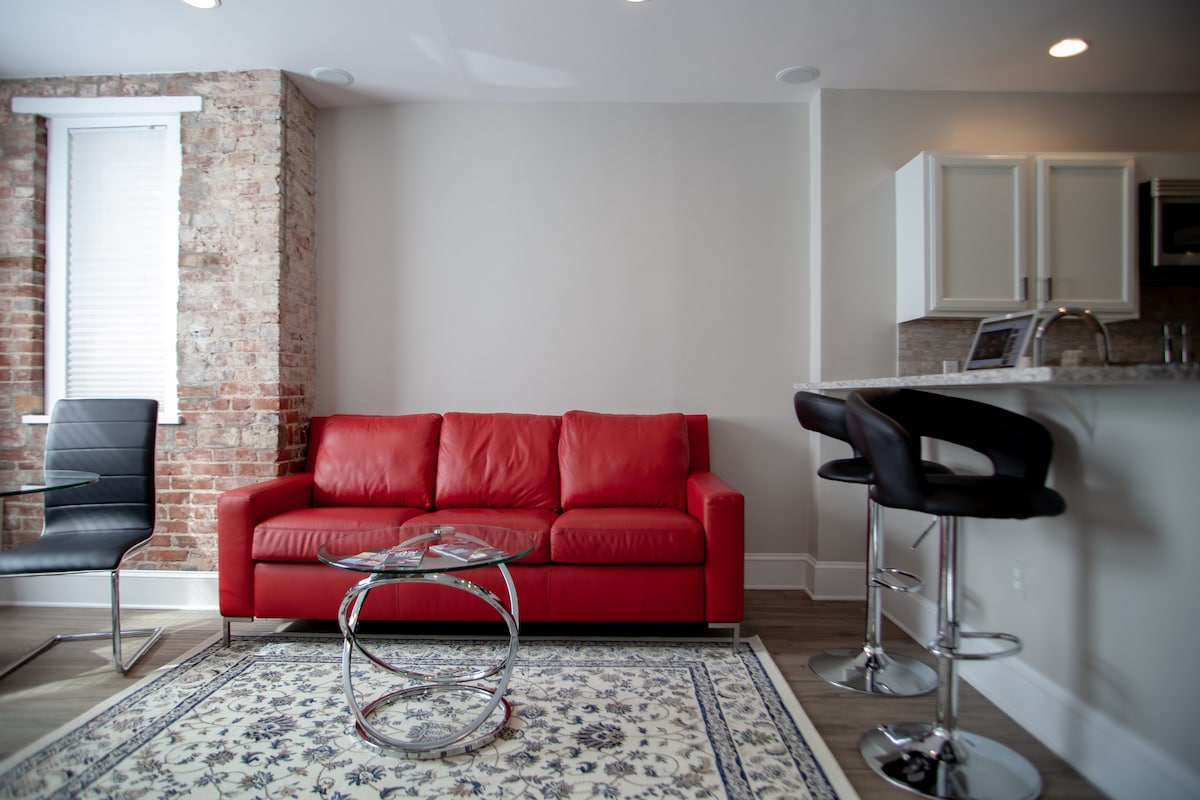 Private DC Apt | Walk to Metro, Dupont & Logan
Of the many short term apartment rentals in Washington DC to choose from, you can't go wrong with this one. This Airbnb, conveniently found in the Downtown area, makes an excellent base from which to explore the city. You'll also have an easy walk to the restaurants, bars, and cafes in both Logan Circle and Dupont Circle, providing plenty of options for your visit.
This one bedroom apartment is most suitable for couples and solo travelers given its cozy layout. But with a sofa bed in addition to the king bed in the bedroom, it can feasibly fit up to four people if needed. The apartment has a comfortable, modern feel to it and a decor that balances some exposed brick with new furnishings. Just looking at its dining area, kitchen, and bathroom and you can see the quality and care that's gone into outfitting this Airbnb.
Speaking of the kitchen, the apartment features a fully-equipped kitchen behind its breakfast bar with an oven, stove, microwave, dishwasher, and fridge. There are extra amenities too like a washer/dryer, Wi-Fi, TV, and air-conditioning.
View on Airbnb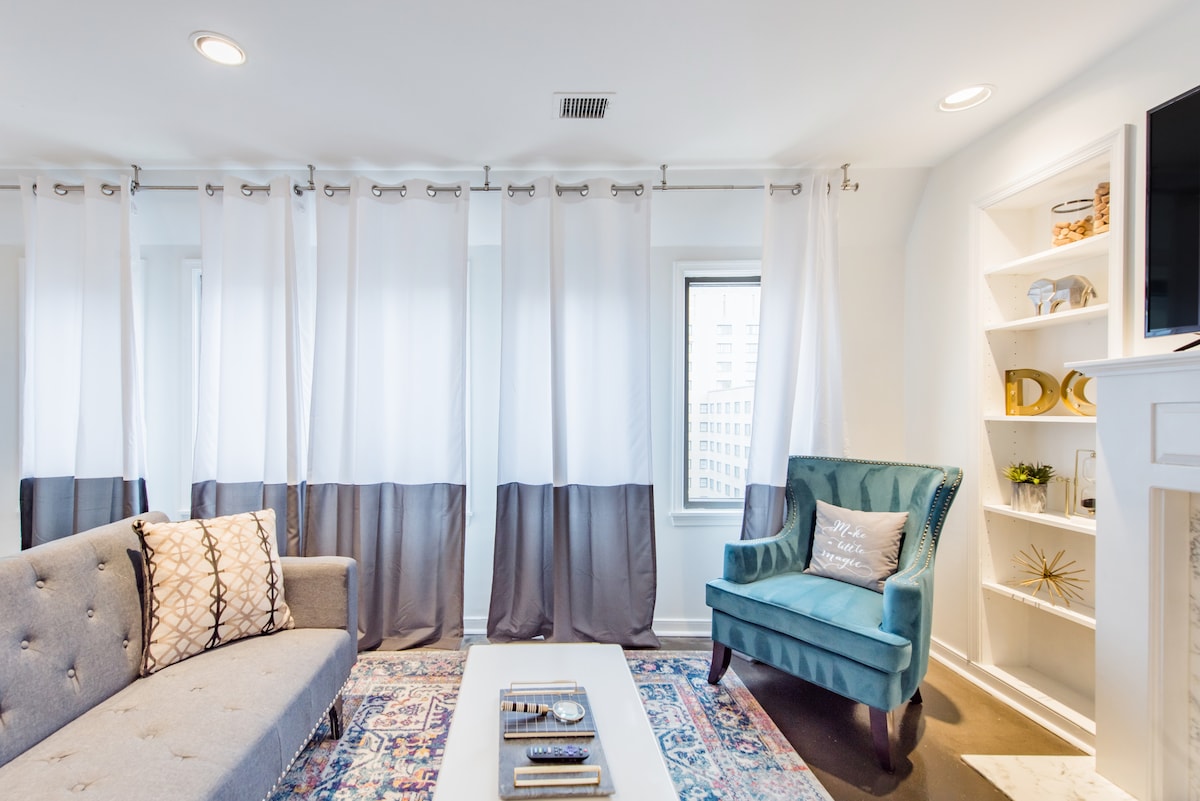 Walk to the White House from a Posh Penthouse
Not only is this Airbnb in DC a gorgeously styled apartment, it's also perfectly equipped to make your vacation as stress-free as possible. Located in the central neighborhood of Penn Quarter, you're only a couple blocks from landmarks like the White House and the Washington Monument.
Despite this Airbnb Plus being only a one bedroom apartment, there's some flexibility in its sleeping arrangements. With a queen bed in the bedroom and both a sofa bed and floor mattress available, the apartment can squeeze in up to four guests. This apartment isn't massive, with just a modest living/dining area, bathroom, and kitchen. You do have a private patio though, which is always good value.
It can't be overstated how elegant and tasteful the decor is, not to mention the big windows which let in plenty of light. This thought and care extends to the full kitchen with its beautiful wood counters and ensemble of modern appliances including a dishwasher. Other nice touches include laundry facilities, an indoor fireplace, Wi-Fi, TV, an elevator, and air-conditioning.
View on Airbnb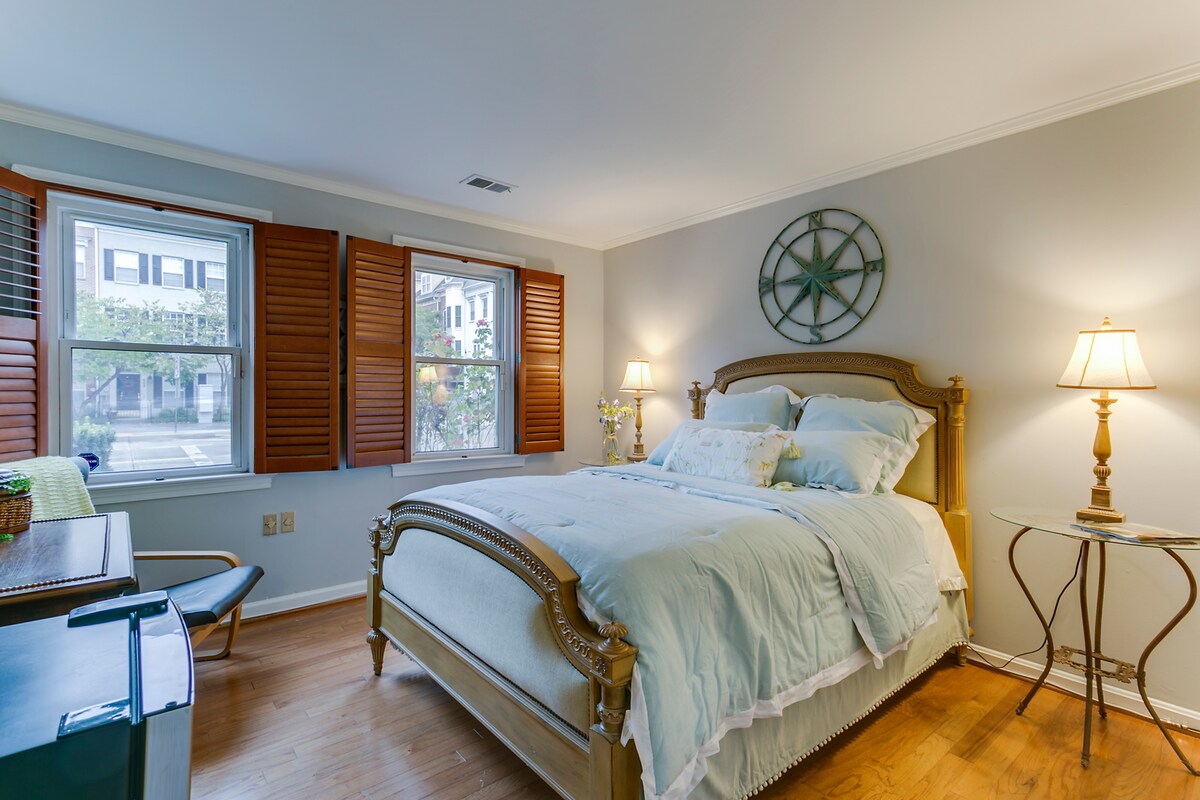 Room Steps from the National Mall and Monuments
Another Washington DC Airbnb where you can rent just a private room is this well-reviewed place run by superhosts Garon and Diane. Situated close to loads of attractions and government buildings in the Southwest Waterfront neighborhood, not to mention multiple metro lines, this option works well for both business and leisure travelers.
Here you'll be staying in a townhouse with your own room on the ground floor of the building. The room offers a queen bed which will work for couples or single travelers, with windows that look out onto the street. Within the room you have a side chair, TV, coffee-maker, and a mini-fridge stocked with complimentary water, soda, and snacks. While not private, there is a bathroom on the same floor shared with the house's other guest room.
Upper floors of the townhouse are the private residence of Garon and Diane, meaning you won't have access to any kind of kitchen facilities. There is a laundry room on the ground floor though should you need to do some washing while in town. Beyond all that, there's also Wi-Fi, air-conditioning, and cable.
View on Airbnb
Clearly, there is a great range of comfortable and stylish Airbnbs in Washington DC for you to choose from for when you visit the capital. No matter why you're visiting, or how long you plan to stay, there's an Airbnb with your name on it.