Road Affair is reader-supported and may earn commission from purchases made through links in this article.
As the largest and most popular of the Canary Islands, Tenerife is brimming with exciting attractions and brilliant natural wonders you won't want to miss. With its mesmerizing beaches, rich history, and jaw-dropping natural scenery, the island offers both bustling urban attractions and quiet relaxation spots. What's more, Tenerife is home to the UNESCO World Heritage Site of Teide National Park. 
To help you find the perfect place to rest your head, we've compiled the following list of the best Airbnbs in Tenerife. Each of these Airbnbs is presided over by an experienced superhost, so you can be sure you're staying in a reputable rental with fantastic guest reviews. Some of the rentals also boast the Airbnb Plus designation, an exclusive status reserved for stylish rentals that have been verified through in-person inspection, and most feature a ton of modern amenities, including TV and Wi-Fi.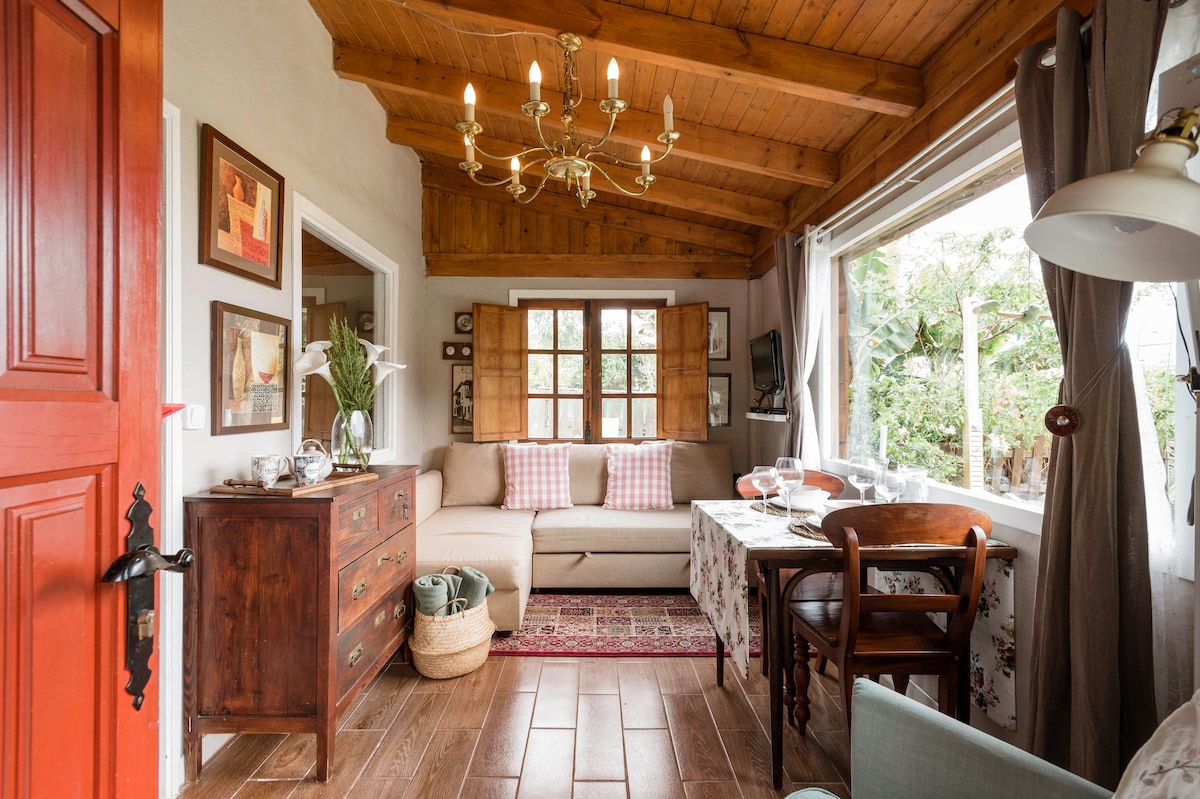 Romantic Pair of Cottages With a Hot Tub
Kicking off our list is a charming holiday rental in Tenerife made up of two equally gorgeous homes that can accommodate a total of six guests. 
Each of the homes is set on a stunning nature-filled property and features a cozy bedroom with mountain views and a modern full bathroom. They also both have spacious living areas and full kitchens.
The houses are beautiful and sunny, with rustic wood accents, cheerful artwork, and unique furnishings. Outside, you'll find a breathtaking backyard featuring gorgeous greenery, a private hot tub, a hammock, and a set of yellow sun loungers. Other amenities include an in-unit washer, a smart TV, and baby gear available upon request.  
Located in a stunning rural area 500 meters above sea level, this convenient Tenerife Airbnb is just a stone's throw away from several hiking trails, the island's historic quarter, and the famous Millennial Dragon Tree. 
View on Airbnb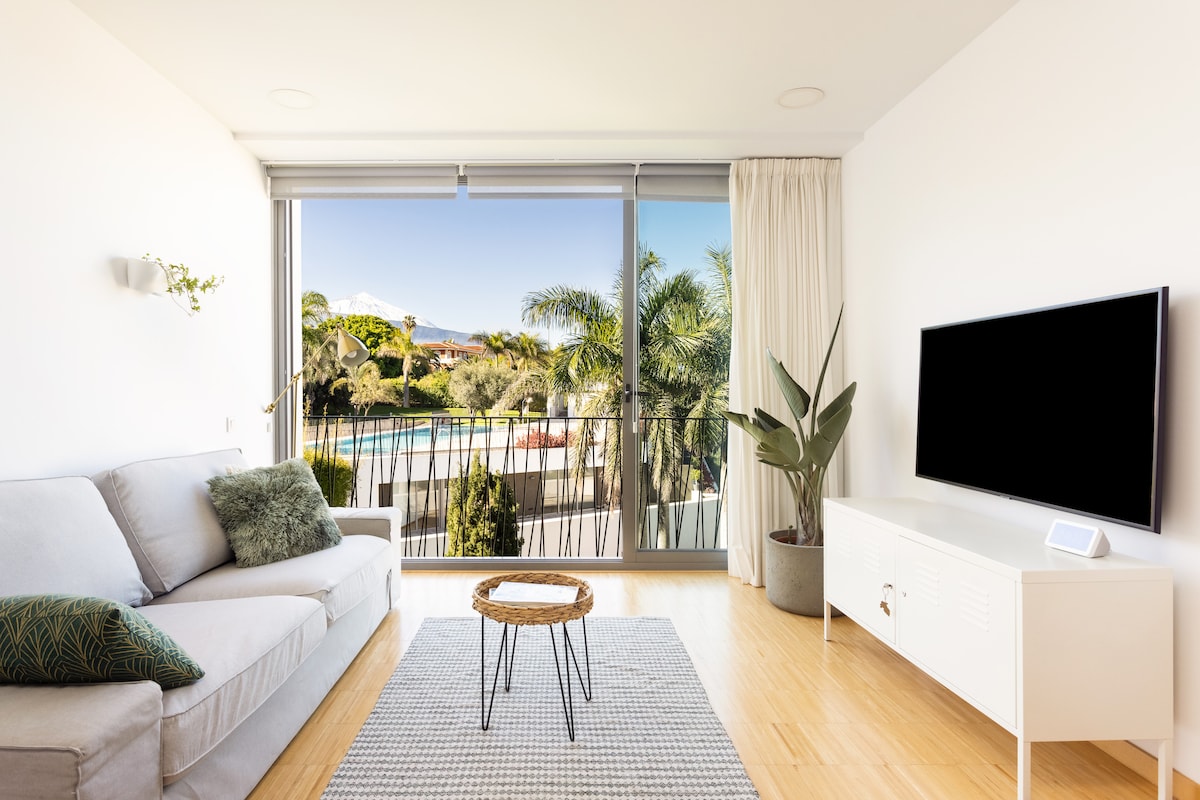 Modern Apartment in La Quinta
Another stunning Airbnb Plus surrounded by greenery, this modern rental boasts unrivaled views of the Mount Teide volcano. 
Decorated with neutral tones and muted green accents, the minimalist interior is bright and airy. One or two guests can sleep comfortably in the one-bedroom, one-bathroom apartment, which features a queen-size bed with a comfy memory foam mattress and a spacious living room with a cozy sofa and a smart TV. There is also an open full kitchen featuring stainless steel appliances and a convenient breakfast bar.
Additional features include a small dining table and an extra smart TV in the bedroom. This beautiful Airbnb in Tenerife is a great option for couples and guests looking for a place to work remotely, as it's equipped with high-speed Wi-Fi and a dedicated workspace. 
Large glass doors in the living area open onto the rental's private balcony, and you'll also have access to a common outdoor area with an infinity pool and beach views. La Quinta is a charming residential neighborhood that offers plenty of attractions, including parks, hiking trails, shops, and restaurants. 
View on Airbnb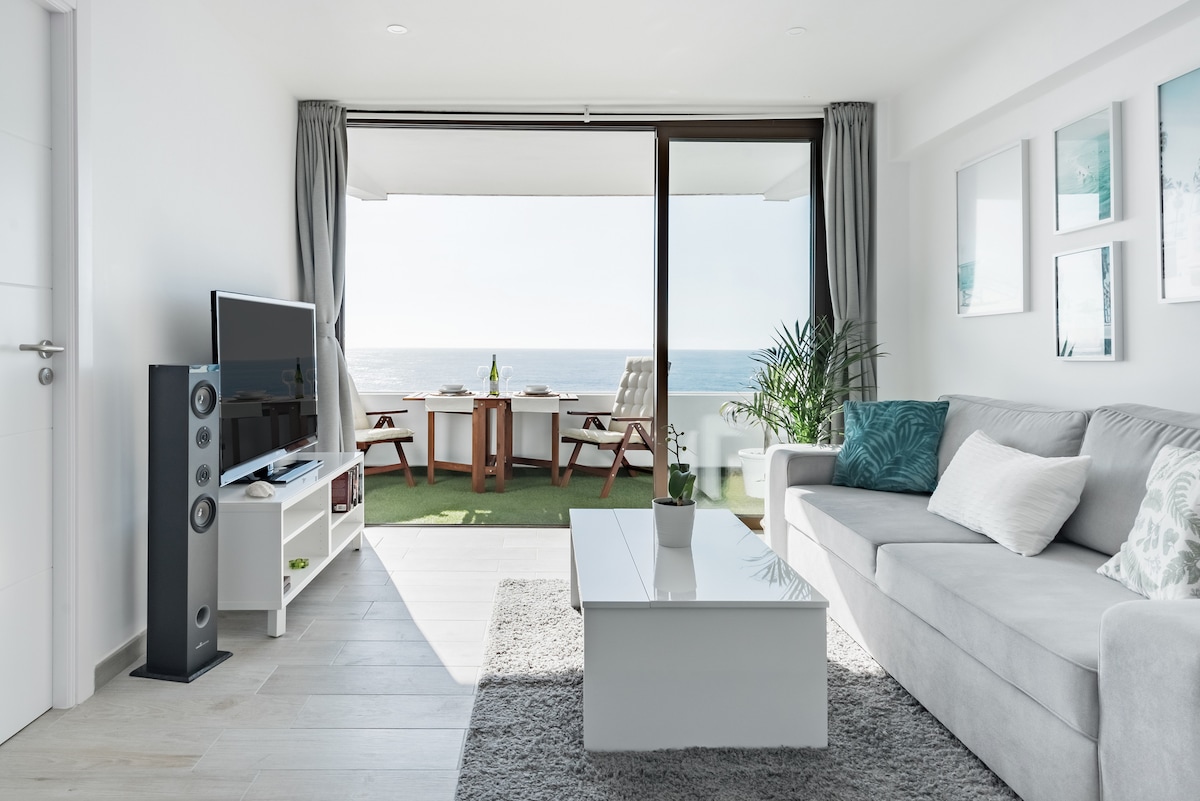 Luxurious Hillside Apartment
If you're in the market for a luxurious vacation rental in Tenerife, look no further than this oceanside gem. 
Another great option for couples and solo travelers, this one-bedroom apartment is furnished with a luxurious king-size bed and features a spa-like en suite bathroom with a double-sink vanity, a rain shower, and a convenient washing machine. What's more, the sunny bedroom has a dedicated desk space and a large wall of sliding glass doors that open onto a private oceanfront balcony. Common areas include a full kitchen with a dishwasher and a spacious yet cozy living area with a smart TV and beach views. 
Located along the Tacoronte coastline, this tranquil holiday home is within walking distance of beautiful beaches, natural swimming pools, and restaurants that serve fresh seafood. 
View on Airbnb
Old Town Tenerife Airbnb
Spend your vacation in your own personal paradise with this top-rated loft apartment in the island's popular historic area. 
The warm interior is characterized by rustic wooden ceilings and comfortable modern furnishings. Fun decorations and red, orange, and pink accents liven up the space, while a large glass wall leads onto a private terrace and lets in a ton of natural light. 
Ideal for solo travelers and couples, the studio space is furnished with a queen-size bed, a small sofa, and a four-person dining table. The modern full kitchen and dishwasher make cooking a breeze. There is also a large full bathroom, and amenities include a smart TV, an in-unit washing machine, an electric vehicle charger, and a free parking space in the garage. 
Step outside to enjoy the private stone terrace, complete with high-end sun loungers and a refreshing in-ground pool. The outdoor space also includes a stainless steel grill, and the entire yard is surrounded by lush vegetation and tropical trees. 
View on Airbnb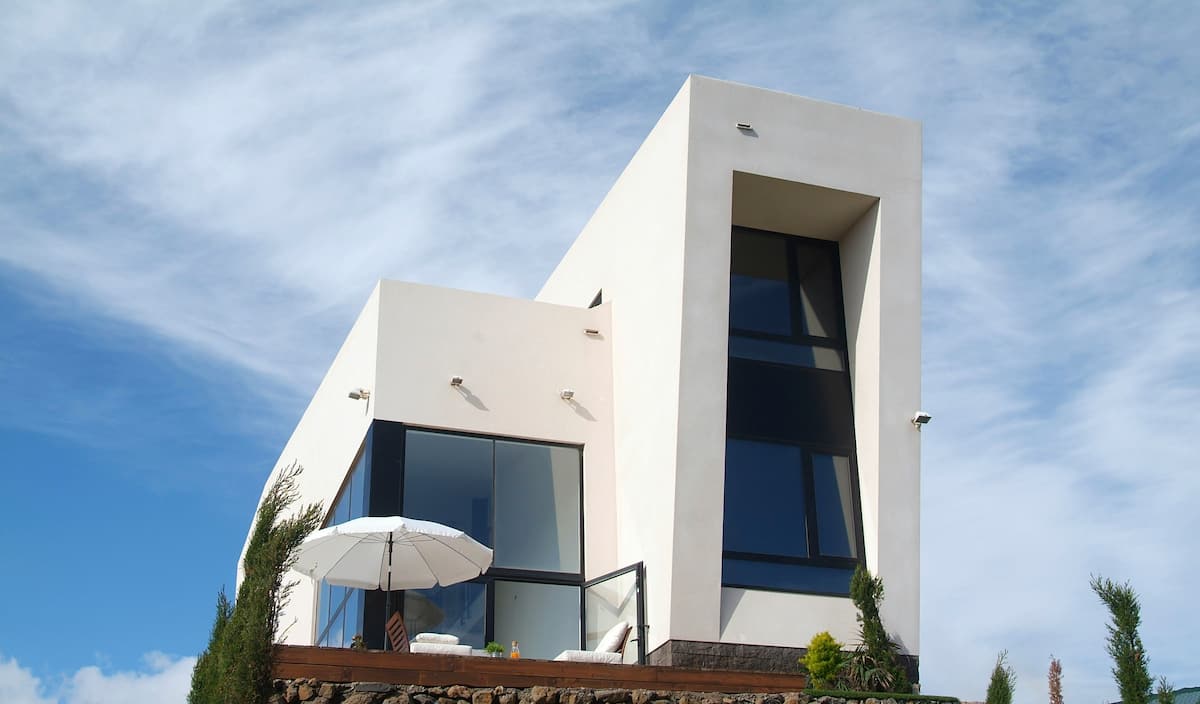 Modern Villa With a Private Pool
This private villa rental in Tenerife has a heated indoor swimming pool and a ton of luxurious amenities that will make your stay unforgettable. 
Up to four guests can stay in the two-floor villa, which features two spacious bedrooms with double beds and three full bathrooms. The unique indoor pool is right next to the living room, and there is a convenient office space on the second floor. You'll also have access to a modern full kitchen with an ample island and a slew of high-end appliances.
Situated at the foot of Mount Teide, this scenic Airbnb in Tenerife is surrounded by vineyards and boasts breathtaking sea views. The outdoor space includes two private terraces that let you enjoy these views in luxury. 
View on Airbnb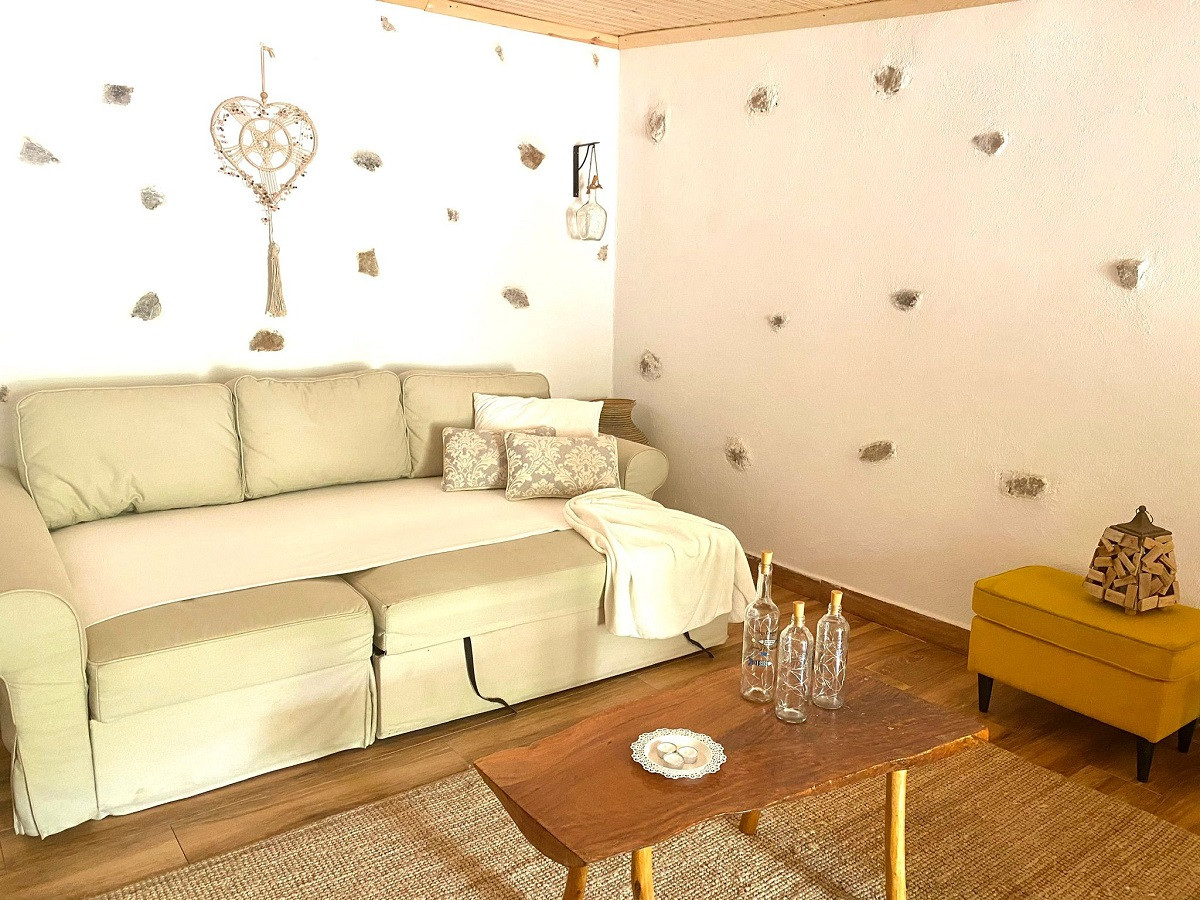 Secluded Retreat in Nature
For a simple short-term rental in Tenerife where you can unplug, unwind, and enjoy some gorgeous natural scenery, check out this private forest retreat. 
The unique cave house has running water and mobile phone service, but there is no television, Wi-Fi, or electricity, which makes this a great pick for adventurous travelers and nature lovers. The interior is clean and well furnished with a large double bed and a living room sofa. There is one full bathroom with a stone shower and a convenient full kitchen, which includes a double-burner stove and a sink.
The outdoor space provides a grill, a shaded patio area, a hammock, and toys for children. The setting is peaceful and private, striking a nice balance between seclusion and access to civilization – the nearest modern facilities are just 20 minutes away by car. 
Nestled within the abundant nature of Teide's woods, this adventurous vacation rental will surround you with opportunities for hiking, rock climbing, and swimming. 
View on Airbnb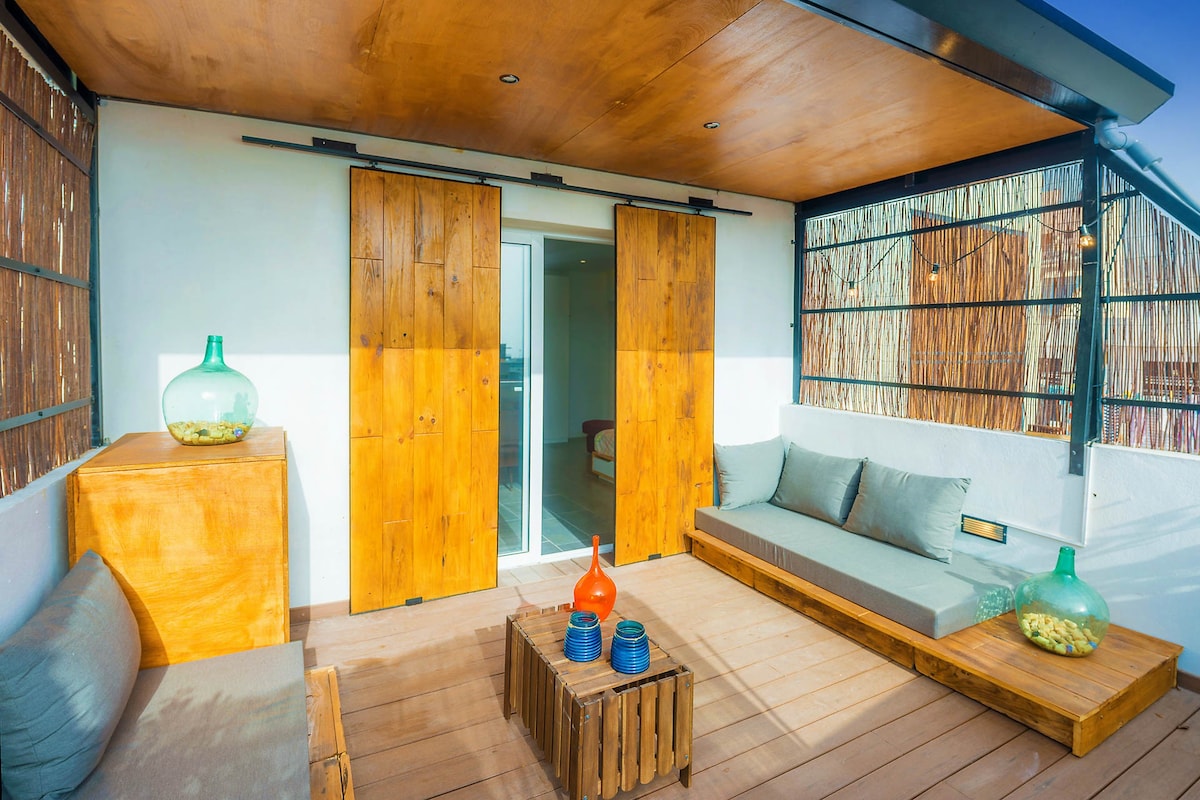 Brand-New Luxury Studio
If you're interested in a modern rental with a designer interior and luxurious modern amenities, this high-end apartment may be the perfect Tenerife Airbnb for you.
Ideal for solo travelers and couples, the loft is furnished with one double bed, and it has one full bathroom with a relaxing rain shower. There is also a full kitchen equipped with modern appliances, an electric stovetop, and a dining table for two. Other amenities include high-speed Wi-Fi, air conditioning, a TV, and an in-unit washing machine. You'll also have access to a spacious private terrace complete with cozy sofas. 
Conveniently located in the historic center of Santa Cruz, this modern rental is within walking distance of unique shops, traditional restaurants, shopping malls, and several popular tourist attractions. 
View on Airbnb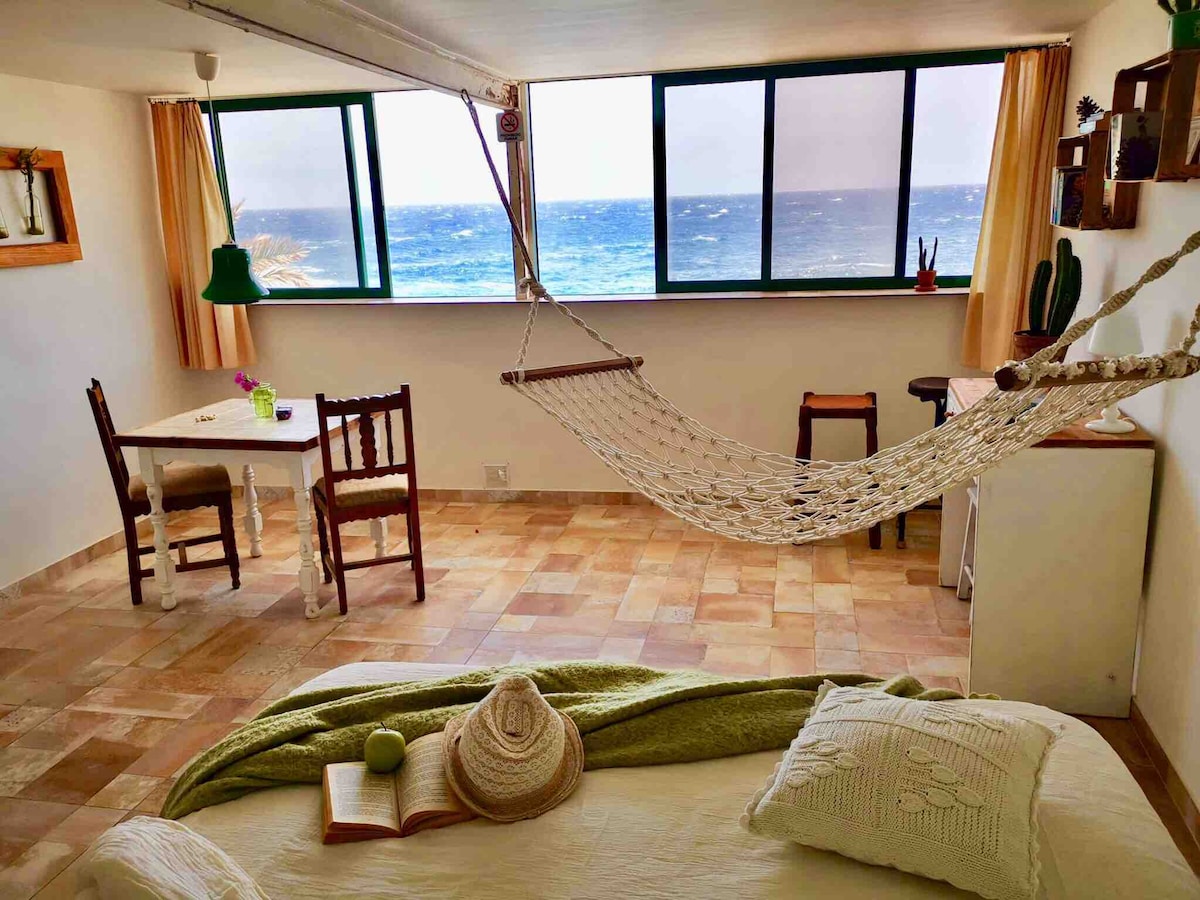 Oceanfront Loft
One of the island's biggest draws, of course, is its sparkling turquoise water – and this oceanfront rental gives you a full view of the crashing waves. 
The apartment was recently renovated to include modern details, but it retains its original charm with unique artwork and a few rustic furnishings. One or two guests can sleep comfortably in the sunny studio, which has a cozy queen-size bed perfect for couples.
The bed faces a full wall of windows, so you can wake up and fall asleep to stunning sea views. There is even an indoor hammock where you can relax with a book or just enjoy the view. Additional features include a full bathroom, a desk space where you can work comfortably, and an open full kitchen with a small dining table.
The apartment boasts a convenient central location, making it a great home base if you're looking to explore the entire island. You'll also have access to a natural ocean swimming pool on the property, and the actual ocean is just steps away from the front door. 
View on Airbnb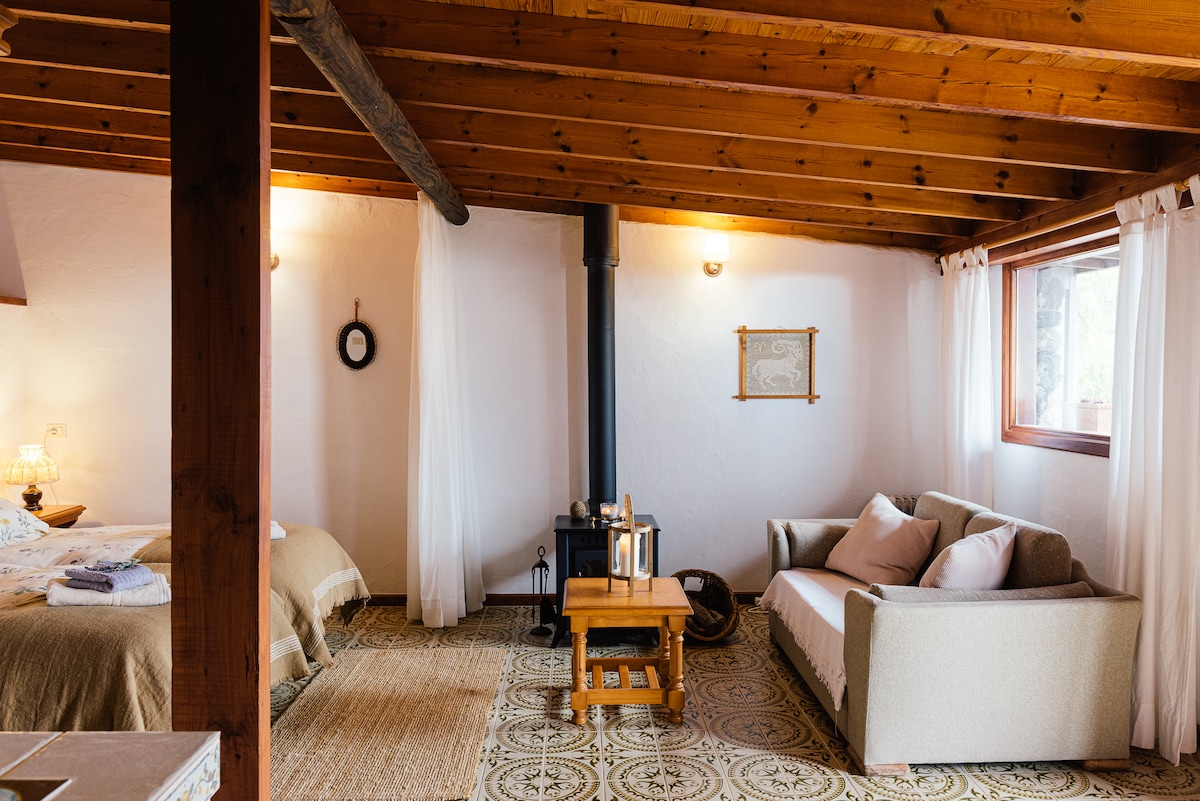 Tranquil Cabana Near Teide National Park
This organic, family-run farm stay is surrounded by exciting outdoor adventures and endless natural beauty. 
The perfect place to rest and recharge, the studio cabana is furnished with two single beds and features one full bathroom with a modern walk-in shower. A fireplace warms the cozy interior, and the wood-planked ceiling and exposed stone accent wall add to the cabana's rustic charm.
Despite its private nature setting, the home provides a ton of modern conveniences, including high-speed Wi-Fi and a full kitchen. You'll also have access to a private terrace overlooking the beautiful property. 
Filled with vineyards, fruit trees, and vegetable gardens, the farm offers plenty of organic wine and produce for purchase. You can feel free to relax among the towering trees and colorful flowers or venture over to the nearby Teide National Park. 
View on Airbnb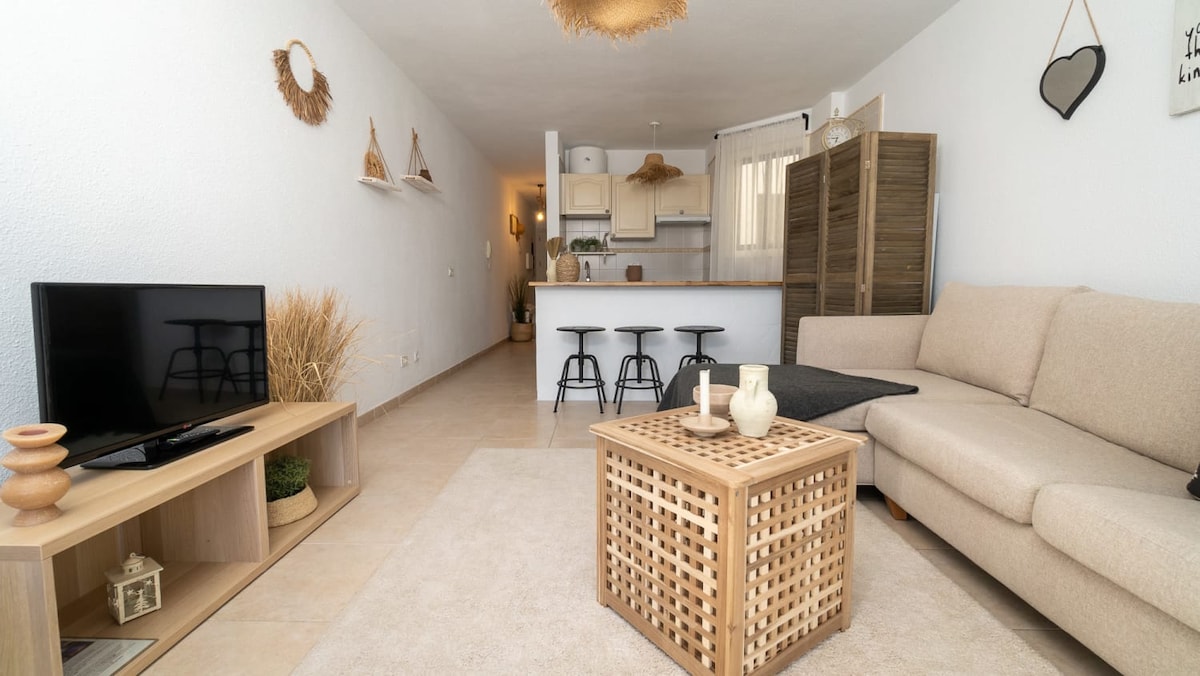 Spacious Oceanfront Apartment
If you're interested in a larger Airbnb in Tenerife with space for two couples or a family of four, check out this gorgeous two-bedroom apartment on the coast.  
The master bedroom provides a double bed, and the cozy sofa bed in the second bedroom can accommodate two more guests. The L-shaped sofa in the living room is also comfy enough to serve as a bed. 
The apartment offers a ton of modern comforts and fantastic natural lighting. Both the full bathroom and the full kitchen are clean and updated, and the lengthy breakfast bar is the perfect place to enjoy meals. You also get a private terrace where you can watch the sunset or enjoy breakfast with incredible views of the ocean, a nearby black sand beach, and the neighboring island of La Gomera. Other amenities include a TV, an in-unit washing machine, and free parking on the premises. 
The neighborhood is quiet, charming, and convenient. Pharmacies, supermarkets, shops, and bars are all within walking distance of the rental. 
View on Airbnb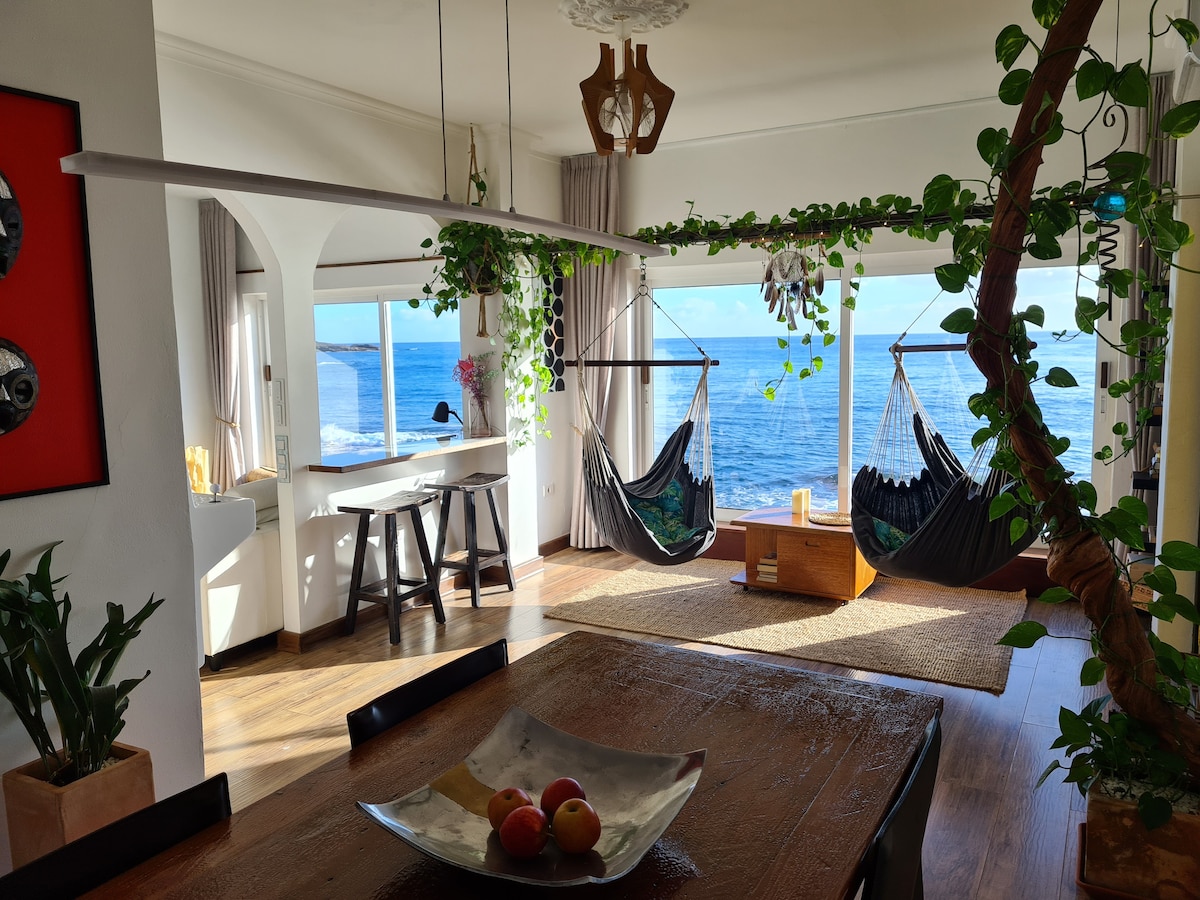 Unique House Rental With Sea Views
Our next Tenerife Airbnb has near-perfect reviews for its charming interior and unbeatable location in Santa Cruz. 
Nestled just a few meters away from the shore, the home has several large windows with glistening ocean views. The bright and spacious living area is characterized by romantic arched entryways and lively greenery, and there is even a separate area with two indoor hammocks positioned in front of floor-to-ceiling windows, providing a luxurious ocean viewpoint for you and a companion.
Ideal for solo travelers and couples, the rental has one full bathroom and a cozy bedroom with a double bed. The home also offers a modern full kitchen stocked with high-quality appliances, a large wooden dining table, and a breakfast bar. Additional special features include a 50-inch smart TV, a gaming console, and baby gear available upon request. 
Set in a quiet fishing village in the island's capital, this peaceful vacation home is just a short walk away from the ocean and plenty of great fish restaurants. The neighborhood is also just a 15-minute drive away from Tenerife South Airport and connected to several main roads that you can take to explore the rest of the island. 
View on Airbnb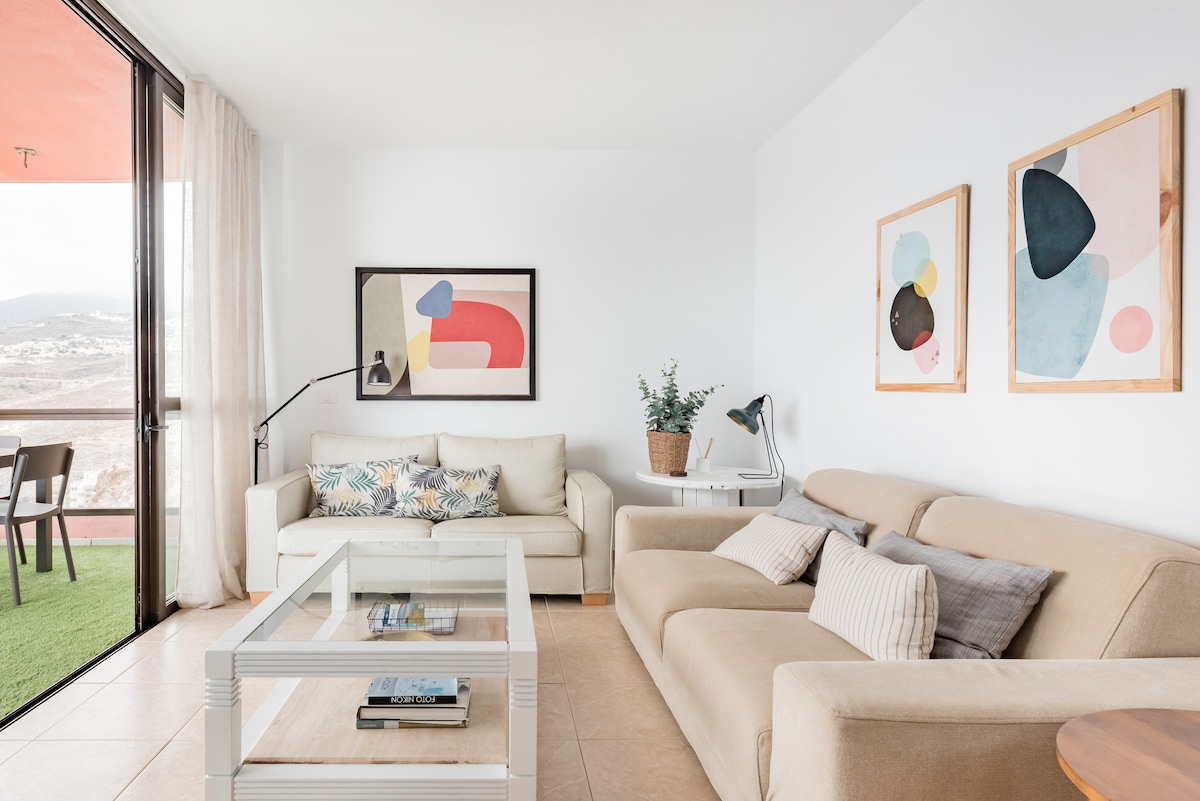 High-End Apartment With Panoramic Beach Views
No list of the best Tenerife Airbnbs would be complete without mention of this large and luxurious Airbnb Plus in Radazul Bajo. 
With three bedrooms and two full bathrooms, the apartment is perfect for large families and groups of friends. The spacious interior sports a chic minimalist design, and each of the three bedrooms is decorated with bright white bedding, wood furnishings, and neutral accents. There is also plenty of common space where the whole group can hang out, including the cheerful living room, which boasts a smart TV and ocean views.
Large glass doors lead out onto the private patio, where you can enjoy an evening cocktail or a scenic breakfast experience. From the spa-like rain showers to the stainless steel appliances of the kitchen, every inch of the apartment is modern and convenient. 
This apartment is right next to the beach in Radazul Bajo, a quiet neighborhood about 10 minutes away from Santa Cruz. Nearby attractions include a bustling marina, fantastic local restaurants, scuba diving, and rentals for watersports. 
View on Airbnb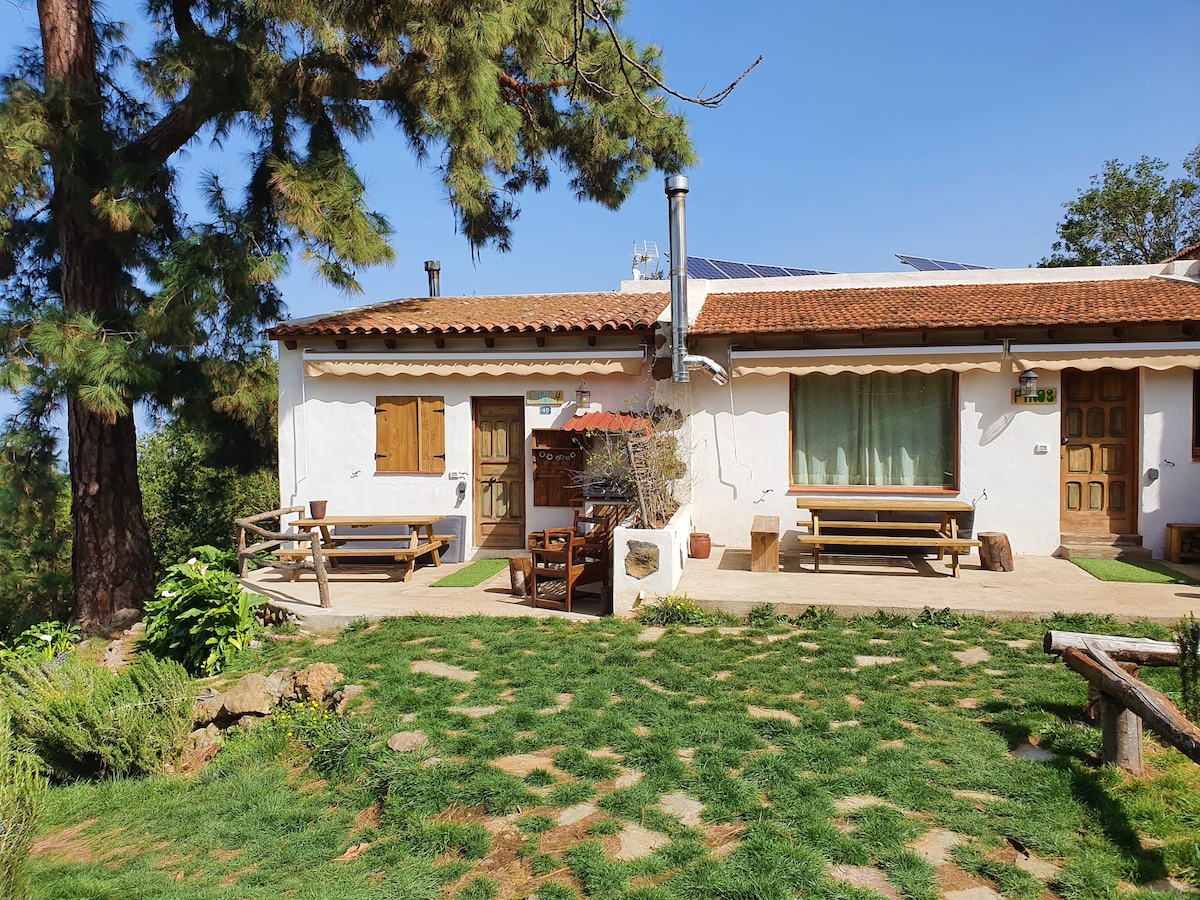 Luxurious Solar-Powered Airbnb in Tenerife
If you're looking for an off-grid adventure in an eco-friendly rental, check out this beautiful pine cabin overlooking Orotava Valley. 
Powered entirely by the sun and a backup generator, this unique cabin is stylish and modern, even offering Wi-Fi and a smart TV. Up to four guests can stay in the rental, which has one full bathroom with a walk-in shower and one bedroom with a double bed and two lofted single beds. There is also a comfortable sofa in the living room, and you can easily prepare meals in the spacious full kitchen.
Despite its many modern amenities, the cabin's wood-planked ceilings, stone accents, and wood stove give it a rustic charm. This homey woodland feel isn't the only draw for lovers of the outdoors here: Orotava Valley is packed with wildlife and hiking trails, so you'll find plenty of outdoor adventures and athletic activities nearby. Of course, you can also just enjoy relaxing in nature – taking advantage of the beautiful stargazing opportunities, for example. 
View on Airbnb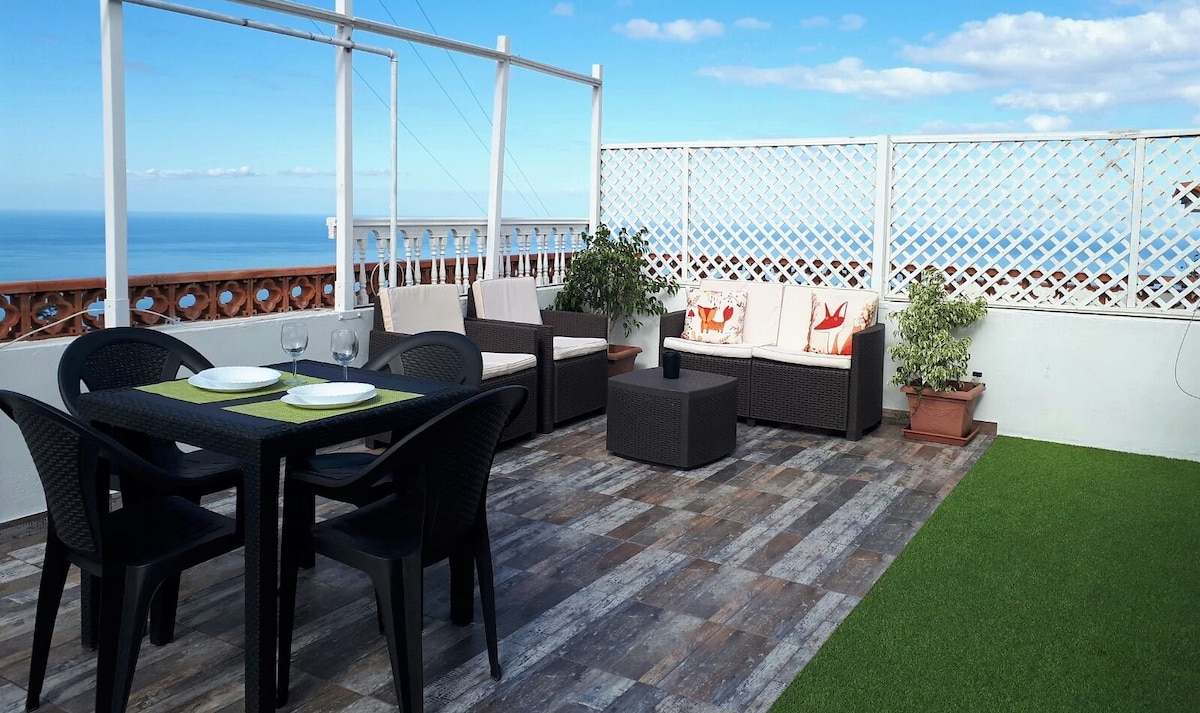 Penthouse Apartment With a Rooftop Terrace
This beautiful vacation home for rent in Tenerife is nestled in a quiet cul-de-sac in a lovely village known for producing some of the best wine on the island. 
The top-floor apartment can accommodate up to three guests, as it has one bedroom with a double bed and a sofa bed in the living room where a third guest can crash. There is also a full kitchen where you can prepare meals, and the modern full bathroom is sparkling clean and contains a walk-in shower.
The private terrace is bright and spacious, with a large dining table and comfy outdoor sofas where you can relax and enjoy panoramic vineyard views. Other amenities include an in-unit washing machine, beach essentials, and free street parking. 
Surrounded by the vineyards of La Victoria de Acentejo, the apartment is within walking distance of multiple urban centers – which, of course, include local restaurants with incredible vintage wine selections. 
View on Airbnb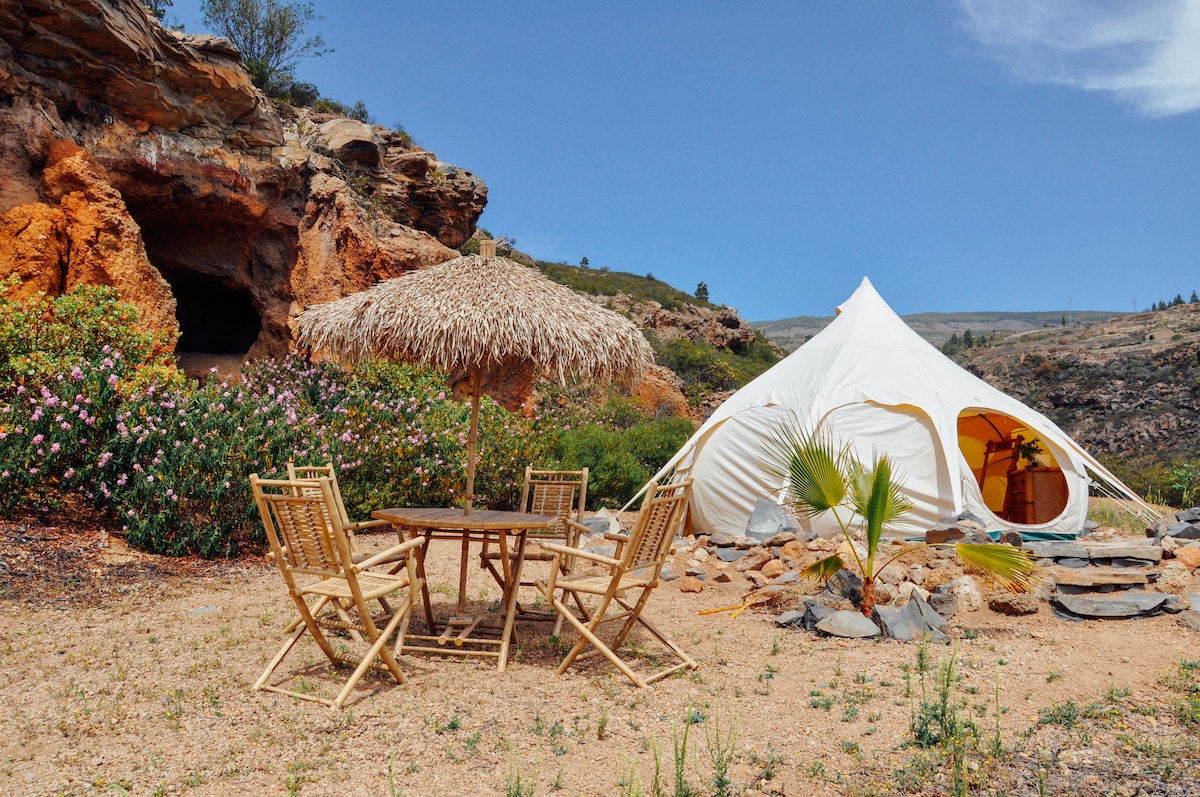 Peaceful Yurt Amidst Nature
Wrapping up our list of the best Airbnb rentals in Tenerife is a peaceful escape for those looking to disconnect from everyday life and reconnect with nature. 
Although the yurt is designed in a traditional style, it offers far more than your typical campsite. The spacious interior features a luxurious queen-size bed, two convertible armchairs for extra guests, and beautiful bamboo furnishings. The outdoor bathroom is constructed of stone for high privacy, with access to a sink, a solar shower, and a composting toilet.
You get a bunch of kitchen essentials to help you prepare meals, plus outdoor furniture where you can enjoy those meals. The hosts also provide a fan in the summer and a heater in the winter, keeping the yurt comfortable all year long. 
Nestled in a quiet regional park where wildlife is abundant and hunting is forbidden, this unique vacation rental is the perfect place to unwind in a natural setting. 
View on Airbnb
That concludes our list of the best Airbnbs in Tenerife. With any luck, one of these rentals checks all of your boxes, and you're almost ready for your perfect island getaway!