Road Affair is reader-supported and may earn commission from purchases made through links in this article.
Salt Lake City is known for its rugged mountain ranges and Olympic history. Visitors can enjoy the endless amount of activities offered, from skiing some of the best parks in the United States to touring the historic landmarks of the city's popular Temple Square. There is something for every type of traveler here.  
Discover the best Airbnb rentals in Salt Lake City, Utah with our list of beautiful and unique stays. You want to be guaranteed when renting a house in Salt Lake City that you're getting the crème de la crème, which is why every rental listed below is hosted by an Airbnb superhost. Superhosts are recognized for their tremendous hospitality and commitment to their guests. You will also find some rentals that boast Airbnb Plus status – an exclusive program showcasing homes whose quality has been verified by an in-person inspection.
Related: 15 Best Airbnbs in Utah, USA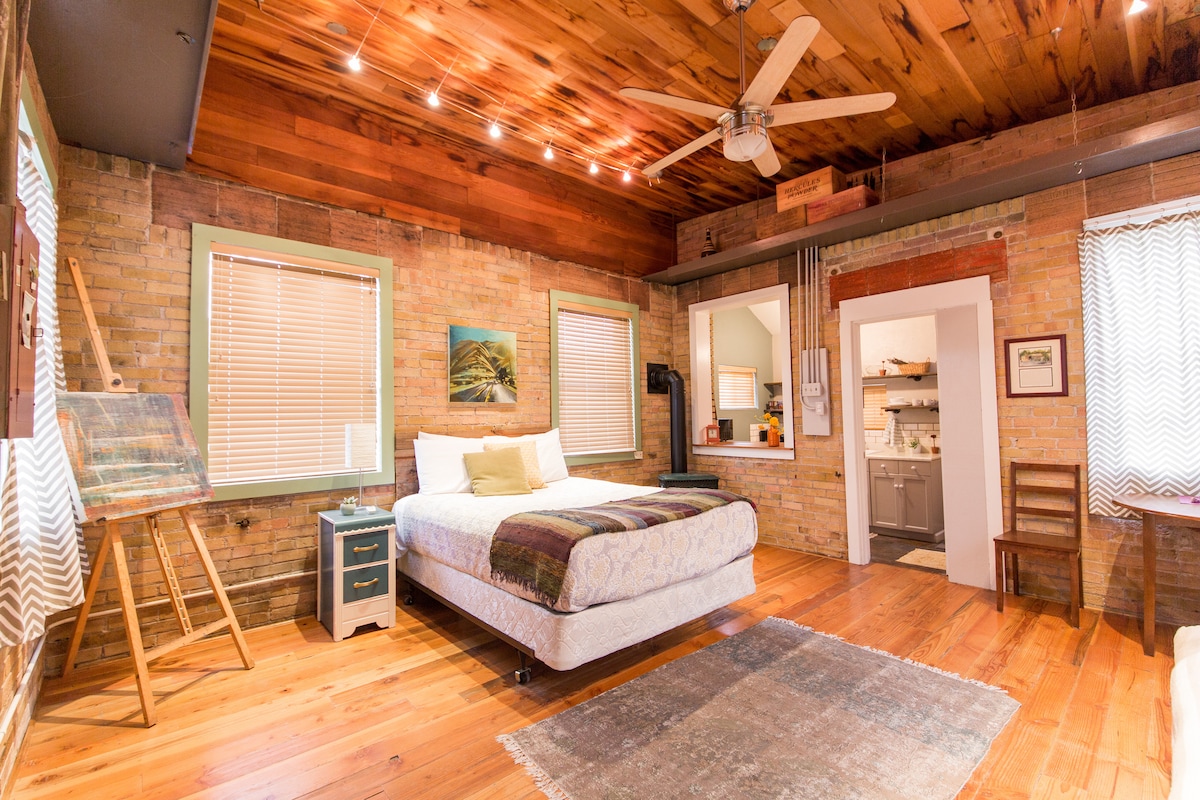 The Art Cottage
If you're looking for a Salt Lake City Airbnb that offers great proximity to skiing, downtown, and parks, this cozy cottage is it. 
This building was once home to the historic Baldwin Radio Factory that produced the world's first headphones. This rustic and art-inspired space is now converted and allows up to four guests plus their furry friends to stay. The tiny cottage boasts a unique aesthetic with exposed brick walls and beautiful hardwood floors. There is one queen-size bed beside the woodstove and one sofa bed. The kitchen has a microwave, a minifridge, and a coffee maker as well as a small eating counter. The bathroom is located in the kitchen; however, curtains are hung in front of the shower and toilet to provide privacy. 
Visitors can enjoy stunning views of Mount Olympus from one of the eight large windows or step outside and enjoy the views from the private patio. There is no TV in the cottage. Instead, guests can appreciate the old-school music from a vinyl record player or stream shows on their device using the free Wi-Fi.  
View on Airbnb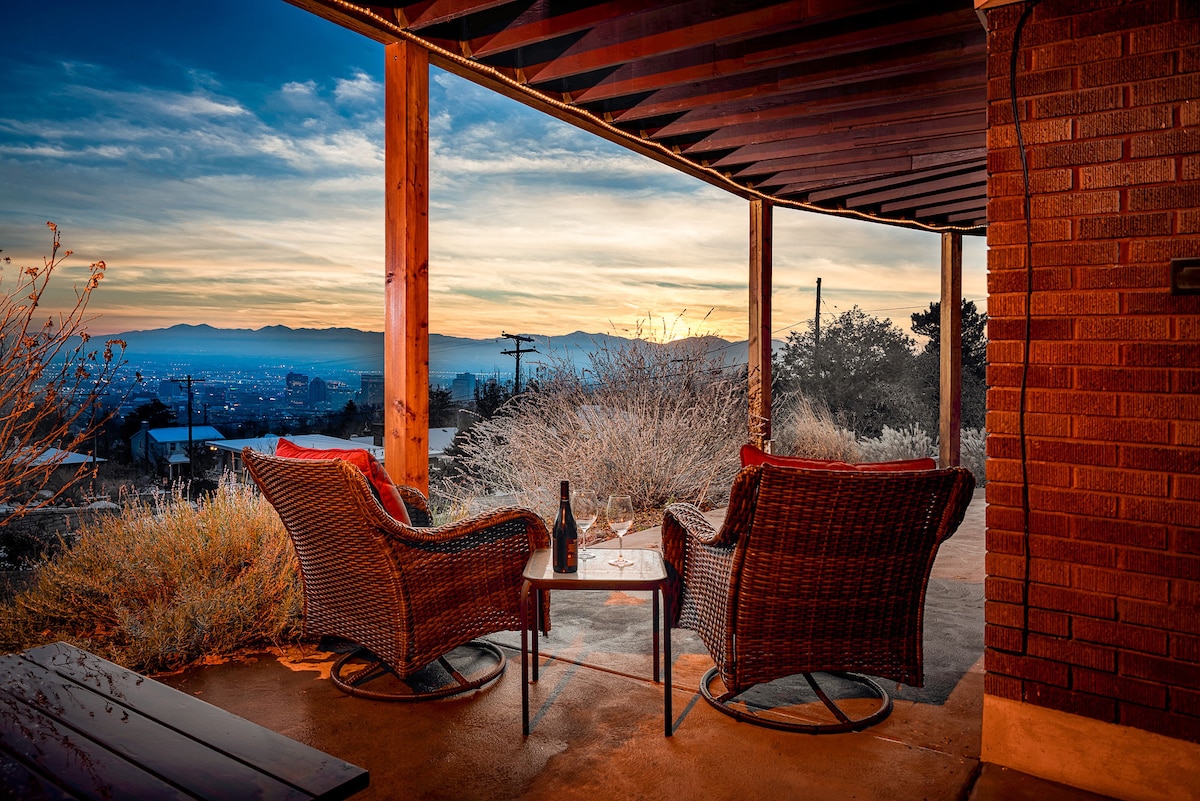 Family-Friendly Apartment With Stunning Views
Those looking for a family-friendly and easily accessible Airbnb are in luck with this spacious rental.
This ground-floor apartment has a step-free path both inside and outside, making it ideal for families with young children or older couples. Superhost Casey has also made sure to provide cribs, high chairs, toys, and dinnerware for the young ones. While there is just one bedroom with a queen-size bed, you can sleep up to four guests using the sofa bed and a blow-up mattress. There is no need to eat out as the full kitchen provides everything from pots and pans to cooking oils. Perhaps the best feature of this rental is the panoramic views of both the city and mountains from the private patio. Make sure to settle in and watch the sunsets because they are breathtaking. 
This rental is located in the historic Salt Lake Avenues District just five minutes from downtown. Restaurants and shopping are also just five minutes away by car, or you can take the bus from the bus stop located across the street.
View on Airbnb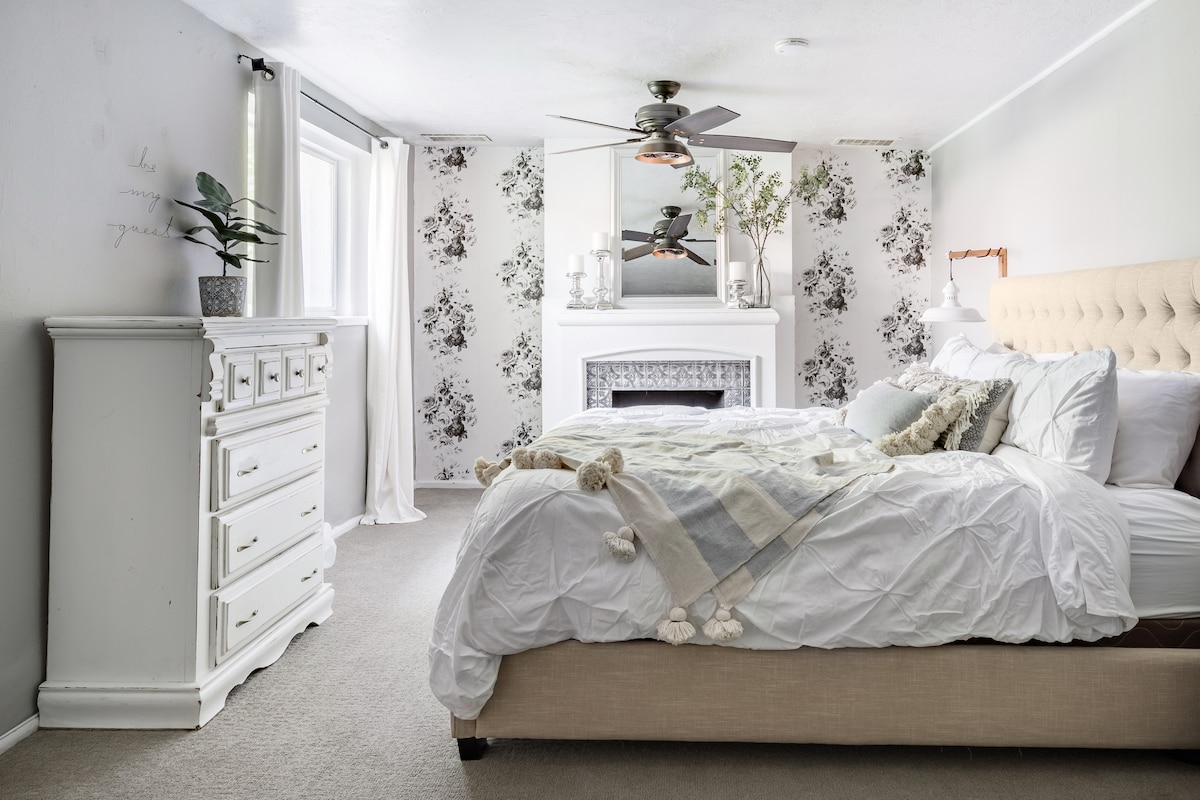 Bright and Modern Two-Story Apartment
While there are many vacation rentals in Salt Lake City, not many can come close to the charm and beautiful design of this Airbnb Plus apartment.
Located south of downtown in Liberty Wells, this bright two-story apartment is only a mile walk to the Ninth District's lively restaurants and vintage stores. The master bedroom is located on the first floor and has a king-size bed and a fireplace. A second queen-size mattress can be placed in the room by request before your stay to allow up to four guests. On the second floor you will find a full kitchen, a living area, and a bathroom that includes a marble walk-in rain shower. 
Visitors have access to the shared backyard garden space that consists of a gorgeous metal gazebo, patio furniture, and a bed of fragrant climbing roses. 
Superhosts Adrian and Jordan have done a fantastic job of adding unique touches to the space to give it an eclectic look. With the floral accent walls, exposed brick, and comfortable furnishings, it's easy to see why guests feel so at home here.
View on Airbnb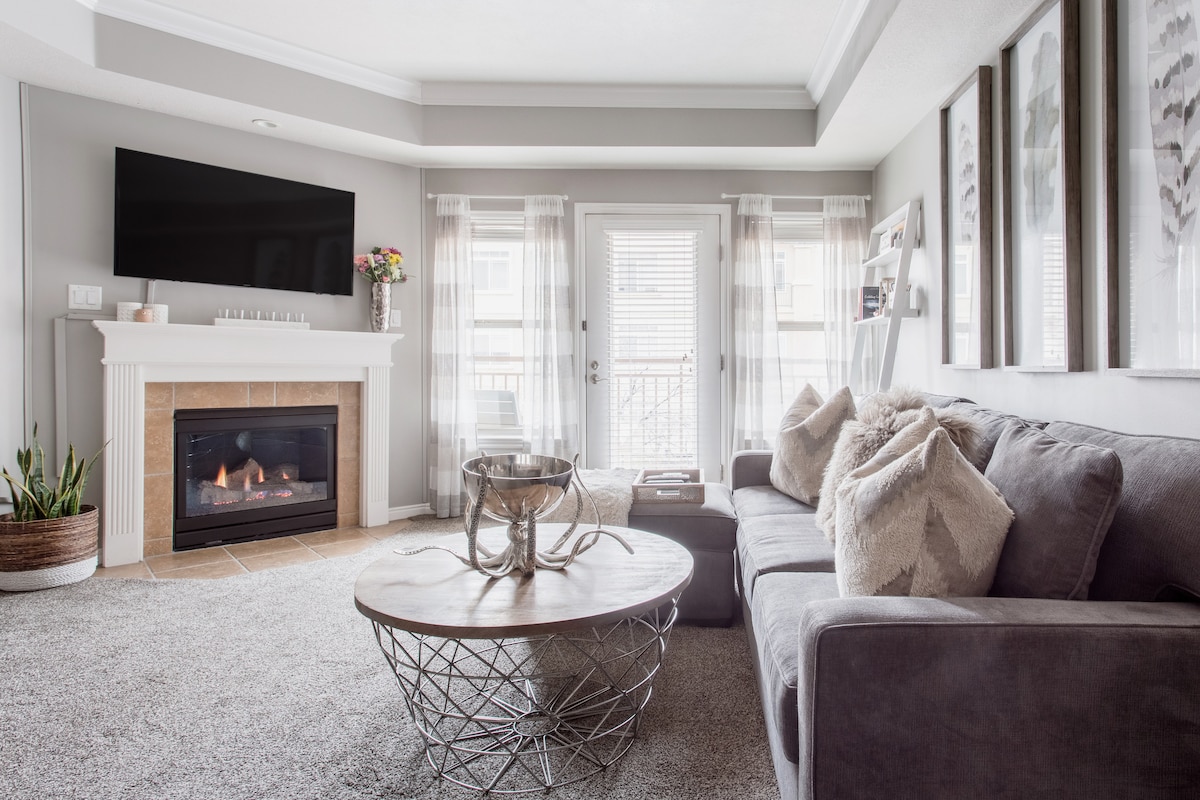 Downtown Condo With a Rooftop Lounge
If you prefer to stay downtown, look no further than this stylish condo. With its boutique furnishings and access to many on-site amenities, it's easily one of the best homes for rent in Salt Lake City. 
This rental sleeps up to five guests and is ideal for couples or small groups. Visitors can feel at home here by making use of the washer/dryer, shared gym, clubhouse lounge, and rooftop BBQ. This one-bedroom condo is the perfect location for a city getaway as it is within walking distance to downtown bars and restaurants, the Salt Palace Convention Centre, and Temple Square. 
Inside is decorated in neutral grays and earth tones, accented by chic furniture. Enjoy a cup of coffee on the private balcony or cozy up inside next to the fireplace. There is a queen-size bed and a TV in the bedroom as well as a pull-out couch in the living room. 
Nobody wants to do dishes on vacation, which is why the full kitchen also has a dishwasher. Instead of soaking your hands in dirty dishwater, you'll have more time to relax in the soaking tub or rinse off in the walk-in shower.
View on Airbnb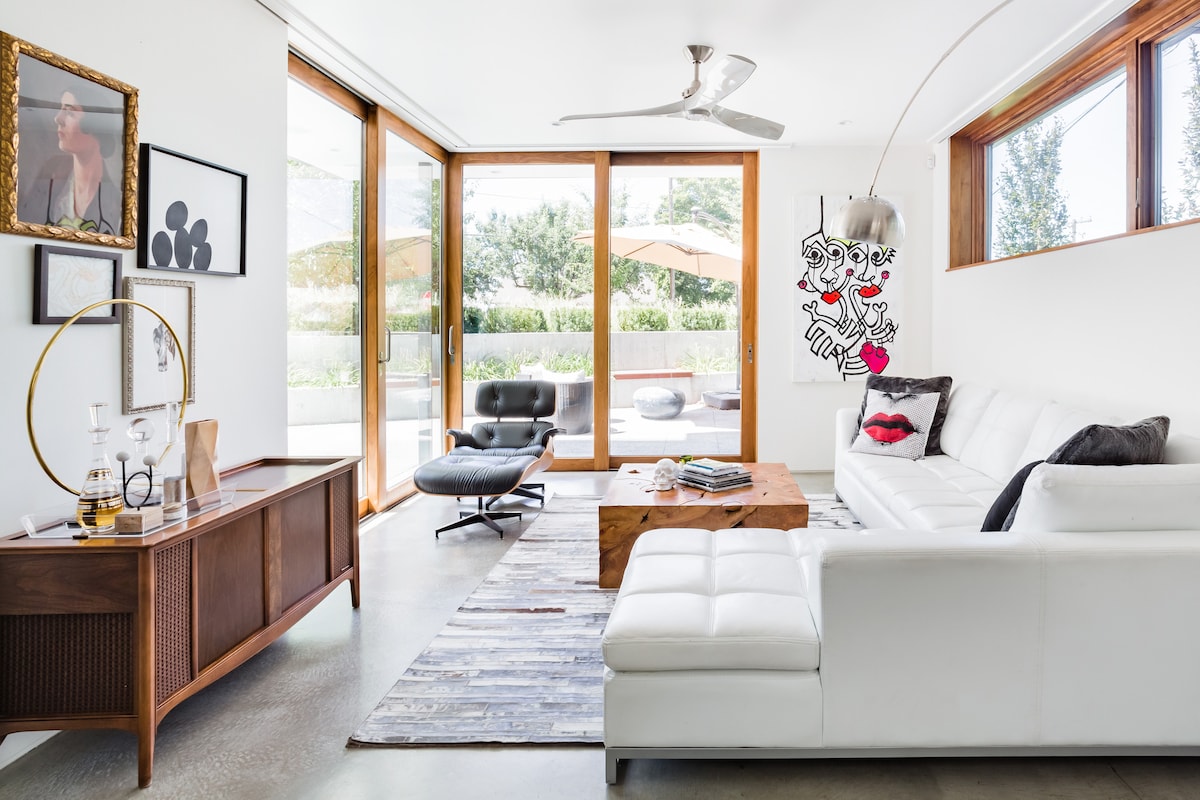 Luxurious House in Marmalade District
When looking for a house for rent in Salt Lake City, you won't find one more extravagant than this Airbnb Plus home. 
The most impressive part of this home isn't how spacious it is; it's the remarkable modern design that brings this rental to a whole new level of luxury. Natural light flows into every corner of this two-story house with skylights and floor-to-ceiling windows. This three-bedroom, two-and-a-half-bath home includes a study, a family room, a separate dining room, and a living room all serviced with Amazon Echos. Enjoy the breathtaking mountain views from either the terrace or the private backyard patio. 
The entire house is equipped with heated floors, and every bedroom comes with a queen-size bed, a memory foam mattress, and a TV. In the master bedroom's en suite bathroom, you'll find a large bathtub and a walk-in steam shower. Visitors can choose to barbecue outside or make use of the full kitchen. 
Up to six guests and their beloved pets are welcome to stay here. This stunning property is within walking distance to downtown and is only a 35–45 minute drive to most ski resorts.
View on Airbnb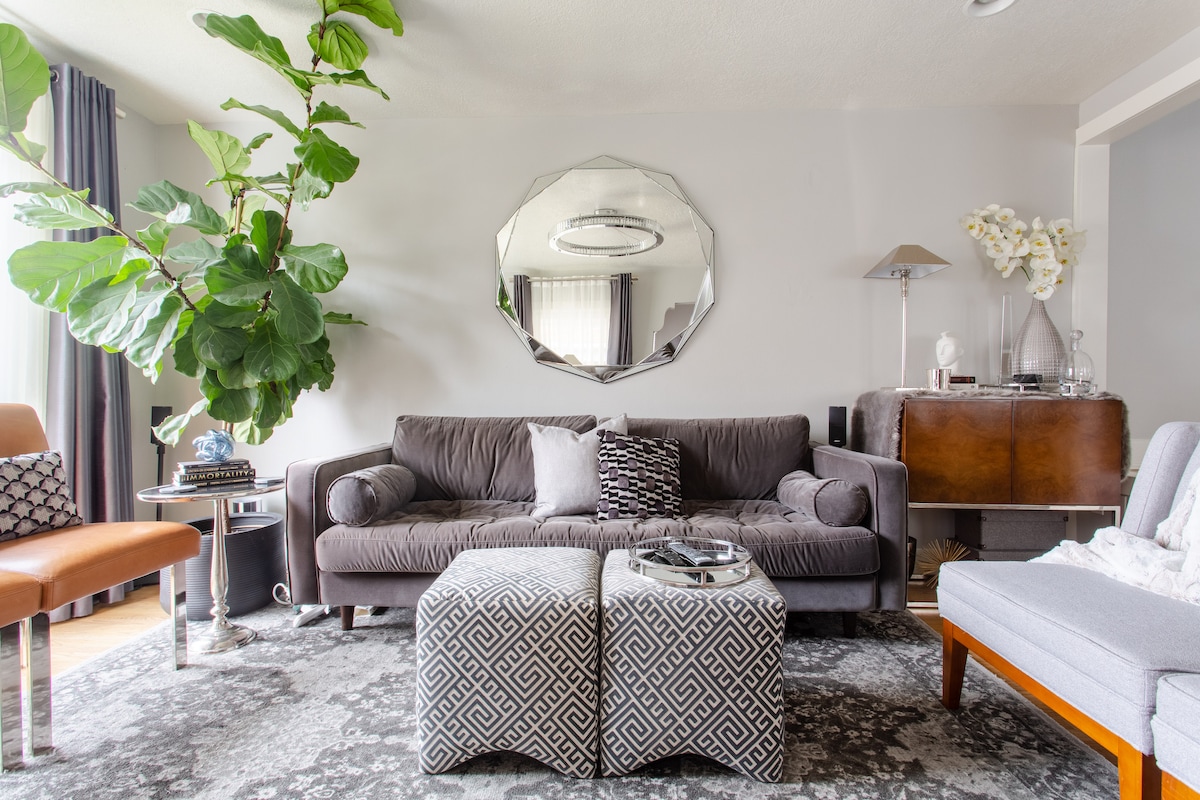 Charming Downtown House for Larger Groups
This four-bedroom house is the perfect short-term house rental in Salt Lake City for those with larger parties. Pets are also allowed here for an additional fee; however, the home is not suitable for children aged 12 and under.  
This private Airbnb Plus home located in the Marmalade District is able to accommodate eight guests and is only minutes away from downtown shops and restaurants. There is plenty of room to cook for large groups in the full kitchen equipped with granite and quartz countertops, a five-burner stove, and an espresso machine. Superhosts Jake and David have made their guests' comfort a priority by installing every bedroom with a queen or king-size Purple mattress – a bed scientifically designed to help you sleep better. 
This contemporary-design house allows visitors to unwind in an enjoyable yet stylish setting. Guests can even entertain their friends and family with their musical talents on the digital piano in the living room.
You won't be concerned about trying to find parking here as there is a private driveway and free parking on the street.
View on Airbnb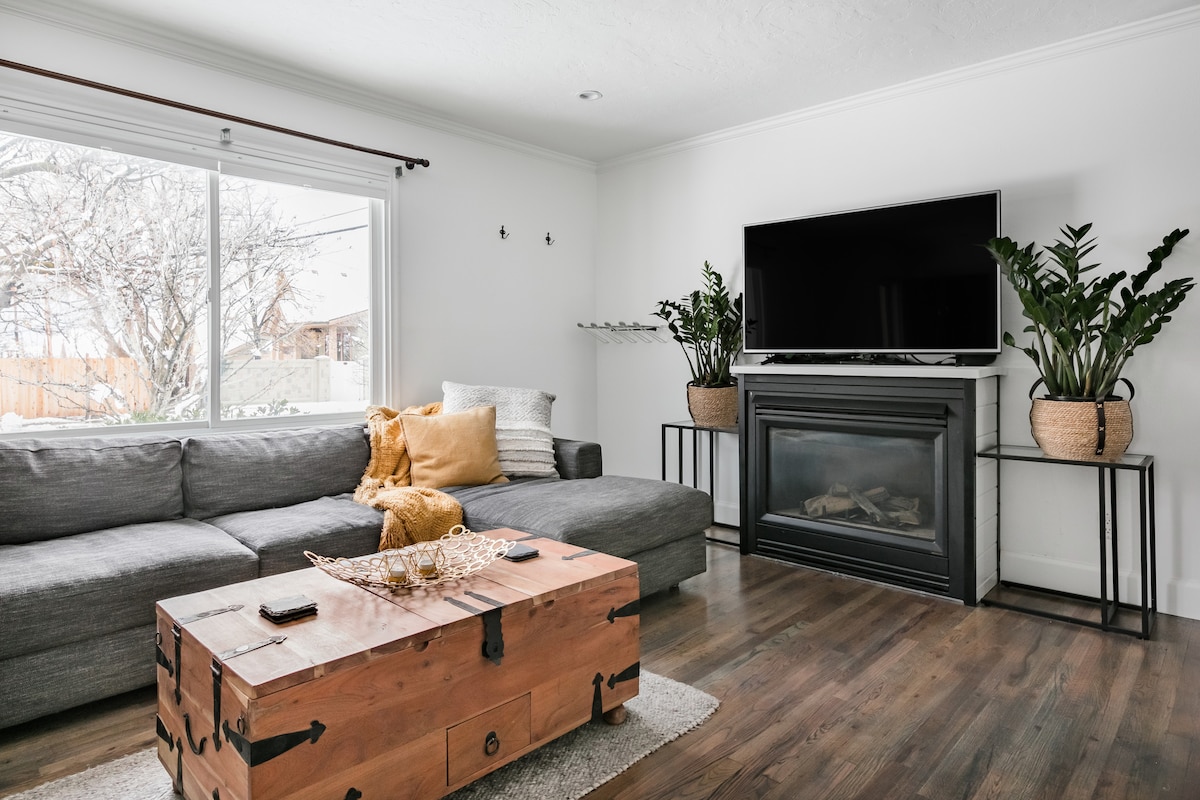 Newly Remodeled House Near the Wasatch Mountains
Looking for an Airbnb in Salt Lake City that offers the best of both mountain activities and urban entertainment? Look no further than superhost Jason's modern home located in East Millcreek. 
Minutes away from hiking trailheads, this rental house in Salt Lake City provides all the comforts of home while only being a short drive away from the ski resorts and downtown. After a long day of skiing or hiking, guests can cozy up next to the fireplace on the chaise sectional or enjoy a drink under the pergola in the shared backyard. This two-bedroom home welcomes pets and up to four guests.
The dark accent colors in the master bedroom draw your eyes to the king-size bed while creating a clean, modern look. The second bedroom has a queen-size bed and boasts much of the same smart designs as the master bedroom but with more playful pops of color. 
One of the best features of this Airbnb Plus is the newly renovated kitchen. With concrete countertops, herringbone subway tile, and a rolling barn door, this kitchen is designed for entertaining in a fresh and modern space.
View on Airbnb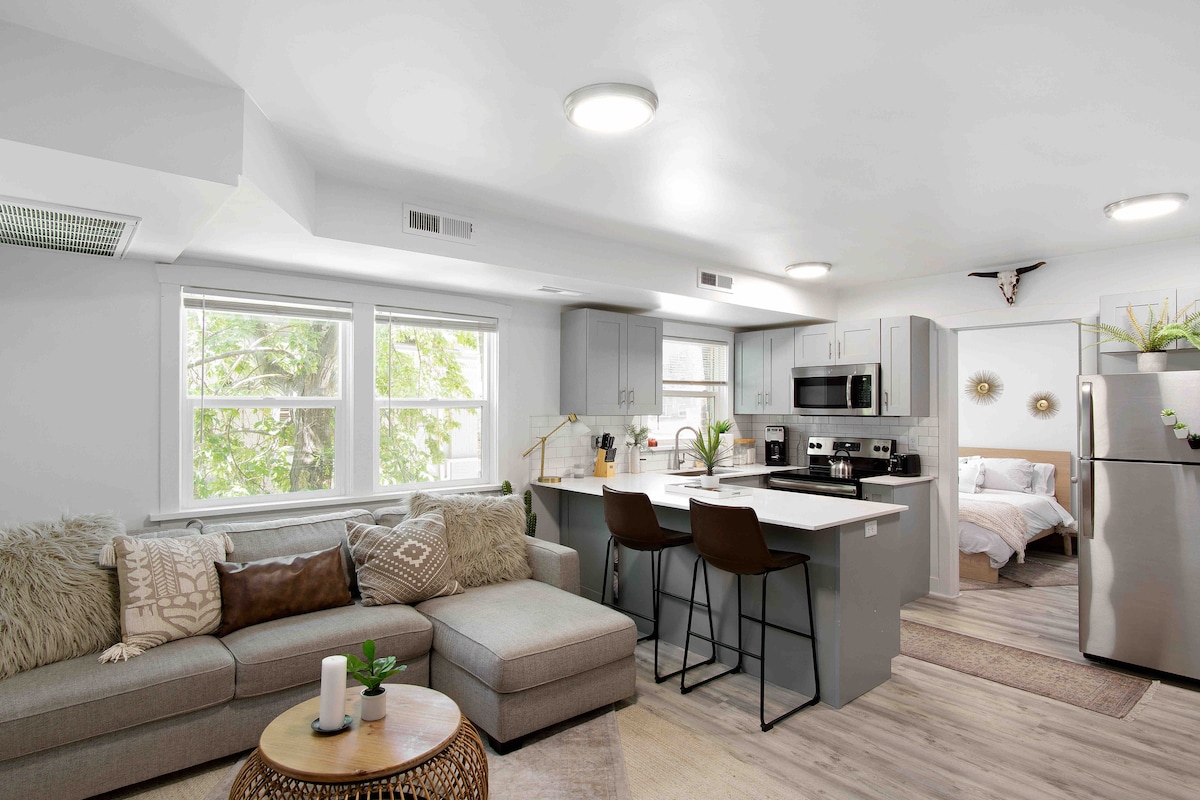 Trendy Apartment Downtown
Step inside this bohemian-inspired, one-bedroom apartment, and you'll see why it hits our list as one of the best Salt Lake City Airbnbs.
Vibrant plants and exposed brick walls make this beautifully decorated rental feel very welcoming. It also has everything you need for a city getaway with friends. Stream movies on the 40-inch flatscreen with Apple TV, or get work done on the apartment's free fiber optic Wi-Fi. Pets are also welcome in the rental and can be taken out to the shared backyard to play. 
There is both a bedroom with a queen-size bed and a pull-out couch in the living room, so you can comfortably sleep up to four guests during your stay. The full kitchen has all the cooking essentials you will need, or you can opt to head outside and barbecue.  
This quaint downtown apartment is within walking distance of popular restaurants, attractions, and bars. No need to worry about the security of your car as the rental comes with a parking spot in a private garage.
View on Airbnb
Historic Apartment in Marmalade District 
Step inside this historical century building that has been redesigned in a rustic modern style with an edge of elegance. It is easily one of the most unique homes for rent in Salt Lake City. 
This one-bedroom apartment has a queen-size pull-out couch, a rollaway bed, and a king-size Purple bed in the bedroom, so it is suitable to sleep up to five guests. It may have old bones, but this apartment is anything but out-of-date. Enjoy access to a washer and dryer, a full kitchen, a 55-inch 4K Roku TV, a fireplace, and on-site parking. The space is easy to unwind in as the natural elements and exposed brick leave guests feeling peaceful and relaxed. It is a great space to put your feet up and enjoy a glass of wine.
This Salt Lake City Airbnb is also extremely kid-friendly. Superhost Shayne has stocked the place with a crib, a high chair, booster seats, and toys.   
The neighborhood of this historic hidden gem is centrally located, with the capital building only a three-minute walk away and many other attractions and restaurants nearby.
View on Airbnb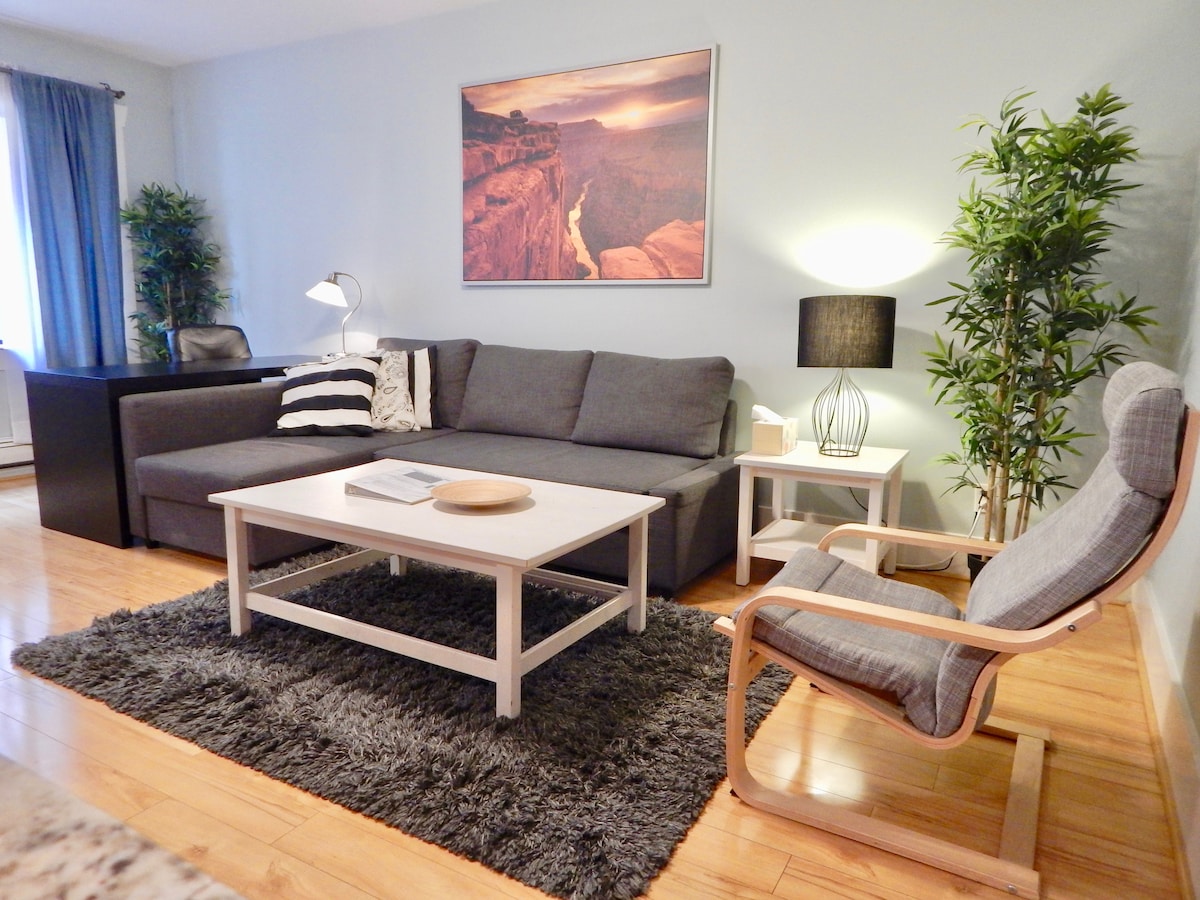 Cozy Condo in the Heart of Downtown
Location, location, location! That's what makes this cozy condo one of the best Airbnbs in Salt Lake City. With shopping malls, Temple Square, and trendy restaurants on your doorstep, you'll have no use for a car if you stay here.
If you do happen to have a car with you, you'll be able to park it in a designated street spot for free. The condo is capable of sleeping four guests, but no pets are allowed. This quaint rental channels a minimalist approach into its design, allowing guests to enjoy a comfortable and uncluttered space. The bedroom has a queen-size bed and an en suite bathroom. After a day out in the city, unwind in the soothing earth-tones of the living area where the couch converts into a sofa bed. Sit back and enjoy over 600 movies available on a hard drive or stream Netflix on the Smart TV.  
Not only is this condo close to everything you could want downtown, it is also extremely accessible by the TRAX (a light rail system). The TRAX station is only one block away and can take you to and from the airport or other attractions across the city.
View on Airbnb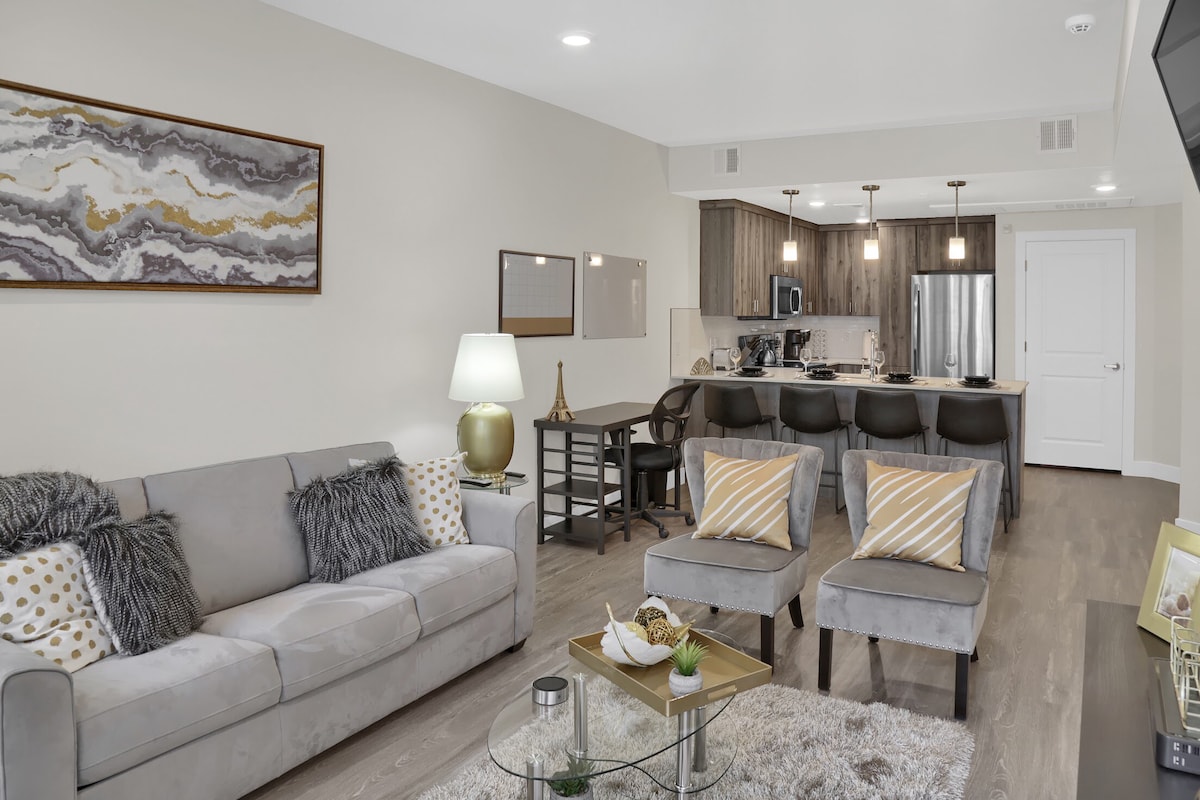 Downtown Chic Apartment With a Skydeck
Relax with all the amenities of a hotel but with the comforts of home with this Airbnb in Salt Lake City. 
This stunning contemporary apartment is decorated in neutral gray tones and accented by warm, golden yellows, giving it a chic and inviting feeling. You'll find everything you need to cook in the full kitchen and can enjoy your meal in the open air of the private balcony. A queen-size mattress in the bedroom and a pull-out couch allow four people to sleep comfortably. Plus it's pet friendly.
This Airbnb in Salt Lake City offers all the conveniences of a hotel. Enjoy the phenomenal city views on the skydeck with your friends, or play a round of ping pong in the community lounge. Guests will also have access to the state-of-the-art gym, yoga studio, and community courtyard. There is also space for one free parking spot in the garage. 
The downtown location of this amazing rental is the cherry on top. It is conveniently located within walking distance of popular attractions, restaurants, and shops.
View on Airbnb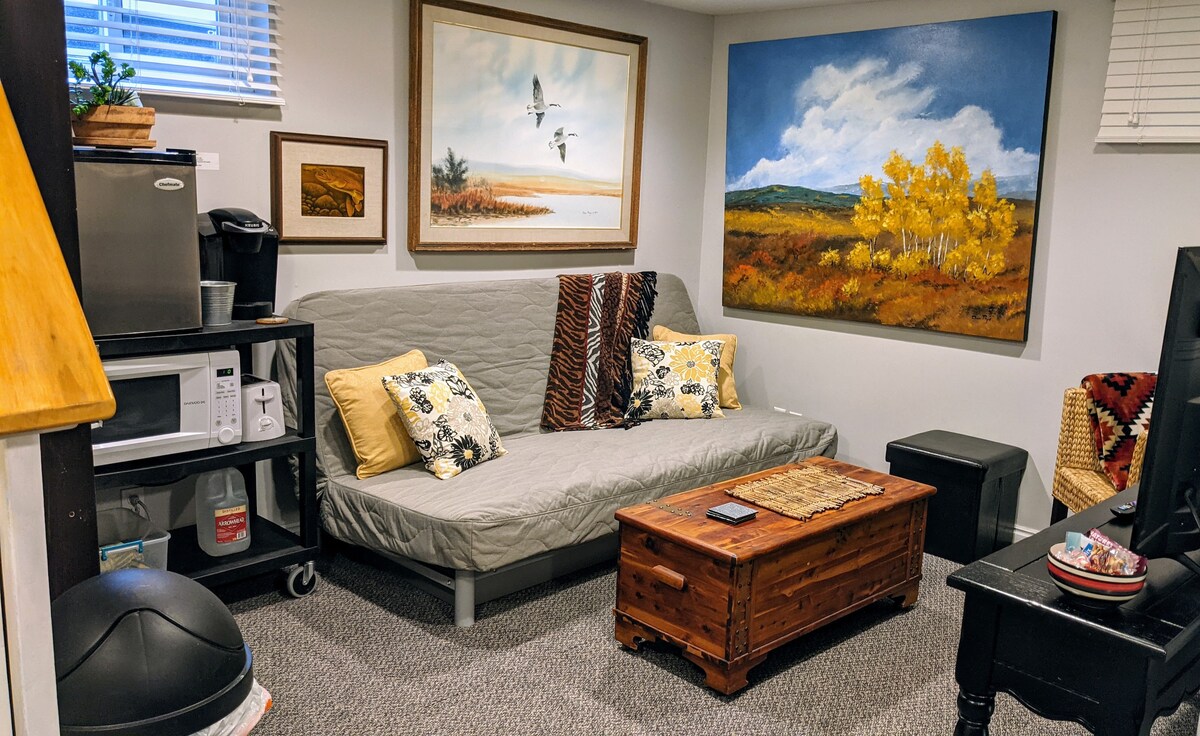 An Artists' Retreat Suite
This homey lower-level apartment is the perfect size for solo travelers or couples. Located in the desired Sugarhouse neighborhood, this Airbnb in Salt Lake City will place you within walking distance to many popular bars, breweries, and hip eateries. 
You will feel like you are staying in a gallery inside this modest suite. Beautiful pieces of artwork painted by the homeowner surround the walls of this home. There is a queen-size bed in the bedroom and a futon sofa bed in the living area. Guests will also have the privacy of their own full bathroom as well as a microwave, minifridge, and Keurig coffee maker. 
The location of this Airbnb in Salt Lake City is ideal for those looking to visit the University of Utah or Westminster College as both are under 10 minutes away by car. Those looking to hit the slopes at Park City or Little Cottonwood Canyon will be happy to note they're less than 30 minutes away. There is plenty of free parking in the driveway and on the street. If you don't have a car, the bus stop that services downtown, the Sugarhouse district, and the University of Utah is just around the corner.
View on Airbnb
Newly Renovated 1920s Apartment
When looking for a home for rent in Salt Lake City, why not stay among the Tudor and bungalow-style homes of the Capitol Hill Historic District? This quaint and cozy apartment is nestled in beautiful rolling hills just north of downtown. 
This private, one-bedroom rental is a legal duplex and is perfect for couples or small groups of no more than four. The full kitchen provides everything you need to make your stay comfortable, from a Keurig coffee maker and a toaster to cooking basics like oils and pots. The bedroom has a queen-size bed and plenty of drawers for storage. There is also a futon sofa bed in the living room.
Superhosts Rosie and Jake live just upstairs and are happy to give recommendations for things to do and places to eat. The apartment has a private entrance for visitors as well as free parking available on the street. You will be able to get anywhere in the city from this location as the TRAX line and bus stops are walking distance away. You are also a short walking distance away from the Utah State Capitol Building and Memory Grove Park.
View on Airbnb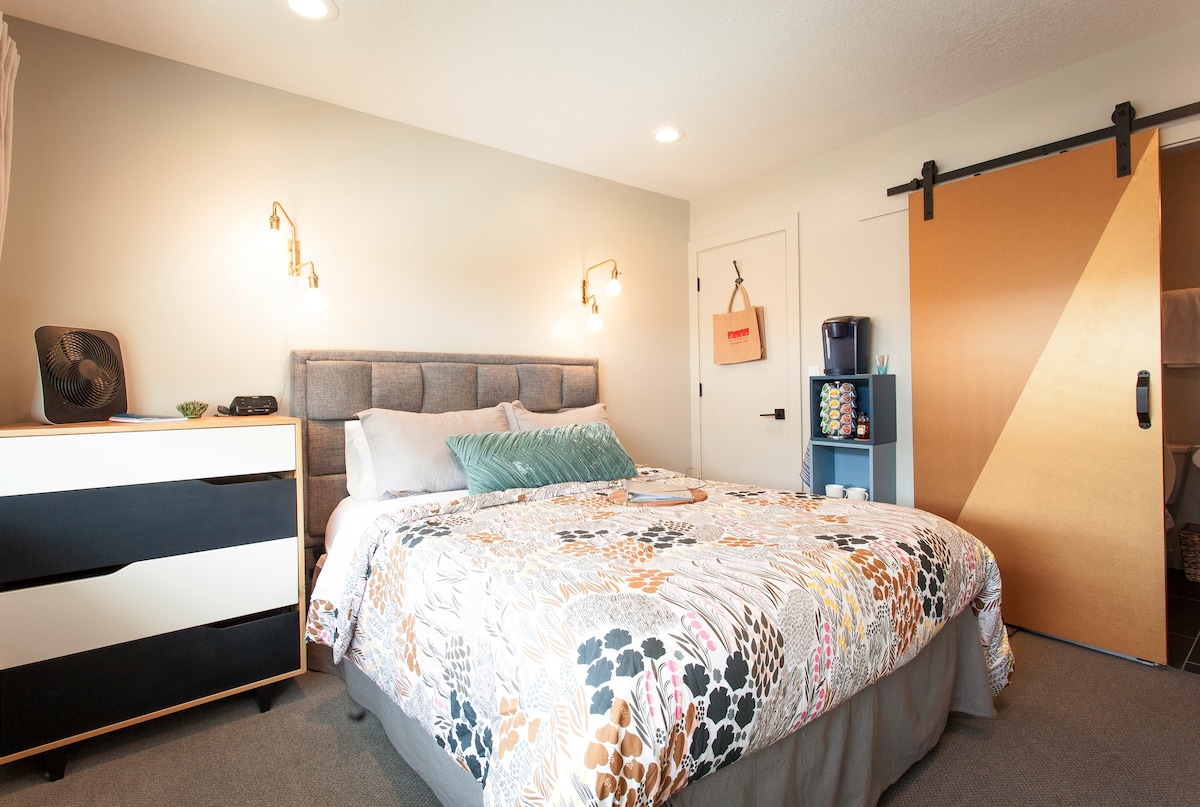 Super-Cute Studio Near Downtown
Solo travelers and couples will delight in this cozy and playful studio apartment located just south of downtown. Steps away from incredible local bakeries, coffee shops, and bars, this Salt Lake City Airbnb has all the comforts needed for a great vacation. 
Superhost Amy has done a great job decorating the studio with functional furniture and minimal clutter to make the most of the space. Inside, you will find a queen-size Purple bed, a walk-in closet, a small dining table, and a large window that allows plenty of natural light into the room. The studio is also equipped with a minifridge, dishes, and a microwave as well as a Keurig coffee maker. There is also an old-school vintage television, in working condition, that cleverly adds to the spunky personality of this rental. 
Anyone attending the Salt Lake City film festivals should consider this studio as it is close to all the venues. It is also only one block away from the TRAX station that can take you anywhere in the city.
View on Airbnb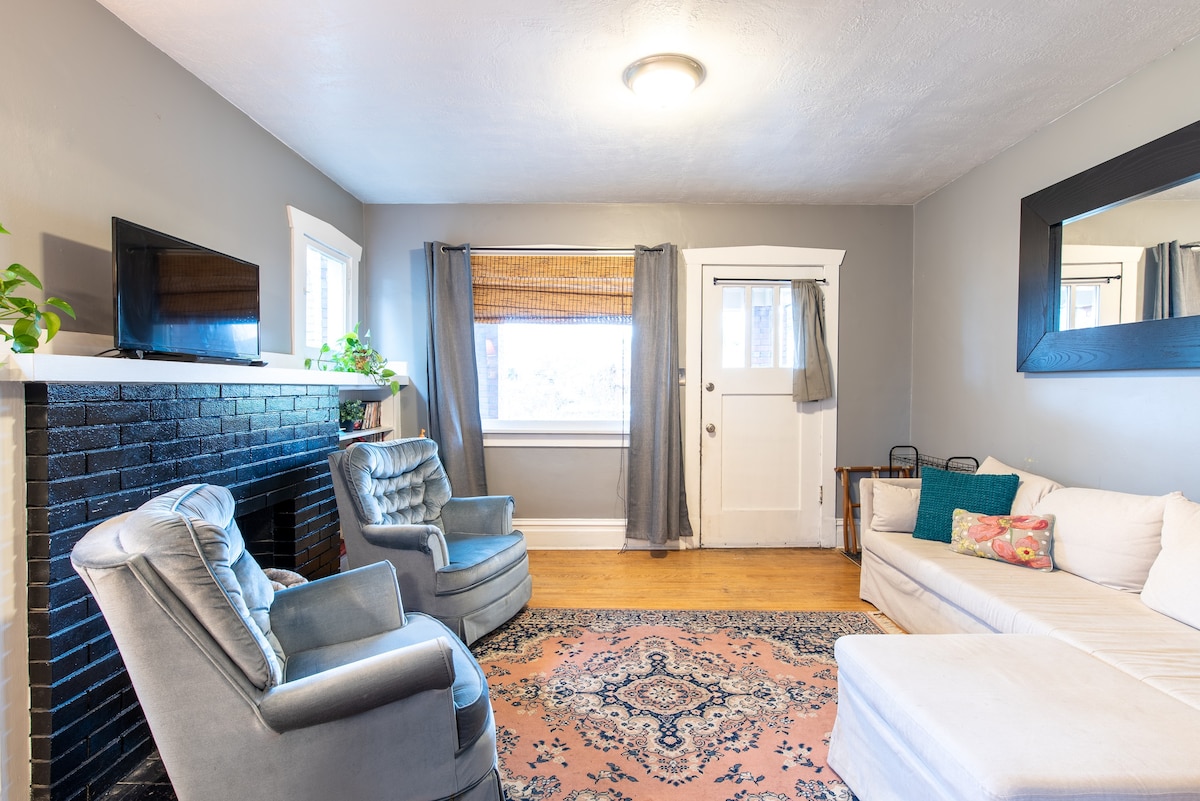 Spacious Studio in Sugarhouse District
If you're looking for a hip, colorful vacation home for rent in Salt Lake City, look no further than this spacious studio apartment located in the trendy district of Sugarhouse. 
Playfully decorated in fun blues and grays, this funky rental is the perfect getaway destination for families, small groups, and those traveling with pets. Visitors can enjoy their morning cup of joe on the front patio or lounge on the futon couch in the living room. The bedroom is separated by a thin curtain and has a queen-size bed as well as a large wardrobe for storage. 
For families, there is a kids' nook in the corner of the living room filled with board games and toys for the little ones to enjoy. You can also visit the nearby aquatic center if you want to take them out for a swim. 
This rental is only a short walk from the main shopping and dining area of the Sugarhouse District. It is also a 10-minute drive to the downtown area, or you can take the TRAX line from the Sugarmont stop only 10 minutes away by foot.
View on Airbnb
In a city bustling with trendy shops and easy public transit, you just can't go wrong with any of these Salt Lake City Airbnbs. No matter which one you decide to book, you'll know you're never far away from lively entertainment, great restaurants, and outdoor activities.