Road Affair is reader-supported and may earn commission from purchases made through links in this article.
There is certainly no shortage of things to do in Reykjavík, Iceland's capital. Also the nation's largest city, it is filled with a vast array of museums, iconic monuments, and beautiful shores and makes for the perfect landing spot to tour some of Iceland's greatest attractions. With its inspiring atmosphere and proximity to geological wonders, this popular tourist destination boasts many great places to stay.
Since choosing the right accommodation can feel a bit overwhelming, we've curated this list of the best Airbnbs in Reykjavík, Iceland. To ensure that you have the best stay possible, all of the rentals listed are either hosted by superhosts or hold Airbnb Plus status, and the majority have both. Superhosts have a proven track record of providing exceptional hospitality, while Airbnb Plus properties have been verified through in-person inspection. Each listing also features essential amenities, including Wi-Fi, complimentary toiletries, and bedroom comforts.
Related: 20 Best Airbnbs in Iceland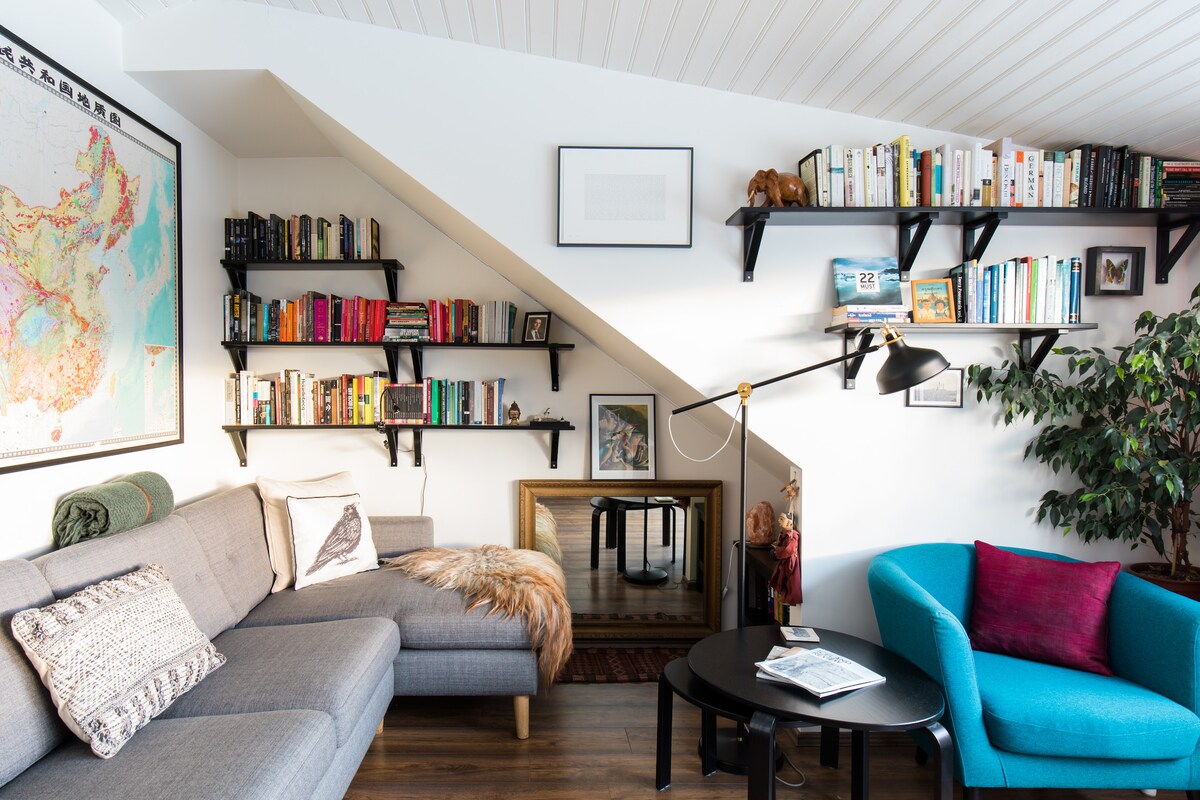 1930s Apartment With Landmark Views 
When you peer through the windows of this one-bedroom home, your gaze will be met with picturesque views of Hallgrímskirkja, the famous Lutheran church, and distant volcanic mountain ranges. Meant to accommodate up to two guests, the apartment is furnished with a queen-size bed and a comfortable sofa in the living room. 
The interior is decorated with local art, well stocked bookshelves, and a plethora of other warm touches. The full kitchen is spacious and well equipped with everything you need for cooking, including a dishwasher. The full bathroom features a walk-in shower, and the large living area contains a beautiful wooden dining table meant to seat up to four people. You'll find that you can relax in comfort with all of the best amenities, including a washer, coffee maker, and TV. 
This Reykjavík Airbnb puts you within walking distance of the city's major sights, restaurants, museums, and shops. With unbeatable views of a beautiful national landmark and all of the comforts of home, this cozy abode is one of the best vacation apartments for rent in Reykjavík.
View on Airbnb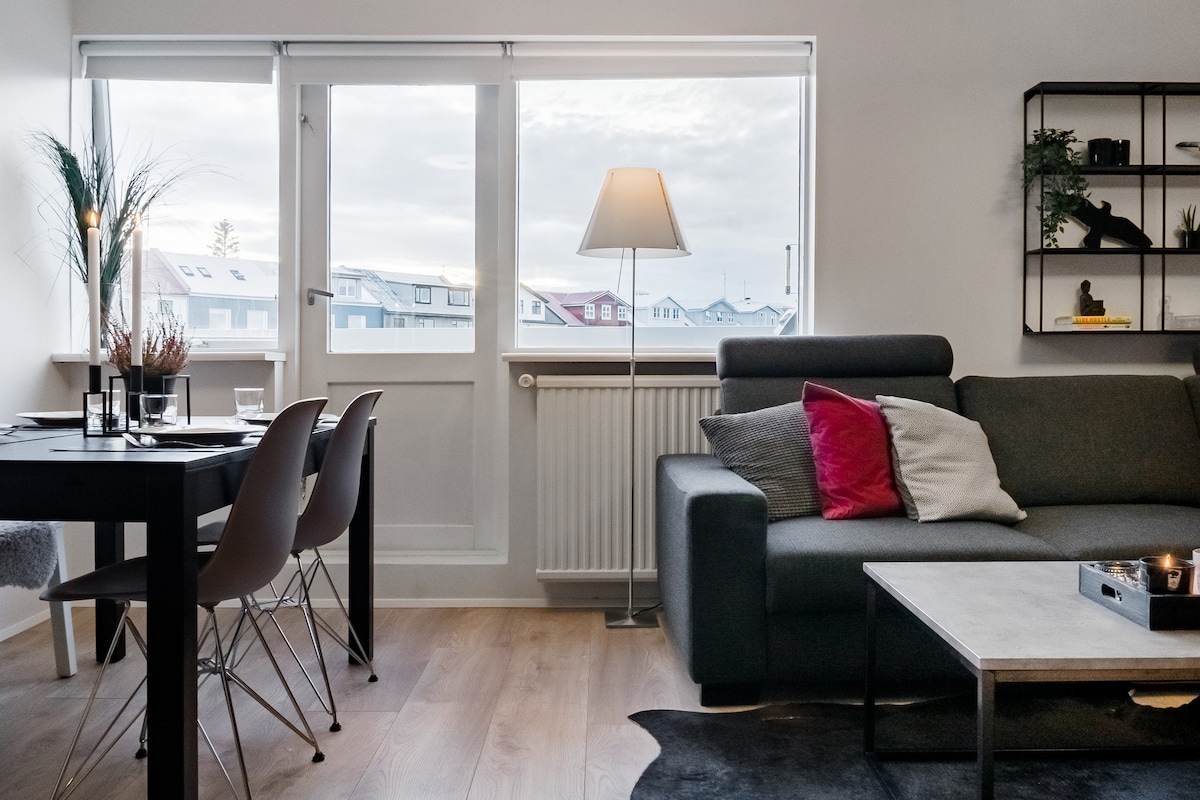 Cozy Apartment Near Reykjavík Harbor
Just a stone's throw away from the harbor, this contemporary one-bedroom rental is perfect for anyone looking to take advantage of Reykjavík's famous whale watching. It is also a short stroll away from the city's best downtown destinations. 
Featuring a minimalist design and cool-toned furnishings, this chic and tranquil apartment is the perfect place to wind down after a busy day. Up to three people can sleep comfortably here, with a queen-size bed in the separate bedroom and an L-shaped couch in the living area. The living room also comes fully equipped with a Smart TV, sound system, and gaming console for ultimate relaxation. Next to the couch is a large dining table with place settings for four. There is also a full bathroom with a soaking tub and a full kitchen complete with a dishwasher and espresso machine. 
Additional amenities include a spacious balcony, tons of available closet space, exercise equipment, and free parking on the premises. The host's thoughtful provision of baby gear and the playground right across the street make this apartment a great choice for families with young children. When it comes to renting an apartment in Reykjavík, this stylish rental is hard to pass up.
View on Airbnb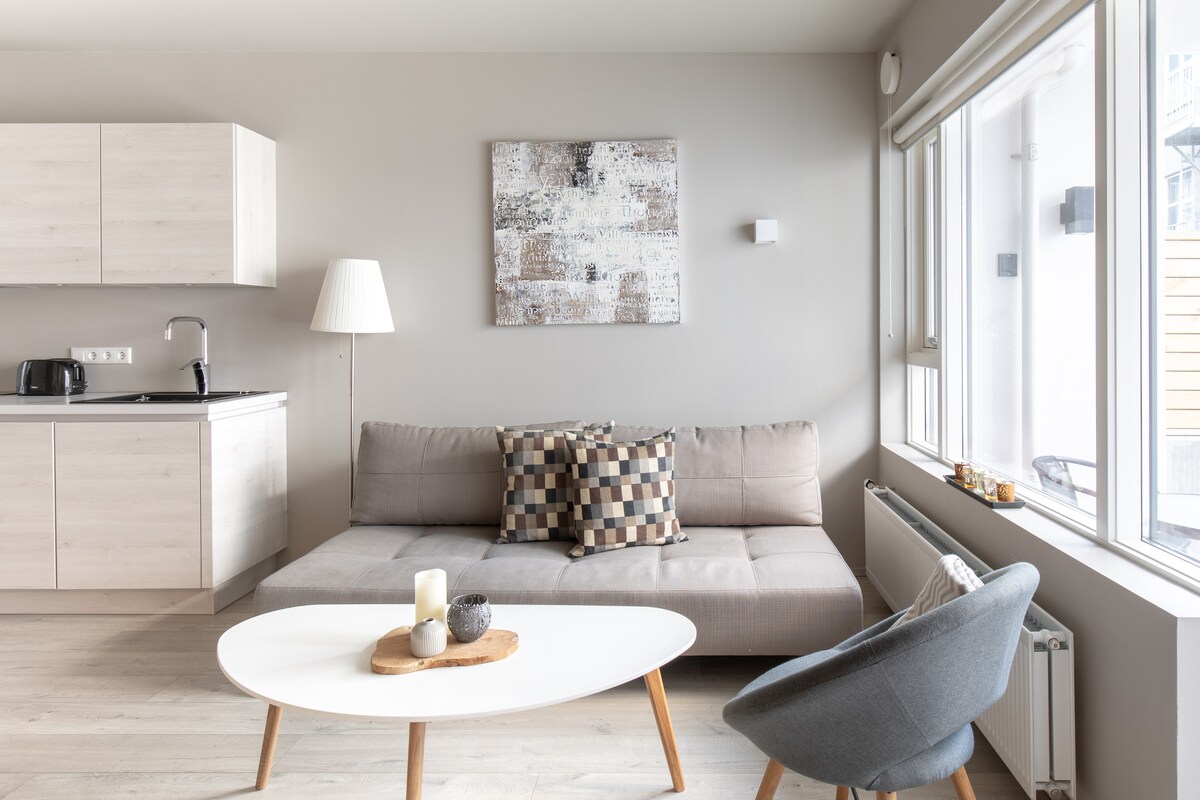 Central Apartment With a Private Entrance
This brand new Airbnb in Reykjavík is centrally located and steps away from the city's main shopping street, Laugavegur. Start the day with a luxurious rinse in the spacious, walk-in rain shower or a hot cup of coffee on the private outdoor patio. Decorated in cool-toned neutrals, this modern and minimalist apartment is the perfect place for a peaceful stay. 
This apartment's bedroom area is furnished with a queen-size bed while the living room features an additional sofa bed, making it fit for up to three guests. The full kitchen offers the convenience of a dishwasher, and the apartment even comes with a washer and dryer. Guests have the option of self check-in, and the TV in the living area is a great addition for cozy nights in. 
Whether you're staying in Reykjavík for a few nights or a few weeks, this charming apartment will guarantee a comfortable trip.
View on Airbnb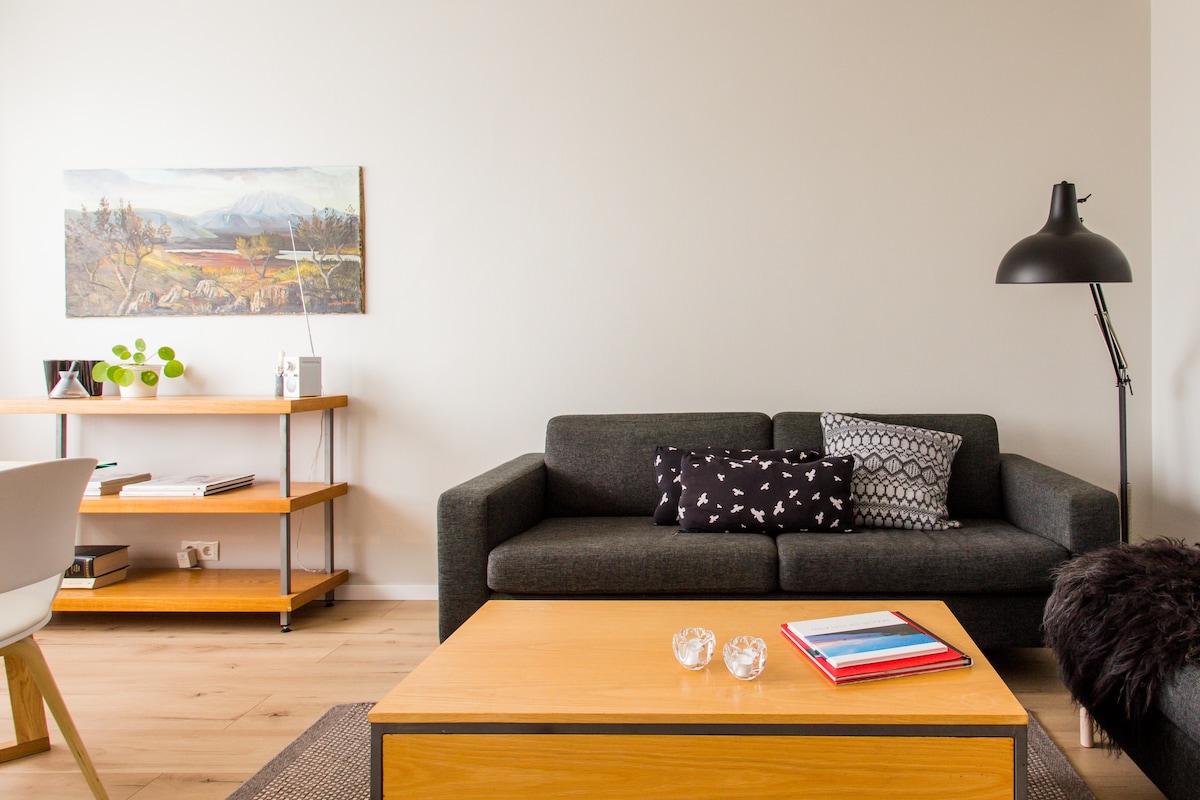 Two-Bedroom in the Heart of Reykjavík
Bright and airy, this open-plan, two-bedroom apartment is perfect for anyone searching for a convenient Reykjavík Airbnb. Located on a lively street in the city center, this lovely home can sleep up to three guests. One bedroom features a queen-size bed, and the other has a single bed. 
Decorated with stunning artwork throughout, this Airbnb boasts many high-end amenities and spacious common areas. The living room contains a sofa and TV, and there is an additional seating area with a window looking out onto the distant mountains. The dining room is furnished with a beautiful glass table for four people, and there is also one full bathroom and a full, updated kitchen with a dishwasher. 
Guests will certainly enjoy the proximity of this Airbnb to the new Hlemmur Food Hall. This innovative spot draws inspiration from the well known food markets of Europe. Enjoy some of the best food the city has to offer with nine different restaurants interestingly situated in the old central bus terminal. If you're searching for spacious and convenient vacation rentals in Reykjavík, you'll fall in love with this delightful accommodation.
View on Airbnb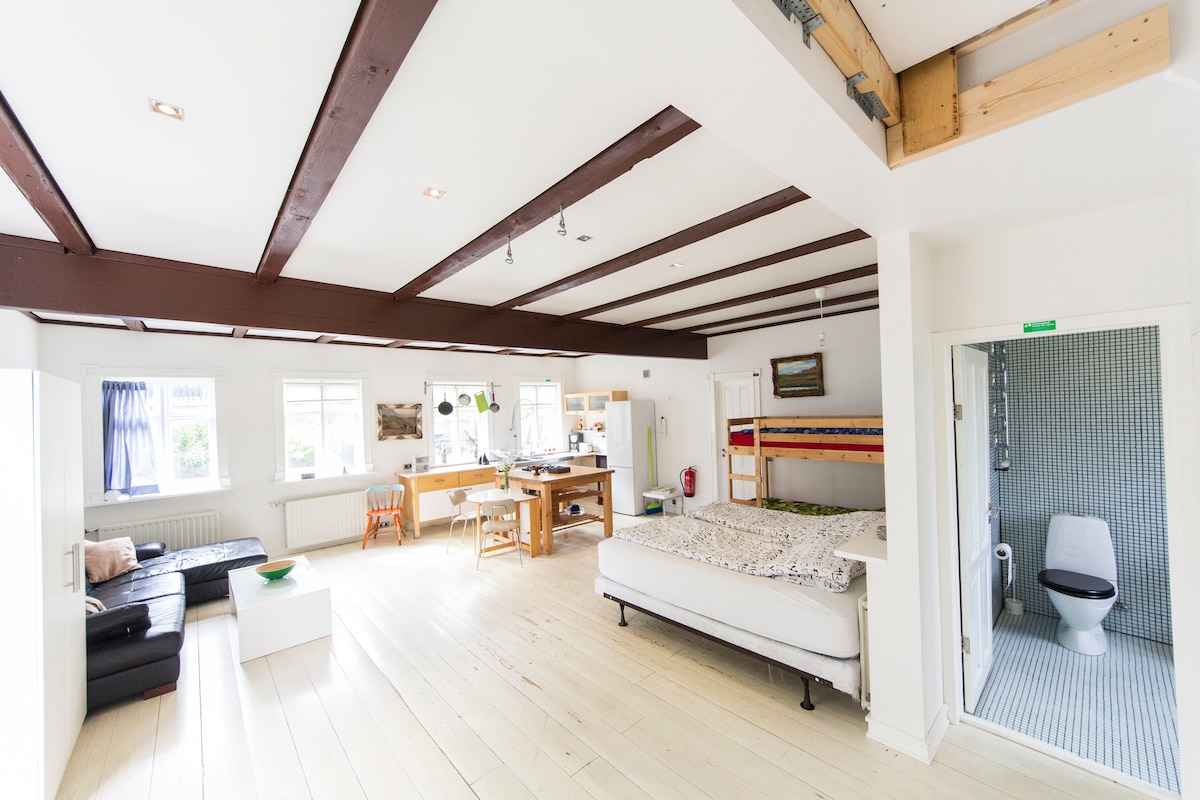 Reykjavík Apartment Near the Marina 
High ceilings with exposed wooden panels create a cozy and rustic ambience in this wonderful studio apartment. Decorated with fun artwork and wooden furniture, this open-plan space is the ground floor of superhost Albert's home. 
One double bed and one set of bunk beds can accommodate a maximum number of four guests. The kitchen is well equipped with all of the basic cooking essentials, and it even features a small dining table where two guests can comfortably sit for a meal. The addition of a leather L-shaped couch makes for a great place to relax and unwind. The space also features a private, spacious full bathroom with a walk-in shower. 
Albert's place is in a prime location, central to the Old Harbor, restaurants, galleries, swimming pools, and more. A great space at an affordable price, this short-term rental in Reykjavík is a steal.
View on Airbnb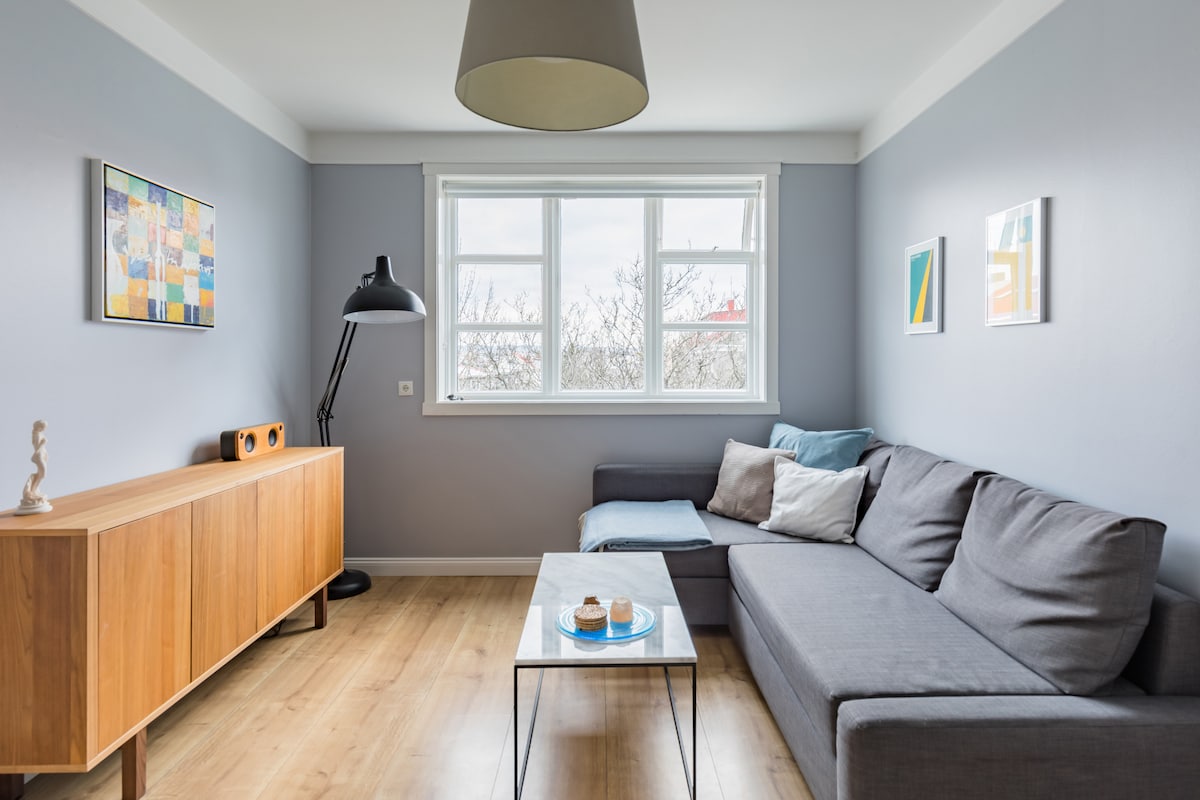 Scandi-Chic Downtown Apartment 
A great option for larger groups is this bright and cozy Reykjavík Airbnb. Situated directly behind Hallgrímskirkja, this two-bedroom home is as convenient as it is chic. You'll find a slew of bars, restaurants, shops, and historic sites a few steps away. You will also be a five-minute walk from the main bus terminal and a great local swimming pool. 
Each bedroom features a queen-size bed and room-darkening shades, and the living room contains a comfy L-shaped couch, making this Airbnb perfect for groups with up to six people.
Stunning artwork and muted pastel walls create an enchanting environment. The full kitchen offers high-end cooking tools, a dishwasher, and a breakfast table. The full bathroom also comes with the added comfort of a heated towel rack. 
Extra amenities include a washer, dryer, and free parking on the premises. Big groups looking for the best Airbnb rentals in Reykjavík cannot go wrong with this cozy and convenient apartment.
View on Airbnb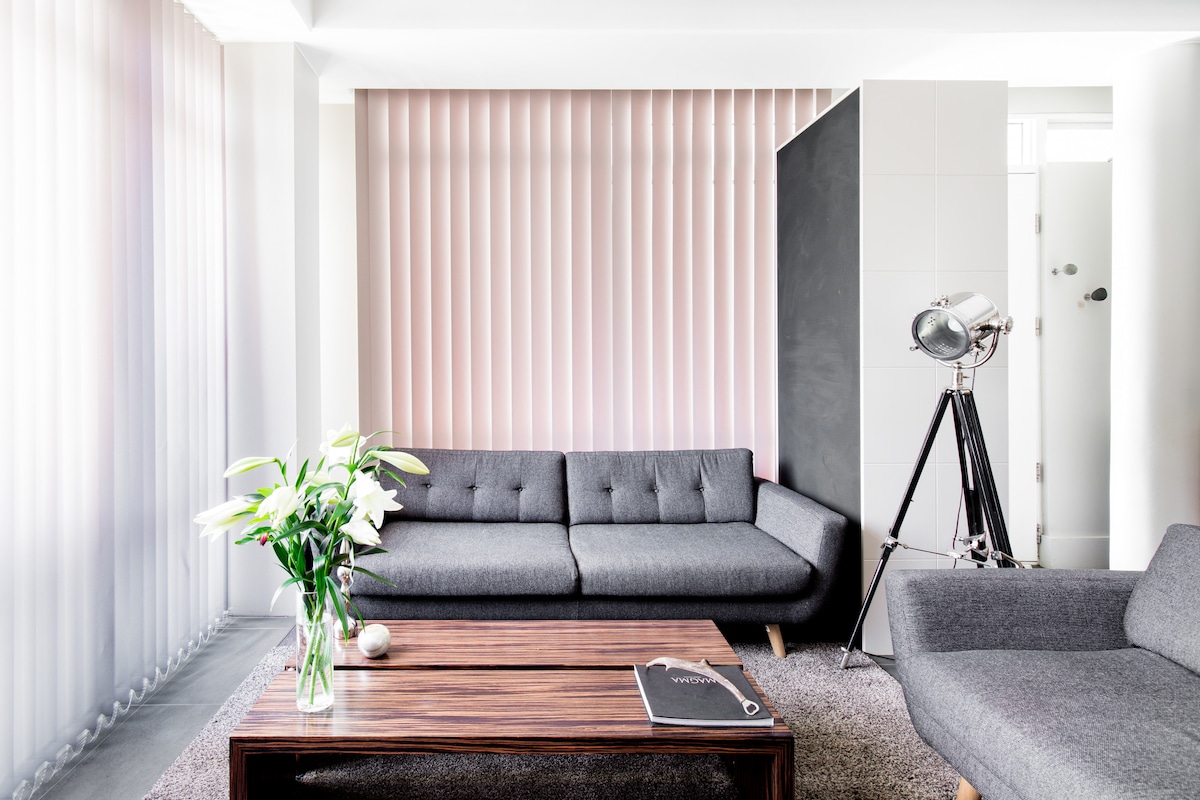 Urban Apartment With Minimalist Design
This minimalist, two-bedroom apartment is located just a few minutes' walk from the city center and a seven-minute walk from Old Harbor. If you're hoping to catch a view of the Northern Lights on your trip, there are several cruises departing from the harbor that offer some of the best opportunities to enjoy their breathtaking aura. 
Comfortably sleeping up to four guests, the two bedrooms contain a queen-size bed and a bunk bed, respectively. Guests will be very comfortable with top-notch amenities such as a washer and dryer, a TV in the living room, and free parking on the premises. What it lacks in a dining room, it more than makes up for with a full-size snack bar separating the kitchen from the living area. The full bathroom is spacious and chic with wood finishings and a walk-in rain shower.
Characterized by mid-century revival furnishings and rustic décor, this unique space gives the feel of a high-end hotel. Guests will also enjoy the proximity of this Reykjavík Airbnb to the local swimming pool.
View on Airbnb
Rustic Retreat in the Center of Reykjavík
If you want an Airbnb in Reykjavík to put a smile on your face, this is the one for you. Colorful and cheery, this rental unit is truly one of a kind. The dining area features a planked wooden accent wall washed with beautiful pastels, and the kitchenette is lively and bright with multicolored cabinetry. 
Furnished for up to three guests, this cheerful one-bedroom offers a queen-size bed with a pillow-top mattress as well as a sofa bed in the living room. The wooden furnishings in the full bathroom are consistent with the apartment's rustic charm, and the heated towel rack adds a touch of luxurious comfort. The kitchenette comes fully stocked with everything you need to prepare meals, and in the dining area you'll find a wooden breakfast table. 
Nestled in a safe and quiet neighborhood but still within walking distance of downtown Reykjavík, this cozy apartment is perfect for anyone looking for a peaceful respite after a day of adventure!
View on Airbnb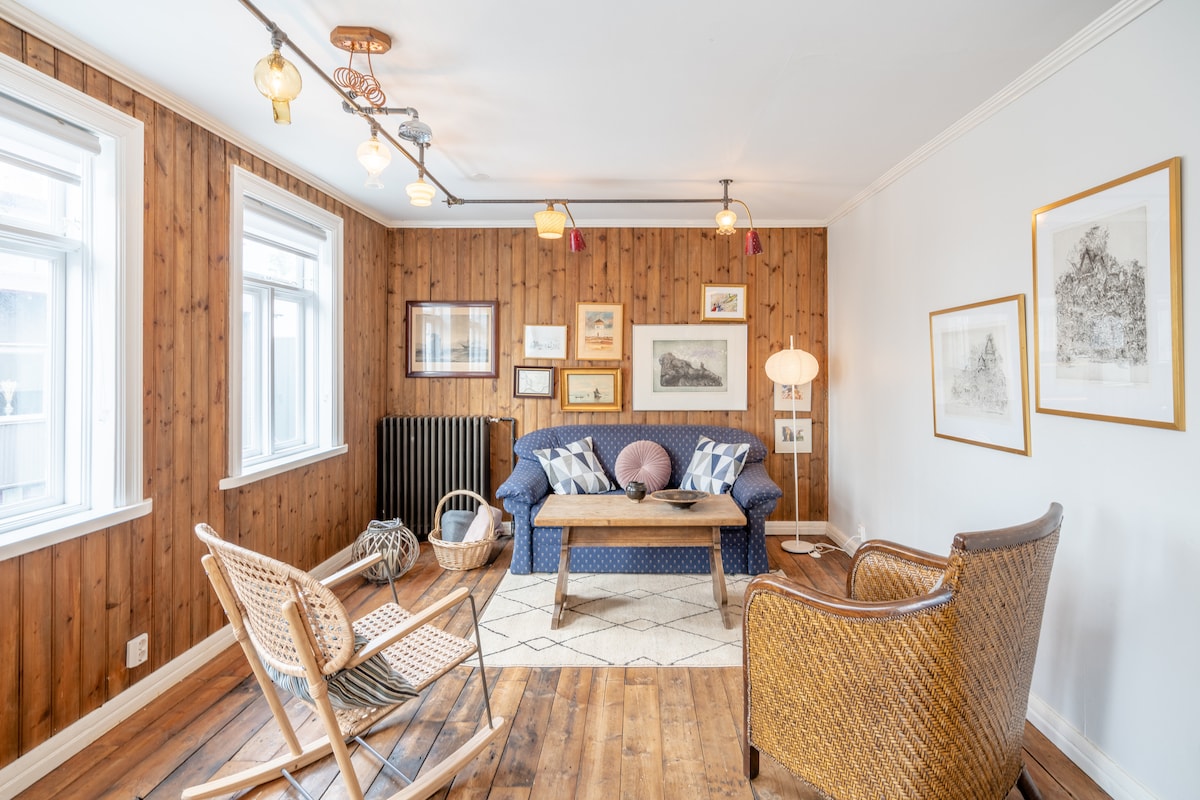 Renovated House in a Quiet Central Area
Rent a house in Reykjavík that matches the history and character of the city itself. This classic house was built in 1903, and the hosts have recently renovated the space with the utmost respect for its past. Characterized by wood panel walls in the living area, exposed plumbing, and vintage lighting, this one-bedroom rental is a unique find. 
Up to four guests are welcome in this rustic and artsy Airbnb. There is a separate bedroom with a queen-size bed, cheery floral wallpaper, and a wall-mounted TV. The couch in the living room pulls out into a double bed, making for another comfortable place to sleep. The full kitchen is livened by pastel hues, and there is a convenient breakfast bar, which can comfortably seat all four guests. In the full bathroom, you'll find cool sea green accents, wooden furnishings, a soaking tub, and a washer. 
The house is centrally located but tucked away in a quiet, residential street. In a matter of minutes, guests can stroll into the downtown area and check out historic and cultural sites as well as some of the best shops and restaurants the city has to offer. Free parking on the premises makes this lovely home all the more convenient.
View on Airbnb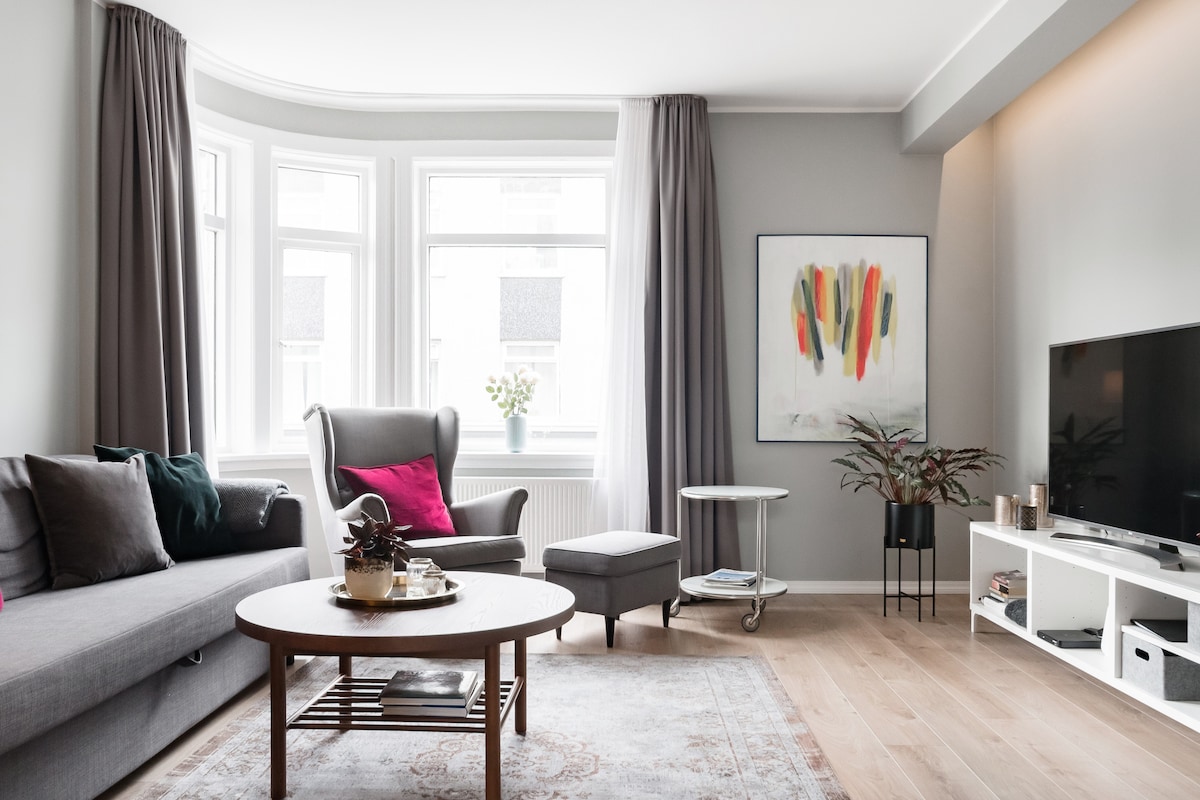 Stylish Mid-Century Modern Apartment 
Located on a main shopping street, this two-bedroom apartment is perfect for groups looking to be in the center of all that Reykjavík has to offer. 
The layout and furnishings are perfectly suited to host up to six guests. The larger bedroom is furnished with a king-size bed with a luxuriously comfy pillow-top mattress. There is a wooden desk and chair situated right next to a large window, perfect for catching up on work or just planning out the day. The host, Lilja, also provides a printer stocked with ink and paper for your convenience. The second bedroom contains two single beds, and both rooms offer room-darkening shades, so you can easily sleep in after an eventful night. Two more guests can sleep comfortably in the living room with a full-size sofa bed and Smart TV. 
In the full kitchen, you'll find an espresso machine, a dishwasher, a breakfast table, and the added luxury of heated floors. The full bathroom also boasts heated floors and a heated towel rack, so no matter the weather, your mornings are sure to be warm and cozy. The unique touches and comfortable features are what set this Reykjavík Airbnb apart from the rest. Lilja even provides outlet adapters and guidebooks, so there is no need to run out for additional travel essentials.
View on Airbnb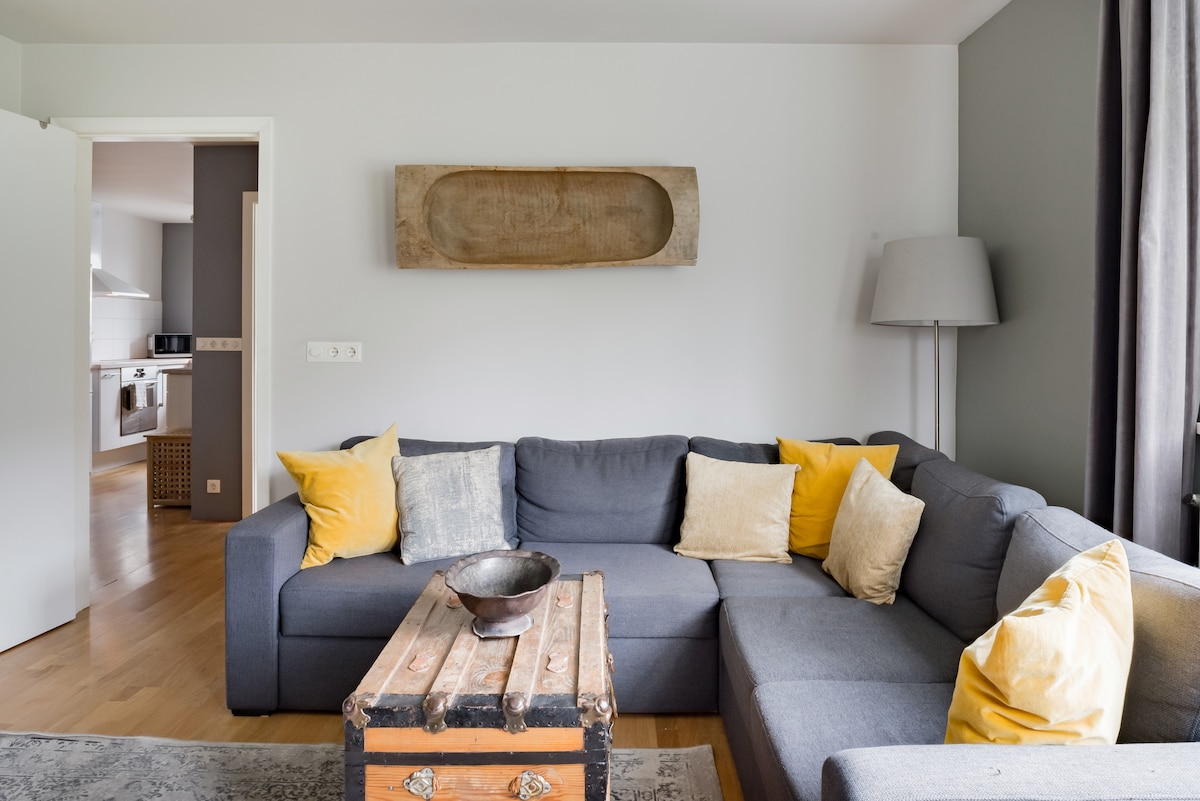 Tranquil Downtown Apartment Near a Heated Pool
This Airbnb in Reykjavík is an ideal choice for any group of travelers looking for a calming reprieve after an adventurous day. It is located on a quiet, residential block in the city's West End, so you'll be out of the hustle and bustle of downtown while still being within walking distance of most major attractions. Guests can also enjoy a local, heated swimming pool just a five-minute walk away. 
Meant for a maximum of six guests, this delightful three-bedroom apartment is as spacious as it is tranquil. The largest bedroom contains a king-size bed and a TV, and the other two bedrooms are each furnished with two single beds. There is also a full bathroom with a walk-in shower and a full kitchen with a dishwasher. The dining area is just off of the kitchen and has a large wooden table with five blue chairs. The main feature of the living room is the large, comfy L-shaped sofa, making it a perfect place for everyone in the Airbnb to chill out. 
The entire place is washed in soft shades of gray and blue, creating a lovely contrast to the warm, timber flooring. A notable feature of this apartment is the large backyard complete with outdoor furniture. With the addition of an in-unit washer and dryer, this Airbnb is hard to beat.
View on Airbnb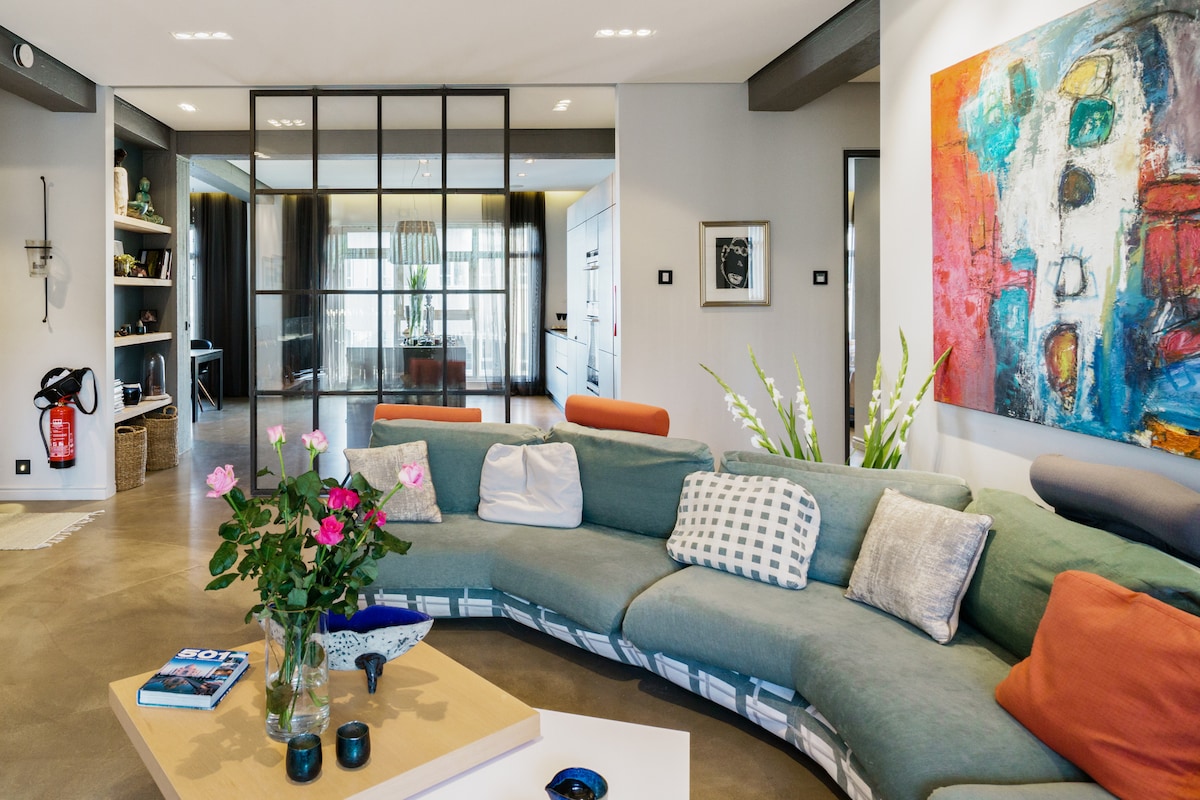 Fabulous Penthouse Apartment in the Heart of Reykjavík
If you're looking to visit Reykjavík in style, this is definitely the Airbnb for you. Guests of this one-of-a-kind penthouse will be steps away from the Old Harbor, the Reykjavík Art Museum, and the National Gallery of Iceland. Spacious, luxurious, and convenient, this apartment truly has it all. 
Up to six people can stay in this fabulous flat. Even with the maximum number of guests, everyone is sure to relax in comfort, as there are more than enough rooms and amenities to keep the space from feeling too crowded. Three separate bedrooms each offer their own Smart TV, en suite bathroom, and heated floors. Two of the bedrooms are furnished with king-size beds, and the third offers two single beds. The full-size kitchen looks like something out of a culinary magazine. There is a large stovetop and double oven for all of your cooking and baking needs, and the stylish breakfast bar is perfect for grabbing a quick snack. Outside of the full kitchen is a large, formal dining area with a long enough table to seat every guest plus additional company. You'll love the floor-to-ceiling windows that provide you scenic views while you're dining. 
The apartment also features two separate living rooms designed for maximum relaxation. The smaller of the two rooms is furnished with plenty of comfortable seating, and the floor-to-ceiling windows provide spellbinding views of the nearby harbor. The second living room features a comfy couch large enough to seat the entire house, a TV, and a balcony. Additional amenities include a building elevator, a dishwasher, and a washer and dryer. With high-end furniture, modern décor, and enchanting views throughout, this luxurious Airbnb in Reykjavík is unrivaled by even the best hotels.
View on Airbnb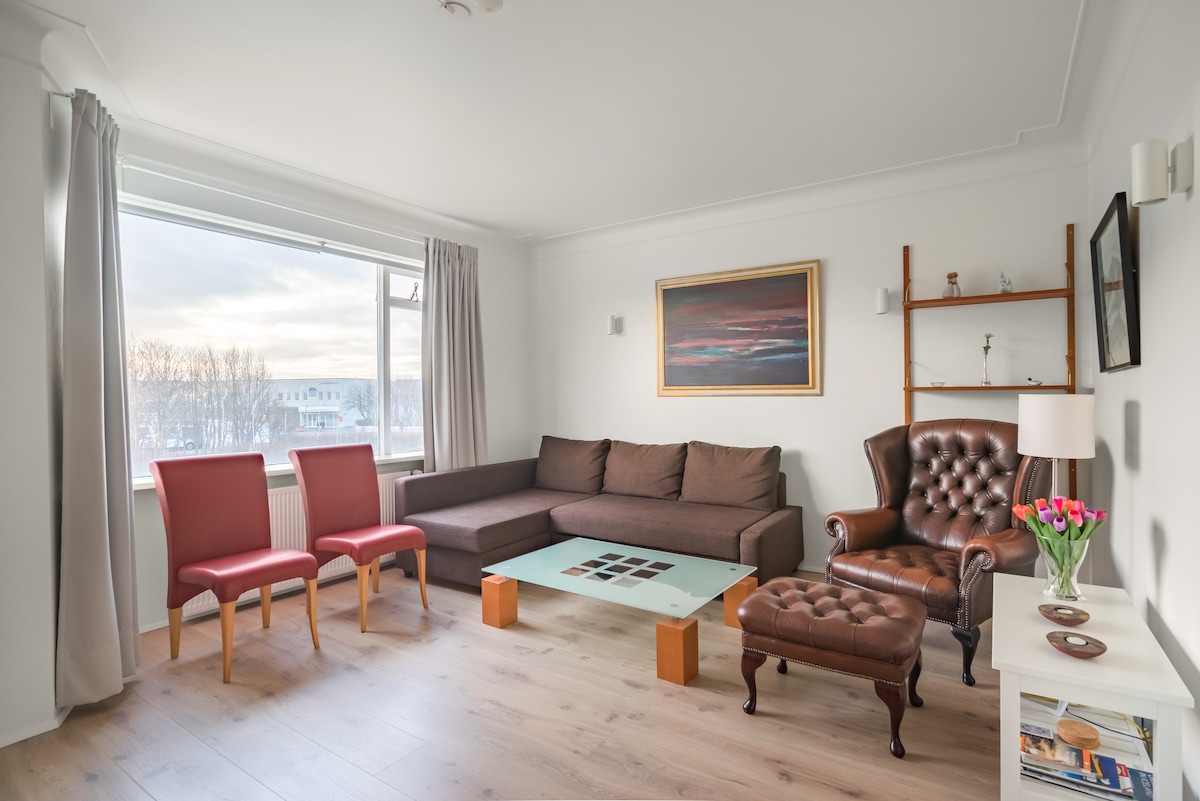 Charming Vesturbær Apartment Near the Sea
While most of the short-term rentals in Reykjavík featured on this list are ideal for groups of six or fewer, this two-bedroom Airbnb can sleep up to seven guests. One bedroom is furnished with a king-size bed, and the other contains both a queen-size and single bed. A circular wooden table with stunning red chairs can seat your entire group, and the full bathroom and kitchen are uniquely spacious. Another desirable aspect of this apartment is the small balcony overlooking the building's garden. Superhost Jon will also provide baby gear upon request. 
This spacious apartment neighbors the National Museum and is only a 10-minute walk from the city's downtown area. Most notably, guests can reach the sea in fewer than five minutes on foot. You'll find a beautiful sidewalk path by which you can catch lovely views of the sea, perfect for sunrise, sunset, or a peaceful walk before bed. 
Although Iceland has become a notoriously expensive tourist destination, this spectacular find is surprisingly affordable. With highly desirable amenities, including a TV, a dishwasher, and free parking on the premises, this Airbnb is a great option for groups looking to get a bang for their buck. Large groups of friends and family will love this delightful Airbnb in Reykjavík.
View on Airbnb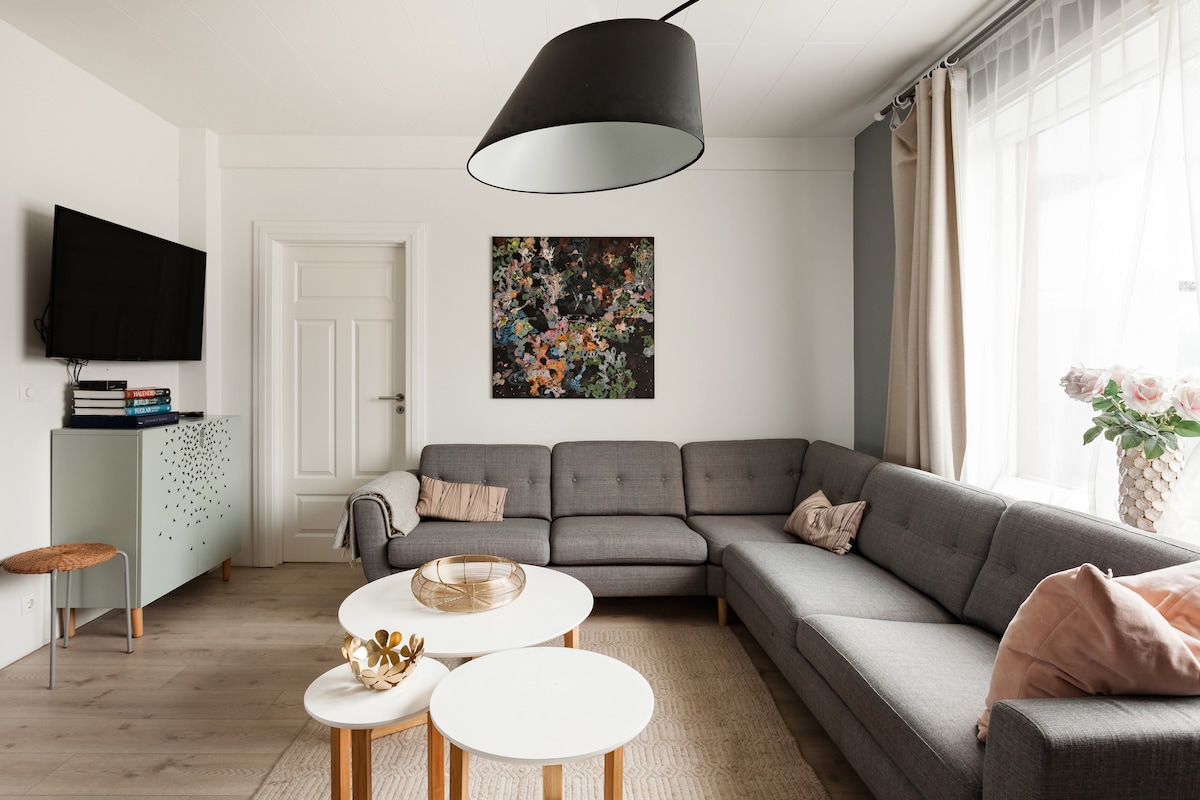 Peaceful Home With a Covered Deck
Another great option for larger groups is this three-bedroom rental meant for up to eight guests. 
Each of the three bedrooms come with two single beds, making this a great choice for a large group of friends or a family gathering. Two more guests can sleep comfortably on the large daybed in the living room, and the hosts will provide a travel crib upon request. The spacious kitchen is fully stocked, complete with a large dining table that can seat all eight guests. The full bathroom offers a walk-in shower and stunning white marble tiles.
On a quiet street in the city center, this home was made for guests to rest and recharge. Start your days with a breath of fresh air on the patio, and end them with a cozy movie night on the living room's Smart TV. Cool, earthy tones add to the apartment's tranquil aura, and the impressive amenities provide guests with all of the comforts of home.
View on Airbnb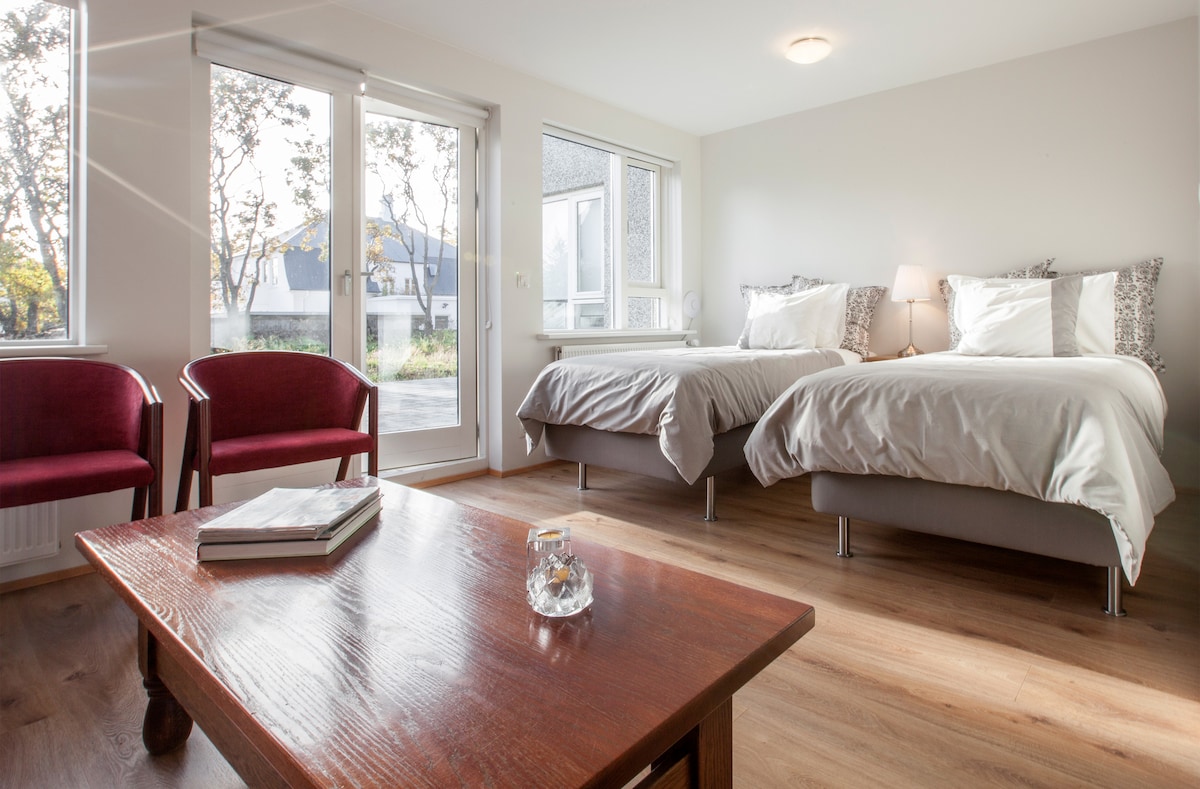 Superb Studio in the City Center
Last on our list of the best Reykjavík Airbnbs is this elegant studio apartment overlooking a park. Located on a quiet street in the city center, the apartment is less than a two-minute walk from the vibrant nightlife and tourist attractions of Reykjavík. Up to two guests are welcome here, and the apartment is especially suited for a solo traveler or a couple.
The most appealing aspect of this apartment is that everything in it is brand new. The kitchen is immaculate with the most up-to-date appliances and shiny white cabinetry. The bathroom is luxuriously large with extra amenities, including heated floors and a brand-new washer. The bedroom section features two single beds, which can be joined into one queen-size bed upon request. Double glass doors in the living room open onto a large stone terrace with a connected lawn. 
This apartment is spacious by any standard, but it is especially impressive for a studio with such an affordable nightly rate. We're sure you will not be disappointed with this clean and modern rental. 
View on Airbnb
Hopefully our list helps you narrow down your top picks for apartment rentals in Reykjavík. Whether you're traveling solo, as a couple, or in a group, you're sure to find the perfect Airbnb to make the most of your trip.