Photo: Courtesy of Airbnb
Road Affair is reader-supported and may earn commission from purchases made through links in this article.
Panama City Beach, Florida, is a lively and family-friendly beach getaway on the shores of the Gulf of Mexico. It's easy to see why so many people are drawn to this northwest Florida destination for their vacations, as Panama City Beach is known for its emerald waters, exceptional white-sand beaches, and fun water parks. No matter what you plan on doing during your visit, the best condos and beach houses for rent in Panama City Beach are found on Airbnb.
But don't just take our word for that. We've put together this list of Panama City Beach Airbnbs to showcase the range and quality of Airbnbs available in the area. Each Airbnb shown below is operated by a superhost – a host with a clear track record of going above and beyond for their guests. Keep reading to see what we believe are the best Airbnbs in Panama City Beach, Florida.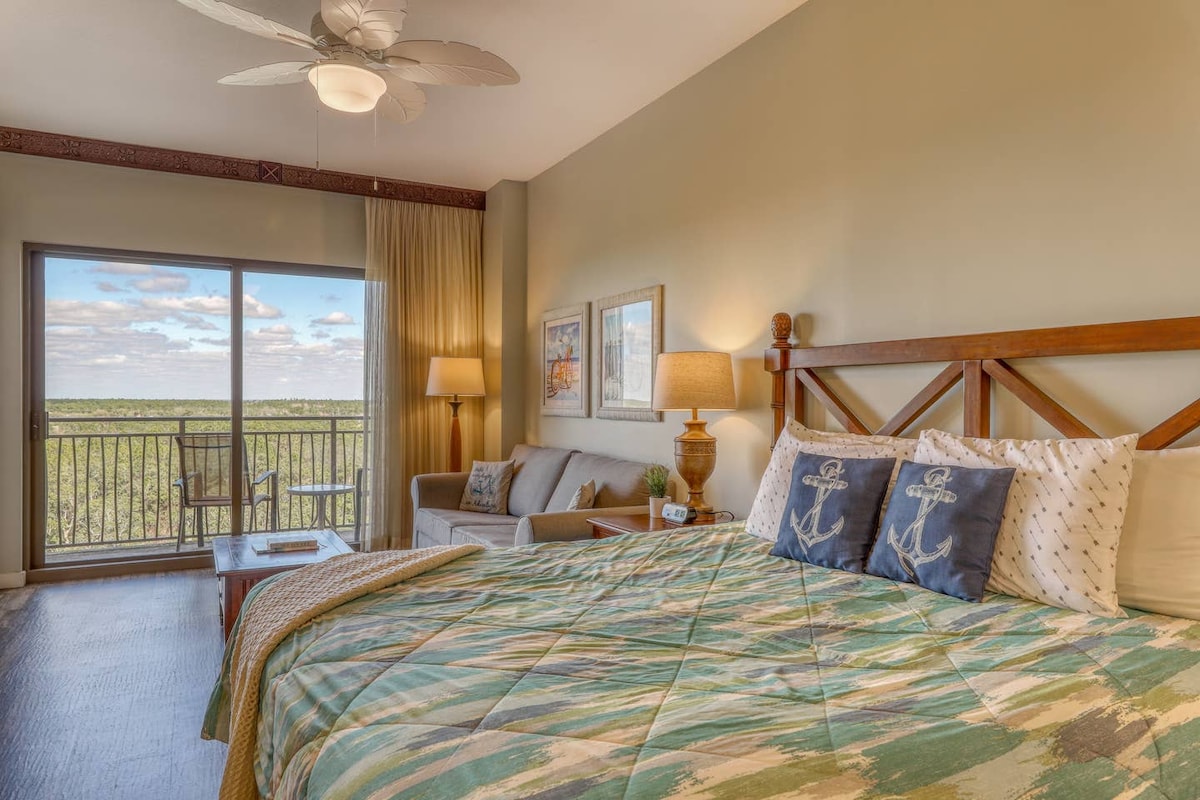 Beachfront Condo With Nature Views
Let's start things off with this delightful condo, definitely one of the best Airbnb rentals in Panama City Beach. It sits up on the eighth floor of the Origin at Seahaven building, meaning guests not only get the room and its gorgeous views of the nearby nature preserve, but also use of complex facilities like an outdoor pool, hot tub, laundry facilities, and beach access.
The studio condo has been recently updated with fresh furnishings and décor to give a contemporary feel. Four people can comfortably stay at this Panama City Beach Airbnb, as it offers a queen-size sleeper sofa in addition to a king-size bed. This setup is best suited to shorter stays or families with younger children who won't mind the close proximity. Generally, though, the condo is set up for two guests, with two chairs at the dining table and two chairs on the private balcony.
Making breakfast here won't be difficult, as the condo is equipped with a cooktop, microwave, Keurig coffee maker, and fridge in its kitchenette. Additional amenities include high-speed Wi-Fi, cable TV, air-conditioning, keyless entry, and two parking passes.
View on Airbnb
Luxury Beachfront Condo
While there are plenty of condos for rent in Panama City Beach, few have beach views quite like this luxury condo. From the balcony of this condo at the Emerald Beach Resort, you can gaze right down at the white-sand beach and warm waters of the Gulf of Mexico. The resort is also situated close to the center of Panama City Beach, and guests can easily walk to many local attractions, including the famous Pier Park.
Another impressive aspect of this one-bedroom condo is how it sleeps six people. You'll find a luxurious king-size bed in the master bedroom, a queen-size sofa bed in the living room, and a twin bunk bed tucked away in a nook of the hallway area. While unorthodox, these sleeping arrangements could be exactly what families or larger groups are looking for to fit everyone under one roof.
The stylish living room enjoys plenty of light from the balcony and has a round dining table for four. Stainless-steel appliances and ample bench space make the adjoining kitchen a joy to cook in. In addition to the in-room amenities, such as a private laundry and Wi-Fi, guests also have access to the many facilities of the resort.
View on Airbnb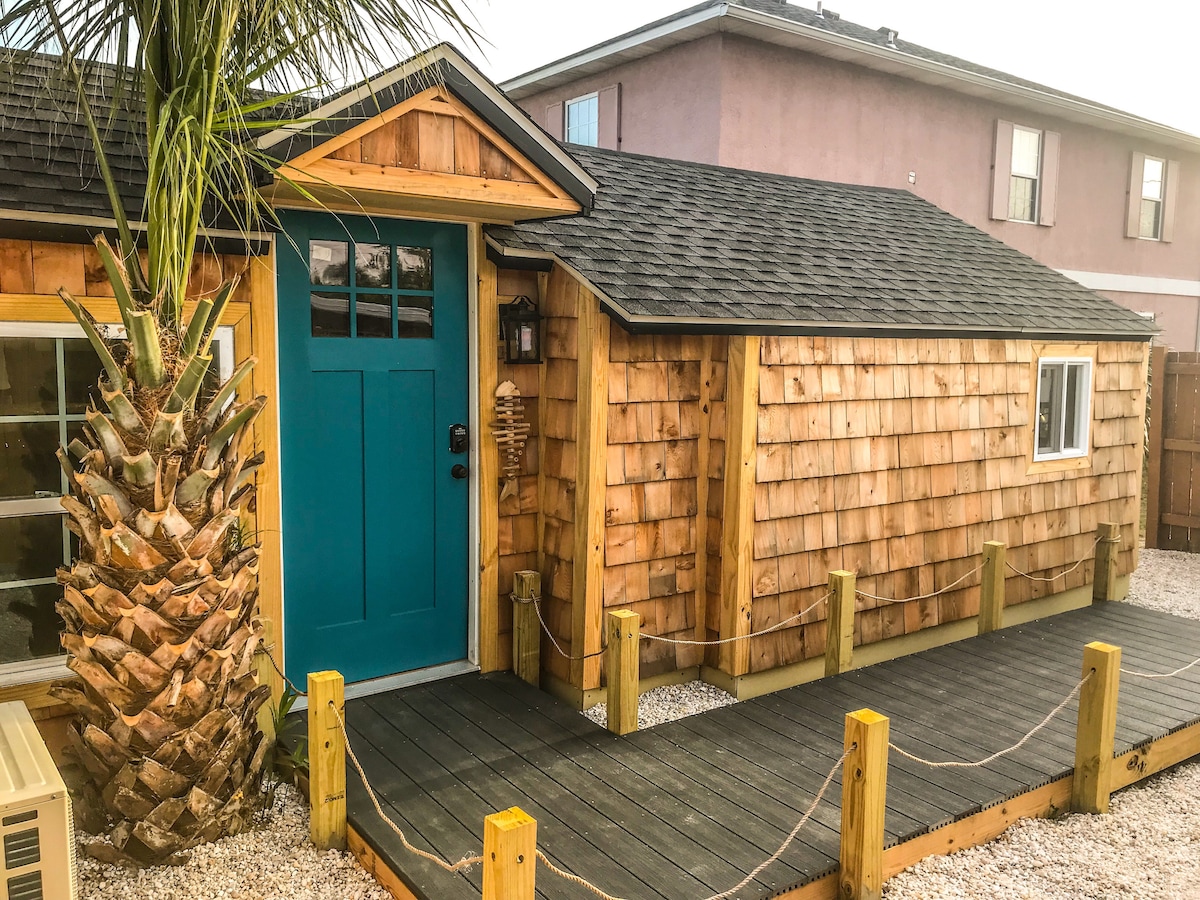 Cedar Blue Tiny House
No doubt one of the smallest vacation homes for rent in Panama City Beach on offer, this tiny house makes an excellent base for a short stay in the area. As you'd expect with a tiny house, space inside is limited, but this cute Airbnb in Panama City Beach is perfect for couples or individuals who want somewhere close to the ocean to crash at the end of the day.
This adorable and pet-friendly Airbnb is located one block from the beach and a short distance from Shipwreck Island Waterpark. It's found in a partially fenced off section of superhost James' yard, with guests enjoying their own parking space and access to the shared gazebo.
Looking at its gorgeous wooden exterior, it may be hard to believe that this tiny house has room for a sleeping area, kitchen, and bathroom, but it does. The walls around the queen-size bed are covered in seaside accessories, while the fully functional kitchen has a more toned-down modern look to it. Ornate tiles and a bold monochromatic design make the compact bathroom feel slightly larger, while a tankless water heater system ensures guests never run out of hot water. 
Extra modern comforts provided with this Airbnb include Wi-Fi, cable TV, complimentary coffee, air-conditioning, and smart locks.
View on Airbnb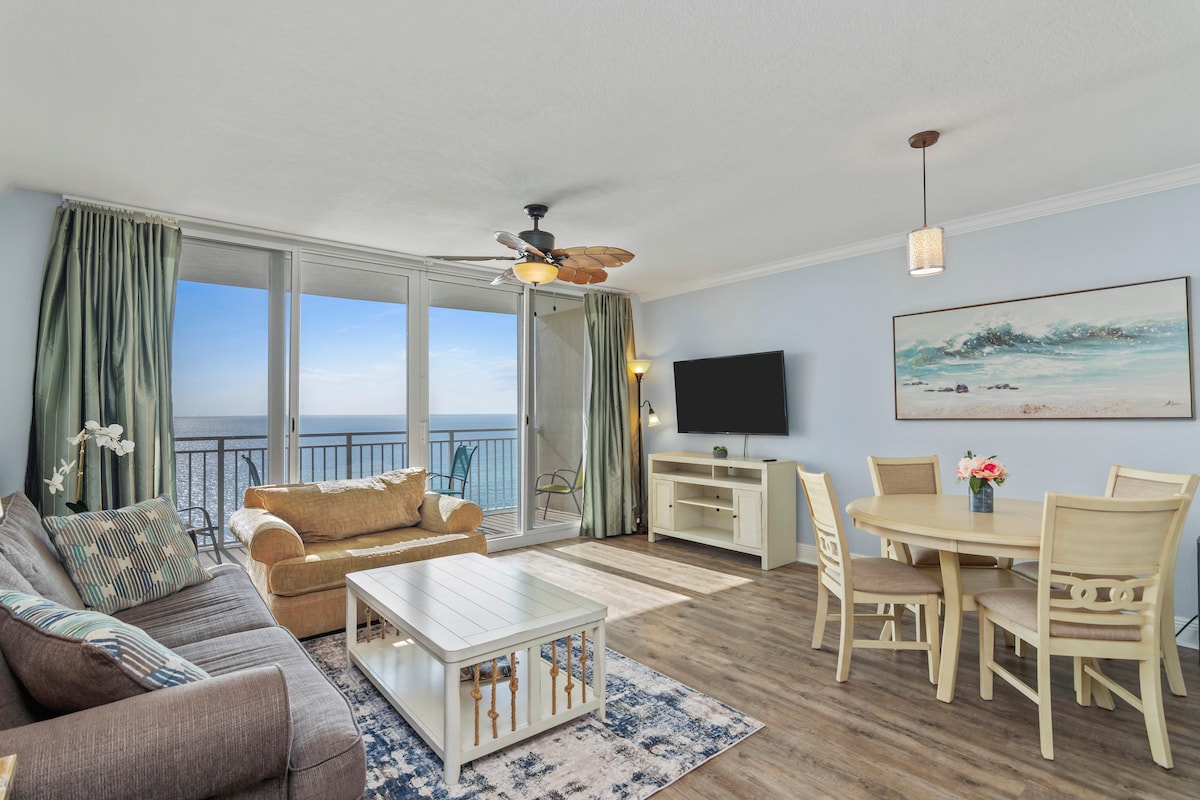 New Luxury Condo With Beach Views
This luxury rental condo in Panama City Beach and the unobstructed beach views from its living room and balcony are sure to make your vacation feel special. Sitting on the 13th floor of the Emerald Beach Resort, it provides the ultimate setting for a memorable beach getaway and also provides guests with access to fun resort facilities like two outdoor pools, hot tubs, bars, and a gym.
Although just a one-bedroom condo, this Airbnb can accommodate six guests. There is a comfy king-size bed in the master bedroom, a queen-size sleeper sofa in the living room, and bunk beds tucked away in the hallway. The one downside to this setup is that guests will be sharing one bathroom, which is a bright seaside-themed en suite off the bedroom.
Along the well-appointed kitchen stand several bar stools, while there is also a large round dining table in the living area where guests can eat meals. Guests are unlikely to get bored with the beach and famous Pier Park nearby, but the room does come with two smart TVs with cable and Wi-Fi to keep you entertained. A washer and dryer, free parking, and air-conditioning are other amenities included here.
View on Airbnb
Bella Cabana Vacation Rental
If you prefer the feel of a guesthouse to a high-rise condo, then this may well be the best Panama City Beach Airbnb for you. Staying at this laid-back vacation rental, you'll be just 500 feet from a pristine white-sand beach in a quiet neighborhood on the city's west end.
This single-level guesthouse may look small from the outside, but it can easily fit four guests. There is a king-size bed in its bedroom, as well as a sofa bed large enough for two in the bohemian-styled living room. These sleeping arrangements will best suit a couple or parents traveling with young kids. A nice touch is that guests are able to bring their pet with them for a fee.
Guests who prefer home-cooked meals when they travel will be delighted with the rental's fully equipped kitchen, which even boasts a dishwasher. A European-style washer and dryer sit in a nook outside the simple but functional bathroom. As for amenities, this Airbnb comes with Wi-Fi, a smart TV, air-conditioning, an outdoor shower, and free parking.
View on Airbnb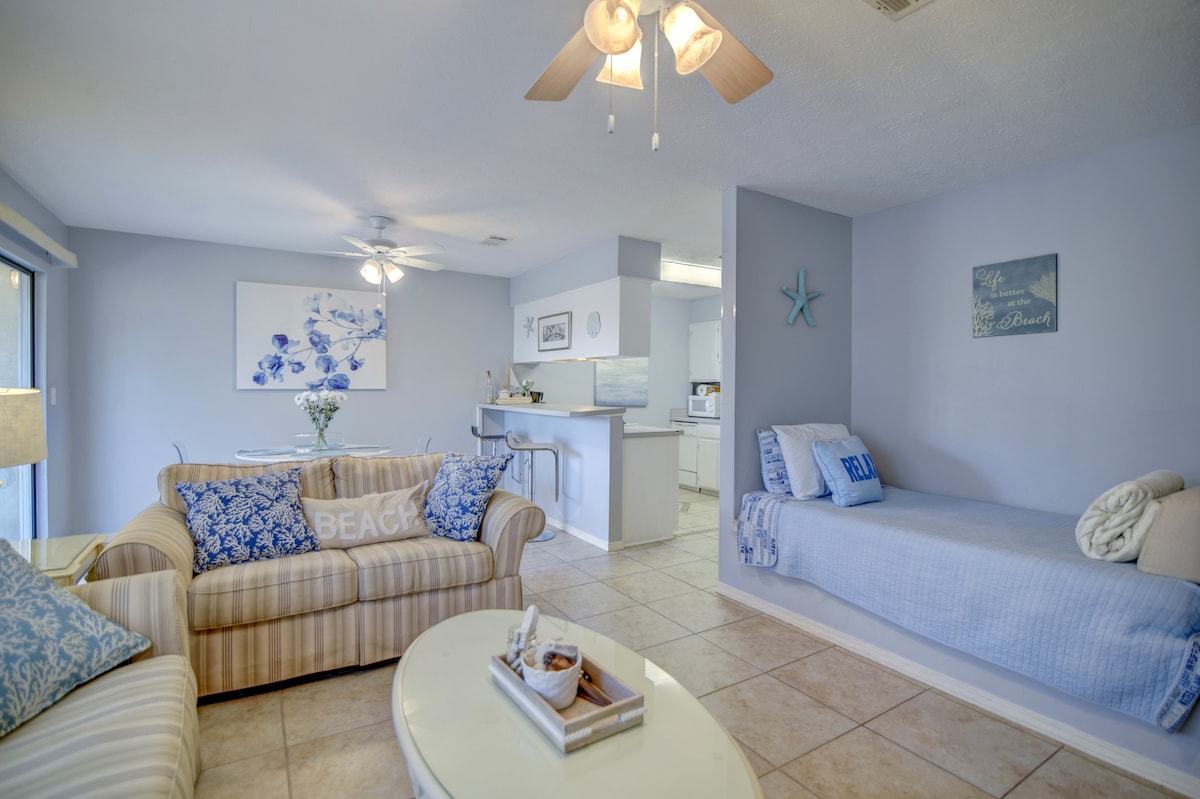 Cozy Beach Condo
For a cozy short-term condo rental in Panama City Beach, look no further than this seaside-themed Airbnb. From the shells and other decorations on the walls to the calming pale blue tones throughout the condo, there's nothing subtle about the vibe this rental is going for. And yet the aesthetic works because it reminds you in the best kind of way that you're on vacation.
Inside this second-floor Panama City Beach vacation rental there is room for four guests. The bedroom features a queen-size bed with a gorgeous wooden headboard, while the living room has a discrete twin bed and a queen-size sofa sleeper. The condo also comes with a Pack 'n' Play cot for families with infants. Guests wishing to cook for themselves will find the fully furnished kitchen and nearby dining table useful.
The condo is located in a family-friendly gated community, and guests have access to communal facilities such as multiple pools, tennis courts, a gym, and hot tub. Further amenities include a private washer and dryer, cable TV, air-conditioning, Wi-Fi, and keyless entry.
View on Airbnb
Gulf-Facing Condo
Enjoy 180° views of the Gulf of Mexico with this deluxe Panama City Beach Airbnb. Floor-to-ceiling windows along one side of its living room and a separate beach-facing balcony give this condo scenery that's sure hard to beat. And that's just the start of what makes this vacation rental so irresistible.
Inside this one-bedroom, one-bathroom condo it's possible to fit up to four people. In the bedroom, you'll find a king-size bed, while there are also two bunk beds tucked away in the main hallway. This setup is probably best suited to couples and parents with young kids. The condo has recently been remodeled with a refined, modern design that uses houseplants and pops of blue to give it a real vibrance and lively energy.
Perfect for longer stays, this condo comes with a proper dining area, a super comfy living area, and a large kitchen equipped with stainless-steel appliances. Guests of the Airbnb enjoy access to the property's many resort facilities, like a gym, various indoor and outdoor pools and hot tubs, and a sauna. Then there are the room amenities, such as a washer and dryer, Wi-Fi, a TV, and air-conditioning.
View on Airbnb
Sleek and Sexy Beachfront Studio
Couples seeking a romantic getaway will absolutely adore this bright and chic Airbnb in Panama City Beach. Italian floor tiles, lots of light, and a modern minimalist design give this fourth-floor condo a really elegant feel that's made even more special by the condo's stunning sunset views over the water. 
With just room for two, this condo at Majestic Beach Towers is clearly meant for couples looking for a private getaway. At 429 square feet, this Airbnb feels spacious, although the large balcony windows that let in plenty of light and the studio's clever design may have something to do with that. Across from its full-size bed, the studio has a small sitting area, while the bench dining table acts as a buffer between the living space and the fully equipped kitchen.
One of the benefits of this Airbnb is the long list of resort facilities that you get access to through the studio, from multiple pools and hot tubs to parking, tennis courts, and even a movie theater. Of course, the room also has amenities such as Wi-Fi, TV, air-conditioning, and the freedom of self check-in.
View on Airbnb
Dreamy Beachfront Paradise
With plenty to do in the surrounding local area, this Panama City Beach Airbnb is great for those wanting a fun-filled vacation. This uncomplicated condo sits on the 13th floor at the Majestic Beach Resort and enjoys views of the city's beachfront along the Gulf of Mexico. Guests will find countless opportunities for water sports nearby, from surfing and waterskiing to scuba diving and dolphin watching, plus plenty of local conveniences.
Red accents throughout this studio condo give it a warm feel and personality that can sometimes be lacking in run-of-the-mill vacation rentals. The condo has room for four people, with a queen-size pull-out sofa in addition to its cozy queen-size bed. Its compact kitchen has everything you need to prepare basic meals, and the kitchen island doubles as a bench table with four stools.
Those looking to relax can head out onto the balcony, read a book, and listen to the surf below. However, there are all sorts of resort amenities to be enjoyed as well, such as indoor and outdoor pools, hot tubs, tennis courts, and an on-site movie theater. To make your stay more comfortable, there are also amenities such as free parking, Wi-Fi, cable TV, and board games.
View on Airbnb
Barefoot Beachfront Condo
Very few vacation rentals in Panama City Beach feel as close to the beach as this beachfront condo. Look out its windows or step out onto the balcony and you have the gorgeous white sand of the beach and the shimmering emerald gulf immediately in front of you.
This condo has the look and feel of a beach bungalow with all the benefits of staying in a condo complex. That means guests have access to the outdoor pool, BBQs, car park, and laundry room while still enjoying accommodation with a bit of personality. The paneling on the walls and obvious seaside décor help transform this condo from cookie-cutter to beach shack in the best possible way.
Couples and solo travelers will find this compact studio condo the best fit. The room comes with a generous king-size bed, a comfy sofa, and a cute little breakfast table for two. In the kitchen you'll find everything but an oven, allowing you to cook up simple meals easily enough. Other comforts provided include a smart TV with HBO, Wi-Fi, air-conditioning, and free on-site parking.
View on Airbnb
Elegant Luxury Apartment
Treat yourself to a restful and elegant vacation with this luxury Panama City Beach Airbnb. All it takes is one look at this beautiful apartment with its mirror-lined living room and chandeliers overhead to know you're in for a special stay.
The apartment is located on the sixth floor of the respected Emerald Beach Wyndham Resort, giving guests a great location from which to explore all that Panama City Beach has to offer. What's great is that attractions like Pier Park are within easy walking distance, while the beach and Gulf of Mexico are right there below your balcony. Of course, guests also get access to all the resort facilities during their time here, including the multiple outdoor pools, hot tubs, bars, and the gym.
Six guests can fit in this one-bedroom, one-bathroom apartment; the bedroom offers a large king-size bed, the hallway has a pair of bunk beds sitting along it, and the sofa in the living room pulls out into a queen-size bed. Even with six people, though, the apartment is sure to feel spacious thanks to the open-plan living area, ample seating, and large full kitchen. More amenities worth mentioning include a private washer and dryer, Wi-Fi, two TVs, and self check-in.
View on Airbnb
FlipFlopsOn II Condo
A soft, almost ethereal aesthetic makes this Airbnb in Panama City Beach unlike any other you're likely to find in the area. It actually looks like it would belong in California rather than a short walk from both Inlet Beach and Rosemary Beach. But that's what makes this studio condo such a fun pick for a Florida beach vacation and a great alternative to other beach house rentals in Panama City Beach.
This dreamy ground floor condo sleeps four guests and has a few options for sleeping arrangements. The main living space comes with a luxurious queen-size bed and a California queen-size sofa bed, while there are also two bunk beds nestled in the hallway area. As such, this condo works just as well from a romantic getaway as it does a glam group trip.
The balcony of the condo features a giant two-person chair and views over to the shared swimming pool and grilling pavilion. In the room you'll find a compact but handy kitchen, a breakfast bar, and a small dining table, giving you the option to dine in if you like. Further amenities include beach gear, Wi-Fi, cable TV, air-conditioning, a Pack 'n' Play, and board games.
View on Airbnb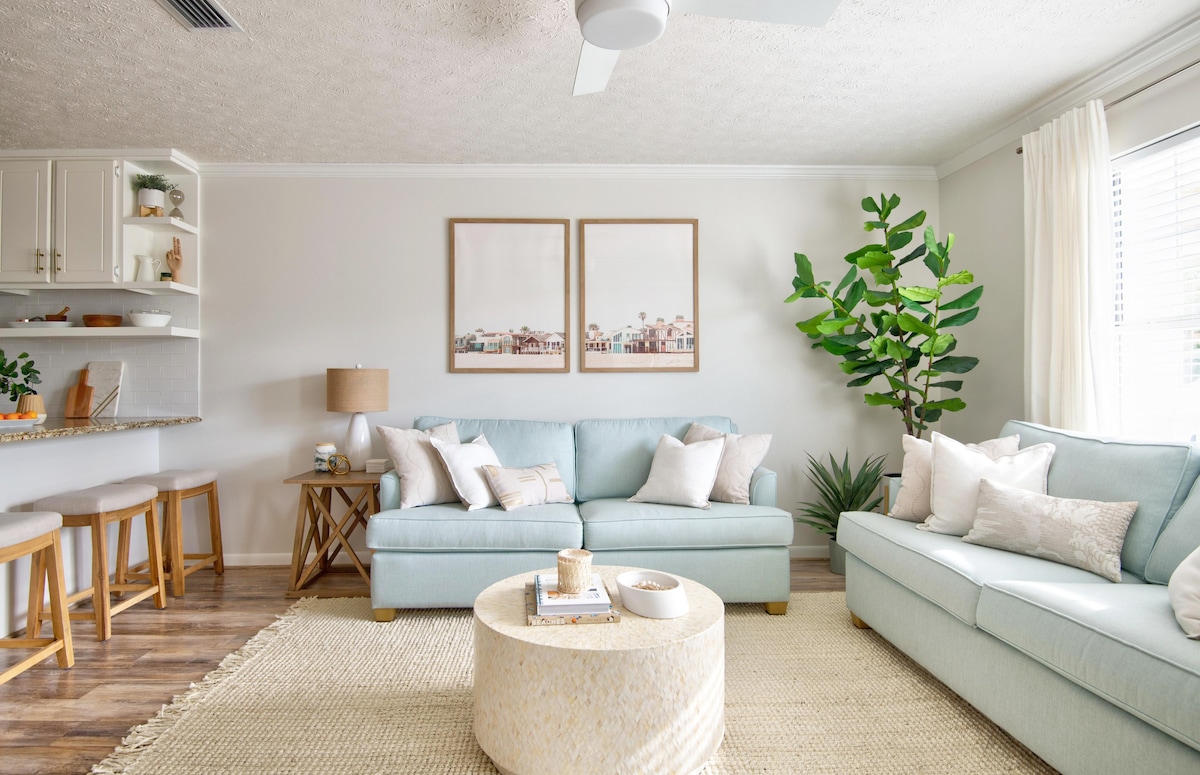 Stylish and Inviting Condo
It's hard to imagine anyone having trouble destressing in this soothing coastal rental. Light, neutral tones and plenty of greenery give this stylish one-bedroom condo a relaxing feel that should make getting into vacation mode super-easy. It also boasts an excellent location, with the nearest beach access just a two-minute walk away.
This ground floor unit sleeps five adults and children, while there's also a Pack 'n' Play for those traveling with an infant. The master bedroom offers a decadent king-size bed, the living room has a sofa bed, and there are two bunk beds concealed away in the hallway. For groups of five, it helps that the condo's living room is quite open and spacious and that there's ample seating at the dining table and kitchen bench.
The kitchen is modern, like everything in the condo, and features stainless-steel appliances and plenty of bench space. Other amenities provided include a washer and dryer, beach gear, Wi-Fi, cable TV, air-conditioning, and self check-in. Guests also have access to the community pool and one free parking space.
View on Airbnb
Coastal Cabana
Beachfront condos like this Airbnb are a great alternative to renting a beach house in Panama City Beach. Not only do they offer the same easy beach access as a beach house, you also get access to their many resort amenities, which in this instance includes an outdoor swimming pool, fitness center, parking garage, and outdoor dining area with BBQ grills.
This studio condo comes with two queen-size beds in the one room and can therefore accommodate four guests. Families with kids or two guests who don't want to share will find these sleeping arrangements the most suitable. The casually decorated studio also offers a small sitting area, a dining table, and a fully equipped kitchen that conveniently comes with a dishwasher. Behind a sliding barn door, you'll find its modern bathroom with a bathtub-shower.
An umbrella, beach chairs, a cooler bag, and beach towels are provided for when guests wish to head down to the beach. Other amenities include communal laundry facilities, Wi-Fi, cable TV, air-conditioning, and self check-in.
View on Airbnb
The Hidden Gem Apartment
Eclectic is definitely the best way to describe this unusual but inviting Airbnb in Panama City Beach. From its eye-catching patterned tiles on the floor to the little decorations scattered throughout, the boho chic style of this studio apartment is perfect for guests seeking a place to stay that feels special and different. Also nice is this Airbnb's extremely friendly pet policy, with no pet fee and a small fenced-in area for dogs to roam about.
Four people can stay in this studio apartment as it has a queen-size bed and a sofa bed for two in the main living space. The space features a cozy living area, a small dining table, and a fully equipped kitchen. While the bathroom offers a modern walk-in shower, there's still plenty of color in the room, in keeping with this Airbnb's aesthetic.
The apartment, while attached to the main house of superhost Desi, has a private entrance and its own small yard. There is also a nice porch area outside the front door, where guests can sit outside with a coffee in the morning. For those with accessibility concerns, there is a small step up to the front porch, as well as three steps leading to the bathroom. Board games, Wi-Fi, a TV, air-conditioning, and self check-in are among the other amenities.
View on Airbnb
That wraps up our list of some of the best available Airbnbs in Panama City Beach. Hopefully you can now see why choosing to stay with Airbnb on your next vacation to this part of Florida is such a good idea.
Reader Interactions