Road Affair is reader-supported and may earn commission from purchases made through links in this article.
Minnesota is known as the Land of 10,000 Lakes, and for good reason. The state is home to some of the United States' most pristine forests and landscapes, making it an ideal place to visit for outdoor enthusiasts and campers. Of course, there is more to Minnesota than just nature. Highlights include the Twin Cities of Saint Paul and Minneapolis, which have numerous attractions, fantastic shopping, and Michelin Star restaurants.
We here at Road Affair understand that planning a trip can be stressful. With so many vacation homes for rent out there, it can be hard to narrow it down to just one. But we are here to help. We have carefully curated a list of the best Airbnbs in Minnesota. To ensure you are getting the crème de la crème of homes, we have made sure all of the rentals listed are hosted by superhosts. For those new to Airbnb, superhosts are rental owners with a history of outstanding hospitality. 
Luxury Treehouse Outside Minneapolis
Did you ever dream of camping out in a treehouse with your friends when you were a kid? Well, if so, it's time to make that dream come true at this phenomenal Airbnb near Minneapolis, Minnesota. 
This luxurious rental is located on a farm beside a 500-acre park and consists of four decks, a secret hidden room, and intricate wood carvings. The amount of detail and thoughtful furnishing in this rental is enough to dazzle even the most well-seasoned traveler. 
In the bathroom, guests can relax with a glass of wine in the two-person Jacuzzi or rinse off in the walk-in rain shower. The full kitchen has a cozy breakfast nook, as well as a breakfast bar, a coffee maker, and a dishwasher. 
In the bedroom, there is a plush queen-size bed and an electric fireplace with a table and chairs beside it so that guests can cozy up with a glass of wine. There is a pullout couch in a secret den room as well, making this rental suitable for four people.
This treehouse rental in Minnesota is just a 15-minute drive from Afton Alps Ski Resort and roughly a 30-minute drive to the museums in Central Minneapolis and the University of Minnesota. 
View on Airbnb
Cozy Cottage in Two Harbors
This quaint house is the ideal Airbnb for those looking to rent a cabin in Minnesota for a peaceful weekend getaway. 
This pet-friendly cabin rental in Minnesota is located in the small town of Two Harbors, outside of Duluth on the shores of Lake Superior. The town has many charming attractions for visitors to discover, such as breweries, cozy cafés, and beaches. A short drive outside the city limits will take you to Superior Hiking Trailheads and Split Rock Lighthouse State Park.
The cabin was constructed in 1927 but has been completely remodeled to reflect a modest yet modern stay. The home has an open floor plan with no stairs, making this ideal for those with mobility impairments. In the bedroom area, there is a gorgeous custom-made solid oak platform bed complete with a queen-size Beauty Rest Black mattress. Guests can choose a book from the handmade bookcase and settle in on the pullout for a read. 
The full kitchen comes well stocked with all the essentials, including coffee filters. In the bathroom, there is a walk-in shower, and superhost Daniel also supplies the shower essentials such as soap, shampoo, and conditioner. 
View on Airbnb
Forest Retreat Near Two Harbors
If you are looking to escape to the woods and reconnect with nature, why not rent a treehouse in Minnesota? 
The home was recently built in 2019 and is surrounded by 30 acres of picturesque forest. In the summer, guests can spend their days hiking the property's trails and picking blackberries from nearby berry bushes. In the winter, the trails are groomed, making it ideal for cross-country skiing and snowshoeing. Guests also have exclusive access to a gym, shower facilities, and a sauna at the Two Harbors Bodies in Balance 24/7 fitness center. 
Inside the home, there is a kitchenette complete with a minifridge, watercooler, toaster oven, coffee maker, and microwave. Guests can enjoy their meals on the deck overlooking Lake Superior or inside at the dining table. The living room has a pullout couch, perfect for lounging and streaming favorite movies and shows on the Roku TV. In the bedroom, two large picture windows give fantastic woodland views from the comfort of the queen-size bed. 
This treehouse for rent in Minnesota does not come with a shower, but it does have an outhouse close to the house. Guests can use the shower facilities in the nearby gym or pay to use the showers at a nearby campground. 
View on Airbnb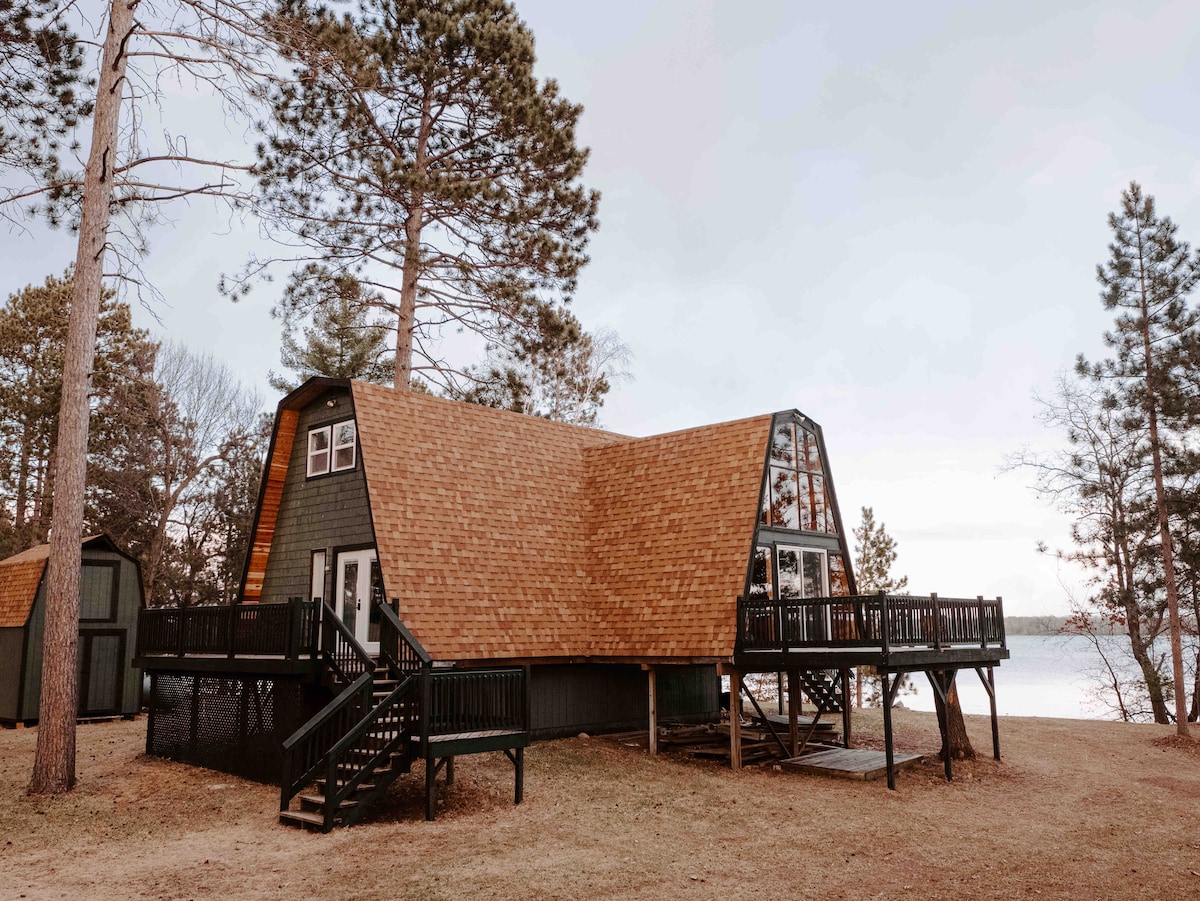 A-Frame on Lake Adney
This classic A-frame lake house rental in Minnesota is the perfect getaway spot for families or groups of friends looking to enjoy some water activities. 
Superhost Taylor set out to create a tranquil Scandinavian-inspired space that allows guests to reflect and rejoice in nature, and boy did she nail it. In the living room, floor-to-ceiling windows look out onto the deck and allow for beautiful wooded views from the comfort of the large sectional couch. The full kitchen has plenty of counter space for cooking for large groups, a breakfast bar, and a gorgeous wooden bench dining table that can easily seat six people.
Upstairs, there is a spacious loft-style bedroom with a king-size bed and two rocking chairs where guests can enjoy stunning lake views. In the second bedroom downstairs, there is a comfortable queen-size bed and a set of bunk beds, making this rental ideal for up to six guests. 
Outside, there is 150 feet of lakeshore access and a private dock for fishing and swimming. On the other side of the lake, there is a marina where guests can drop in their boats for a day on the water. 
View on Airbnb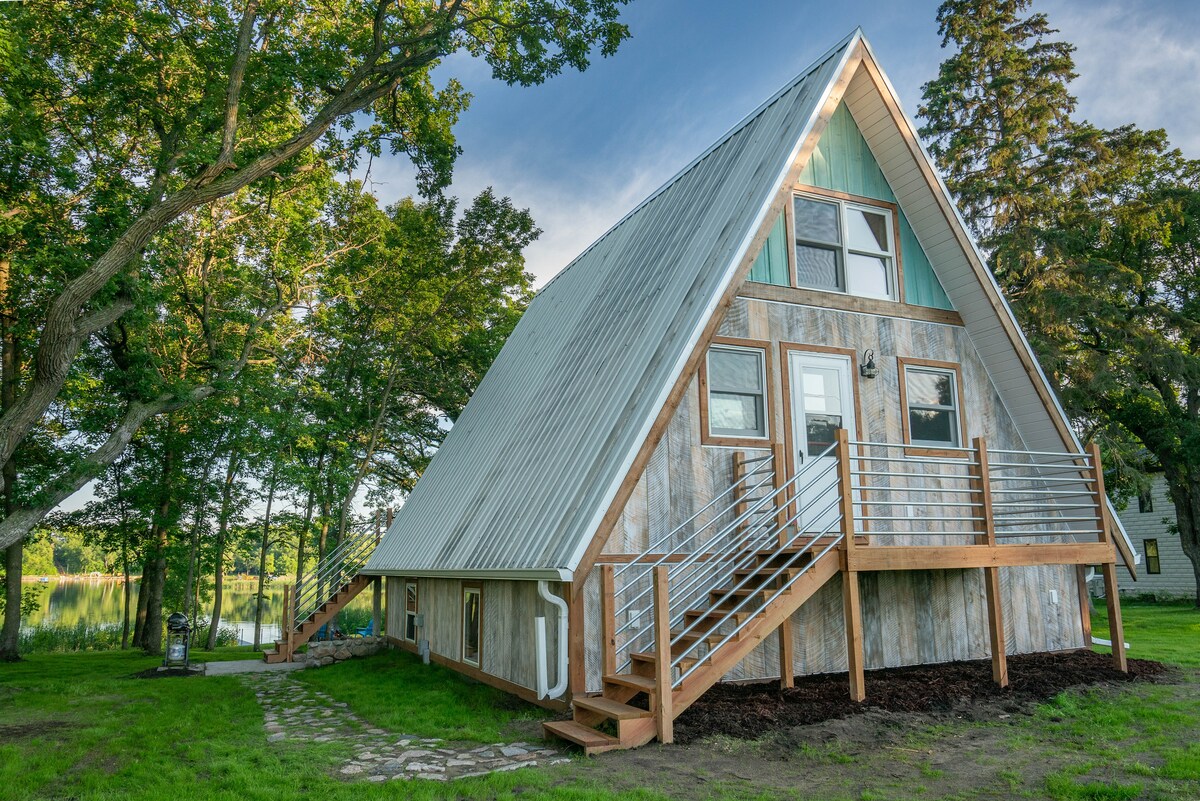 Ethel Lake Lodge
Superhost Jack would like to invite you and your family to his newly remodeled vacation home for rent in Minnesota. 
This Airbnb in Minnesota is both pet-friendly and can accommodate as many as ten guests. A beautiful set of spiral stairs lead to the master loft suite, where there is a luxurious king-size bed, a set of lounge chairs, and a vanity table for getting ready. Downstairs, there are three more bedrooms. The first bedroom has bunk beds, the second has a double bed and a single bed, and the third has a king-size bed. 
In the full kitchen, there is plenty of space for cooking for large groups. Guests can enjoy their meals at the dining table or outside on the deck. There are two full bathrooms in the house, both with a shower and tub. 
Guests can launch their boats at the marina less than a mile away and enjoy a day of fishing, waterskiing, or tubing. Jack also has a pontoon available to rent for those who don't own a boat. After a day of water activities, guests can gather around the large firepit and roast marshmallows.
View on Airbnb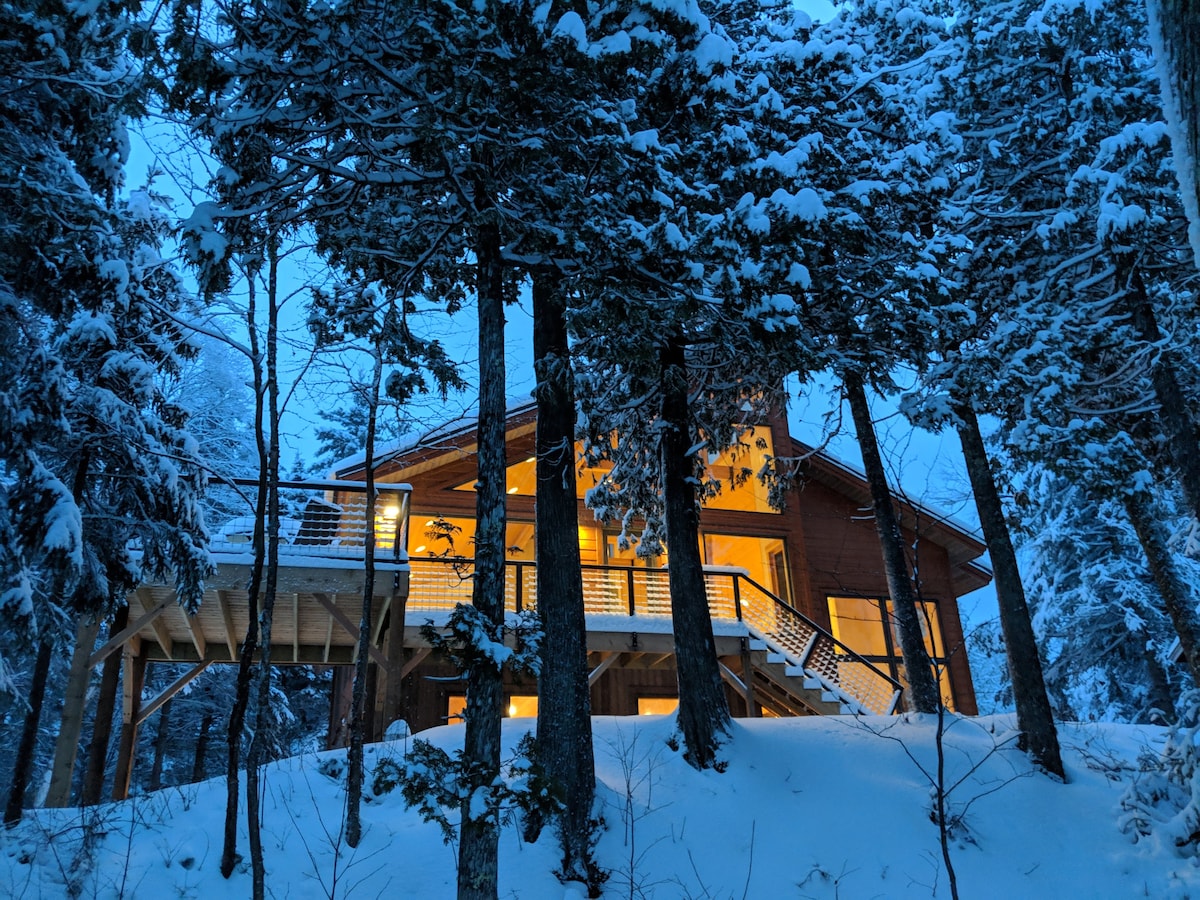 Spacious Lake House With a Sauna
This three-bedroom cottage has so many picture windows that you will have fantastic lake and forest views no matter where you are in the house. 
The interior of the home is designed in a Scandinavian style and features striking handcrafted wooden columns and heated floors. The house has an open-concept layout with an electric fireplace in the center. In the living room, there are two couches, one facing a picture window and the other facing a flatscreen TV. The full kitchen is well equipped for cooking for larger groups and has a breakfast bar and a dining table. The screened-in porch is the perfect spot to enjoy a morning cup of joe or an evening cocktail. 
All three bedrooms boast luxurious queen-size beds, making this rental suitable for six. There are three bathrooms as well, two with large walk-in showers and another with a large soaking tub. 
Guests will have full access to the property, including a separate sauna building, 500 feet of lakeshore access, a firepit, canoes, a barbecue, and a private dock. Superhosts Ann and Kari also allow for long-term stays. 
View on Airbnb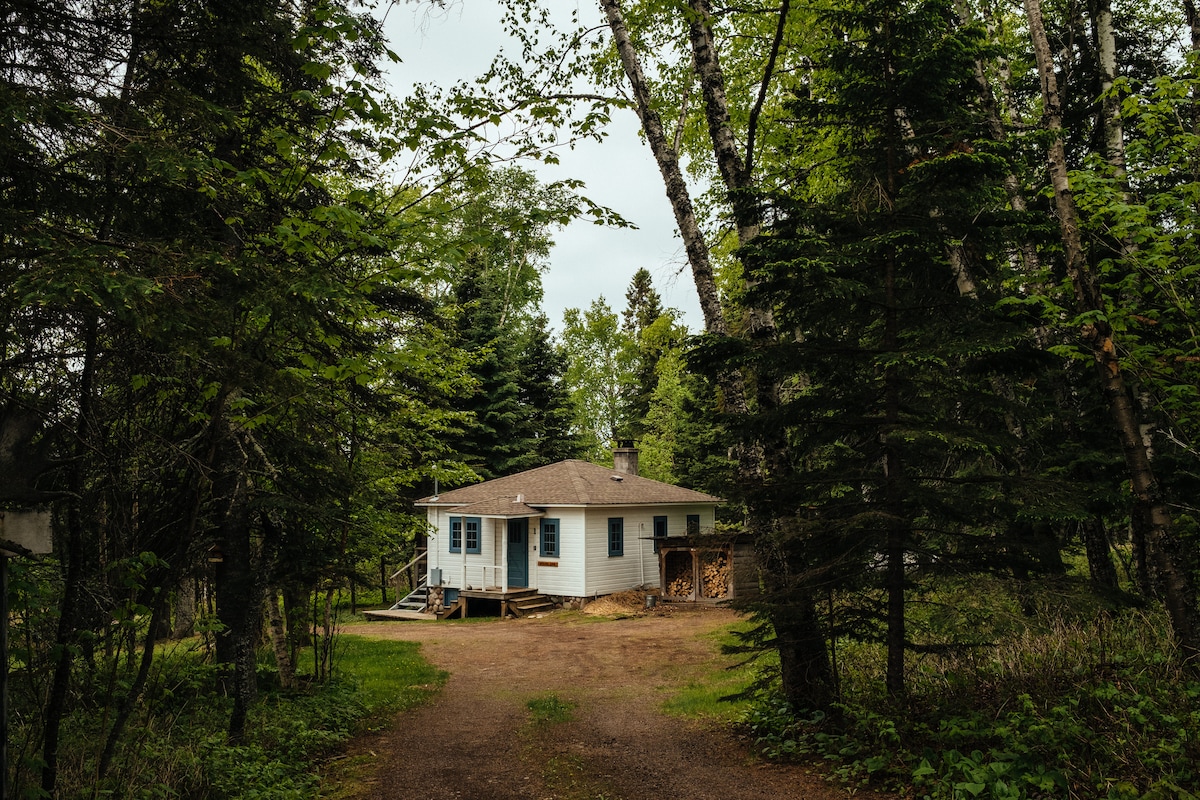 Woodland Retreat Near Lutsen
This secluded cottage near Lutsen is a great short-term rental in Minnesota for families or couples looking to escape to nature.
The house has a rustic feel with a cobblestone fireplace and an open floor plan. In the living room, there is a small library of books, a pullout couch, and a stack of firewood and kindling, so guests can easily start a fire in the fireplace. The full kitchen is well equipped with a brand new BonaVita coffee maker and a beautiful four-person dining table. In the bedroom, there is a comfortable queen-size bed. 
Guests can enjoy a cold beer or a cup of coffee on patio furniture on the deck while watching hummingbirds flutter around the feeder. The firepit is the perfect place to bring a guitar and start a campfire sing-along under the unspoiled night sky. 
Those looking to enjoy outdoor activities like hiking, skiing, and mountain biking are in luck. Lutsen Mountain Ski Resort, White Sky Trailhead, and Moose Mountain are all within a 15-minute drive of the rental. 
View on Airbnb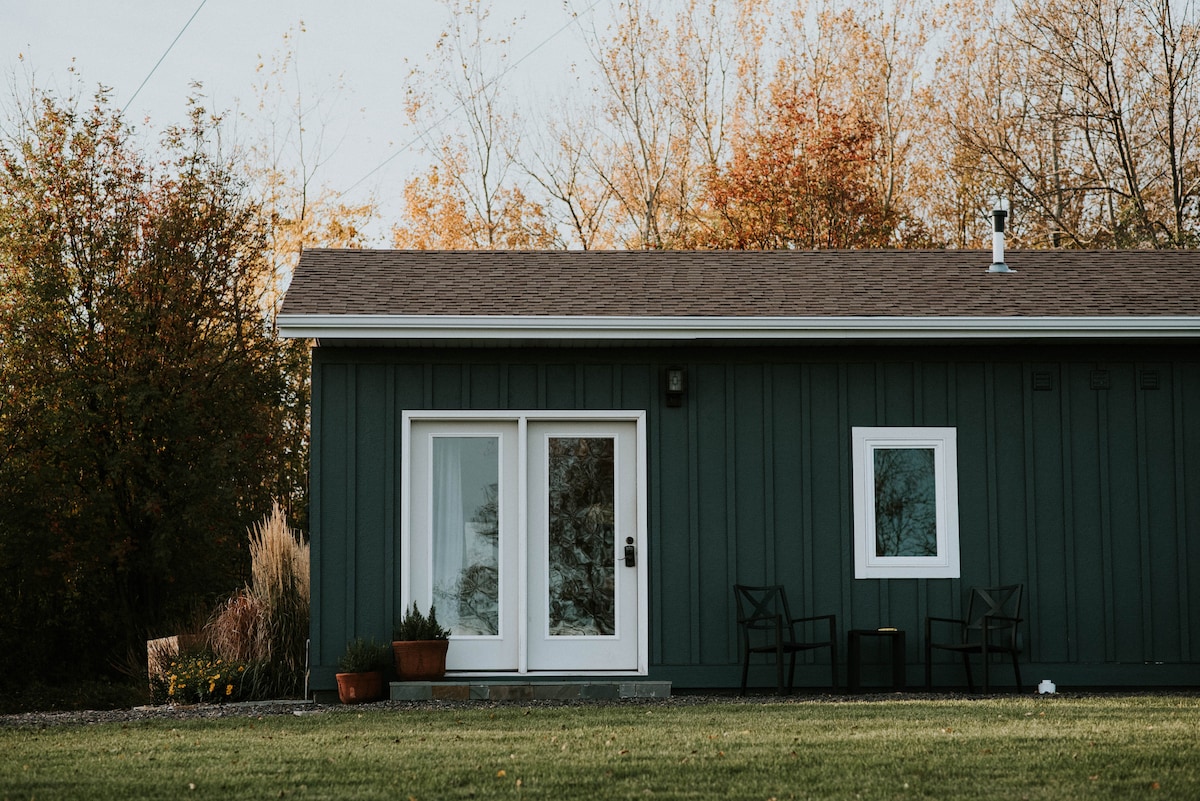 Cottage With Panoramic View of Lake Superior
This is hands down one of the best Airbnb rentals in Minnesota because of its phenomenal panoramic views of Duluth, the St. Louis River, and Lake Superior. 
Spend your evenings admiring the sparkling city skyline while roasting marshmallows over the property's firepit, or enjoy a glass of wine under the well-lit pergola. The home has excellent access to hiking trails, biking trails, downtown Duluth, and nearby beaches. 
Inside, there is a full kitchen complete with a dishwasher, drip coffee maker, and a breakfast bar. At night, guests can settle down on the sofa bed and stream a movie on the Smart TV or curl up beside the fireplace with a book from the home's small library. There is also a collection of board games to choose from. 
In the bedroom, there is a comfortable double bed and a small desk, perfect for those looking to get some work done while on holiday. Don't fret if you're traveling with little ones and find they are dirtying their clothes; the cabin comes with a washer and dryer. There is also a tub and a shower in the bathroom, so parents can easily bathe the kids. 
View on Airbnb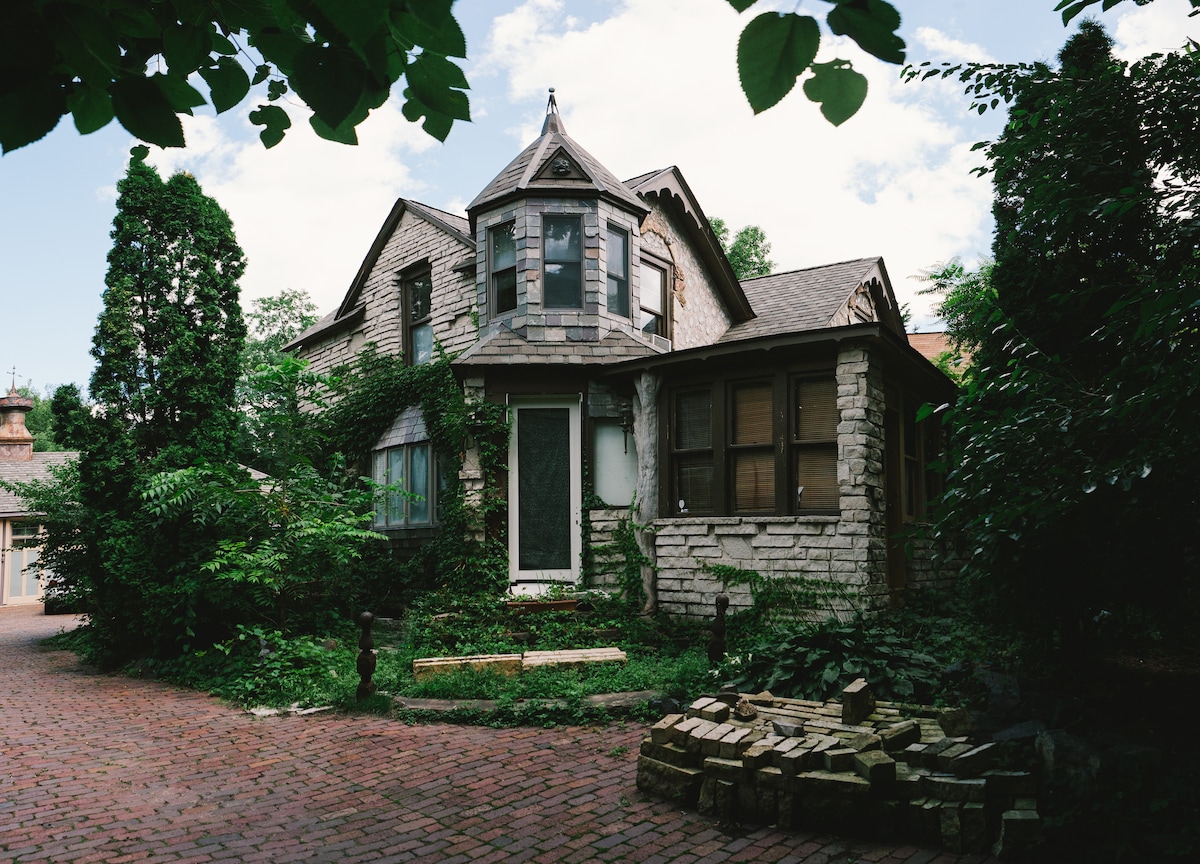 Private Room in Castle Manor
This medieval-looking home in Saint Paul has to be one of the most unique Airbnbs in Minnesota. 
The house was built in 1883 and remained a family house for generations. Many locals noted how odd the building was, and it was once voted the most mysterious home in Saint Paul. The interior boasts a collection of oddities and vintage furnishings, adding to the ominous appeal of the space. 
Outside, guests can enjoy a cup of coffee in the enclosed shared courtyard that features a firepit and a picnic table. The private bedroom, or "master chamber," is quite spacious and includes a queen-size bed, arched doorways, and a washer and dryer. An air mattress can also be provided, making this rental suitable for four people.
Guests share the rest of the space in the home with Sean and his pet Doberman named Scorch. The living room has a collection of comfortable rustic furniture, a TV, and a plethora of lush house plants. In the full kitchen, guests will find everything they need to prepare a meal. After a day of touring the city, guests can return and soak in the luxurious Jacuzzi tub. 
View on Airbnb
Timberframe Cabin With a Sauna
If you are looking to book a romantic getaway, then this peaceful timberframe Airbnb in Grand Marais, Minnesota, is for you. 
The cabin is nestled on 10 acres of wooded property on Lake Superior within a short drive to downtown Grand Marais. The home is also a short drive to many popular hiking trailheads such as Devil's Kettle Falls, Pincushion Mountain, and Superior Hiking Trailhead. 
The house features a wrap-around cedar deck with outstanding views of Lake Superior. Guests can also enjoy lake views from the comfort of the couch or grab a cup of coffee and wander down to the pebble beach. The inside of the home has many large picture windows and a cathedral ceiling that allows for plenty of natural light while making the space seem larger than it is.
In the living room, guests can stream movies and shows on the flatscreen TV with an Apple TV connection box. Upstairs, there is a loft-style bedroom accessed by a ship's ladder with a comfortable queen-size bed and a TV. The full kitchen includes all of the essentials for preparing a meal and a small two-person breakfast table. 
Guests will have access to a bonfire pit and a brand new sauna house at this Minnesota Airbnb. 
View on Airbnb
Related: 15 Best Cabin Rentals in Minnesota, USA
Lakeside Tiny House in Faribault
This stunning tiny house on Roberds Lake is the perfect vacation rental in Minnesota for those looking to enjoy some summer sun and water activities. 
The best part of this Airbnb in Minnesota is the massive deck that features a firepit, sun loungers, a patio dining set, and a barbecue. Guests will have access to the rental's kayaks and canoes and can spend their days swimming and paddling on the lake. After a day of adventuring, guests can take an afternoon nap on the hammock overlooking the water. 
The inside of the home has been designed for maximum space. In the living room, there is a collection of board games, a Smart TV, and a small library of books, so on rainy days guests can still be entertained. The full kitchen is well equipped with a toaster, coffee maker, complimentary coffee, and more. There is one loft-style bedroom in the home with a double bed, making this rental suitable for two guests. 
This unique place to stay in Minnesota is only a 10-minute drive to Vintage Escapes Winery and Vineyard. Downtown Faribault is also just a short drive away. 
View on Airbnb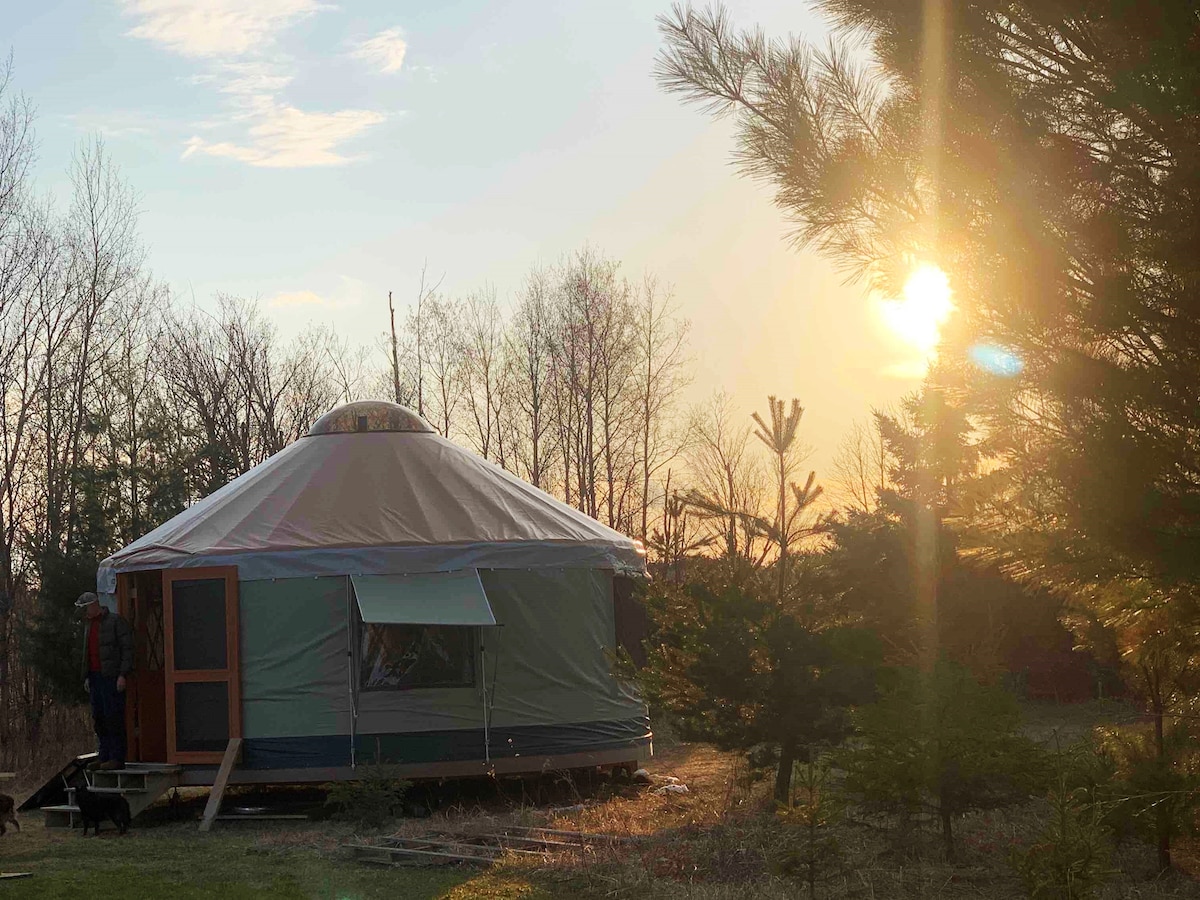 Yurt Near Jay Cooke State Park
If you are looking to experience something truly unique, consider glamping in Minnesota with this cozy yurt outside of Duluth. 
If you are unfamiliar with the term glamping, it is camping but with more modern luxuries such as electricity and a proper bed. The yurt is made from a water-resistant canvas and is quite spacious inside. Guests can snuggle in the king-size bed or warm up on the lounge chairs beside the propane fireplace while enjoying a glass of wine.
Food is not allowed in the yurt so as to deter animals from intruding on guests. Instead, there is a communal eating area on the property where guests can cook. Alternatively, there are restaurants nearby.
The yurt is solar-powered, allowing for ambient lighting and phone-charging. There is a portable water tank outside where guests can wash their hands and brush their teeth. Upon arrival, a small cart is provided to help bring bags and such to the yurt, which is 300 yards from the parking lot. Guests will have access to a small Porta Potty located about 100 yards from the campsite. 
View on Airbnb
Bubble Camp in Sartell
Have you ever wanted to fall asleep under a blanket of stars but found that the bugs can be too much? Well, that is not an issue at this translucent bubble campsite outside of St. Cloud. 
Guests will have all the privacy of nature in this unique Airbnb in Minnesota. The campsite is situated beside a creek with a small firepit that is the perfect setting for a romantic getaway. In the bubble, there is a plush double bed with an electric blanket for cooler nights. A fan can also be provided for warmer nights, but there is no air-conditioning. There are a few trails guests can explore and a bike path near the house for daytime cycles. At night, the bubble looks breathtaking as the lighting creates a magical look to the space. 
This Minnesota Airbnb is located in Sartell, close to many parks and golf courses. St. Cloud is home to many family-friendly and fun attractions such as Stearns History Museum, Summerland Family Fun Park, and Clemens Garden, all of which are less than a 20-minute drive away. 
View on Airbnb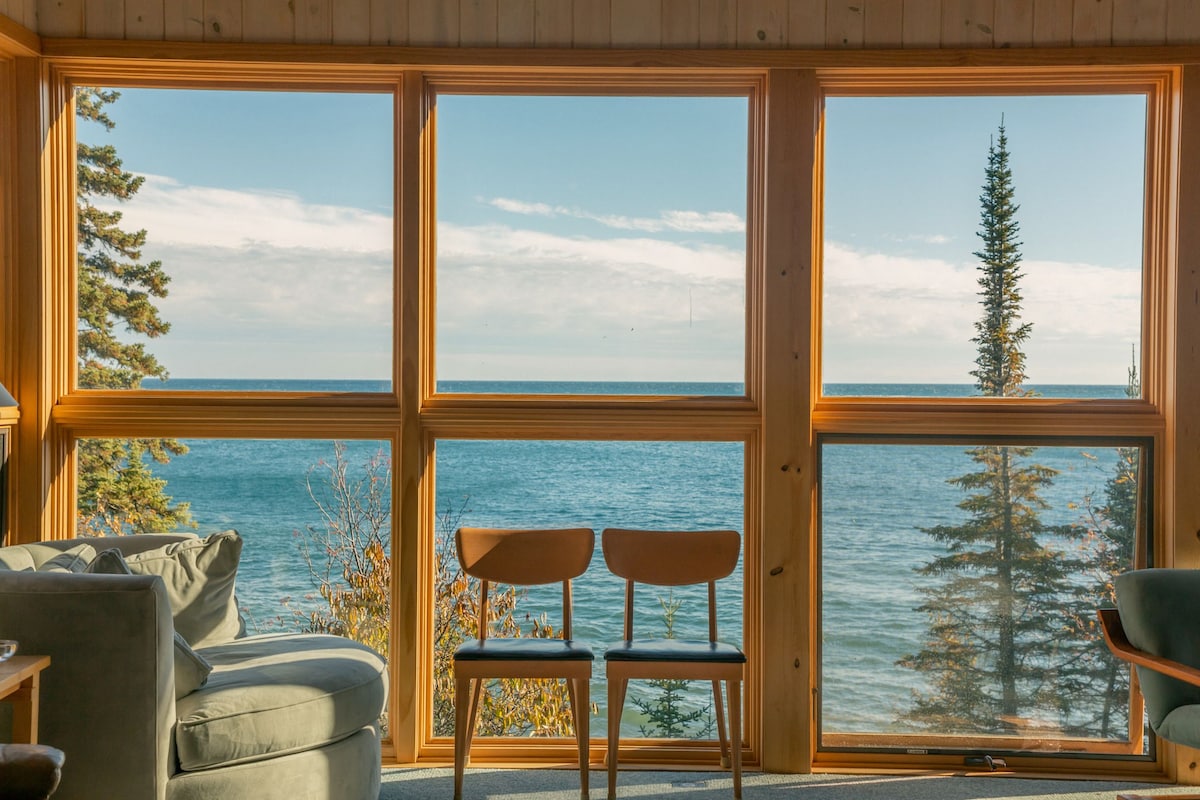 Pet-Friendly Cottage in Lutsen 
This is one of the best Minnesota Airbnbs for larger groups looking to spend some time on Lake Superior. 
The entirety of the house is fitted with heated floors and features high ceilings with exposed wood beams. This three-bedroom lake house has two twin beds, two queen-size beds, and a pullout couch, making this rental suitable for up to eight guests. In the full kitchen, guests will find everything they need to prepare a meal with plenty of countertop cooking space. The living room boasts massive wrap-around picture windows that offer panoramic views of Lake Superior. 
The property is nearly unmatched in the activities it offers as it has two private pebble beaches, kayaks, and a tranquil creek with a bridge. Guests can also head out to the berry patch and pick rhubarb, lupin, and wildflowers. After a day of enjoying the nearby nature, why not start a fire in the firepit and gather the group for some good old-fashioned s'more-making? 
This Minnesota Airbnb is a classic cottage rental with a modern twist. Grand Marais is only a 15-minute drive from the rental, and there are many hiking trailheads nearby. 
View on Airbnb
Jail Haus Blues
You might not have expected a 19th-century jail cell to make our list of the best Airbnbs in Minnesota, but once you see the renovations done to this historic building, you may reconsider. 
Inside, the original jail cell bars are still in place, making for a fun and unique spot for kids to sleep and play. There is a set of bunk beds in the cell and a queen-size bed outside the cell for those who are less adventurous. In the bathroom, there is a spacious walk-in shower that is also wheelchair-friendly. Guests will be able to warm up meals with the microwave in the kitchenette and make a morning cup of coffee with the Keurig coffee maker. 
Guests can stream their favorite movies and shows on the Smart TV mounted beside the bed or read about the former inmates of the jail on the wall's history board. 
Behind the jail, there is a playground and picnic tables where families can enjoy the day. Mystery Cave State Park is located a short 15-minute drive from the rental. 
View on Airbnb
There you have it, the best Airbnbs in Minnesota. Each rental offers a unique and comfortable holiday, whether it's glamping in the woods, enjoying the water at a lake house, or living out your childhood dream of staying in a treehouse. So, which adventure will it be?