Road Affair is reader-supported and may earn commission from purchases made through links in this article.
Opulent architecture, famous historic sites, and world-renowned fine dining await in the luxurious oasis known as Marrakesh, also spelled Marrakech. The city's captivating ambiance is largely owed to its incredible old city, also known as the Medina, where red walls surround bustling old souks and rich historic and cultural experiences. Outside of the red walls, you'll find an abundance of luxury and sprawling natural scenery. 
In a city known for its luxurious accommodations, you're bound to find some pretty incredible places to stay. To help you find that perfect rental with excellent ratings and a magical atmosphere, we've created the following list of the best Airbnbs in Marrakesh. Most of the rentals on this list are presided over by Airbnb superhosts – hosts with a proven track record of providing outstanding hospitality. They all also come equipped with high-speed Wi-Fi, and some even boast Airbnb plus status, which is an exclusive program for top-rated Airbnbs that have been verified for quality through in-person inspection. 
Related: 3 Days in Marrakech: The Perfect Marrakech Itinerary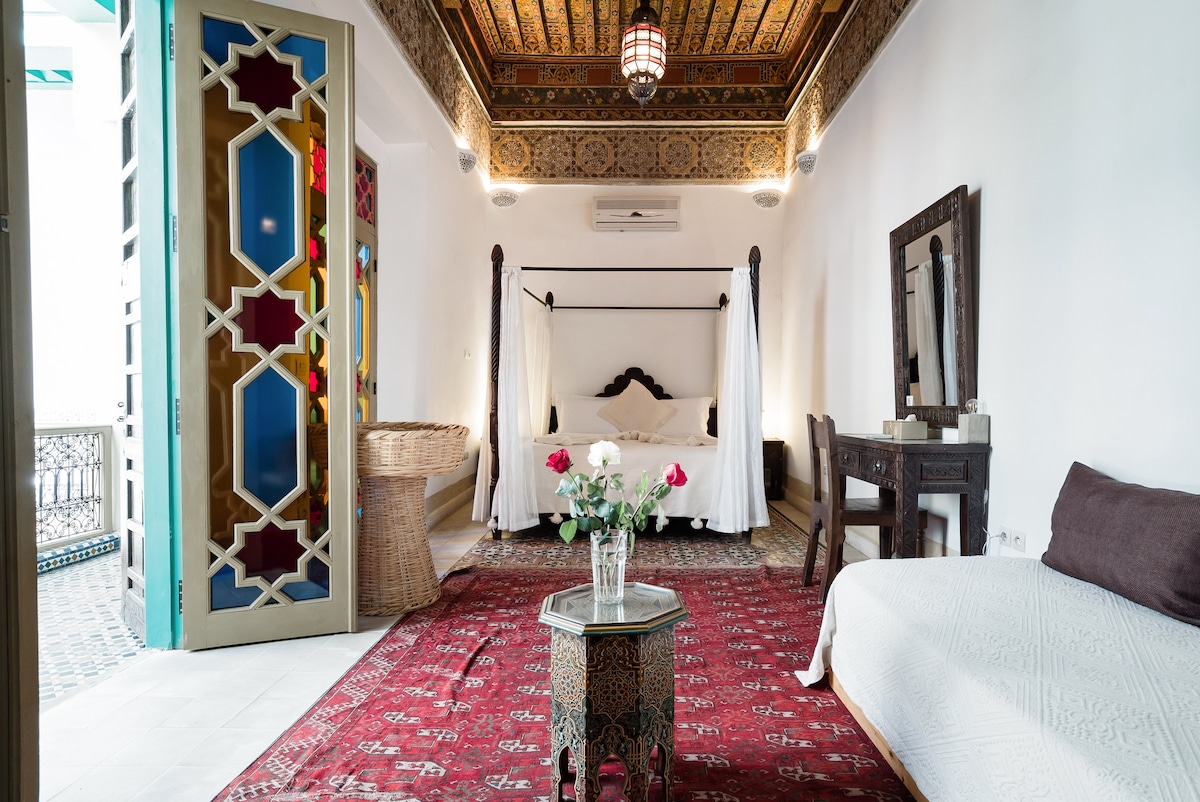 Traditional 17th-Century House 
If you're looking for an Airbnb in Marrakesh to celebrate a special occasion or you're just traveling with an extra-large group, this private Moroccan-style house is the vacation home for you. 
With 11 bedrooms and 6.5 bathrooms, this architectural masterpiece can comfortably accommodate up to 16 guests. Stone finishes, colorful accents, and stained glass details add to the home's Old World charm, and traditional décor made by local artisans brings the spacious interior to life. Guests also have access to a TV room in a historic cave and a massive roof terrace with shaded seating, dining tables, a ton of greenery, and gorgeous painted finishes and decorations. If you're traveling with an even larger group or you're interested in booking the house out for an event, there is a similar connected residence available that can sleep an additional 24 guests. 
Conveniently situated in the Medina, Marrakesh's old town, the Airbnb Plus is within walking distance of the popular square and marketplace known as Jemaa el-Fnaa. With a desirable location and an interior fit for royalty, the private paradise is certainly one of the Best Airbnbs in Marrakesh. 
View on Airbnb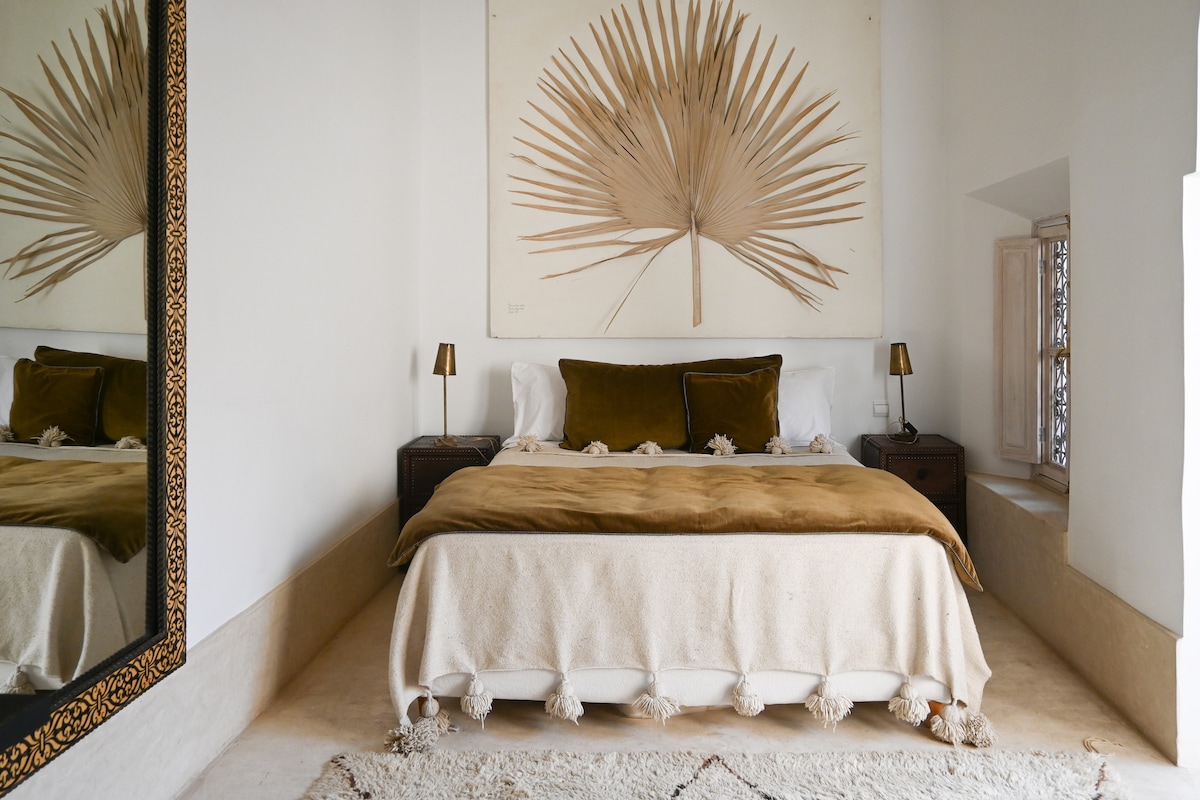 Tranquil and Chic House Near Museums
Another stunning Airbnb Plus fit for large groups, this Moroccan-style vacation rental in Marrakesh makes the perfect launchpad for exploring the surrounding historic sites.
A maximum of 13 guests can stay in this five-bedroom, 5.5-bathroom dreamhouse, where ivory-colored finishes and traditional artwork add to the tranquil atmosphere of the inviting interior. The rental also comes with a ton of comfy and convenient features such as an indoor fireplace, a dishwasher, a washer and dryer, and plenty of private outdoor space. The large shaded terrace is equipped with sun loungers, a Smart TV, and a cozy daybed, and there is a partially enclosed patio with plenty of space to sit and eat in a breathtaking atmosphere. 
Situated in the heart of the Medina in the Mouassine District, this Airbnb is within walking distance of Jemaa el-Fnaa and Place des Épices. There are also plenty of artisan shops, restaurants, and museums nearby, 
View on Airbnb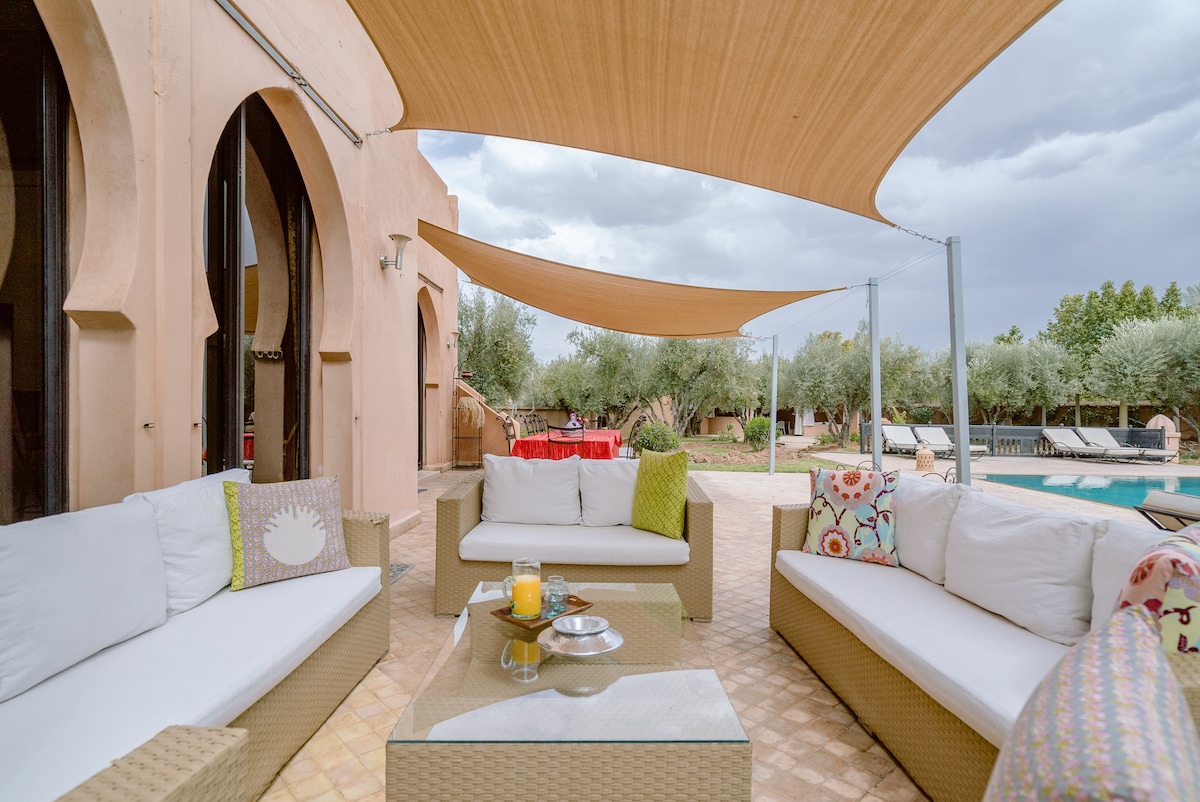 Poolside Villa on an Olive Grove 
Relax poolside at this enchanting villa, offering an elegant interior and luxury around every corner. 
Another great option for large groups, this five-bedroom, 5.5-bathroom villa can accommodate up to 12 guests. When you first approach the house, you'll get the feeling that you're entering your own private palace. The villa is set in a stunning olive grove where refreshing greenery and towering palm trees abound. Inside of the home, you'll find high-end furnishings, traditional décor, and massive windows bringing in a flood of natural light. There is plenty of common space for everyone to hang out as a group, and additional features include a dry bar, an indoor fireplace, granite finishes, Jacuzzi tubs, and a laundry room. There is also plenty of outdoor space such as a top-floor terrace with sun loungers and stunning views, a second terrace with a pool, a covered stone patio, a dedicated outdoor dining room, and even a playground with a trampoline. 
This one-of-a-kind Marrakesh Airbnb Plus is nestled on the outskirts of the city, about a 20-minute drive away from the center. This makes it the perfect choice for a private and relaxing getaway that still offers easy access to restaurants, nightlife venues, and fun outdoor activities like horseback riding. 
View on Airbnb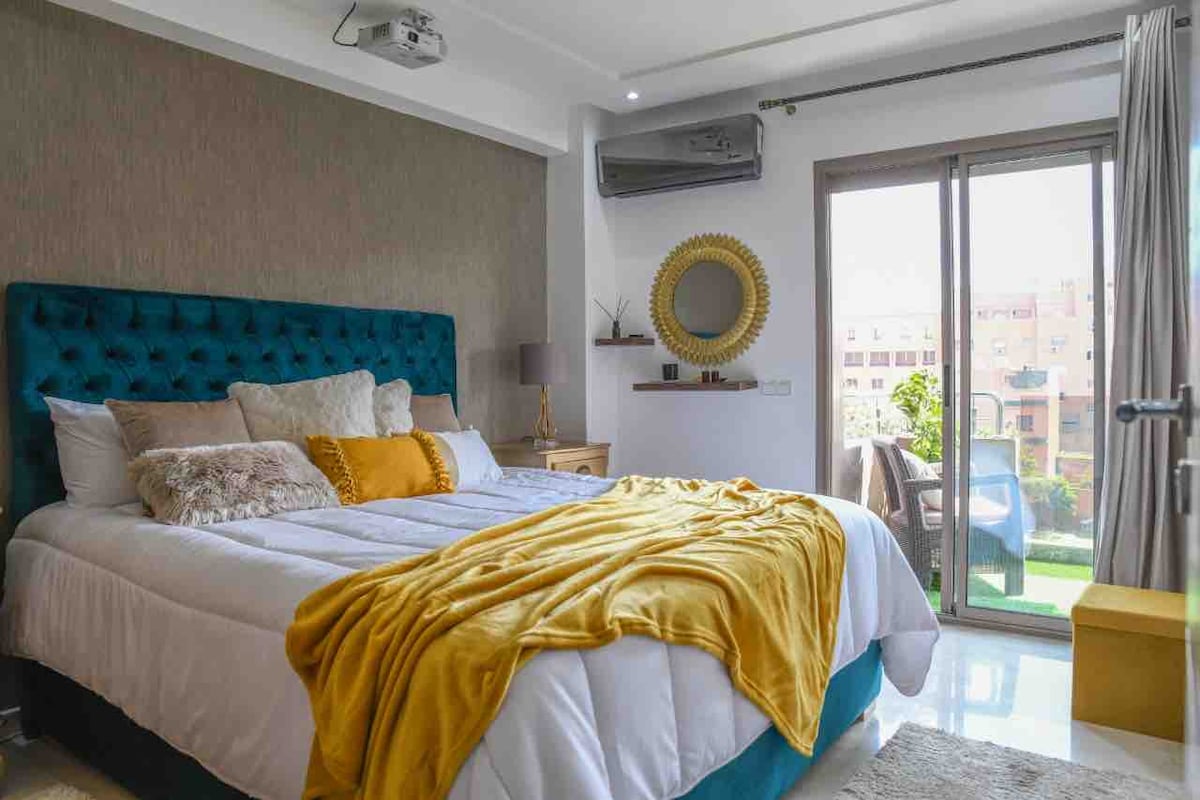 Fully Equipped Flat in the Center 
For a much smaller but equally luxurious Airbnb in Marrakesh, check out this stunning one-bedroom apartment in the city center. 
The modern interior is decked out in gorgeous decorations and furnishings, and there are a slew of modern amenities to make your stay as comfortable as possible. The open-concept living area is furnished with a large sectional sofa that is set next to a sparkling full kitchen with stainless-steel appliances and a brand-new washing machine. There is also a modern full bathroom with a gorgeous walk-in shower and a private street-facing balcony that is accessible from both the bedroom and the living room. The bedroom is furnished with a king-size bed and comes with a large cinema screen for cozy movie nights, and the living room comes with its own TV. Pets are allowed in the apartment, and building amenities include an elevator and free parking on the premises. 
This top-rated flat is conveniently located in a central and modern neighborhood within walking distance of the old city, making it a great choice for anyone looking to stay as close as possible to the city's central attractions. 
View on Airbnb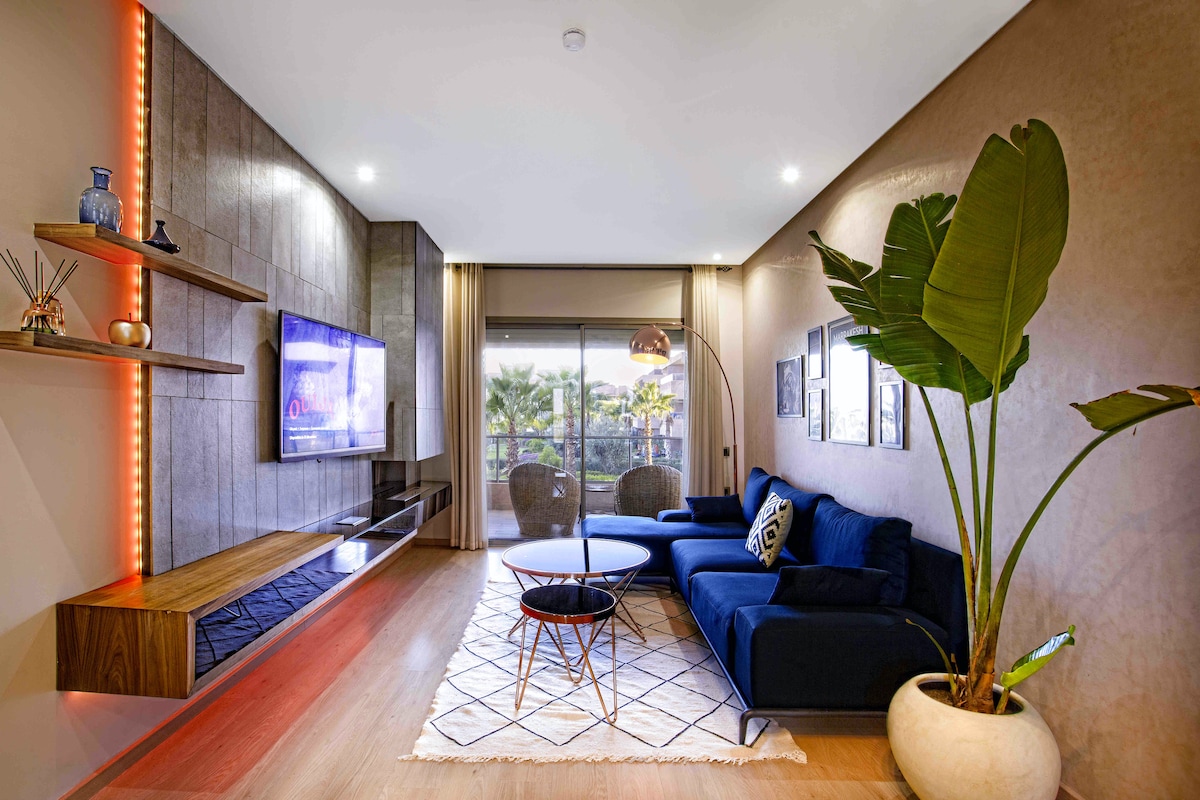 Trendy Resort Apartment
Enjoy a carefree stay in an upscale neighborhood in this elegant vacation apartment for rent in Marrakesh. 
The two-bedroom, two-bathroom home is ideally suited for up to four guests and offers a slew of modern amenities that will make your stay as comfortable as possible. In the open-concept common areas, you'll find a combined living room and dining space as well as an updated full kitchen. The entire apartment is decked out in opulent finishes, sumptuous furnishings, and shimmering gold accents, and contemporary elements like a live edge dining table and a designer indoor fireplace create a cozy and stylish ambiance. You can access the private balcony from the living room and one of the bedrooms and enjoy unobstructed views of the swimming pool and the stunning Atlas Mountains. The apartment is pet-friendly, and additional amenities include Smart TVs, in-unit laundry facilities, and an impressive selection of complimentary toiletries. Guests also have access to the resort's three incredible swimming pools, lush gardens, and an on-site restaurant. 
Nestled in the Marrakesh Golf City Complex, this high-end vacation home boasts one of the most luxurious locations in the city. The city center and its endless array of attractions are also just a few minutes away. 
View on Airbnb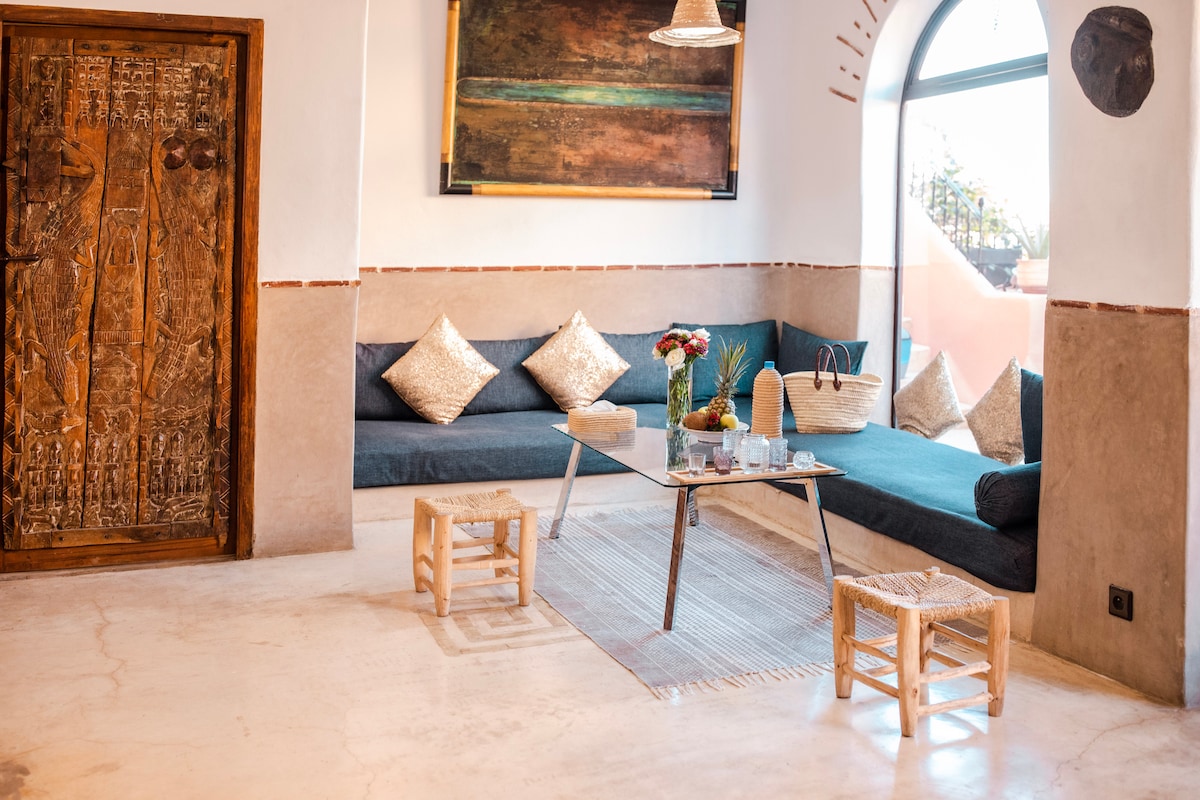 Penthouse Apartment in the Heart of Gueliz 
This beautiful top-floor apartment rental in Marrakesh offers a traditional Moroccan-style interior with unique historic accents and a thoughtful design. 
The pet-friendly apartment boasts a spacious living area with a large arched window, traditional seating arrangements, and a small kitchenette. The larger bedroom is furnished with a king-size bed, the second bedroom offers a queen-size bed, and both rooms come with an additional sectional sofa, making the apartment suited for up to six guests. There are also 2.5 bathrooms in the home with stunning vessel sinks, and additional amenities include laundry facilities, an in-building elevator, and free parking. Outside, you'll find a private terrace engulfed in greenery, a small patio area connected to the largest bedroom, and a shaded lounge area for relaxing in the fresh air.
Gueliz, known as the new city, offers state-of-the-art entertainment venues, shopping plazas, trendy boutiques, and fun bars.
View on Airbnb
Related: 15 Best Day Trips from Marrakech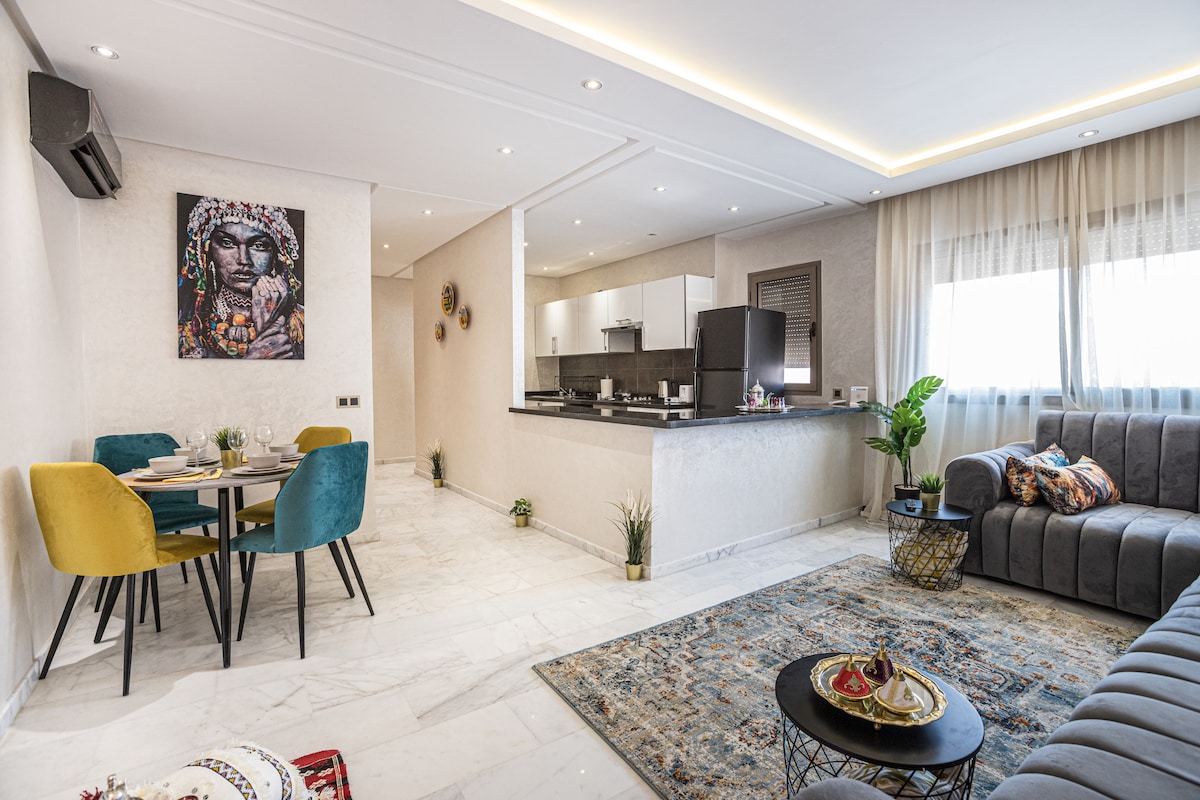 Luxurious Two-Bedroom Apartment in Gueliz 
Another fabulous rental in the lively neighborhood of Gueliz, this modern apartment is one of the best Marrakesh Airbnbs for a completely private stay with brand-new amenities. 
The warm interior features an open layout with a small dining nook, a full kitchen with a washer, and a bright living room with a soft sectional sofa and a Smart TV. The larger bedroom is furnished with a double bed, the second bedroom offers two single beds, and the apartment comes with 2.5 stunning marble bathrooms. The building is pet-friendly and offers an elevator and free parking. Guests also have access to the spacious rooftop terrace, which provides beautiful views of the city. 
Nearby attractions include the Carre Eden shopping center, several famous restaurants, and vibrant bars, and the nearest train station is just a 10-minute walk away. 
View on Airbnb
Moroccan-Style Condo With a Rooftop Terrace
This charming Airbnb in Marrakesh is laid out like a riad, a classic Moroccan accommodation offering a bright and airy interior and a garden.
Ideal for families and groups of friends, the three-bedroom, 1.5-bathroom home is furnished with two king-size beds and two single beds. There is also a super-cozy living area and an eat-in full kitchen, and beautiful arched passageways and dangling chandeliers add to the warm and enchanting ambiance. Guests can access the private terrace from the living room and admire panoramic city views or lounge out on the traditional Moroccan furniture. Decorated with plenty of greenery, intricate tilework, and a fountain, the spacious rooftop terrace resembles the garden of a traditional riad. 
Situated just seven minutes away from the airport, this central Marrakesh Airbnb boasts an ideal location for enjoying short commutes and exploring a walkable neighborhood. On the streets surrounding the building, you'll find several different shops, restaurants, local markets, and urban amenities. 
View on Airbnb
Comfy Flat With Pool Access
Head to the famous Gueliz District and spend a night in this brand-new, one-bedroom apartment with a stunning rooftop pool. 
The interior is decorated with vivid hues of blue and yellow, and the rental comes equipped with a private covered balcony with cozy seating and an elegant privacy curtain. Inside, you'll find a light-filled lounge area connected to a stylish full kitchen and a modern full bathroom with a walk-in shower. There is one bedroom furnished with a queen-size bed, and two extra guests can crash on the sofa bed in the living room. The secure elevator building comes with laundry facilities and access to a large in-ground pool on the roof. 
Whether you're interested in renting an apartment in Marrakesh for a few days or a few weeks, you can't go wrong with this high-end apartment rental in Gueliz. 
View on Airbnb
Entire Riad in the Heart of the Medina
If you're heading to Morocco for a deep dive into the rich culture and history, there's no better short-term rental in Marrakesh than this traditional riad. 
Known as Riad Alkimia, the stunning Airbnb can accommodate up to six guests with three bedrooms and two full bathrooms. Although the home is designed with historic accents and an authentic style, it is also equipped with a full range of modern amenities, including a renovated kitchen and a washing machine. All of the spacious bedrooms and cozy common areas are tastefully designed with high-end furnishings and elegant décor. The rental also comes with a housekeeper, who will cook personalized meals for an additional fee, and guests have access to plenty of outdoor space. For a relaxing meal by the fountain, there is a fully furnished inner courtyard, and for spending the day or enjoying the view, there is a stunning rooftop lounge with a daybed, cozy seating options, and an outdoor dining table. 
Set in the center of the historic Medina, the riad is surrounded by Marrakesh's famous souks, and Jemaa el-Fnaa is just a short walk away. 
View on Airbnb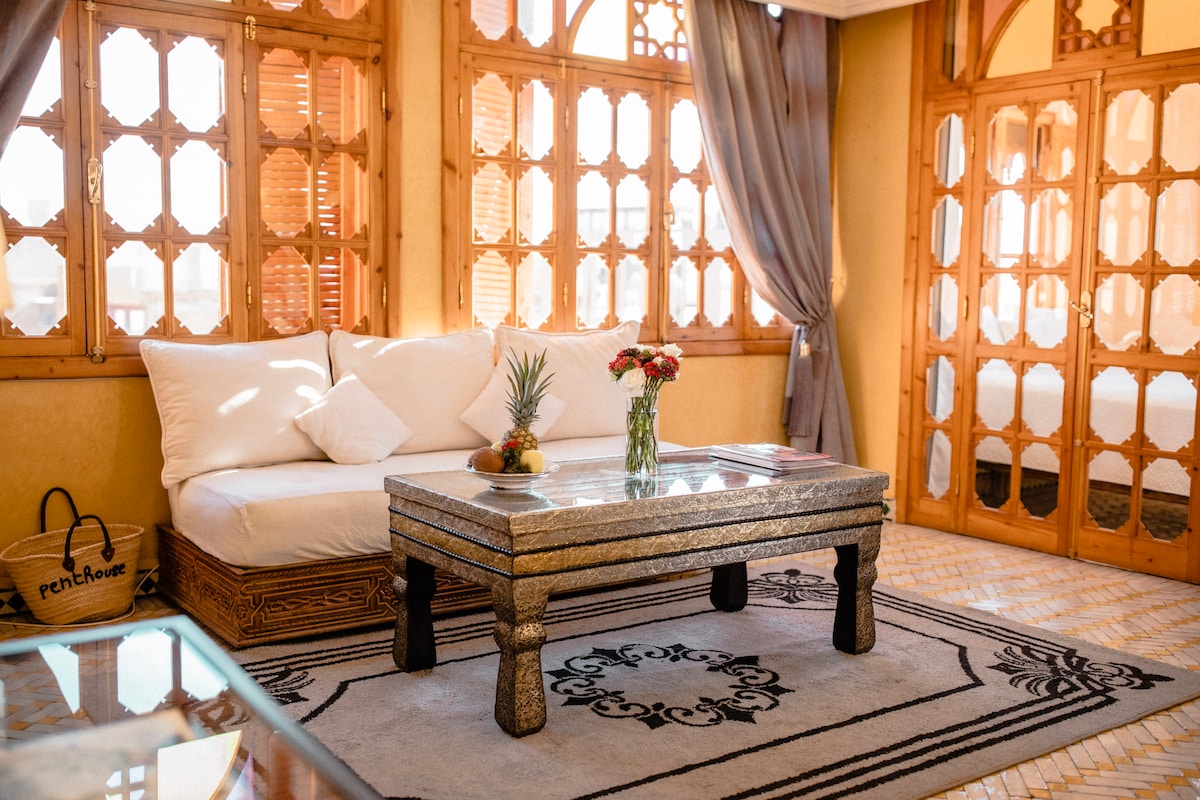 Penthouse Apartment Near Carre Eden 
Another gem in the heart of Gueliz, this designer apartment rental comes with a daily housekeeping service and several other hotel-style amenities. 
The interior is endowed with a ton of beautifully framed windows that provide panoramic views of the surrounding city. Guests can also enjoy the views from the private terrace or from the stunning rooftop dining area. Warm-toned neutrals and wood accents make the traditionally styled interior especially inviting, and each of the two bedrooms is furnished with a deluxe king-size bed. There are also 1.5 bathrooms in the apartment, and additional features include complimentary breakfast, free laundry service, and access to a gym and an outdoor hot tub.
Set directly across the street from Carre Eden, this top-rated rental apartment in Marrakesh makes it easy to explore the city's most popular areas by foot. 
View on Airbnb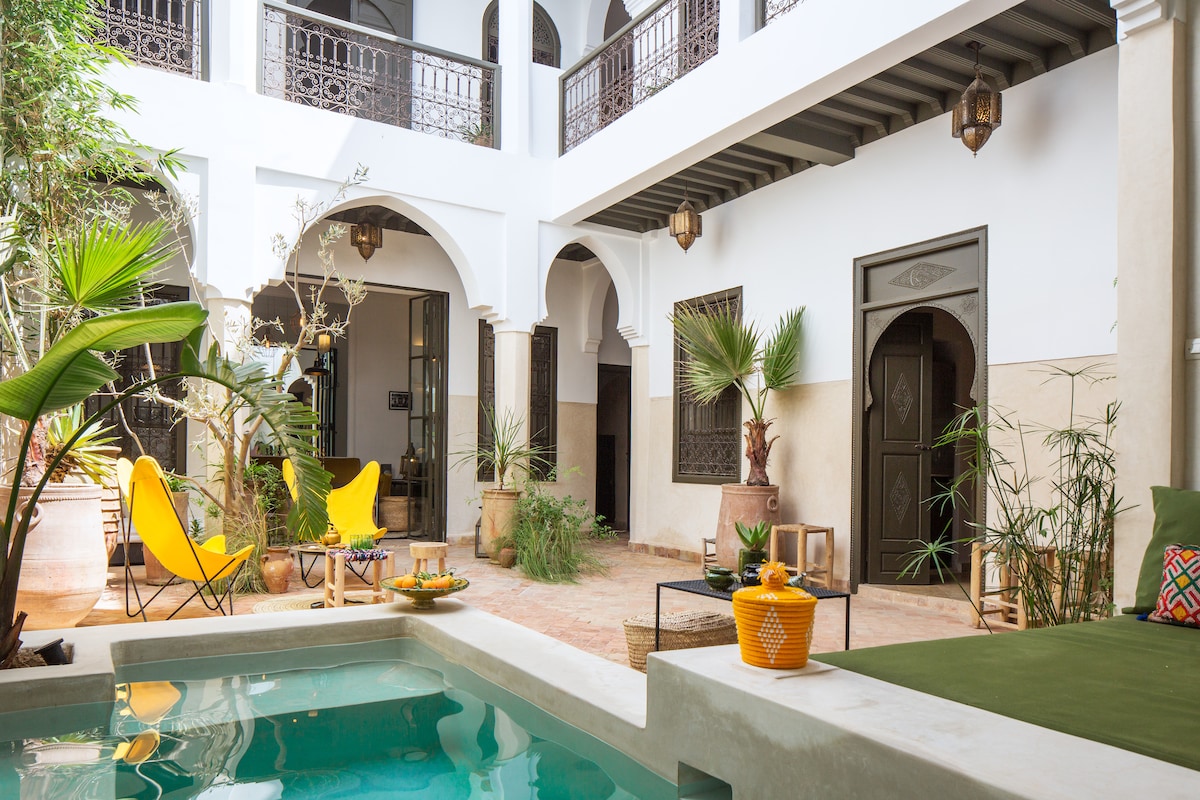 Peaceful Retreat With a Heated Swimming Pool 
One of the most impressive attributes of the city's vast selection of vacation rentals is the incredible combination of Moroccan-style design elements and ornate decorations, and this stunning Marrakesh Airbnb is no exception. 
The expansive five-bedroom townhouse can sleep up to 10 guests and comes with 5.5 luxurious bathrooms. The massive interior is thoughtfully decorated with authentic artwork, and the beautiful living space opens out onto the private inner courtyard. Guests can also enjoy the convenience of a cozy indoor fireplace, a dishwasher, and a washing machine. The private heated swimming pool can be found in the fabulous inner courtyard, which is decorated with a ton of greenery and traditional seating. There is also a private rooftop terrace with an outdoor kitchen, a dining table, and plenty of comfy seating options. 
Wedged between two popular avenues in the city center, this convenient riad is at the foot of the city's famous souks, and Jemaa El-Fnaa is just a short walk away. The airport and the popular district of Gueliz can also be reached by a short car ride. 
View on Airbnb
Magnificent Riad in the Medina 
If you're looking for a top-rated Airbnb in the historic center, this private paradise makes another fabulous luxury retreat. 
Surrounded by an oasis of greenery, the spacious outdoor areas include a private patio and a relaxing terrace with a solarium and a private pool. Inside, three fabulous bedroom suites connect to three spa-like full bathrooms, and the two large living rooms are decked out in a traditional and colorful fashion. In the morning, guests can enjoy a Moroccan breakfast in the dining room, on the patio, or on the terrace, and there is a full kitchen available for preparing your own meals. There is also a daily cleaning service available, pets are welcome in the home, and extra features include two TVs, a cozy indoor fireplace, and baby gear available upon request. 
Surrounding this central Airbnb in Marrakesh is a slew of important cultural sites such as the popular school known as the Ben Youssef Madrasa, the Museum of Photography, and the Museum of Marrakech. 
View on Airbnb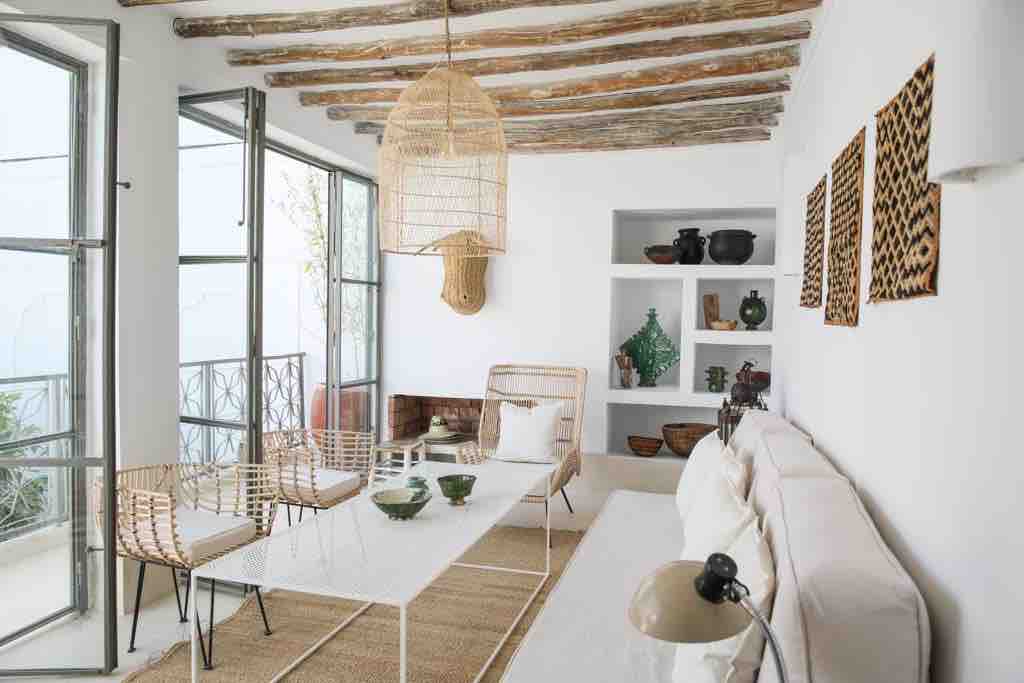 Unique Airbnb in Marrakesh With a Private Pool
This light-filled riad in the historic center offers a completely private stay with two large terraces and a private heated pool. 
Recently renovated, the authentic interior boasts a fascinating selection of antiques and a full array of updated facilities. The space is large, bright, and airy, with plenty of indoor plants and picturesque windows as well as light-colored wood and woven chandeliers. Three bedrooms with queen-size beds, two sofa beds in the common areas, and four full bathrooms make the riad well suited for groups of up to eight guests. There is also a lovely full kitchen on the ground floor of the apartment, a light-filled solarium, an indoor fireplace, a washing machine, and free parking on the premises. 
Set in the historic Kasbah District, this Marrakesh Airbnb is strategically located within close proximity of most major sites, including the Saadian Tombs, El Badi Palace, the Bahia Palace, and the Royal Palace. 
View on Airbnb
Clean and Quiet Apartment in the Center
Wrapping up our list of the best Airbnb rentals in Marrakesh is a lovely two-bedroom apartment with a private terrace overlooking the city. 
The pet-friendly rental is equipped with two double beds, one full bathroom with a walk-in shower and a Jacuzzi tub, and a spacious living room with plenty of room to crash on the comfy sofas. Cool-toned neutrals and modern artwork create a tranquil atmosphere, and high-end furnishings ensure a super-comfortable stay. When you're not out tasting the delicious local cuisine, you can cook in the full kitchen with modern appliances and a breakfast bar. Extra features include a TV and a free in-unit washer. 
Offering a pleasant stay in a peaceful location, this downtown apartment rental is just a 20-minute walk away from the famous attractions of the historic center. 
View on Airbnb
Airbnb is the perfect place to turn to when you're looking for a fabulous and reputable place to stay. Since each of the properties on this list offers a uniquely luxurious stay and has received top-tier rankings, you're bound to find the ideal rental for your Marrakesh adventure.