Road Affair is reader-supported and may earn commission from purchases made through links in this article.
For an unforgettable trip to a vibrant subtropical island, consider booking a vacation rental in Madeira, Portugal. The volcanic landscape boasts natural lava rock pools, stunning coastlines, and bustling urban attractions and historic sites in Funchal. With gorgeous natural scenery and warm mild weather all year long, Madeira is the perfect destination for hikers, mountain bikers, and nature lovers. 
Read on for a list of the best Airbnbs in Madeira, carefully curated with a wide variety of unique and highly rated rentals. All of the following homes are equipped with high-speed Wi-Fi and are hosted by superhosts – hosts with a proven track record of providing outstanding hospitality. Many of these rentals also boast Airbnb Plus status, which is an exclusive program for high-end accommodations that have been verified for quality through in-person inspection.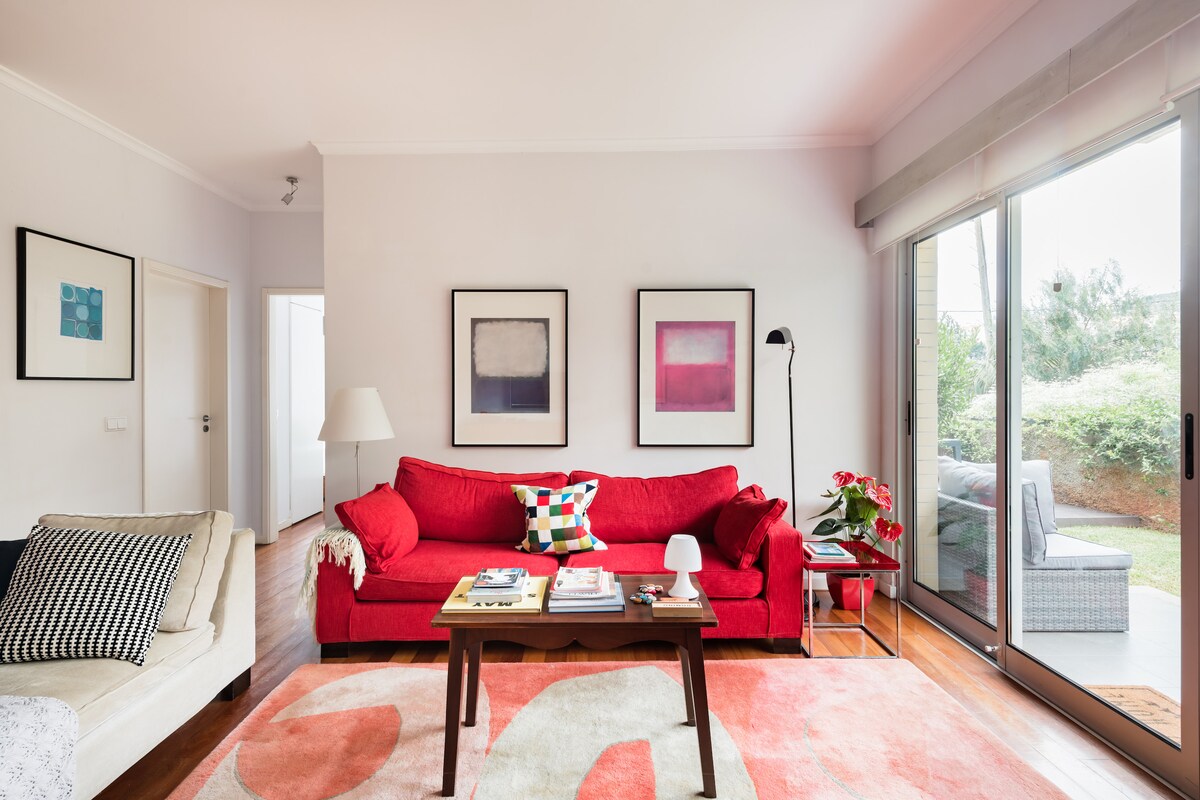 Authentic Home in São Pedro
Start your day off by lounging out in the back garden with this inviting apartment rental in Madeira. 
Perfect for families and small groups of friends, the two-bedroom home can accommodate up to four guests. The larger bedroom is furnished with a double bed and a desk, the small bedroom offers two single beds that can be pushed together, and each room boasts balcony access. There are also two full bathrooms with large vanities and a full kitchen with an espresso machine, a dishwasher, and a washer and dryer. In the bright living room, you'll find bold colors and high-end furnishings, well-stocked bookshelves, and a TV. The back garden is a beautiful private green space furnished with sun loungers and outdoor sofas, and guests also have access to a private second-floor patio. 
Home to the Cathedral of Funchal and the Cruzes Museum, São Pedro is a popular historic neighborhood with plenty of interesting attractions and fantastic restaurants that serve delicious local cuisine. 
View on Airbnb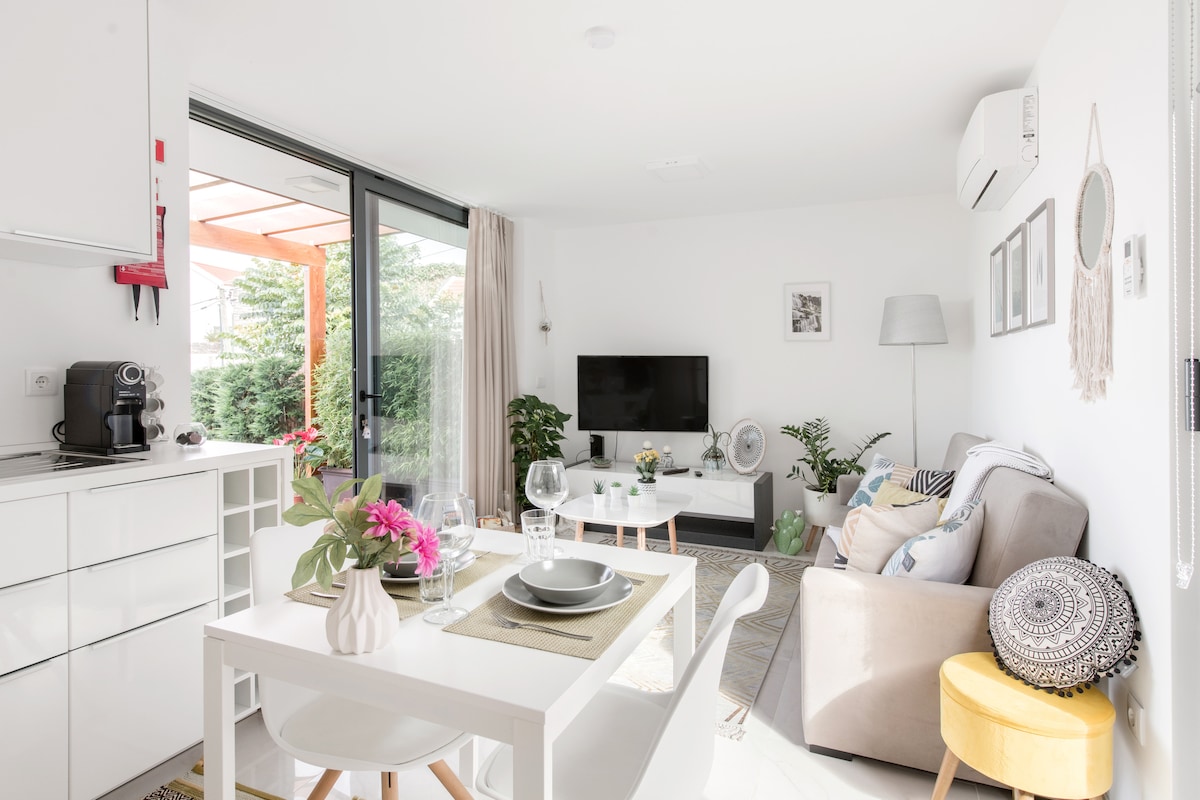 Modern Airbnb in Madeira Overlooking the Sea 
For a stylish and comfortable rental in a rural setting, check out this light-filled apartment in Arco da Calheta. 
The breathtaking one-bedroom home features a bright white interior with soft light-colored accents, high-end furnishings, and large windows surrounded by greenery. The open-concept living area offers large glass doors that lead onto a beautiful private terrace, and guests also have access to a backyard grilling station. The common areas include a complete lounge space with a TV, a dining table, and a full kitchen with updated appliances. The bedroom is furnished with a queen-size bed, and the apartment comes with one full bathroom. 
Nestled in a rural area, this peaceful Madeira Airbnb is surrounded by nature and stone houses. There are also plenty of restaurants, cafés, and shops nearby. 
View on Airbnb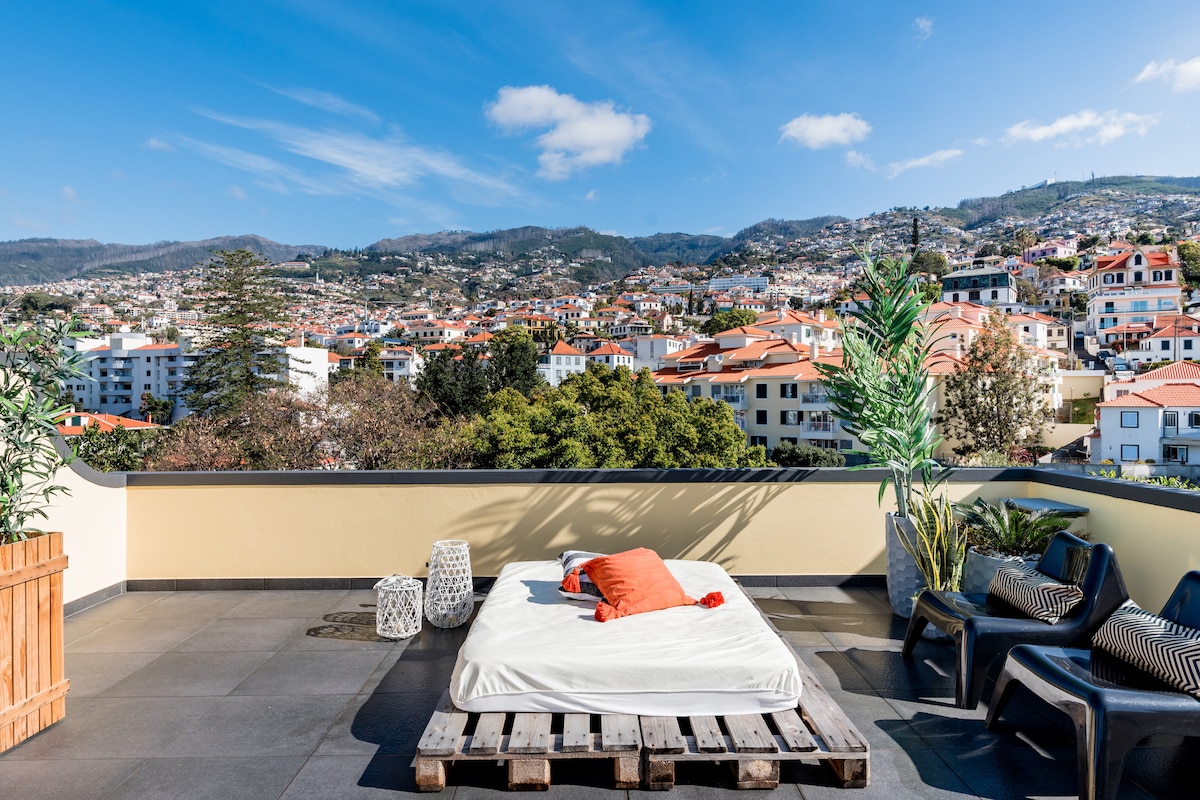 Contemporary Apartment With a Sunny Terrace 
If you're looking for the best Airbnb in Madeira with a refreshing interior and a ton of outdoor space, this hillside home might be the perfect rental for you. 
With a tasteful and beachy interior design, this high-end apartment rental makes a cozy and stylish getaway for up to four guests. Each of the two bright bedrooms is furnished with a queen-size bed, and there is one full bathroom with a beautifully tiled walk-in shower. Spend some time in the fresh air on either the private balcony or the massive rooftop lounge overlooking the red rooftops of the hillside. When you feel like relaxing or dining inside, there is a light-filled living area with a sofa, a TV, and a dining table, and the full kitchen features a turquoise backsplash and stainless-steel appliances. Additional amenities include a washer and dryer and a full selection of beach gear. 
Located in the bustling neighborhood of the Old Town of Funchal, the apartment is just two minutes away from restaurants, bars, and markets. Guests can also walk to nearby beaches within minutes. 
View on Airbnb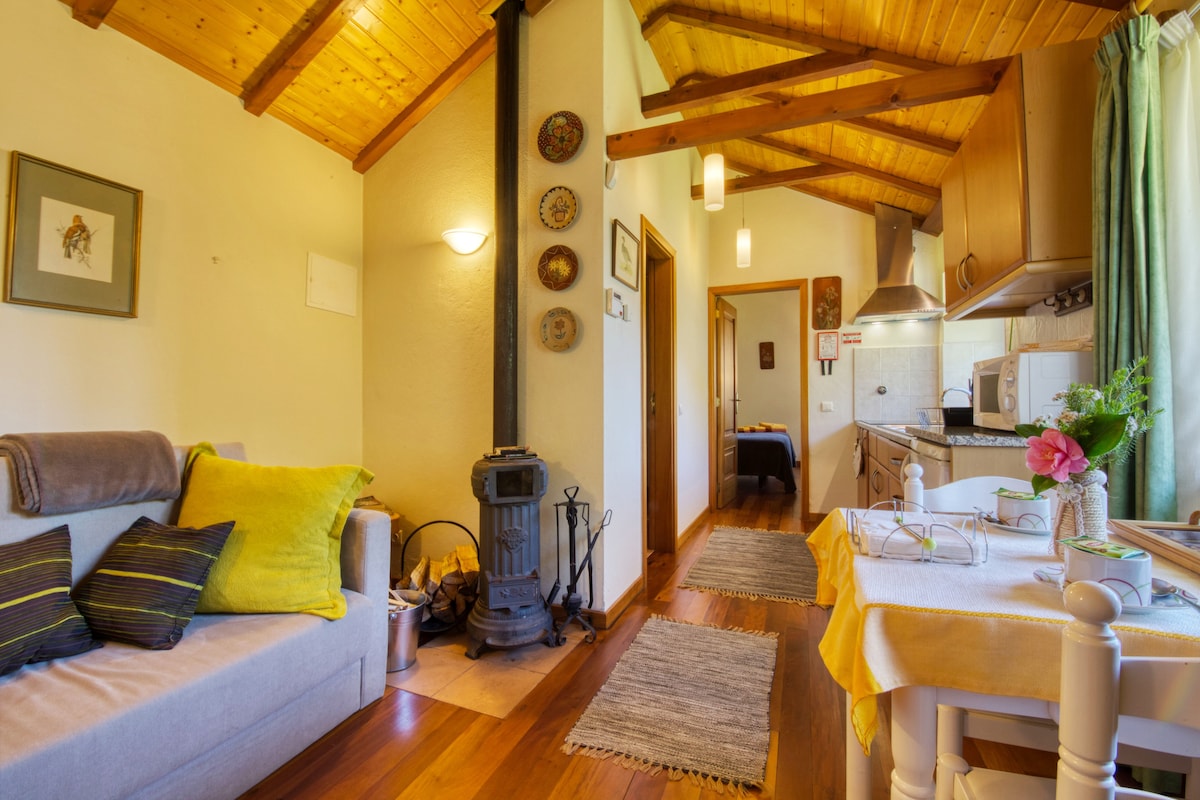 Magical Chalet in the Mountains of Madeira
Enjoy the comfort and tranquility of a well-equipped cottage surrounded by forest with this one-of-a-kind mountain getaway. 
A beautiful stone staircase leads inside, where you'll find a cozy sitting area warmed by a woodstove, a small dining table, and a full kitchen. Down the hall is the spacious bedroom, which features soft inviting lighting and two single beds that can be combined to form one king-size bed. There is also an updated full bathroom, and guests have access to a laundry room, private gardens, and a picnic area. 
The cottage is private and secluded and sits in the natural park of Ribeiro Frio. Completely surrounded by the gorgeous Laurissilva Forest, this cozy Madeira Airbnb offers easy access to several great adventure opportunities such as the famous hiking trail known as Vereda dos Balcões. 
View on Airbnb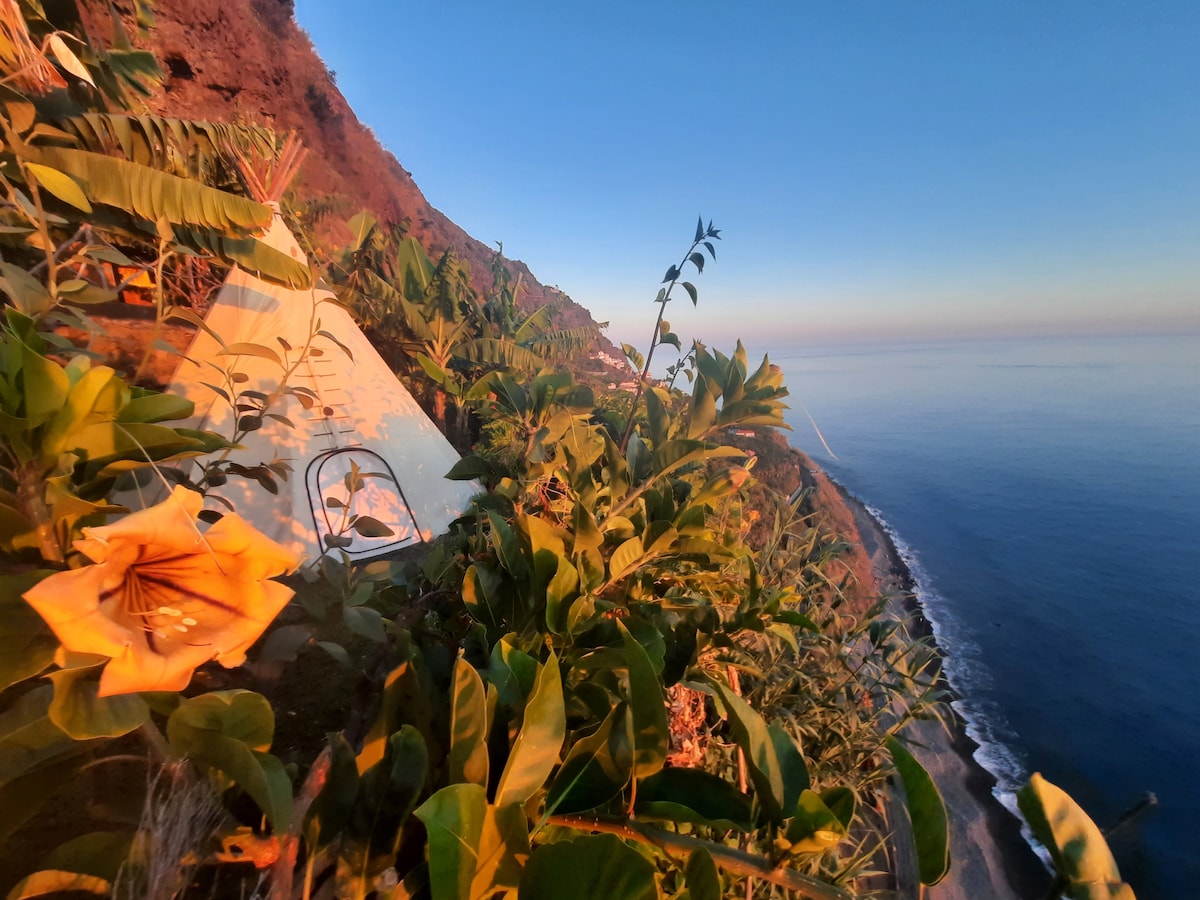 Surround yourself with tropical banana trees and the peaceful sounds of the waves crashing against the shore in this paradisal glamping site. 
Cook your meals in the stunning outdoor kitchen, which is engulfed in greenery and features gorgeous stone accents and a wicker chandelier, and eat at the small patio table overlooking the pristine ocean. There is also a spa-like full bathroom with plush robes included, and guests have access to a luxurious stone pool with a fountain, two relaxing hammocks, and more stunning sea views. Fall asleep to the sound of a cascading waterfall in the relaxing double bed or go for a hike through the luscious green plants and tropical flowers. For a drink and a chat with other guests on the property, guests can head over to the social tipi, which features a small bar and a relaxing hanging swing. 
If you're interested in this incredible tropical getaway but the tipi is booked for your dates, consider this lovely yurt on the same property.
View on Airbnb
Airy Studio in Jardim do Mar
This top-floor studio rental apartment in Madeira boasts a bohemian-style interior and overlooks the sprawling horizon and the island's shore. 
View the shimmering blue waters and the rugged cliffs from your private terrace or through the picturesque windows and the glass doors in the room. Wooden finishes, bamboo details, and minimalist décor keep the light interior simple and refreshing, and the space comes with a double bed, a small dining area, a full kitchen, and an en suite bathroom. Set on a boutique island retreat, the studio rental comes with access to a tranquil garden and an outdoor pool overlooking the ocean, making this the perfect option for a relaxing and restful getaway. 
The surrounding gardens make the pool area feel like a tropical wonderland, and guests can easily walk down the cliff to the stunning shore. 
View on Airbnb
Homey Apartment With Ocean Views and an Infinity Pool 
Nestled in a secure condominium in Funchal, this beautiful beach stay offers a luxurious hotel-style accommodation with a ton of privacy. 
The one-bedroom, one-bathroom unit is furnished with a queen-size bed and a living room sofa bed, making it ideal for solo travelers, couples, and small groups of up to four guests. The living room also offers a glass dining table and a TV, as well as a private patio overlooking the ocean. Additional convenient features include a well-equipped full kitchen and a private laundry room. The rental also comes with shared access to the complex's infinity pool, hot tub, playground, and fitness center. Guests can park for free on the premises, and the in-building elevator makes the condo suitable for guests with accessibility concerns. 
When it comes to renting an apartment in Madeira, this luxurious and conveniently located Airbnb should be at the top of your list. Funchal is one of the most popular areas in Madeira, and guests have easy access to pristine beaches, fun bars, and exquisite restaurants. 
View on Airbnb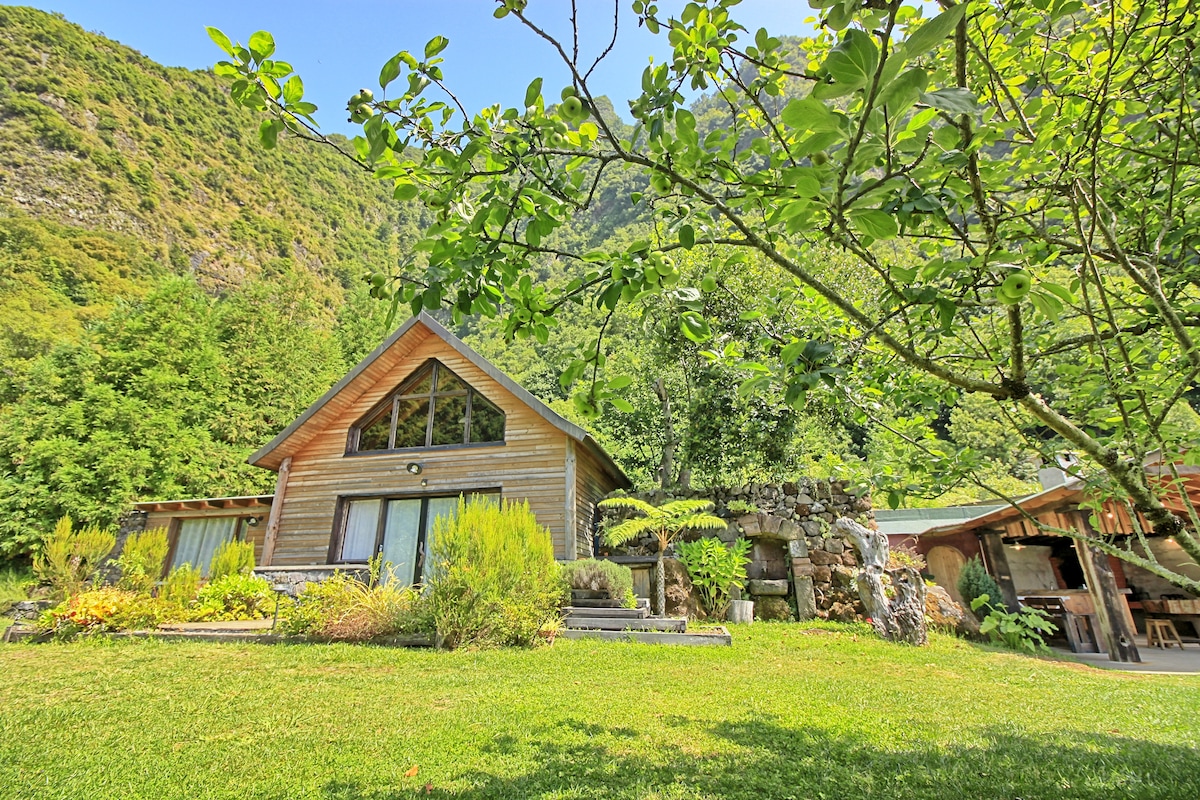 Private House in a Picturesque Village 
Tucked away on a secluded property on the northside of the island, this private house rental boasts beautiful views of the São Vicente Valley and the sea. 
The spacious yet cozy home offers a cabin-like interior with wood-planked ceilings and tree branch accents. Outside, you'll find a luscious private yard with lively gardens and mountain views. Up to four guests can stay in the home, which features a lofted master bedroom with one double bed and a spare room with two single beds and a desk. There is also one modern full bathroom with a walk-in shower, and the cabin comes with both an outdoor kitchen and a modern indoor full kitchen. The spacious common areas are illuminated by a full facade of windows and are furnished with a comfy sofa and a wooden dining table. Additional amenities include a TV, an in-unit washer and dryer, and free parking on the premises. 
The house's desirable position in a relaxing village makes it one of the best Madeira Airbnbs for a secluded getaway surrounded by nature. Plenty of supermarkets, bars, and restaurants can be conveniently found just two kilometers away in the main village. 
View on Airbnb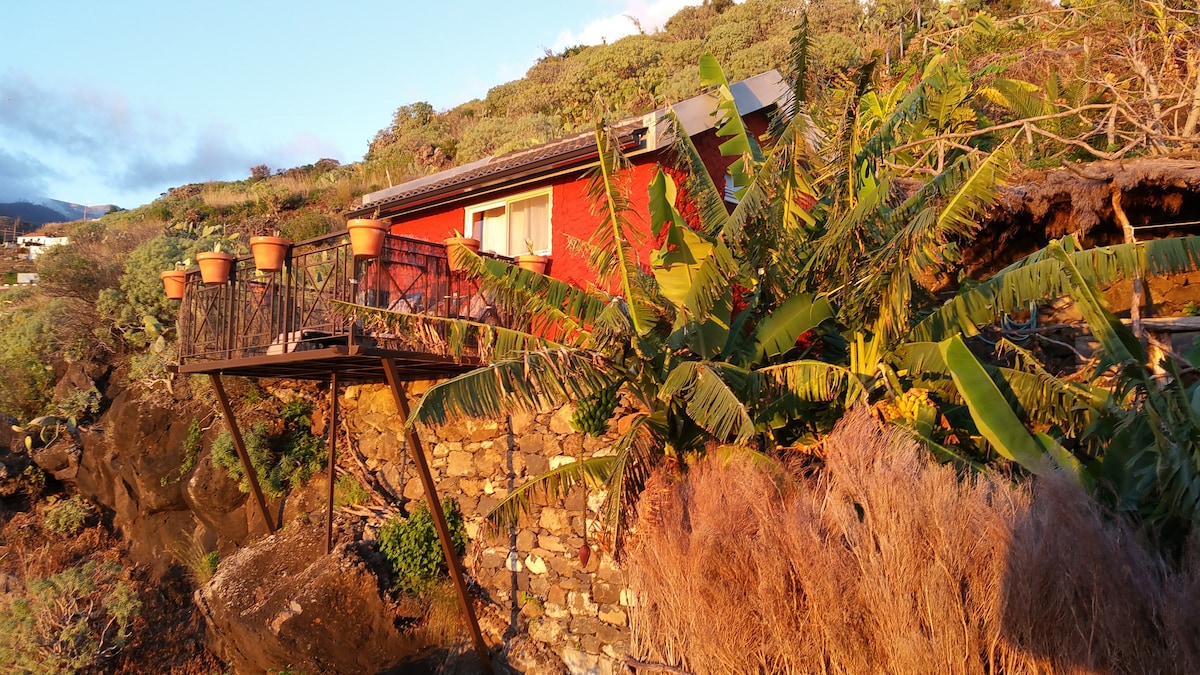 Tropical Cabana on the Southern Coast 
For a tiny house rental on a charming cliffside, check out the Banana Cabana, a hidden gem on the southern coast. 
The modern island abode overlooks the glistening blue waters of the Atlantic Ocean and is engulfed in gorgeous tropical foliage and fruit trees. Inside the cabana, you'll find bright yellow walls and white marble finishes, and outside there is a private balcony for relaxing and enjoying the views. Ideal for one or two guests, the cabana is furnished with two single beds that can be made up separately or together. There is also a small kitchenette with a full-size refrigerator and an electric cooktop, and the updated full bathroom boasts a granite-tile walk-in shower. Guests also have access to a private outdoor grilling station and a relaxing overlook area, and the cabana comes with a TV and a free parking spot. 
Set in a quiet neighborhood near Ribeira Brava and Ponta da Sol, this unique Madeira Airbnb is just five minutes away from the beach, markets, and restaurants. The cabana also offers easy access to nearby botanical gardens, hiking trails, golf courses, spas, and more. 
View on Airbnb
Adventurous Cliffside Escape 
Thrill seekers and outdoor adventurers will love this unique short-term rental in Madeira. 
Perched on a luscious cliffside in the natural oasis of Achadas da Cruz, the deluxe tent offers breathtaking mountain and sea views. The rustic-chic interior features wood-planked walls and vibrant pops of color, and the space even comes with a private full bathroom with a flush toilet and a walk-in shower. There is a cozy lounge area and a well-equipped kitchenette, and outside you'll find a private terrace and a grassy space with a relaxing hammock. 
Tucked away from the busiest tourist destinations of Madeira, the tent offers easy access to several picturesque levada walks and scenic hikes down to the coast. 
View on Airbnb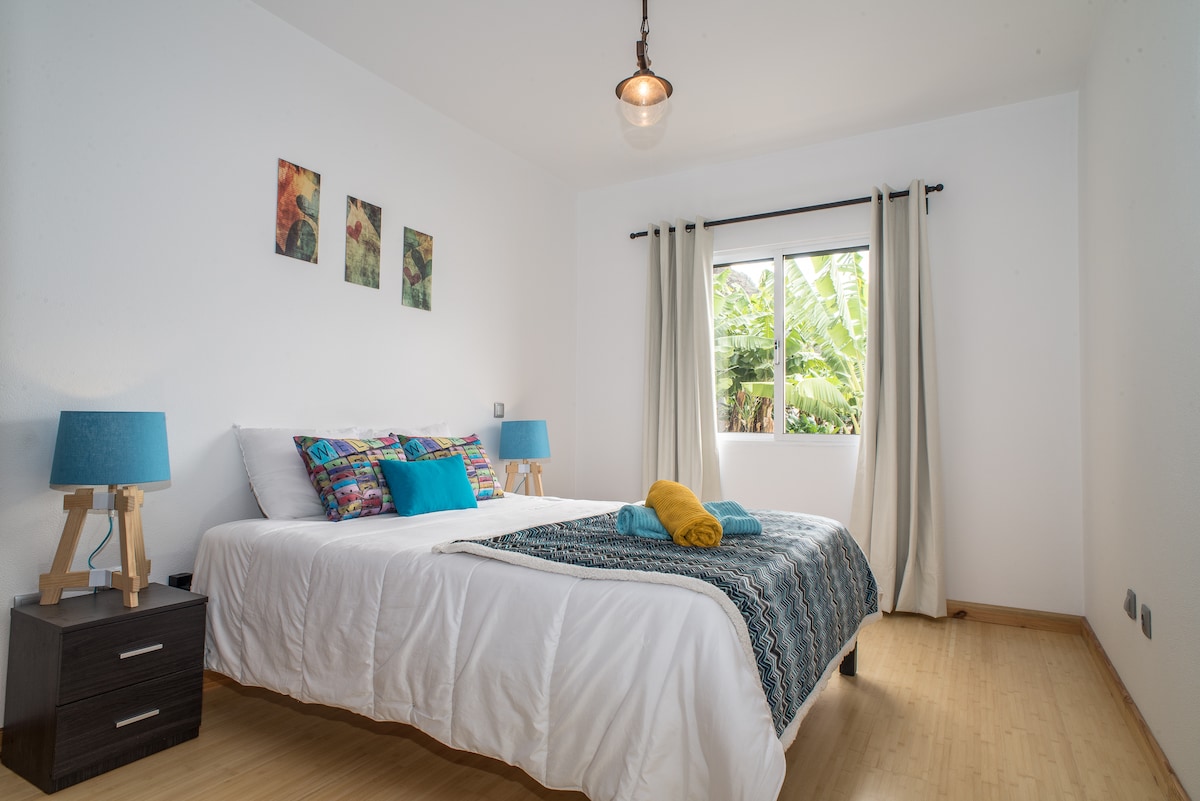 Beachfront Condo in a Small Fishing Village 
This charming Airbnb in Madeira offers the perfect stay for a few guests interested in a modern rental near the beach and waterfalls. 
Up to three guests can stay in the one-bedroom, one-bathroom condo, which is furnished with one double bed and one sofa bed. Comfortable modern amenities include a TV, a washing machine, an elevator in the building, and a free parking spot on the premises. The apartment also comes with a spacious and sunny terrace with panoramic sea and cliffside views, which can be accessed through the glass doors in the cozy living area. When you feel like eating in, there is a full open kitchen with modern appliances and a long dining table. Cool-toned neutrals and floral accents make the apartment tranquil and inviting, and large windows fill the space with natural light. 
Situated along the pebble beach of Madalena do Mar, the condo is within walking distance of spectacular scenery, rushing waterfalls, and Ponta da Sol, one of the oldest villages in Madeira. 
View on Airbnb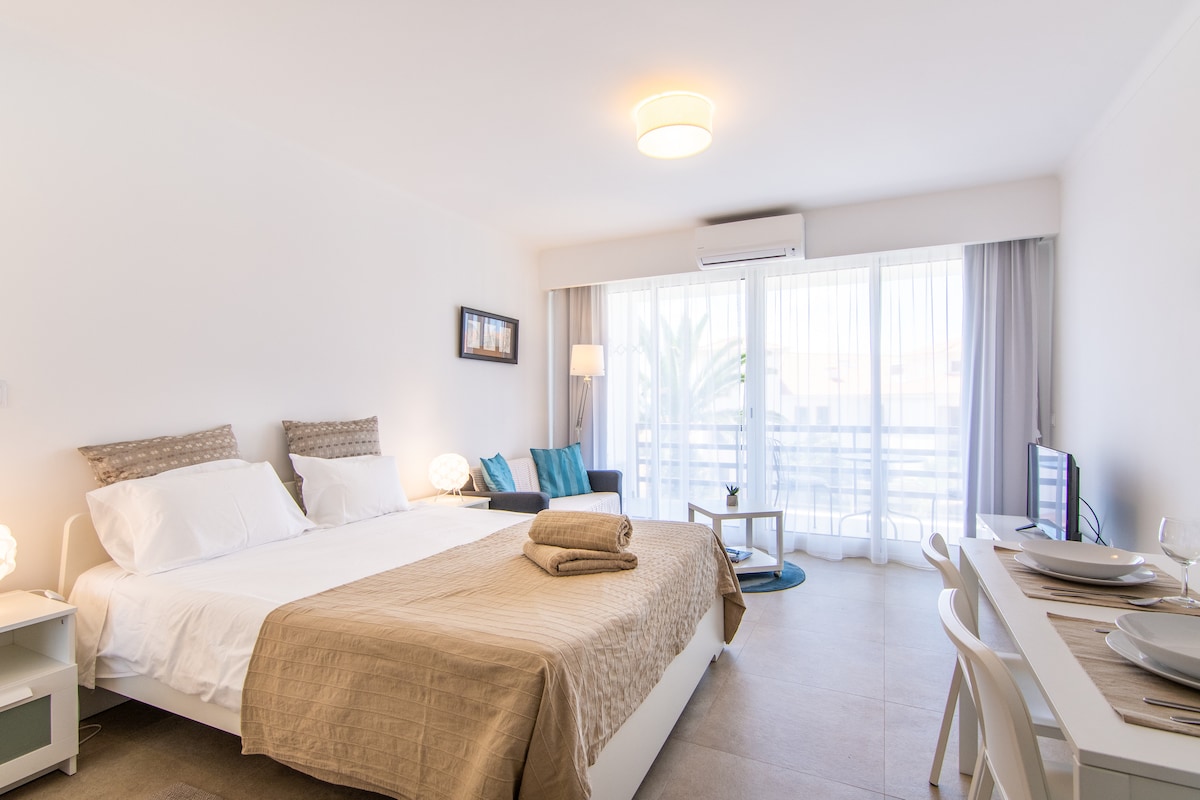 Sea Palms Apartment Near Funchal 
For a fully updated rental with a convenient location and beachfront access, check out this lovely studio apartment in Caniço.
Furnished with one double bed, a two-person sofa, and a small dining table, the bright and cozy studio is ideal for solo travelers and couples. The relaxing sitting area is equipped with a TV and sits adjacent to a wall of glass doors that leads onto a sunny balcony. Subtle nautical-themed décor and beautiful views of palm trees add to the cheerful holiday-like atmosphere, and the apartment offers an updated full kitchen and bathroom. Stainless-steel appliances, in-unit laundry facilities, and free parking on the premises make this comfortable rental a great choice for long-term stays. 
If you're looking for a beachy vacation apartment for rent in Madeira with easy access to the shore and vibrant city attractions, this cozy rental may be the perfect choice. 
View on Airbnb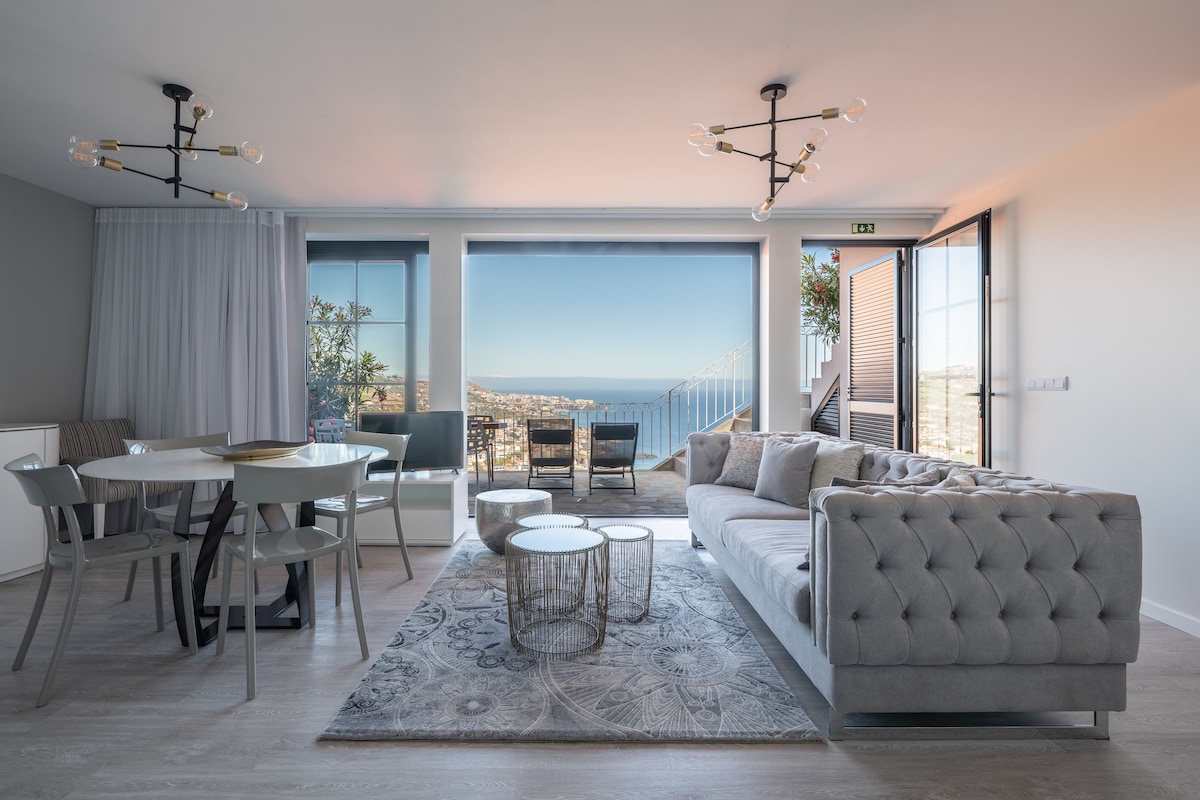 Spacious, Private, and Luxurious Airbnb in Madeira
This brand-new two-bedroom house offers a stylish and ultra-comfortable stay for families and groups of friends.
The high-end rental home can comfortably accommodate up to four guests with two spacious bedrooms and two luxurious full bathrooms. In the large living area, a massive wall of glass opens up to expose the private terrace and gorgeous coastal views. High-end furnishings and extravagant details delight at every turn, and the unbeatable views can be enjoyed from every room in the home. The spacious dining area and the well-equipped full kitchen make it easy to eat in, and convenient amenities like a TV, a washer and dryer, and free parking on the premises, make for a super-carefree stay. 
The sprawling views span the entire coast and the famous natural pools known as Doca do Cavacas, and there is a picturesque village nearby with basic shops and urban amenities. 
View on Airbnb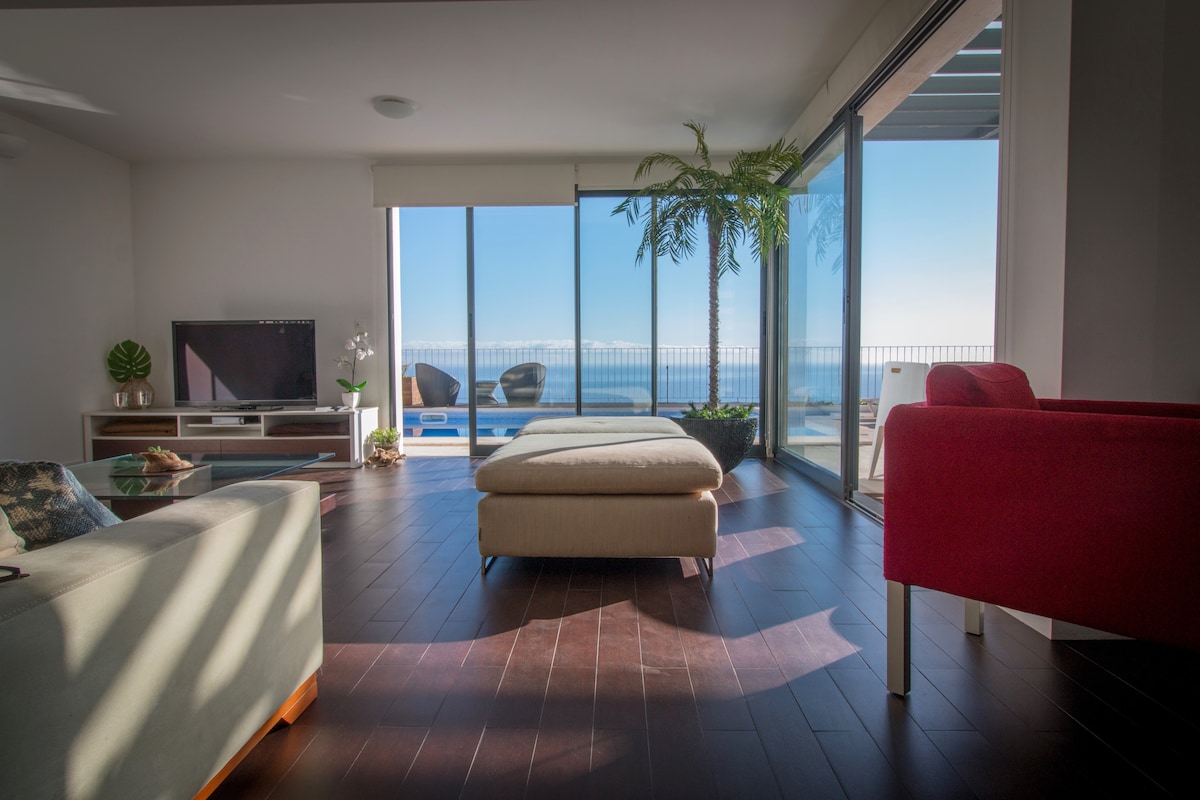 Dreamy Vacation Home With a Private Pool
Walk to a protected beach that is popular for diving from this opulent three-bedroom, 2.5-bathroom home in Santa Cruz. 
As the largest rental on our list, the private house is perfect for larger families and groups of friends. Up to six guests can stay in the ultra-modern home, which is furnished with one king-size bed and two queen-size beds. Panoramic windows surround the sleek art-filled living room, and a massive wrap-around terrace is the perfect place for private oceanfront dining and swimming in the luxurious in-ground pool. When you feel like kicking back or dining inside, there is a large TV in the living room as well as a separate kitchen with a large dining table and stainless-steel appliances. Since the entire home overlooks the crystal waters of Madeira's fabulous coast, you'll get to experience the island's magnificent natural beauty no matter what you're doing. 
Located near the lively nature reserve and the protected beach of Garajau, this Madeira Airbnb is also just a few minutes away from the vibrant urban attractions of Funchal. 
View on Airbnb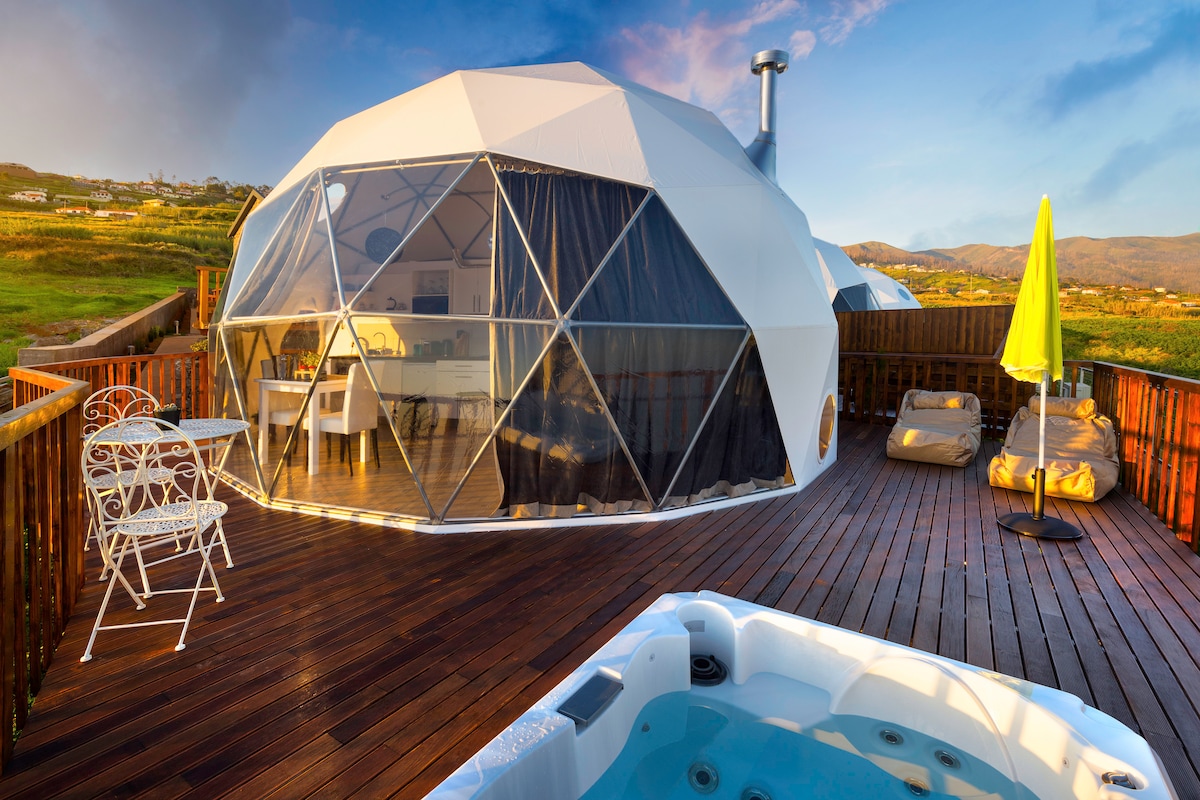 Luxurious Glamping Dome With a Jacuzzi
Last but certainly not least is a super-unique Airbnb in Madeira on the southwest side of the island. 
Designed with the utmost comfort in mind, the spacious dome features a fully equipped kitchen, an oversized full bathroom, and a cozy sitting area with a TV and a fireplace. There is also a high-quality queen-size bed and a 180° bay window offering jaw-dropping ocean and mountain views. The focal point of the rental is the private balcony, which comes with a luxurious Jacuzzi where you can relax and enjoy the scenery. The dome is one of five on the property and acts as a luxurious eco-retreat meant to connect you with the surrounding nature. 
The dome is surrounded by greenery and some of the most gorgeous hiking trails in Madeira, and there are four incredible local restaurants located just five minutes away. 
View on Airbnb
Maybe you're looking for a tropical cabana in oceanfront paradise or a cozy tent on an epic mountainside. No matter what you're planning for your island getaway, make it magical with a stay in one of the best Airbnb rentals in Madeira.