Road Affair is reader-supported and may earn commission from purchases made through links in this article.
Jacksonville Beach is a collection of communities outside Jacksonville on Florida's Atlantic coast. The area boasts over 22 miles of white sand beaches and is known for being a relaxed and family-friendly vacation destination. No matter where you stay in Jacksonville Beach, the beachfront is never too far away; but the best place to go for oceanfront apartments and beach house rentals in Jacksonville Beach is definitely Airbnb.
Related: 15 Best Airbnbs in Jacksonville, Florida
To show you why we say that, we've assembled this list of the best Airbnbs in Jacksonville Beach, Florida. Each of the following is managed by an Airbnb superhost – hosts with a strong track record of going above and beyond for their guests. That way, you can be confident that your trip to Jacksonville Beach is in safe hands. Now, let's have a look at these exciting vacation rentals, shall we?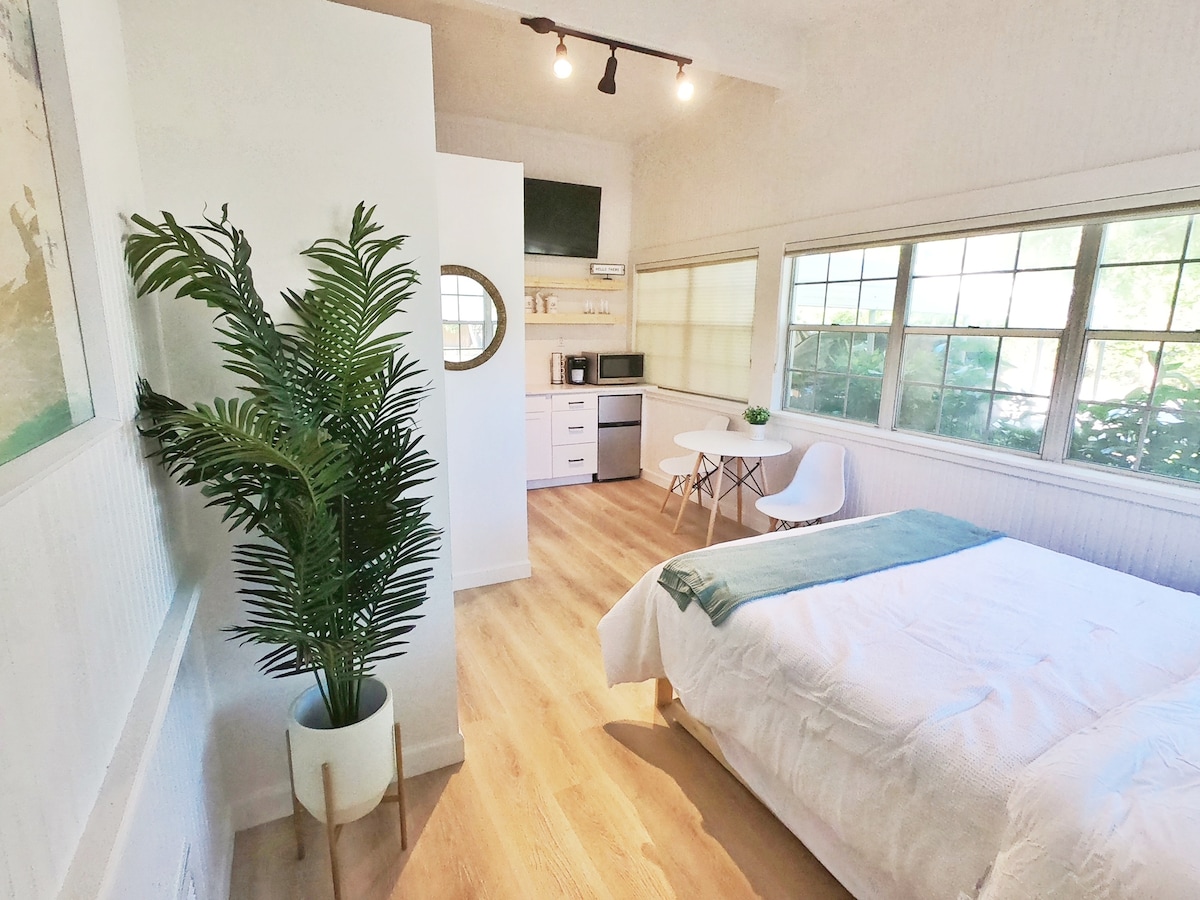 The Cocohut
A bright and fresh interior is one of many reasons why this newly renovated guest suite is among the best Jacksonville Beach Airbnbs available. It helps that the Airbnb also boasts a prime location near the center of Jacksonville Beach, with the Jax Beach Pier eight streets from its doorstep and coffee shops, restaurants, and bars within walking distance.
The studio guest suite offers enough room for three people thanks to its tempur-pedic queen-size bed and the extra twin-size trundle bed underneath it. As such, it's best suited to couples or small groups who don't mind sharing its compact space. Plenty of windows and the modern coastal design of the studio do help it feel less cramped, mind you.
Perhaps the most impressive feature in this guest suite is the private bathroom with its sleek walk-in shower that would look at home in a high-end spa. Another useful feature is the handy kitchenette area, where you'll find a Keurig coffee maker, minifridge, microwave, and small breakfast table. Additional amenities include a washer and dryer on the property, Wi-Fi, TV, and air-conditioning.
View on Airbnb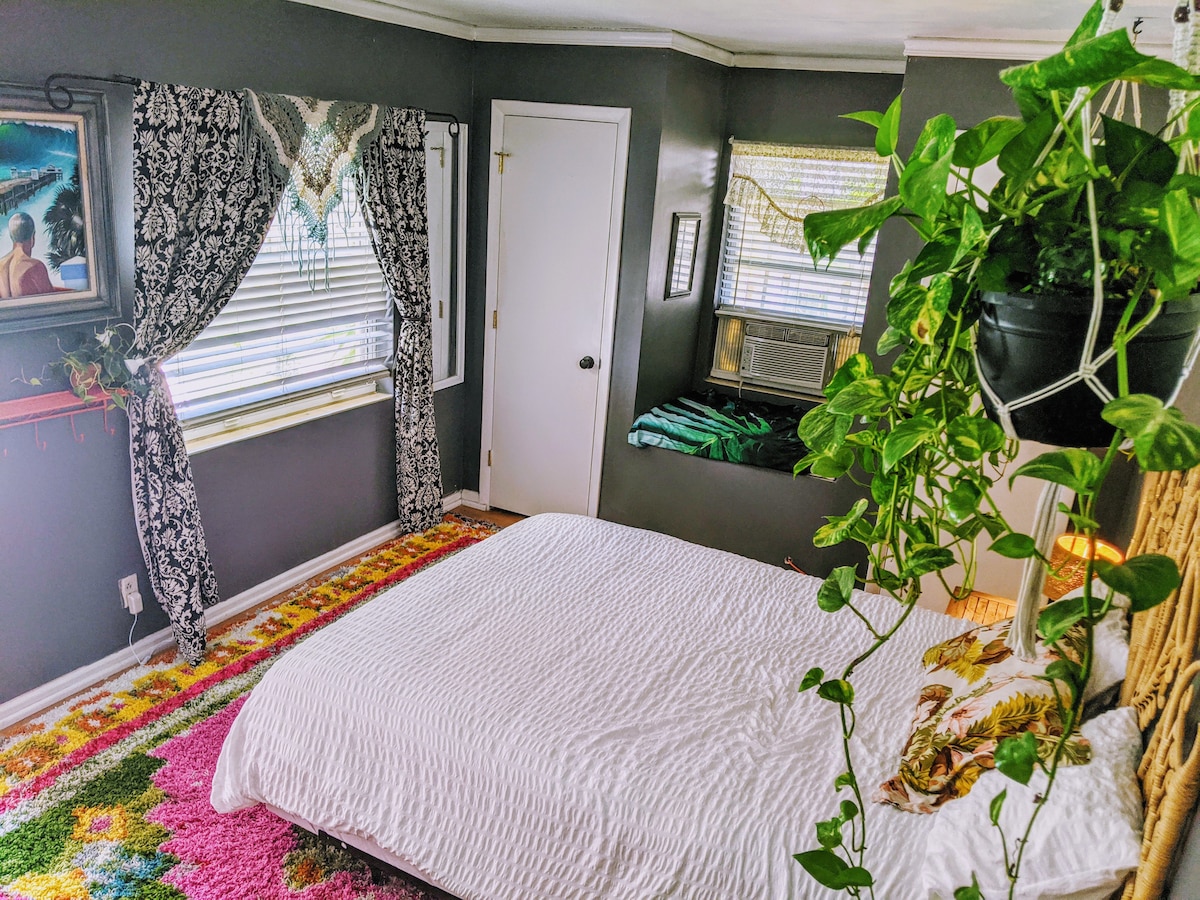 Private Surf Bungalow
For a fun and interesting Airbnb in Jacksonville Beach, look no further than this bohemian bungalow. Its vintage aesthetic makes it an easy place to relax, as does its quiet neighborhood, which is less than five minutes by foot from some awesome local restaurants and bars.
While it's possible to sleep three to four people in the two-room bungalow, those numbers require additional mattresses, and superhost Amber advises this sleeping arrangement only for short stays. For longer stays, this Airbnb is better suited to couples or individuals, who can use the queen-size bed in the adorable bedroom. A nice touch is that guests can bring their pets with them, although there is a pet fee.
The vibrant bungalow also offers guests a cozy living area, complete with a sofa, fold-down breakfast table, and basic kitchenette. Amenities such as an outdoor shower, a laundry, Wi-Fi, TV, and air-conditioning help ensure guests have a pleasant stay.
What's additionally nice about this Airbnb is that it helps guests embrace the beach lifestyle by providing useful beach accessories like towels, beach chairs, a kayak, and even bikes to help you get there.
View on Airbnb
Oceanfront Paradise
With a stay at this seaside Airbnb, you'll be treating yourself to one of the best short-term condo rentals in Jacksonville Beach. That's because this bright and contemporary condo is situated right on the city's beachfront and offers spectacular coastal views from its private balcony. If you want a Jacksonville Beach Airbnb close to the water, you couldn't ask for a location better than this.
The oceanfront condo has one bedroom, one bathroom, and is able to host up to two people. A generous king-size bed makes it perfect for a romantic weekend getaway. Across the hall sits the full bathroom, which is stocked with luxury towels, toiletries, and a hair dryer. The main living area of the condo includes a sofa with chairs, a breakfast table, and a modern kitchen with extra bench seating.
Preparing home-cooked meals won't be a problem as the kitchen is equipped with a stove, oven, fridge, microwave, and dishwasher. Longer stays at this Airbnb are also made easier thanks to its European-style washer and dryer. Other amenities provided include Wi-Fi, TV, air-conditioning, and free on-site parking.
View on Airbnb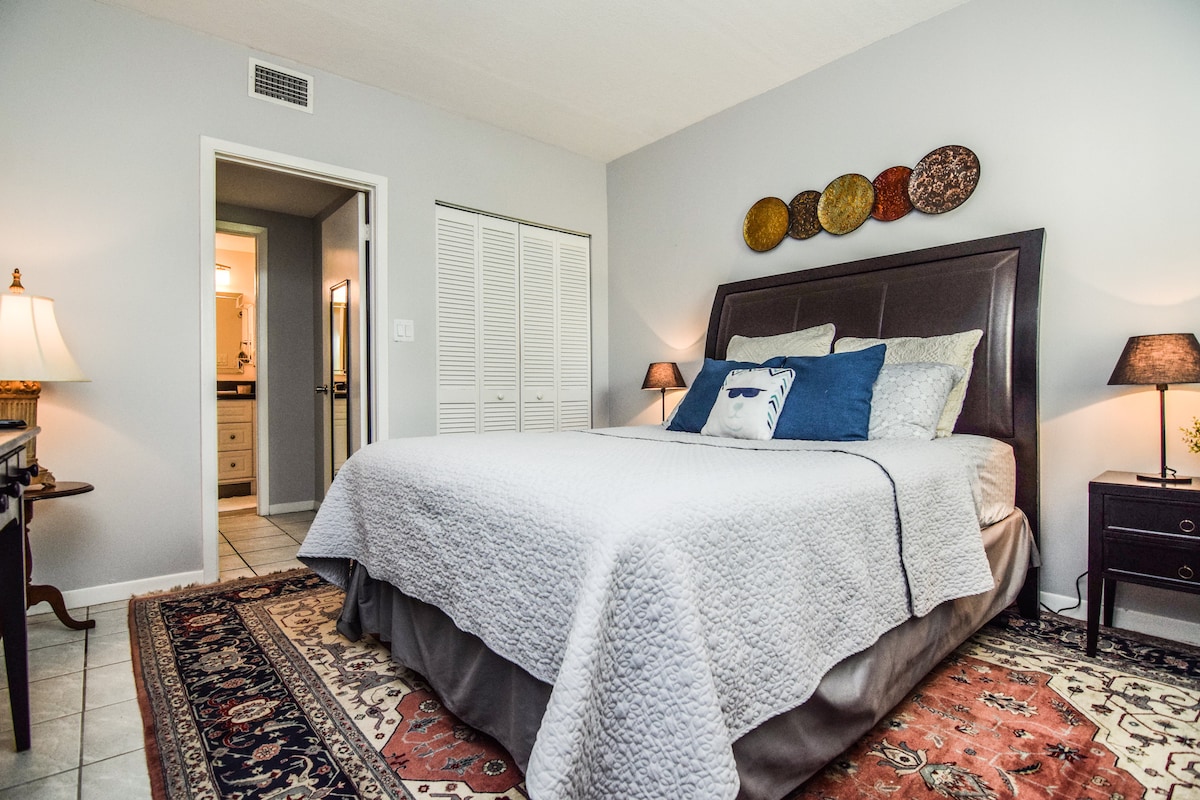 Luxurious Oceanfront Condo
You don't even need to get off the sofa to enjoy stunning beachside views with this superb vacation apartment for rent in Jacksonville Beach. This Airbnb makes it incredibly easy to spend time at the beach, with just one gate between you and the city's sand and surf.
But there's much more to this condo than just views and location. Neutral tones and a homely décor give the condo for four an inviting feel, which will probably make it even harder to leave when your vacation is over. Interestingly, the condo's one bedroom has a queen-size bed, while the living room has a larger king-size bed at its center, like you'd see in a studio apartment. The condo's bathroom is compact but chic and modern.
The rest of the main living area features a sofa, work desk, and fully equipped kitchen. To make trips to the beach easier, the unit comes with accessories like beach towels, chairs, and a beach umbrella. The unit also comes with amenities such as a laundry, a printer, Wi-Fi, a smart TV, dishwasher, and air-conditioning.
View on Airbnb
Jax Beach Bungalow
This vacation rental in Jacksonville Beach is a peaceful and private place to stay for three people in a central part of the city. The bungalow positions guests in a quiet neighborhood eight blocks from the ocean, which won't take long to reach with the bikes provided by superhost David.
In this light-filled guesthouse, there is one bedroom and one bathroom. The bedroom sleeps three people and has a king-size bed and an extra single bed in the corner. Parents traveling with a young child should find that this setup works quite well. The open-plan living room offers a sectional sofa, a small breakfast table, and a full-size kitchen. Outside, there is a small patio with a table and chairs where guests can sit with a cup of coffee or drink and enjoy the fresh air.
The guesthouse has a touchpad lock, which allows for keyless entry and the convenience of self check-in. Guests have access to the shared laundry in the garage as well as to amenities like a BBQ grill, Wi-Fi, TV, and air-conditioning. Beach equipment such as towels, chairs, coolers, and beach cruisers are also available.
View on Airbnb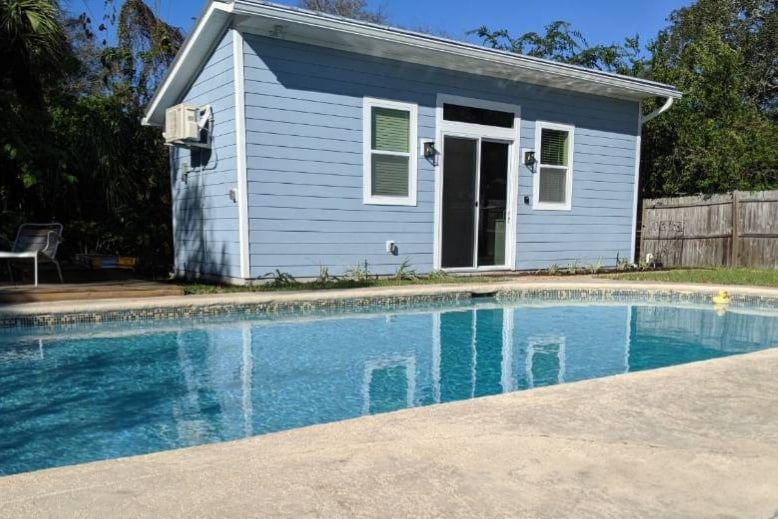 Poolside Tiny House
If all you want on your vacation is to relax by the pool, then this tiny house for rent in Jacksonville Beach may be right up your alley. This Airbnb for two sits mere steps from a shared backyard pool where you can easily escape the Florida heat. Not that the beach is all that far either, being just a two-minute bike ride using the bicycles provided by superhost Justin.
While the studio unit is quite compact, it still has all the necessities for a great short-stay Airbnb in Jacksonville Beach. The studio has a couch at the foot of the queen-size bed, while over by the kitchenette sits a small breakfast table. In the kitchenette you'll find a stove, coffee maker, microwave, and fridge, allowing you to cook for yourself during your stay. All the furnishings and appointments inside the tiny house including the private bathroom are modern, giving the space a fresh feel.
Although the backyard and pool area are shared with the main house, this Airbnb has a private entrance so that guests can freely come and go. Wi-Fi, TV, air-conditioning, and self check-in are some of the amenities.
View on Airbnb
Tiny Beach House
Despite its size, this tiny house is hands down one of the best Airbnb rentals in Jacksonville Beach. Located in South Jax Beach five blocks from beach access, this adorable cottage is close to plenty of shops, restaurants, and entertainment. It is also three miles from the Mayo Clinic in Jacksonville, making it a useful option for those planning on visiting family or friends at the hospital.
The quiet and cozy cottage sits in the backyard of superhosts Brock and Jackie and has room for two people. It features a sleeping loft with a full-size bed but also a queen-size sofa bed if guests don't feel like sharing. Neutral tones and a subtle seaside theme give the tiny house a calming feel that should make relaxing during your stay super-easy. There's also a hammock outside in the lush backyard if you prefer to unwind in the outdoors.
At 200 square feet, this tiny house impressively has enough room for its private bathroom with a walk-in shower. The Airbnb also comes with a very basic kitchenette, equipped with a minifridge and coffee maker. Other amenities include Wi-Fi, cable TV, beach accessories, and air-conditioning.
View on Airbnb
Sweet Water Guesthouse
Those looking for a Jacksonville Beach Airbnb where you can easily settle in will adore this waterfront guesthouse. Found in the Isle of Palms area of the city known for its boating community, it sits right by the banks of the Intracoastal Waterway and offers views of the water from its cute little balcony. The one downside to this area is that it puts guests quite a bit further away from the beach.
The guesthouse is designed with muted colors and occasional bursts of color to create a calming environment. There's room for three people thanks to the queen-size bed and sleeper sofa that share the spacious studio-style living area. The apartment also offers a fully equipped kitchen and a large bathroom, while outside guests have access to an outdoor living room on the nearby covered dock.
Superhosts Karen and Craig do their utmost to ensure guests have a pleasant stay, even providing a complimentary bottle of wine, drinks, and gourmet snacks for guests at the start of their stay. They also make two kayaks and two bikes available so that guests can explore the area at their leisure. Further amenities provided include a BBQ grill, beach accessories, TV, Wi-Fi, and laundry facilities for guests staying for longer periods.
View on Airbnb
Jacksonville Beach Unit
Few apartments in Jacksonville Beach feel as homely and welcoming as this one does. This Airbnb occupies the upstairs unit of a duplex and is located just three minutes from the beach. Guests will also find the city's lively restaurant and bar district within comfortable walking distance.
Up to four guests can stay in this two-bedroom, one-bathroom unit. The first room has a king-size bed and the second room has a queen-size bed, making this Airbnb a good fit for couples away on vacation together. Like the rest of the unit, the bathroom has been fully renovated and is equipped with a bathtub-shower.
The full kitchen has everything you need to cook for yourselves, as well as a small breakfast table by the window. For more dining space, guests can move outside onto the massive deck and use its outdoor seating. The living room offers two reclining couches by the TV, which is perfect when it's raining outside or after dark. Other amenities include laundry access, air-conditioning, Wi-Fi, a Pack 'n' Play, and board games.
View on Airbnb
Oceanfront Apartment
It's hard to pass over this pet-friendly Airbnb in Jacksonville Beach if you're seeking a beachfront apartment with direct ocean views. This second-floor apartment is not only situated just a few yards from the beach, it is also close to some great local restaurants and breakfast spots.
Six guests can comfortably stay in this two-bedroom, one-bathroom apartment. There is a queen-size bed in the first bedroom, a double bed in the second bedroom, and a queen-size sofa bed in the living room. As such, it works well for both families and groups on vacation together. The apartment's modern, beach-themed décor ensures that all types of guests will find the accommodation inviting.
Besides the sofa bed, the apartment's living room features a dining table for four and a vintage minifridge. Of course, there's a full kitchen as well, complete with a dishwasher, washing machine, and dryer. Down in the blue garage there's room for two vehicles. Guests have access to other amenities, too, such as air-conditioning, cable TV, Wi-Fi, and self check-in.
View on Airbnb
Private Studio Apartment
Couples seeking a Jacksonville Beach Airbnb for a quiet getaway should turn their attention to this wonderful studio apartment. Found in a peaceful residential area, this apartment is a short bike ride from restaurants, shopping, and the beach. Best of all, it comes with two bikes and a lock so that you can visit these places without hassle.
The studio apartment has an airy, contemporary feel that is enhanced by its hardwood floors and vivid turquoise walls. It features a queen-size bed, a large sectional sofa, and a well-equipped kitchenette. The bathroom boasts a custom design and offers a generous walk-in shower. Other amenities provided include Wi-Fi, cable TV, and air-conditioning.
The apartment sits behind the house of superhost Paige, and its private entrance gives guests their independence. Access to the apartment is up an internal staircase, meaning it may not be a good fit for those with accessibility issues. Other perks of staying at this Airbnb include the possibility of luggage drop-off and self check-in, plus one assigned parking place.
View on Airbnb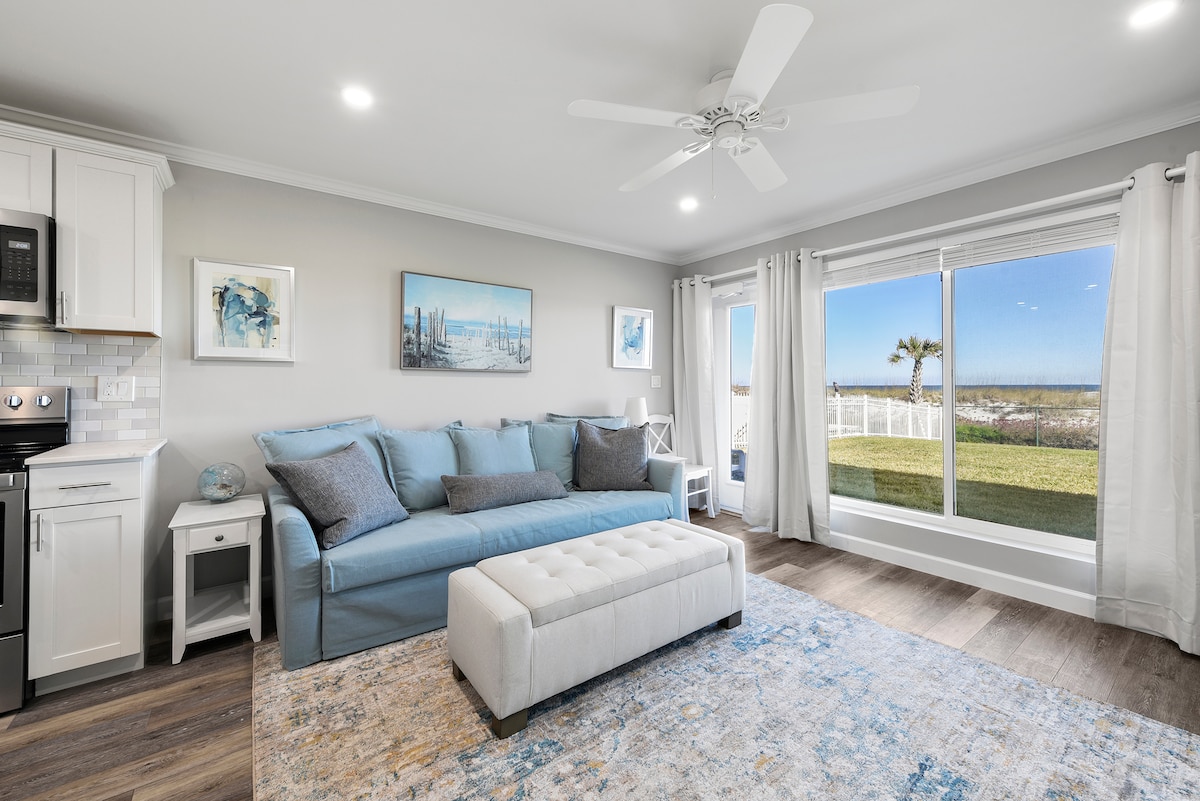 Oceanfront Beach Paradise
Live it up with this gorgeous luxury condo right at the northern end of Jacksonville Beach. You'll have unobstructed views of the beach and Atlantic Ocean, and what could be more relaxing than that?
This elegant Jacksonville Beach Airbnb sports a modern design and muted color palette, giving it a fresh feel. To make the most of its space, this studio condo for two features a full-size Murphy bed, as well as a fold-out sofa bed if needed. The full kitchen is equipped with stainless-steel appliances and a Keurig coffee maker. As with the rest of the condo, the compact bathroom has been fully renovated and now boasts a chic design and a subway-tiled bathtub-shower.
A nice bonus to staying at this condo is that guests receive a complimentary bottle of wine upon arrival. Guests also have access to a whole host of communal facilities, including beach access points, a pool, a laundry, and BBQ grills. Then there are the standard amenities, such as Wi-Fi, cable TV, and air-conditioning.
View on Airbnb
Newly Renovated House
There is a real vintage feel to this Airbnb in Jacksonville Beach set inside an old Florida beach duplex. Hardwood floors, a warm color palette, and a big leather couch underpin this house's retro look, but the unit has been newly renovated to ensure guests have a pleasant stay.
The single-level unit is located in a laid-back neighborhood five blocks from the Jax Beach Pier and provides easy access to the center of Jacksonville Beach. It features one bedroom with a plush queen-size bed and a white remodeled bathroom. While the house can only sleep two people, pets are welcome, so individuals and couples can bring their fur baby with them here.
In the spacious open-concept living area, there is a recliner sofa where guests can watch Netflix and HBO on the large TV. The fully equipped kitchen has everything needed for home cooking and bench seating around the counter. Other amenities provided include Wi-Fi, air-conditioning, and keyless entry.
View on Airbnb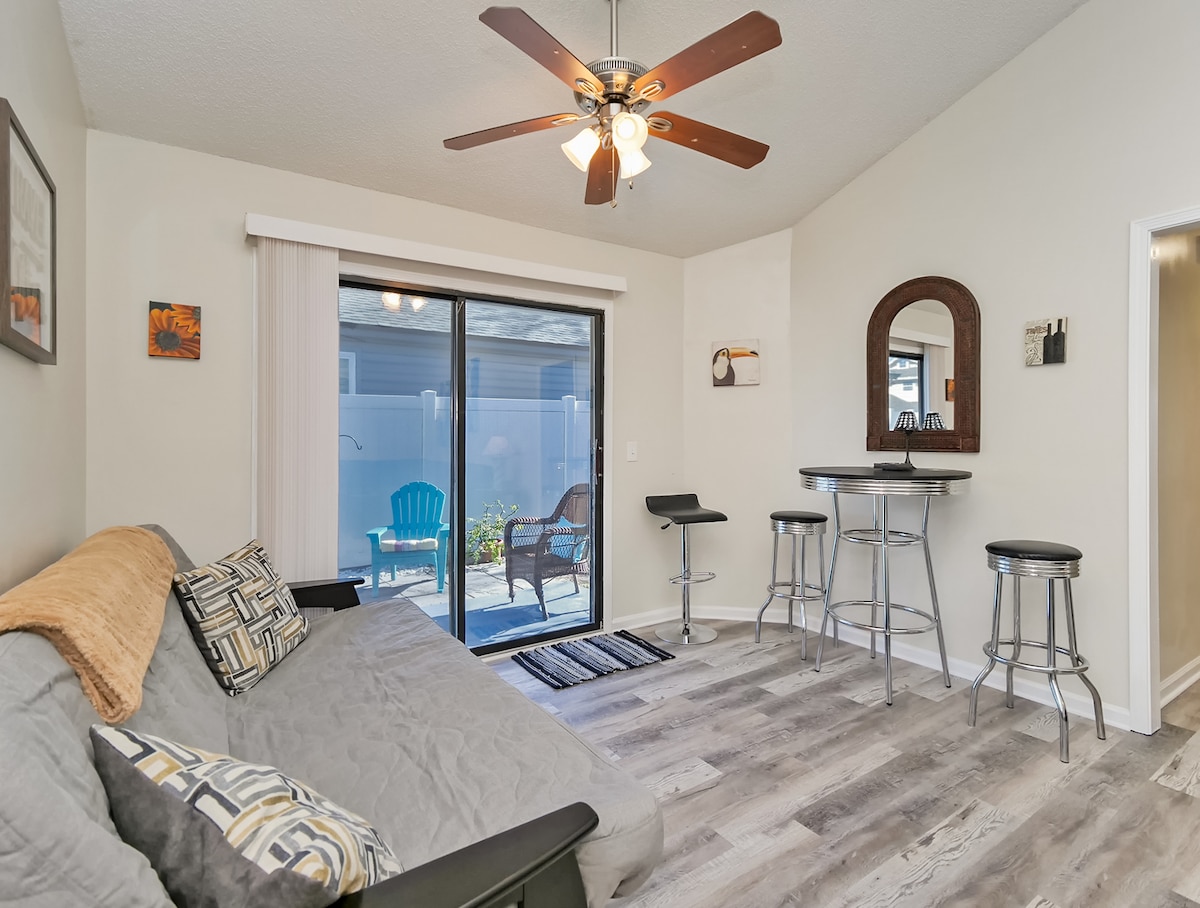 South Jax Beach House
When it comes to renting a house in Jacksonville Beach, it's hard to imagine a better home than this craftsman house. Not only does it have loads of space and a polished finish, it boasts a superb location in a quiet part of South Jacksonville Beach. Guests can comfortably walk or bike to the beach, while the Jacksonville Beach Golf Club is just a mile away.
This two-bedroom, two-bathroom house sleeps up to six people, which larger families are sure to find quite useful. The first bedroom has a queen-size bed, the second bedroom has a double bed, and there is also a futon in the living room. Both full bathrooms feature tub showers with colorful shower curtains, and one is an en suite off the first bedroom.
The open-plan living area has a huge sectional sofa facing the TV and indoor fireplace, and a bistro bar table. Over in the kitchen area, you'll find a proper dining table and stainless-steel appliances. When the weather is nice, guests can relax out in the backyard on the private patio and grill on the BBQ. Additional amenities include childcare equipment, a Pack 'n' Play, Wi-Fi, TV, and air-conditioning.
View on Airbnb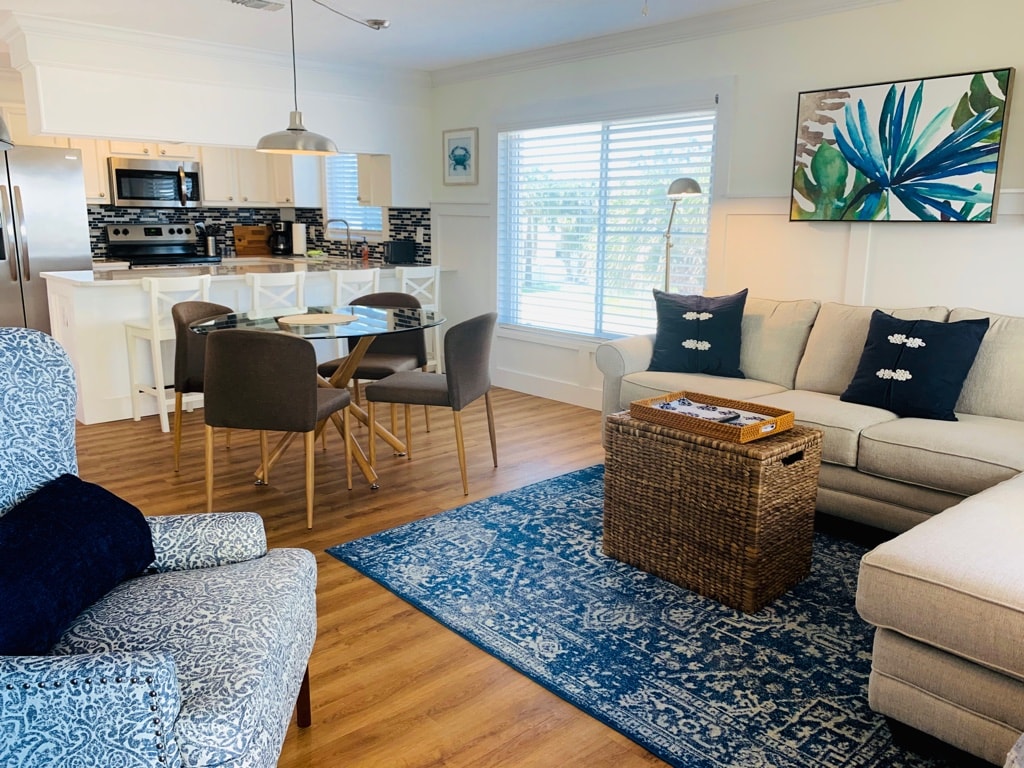 Oceanview Apartment
Last but not least, we have this Jacksonville Beach Airbnb that sits less than 100 yards from the nearest beach. Those who choose to stay in this two-story apartment will be able to gaze out at the ocean from its two balconies and also find tasty local eats within easy walking distance.
Four guests can comfortably share this two-bedroom apartment with a queen-size bed in each room. The apartment has a full bathroom with a double vanity and bathtub-shower, as well as a half bathroom found off the living room. An open-concept layout to the main living area accentuates just how large the space is, with plenty of room for a sectional sofa, glass dining table, and stools along the kitchen island.
The modern kitchen is equipped with stainless-steel appliances and will make self-catering during your stay a cinch. There are many aspects of this Airbnb meant to make your stay easier, from the pet-friendly policy to the Pack 'n' Play and children's tableware that are available for families with kids. Finally, there are also amenities such as off-street parking for three vehicles, a smart TV, Wi-Fi, a washer and dryer, a BBQ grill, and air-conditioning.
View on Airbnb
There you have it, a wonderful selection of Airbnbs in Jacksonville Beach to choose from. No matter what brings you to this exciting part of Florida, there's sure to be a rental on this list that works for you.