Image courtesy of Airbnb
Road Affair is reader-supported and may earn commission from purchases made through links in this article.
Home to the University of Oregon and a lively arts and alternative scene, the city of Eugene can be quite an intriguing place to visit. While there may be many different things that bring you to this leafy city, the one thing all visitors need is somewhere to stay. And the best way to find vacation and house rentals in Eugene of all kinds is definitely through Airbnb.
To help you plan your trip, we've assembled this thorough list of the best Eugene Airbnbs. Each of the selected Airbnbs in Eugene is managed by a superhost, and several belong to the exclusive Airbnb Plus program. Airbnb superhosts are owners who have a clear history of good reviews and service, while an Airbnb Plus is a property verified through in-person inspections. These labels should give you total confidence in your final choice of accommodation.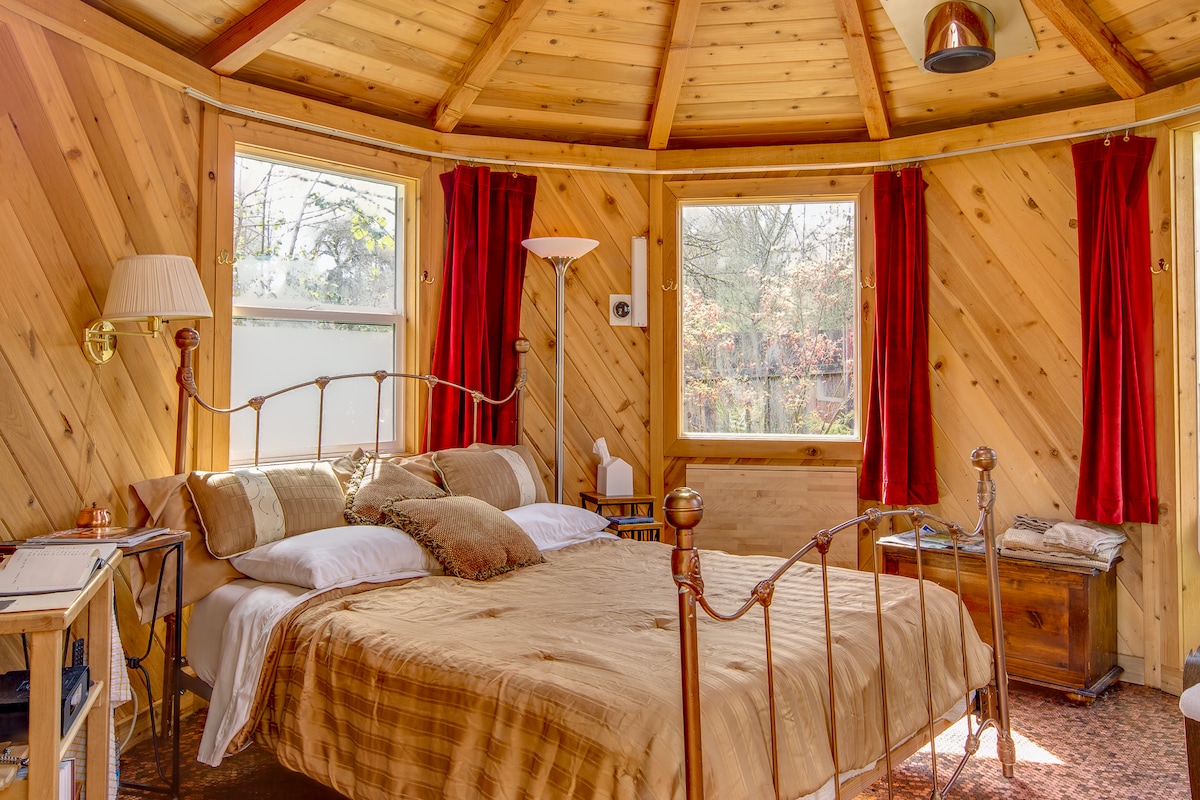 Relaxing Private Roundhouse
While there are quite a few minimalist Airbnbs in Eugene, who could overlook this precious roundhouse cabin that will surely make for a special place to stay? Located in southeast Eugene near plenty of restaurants and health clubs, it's conveniently close to the University of Oregon, not to mention downtown Eugene.
It's easy to see why this tiny house is one of the best Airbnbs in Oregon, given how it can turn a trip to Eugene into a fun little adventure. The small cabin is constructed of cedar and glass and sits in the garden of superhost Don. Inside, you'll find just enough room for a queen-size bed with memory foam, plus a small table and chair. It's not easy to get more minimalist than that, although it does come with modern comforts like heating, cooling, and room-darkening curtains so that you're not up at the crack of dawn.
The bathroom is a short walk away at the back of the main house, and there's also a functional outdoor kitchen where you can make breakfast. Other amenities include access to a washer/dryer and Wi-Fi.
View on Airbnb
Monroe Studio
With a relaxed and cozy feel, this remodeled studio cottage is hands-down one of the best Airbnbs in Eugene, Oregon. Its location just west of downtown Eugene puts guests minutes away by car from major sights. The many restaurants, bars, and boutiques of the Whiteaker neighborhood are nearby as well, meaning you have plenty of options for where to go in the evening.
Besides its excellent location, this Airbnb has everything visitors need for a short stay in the city. The cottage comes equipped with a king-size bed but also an extra bed in the loft, providing flexible sleeping arrangements for two guests. This means that it's not only suitable for couples and business travelers but friends traveling together as well. Elsewhere in the studio, you have a small living space, kitchenette area, and full bathroom.
It's possible to prepare your own food here, with the kitchenette providing a fridge, coffee maker, microwave, and hotplate for your convenience. Other amenities include Wi-Fi, a smart TV, and air-conditioning. Then there's the cheery outdoor porch that you can use when the weather's nice.
View on Airbnb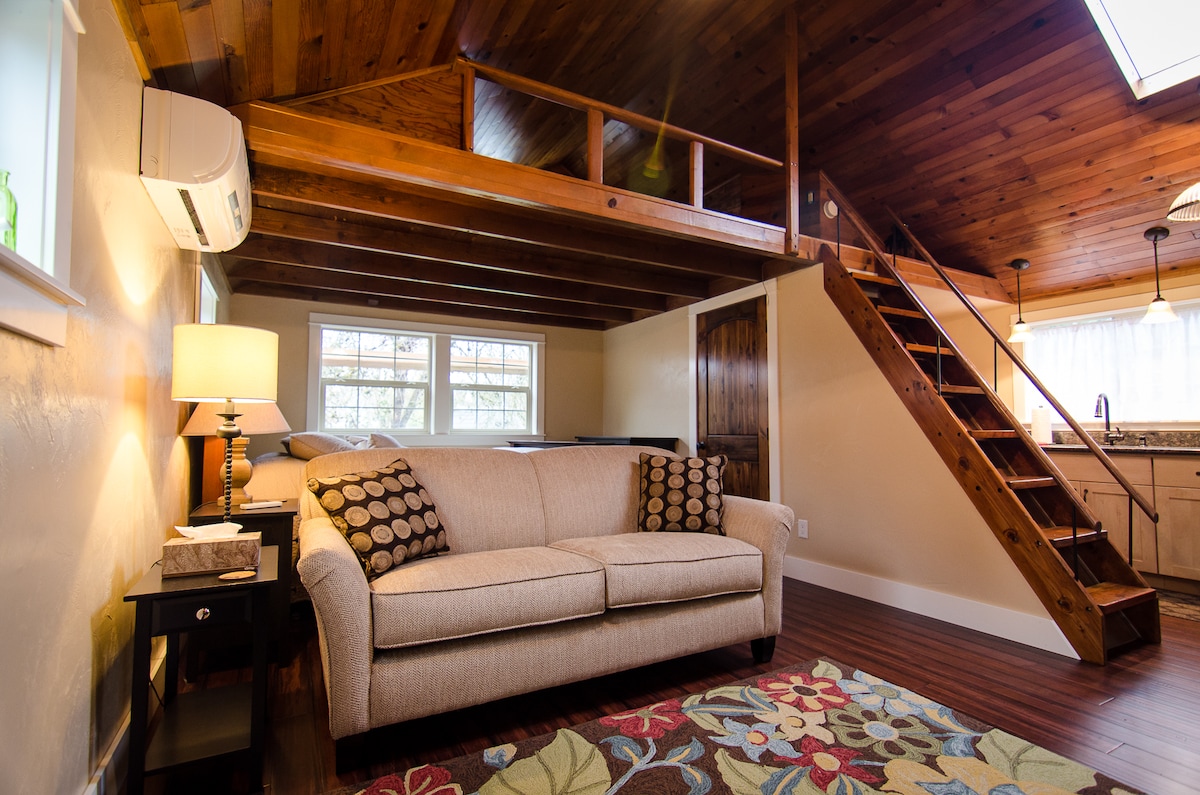 Park Ave. Cottage
If you're after vacation rentals in Eugene that offer gentle and peaceful surroundings, then this excellent guesthouse situated around the northern River Road area is likely what you need. You'll be staying in a quiet residential area with loads of accessible bike paths, and yet you can be in the popular neighborhood of Whiteaker getting food and drinks with a short drive or ride.
Looking at this cottage from the outside, it may be hard to imagine how such a compact place can sleep four people. But thanks to two queen-size beds, one downstairs and one in the loft, it can comfortably, if cozily, accommodate them. Fortunately, guests also have access to a pleasant outdoor deck space with table, chairs, and fountain for when they're craving space.
Beyond somewhere to sleep, the cottage features a full bathroom, a small living space, and a well-equipped kitchen stocked with a few complimentary supplies. Further amenities include a BBQ grill, Wi-Fi, pay TV, air-conditioning, and free parking.
View on Airbnb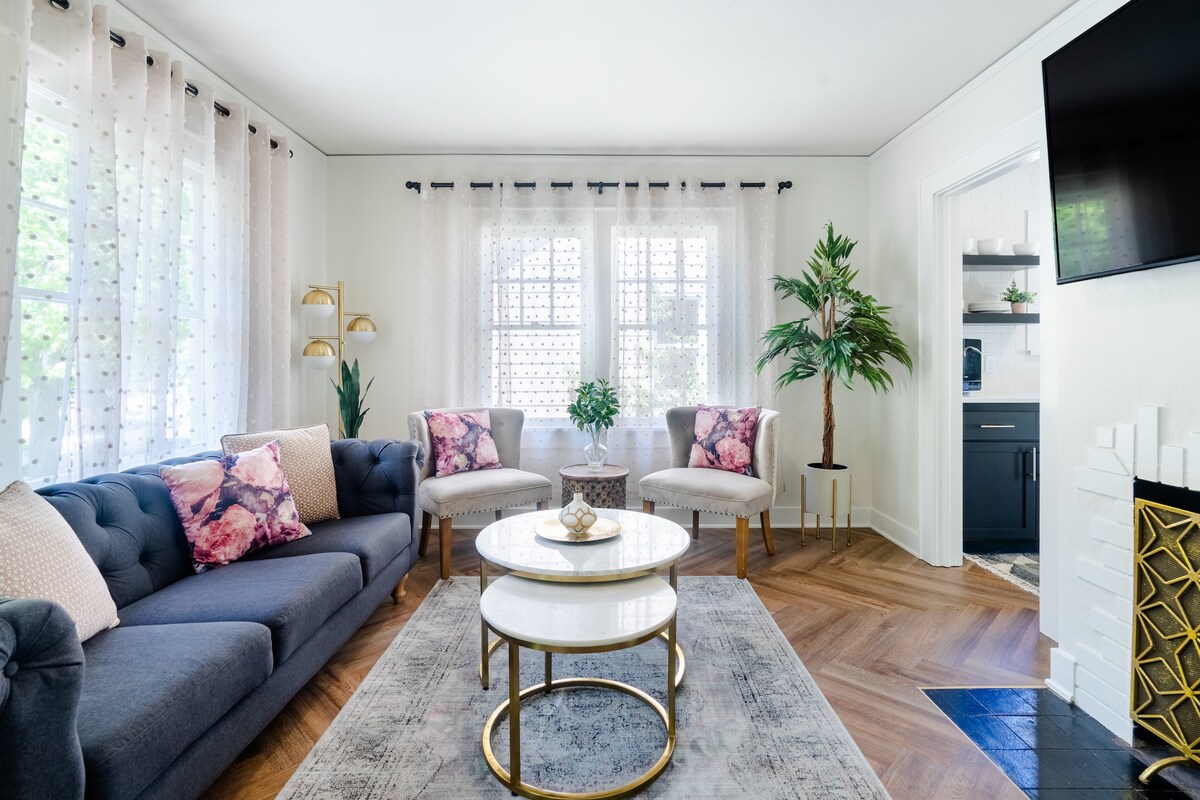 Delightfully Restored Cottage
You couldn't ask for more when you rent a house in Eugene Oregon than this delightful cottage situated in the comfortable Amazon neighborhood not far from the University of Oregon. Here you'll find yourself in a relaxed part of the city that boasts ample parks and green space. Best of all, there's a great selection of bars and restaurants just a short walk from your doorstep.
Staying at this elegant and carefully restored cottage, you shouldn't have any trouble settling in for a short or long visit. The Airbnb Plus features two bedrooms each with queen-size beds, making it a useful option for young families or couples away for a long weekend. Then there's the spacious and well-appointed living room and full kitchen, equipped with modern appliances and a small dining area.
What really completes this Airbnb is the fantastic backyard space that guests have access to. You'll find an inviting outdoor patio and garden that's ideal for relaxing with a cup of coffee or glass of wine. But let's not forget the other amenities like Wi-Fi, a TV, air-conditioning, and a dishwasher.
View on Airbnb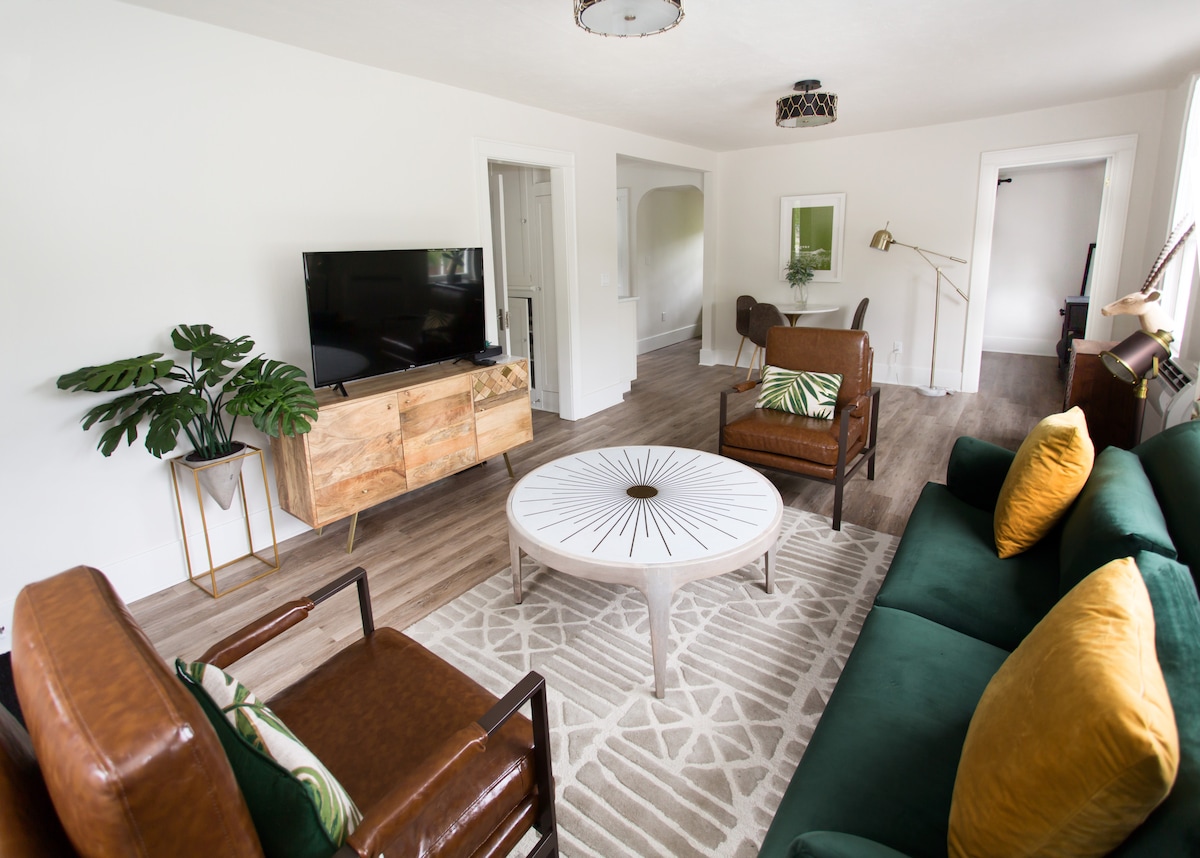 Modern Campus Cottage
A great pick if you're searching for short-term home rentals in Eugene is this modern renovated cottage. Found in the green neighborhood of Amazon, this Airbnb is conveniently close to the University of Oregon's campus and sports facilities like the Matthew Knight Arena. Being close to the university gives you easy access to plenty of popular bars and eateries as well.
This restored cottage comes with two bedrooms and three beds to accommodate up to three people. As such, it's a good choice for small families or friends visiting Eugene for sightseeing or college sports. Beyond the bedrooms, this home is quite generous with its space, providing a huge living room, a modern kitchen with a small dining area, and a freshly remodeled bathroom. Because of its careful renovations, you won't be able to tell that this cottage is from the 1920s. 
The fully-equipped kitchen gives the option of cooking if you don't feel like dining out. Other basic amenities include Wi-Fi, a TV, and air-conditioning.
View on Airbnb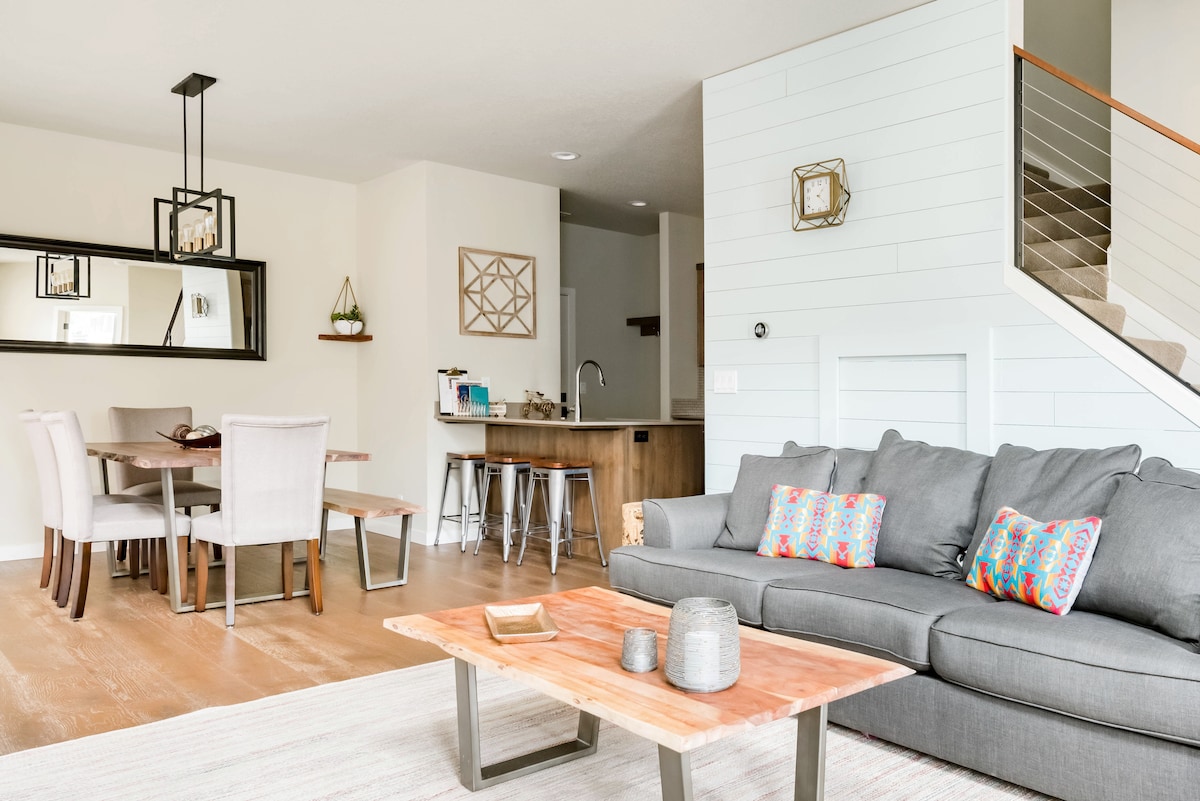 The Pendleton
It's unlikely that you'll manage to find another rental house in Eugene as large as this immense home set in the far north of Eugene in the lively Crescent Village district. Here you'll be surrounded with lots of trendy restaurants and shopping boutiques, and while you're quite removed from downtown, the city center is still only a ten-minute drive away.
With four bedrooms and three full bathrooms, this Airbnb Plus is simply massive. You'd really have to try to find a group of guests that couldn't fit under its roof, given that it's designed to accommodate up to 10 people. The layout means that guests can have their own space and then come together in the inviting living room or on either of the outdoor patios to spend time together.
The Airbnb also comes with a fully equipped kitchen and private laundry, both of which go a long way toward making longer stays comfortable. The house is also well set up for young children and infants as it provides family-friendly items like a Pack 'n Play, a high chair, and children's tableware. Other amenities include Wi-Fi, a TV, air-conditioning, and an indoor fireplace.
View on Airbnb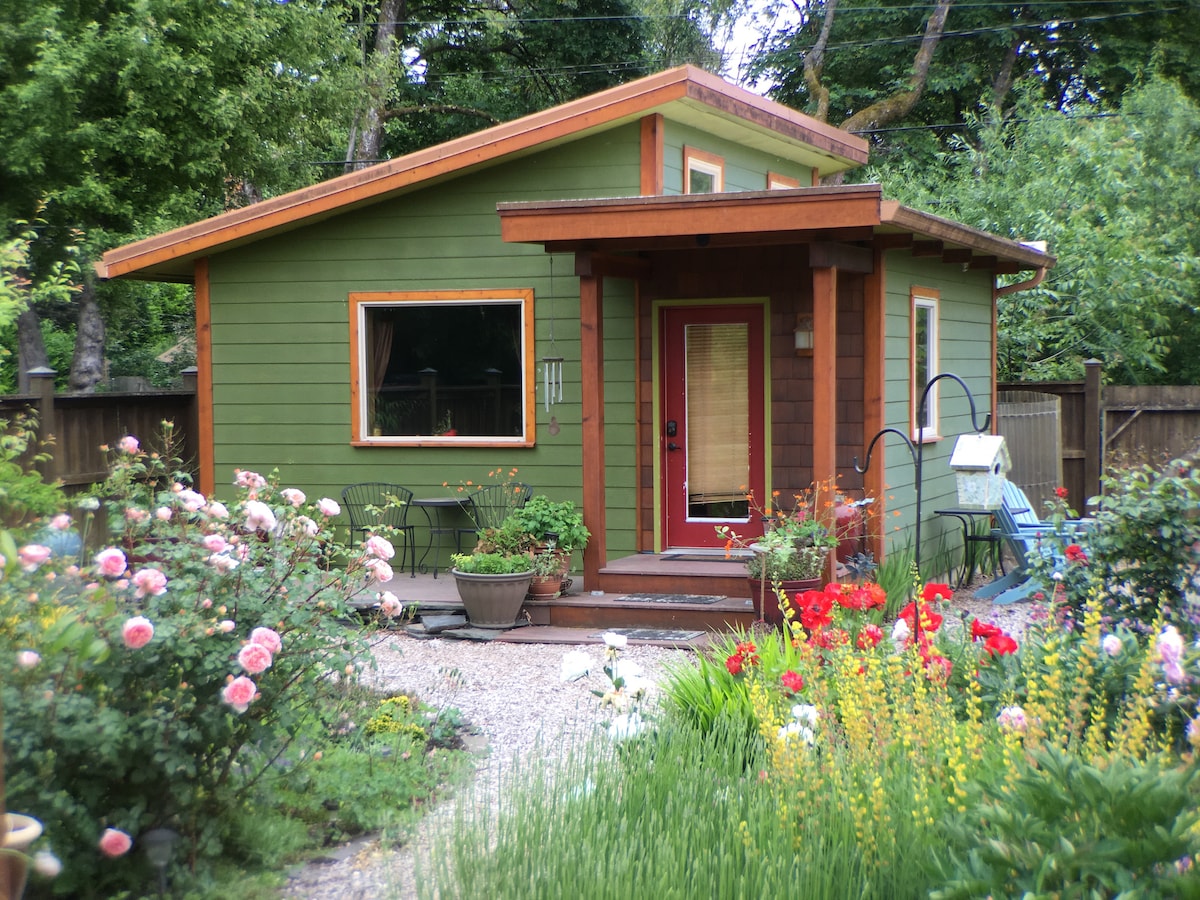 Urban Whiteaker Cottage
Enjoy an interesting and eclectic side to life in Eugene with a cute cottage stay. This Eugene Airbnb is situated in the historic yet alternative neighborhood of Whiteaker, a central part of the city with loads of local breweries and restaurants. While you'll definitely want to explore what Whiteaker has to offer, downtown is mere minutes away as well.
Featuring a studio layout, this small cottage is set in a vibrant garden behind the home of superhost Catherine. There you have enough room to fit three guests, with a queen-size bed in the sleeping area, plus a sofa bed. That kind of setup means the guesthouse is best suited to a single traveler, a couple, or parents with a child.
More than just a place to sleep, the cottage comes with a small dining area and kitchenette, providing a fridge, microwave, and hotplate. Guests have a small patio area in the garden to enjoy and can share the hot tub and deck with the main house. Further amenities include Wi-Fi and the possibility of leaving luggage before or after your stay.
View on Airbnb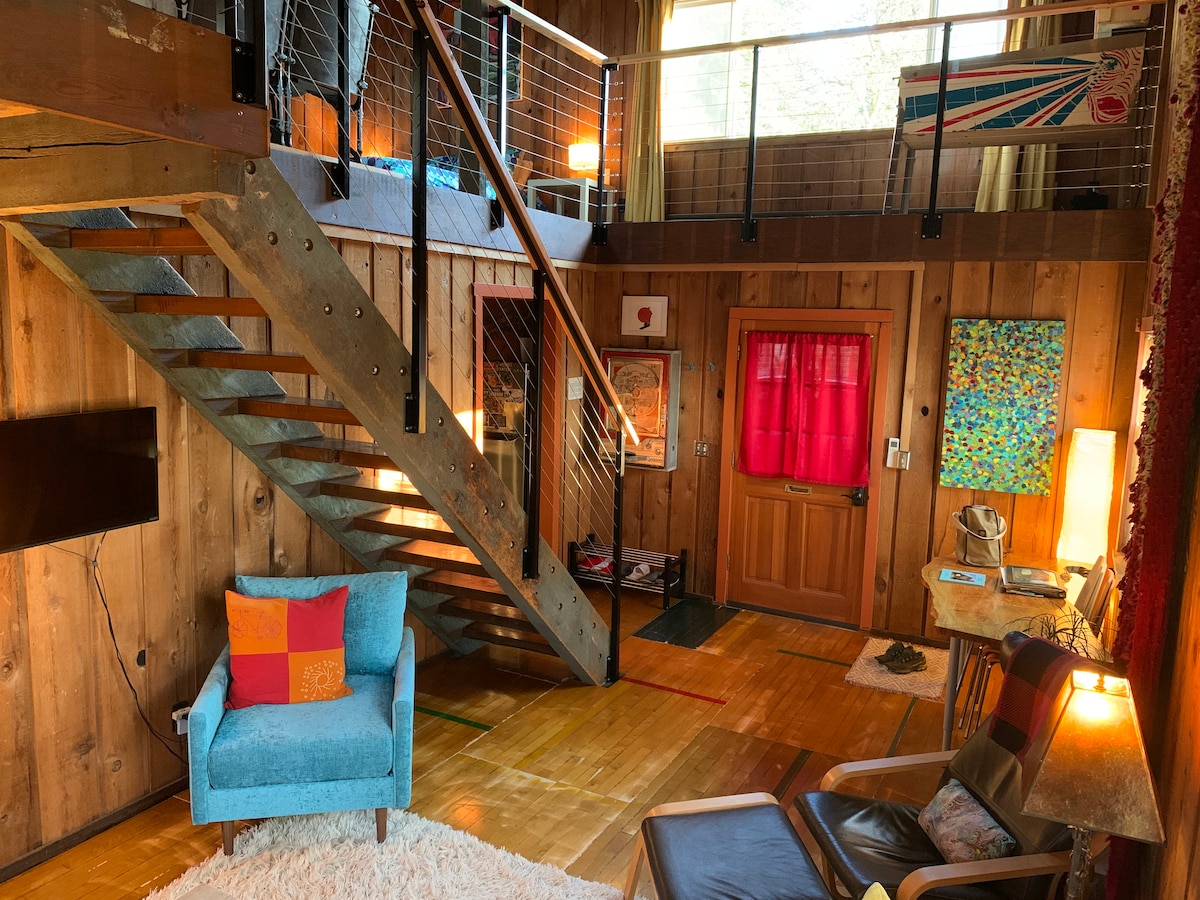 Eclectic Artist Loft
One Airbnb in Eugene that gives off a really unique vibe is this quirky and old-fashioned loft found in the leafy Amazon neighborhood just south of the University of Oregon. It's a six block walk or bike ride to reach events on campus, and guests have free use of bicycles with this rental.
While it dates back to the 1920s, the loft has offbeat vintage touches from various decades all around. Decorations range from a huge CD collection to a pinball machine and a 60s-era mechanical Pachinko machine. Despite its eclectic design, it has a cozy, cabin-like quality that should make it easy to settle in. In terms of sleeping arrangements, the Airbnb comes with two bedrooms each with full-size beds, plus a floor mattress.
The loft also offers a pleasant living room area, a nice dining area, and a proper kitchen, which means you'll have no trouble self-catering during your stay. Extra amenities include a washer/dryer, Wi-Fi, a TV, air-conditioning, a BBQ grill, and even an indoor fireplace.
View on Airbnb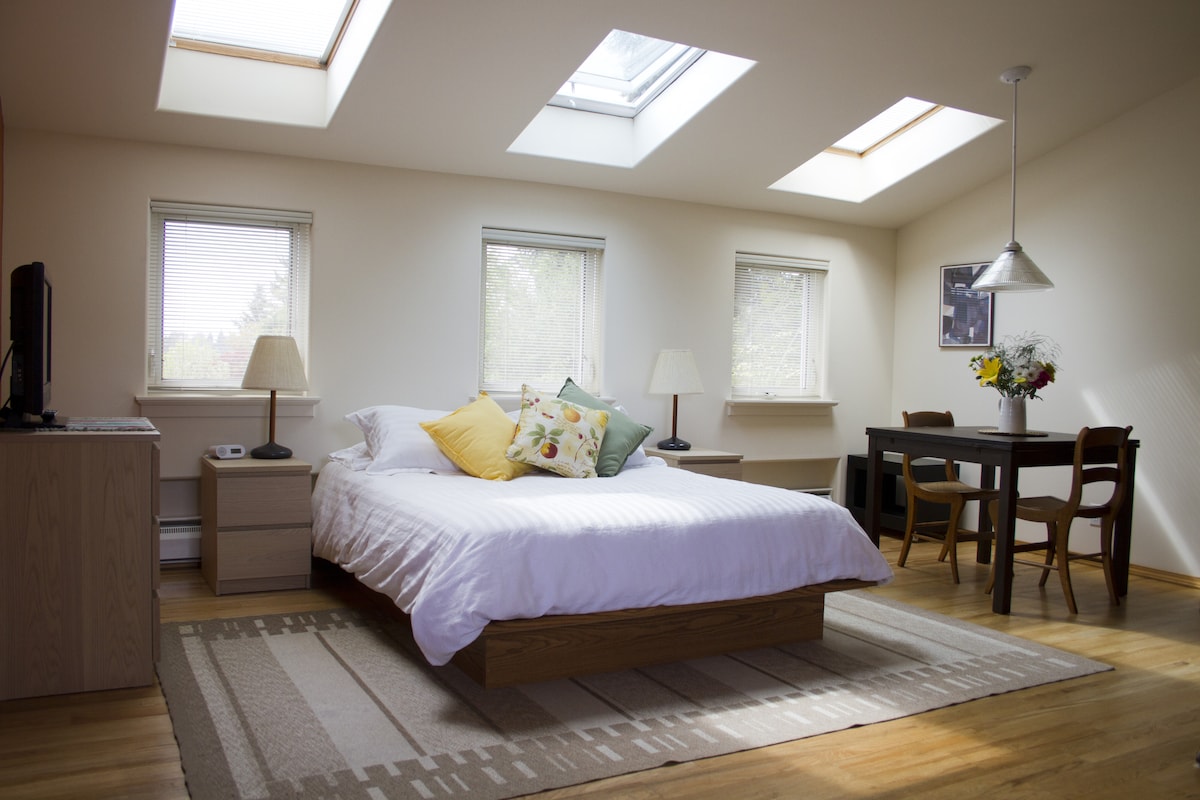 Bright, Airy Studio
For a comfortable studio in Eugene with an airy look and plenty of light, search no further. This inviting guest suite is located in a tranquil residential neighborhood of South Eugene, making it a pleasant area to stay in if you're after peace and quiet. That said, you're still quite close to shops, bakeries and restaurants, so you won't have to travel far to get food. 
Solo travelers and couples will be best suited to this guest suite as this Airbnb is only meant for two adult guests. However, it does also have the option for a cot, so parents with an infant will also find it a good fit. The rest of the studio comes with a private bathroom, a dining area, and a useful kitchenette that provides a microwave, induction cooktop, coffee maker, and fridge.
One nice touch of this Airbnb is that guests are provided with breakfast items daily, taking the hassle out of getting food in the morning. The studio also comes with amenities like Wi-Fi, a smart TV, air-conditioning, and off-street parking, plus access to laundry facilities.
View on Airbnb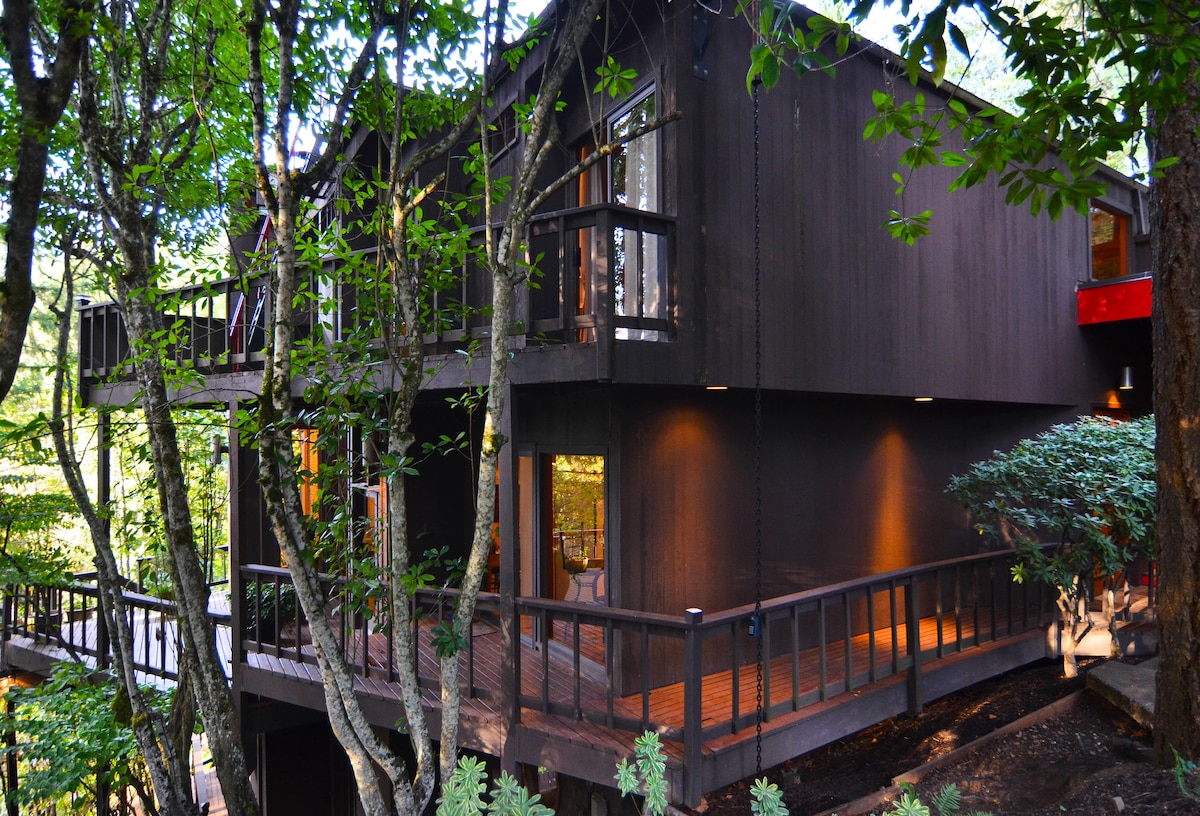 Treehouse Library Guest Suite
Booklovers won't be able to resist this Eugene Airbnb situated in the exclusive and upmarket neighborhood of Eugene South Hills once they see the shelves of books inside. Here you'll find plenty of privacy and be able to rest up while still being within reach of downtown and the university campus.
There's so much to love about this imaginative guest suite, starting with the tranquil woods surrounding the house. Floor-to-ceiling windows ensure you never lose sight of that beautiful scenery while also making the inside feel more spacious and homely. Then you have the flexible sleeping arrangements thanks to several queen-size air mattresses supplementing a king-size bed. As such, it's possible to sleep up to five people here, although it may be a bit cozy with that many.
The rest of the guest suite offers a full bathroom, a nice living space, and a handy kitchenette. In case you need help unwinding, you'll find a hammock and a hot tub out on the deck, which even has an umbrella in case it's raining. Additional amenities include Wi-Fi, cable TV, a gaming console, an indoor fireplace, and air-conditioning.
View on Airbnb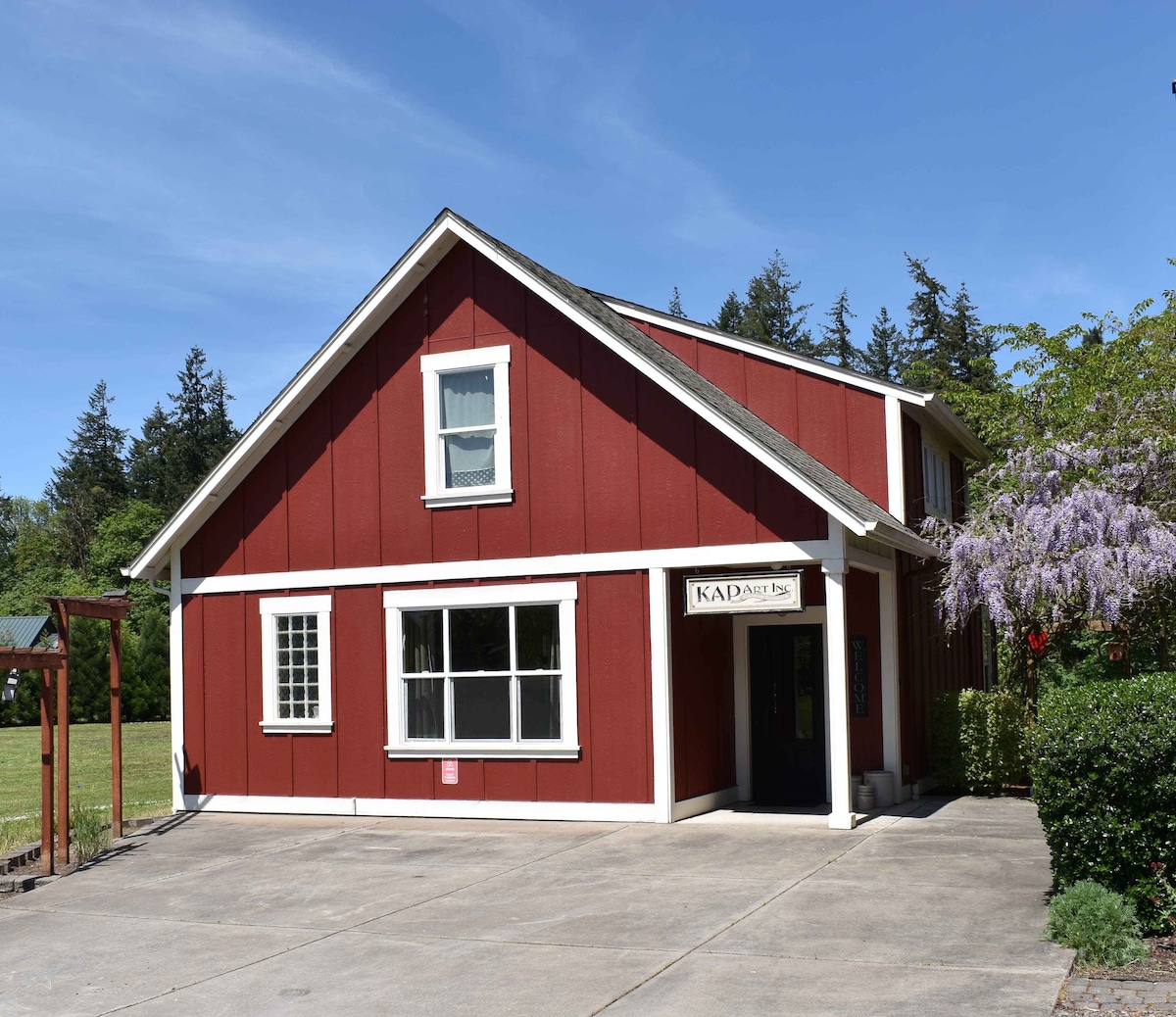 Art Studio
Another fun studio Airbnb in Eugene worth considering is this peaceful and rustic guesthouse. While it's a little north of the city and closer to the small city of Coburg, you're still only 15 minutes by car from downtown Eugene. You get the best of both worlds here, with quiet country living and easy access to all the city offers.
Inside this guesthouse you'll find two small bedrooms, one with a queen-size bed and the other offering two single beds. That setup is perfect for a family with kids or friends traveling together, especially with the large open-concept living space between the rooms that's ideal for hanging out and socializing. In the living area, you have a proper dining space, a sitting and TV area, and a modern kitchen.
Guests also have a pleasant covered porch from which they can enjoy the pastoral scenery. This outdoor space is particularly good news for dog-owners as this Airbnb allows guests to bring dogs for a fee. Amenities include a BBQ grill, Wi-Fi, a TV, air-conditioning, and a luggage storage service.
View on Airbnb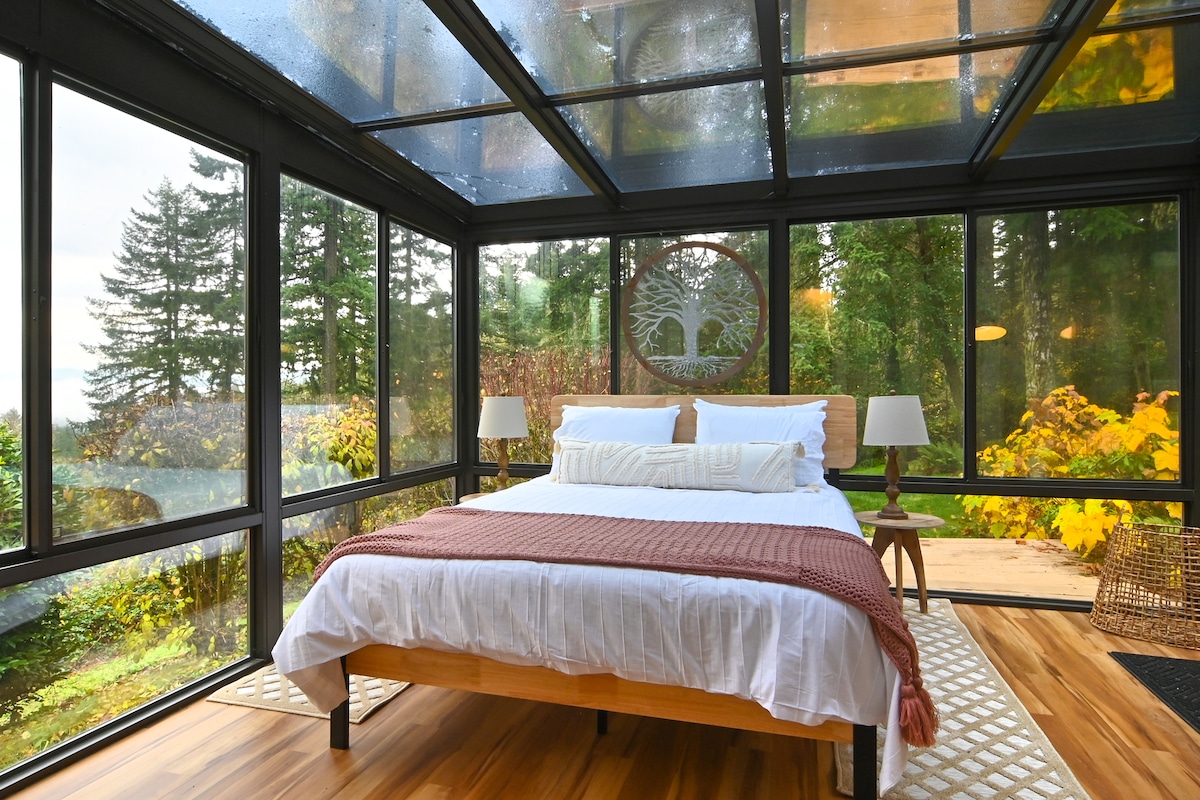 Luxurious Getaway
Of all the vacation houses for rent in Eugene, few could hope to compete with the luxurious nature of this exciting Airbnb found to the south of the city in a gentle rural area. Here you'll enjoy complete peace and privacy, and the area is especially good if you enjoy hiking, with the Spencer Butte trailhead just a few minutes away.
Designed like a chalet in some respects, this two-bedroom house is sure to make your time in Oregon a special one. How could it not with the breathtaking view of the valley you get from each over-sized window, not to mention from the large deck? While it has just two bedrooms with queen-size beds, the house is set up with an extra three sleeping spots for children, making it an excellent choice for families on vacation.
In the rest of the house, there's an open and stylish living room, a dining area, a full kitchen, and two bathrooms. Amenities include Wi-Fi, a TV, air-conditioning, an indoor fireplace — and let's not forget the hot tub outside as well.
View on Airbnb
Elkay Skyloft
The last Airbnb in Eugene we want to share with you is this wonderful guest suite with its inviting feel and family-friendly setup. Located in a safe residential area to the northwest of the city center, it's ideal if you want gentler surroundings that are nonetheless a short drive from downtown. Outlets, breweries, and restaurants are all within a five-minute drive, making this quite a convenient area to stay in.
Set on the second floor of a house, this airy and contemporary loft is an easy place to like. It offers two bedrooms and a total of four beds to accommodate seven people, which is great news for large families or groups. The loft features one bathroom, a dining area, and a well-equipped kitchen with absolutely everything you could need for cooking.
Guests also have access to the brilliant backyard and its patio, firepit, and BBQ grill. Other amenities include access to a washer/dryer, plus Wi-Fi, a TV with streaming services, a gaming console, air-conditioning, an EV charger, and plenty of childcare equipment.
View on Airbnb
Holly's Hideaway
Those who don't require a huge amount of space won't be able to resist this adorable guest suite, easily a contender for best Airbnb rental in Eugene. Found in another quiet part of the city in the welcoming neighborhood of Southeast Eugene, here you'll be able to unwind without any trouble.
Designed for short stays, this little Airbnb more than makes up for its small footprint with charming decor and relaxing garden views. The small guest suite provides another space for at most two guests and comes with a queen-size bed in its pretty bedroom. Surprisingly, it also manages to fit in a full bathroom as well as a living area where you can take it easy. That said, you may find the chairs out in the beautiful private backyard a better alternative.
What's nice about this Airbnb is the way it still squeezes in modern conveniences. The living area not only features a breakfast bar facing the garden window but also a kitchenette equipped with a microwave, minifridge, and coffee maker. Additional amenities include Wi-Fi, a TV, air-conditioning, and access to a BBQ grill.
View on Airbnb
Modern Studio
To experience what local life in Eugene is like, it's hard to beat staying at this one-of-a-kind guest suite. That's because this Eugene Airbnb is located in the heart of Whiteaker, a historic neighborhood that's known for its food scene and breweries. Step out your door and you have food trucks, restaurants, coffee shops, and brewpubs all within easy reach.
Other than offering a place to stay in a walkable part of the city, this studio guest suite provides a surprisingly roomy space with an enjoyable contemporary design. Inside, you have a king-size bed as well as a sofa bed. This means the studio can sleep up to three guests, though it is probably best suited to couples or solo travelers.
In addition to the living area, the rest of the studio features a useful dining area, a small kitchenette, and a modern bathroom. In the kitchenette, there's a fridge, microwave, and coffee maker, making it possible to at least prepare basic meals during your visit. There are also extra amenities like Wi-Fi, a smart TV, air-conditioning, and free parking.
View on Airbnb
Whatever your reason for visiting this fantastic city in Oregon, we're sure that these Eugene Airbnbs will help you make the most of the trip.
Reader Interactions