Road Affair is reader-supported and may earn commission from purchases made through links in this article.
It's easy to see the appeal of visiting Colorado, a U.S. state known for its mountains and wilderness. Whether you're interested in outdoor activities or simply sitting by a campfire, Colorado is a great place to unwind in an Airbnb surrounded by nature. What's nice is that the best Airbnbs in Colorado allow you to get the most out of its incredible landscapes, no matter if you're staying in cities like Denver or Boulder or in the middle of nowhere.
We recommend renting an apartment in Colorado for a vacation because you won't find places as incredible or unique to stay in anywhere but on Airbnb. To show you what we mean, we've compiled this list of the best rated places in Colorado, full of superhosts and the odd Airbnb Plus. If you're not already aware, Airbnb superhosts are owners who have consistently well-reviewed properties, while Airbnb Plus rentals excel at style and decor. 
The Hygge Chalet and Sauna
More than just a cabin, this Scandinavian-inspired chalet is easily one of the best Colorado Airbnbs for a getaway in the Rocky Mountains. Hidden away in the Lost Creek Wilderness National Forest, this cozy place is an easy drive from Denver and a great base for outdoor adventures. 
You won't find many Airbnbs in Colorado that embrace the Danish concept of hygge, providing a mood of coziness and well-being, but this Airbnb definitely does. Without the distractions of the modern world, it's easy to appreciate simple comforts. Not that an outdoor steam sauna is simple by any means, we meant more the boardgames, the hammock, and the two decks with forest views.
The chalet comes with two bedrooms, one on the main floor and another in the loft, each with a queen bed. On the main floor there is also an inviting living area, as well as a full kitchen with all the essentials for cooking. It is important to note that this cabin sits at 9,000 feet, meaning some visitors may suffer altitude sickness.
View on Airbnb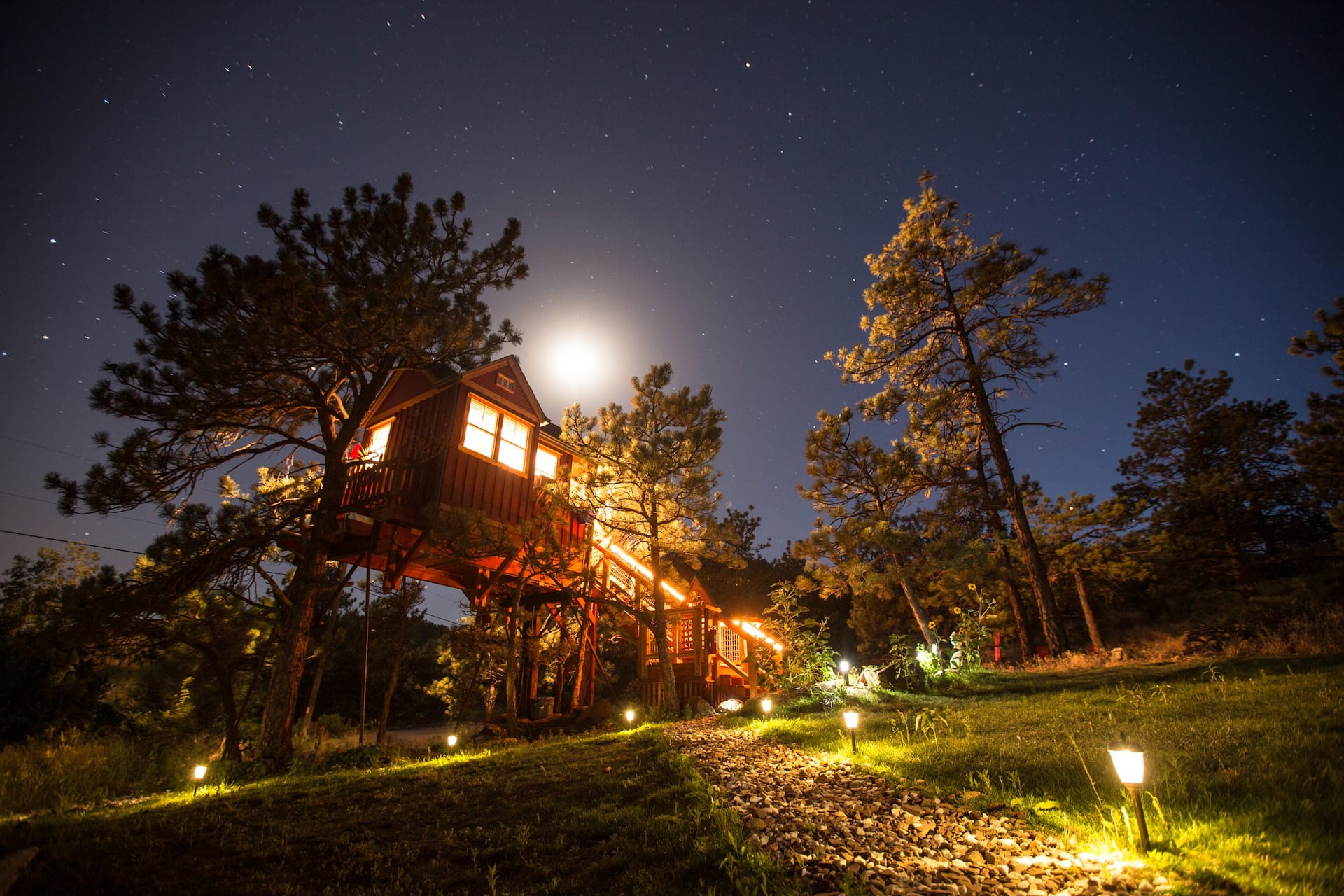 Little Red Treehouse
While sleeping in a treehouse is often only a dream for many little kids, this Airbnb in the town of Lyons makes it a reality. Yes, this treehouse Airbnb in Colorado allows you to live out a childhood fantasy of falling asleep among the treetops.
With one bedroom, this treehouse offers groups of two a fun experience in a cozy space. The place makes the most of its available room, by incorporating a space-conscious kitchen and pull-down Murphy bed that sleeps two. And it also has space for another bed up in the loft. It also makes the most of its outdoor spaces, with an outdoor dining area and plenty of views of the surrounding nature.
But this is no humble treehouse, as it's equipped with electricity, Wi-Fi, heating, and air-conditioning. It also manages to fit in a separate shower and bathroom up there. You'll also have a fridge and tableware to prepare your own meals, although it's also just a short drive into town where there are restaurants.
View on Airbnb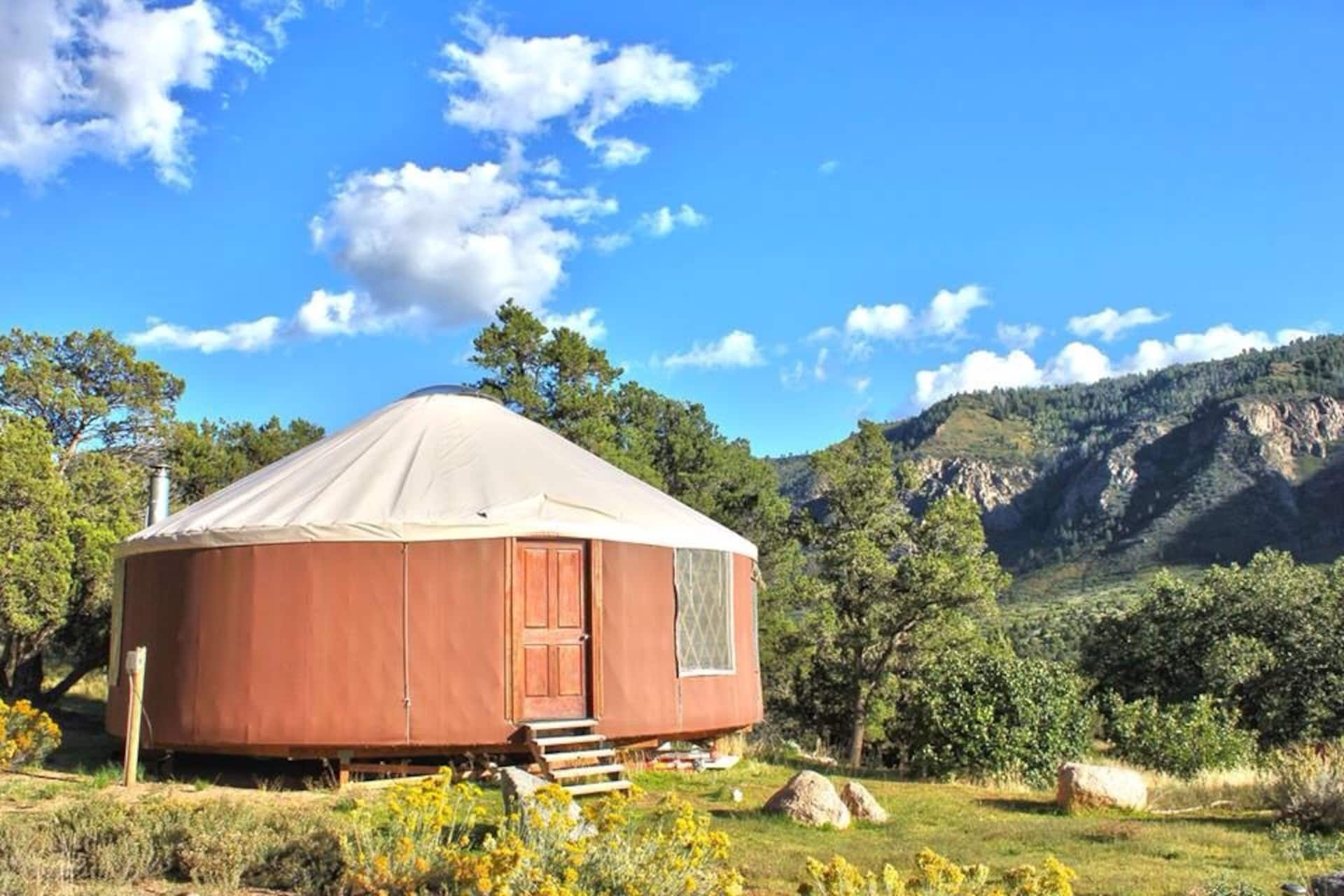 Need out of town? Outdoors+WiFi? Look no further
For those looking to try something new for their mountain getaway, why not experience what it's like to stay in a yurt? Situated in stunning Unaweep Canyon, this is one Airbnb in Colorado that perfectly matches the accommodation to its setting.
Typically, yurts are the simple homes of nomads in Mongolia, but this is no ordinary yurt. Not only is it incredibly spacious and able to sleep up to six, it's loaded with modern amenities and comforts like Wi-Fi, heating, and air conditioning. There's even hot running water in the bathroom and a kitchen with a microwave and fridge/freezer. That you get the best of both worlds is a clear indicator that this is one of the best Airbnb rentals in Colorado.
Besides being a welcoming space to spend time in, the yurt is also a great base for outdoor activities. There you can explore local hiking trails and try other activities like horseback riding, mountain biking, and rock climbing.
View on Airbnb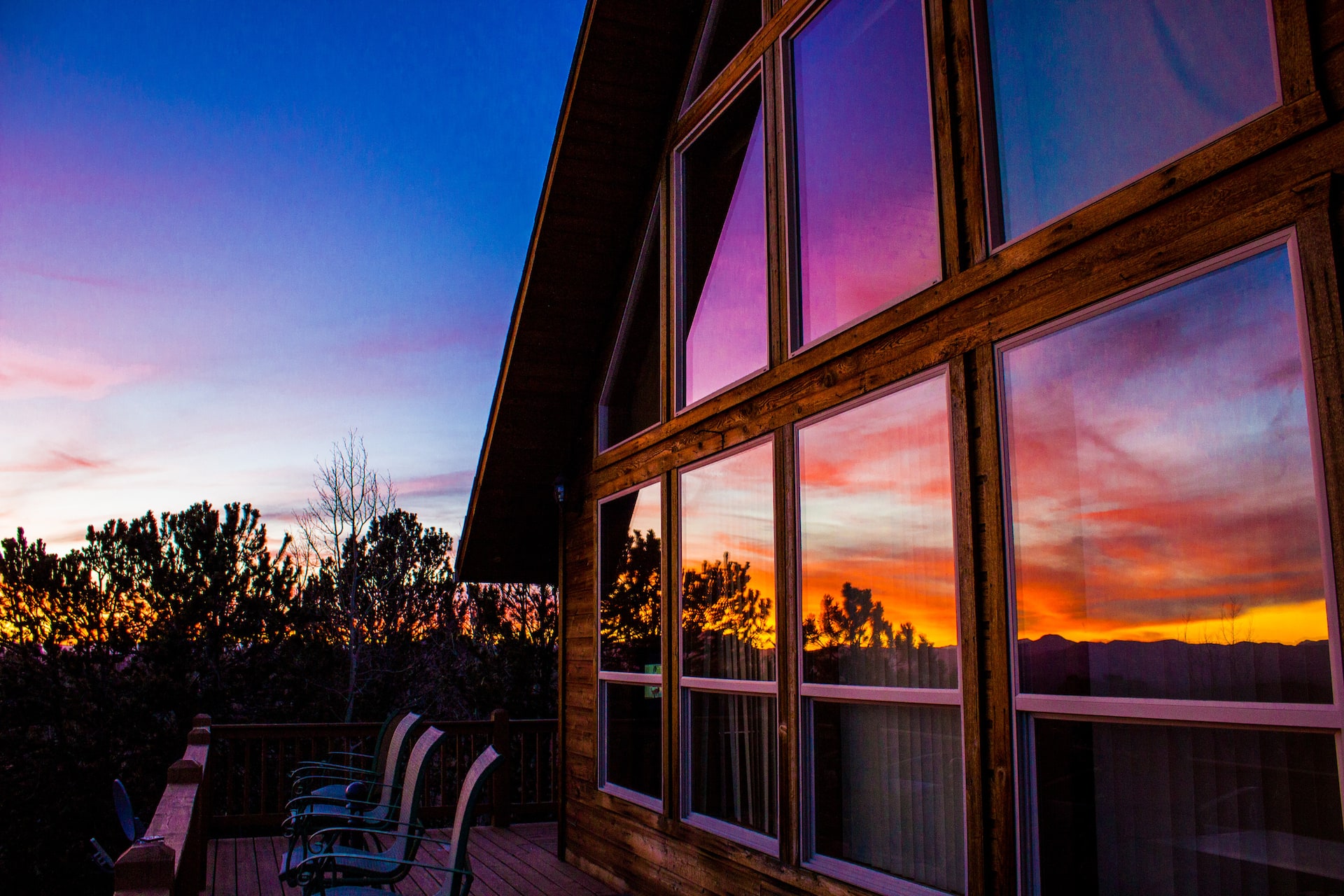 The Fortress at Pikes Peak Cripple Creek
Groups thinking of renting a cabin in Colorado will love this huge cabin and its epic views. Located on the slopes of Pike's Peak near Cripple Creek, this retreat works whether you want to spend time indoors or out.
With majestic views of the Sangre de Cristos mountain range from its massive deck, this is a great place to destress. But this isn't one of those Colorado Airbnbs that coasts on its epic surroundings. Across its three floors you'll find a great room with floor to ceiling windows, a family room with HDTV and a pool table, and an outdoor spa on the lower patio. Add in perks like Wi-Fi and laundry facilities, and you have everything you need for a killer vacation.
Being so spacious, it should be no surprise that this cabin sleeps ten people. There are three bedrooms, each with a queen bed, while additional beds can also be set up. Two full bathrooms help cater to groups this large, as does the fully stocked kitchen and outdoor grill.
View on Airbnb
Related: 15 Best Cabin Rentals in Colorado, USA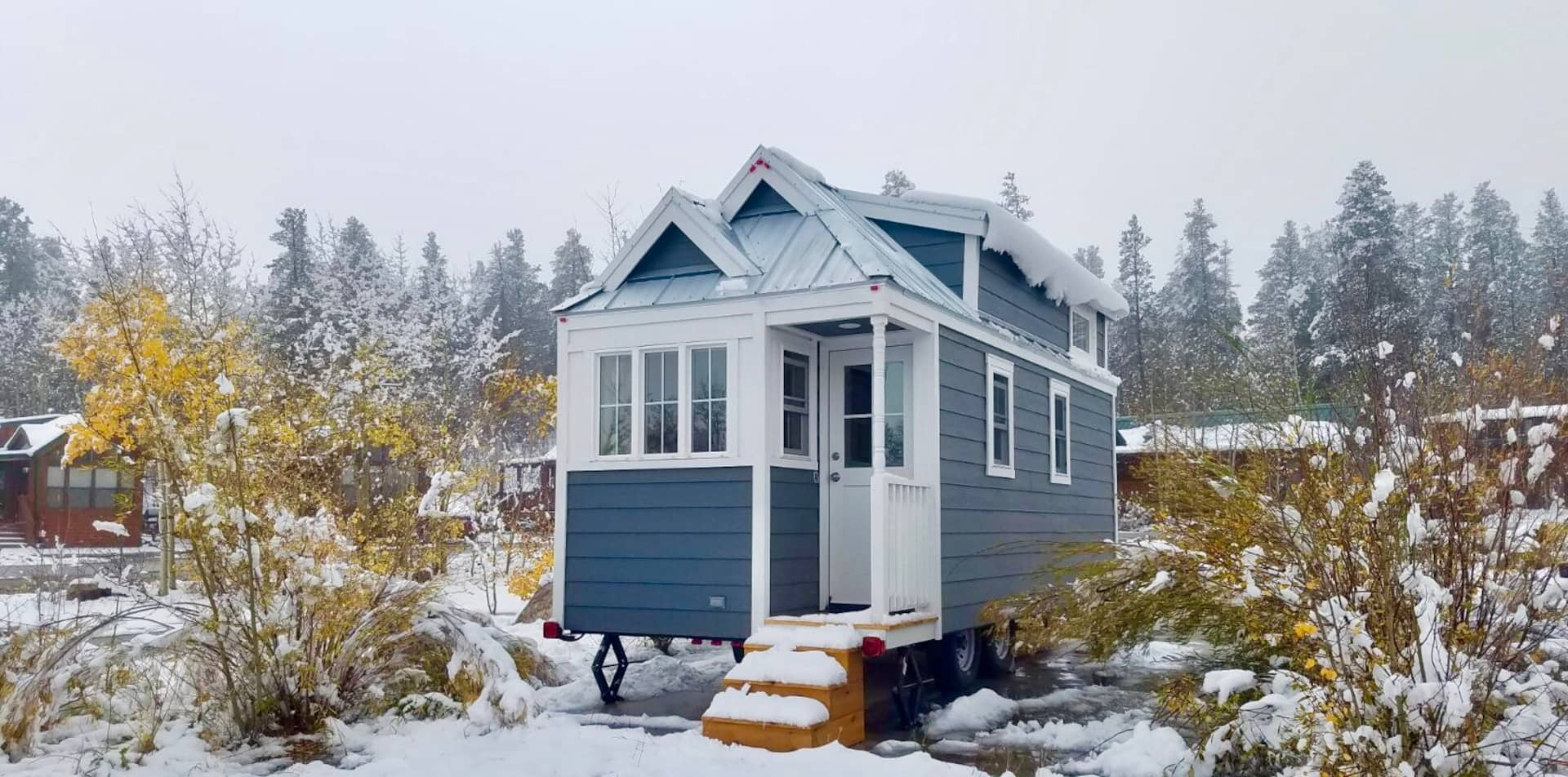 Amazing Tiny House – Mountain Tiny Living Dream
They say that good things come in small packages and they're definitely right when it comes to this tiny house in Fairplay. It may be one of the smaller vacation rentals in Colorado, but this cozy little Airbnb will surprise you in the incredible value it delivers.
This Airbnb is located just south of Fairplay, a town made famous for its connection to the TV show South Park. Not only is there a South Park City museum you can visit, there are also opportunities to go hiking and fishing up in the nearby mountains. Or you can just stay in this tiny home, make use of the Wi-Fi and head over to the community hot tubs.
Despite its small size, this tiny home is able to comfortably sleep three, featuring both a queen bed in the loft and a single bed downstairs. You're bound to feel comfortable inside with the heating and air conditioning, not to mention the beautiful pine interior. There's also space for a well-equipped kitchen with cooktop and fridge, as well as a private bathroom.
View on Airbnb
Private, Cozy Suite in Estes Park near Rocky Mtns
If you're seeking a relaxed and comfortable base while exploring the Rocky Mountain National Park, then this guest house is for you. Homely with a contemporary design, this is the best Airbnb in Estes Park for those looking to unwind after hiking in the nearby national park.
Although this guest house features a studio layout, couples will find it considerably spacious. In the room you have a large queen bed, living area, and kitchenette, all of which enjoy plenty of light from the large windows. But you also have lots of outdoor space too, thanks to the deck with a hammock covered by a large shade awning. You can even cook out there as there's also an electric grill.
While the guesthouse doesn't come with a TV, you do have local guides, books, board games, and Wi-Fi to keep you entertained. The property also has a fully functioning kitchen for you to prepare meals in, with a fridge, stove, microwave, and coffee maker at your disposal.
View on Airbnb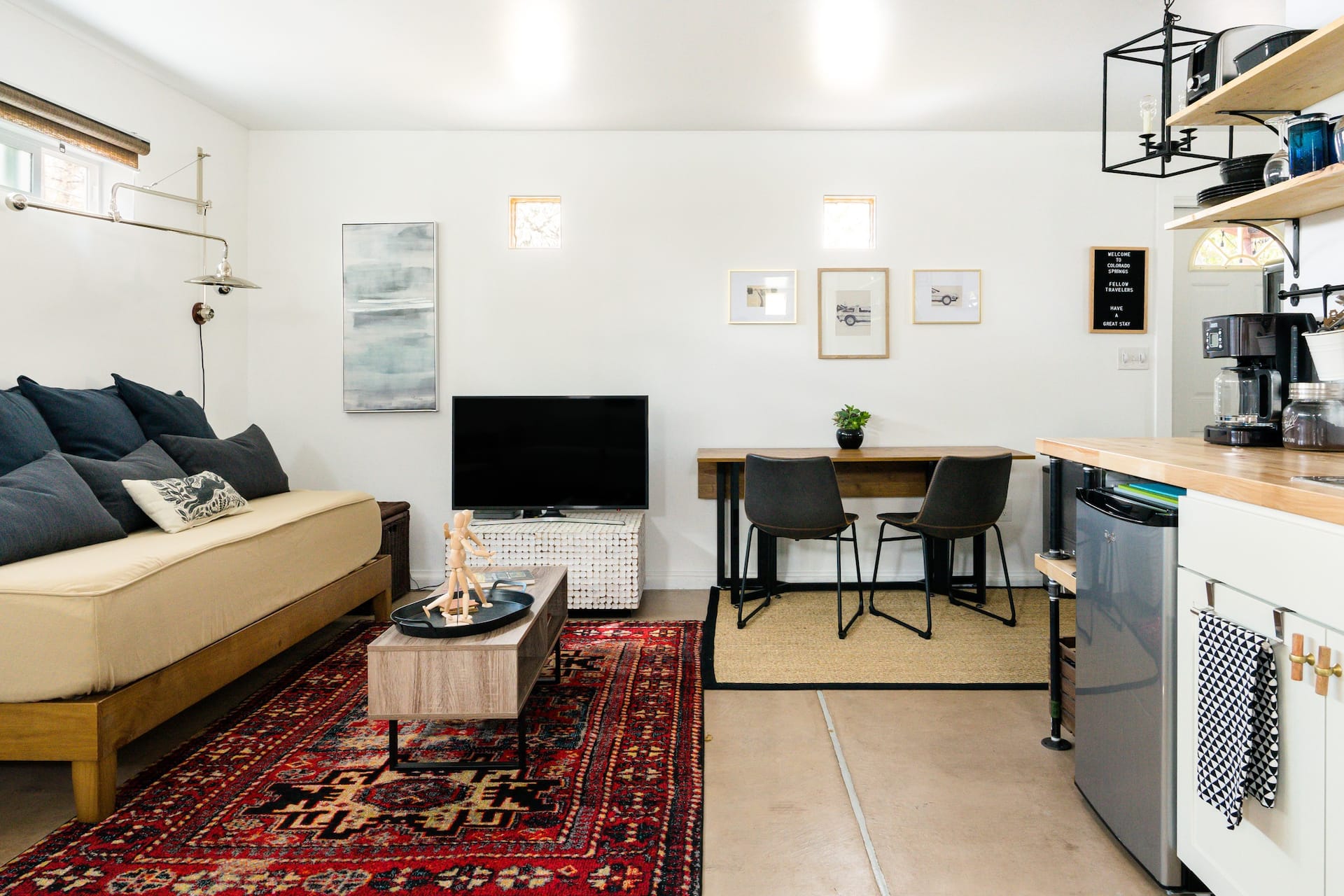 Characterful Base Camp in Old Colorado City
Those wondering what the best Airbnb in Colorado Springs looks like need only take a peek at this excellent Airbnb Plus. Dripping in style, this studio guest house is found in the slightly eclectic neighborhood of Old Colorado City.
In its open plan design, you have the large queen bed as well as a single bed that doubles as a couch. That way this studio can suit both couples and non-couples alike. The stylish living space has a flat screen TV with Netflix and a small table that can be expanded if need be. The room features both air-conditioning and a ceiling fan, ensuring it's always going to remain comfortable.
What's nice about this Airbnb is that you also have access to the shared outdoor common area equipped with a BBQ, fire pit, and hot tub. Things like free on-site parking and self check-in options make it even easier to enjoy. Really the only downside to this place is its compact kitchenette with just a fridge and coffee maker, although there are plenty of restaurants nearby.
View on Airbnb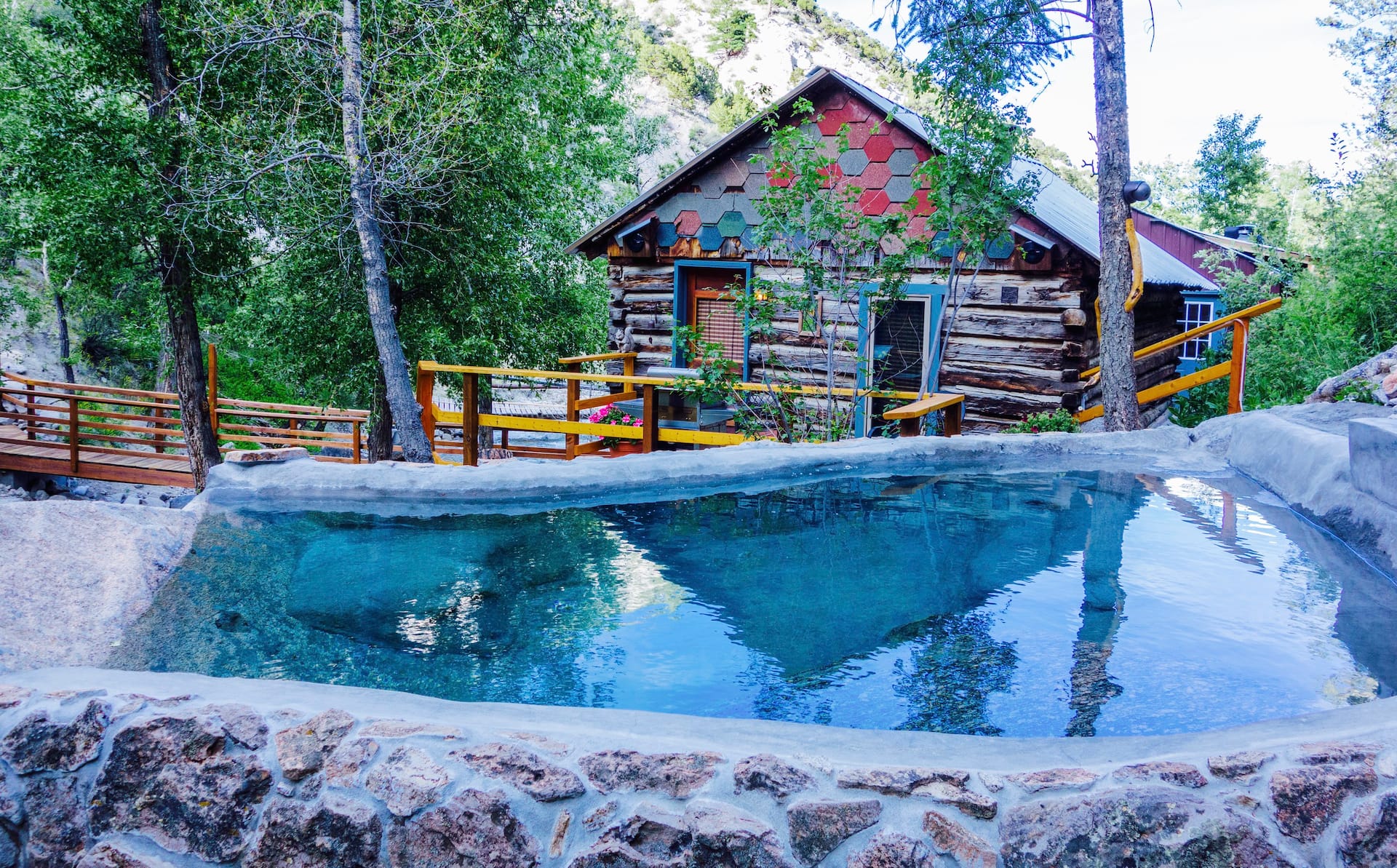 Holloway Cabin on Creek & Private Hot-Springs
While there are loads of Airbnb cabins for rent in Colorado, how many have their very own natural hot springs for you to soak in? This restored cabin by Cottonwood Creek has just that and it takes cabin life to a whole new level.
Lying outside the town of Buena Vista in the mountains of central Colorado, this cabin is the definition of secluded. You even have to cross the local creek just to reach the cabin. Guests love listening to the babbling of the creek as they soak in the hand-crafted hot spring tub mere steps from their cabin.
The cabin is pretty neat itself. Made to sleep four, it has a queen bed in the loft sleeping area, a queen bed that goes over the dining table, and a futon couch. Even better, you can bring your dog as a dog bed and food can be provided. Now, this cabin is all about embracing the simple life and while there is no Wi-Fi, there is cable TV. Other amenities include the fully-decked out kitchen with stove, oven, microwave, and coffee machine, as well as a classic wood heater for winter.
View on Airbnb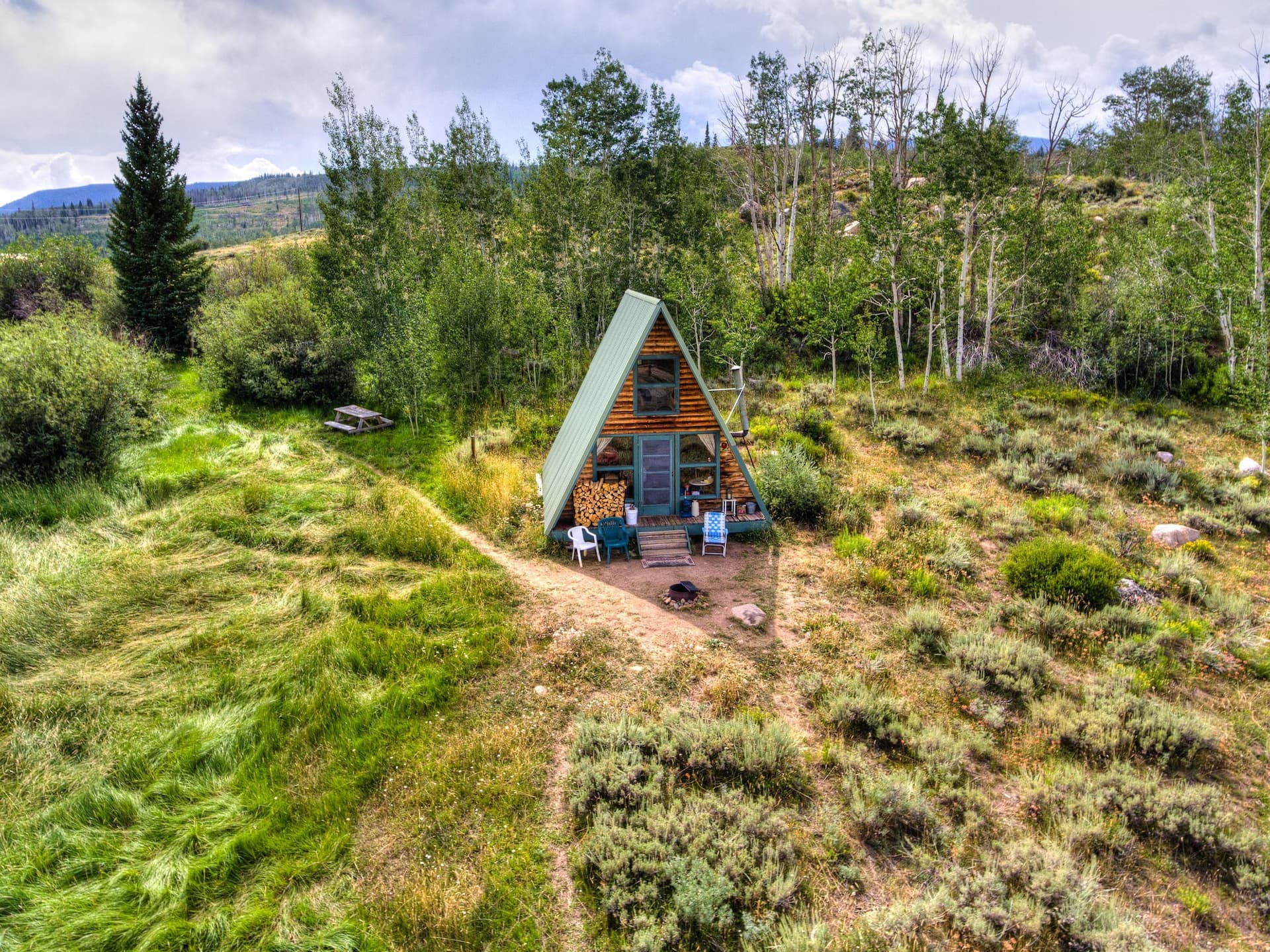 Moose Haven Cabin @ 22 West
Remote Airbnbs in Colorado are quite popular for those looking to get away for a bit and cabins like this one are why. Off the grid in Routt National Forest in northern Colorado, you can freely explore the great outdoors here by hiking and biking in summer or cross-country skiing in winter.
Despite its size, this remote cabin can sleep five with three beds across two rooms. Downstairs it features a bunk bed with a queen and single twin, while the sofa upstairs folds out into a queen should you need it. Just as the sleeping arrangements aren't anything fancy, neither is the rest of the cabin, as it only offers up the bare essentials. One luxury you do have is solar electricity for lights and phone chargers.
Bathroom facilities include a composting bathroom 20 feet from the cabin and a shower house just a little further along. A wood stove provides heating in the colder months, while well water is your only source of fresh water. You can cook with the gas grill or fire pit outside and have access to basic cooking utensils.
View on Airbnb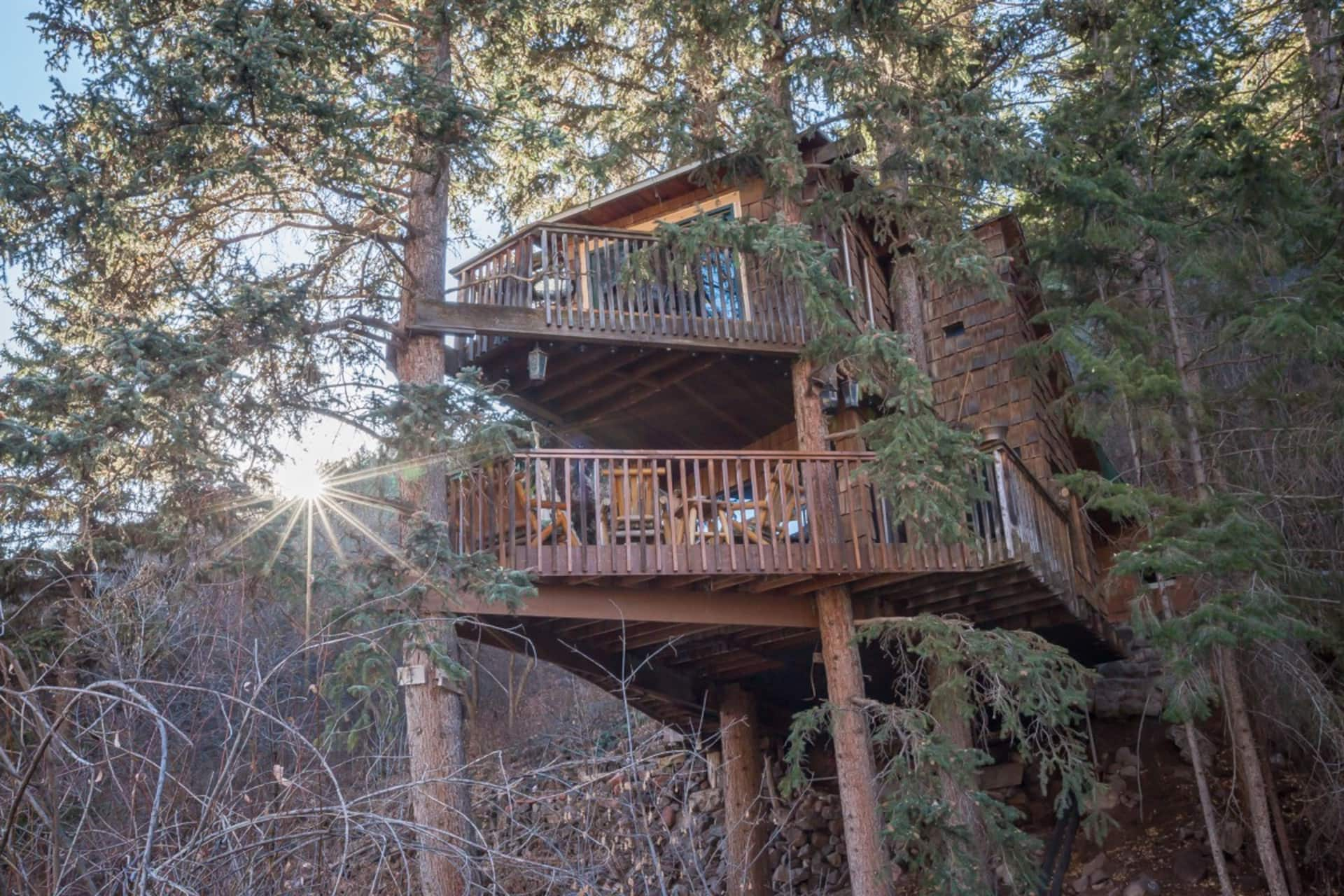 Rocky Mountain Treehouse
Yes, there is more than one treehouse available for you to stay at in Colorado. This Airbnb near Rocky Mountain National Park sits 25 feet off the forest floor and is supported by four towering spruce trees. Sit on the large balcony outside and your view is nothing but treetops and the garden down below.
While it may be a treehouse, you'll find plenty of amenities inside this hand-built cabin. It offers guests a full kitchen to cook in, with a microwave, stove, fridge, and more. You also have a rock shower with hot water. Other comforts to round out the experience include a wood burning stove and TV, but no Wi-Fi. As for sleeping arrangements, this treehouse can sleep six as there's a double bed and fold out sofa in the loft bedroom, and a pull-out sofa in the common area.
But the outdoor spaces are the big draw here. You'll actually have a second private balcony over the main deck for a little variety. Then there's the hammocks and hot tub to help you take it easy, not to mention a campfire area for the evenings.
View on Airbnb
Log Cabin on the River – Hot Tub | BBQ | Fire Pit
If you're dying for a classic log cabin to stay in for a vacation then this cabin outside the small town of Nederland is perfect for you. There are many Colorado Airbnbs that try to provide a unique take on mountain cabin rentals, but this Airbnb just goes for the quintessential experience with first-rate amenities.
Families or groups will get a real kick out of this picture-perfect cabin thanks to its secluded setting and overwhelming list of amenities. Not only do you have a fire pit, large hot tub and hammocks to chill out in, but there's also plenty of space in the yard for kids (or adults) to play and there's entertainment indoors with a large TV with surround sound, Netflix, Xbox and more.
Inside this two bedroom cabin, are also plenty of practical amenities. There are the two bedrooms with a king and queen bed respectively, sleeping four. Then there is the fully-equipped kitchen with a breakfast bar and BBQ, making preparing food a cinch, and two bathrooms and onsite laundry facilities.
View on Airbnb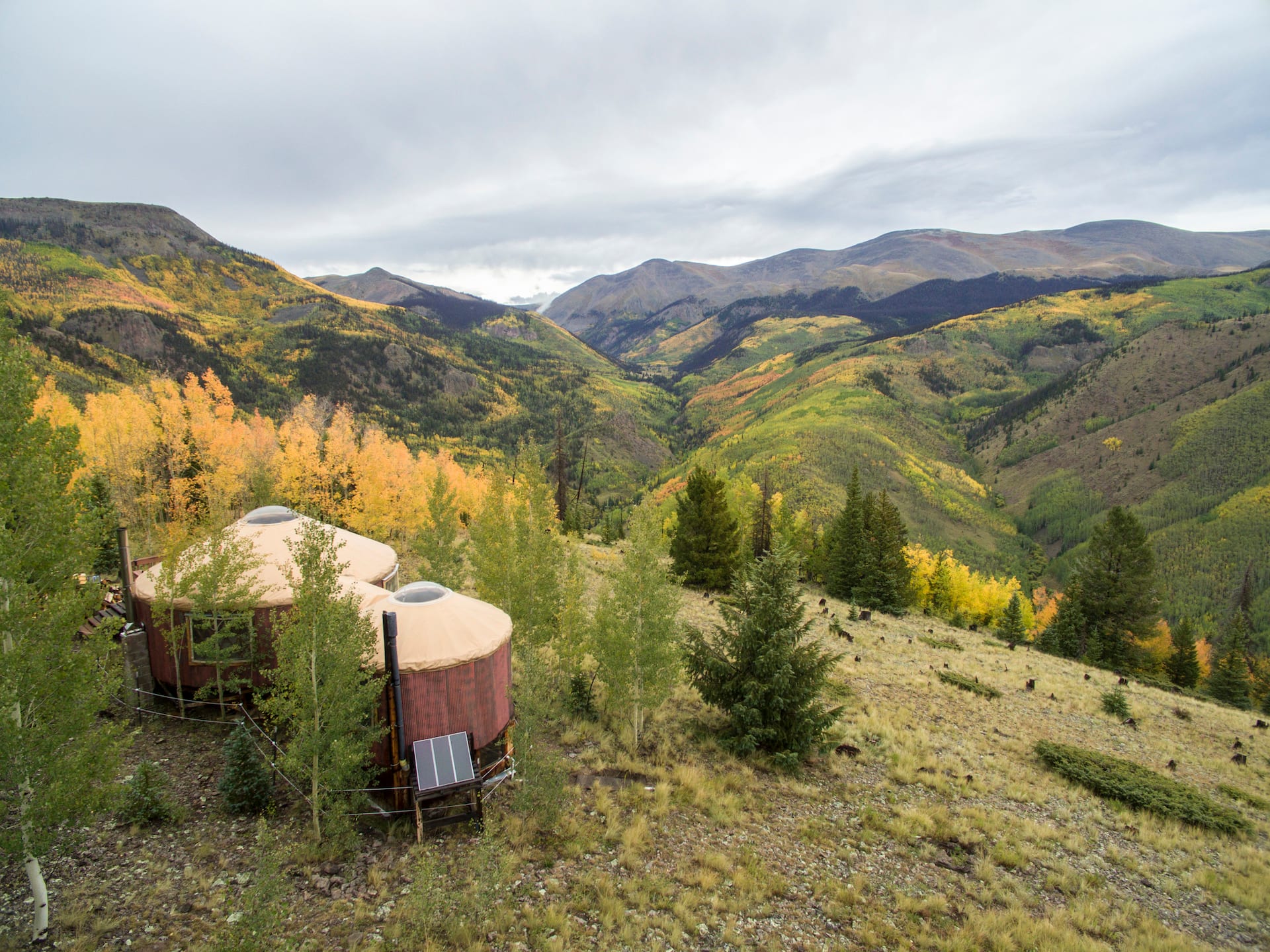 Stunning Yurt Property near Creede, Colorado
A step above camping but not quite glamping, staying in this yurt up in the beautiful San Juan Mountains is ideal for those looking for some simple shelter with a great view. While situated just 5 miles from the town of Creede, this Airbnb sits off rough roads in a part of Colorado that's truly wild.
This place is definitely not for those looking for modern comforts, as the yurt has no power, running water, Internet nor cell phone service. Staying here is basically like camping, although you have a shelter over your head and two beds which can sleep a total of four. That being said, you'll need to bring sleeping bags, pillow cases, towels, and even drinking water with you.
What staying here does give you though is views, solitude, and a taste of the simpler life. There's unlimited firewood for the wood stove if you're there in the cooler months, plus a propane range and BBQ to cook on. Also provided are books, games, and hiking information so you can explore the gorgeous surrounding backcountry.
View on Airbnb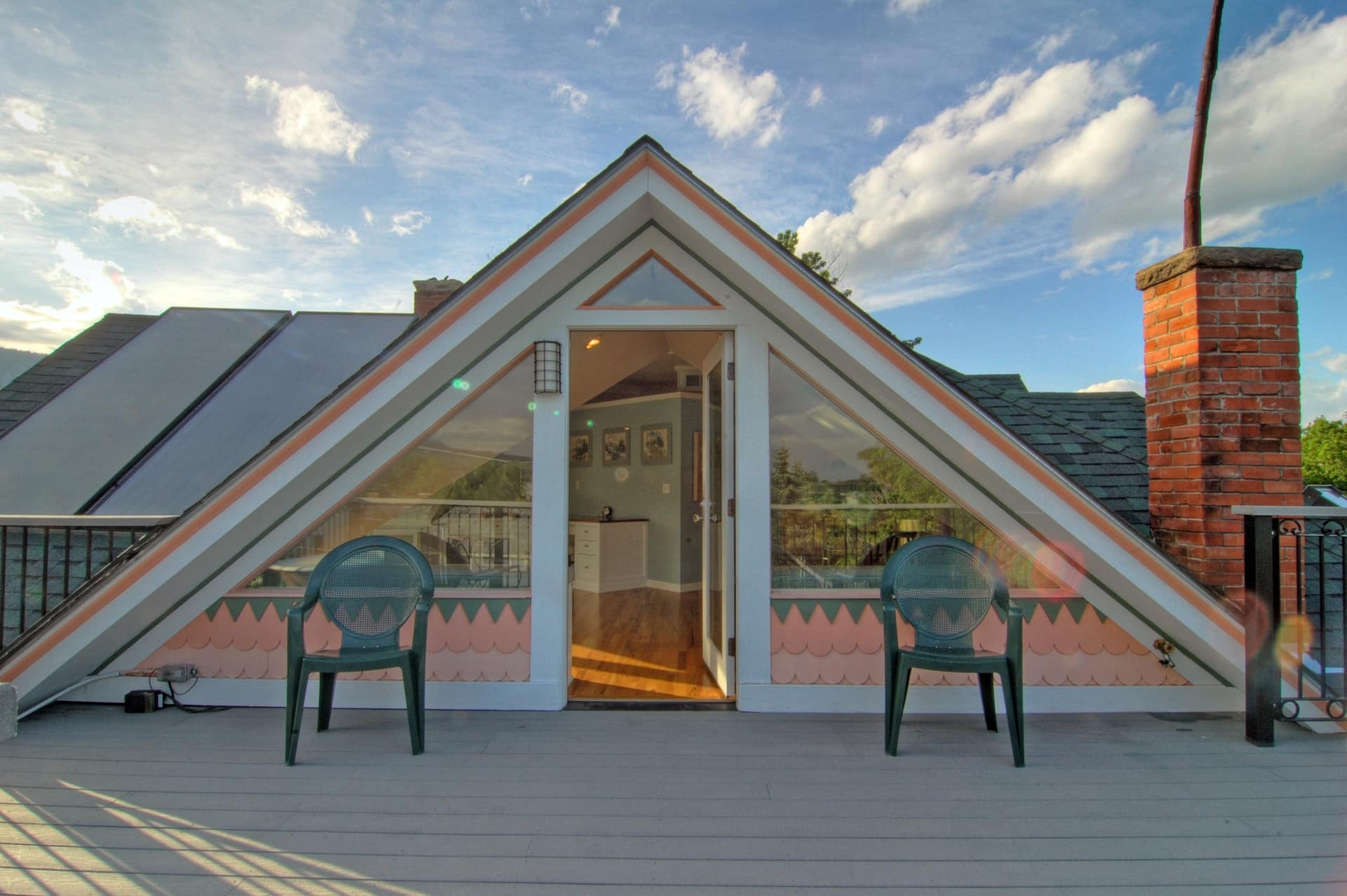 Downtown Penthouse Decks & Views
You won't find many short term apartment rentals in Colorado as light, open, and elegant as this loft apartment in Boulder. Even though this Airbnb is right in the heart of downtown, you don't have to go far to reach the hiking trails that lead up into the nearby mountains. Design, location, and amenities easily make this the best Airbnb in Boulder, Colorado.
Situated on the third floor of superhost Vivienne's Victorian home, this spacious apartment is able to comfortably sleep four. Interestingly, there is a king bed in the living area, while the one bedroom instead features a double bed. Even with a bed in a nook of the living area, there's plenty of space in the apartment, as well as out on the deck which has views of the Flatirons.
To make you feel at home there's a gourmet kitchen with a stove, oven, fridge, and dishwasher. Other amenities include Wi-Fi, cable TV, and air-conditioning, while laundry and other services can be arranged with Vivienne.
View on Airbnb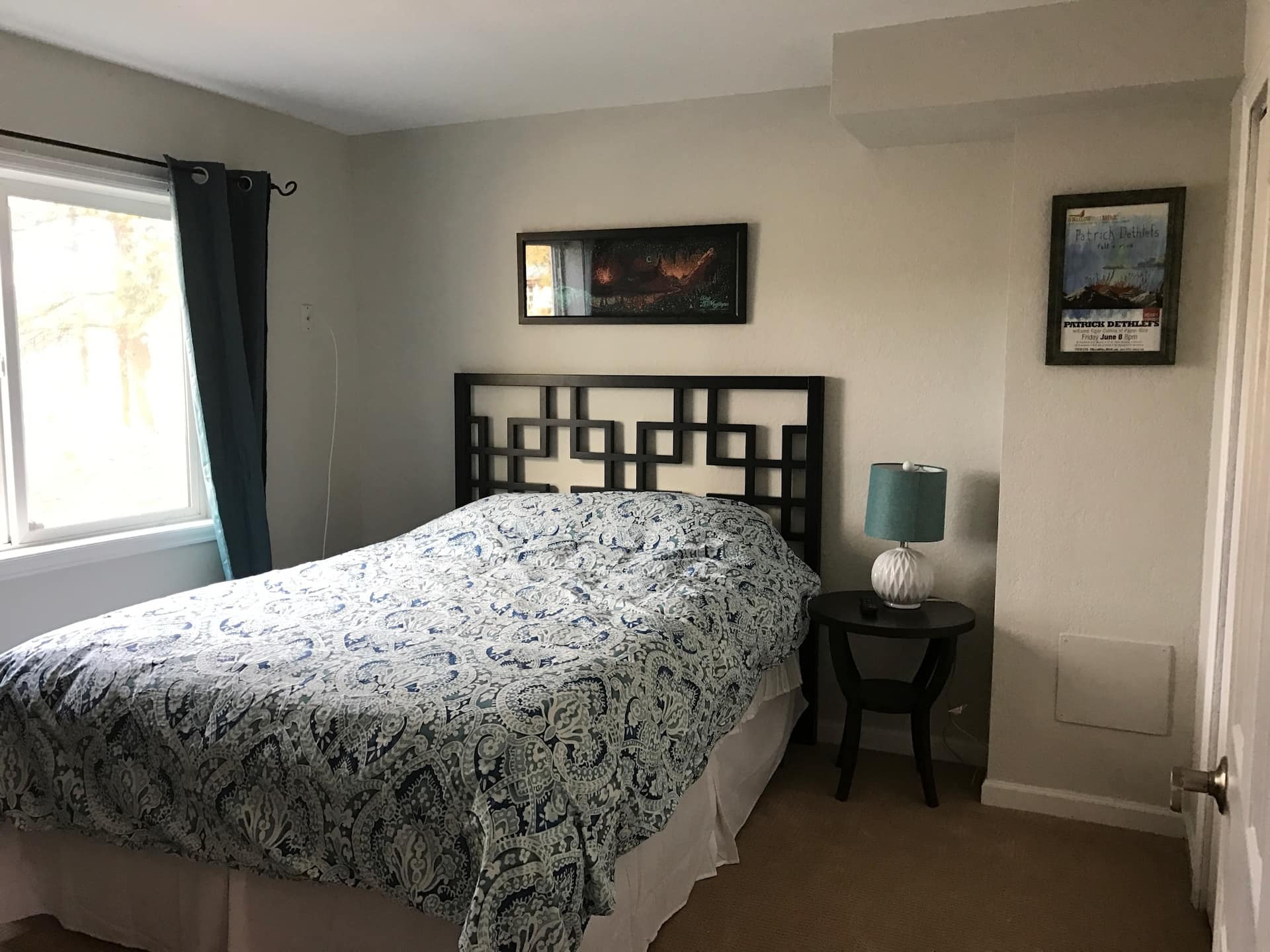 Kittredge Guest Suite
Rather than choose between Colorado's cities and its wilderness, a nice compromise is to choose a small town and stay somewhere like this guest house. Situated in the quaint community of Kittredge, you'll have a nice balance of civilization and wilderness, with the gorgeous Evergreen Lake just five minutes drive.
While this guest suite is the lower level of superhost Suzanne's home, it's completely autonomous from the rest of the townhouse. Everything is private, from the entrance to your kitchenette and bathroom. The suite is able to sleep three adults, with a comfortable queen bed in the bedroom and a pull-out sofa in the living area. It should be noted that the kitchenette just has a refrigerator, microwave, and coffee maker, so it is only suitable for basic needs.
Not only do you have the benefit of a helpful and friendly host upstairs, but also other amenities like cable television and Wi-Fi. As the suite is on the ground floor of the house with a parking space at the house, it's suitable for those with mobility concerns.
View on Airbnb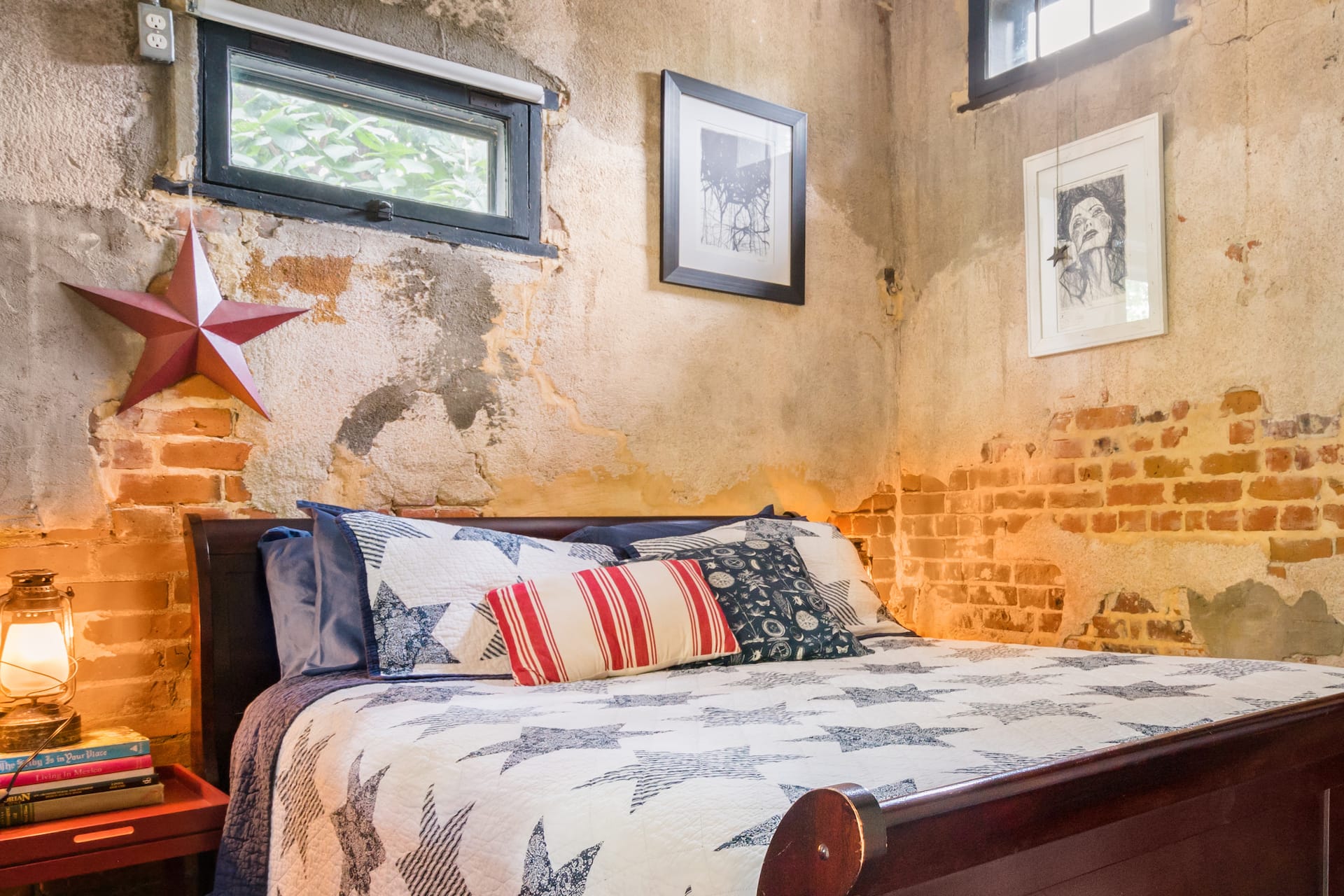 Historic Carriage House in Denver's Oldest Neighborhood
Staying in Denver couldn't be easier with this fantastic vacation apartment for rent in Colorado. Located in the oldest neighborhood of Denver, with plenty of craft breweries and restaurants nearby, this historic house also happens to be one of the coolest Airbnbs in Colorado. With plenty of style, a private hot tub, and even a gym, this is a textbook example of Airbnb Plus.
Even though this house dates from the 1800s, it's equipped with every modern convenience you could think of. You'll have Wi-Fi as well as Cable TV and Netflix to keep you entertained, while air-conditioning and heated floors mean you're comfortable no matter the season. Dishwasher and laundry facilities will make extended stays easy, while self check-in takes the pressure off for your arrival.
Besides being convenient, there are a lot of home comforts in this house hosted by superhost Mick. It may have just one bedroom with a queen bed, but the house can sleep three thanks to the convertible futon in the quirky living room. Plus it has a crib for a little one and pets are allowed.
View on Airbnb
Related Article: 15 Best Airbnbs in Denver, CO
Clearly, there are loads of interesting, inviting, and unique Airbnbs in Colorado that you can choose from for your vacation there. Whatever you have planned for your trip, one of these places is sure to suit you.