If you're thinking of squeezing in a fall vacation or weekend getaway before winter hits, you can never go wrong with a national park adventure. The crowds thin out, the temperatures drop, and of course there's brilliant foliage at many of the best national parks in the fall.
Autumn's shorter days also make it easier to catch spectacular sunsets from panoramic vistas, and the longer nights make it easier for stargazing in Dark Sky sanctuaries. Plus, that cooler fall weather makes for more pleasant hikes (i.e., less kid complaining) and a decrease in biting insects.
The Best National Parks to Visit in the Fall
So, which national parks are among the best family vacation ideas for the fall months? My list includes some tried-and-true favorites and off-the-beaten-path gems that shine brightest when the weather turns cool and crisp.
RIDE THE RAILS: 10 Best Fall Foliage Train Rides in the U.S.
1. Acadia National Park, Maine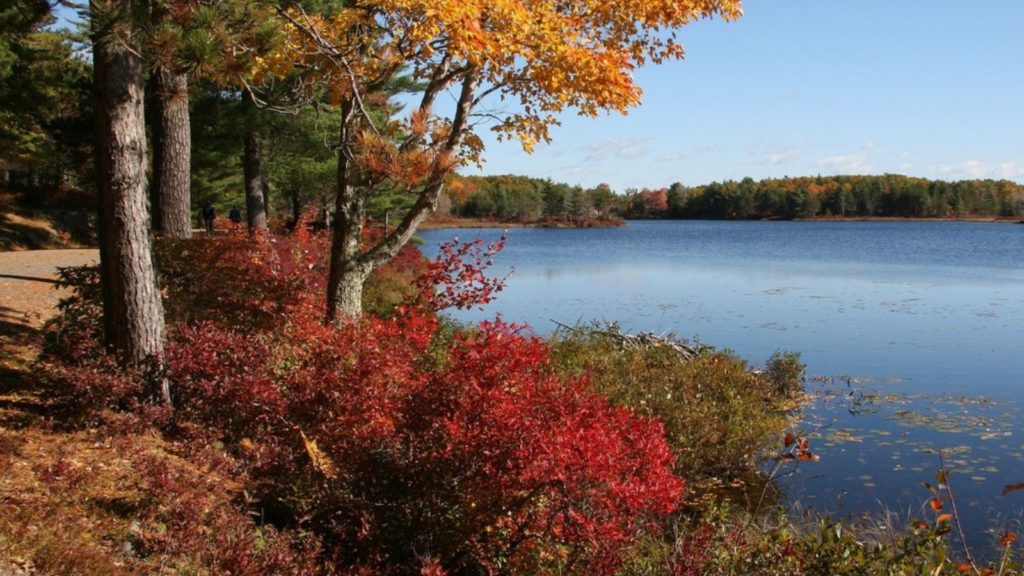 Maine's Acadia National Park is known for its historic carriage roads constructed in the first half of the 20th century, and those carriage roads provide the perfect loop path for hikers, bikers, and horseback riders to venture around the forested mountains of the northeast. Head to the summit of Cadillac Mountain for sweeping views of brilliant foliage contrasted against the blue waters of the Atlantic Ocean.
FALL WEEKENDS: 8 New England Fall Getaways That Will Charm the Kids (and Parents, Too)
Where to Stay at Acadia National Park in the Fall 
You'll find spectacular foliage inside Acadia National Park, but one thing you won't find are any national park lodges (or any other accommodations, for that matter). But the historic Bar Harbor Inn, built in the late 1800s, evokes the same spirit as those grand lodges. This oceanside hotel on Mount Desert Island is all about the views of Maine's iconic rocky cliffs, plus comfortable rooms and four different dining locations.
2. Zion National Park, Utah
The summertime crowds have long since dispersed at Zion National Park when fall rolls around. From September to November, the colors of the leaves make a very pretty contrast to the high red rock canyon walls. And fall's cooler weather brings temperatures down to a comfortable 70 degrees Fahrenheit from summer highs of near (or above) 100 on the valley floor.
FALL FUN: 7 Best Fall Vacation Ideas in the U.S. for Families
Families looking to hike at Zion National Park in fall should check out the Canyon Overlook Trail and Riverside Walk. The summit of Canyon Overlook is an easy one-mile hike with fantastic views into Zion Canyon, while the popular Riverside Walk is a flat 2.2-mile round-trip trek on a paved trail that comes alive with yellows and reds.
Where to Stay at Zion National Park in the Fall 
The only lodging inside the park, Zion National Park Lodge is situated inside the canyon and is within easy walking distance of a number of trailheads. The lodge offers bike rentals to explore the fall colors on less busy roadways. Plus, Zion National Park Lodge is committed to protecting the night sky, making it a fantastic place to introduce kids to stargazing.
3. Shenandoah National Park, Virginia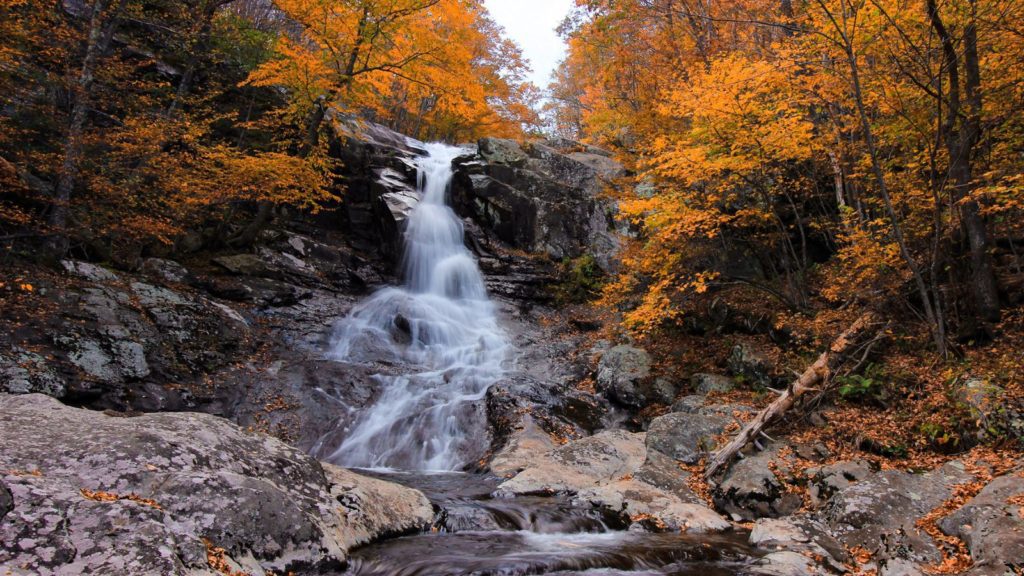 Virginia's 200,000-acre Shenandoah National Park is always a sure thing for fall color. The park's primary artery—the 105-mile Skyline Drive—is one of the most breathtaking roadways in the state, meandering past a staggering 75 scenic overlooks. However, some of Shenandoah's best viewpoints can only be reached by foot via the park's nearly 500 miles of trails. Try hiking to Mary's Rock, in the northern section of the park, with sweeping panoramic views of Thornton Gap; or make the grueling climb to the summit of Old Rag.
KID-FRIENDLY: Where to Go for a Mid-Atlantic Fall Getaway
Where to Stay at Shenandoah National Park in the Fall 
Fall colors light up the mountains around Massanutten Resort. Hop aboard the chairlift for a scenic ride into the canopy, whisk down the slopes on a mountain bike, or sit by the campfire to warm up on those cool fall nights. Fall temperatures are perfect for exploring this 6,000-acre kid-friendly family resort in the Shenandoah Valley.
4. Badlands National Park, South Dakota 
Boasting striking geological features and containing one of the world's richest fossil beds, Badlands National Park in South Dakota draws visitors from across the globe to witness its rugged beauty. And fall is really the perfect season to visit the national park because the temperatures are cool and mild and the busy crowds of summer are long gone.
FAMILY TRIPS: 12 Midwest Vacations That Are Packed with Fun
In addition to its dramatic landscapes with layered rock formations, steep canyons, and towering spires, Badlands National Park's 244,000 acres protect an expanse of mixed-grass prairie where bison, bighorn sheep, prairie dogs, and black-footed ferrets live and roam. A great place for hiking, fossil hunting, scenic driving, wildlife spotting, and stargazing, Badlands is both a cheap family vacation spot and can't-miss fall destination. 
Where to Stay at Badlands National Park in the Fall 
Family-friendly Cedar Pass Lodge is the only lodging inside Badlands National Park. Rental cabins built in 2012 and 2013 mimic the style of the original 1928 Cedar Pass Cabins. Inside, the eco-friendly cabins are ADA-accessible with two queen beds and a queen futon that can accommodate a family of six.
5. Great Smoky Mountains National Park, Tennessee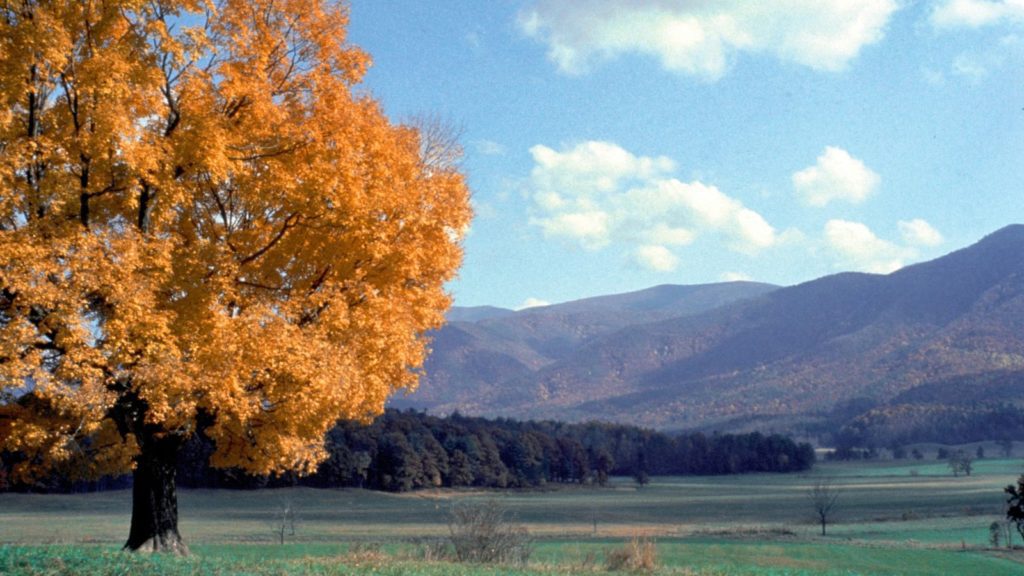 America's most visited national park likes to show off in the fall. Great Smoky Mountains National Park stretches from North Carolina to Tennessee and is at its most colorful from mid- to late-October. Yellows, oranges, and reds pop with color as burbling brooks flow across the floor. There's no shortage of scenic fall hikes, either: Abrams Falls, Little Greenbrier, and Meigs Mountain trails are good options for families.
NO HIDDEN FEES: 17 Best All-Inclusive Resorts in the U.S. for Families
Where to Stay at Great Smoky Mountains National Park in the Fall 
Situated on 4,200 acres just outside the park, Blackberry Farm is one of the best all-inclusive resorts in the U.S. for families. Parents appreciate its over-the-top luxury while kids of all ages enjoy Blackberry Farm's outdoor programming and kids clubs.
6. Rocky Mountain National Park, Colorado 
At Rocky Mountain National Park, fall is known for its iconic golden aspens and elk bugling to attract mates. Head to Colorado early in the season (starting in mid- to late-August) if you want to see this bright yellow landscape. Notable hikes through the foliage include Sprague Lake and Bierstadt Lake loops. The 3.1-mile Wild Basin Trail is a particularly scenic intermediate hike framing waterfalls in fall colors past Calypso Cascades, Copeland Falls, and the 40-foot Ouzel Falls.
OUT WEST: The Best Rocky Mountaineer Routes for Every Travel Style
Where to Stay at Rocky Mountain National Park in the Fall 
Rent lodge rooms or private cabins at YMCA of the Rockies in Estes Park, a resort spread out over nearly 1,000 acres of rolling meadows, aspens, and spruce forests, with scenic views in every direction. 
7. Cuyahoga Valley National Park, Ohio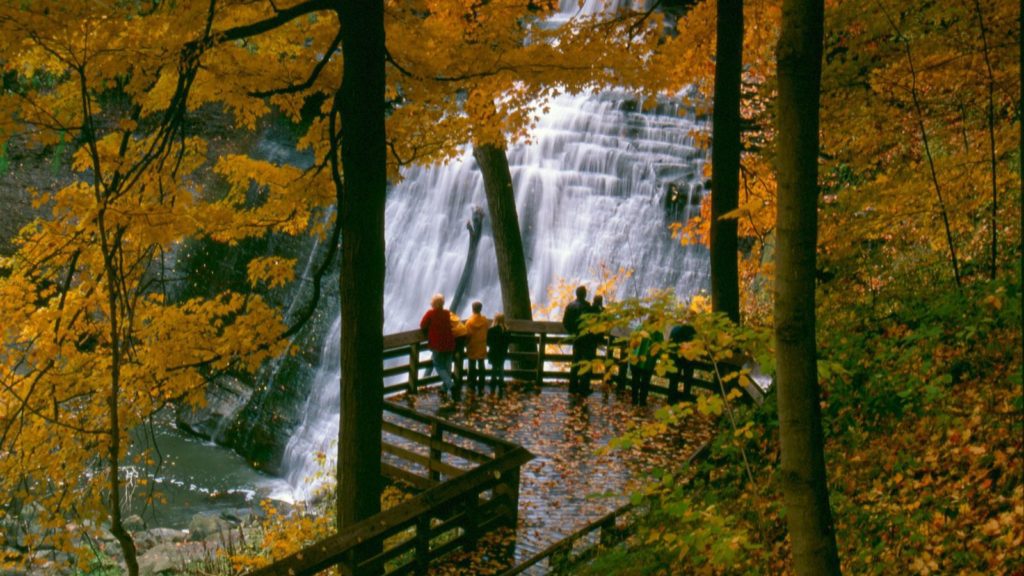 The only national park in Ohio, Cuyahoga Valley National Park is just 15 minutes from downtown Cleveland and spans 33,000 acres. It's also free to the public. When you visit this national park in the fall, you can climb aboard the Fall Flyer, a two-hour scenic train ride with sweeping views of the changing leaves.
MIDWEST VACATIONS: 6 Family-Friendly Fall Foliage Destinations in the Midwest
Cuyahoga Valley National Park has more than 125 miles of hiking trails, and a great choice for fall hiking here is the 3.8-mile Stanford Trail. Originating at the Stanford House, a historic farmhouse built in 1843, the hike reveals fantastic views of the 65-foot Brandywine Falls with lots of tall oak, hickory, and beech trees along the way. This trail also connects to the Brandywine Gorge loop trail, so the hike can be easily extended. The valley forest has a plethora of red maple trees aflame with color in the fall.
Where to Stay at Cuyahoga Valley National Park in the Fall 
Built as a private home in the mid 1800s, the six-room Inn at Brandywine Falls overlooks its namesake waterfall inside the park. Its converted carriage barn has two large suites ideal for families, and each room includes an elegant candlelight breakfast with the rate.
8. Grand Teton National Park, Wyoming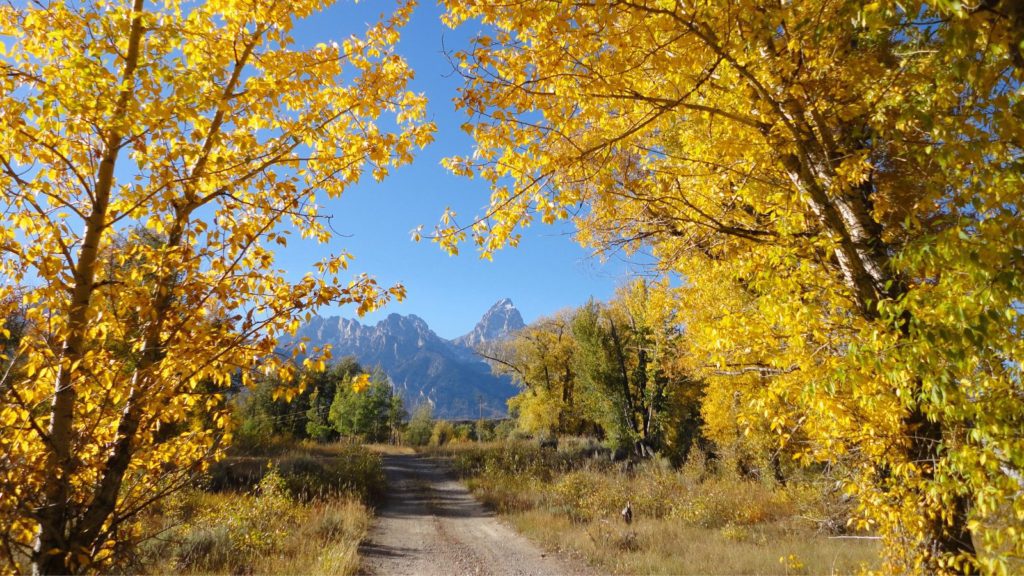 Autumn in Wyoming's Grand Teton National Park sees wildlife migrating to their winter grounds. Herds of bison, elk, and pronghorn all use the park as their migration thoroughfare. In fact, the 150-mile trek of large groups of pronghorns is one of the longest land migrations on the continent.
WILD WEST: 11 Best Dude Ranches for Families in the U.S. and Canada
In addition to animal adventures, the Grand Tetons's foliage puts on a show as bright yellow aspens begin to change color in September. Clear mountain lakes reflect the colors of the season until mid-October when the last leaves drop in the water.
Where to Stay at Grand Teton National Park in the Fall 
Lodging inside Grand Teton National Park is open until early October and ranges from rustic to luxurious. For families, Jenny Lake Lodge has historic cabins with a signature stay package that includes breakfast, horseback riding, cruiser bicycles, and a nightly five-course dinner.
9. New River Gorge National Park, West Virginia
West Virginia's New River Gorge National Park reaches its peak color in late October with shades of orange, red, and yellow blending into a rich fall tapestry. The region's dense forests feature more than 100 species of native deciduous trees such as beech, birch, oaks, ash, walnut, cherry, box elder, poplar, and elm.
NEW HEIGHTS: 10 Best Treehouse Hotels in the U.S. for Families
The array of fall colors is easily viewed from hiking trails, lookout points, the famed New River Gorge Bridge, and the National Park Service Visitor Center. As whitewater rafting at New River Gorge winds down for the season, families can turn to airborne adventures such as zip line canopy tours or a bridge walk beneath the New River Gorge Bridge.
Where to Stay at New River Gorge National Park in the Fall 
Situated right at the rim, Adventures on the Gorge has a good variety of accommodations options as well as outdoor activities to keep the kids entertained, including aerial adventures, rock climbing, rappelling, kayaking, stand up paddle boarding, fishing, mountain biking, and hiking.
10. Yosemite National Park, California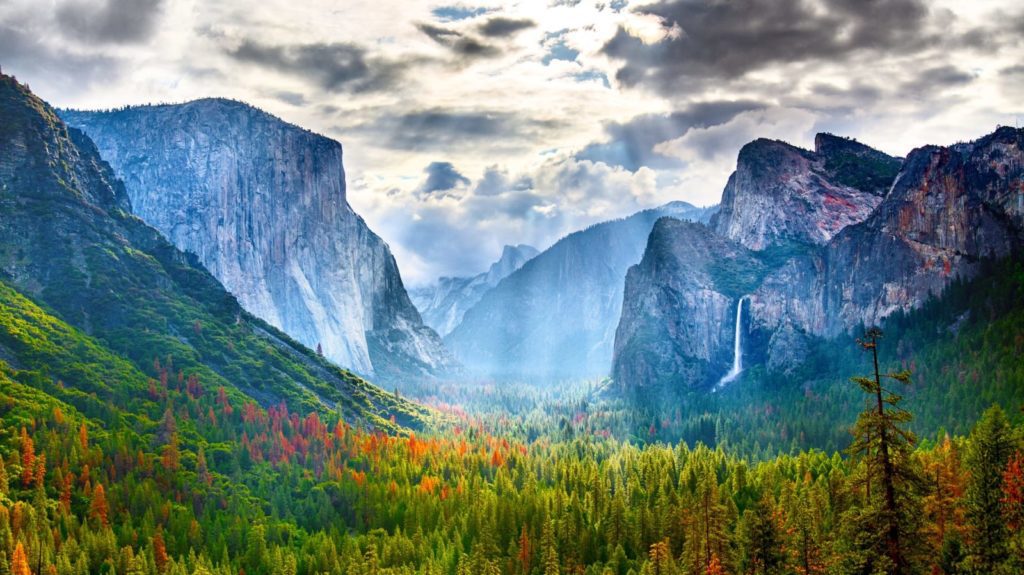 September and October are prime times to visit California's Yosemite National Park. Most of the trees in the valley are evergreen, but there are pops of color from the Pacific dogwoods, black oaks, maples, and other varieties. Just because many of Yosemite's waterfalls have slowed to a trickle doesn't mean you can't have water recreation, either. Fall is a great time for fishing in Yosemite as the brown trout in the Merced River are less wary of the crowds and therefore easier to catch.
SAVE MONEY: 7 Cheap California Vacation Ideas for Families
Where to Stay at Yosemite National Park in the Fall 
There are a number of kid-friendly hotels near Yosemite, but you can never go wrong with a stay at The Ahwahnee, a historic 1920s park lodge near the base of Half Dome.
11. Chesapeake and Ohio Canal National Historical Park, Maryland
The Chesapeake and Ohio (C&O) Canal is a 184.5-mile national park that starts in Washington, D.C., passes through Maryland, into a smidge of West Virginia, and then back into Maryland. You can bike or hike along the towpath, and the last 30 miles are particularly stunning in the fall.
SEASONAL ESCAPES: 7 Fall Beach Vacations Where Summer Never Ends
The C&O Canal portion in "the mountain side of Maryland" is less traveled due to its mountain location that's further from DC. One particular highlight is the Paw Paw Tunnel, which is an architectural marvel located at Mile Marker 155.2. It's pitch black, so you have to travel through with a flashlight, adding a little degree of difficulty (and fun) to that segment.
Where to Stay Near the Chesapeake and Ohio Canal National Historical Park
The charming Town Hill Bed and Breakfast in Little Orleans features its own scenic overlook, appropriately named the Town Hill Overlook. At an elevation of 1,680 feet, this prime leaf-peeping spot provides a view of three states and seven counties.
12. Glacier National Park, Montana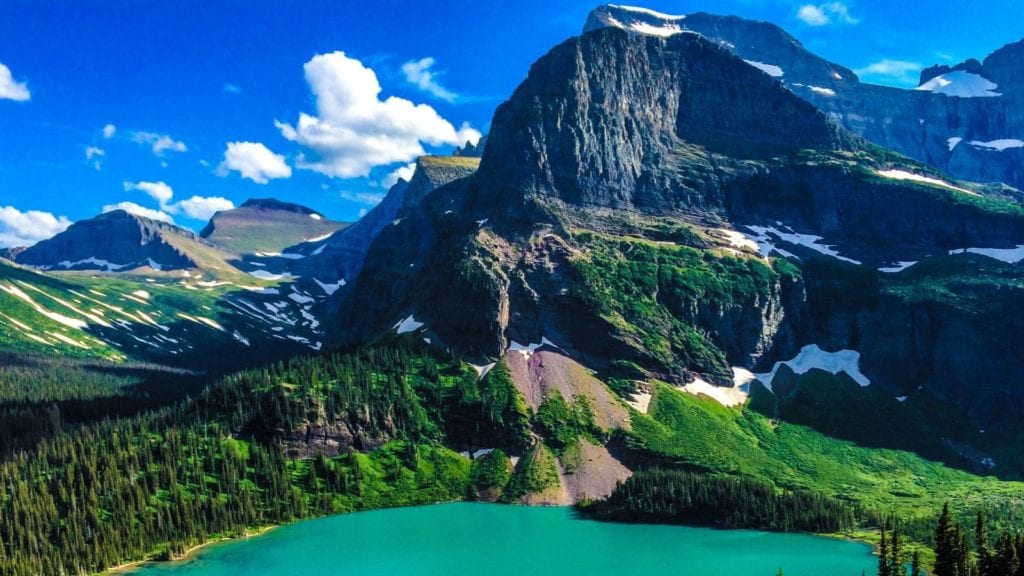 Montana's Glacier National Park is one of the most popular family vacation spots in the U.S., and fall may just be the best season to enjoy it. The summer crowds have vanished, which opens up the park's roads, trails, and waterways to families (and wildlife). Glacier's Going-to-the-Sun Road has a reputation as one of the most scenic drives in the country, and visiting the park in the fall allows you to savor every curve of this beautiful drive.
MAKE MEMORIES: 27 Family Vacation Ideas for the Best Trip Ever
From mid-September through mid-October, aspen trees are turning to golden yellow and can be spotted among the waterfalls on the Redrock Falls Trail. Other notable hikes include the Scenic Point Trail known for its lake views. Tackle the eight-mile Summit Trail up Big Mountain for views of the colorful landscape below.
Where to Stay at Glacier National Park in the Fall 
Perfect for families, Cedar Creek Lodge's guest rooms come with complimentary breakfast and complimentary refreshments throughout the day. Activities include a bus connection to Whitefish Mountain Resort, fly fishing on Whitefish Lake, and access to West Side Departures of the famed Glacier Park Red Bus Tours. 
13. Death Valley National Park, California
When summer winds down, programming ramps up in Death Valley National Park. Ranger-led programs and tours are not offered in the summer due to the extreme heat, so mid-October is the time to come for these talks and walks to learn more about America's hottest national park.
LEAVE THE KIDS: 12 Best Vacation Spots for Couples in North America
Fall offers pleasant temperatures and clear skies perfect for stargazing in the largest International Dark Sky Park in the country. Families can view celestial objects at Death Valley that are not visible at any other place on the planet. Rangers offer nightly sky talks pointing out astronomical features such as constellations, planets, and the Milky Way at the Harmony Borax Works.
Where to Stay at Death Valley National Park in the Fall 
The privately owned Oasis at Death Valley resort has been around since before the national park. It's situated on the valley floor adjacent to the National Park Visitor Center and has a spring-fed 87-degree outdoor pool. This year, resort is opening 80 new bungalow-style cottages perfect for families. And the old-fashioned ice cream and soda fountain shop serving up floats, milkshakes, sundaes, and banana splits is sure to be a hit with kids.
More from FamilyVacationist: