Road Affair is reader-supported and may earn commission from purchases made through links in this article.
Even though it doesn't always get the credit it deserves, you don't want to be one of the many who miss out on the natural and authentic beauty that is Albania. With unmatched, beautiful beaches and phenomenal mountain views, it's only a matter of time until the word is out and hoards of tourists flock to Albania. We want to help you stay ahead of the curve, so no matter where you choose to stay, you'll have your pick of the best hostels in Albania.
Best Hostels in Albania:
Shkodër | Tirana | Durrës | Berat | Gjirokastër | Saranda
Best Hostels in Shkodër
Mi Casa Es Tu Casa
When you get to the blue gates, you'll know you've arrived. Alma, the owner, has created the perfect environment for anyone who likes to pause and enjoy nature. It's the perfect hostel for hikers and bikers. Decorated with furniture from four generations of family members, they truly want you to feel at home. Choose from whatever makes you the most comfortable – a dorm, a private room, a studio apartment, or you can even camp outside. While you're sure to relax in comfort, you probably won't be in the hostel much considering all of the tours they offer. From day tours to boating to eco-camping and more, the world is your oyster at Mi Casa Es Tu Casa.
Check Prices on Hostelworld Check Prices on Booking.com
The Wanderers Hostel
This recently renovated home has been in the family for generations. When you see how well they've cared for it, you know you'll be treated well throughout your time at the Wanderers Hostel. If spacious rooms, two large gardens, and a lounge haven't convinced you, the outdoor bar is sure to push you over the edge to book a stay here. Make sure to work out your travel plans so you can be here on a Friday night to enjoy one of their unbeatable barbeques. Even if you don't bike often, you'll regret it if you don't rent a bike and head to the fortress or the lake to watch the sunset. A great atmosphere where you can chill out and meet new people, the Wanderers Hostel should top your list of the best hostels in Albania if you're staying in Shkodër.
Check Prices on Hostelworld Check Prices on Booking.com
Best Hostels in Tirana
Trip'n'Hostel
Erjon and Eni are excited to welcome you to their hostel and help guide you around Tirana. They've renovated a 1920s Italian-style villa and turned it into one of the best hostels in Albania. With more than enough to keep you happy inside the hostel, the staff will also provide recommendations when you want to explore the city. The city center is just a short walk away as well as a fruit market and many authentic Albanian restaurants. Hungry, but wanting to stay in for the night? Not a problem. You can buy food on-site, whip up your own meal in the kitchen, or even order from a variety of restaurants that deliver. Full of games, two courtyards, and a bar, Trip'n'Hostel will keep you coming back time and time again.
Check Prices on Hostelworld Check Prices on Booking.com
Tirana Backpacker Hostel
You'll have a hard time finding anything to criticize at Tirana Backpacker Hostel. In 2005, Ilir and Celeste opened the country's first hostel and ever since, it has continued to be a highlight on the list of the best hostels in Albania. The Italian-style villa is in the heart of Tirana and offers everything from free vegan dinners to several day tours to a large backyard decorated with orange and mandarin trees. If you're still looking to fill your itinerary, make sure you check with the staff for the best recommendations. Day tours are offered Monday, Wednesday, and Friday, and you can take advantage of many hikes including Pellumbas Cave, Kruja Mountain, and Dajti Mountain. With a caring staff who speak 6+ languages, prepare for an unforgettable stay at Tirana Backpacker Hostel.
Check Prices on Hostelworld Check Prices on Booking.com
Milingona City Centre
To take advantage of the only rakija tour in Albania, Milingona City Centre is where you need to be. Transportation, lunch, and rakija samples are included as you head to a rural outlet to see a secret underground facility where raki is brewed. It's not only their tours that make them stand out, but the staff and facilities are sure to exceed your expectations. There's always something happening in Tirana, but you can also stay in and have a blast as you can enjoy everything from film nights to barbecues to live music. Start your day right with free breakfast then head up to the second floor terrace to enjoy some mountain views before your daily adventure. When you get back, grab a nightcap from the bar, chill out in the courtyard, and make some new friends. With a city center location convenient to everything you could want, you can rest easy knowing the staff at Milingona City Centre will help you create unforgettable memories during your time in Tirana.
Check Prices on Hostelworld Check Prices on Booking.com
Best Hostels in Durrës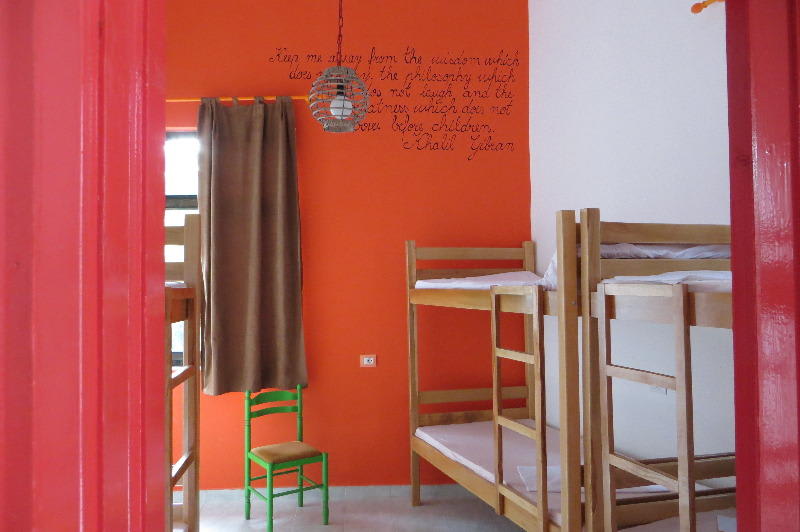 Hostel Durres
There's no better place to welcome you to this seaside city than Hostel Durres. The quiet city of Durrës is a great place for foodies, beach bums, and history buffs. Just 100 meters away you'll find the Roman Forum ruins and the largest amphitheater in the Balkans. The hostel matches, if not exceeds, the impressiveness of the city. Obviously breakfast is included, but you can also look forward to dinner being available for you so you can relax and chat with other travelers. Just next door you'll find Oborri Bar where you can grab a drink after dinner then head up to the rooftop to unwind. High ceilings and open spaces complement Hostel Durres, and they even have space for groups if you're looking to plan a meeting or celebration. You're sure to have no regrets with a visit to Hostel Durres.
Check Prices on Hostelworld Check Prices on Booking.com
Best Hostels in Berat
Berat Backpackers Hostel
Cat lovers are sure to appreciate being welcomed by Cuni the cat to this UNESCO-protected building. The oldest hostel in Berat and the second oldest hostel in Albania, Berat Backpackers Hostel is located in the historic Gorica Quarter just across the river from Berat Castle. The hostel has a relaxed and friendly vibe that ensures you'll have a great time whether you're chilling at the hostel or out exploring. Boasting traditional architecture and five garden terraces, Berat Backpackers Hostel is perfect for any type of traveler. From dorms to suites to family rooms and even space for camping, all of your needs are sure to be met when you stay at Berat Backpackers Hostel.
Check Prices on Hostelworld Check Prices on Booking.com
Hostel Mangalem
Sitting right below Berat Castle, Hostel Mangalem gives you a great introduction to the UNESCO World Heritage old town called the Mangalem District. Overlooking the Osumi River, not only will you have great views, but you'll have easy access to shops, restaurants, and anything else you may need. This hostel really feels more like a home as the family and staff are very friendly and will surely give you a warm welcome. If you have any questions about the area or tours, don't hesitate to ask the staff as they want you to have the best time possible in Berat. Eager to learn about traditional Albanian life? The staff are happy to share their own stories and also point you to the best local spots. If you're planning a visit to Berat, you should definitely considering becoming one of the family at Hostel Mangalem.
Check Prices on Hostelworld Check Prices on Booking.com
Best Hostels in Gjirokastër
Stone City Hostel
This getaway in the heart of Gjirokastër deserves an 11 on a scale of 1-10. Walter, the owner, has put his heart and soul into renovating Stone City Hostel and making sure it's absolutely perfect for your stay. The house is monumental and boasts views of the castle, a garden shaded by fruit trees, and a large roof terrace. The inside of the hostel has everything you've come to expect, like free use of computers, free breakfast (probably the best breakfast you'll have anywhere in Albania), a bar, and a common room with a kitchen, but Walter has taken everything to the next level of spectacular. The place is always spotless and even if you don't want to hang out with him and the staff, they give you the best recommendations for wherever you're looking to go. Walter has truly transformed Stone City Hostel into a place that has no competition on the list of the best hostels in Albania. If you ask us, we think you'd even have a hard time finding a better hostel anywhere in the world 🙂
Check Prices on Hostelworld Check Prices on Booking.com
Babameto House
Belonging to the Babameto family, this traditional house is very impressive and a great base from which to explore Gjirokastër. Located just a three-minute walk from the Old Bazaar, you'll be excited about all there is to do. From traditional music and cooking to exhibitions, you'll love learning about this historic city. Even when you first arrive, you'll know that the staff will be the cherry on top of your stay, as Alex and the rest of the staff are super friendly and provide excellent hospitality. The hostel houses an area that doubles as what resembles an ethnography museum and a library where you can feel free to browse the exhibitions, books, and maps. A place that's easy to love, don't be surprised when you end up staying longer than you planned.
Check Prices on Hostelworld Check Prices on Booking.com
Best Hostels in Saranda
Backpackers SR
The owner, Tomi, elevates Backpackers SR from a great hostel to one of the best. Don't be surprised if he greets you with a plate of watermelon as you approach. In the best location in Saranda, you'll be right near the port and bus station. The main beach is just across the street and the promenade gives you a variety of things to do from bars to restaurants to a farmer's market and more. With loads to do in the area, there are also some hostel events you won't want to miss, some of them being Albanian culture nights, beach barbecues, seafood nights, and group dinners in town. The moment you're welcomed with your free drink, you won't want to leave.
Check Prices on Hostelworld Check Prices on Booking.com
Bunkies Hostel
One of the best hotels in Albania for anyone looking to enjoy the nightlife, you'll be just steps from the hottest clubs and bars in town. Dani and David are excited to welcome you to their home-style hostel that invites you to be social and also guarantees you a good night's sleep. Overlooking Corfu Island, views abound from their balconies and natural light shows throughout Bunkies Hostel. When you're looking to finalize the details of your Albania itinerary, make sure you check with the staff first so they can let you in on the best local secrets. Just a two-minute walk to the beach, Bunkies will feel like your home away from home when you want to explore Saranda. Perfect in every way, you won't be able to get enough of Bunkies Hostel.
Check Prices on Hostelworld Check Prices on Booking.com
From exploring nuclear bunkers to antique shopping to hiking, there is no shortage of things to do throughout the country. While you're doing them, you can rest easy knowing you chose one of the best hostels in Albania. Make sure to check out our ultimate guide to backpacking Albania next.
This list is based on our personal experiences and/or reviews online. If you own a hostel in Albania that you would like to add to this list, email us at contact(at)roadaffair(dot)com with the subject: Best Hostels in Albania.