Even if you can't travel to one of the most popular family vacation spots this year, there are lots of ways to bring the vacation vibes to your own home. With a little creativity, staycations can offer the same kinds of memory-making experiences that a more far-flung summer vacation would. Roasting marshmallows over the fire pit, watching outdoor movies on the big screen, and splashing in an inflatable pool are all great ways to make summer feel special even when you're not taking an epic trip. 
Important Things to Know When Choosing an Inflatable Pool
Inflatable swimming pools are affordable, easy to set up, and a lot easier to maintain than permanent in-ground pools, traditional above-ground pools, or stock tank pools. Inflatable pools come in a wide variety of sizes to fit any backyard space, too. And, bonus: Many blow-up pools also come with pool toys and shade structures, especially the smaller inflatable pools meant for toddlers and little kids.
SUMMER FUN: 13 Thrilling Outdoor Water Parks Where You Can Beat the Summer Heat 
When choosing an inflatable swimming pool, look for one that's made of non-toxic materials, rugged enough to tough out multiple summers, and just the right size for your yard. Many inflatable pools are sized for very small children, but some brands like Intex make giant inflatable swimming pools that can fit an entire family comfortably and are actually deep enough to swim in, rather than just big enough to cool off. Here are a few important things to know when shopping for a blow-up pool of any size.
1) Most inflatable pools are inexpensive, but not cheaply made. 
A professionally installed in-ground permanent pool will run you tens of thousands of dollars and take over your whole backyard. A quality above-ground pool is cheaper, but not orders of magnitude cheaper. But you can get a giant inflatable pool from Intex that's 18 feet wide and 48 inches deep for under $500. And smaller pools, including kiddie pools and even adult-sized wading pools, sell for well below $100. If you take care of them, the best inflatable pools can last for years. 
2) Inflatable pools are easy to set up, but you really need to buy an air pump. 
A backyard pool can become the centerpiece of a summer staycation. In fact, some inflatable pools are nearly as big as the average above-ground pool. The 18-foot inflatable pool from Intex arrives in a giant box that includes a pool ladder (assembly required), a tarp for the ground, pumps and tubes for water filtration, the pool itself, and an electronic air pump. 
The air pump is a lifesaver. No matter what kind of inflatable pool you select, you'll need an air pump to make installation go smoothly. Many inflatable swimming pools don't come with air pumps, but they're easy to find and not expensive (typically under $20).
3) Intex makes the best overall inflatable pools on the market. 
If you just want a kiddie pool or inflatable baby pool, you don't have to be too picky when it comes to which brand you get. But if you're going for a big inflatable pool you can swim in, one that's basically like a full-blown permanent above-ground pool, choose something from the Intex Easy Set line of inflatable swimming pools. Intex swimming pools are well made, sturdy, and come with clear instructions. With good care, you can reasonably expect to get three to five summers out of an Intex inflatable pool. 
4) There are a lot of imitators, and they're not as good as the brand-name inflatable pools.
There are a lot of knockoffs and imitators in the blow-up pool market, especially on Amazon, but you may have seen them in your social media feeds as well. These fakes look like Intex pools (in fact, the less scrupulous ones actually use the same photos) but often are outright misleading about pool size and what's included.
SPLASH ZONE: 14 Best Indoor Water Park Resorts in the U.S. 
For example, some off-brand inflatable pools don't include a water filter system, or they include a cheap one that short-circuits after a few days. Others are considerably smaller than they claim. If you take only one piece of advice from me, make it this: If you're looking for an inflatable pool big enough to swim in, don't buy a knockoff. This is one time you want to hold out for the brand name.
5) Level outdoor space really does matter. 
The bigger the inflatable pool, the more it matters how level your backyard outdoor space is. With a small pool, it's not the end of the world if the ground is off by an inch or two from one end to the other. But with a giant blow-up pool, even a difference of a few inches can have an impact on how much water the pool will hold and how well the plastic walls will hold up to water pressure. 
You can check to see how level your yard is by planting metal stakes on the perimeter of the pool area and then tying a rope between the stakes. Use a carpenter's level to check the grade of your yard and make adjustments to the surface of your outdoor space as necessary, either by adding soil to make the area level or choosing a different area to place the inflatable swimming pool.
The Best Inflatable Pools for Backyard Fun
Now that you know what to look for when choosing an inflatable pool, it's time to decide which one is right for your backyard space. Here are my picks for the best blow-up pools to buy this summer.
PACK YOUR PASSPORT: 10 Best Caribbean Resorts with Water Parks 
1. Intex Easy Set Inflatable Swimming Pool 
Best overall inflatable backyard swimming pool
Intex makes a variety of giant inflatable swimming pools under the Intex Easy Set label. If you have the outdoor space for it, go for the biggest and best of them, which is 18 feet wide and four feet tall. Big enough for an eight-person pool party, this giant inflatable pool is basically the equivalent of a full-size above-ground pool, except you can easily set it up by yourself. And if you take good care of it, you can get multiple summers out of it.
The 18-foot Intex Easy Set inflatable swimming pool comes with a ground cloth, debris cover, air pump, electrical filter pump, and a pool ladder (yes, it's big enough that you need a ladder) and is made of super-strong PVC plastic. The top ring is inflatable and the rest of the pool is self-rising as you add water (its water capacity is 5,455 gallons). 
SUNSHINE STATE: 15 Best Orlando Hotels with Pools, Water Slides, and Water Parks 
The pool does not come with a floating chlorine dispenser or chlorine tablets, both of which I highly recommend as an easy way to keep your water clean and clear all summer long. You'll also want to order some replacement filters and maybe even a pool net skimmer with a pole. Despite being inflatable, this is a real swimming pool and needs to be maintained if you want to use it for multiple years. Give yourself a day or two to fill it up at the start of the summer. At the end of the season, empty and clean it out, let it fully dry, then roll it up and store the pool for next summer.
The entire line of Intex Easy Set pools is worth your attention. If the 18-foot swimming pool is too big or too expensive (or sold out), there are also 15-foot, 12-foot, 10-foot, eight-foot, and six-foot options available.
2. Intex Swim Center Family Lounge Inflatable Pool
Best inflatable swimming pool for relaxing with the family
Also from Intex, this inflatable lounge pool swim center is perfect for little kids who want to splash and play, or for anyone who wants to relax and keep cool with minimal effort. The four seats with built-in backrests are terrific for lounging or supervising little ones, and the two drink holders are a nice touch. This inflatable pool holds 262 gallons of water (about 14 inches deep) and is a 90-inch by 90-inch square design, with 26-inch-tall chair backs at each corner. 
WATER WORLDS: 5 Best Splash Pad Water Parks for Kids in the U.S. 
The kids have plenty of room to play around in the water, and you could even pull up something like a Little Tikes slide for even more fun. Adult users can just sit back, stretch out, and cool off (or at least sit comfortably while keeping an eye on little ones). A drain plug makes it easy to get the water out when you want to refresh or empty it, and an included repair patch comes in handy should the water play get a little too vigorous. 
3. AIRSO Family Inflatable Swimming Pool
Best rectangular inflatable swimming pool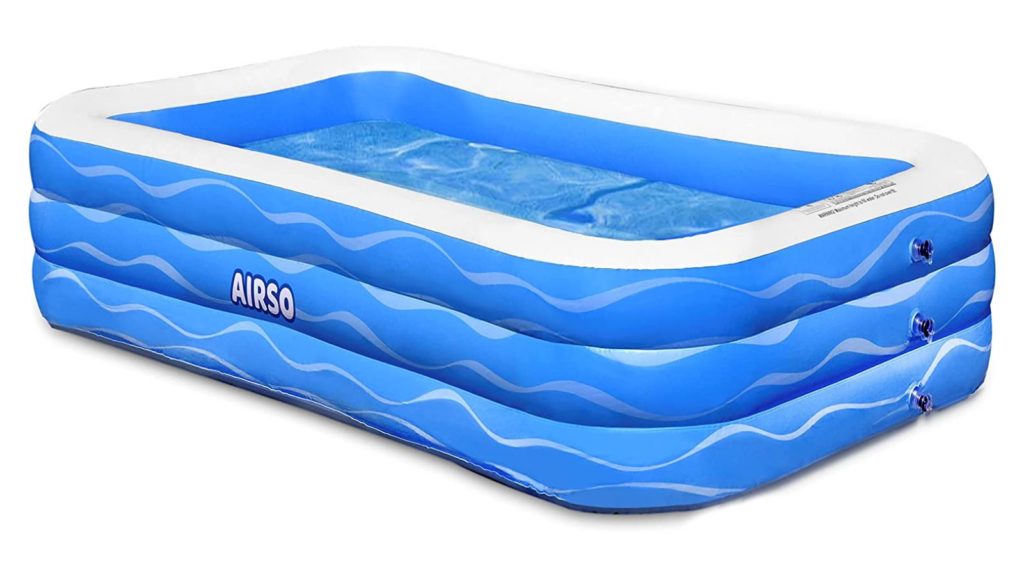 This rectangular inflatable swimming pool from AIRSO measures 118 inches long, 72 inches wide, and 22 inches deep. Big enough for the entire family to lounge in with a 162-gallon water capacity, this blow-up pool can hold up to two adults and four children. The material is much thicker than many other inflatable pools on the market, which makes it a smart choice for water-loving families that plan on spending lots of time splashing around. 
DISNEY MAGIC: Blizzard Beach vs. Typhoon Lagoon: The Ultimate Guide to Disney's Water Parks in Orlando
The soft floor is inflatable, too, offering more protection for younger kids. The blow-up pool inflates in about four minutes with an air pump (not included) and has three individual air chambers with double intake and free-flow exhaust valves, so there's no air or water leaking out. There are two built-in curved water valves that help the pool drain quickly when it's time to take it down. Bonus: An inflatable white top ring reflects the sun's heat, so you won't burn yourself getting in or resting against it.
4. Intex Inflatable Ocean Children's Play Center Outdoor 
Best inflatable swimming pool for keeping little kids entertained
Children ages two and up will love the Intex Ocean Inflatable Play Center, which feels more like a mini backyard water park than a swimming pool. This brightly colored inflatable play center has two pool areas: one small area and one larger wading pool area. There's also a waterslide, an inflatable palm tree, and inflatable turtle, whale, and ring toss games. 
BEAT THE HEAT: 7 Best Water Parks in Orlando for Every Age Group and Interest
An adjustable built-in spraying rim will keep little ones cool on scorching hot days, and the water heights of about four inches for the main pool and nine inches for the smaller pool are shallow enough for toddlers to safely play in while you keep a close watch. It's easy to set up, made from durable vinyl with heat-sealed seams, and a cinch to disassemble when it's time to store it away. 
5. Intex Ice Cream Stand Inflatable Playhouse and Pool
Best multipurpose inflatable kiddie pool
Is it a pool or an ice cream stand? Actually, the Ice Cream Stand Inflatable Playhouse and Pool from Intex is both! Designed for children ages two to six and made of durable vinyl, this kiddie pool can also be transformed into an imaginary ice cream parlor, and it comes with three oversized inflatable ice cream treats and built-in holders so your budding entrepreneurs can set up a pretend side hustle. 
BEACH DAYS: 25 Beach Essentials You Need for Every Sun-Soaked Vacation 
This small inflatable pool can be easily and quickly filled with about five inches of water, allowing your little one to cool down on hot days. And when summer's over, set up the super-cute inflatable pool in the playroom for year-round creative play, no water needed. 
6. FUNFEED Inflatable Unicorn Swimming Pool 
Best easily transportable inflatable pool
Let the kids' imaginations run wild with this Inflatable Unicorn Swimming Pool from FUNFEED. The glittery unicorn with a rainbow-hued mane and tail will delight small kids ages three and up. Portable enough to bring to the grandparents' house or to set up on your lawn, this blow-up kiddie pool has enough room for two young kids to comfortably splash around. 
SUN AND SAND: 12 Best Beach Resorts in the U.S. for Families
Each air chamber has its own safety non-returning valve, making it a breeze to inflate with an air pump in minutes (pump not included) and the built-in drain plug at the bottom works quickly. Made of durable, kid-friendly PVC, the well-rated inflatable pool can double as a ball pit or sand box and could even serve as a drinks cooler at family barbecues. 
7. XFlated Inflatable Watermelon Pool
Best basic inflatable pool
Beat the heat with the Instagram-ready Inflatable Watermelon Kiddie Pool from XFlated, which makes swimming even more fun. Designed to look just like the sweet summer treat, this 45-inch by 10.5-inch inflatable pool has room for several kids to splash around. It's made from PVC and comes with a repair patch in case someone punctures it. The three individual watermelon rings are easy to inflate, making the pool simple to set up. 
QUICK DRY: This Summer's Best Beach Towels for Kids and Teens
With a capacity of 70 gallons, this durable kiddie pool is low enough in height for younger kids to easily climb in and out of, but deep enough for them to sit inside and lean against the comfy walls. Plus, you won't have to tip it over to empty the water because there's a drain plug at the bottom that makes this task easy. This inflatable kiddie pool (which can also double as a ball pit or sand play area) also comes in hamburger and ice cream designs.
8. Intex Sun Shade Inflatable Pool for Toddlers
Best kiddie pool with built-in shade
The extra-large built-in sun shade on this kiddie pool from Intex makes it safer for younger kids to play in an inflatable pool for hours on end without being directly exposed to the sun, and the sun shade is also removable for those times when you want the sun to heat up the water. There's also a convenient drain plug and an included repair patch if play gets a little too rough.
EASY BREAZY: This Summer's Best Pop Up Beach Tents
The maximum water depth in this blow-up pool is a little over eight inches. Wide side walls provide some extra comfort. There's also an option to order the inflatable pool with a set of colorful plastic balls for use as a ball pit indoors.
9. JOYIN Whale Baby Pool/Shade Beach Tent 
Best shaded pool for kids under two years old
Adventurous little kids will enjoy swimming in the "mouth" of this inflatable Whale Baby Pool and Shade Beach Tent from JOYIN. Made of heavy-duty materials, this whale-shaped kiddie pool provides built-in shade for your little one on hot and sunny days. It holds 14 gallons of water and features a padded bottom for extra comfort.
KEEP IT COOL: 7 Best Cooler Backpacks for a Day at the Beach
The pool's compact size makes it easy to inflate, fill up with water, and empty out at the end of the day. Set it up on the grass or use it as a float inside another pool so your toddler can glide around in it.
10. Costzon Inflatable Waterslide Pool and Giant Bouncy Water Park with Blower
Best inflatable pool that doubles as a water playground
You'll need a big backyard for this one, but if you have the space then you won't find a more popular blow-up pool for kids ages three to 10 than this giant inflatable waterslide pool from Costzon. Made of heavy-duty puncture-proof materials, this water play area features a good-sized wading pool, a climbing wall, and a gently curving waterslide all in one.
DURABLE TOTES: 10 Sturdy Beach Bags with Special Features and Style 
Ground stakes, mesh netting, and heightened side rails help keep kids safe while they're splashing around. The pool comes with an included air blower for quick inflation, a carrying bag for easy storage, and a water hose for the slide area. The whole setup can also be used without water for backyard bounce house-style fun. You might just become the most popular spot in the neighborhood once you set this up in your yard.
More from FamilyVacationist: