The Wizarding World of Harry Potter at Universal Orlando Resort consists of two immersive lands based on the Harry Potter books and films. The Diagon Alley area is located in Universal Studios Florida and Hogsmeade is located in Islands of Adventure. The two Harry Potter theme park lands are connected by the Hogwarts Express. 
Both of the Harry Potter lands at Universal Studios have themed shops, rides, dining, and entertainment, and the best way to travel between the two is on the Hogwarts Express train. If you want to hop on the train or visit both lands in one day, you'll need to purchase Park-to-Park tickets that include both Universal Studios Florida and Islands of Adventure for your visit.
Both Harry Potter Orlando theme park lands accept Express Passes, an add-on to your regular park ticket that lets you skip the line on many rides and attractions. You can purchase Express Passes online or inside the park, and it's included as a free perk if you're staying in a Universal Premier hotel. 
Harry Potter Orlando Theme Park Guide
Whether you're a muggle or a wizard, here's everything you need to know about the Harry Potter rides, restaurants, and shops at Universal Orlando.
Jump to a Section:
Tips for Visiting Diagon Alley at the Wizarding World of Harry Potter in Orlando
Your Harry Potter Orlando experience actually begins outside of Diagon Alley in the London waterfront area of Universal Studios Florida. It's worth spending a few minutes in this area adjacent to the Harry Potter world to chat with the Knight Bus conductor and search for Kreacher the house-elf in the upstairs window of 12 Grimmauld Place before heading into Diagon Alley.
MAGICAL READS: 33 Books Like Harry Potter to Binge on Your Next Vacation
When you're ready to enter the Wizarding World, you may be wondering where to find the entrance to Diagon Alley. To better keep out muggles, it's hidden behind a brick wall just past Leicester Square Station. 
Once inside the Harry Potter theme park, you'll be staring right at the large Ukranian Ironbelly dragon that sits atop Gringotts Bank. It really does breathe fire (and it can be quite startling). If you want to catch a photo or video of the fire-breathing dragon in action, listen for the dragon's low growl and you'll know he's warming up for his next "performance."
THEME PARK MAGIC: 7 Things You Didn't Know You Could Do at The Wizarding World of Harry Potter
Turn right after you enter to visit Carkitt Market or go straight back toward the bank and you'll hit Horizont Alley. You can also see the seedier side of Diagon Alley if you follow the dark pathway past the Leaky Cauldron into Knockturn Alley. Each has shops, dining, and magic wand spots (more on that later), and Carkitt Market has a stage where you can watch live entertainment from Celestina Warbeck and the Banshees or The Tales of Beedle the Bard throughout the day.
What to Know about the Diagon Alley Shops at the Harry Potter Orlando Theme Park
There are quite a few shops in Diagon Alley and they are many of the same ones you see in the Harry Potter books and movies. Pop into a few even if you don't plan on making a purchase because the theming is so on point. Here are the shops you can visit in Diagon Alley.
Weasleys' Wizard Wheezes
Fred and George Weasley are well known for their mischievous pranks. This shop has love potions, Bombtastic Bombs, and everything else you need to pull off your own practical jokes.
Madam Malkin's Robes for All Occasions
You'll look like you stepped right off the pages of J.K. Rowling's books in the robes, school uniforms, and other finery available here. 
Wiseacre's Wizarding Equipment
Wiseacre's is a great shop for souvenirs like Harry Potter T-shirts, ornaments, mugs, and glassware. The shop also carries a selection of must-have wizarding world supplies.
WATER WORLDS: Best Orlando Water Parks for Every Age Group
Magical Menagerie
This is the place inside the Harry Potter theme park to adopt your very own unicorn, owl, or Pygmy Puff. Don't miss the large snake in the window outside the store.
Quality Quidditch Supplies
If your family is looking for an alternative to matching Hogwarts robes, why not matching Quidditch jerseys? Get them here along with other sporty paraphernalia. 
Scribbulus
From parchments to journals to quills and ink, this Harry Potter theme park shop is a writer's dream.
Head to Shutterbutton's for your very own Wizarding World photo shoot, including the moving portraits you see in the films.
Sugarplum's Sweet Shop
Ever wondered what Chocolate Frogs, Bertie Bott's Every-Flavour Beans, and Fizzing Whizbees actually taste like? At Sugarplum's, you can finally find out.
Wands by Gregorovitch
Ollivander's isn't the only wand shop in town. Here, you'll find a wide selection of wands and, often, much smaller crowds than at Ollivander's wand shop.
FUN FOR ALL: 10 Best Disney Rides for Little Kids and Toddlers
Gringotts Money Exchange
Harry Potter land in Orlando will happily let you trade your muggle money for Gringotts bank notes that can be used to make purchases throughout the Wizarding World. The goblins may look grumpy, but try asking the goblin behind the counter a question and he may just answer you.
Ollivander's Wand Shop
Line up for a wand selection ceremony at Ollivander's for the chance to have your wand choose you. Even if you aren't the lucky wizard chosen for the ceremony, you can pick from a large selection of unique wands and character wand replicas.
Borgin and Burkes
If your wizarding proclivities lean toward the dark arts, Borgin and Burkes in Knockturn Alley has the supplies you need. You'll also find a collection of replica (and a few authentic) movie props.
PARK SECRETS: 7 Things You Didn't Know You Could Do At Universal Orlando Resort 
Diagon Alley Restaurants at the Wizarding World of Harry Potter in Orlando
There's only one sit-down restaurant in Diagon Alley, but there are plenty of spots to get Butterbeer, Fishy Green Ale, sweet treats, and even beers specially brewed for the Harry Potter land.
Leaky Cauldron
Fashioned after the pub and inn from Harry Potter and the Prisoner of Azkaban, the Leaky Cauldron is Diagon Alley's only table-service dining option. You can order traditional British fare such as bangers and mash, fish and chips, and a full English breakfast. Don't worry, there are also plenty of picky-eater-approved options like pancakes and macaroni and cheese. To save time, place a mobile food order before you arrive at the restaurant. When you arrive, your server will find you a table and fill your order.
ORLANDO VACATIONS: 12 Best Things to Do in Orlando with Kids (Beyond the Theme Parks)
Florean Fortescue's Ice-Cream Parlour
Butterbeer ice cream is certainly the most popular menu item, but don't sleep on the shop's other unique flavors like Earl Grey and Lavender, Sticky Toffee Pudding, and Chocolate Chili. Better yet, spend a few days exploring Harry Potter world in Orlando and try all the flavors.
The Fountain of Fair Fortune
When you're ready for something a bit stronger than Butterbeer, stop at the Fountain of Fair Fortune. There's a variety of non-alcoholic drinks, but adults can pop in here for a Wizard's Brew or Dragon Scale beer, which are only available in the Diagon Alley area at Universal Studios Florida.
The Hopping Pot
In the back corner of Carkitt Market, the walk-up counter at The Hopping Pot is the best spot to grab a Butterbeer or a snack before watching a performance on the nearby stage.
Eternelle's Elixir of Refreshment
Add a bit of magic to your bottle of Gillywater with the selection of flavorful elixirs available at this stand in Carkitt Market.
Guide to the Harry Potter Rides in Diagon Alley
There's only one ride in Diagon Alley, and it sits just below that fire breathing dragon inside Gringotts Bank. But what a ride it is! 
Harry Potter and the Escape from Gringotts
The concept for this Harry Potter ride is that you're there to take a tour of Gringotts, but, as so often happens on theme park rides, things go awry. Thanks to ride vehicles that can tilt and spin, 3-D glasses, and other special effects, this Harry Potter ride is a step up from your everyday coaster. The minimum ride height is 42", but there is a child swap room where one parent can wait with anyone who is too young or doesn't want to ride.
Tips for Visiting Hogsmeade at the Wizarding World of Harry Potter in Orlando
In the Harry Potter series, Hogsmeade Village is the charming snow-capped village near Hogwarts School of Witchcraft and Wizardry. At Universal Orlando Resort, Hogsmeade is located inside the Islands of Adventure park theme park.
In addition to shops, dining, and rides, there's a small stage near Hogwarts Castle where you can watch the Frog Choir and Triwizard Spirit Rally shows multiple times each day. 
FESTIVE FUN: The Best Things to Do at Universal Orlando During the Holiday Season
What to Know about the Hogsmeade Shops at the Harry Potter Orlando Theme Park
There aren't nearly as many shopping locations in Hogsmeade as there are in Diagon Alley, but there are more than enough to meet all your wizarding needs.
Honeydukes
Honeydukes sells many of the same treats found at Sugarplum's Sweet Shop in Diagon Alley. If candy isn't your thing, go for the Butterbeer Fudge or Cauldron Cakes in the bakery case. 
KNOW BEFORE YOU GO: 10 Best Orlando Theme Parks for Families
Ollivander's Wand Shop
To ensure there are enough wands to go around, there are Ollivander's locations in both of the Harry Potter lands at Universal Orlando. Both locations have stacks upon stacks of interactive and non-interactive wands, and both hold wand selection ceremonies throughout the day.
Dervish and Banges
Dervish and Banges is your home for Golden Snitches, brooms, and Hogwarts clothing and accessories. Don't forget to check out the real live textbook, The Monster Book of Monsters. Luckily, it's in a cage because this book bites!
Filch's Emporium of Confiscated Goods
This is another good souvenir stop where you'll also find authentic-looking replica props from the Harry Potter films.
Owl Post
In addition to letter-writing supplies, you can mail letters and postcards to your friends and family with a real Hogsmeade postmark.
Hogsmeade Restaurants at the Wizarding World of Harry Potter in Orlando
There's only one restaurant in Hogsmeade, but there are two Butterbeer carts and a pub, so you won't go thirsty.
Three Broomsticks
The rustic charm of Three Broomsticks lends itself to hearty fare like beef pasties and rotisserie chicken, or go for the full Harry Potter world experience by ordering The Great Feast—a family-style meal with all the fixins.
Hog's Head
Located in the back of Three Broomsticks, Hog's Head serves Butterbeer, Pumpkin Juice, and alcoholic drinks, including the Hog's Head Brew that's only available in Hogsmeade at Universal's Islands of Adventure. 
Butterbeer Carts
There are two Butterbeer carts in Hogsmeade where you can get frozen or cold Butterbeer, water, and other Wizarding World beverages.
Guide to the Harry Potter Rides in Hogsmeade
Hogsmeade is the Harry Potter theme park land to visit in Orlando if you're most interested in experiencing the different Wizarding World-themed rides. There are three of them here. 
Hagrid's Magical Creatures Motorbike Adventure
The Wizarding World's newest ride is arguably the best of them all. Billed as a "story coaster," this Harry Potter ride follows a haphazard motorbike lesson with Hagrid. Ride it twice so you can experience both the motorcycle and the sidecar. 
This is the only attraction in The Wizarding World of Harry Potter that doesn't utilize Express Pass, but it does often use a virtual queue rather than a typical line. Check the Universal Orlando app or ask a Harry Potter world team member for assistance joining the virtual queue. The minimum height for Hagrid's Magical Creatures Motorbike Adventure is 48" and, as with most of the other Wizarding World rides, child swap is available.
GAME ON: 11 Classic Board Games Every Family Should Own
Flight of the Hippogriff
This kid-size coaster has a minimum height requirement of only 36", but it's thrilling for kids of all ages (including parents). It's a very quick ride and the wait to board through the normal queue can stretch for hours on busy days. With an Express Pass, though, you can often do the ride as many times as you want with very little waiting.  
Harry Potter and the Forbidden Journey
You can't miss the entrance to this Harry Potter ride because it's actually inside Hogwarts Castle, which towers over the Hogsmeade area from on high in true Wizarding World fashion. 
Part coaster and part 4-D motion simulator, this ride will take you twisting and turning through the grounds of Hogwarts. The minimum height requirement is 48" and there is a child swap room available. Rider beware, complaints of motion sickness on this ride are common, but seeing the inside of Hogwarts is almost worth it.
Tips for Riding the Hogwarts Express at Universal Orlando
The Hogwarts Express connects the two theme park areas in The Wizarding World of Harry Potter. Because it technically takes you from one of Universal's parks to the other, you'll need a Park-to-Park ticket to ride the train. While the ride itself lasts less than five minutes, the lines can also grow pretty long as the day wears on, but a Universal Express pass will cut your wait time drastically.
You can board the train at Hogsmeade Station in Hogsmeade at Islands of Adventure or King's Cross Station in the London area of Universal Studios Florida. Each train car's windows are not actually windows, but screens that make you feel as if you're actually making the same journey Harry did to and from school. Because of this, the experience is a bit different in both directions, but both have scenery, characters, and magical creatures from the films. Take the train both directions if you can.
How to Have the Best Harry Potter Theme Park Experience in Orlando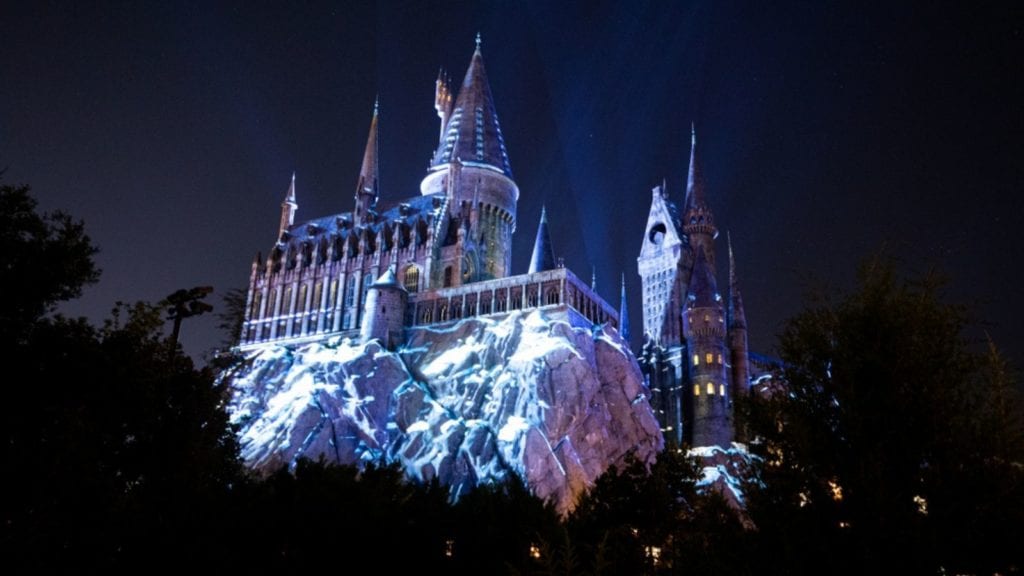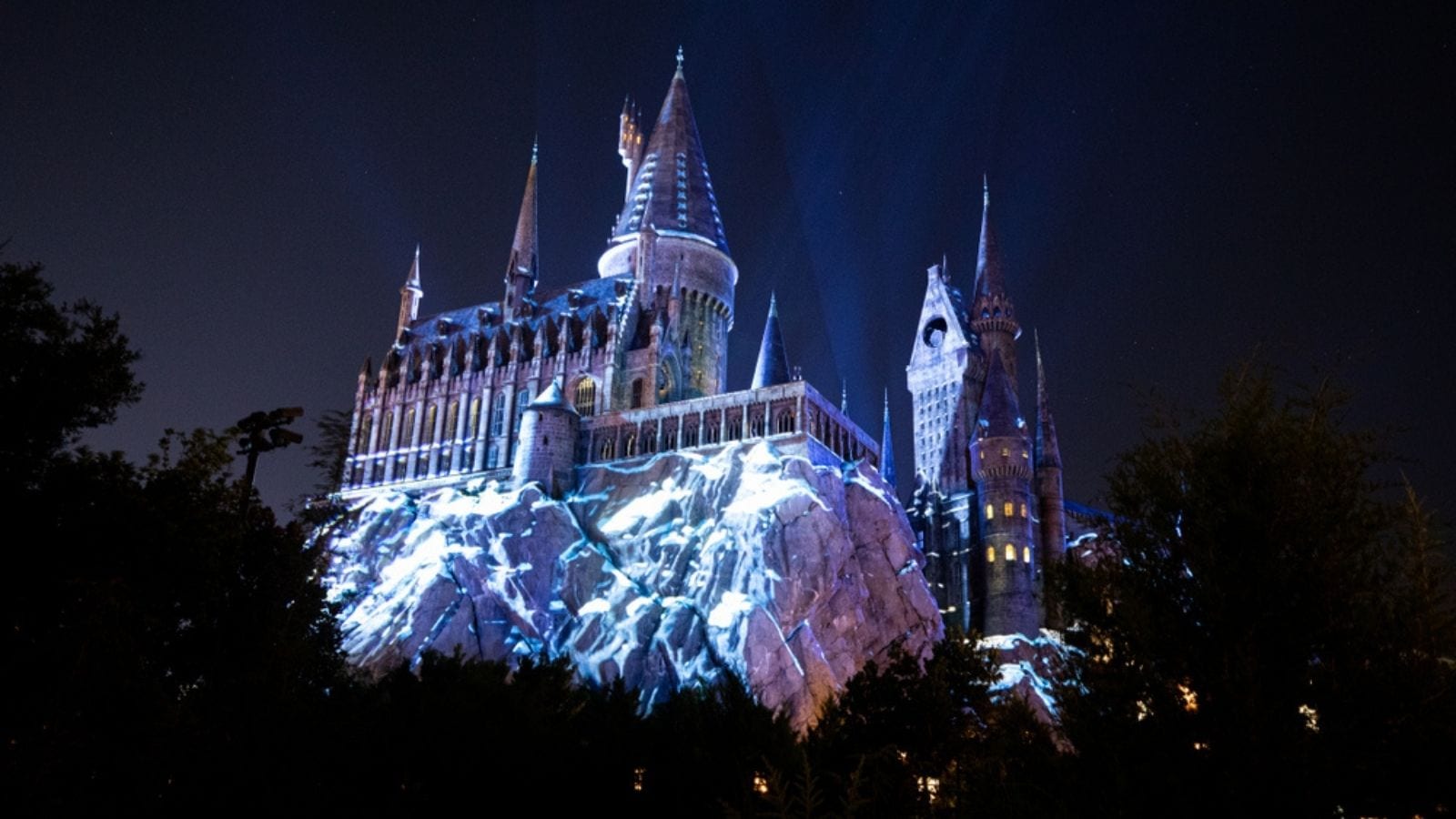 Discovering the many secrets of the Harry Potter Orlando theme parks is part of the fun, but there are a few things you need to know ahead of time to make your visit to Harry Potter world as magical as possible.
1) Arrive Early to Have the Best Experience with the Interactive Wand Spots
Once you have your interactive wand from Ollivander's or Gregorovitch, open the box and you'll find a map inside. The map marks the magical wand spots in Diagon Alley and Hogsmeade where you can test your wizardry. Each spot is marked by a golden medallion on the ground that shows which direction to move your wand and what spell to recite. 
GOOD EATS: The Best Places to Eat in Orlando
There are also hidden wand spots you won't see on the map. To find them, ask a witch or wizard (Universal Team Members) working in the area if they can point you in the right direction (or just look for a wand sensor in shop windows). Team Members can also give you a few pointers if you're having trouble casting spells. If even that doesn't work, your wand may be faulty and you can get a free repair at Ollivander's.
What you really need to know about the interactive wands and wand spots, though, is that they quickly become crowded and overwhelming on a busy day (which, let's face it, is most days). If casting spells is tops on your kids' list of activities (or yours), make it a priority to arrive early to the Harry Potter lands and get your spellcasting in before the crowds really fill in (usually about an hour after opening). Nothing will make your magical experience feel less magical than waiting in line to cast a spell, and unlike the Harry Potter rides, there are no Express Passes for the wand spots. 
2) There Are Many Types of Butterbeer at Universal Orlando Resort
Though cold and frozen Butterbeer are the most popular versions (except during the winter months when hot Butterbeer is available), there are even more ways to enjoy this butterscotch and shortbread-flavored treat. You can get Butterbeer Fudge at Honeydukes and Sugarplum's, Butterbeer Potted Cream at Leaky Cauldron and Three Broomsticks, and Butterbeer Ice Cream at Three Broomsticks, Leaky Cauldron, Florean Fortescue's The Hopping Pot, and various snack carts. 
3) If You Want to See All of the Harry Potter Orlando Theme Park, Arrive Early and Make a Plan
The Hogsmeade area and Hagrid's Magical Creatures Motorbike Adventure often open early for Universal hotel guests as part of Universal's Early Park Admission perk. If you're staying onsite or can get to the park close to opening time, your best bet is to tackle Hogsmeade early in the morning. It's not as large as Diagon Alley and can get crowded as the day wears on. If it gets too crowded, hop over to Diagon Alley and come back to Hogsmeade in the early evening.
OUT OF THIS WORLD: Ultimate Guide to Disney's Star Wars Hotel in Orlando
4) Splurge on the Universal Express Pass if you can 
The Universal Express Pass works on every ride in The Wizarding World of Harry Potter except Hagrid's Magical Creatures Motorbike Adventure. It can be pricey if you have a large party or are visiting for multiple days, but since it's included with Universal Premier hotels, you might actually save money by staying at one of Universal's high-end properties.
At any attraction that accepts Universal Express, you simply show your ticket to the attendant and they will direct you through a separate line for Express passholders. Because they'll need to scan your ticket, make sure you don't leave it behind with your other belongings on rides that require you to store your belongings in a locker.
5) Where to Buy the Must-Have Merchandise
You already know there's plenty of places to purchase wands, robes, sweets, and souvenirs in the Wizarding World, but if you want to be extra prepared you can purchase many of these items on Universal's website before you even arrive at the Harry Potter theme parks. 
You can also get them in your hotel, at the large souvenir stores at the entrance to both Universal's Islands of Adventure and Universal Studios Florida, or at the Universal Studios Store at CityWalk. The biggest benefit to buying your merch outside of the park areas is that you'll have more time to experience the rides and appreciate the attention to detail that went into making the areas feel like Harry Potter's world. Window shopping and browsing is more fun than standing in line, anyway.
Frequently Asked Questions about The Wizarding World of Harry Potter
1) What's the Difference between the Wizarding Worlds in Orlando and Hollywood?
While just as magical, Universal Studios Hollywood's version of The Wizarding World of Harry Potter only features the Hogsmeade area and is significantly smaller than the Harry Potter world in Orlando. There's still plenty of shopping, you can dine at Three Broomsticks, get a drink at Hog's Head, and ride Harry Potter and the Forbidden Journey and Flight of the Hippogriff at the Hollywood park, though.
DISNEY VACATIONS: 13 Best Walt Disney World Hotels for Families
2) Which Park Is Better: Diagon Alley or Hogsmeade?
If you're looking for Harry Potter rides, the Hogsmeade area in Islands of Adventure has three of them (Hagrid's Magical Creatures Motorbike Adventure, Flight of the Hippogriff, and Harry Potter and the Forbidden Journey) compared to just one ride at the Diagon Alley area in Universal Studios Florida (Harry Potter and the Escape from Gringotts). On the other hand, Diagon Alley at Universal Studios Florida has more shops and restaurants.
In the end, though, they're both great and it probably comes down to personal preference. Do you have a favorite scene or location from the Harry Potter books? If so, you may find yourself drawn to one area more than another, but you should absolutely experience both parts of the Harry Potter theme park in Orlando.
3) Which Harry Potter Park Should I Go to First?
For the most authentic Harry Potter experience, head to Diagon Alley at Universal Studios first—just like Harry did in the first book. It's a great gateway into the Wizarding World, and you can stock up on all your souvenirs and wizarding supplies at the land's many shops. Then, head to Hogsmeade for your first awe-inspiring view of Hogwarts Castle (and maybe a little Butterbeer, too).
4) How Many Days Do You Need for Harry Potter World?
Plan to spend parts of at least two days at the Harry Potter theme parks in Orlando if you want the complete experience. Arrive early, try to see and do as much as you can before the crowds fill in, then enjoy the other parts of Universal Studios Florida and Universal's Islands of Adventure for parts of the afternoon before returning to the Harry Potter theme parks for the evening. After all, you haven't fully experienced Harry Potter world until you've seen Hogwarts Castle lit up at night.
5) Do You Have to Pay Extra for the Wizarding World of Harry Potter?
No, the Harry Potter theme park areas are included in your ticket price for whichever Universal Studios park you're visiting (Hogsmeade in Islands of Adventure and Diagon Alley in Universal Studios Florida). However, to get the full Wizarding World experience, you'll need to purchase a Park-to-Park pass that includes same-day admission to both Islands of Adventure and Universal Studios Florida. That's because the Hogwarts Express ride connects the two parks and can only be accessed by those who have passes to both.
SUN SAFETY: 13 Kid-Friendly Sunscreens the Whole Family Can Use
You should also consider splurging on a Universal Express Pass that will let you skip the long lines at the rides in Harry Potter's Wizarding World (and many other rides at Universal Orlando Resort) in order to have the very best experience. And, you may want to consider staying at a Universal Premier hotel in order to take advantage of Universal's Early Park Admission perk. Because the only thing more magical than the Wizarding World of Harry Potter is having the whole theme park practically to yourself.
6) Is There Anything New Planned for the Harry Potter Theme Parks in Orlando?
It's an open secret that Universal is planning a third Harry Potter land in Orlando, which will be located inside its new Epic Universe theme park, expected to open in 2025. Reports indicate that this new land will also include a ride based on the Ministry of Magic.
More from FamilyVacationist: