Photo: Courtesy of Airbnb
Road Affair is reader-supported and may earn commission from purchases made through links in this article.
Renting a cabin in Wisconsin is a great way to explore the state's rustic natural beauty and stunning landscapes. With 15,000 lakes and endless scenic trails to choose from, this midwestern gem is the perfect vacation destination for nature enthusiasts. Whether you're looking for family-friendly fun or a thrilling outdoor adventure, finding the right rental will ensure that you make the most of your trip. 
To help you narrow down your top picks, we've created the following list of the best cabin rentals in Wisconsin, all of which are listed on Airbnb. We want to ensure that these Airbnbs are outstanding and consistently well rated, so all of the cabins listed are presided over by superhosts – hosts with a proven track record of providing exceptional hospitality.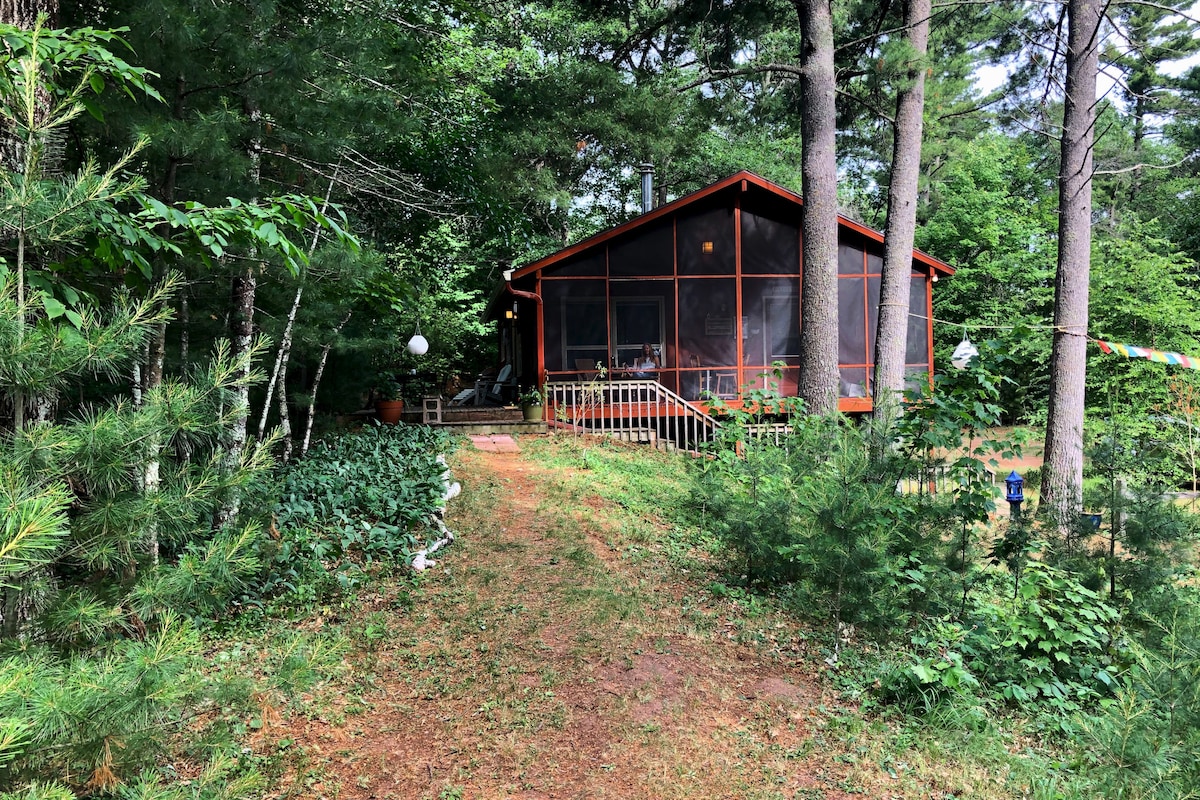 Wood River Retreat
If you're interested in a Wisconsin cabin that offers complete privacy, look no further than this secluded getaway in the woods. 
Perched high up on a ravine, this cozy cabin may feel remote, but it is loaded with convenient amenities such as Wi-Fi, a Smart TV, central heating, and central air-conditioning. The spacious living room comes with the added bonus of a traditional woodstove, and the eat-in full kitchen is decked out in brand-new stainless-steel appliances. Great for small groups and families, the space offers a full bathroom, a master bedroom with a queen-size bed, and a second bedroom furnished with one double bed and one single bed. 
This rental is completely private, and there are no other houses or cabins on the 16 acres of pristine forested land. Guests will have the entire property to themselves, including a screened-in porch, a wooden deck, a firepit, and a vast strip of riverfront land. The woods are peaceful, quiet, and thick with trees, but local parks and restaurants are still accessible by a short drive, and the Twin Cities are just an hour away. 
View Cabin on Airbnb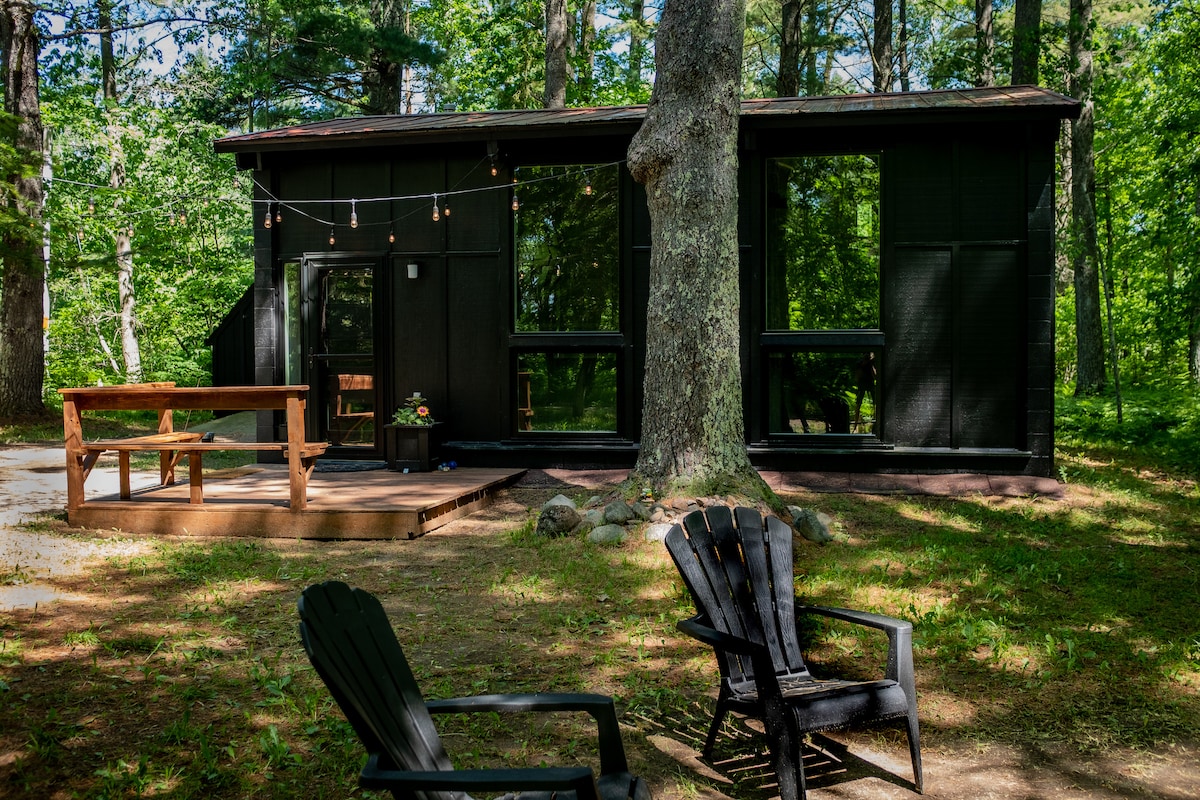 Hygge House
Named for the Danish tradition of enjoying life's simple pleasures, Hygge House makes the perfect retreat for doing just that. 
With three bedrooms furnished with double beds and two full bathrooms, the cabin offers a cozy stay for up to six guests. The open-concept common areas can be found on the main level of the cabin and feature an efficient layout with a comfy sitting area, a dining table, and a small kitchen in a convenient nook. The space is beautiful and bright with whitewashed wood planks, rustic accents, and a traditional woodstove. 
Nestled on one acre of woodland, this rental cabin in Wisconsin is surrounded by a gorgeous natural getaway. Take a break from digital distractions and enjoy the peaceful aura of this stunning property from the back porch. There is also an outdoor firepit available year-round and three Adirondack chairs for lounging. If you find yourself in need of urban amenities, the town of Cable is just a short drive away. 
View Cabin on Airbnb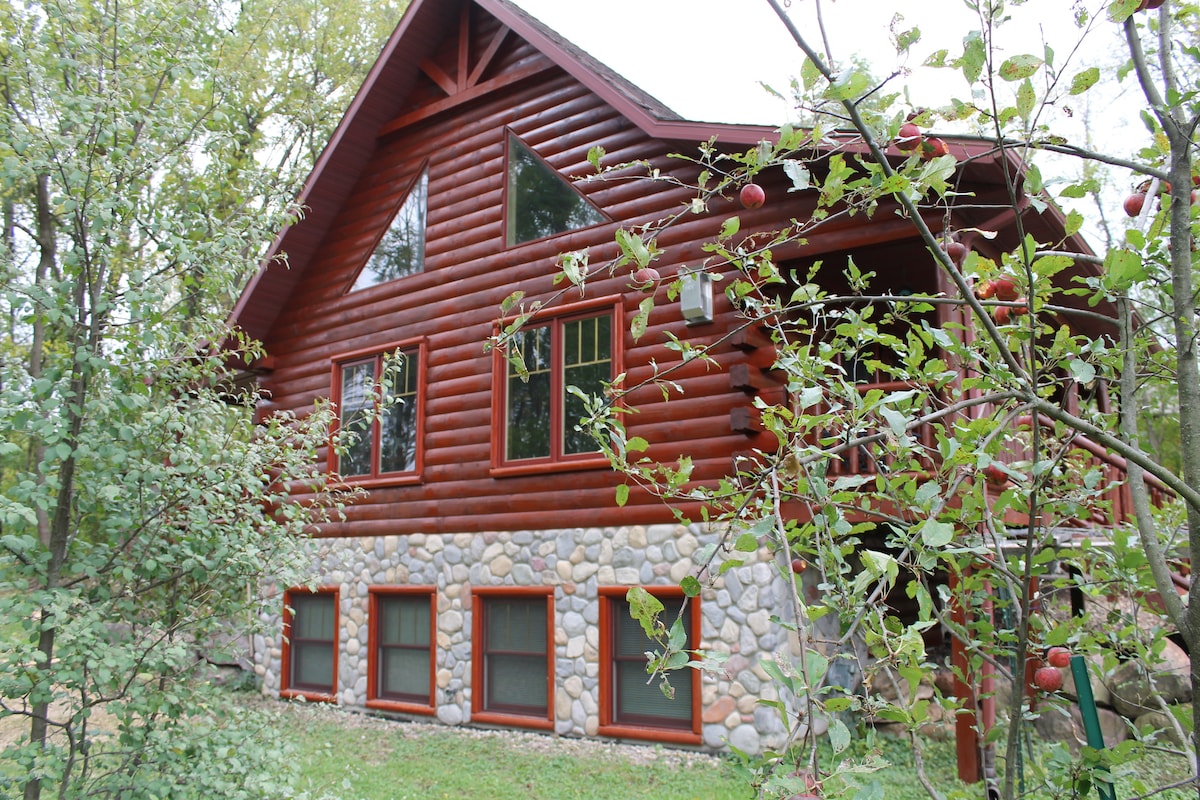 Devil's Lake Grand Cabin
Constructed from stunning red logs and surrounded by apple trees, this massive cabin rental looks like it was pulled from the pages of a storybook. 
With three bedrooms, three full bathrooms, and a loft with extra beds, the grand cabin can comfortably accommodate up to 12 guests. The interior boasts warm red accents that match its unique exterior and adorable nature-themed décor. The main floor consists of an open space with a beautifully appointed kitchen and large sitting area with comfortable couches, a stone fireplace, and a wall-mounted Smart TV. Additional amenities include Wi-Fi, air-conditioning, and a separate laundry room. Outside, you'll find a private yard with a deck, a grill, a picnic table, and a firepit area. 
Located right next to the entrance of Devil's Lake State Park, this rental is a great choice for those interested in a lake cabin in Wisconsin that can accommodate large groups. In addition to the swimming and kayaking opportunities in the lake, the State Park offers fantastic spots for hiking and rock climbing.
View Cabin on Airbnb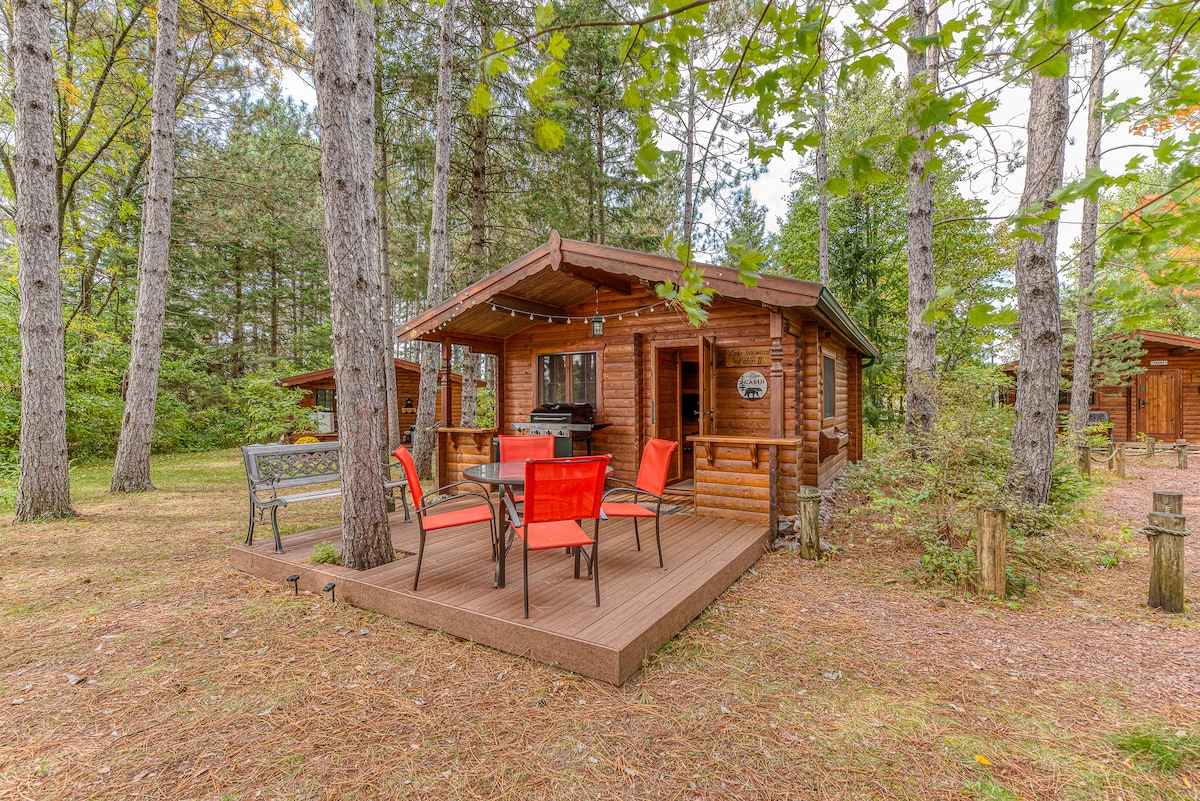 Authentic German Log Cabin 
This unique studio cabin was hand-built in Germany and offers direct access to Hayward Lake. 
Recently updated, the home now offers a ton of comfortable amenities while still retaining its authentic rustic charm. In front of the cabin, you'll find a spacious patio with an outdoor dining table and a grill as well as a cozy firepit area for spending relaxing nights outdoors. The interior offers a small kitchenette and a full bathroom, and the living space is furnished with a four-person table, a queen-size bed, and a sofa bed. The cabin is pet-friendly and also equipped with Wi-Fi and TV. 
Conveniently situated within walking distance of downtown attractions, this lakeside cabin in Wisconsin boasts an ideal location that truly has something for everyone. Launch your boat at the public beach nearby, enjoy a meal at a local restaurant, or take a short drive over to Hatchery Creek Trailhead for hiking and mountain biking. 
View Cabin on Airbnb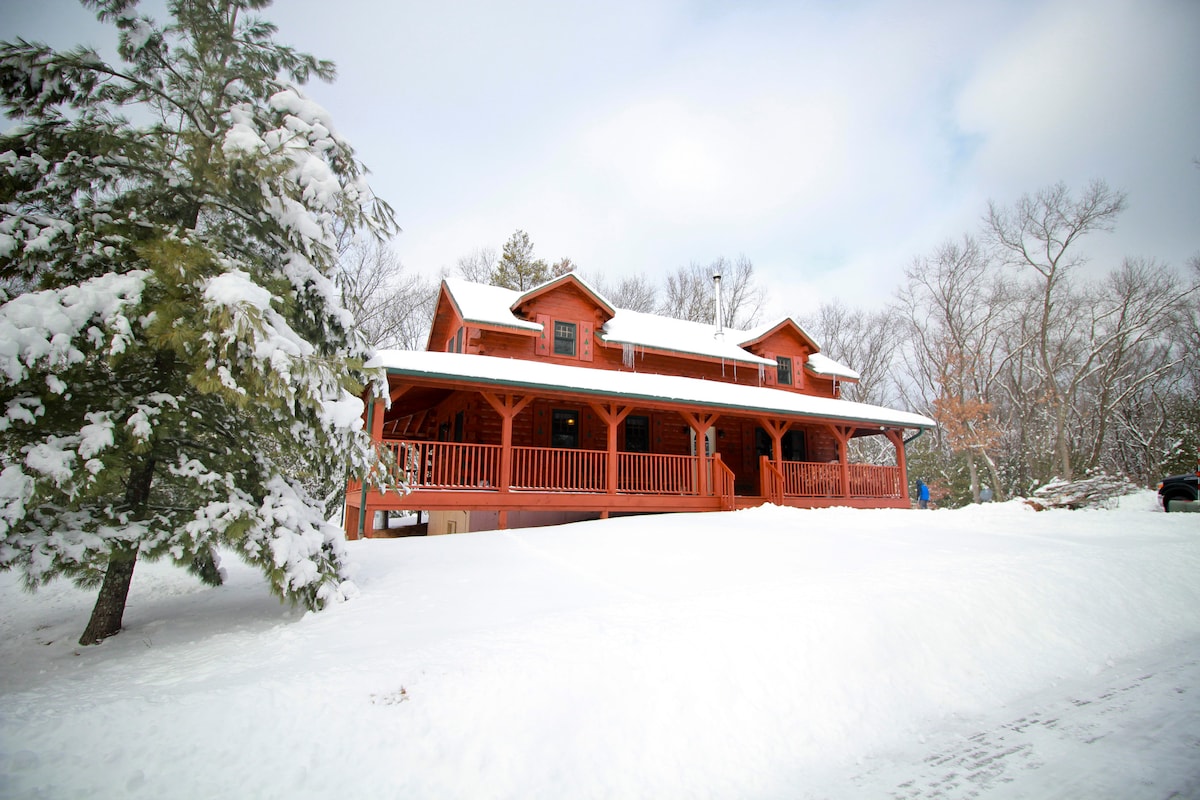 Log Cabin Near Castle Rock Lake
This cabin's close proximity to Castle Rock Lake, state parks, and biking trails makes it the perfect home base for your Wisconsin adventure. 
On the main floor, you'll find an open-concept living space encompassing a large sitting area with a Smart TV, a full kitchen, a dining table, and a half bathroom. There are two queen-size beds in the lofted sleeping area, which also offers a full bathroom. All of the furniture is rustic but comfortable, and the rental also comes with Wi-Fi and laundry facilities. 
Situated on 14 wooded acres, this Wisconsin cabin rental comes with a backyard trail and offers beautiful scenery year-round. Guests can relax on the front porch, enjoy a meal on the back deck, gather around the firepit, or wander around the property. 
View Cabin on Airbnb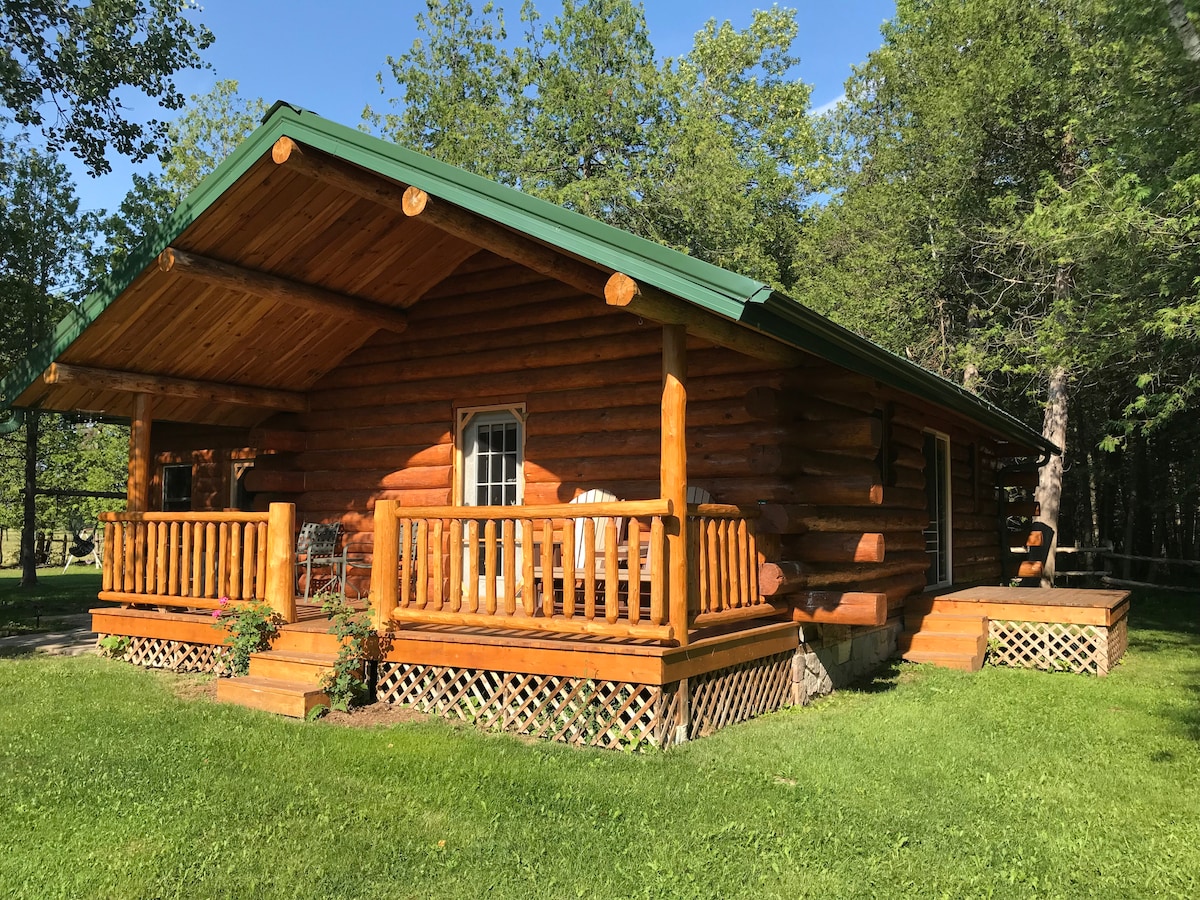 Inspirational Retreat
Take a break from digital distractions and lean into the simple life with this secluded Wisconsin cabin in Amish country. 
The classic log cabin offers one full bathroom and one bedroom with a double bed. The cozy living room is furnished with a dining table, a couch, and a set of twin-size bunk beds that make the space suited for up to five guests. Several windows and sliding glass doors bring a ton of natural light into the spacious log interior, and there is a full kitchen with a breakfast bar for preparing homemade meals. With no Wi-Fi or TV, this simple cabin offers guests the perfect opportunity to unplug and unwind. Your host also provides several books, board games, and cards for indoor entertainment. 
The rental comes with a spacious backyard surrounded by trees and filled with charming touches. The porch swing, hammock, and firepit area are all great places to relax, and children will love the swing set and slide. There is also a beautiful walkway marked by colorful flowers and a romantic arch. 
View Cabin on Airbnb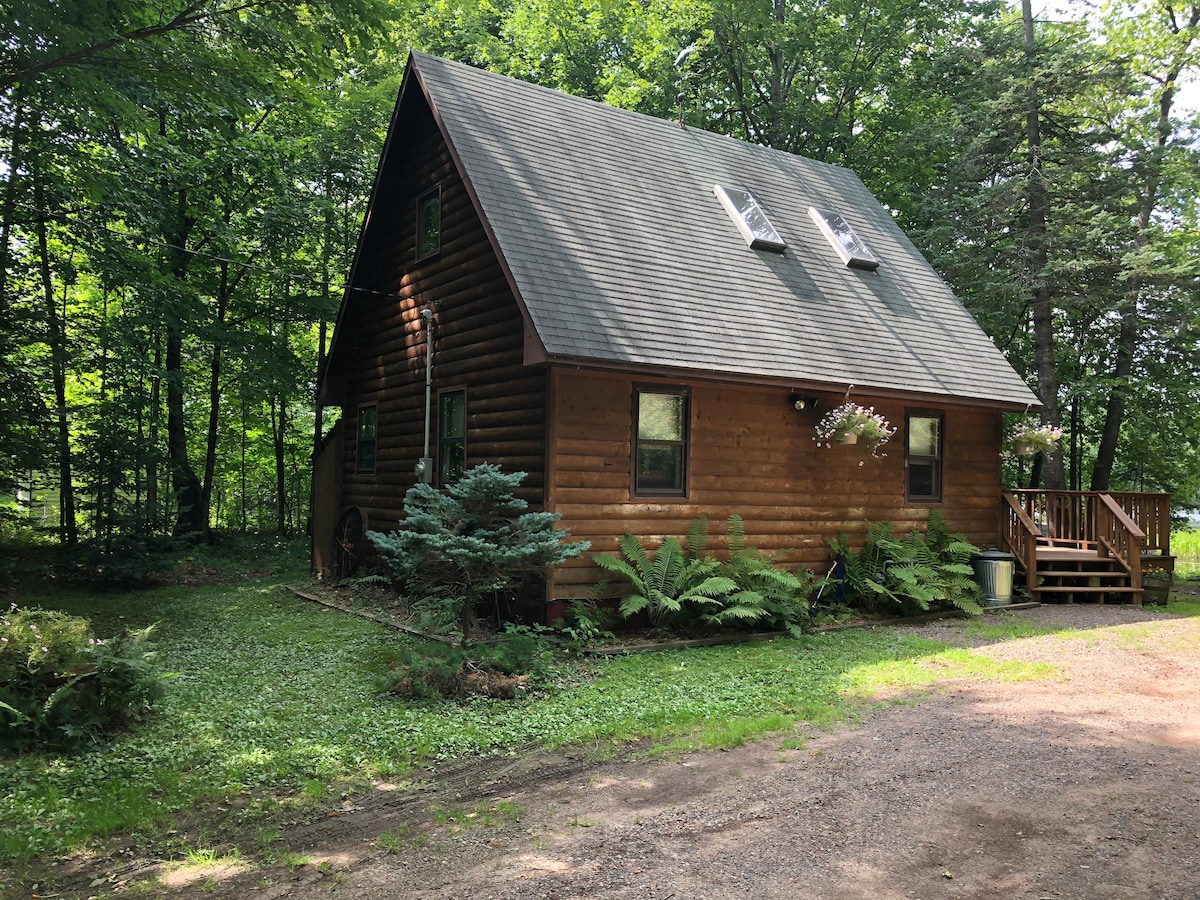 Flaming Torch Lodge
Interested in renting a cabin in Wisconsin with direct waterfront access? This charming abode on the Flambeau River might be the perfect rental for you. 
The one-bedroom, one-bathroom cabin is furnished with a queen-size bed as well as a sofa bed in the loft and can house up to four guests. The interior was recently remodeled and offers a unique design with a cozy ambiance. Large windows in the living room bring the outdoors inside, and convenient amenities such as Wi-Fi, TV, and a modern indoor fireplace ensure that your stay will be nothing but comfortable. The main floor of the cabin also offers a small kitchen and a dining area, and there is a spiral staircase that leads to the bathroom and bedrooms. 
Guests will have completely private access to the entire cabin and its incredible waterfront property. The surrounding scenery is beautiful and quiet and also offers a cozy firepit area and a small dock. 
View Cabin on Airbnb
Cozy Log Cabin in the Woods
Tucked away in a friendly rural neighborhood, this homey Wisconsin cabin for rent is a great option for a family or a group of friends. 
Furnished with all the comforts of home, the interior is warm and welcoming and features a pitched roof and wood planks throughout. The living room comes with a TV and an electric fireplace, and there is even a telescope available for stargazing. There is one bedroom on the main level, which is furnished with one single bed and one set of bunk beds, and the loft offers an additional queen-size bed. The full bathroom is modern and clean, and there is also a full kitchen with stainless-steel appliances and a washer and dryer. 
The rental comes with private access to the property's nine wooded acres and a well-maintained trail to explore. There is also a convenient picnic area and outdoor firepit, and guests are welcome to bring their dogs. In addition to the property's private trail loop, there are a few great public trails located just a short drive away from the cabin, and the Wisconsin River and Castle Rock Lake are also just 20 minutes away. 
View Cabin on Airbnb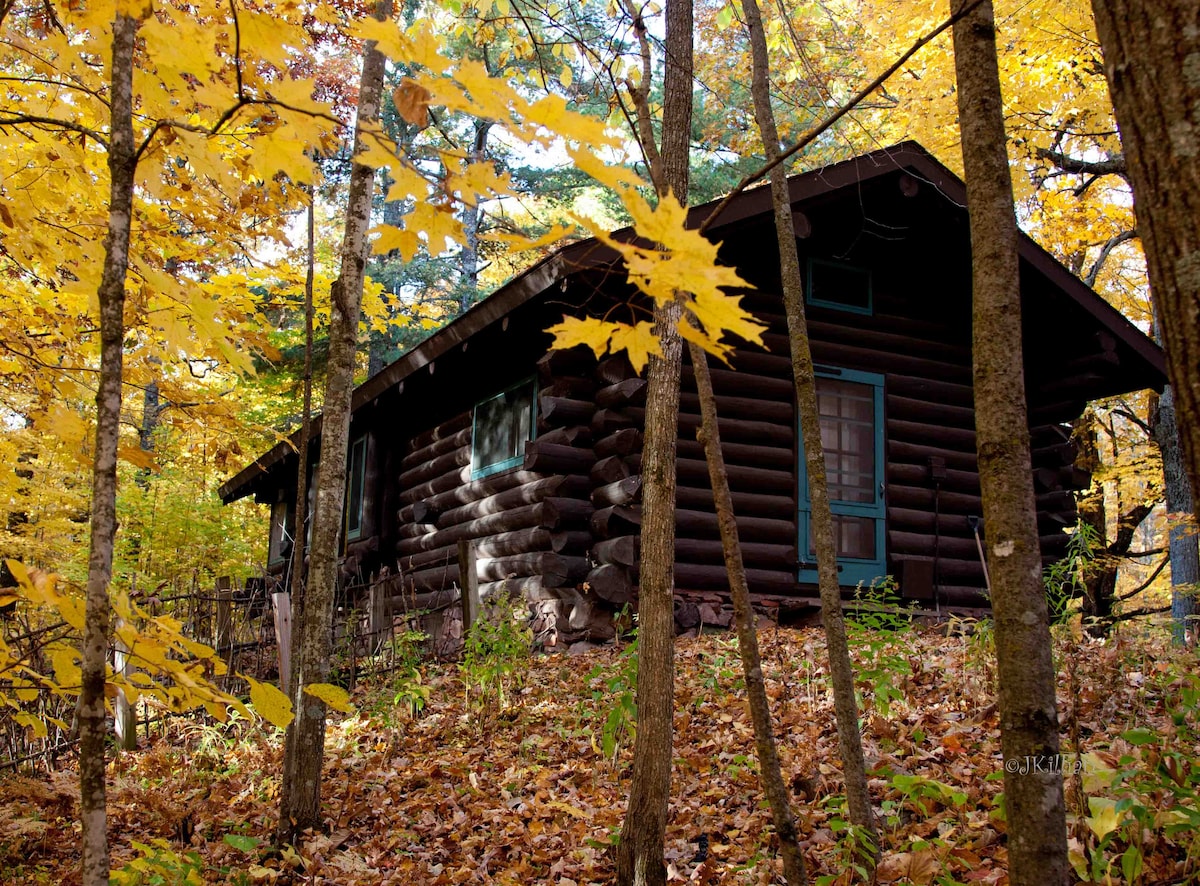 Rustic Log Cabin on Hunt Hill
Originally built in the 1930s, this historic Wisconsin cabin rental shares a peaceful property with the Hunt Hill Audubon Sanctuary. 
The rustic accommodation is perfect for those looking for a simple and traditional camping experience. Filled with authentic details and old world charm, the interior is rustic and cozy. There is one bedroom with a queen-size bed as well as a twin-size bed lofted above the living room. The full kitchen features apartment-sized appliances, and the cabin offers indoor plumbing with a toilet room and a separate walk-in shower. The focal point of the rental is the spacious indoor patio, which allows you to admire the surrounding scenery from the warmth and comfort of the indoors. 
The nature sanctuary spans 600 acres and offers a diverse array of habitats, including a thick forest and a beautiful prairie meadow. Guests are welcome to explore all 13 miles of trails, which loop around the forest, bogs, marshland, and glacial lakes. Feel free to take out one of the property's canoes or kayaks and enjoy free snowshoe rentals in the winter months. The rental is a great choice for children, and some family-friendly activities include a nature playground and a special scavenger hunt trail. 
The endless adventures and unique attractions make it easy to see why this historic home is one of the best cabin rentals in Wisconsin. 
View Cabin on Airbnb
A-Frame in the Pines
For a more modern option, take a look at this luxurious cabin with a private balcony and a slew of convenient amenities. 
Up to six guests can stay in the three-bedroom, one-bathroom cabin, which is furnished with two queen-size beds and two single beds. The exterior boasts a classic A-frame design, and the interior is modern and stylish with rustic accents such as exposed wooden beams and nature-themed décor. The spacious living room is cute and cozy and offers a large dining table and glass doors that provide porch access. There is also a modern full bathroom, and guests can enjoy Wi-Fi and TV for indoor entertainment. With central air-conditioning for the summer and an electric fireplace for the winter, this rental is sure to keep you comfortable no matter the season. 
Located along several hiking, biking, and skiing trails, the cabin is surrounded by pine trees and makes the perfect retreat for a nature getaway. There are also several lakes nearby as well as a few local shops and restaurants. 
View Cabin on Airbnb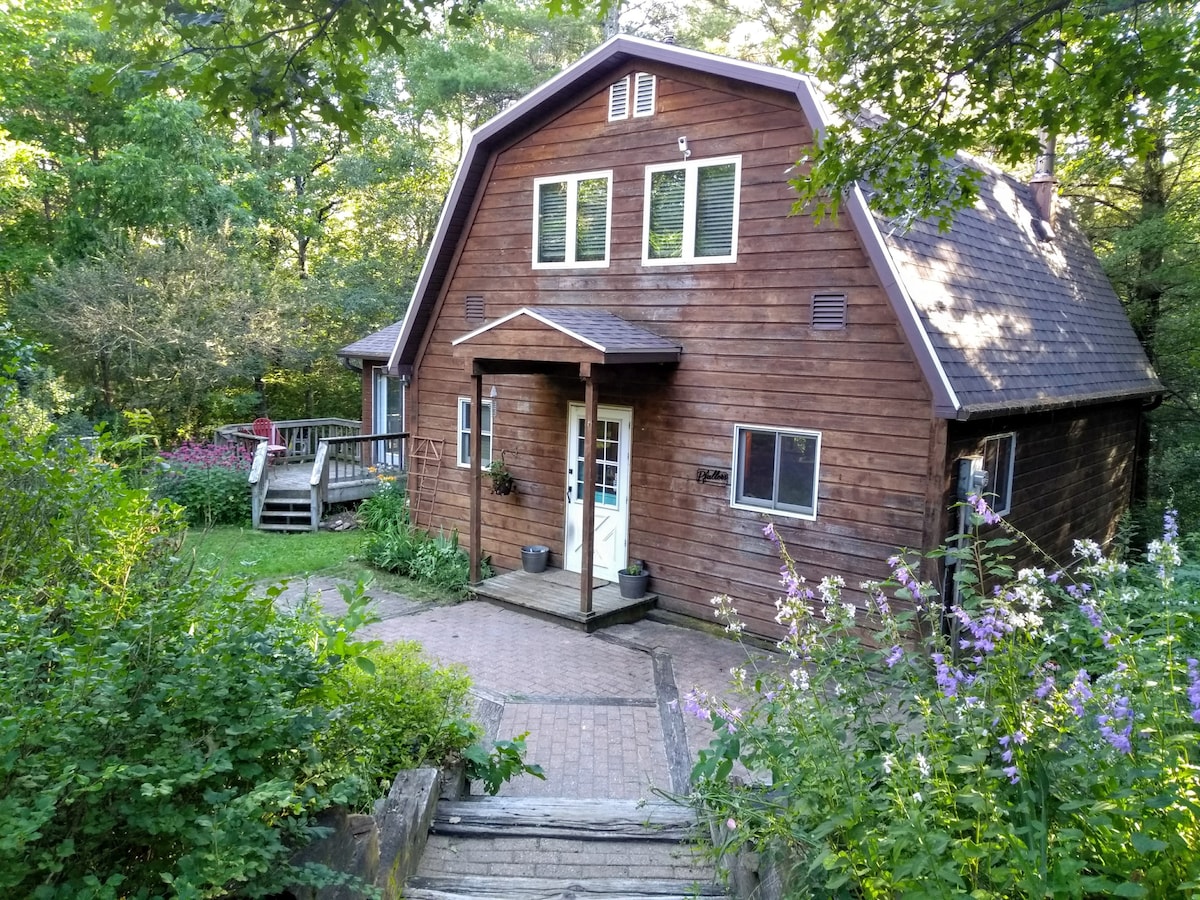 Peaceful Cabin on Robinson Creek
If a peaceful retreat is what you're searching for, renting a cozy cabin on a relaxing creek is the way to go. 
Known as the Fat Porcupine Cabin, this gorgeous rental is a great choice for both couples and large groups. The space offers one bedroom with two twin-size beds, a set of bunk beds, and a convenient divider that offers privacy for the fourth queen-size bed. The living room is also furnished with a Murphy bed and a pullout couch, making this rental suited for up to 10 guests. The common areas are naturally well lit and spacious, and the full kitchen and full bathroom are completely stocked with all of the necessary supplies. Pets are allowed in the cabin, and additional amenities include Wi-Fi, TV, air-conditioning, an indoor fireplace, and a washer and dryer. 
This creekside Wisconsin cabin sits on 2.5 acres of land filled with evergreens. Guests will have access to a beautiful sandy shore, which makes the perfect place to relax. Enjoy a meal surrounded by nature in the atrium-style gazebo or get cozy around the firepit area. No matter how you choose to spend your stay, the soothing sounds of Robinson Creek will ensure that it's filled with relaxation. 
View Cabin on Airbnb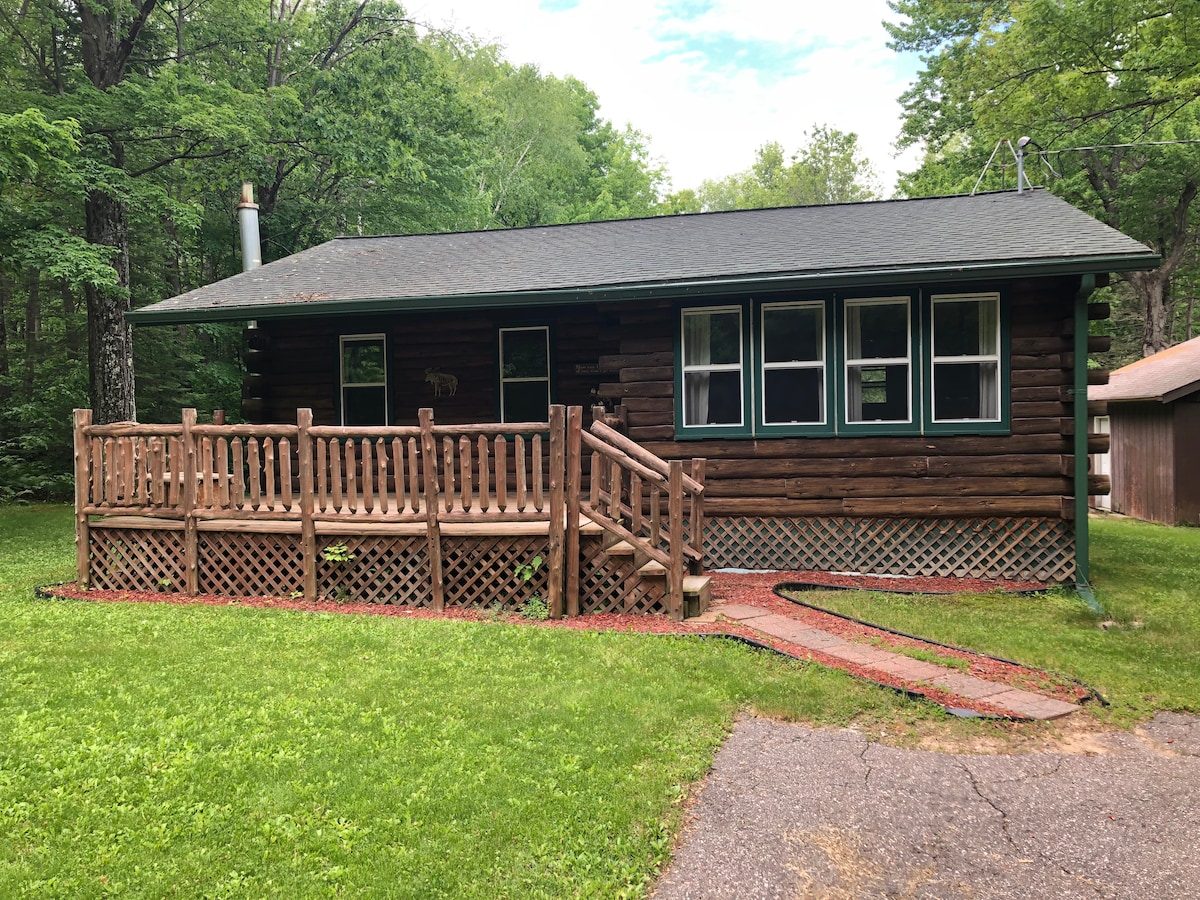 Evergreen Cabin Rental
Next up is a Wisconsin cabin for rent with a convenient location in Lakewood and a cozy rustic interior. 
With two bedrooms and one full bathroom, the home is furnished with one queen-size bed and two single beds, making it a very comfortable stay for up to four guests. The wooden interior is rustic and cozy, and the lack of Wi-Fi makes this a good option for travelers looking to unplug and relax. The full kitchen is well equipped with cooking supplies, and the living room is furnished with a dining table and a few comfy couches. 
The spacious backyard comes with a cozy firepit area, and pets are welcome on the property and inside the home. Guests can also enjoy grilling on the front porch, and there are a few ATV and snowmobiling trails nearby. Completely surrounded by trees, the cabin is peaceful and secluded yet still within walking distance of several shops and restaurants in Lakewood. 
View Cabin on Airbnb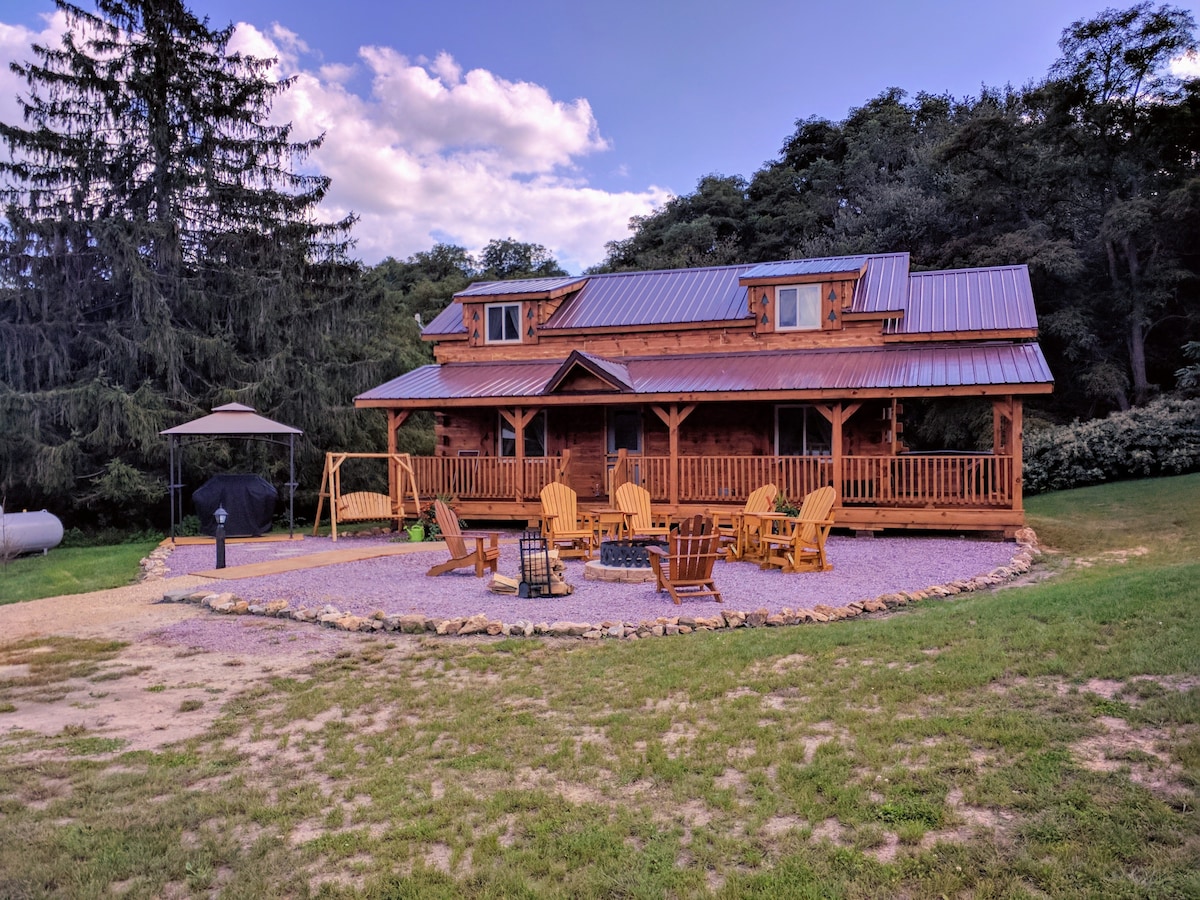 Luxurious Hill Point Retreat
Few rental cabins in Wisconsin offer the secluded location and modern amenities of this unique midwestern getaway. 
Although the cabin boasts a traditional rustic atmosphere, it is filled to the brim with luxurious touches and high-tech features. The stunning kitchen offers a spacious island and stainless-steel appliances, and the full bathroom features a walk-in massage shower with colored lights. There is a large exposed brick gas fireplace in the spacious living room as well as a Bluetooth sound system and a TV fitted with Dish, Cinemax, and HBO. The cabin can sleep up to four guests and offers two bedrooms with double beds and memory foam mattresses. In front of the cabin, you'll find a covered grilling station and a lovely firepit area, and there is even a relaxing hot tub on the side porch. 
Located on a dead-end road and surrounded by nature, this lovely retreat was specifically crafted for peace and relaxation. Right on the property, guests can relax and enjoy stunning views of the surrounding hillside and watch the owner's herd of buffalo roam through the grass. If you feel like venturing out, you'll find a registered trout stream right down the road as well as the unrivaled outdoor attractions of White Mountain State Park. 
View Cabin on Airbnb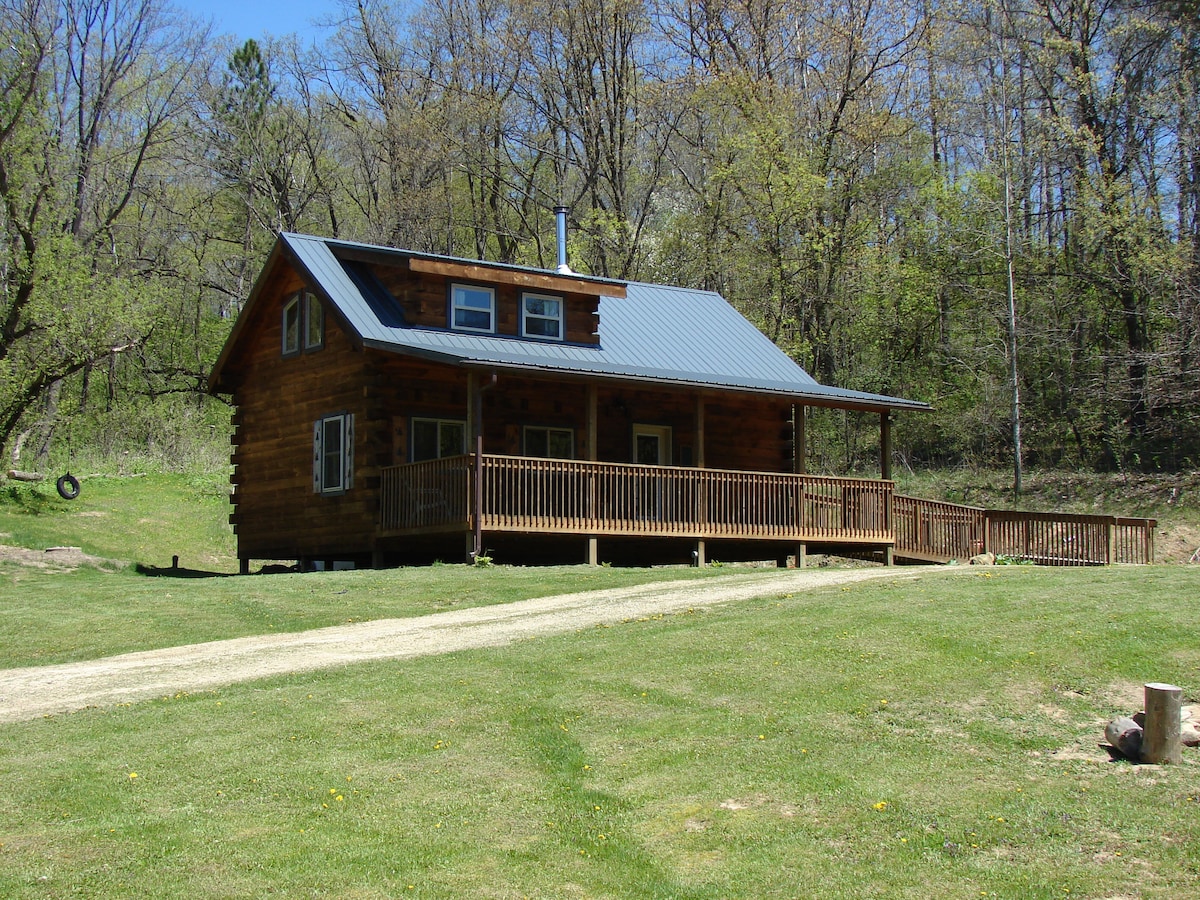 Log Cabin in Amish Country
This remote retreat is a great choice for anyone looking for a peaceful countryside stay surrounded by Amish shops and stunning natural scenery. 
The 900-square-foot Wisconsin cabin boasts a beautifully crafted interior with handmade furnishings and cedar walls. There is a spacious eat-in kitchen with stylish black appliances, a breakfast bar, and a unique log dining table, and the full bathroom features a custom rain shower made from local river rocks. Guests can enjoy relaxing in the living room in front of the TV and the cozy woodstove, and when it's time to turn in for the night, there is a comfy king-size bed in the lofted sleeping area. 
Situated on 44 acres in the heart of Amish country, this remote retreat offers guests the opportunity to explore the vast rural land and surrounding wooded areas. The property is home to a cow and a few chickens, and your hosts even provide fresh eggs and local pastries for your stay. Wildcat Mountain State Park is just a few miles away and offers horseback riding and hiking, and you can also rent a canoe or a kayak from the nearby Kickapoo River. 
View Cabin on Airbnb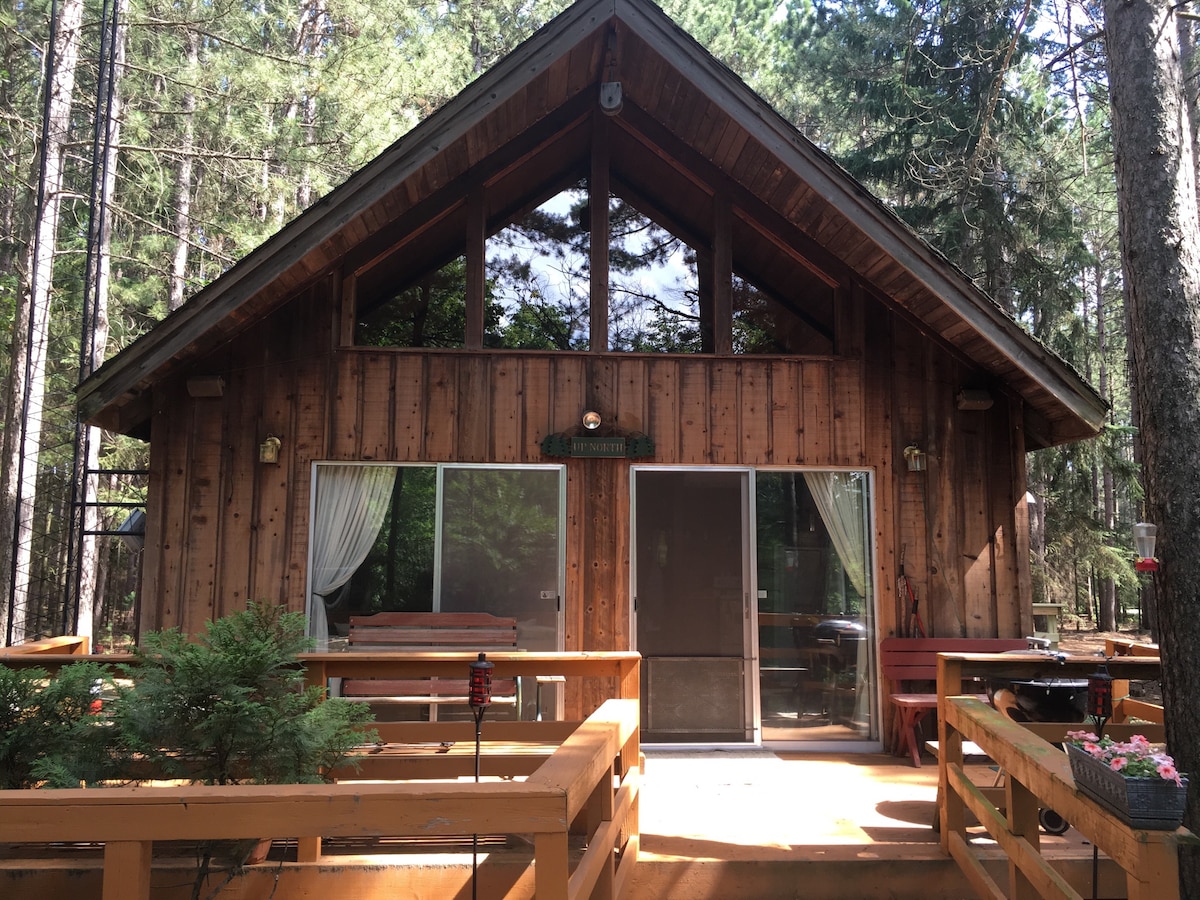 Wooded Sanctuary
The last Airbnb on our list is in a remote area surrounded by several lakes and outdoor attractions, making it a great option for travelers interested in lake cabins for rent in Wisconsin.
The interior is beautiful and bright with grand windows, nature-themed décor, and several modern amenities such as high-speed Wi-Fi and a Smart TV. The main floor offers a combined living room and dining area as well as a full kitchen and a private bedroom with a queen-size bed. There is also a modern full bathroom and a second queen-size bed in the lofted sleeping area. In addition to the main cabin, the property comes with a furnished screen house and a cozy firepit area. Feel free to hike around the land and even take a dip in the property's refreshing creek. 
Located in Adams County Wisconsin, the cabin boasts 23 nearby lakes and several state wildlife areas that offer great opportunities for outdoor recreation. Guests of the cabin can also enjoy easy access to several public spots for swimming, fishing, boating, rock climbing, hiking, and hunting. 
View Cabin on Airbnb
Whether you're interested in a no-frills camping experience or a well-appointed cabin rental suited for a large group, there is truly something for everyone in the beautiful state of Wisconsin. 
Reader Interactions