Photo: Courtesy of Airbnb
Road Affair is reader-supported and may earn commission from purchases made through links in this article.
From the peaceful countryside to the famous Appalachian Mountains, Virginia offers visitors a beautiful selection of landscapes perfect for enjoying the great outdoors. If you're interested in renting a cabin in this popular southeastern state, Airbnb is a great place to start your search. 
To help get you started, we've compiled the following list of the best cabin rentals in Virginia. All of the rentals are listed on Airbnb and most are presided over by superhosts – hosts with a proven track record of providing outstanding hospitality. 
Blue Moon Log Cabin 
Nestled in the majestic Shenandoah Valley, the first cabin on our list offers a luxurious retreat for up to six guests. 
With a charming interior and modern amenities, this Virginia cabin for rent boasts a tasteful combination of rustic finishes and elegant décor. There is a large bedroom with a queen-size bed on each floor and a cozy loft with an extra futon, a TV, and children's toys. The first floor also offers a fully modern bathroom and an open living space with a full kitchen, a large dining table, and a velvet sofa situated in front of a woodstove. Additional modern amenities include Wi-Fi, air-conditioning, and a washer and dryer. 
The property also offers an outdoor picnic table, a cozy firepit, and a spacious porch with a private hot tub. Enjoy relaxing in the private outdoor space, or take a short walk to the Shenandoah River and rent a canoe. No matter how you choose to spend your stay, you can't go wrong with this charming rental. 
View Cabin on Airbnb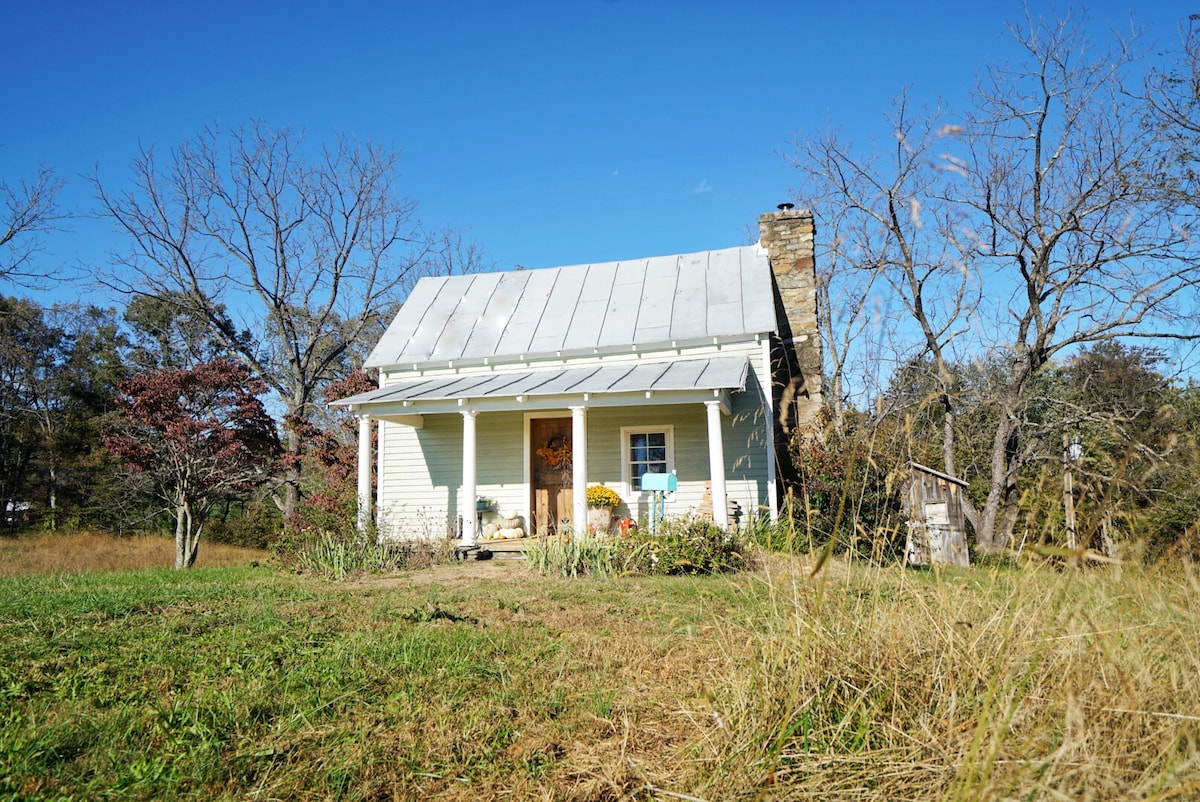 Historic Rolling Hills Cabin
This gorgeous 1800s cabin is another great option for anyone interested in a luxurious retreat with a rustic flair. 
Recently renovated, the stylish interior offers high ceilings, elegant furnishings, and tasteful pops of color. A stone fireplace accents the spacious living area, around the corner from which there is a full kitchen with stainless-steel appliances and a granite breakfast bar. The bedroom, furnished with a queen-size bed, is located on the top floor of the cabin, which also offers a spa-like full bathroom and a beautifully decorated office space. Guests also have access to a ton of modern conveniences such as Wi-Fi, TV, air-conditioning, and a washer and dryer. 
Located on five acres of rolling hills and surrounded by trees, this rental cabin in Virginia offers a beautiful rustic retreat with mountain views but is still just 15 minutes away from downtown Culpeper. There are also several popular hiking trails nearby at Old Rag Mountain and White Oak Canyon. 
View Cabin on Airbnb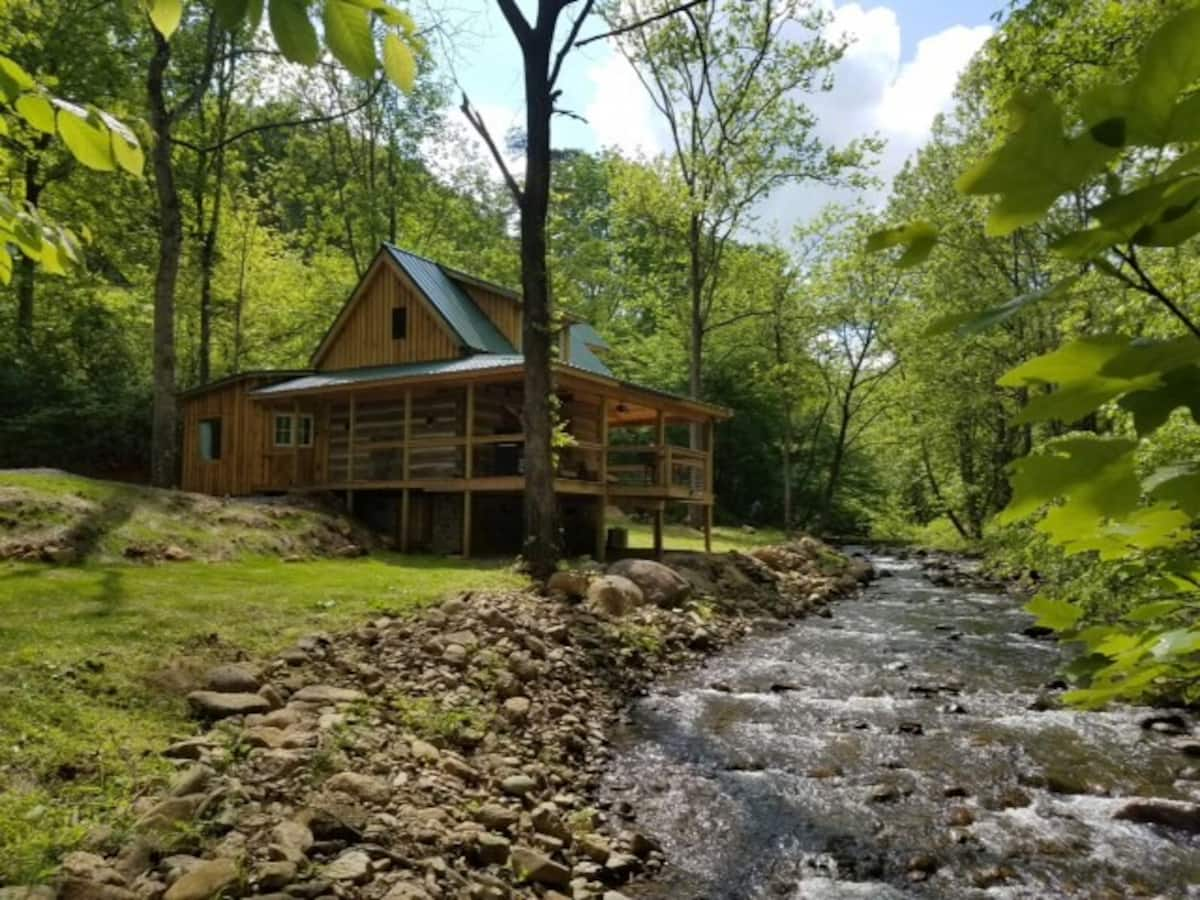 Secluded Log Cabin on the River
Spend your stay overlooking a soothing running river with this waterfront cabin surrounded by woodlands. 
One or two guests can stay in the cabin, which offers a spacious full bathroom and one bedroom with a king-size bed. Guests can enjoy stunning river views from the reading nook in the bedroom, the table in the full kitchen, and the covered deck. There is also a cozy living room with couches and a desk, and additional amenities include Wi-Fi, air-conditioning, and an indoor fireplace. 
Guests of this Virginia cabin rental can enjoy the peaceful seclusion of the surrounding wilderness, and the designated sitting area by the river is perfect for kicking back and spotting wildlife. There are also several wineries nearby, and Shenandoah National Park is just fifteen minutes away. 
For more information on the area's popular attractions, your host has provided a complete guidebook in the cabin. 
View Cabin on Airbnb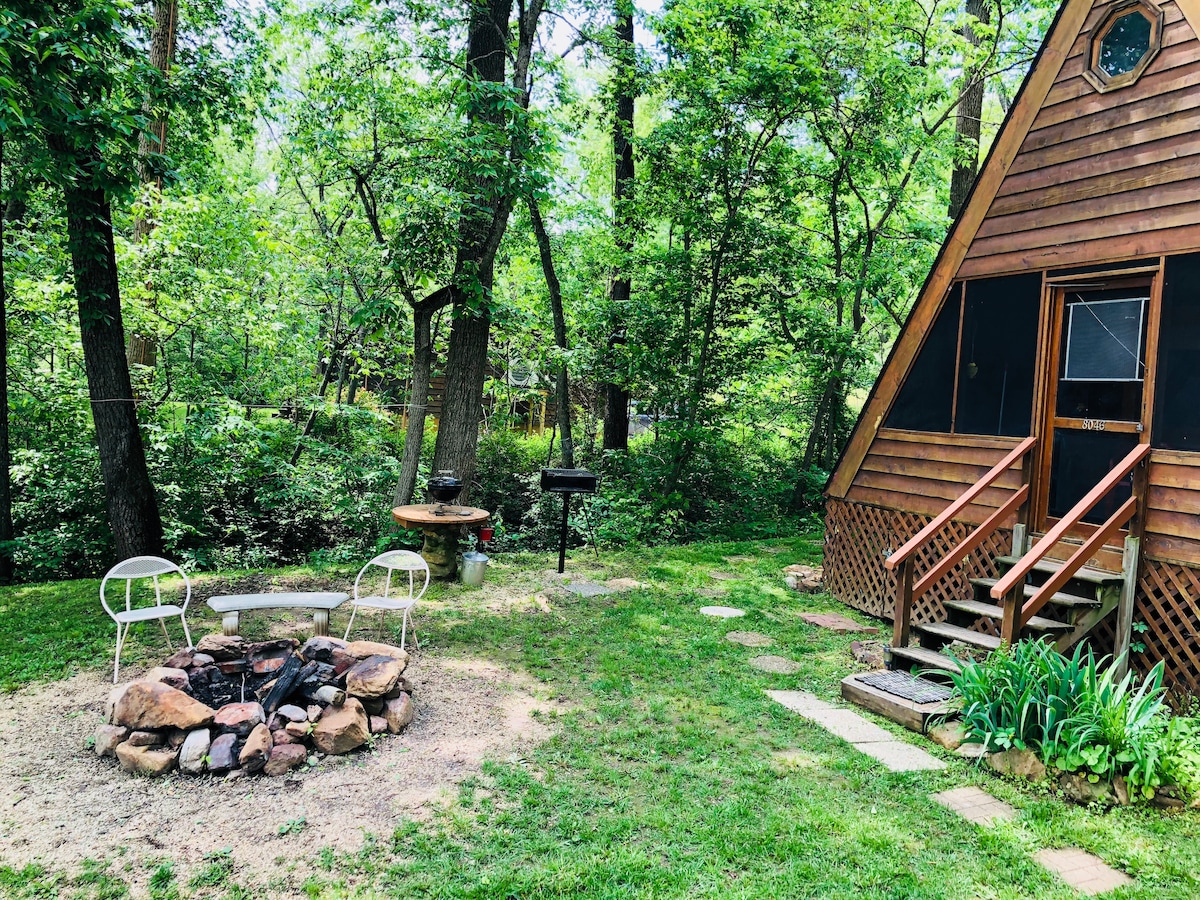 Shenandoah Riverfront Cabin
For another great riverfront cabin with a bit more space, check out this two-bedroom A-frame on the Shenandoah. 
The Virginia cabin features a modern interior with rustic vaulted ceilings, exposed wooden beams, and vintage furnishings. The space can accommodate up to five guests and offers one full bathroom, one bedroom with a double bed as well as a lofted bedroom area furnished with a queen-size bed and a single bed. Enjoy a meal made in the full kitchen or relax around the cozy woodstove in the living room after a long day on the water. There is certainly no shortage of comfy places to enjoy the view, with a spacious rooftop deck in addition to a screened-in porch. 
Outside, you'll find a ton of open grassy space bordered by the river. The yard comes with a picnic table, a firepit, a charcoal grill, and a dock, and guests have free access to a canoe in the warmer months. The cabin is also pet-friendly and fully equipped with modern amenities, and popular Shenandoah attractions are just ten minutes away. 
View Cabin on Airbnb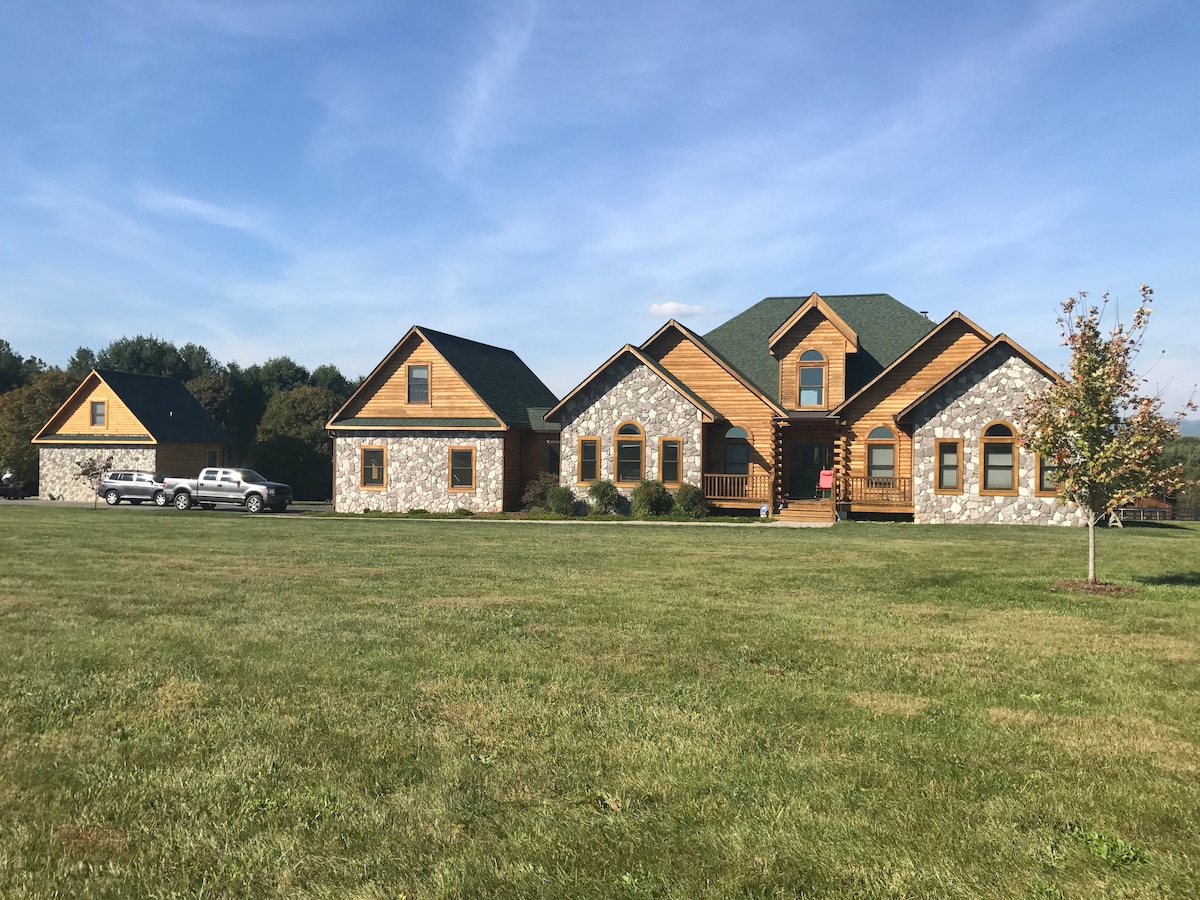 Mountain Views Cabin
If you're interested in a Virginia cabin in a well-connected rural setting, check out this newly built rental across from a dairy farm. 
The cabin features a classic log facade and a wood-planked interior with rustic log details. The facilities are completely updated and include a well-stocked kitchenette and a beautiful bathroom with a double-sink vanity and a stone tile walk-in shower. The first floor bedroom offers a queen-size bed, and there are two additional twin-size beds on the second floor, making the cabin suitable for up to four guests. Most notably, the 10-acre property offers a stunning country landscape with horses, donkeys, and incredible views of the surrounding mountains. 
This convenient rental is just a short drive away from a diverse array of the state's most famous attractions, including several wineries, Shenandoah National Park, and the Charlottesville airport. 
View Cabin on Airbnb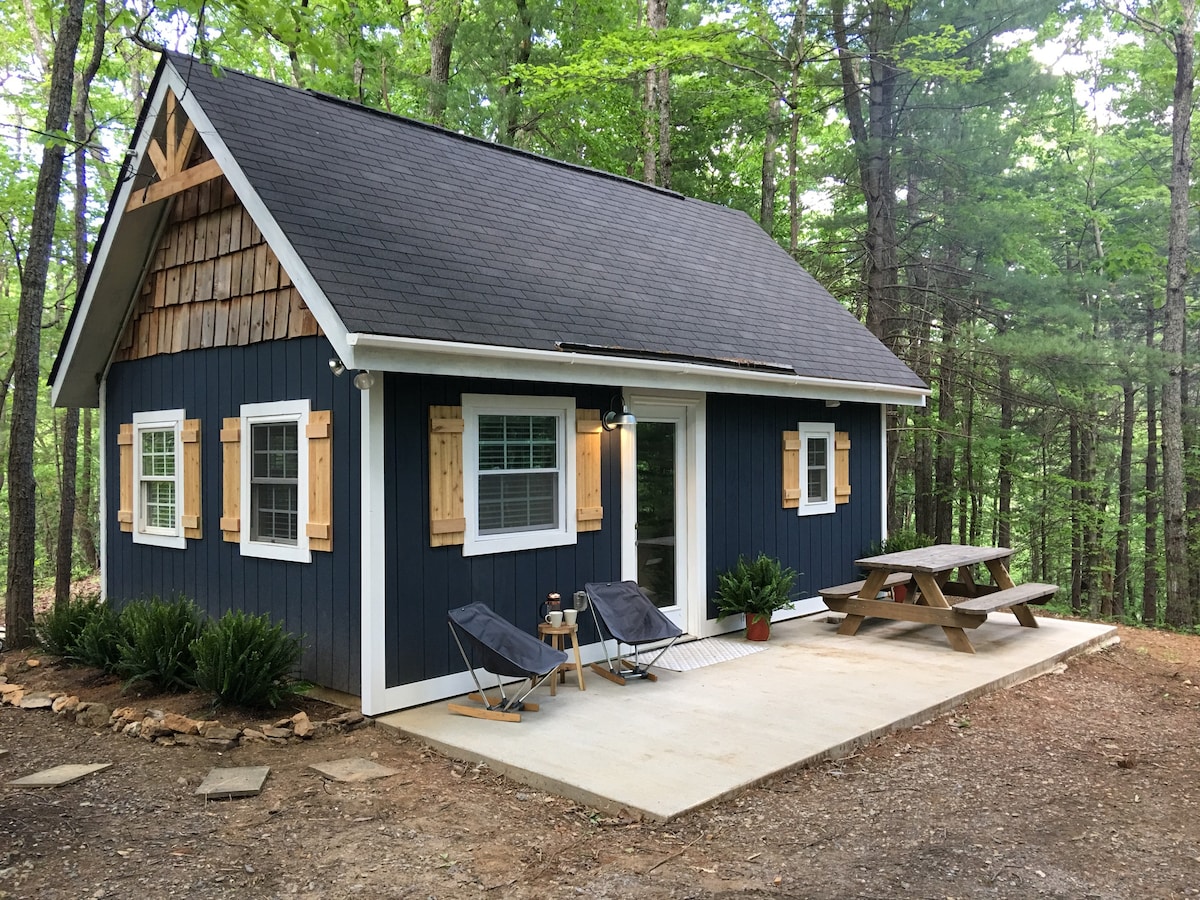 Modern Cabin in the Blue Ridge Mountains 
Featured in Savor Magazine as one of the best glamping sites in the state, this stylish Virginia cabin rental offers a tranquil getaway in a small mountain community. 
The interior strikes a stunning combination of rustic and modern with cathedral ceilings, white wood-planked walls, and stainless-steel appliances. Although the cabin is tiny, the efficient layout makes the space comfortable for five guests, and the rental comes with a great selection of facilities such as Wi-Fi, air-conditioning, an indoor fireplace, and a washer and dryer. The first floor features one bedroom with three single beds, a sitting area, a full kitchen, a full bathroom, and a desk space, and the loft is furnished by a queen-size bed. 
If you choose this comfortable rental, you can also enjoy 2.5 acres of Blue Ridge Mountain land, which offers a soothing stream and close proximity to endless hiking opportunities, including those along the Appalachian Trail. 
With a peaceful location and a unique interior, this perfect tiny house definitely deserves its stellar reputation. 
View Cabin on Airbnb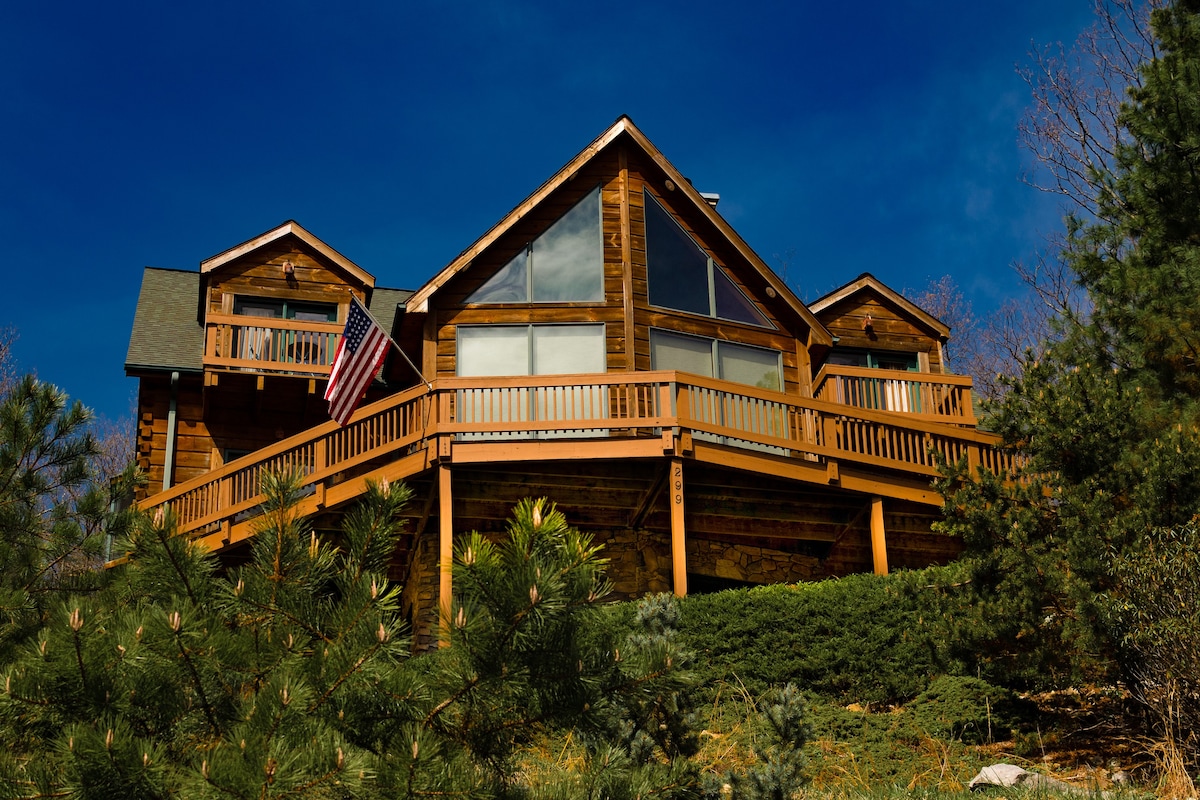 Shenandoah Valley Paradise
Need a cabin rental for a large group of friends or family? Look no further than this marvelous log home in Massanutten. 
Overlooking the Blue Ridge Mountains, the massive cabin is at an elevation of t 2,200 feet and can be spotted by its front wall of windows and spacious wrap-around deck. The interior boasts soaring high ceilings, a massive stone fireplace, and rustic handcrafted details that contribute to the home's breathtaking atmosphere of unrivaled grandeur. Up to 12 guests can stay in the four-bedroom, 3.5-bathroom cabin, which offers one king-size bed, one double bed, two single beds, two sets of bunk beds, and comfy couches in the living room. There is also a full kitchen, a grand dining room, and a luxurious Jacuzzi tub in the master bedroom. Appointed with a full selection of modern amenities, this top-notch Airbnb is definitely one of the best cabin rentals in Virginia.
In addition to the gorgeous mountain views, the cabin also looks out onto the nearby ski slopes, and there are several wineries and endless opportunities for golfing, hiking, and other outdoor adventures nearby.​​ Although the location is well connected, it is also secluded, and the setting is perfect for a peaceful and quiet getaway. 
View Cabin on Airbnb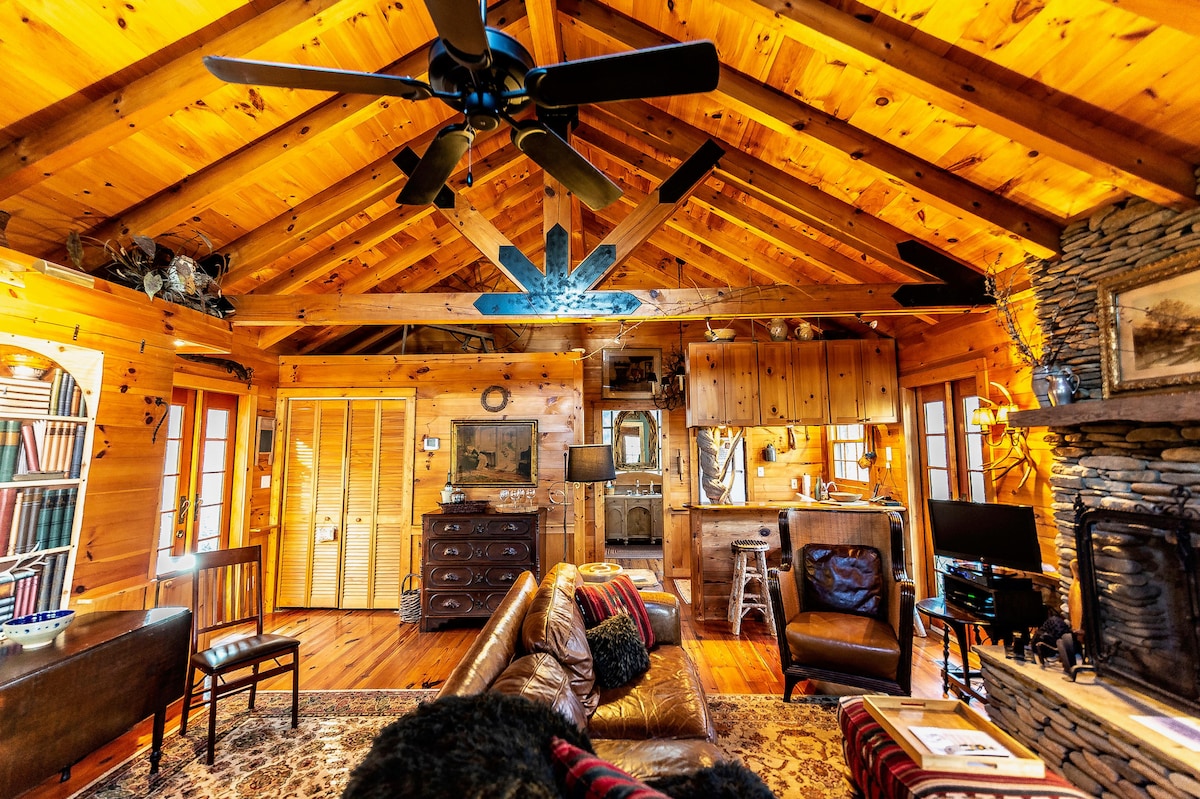 The Enchanted Cottage
Step into a fairy tale with this unique and charming cabin rental located in the mountains of Southwest Virginia. 
The one-room cabin is furnished with a queen-size Murphy bed and comes with an extra queen-size air mattress, making it suitable for up to four guests. The interior is decked out in unique tree branch décor and antique touches. A large wood-burning fireplace makes the living space warm and cozy, and there is also a full kitchen and a washer and dryer. Although there is a full bathroom with a shower and a claw-foot bathtub inside the cabin, there is also an outdoor shower available during the warmer months. Guests also have access to basic modern appliances such as Wi-Fi, TV, and air-conditioning. 
The generous outdoor space is just as impressive as the interior and offers a pristine front lawn, a stone pathway, and impressive landscaping. Relax on the front porch and enjoy the soothing sounds of the koi pond and stunning garden views filled with wildflowers, peonies, and hydrangeas. Nearby attractions include the small town of Floyd and New River State Park. 
View Cabin on Airbnb
Weekend Getaway Cabin
Named for its proximity to the High Bridge Trail State Park, High Bridge Lodge and Cabins offers charming Virginia cabin rentals on 27 acres of private woodland in Farmville. 
The Weekend Getaway Cabin features a classic log design and can accommodate up to four guests with one full bathroom, one bedroom with a queen-size bed, and a sofa bed in the living room. The high vaulted ceilings add to the spacious feel of the common areas, and there is a cozy indoor fireplace nestled in a rustic wall of exposed brick. The cabin also offers Wi-Fi and a TV, and guests can enjoy meals made in the modern full kitchen. Step onto the spacious back deck to enjoy a relaxing soak in the cabin's private hot tub, or have a seat at the two-person patio table and appreciate a meal with a view. There is also a large front porch with outdoor seating, an outdoor fire ring, and an electric grill. 
Guests are welcome to explore the massive property or walk over to High Bridge Trail State Park for biking, hiking, and horseback riding. Downtown Farmville offers a ton of urban attractions such as shopping and dining, and is located just a short drive away. 
View Cabin on Airbnb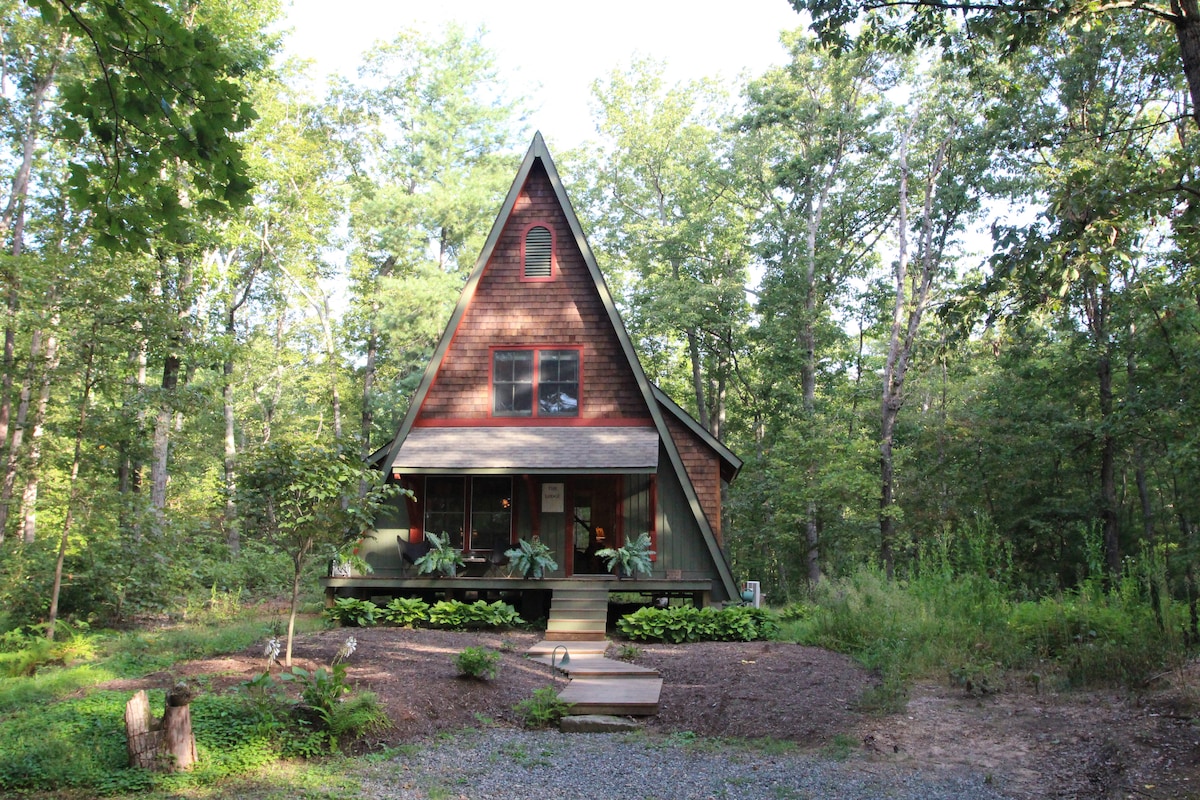 Gum Tree Lodge
If you're interested in renting a cabin in Virginia with pastoral scenery and eco-friendly construction, Gum Tree Lodge might be the Airbnb for you. 
From the outside, this charming countryside abode appears as a classic A-frame cabin. However, the interior is made almost entirely from recycled materials and offers a unique and open design with elegant accents inspired by the surrounding woodlands. The dining room and full kitchen combine in a spacious room with pastel walls, vaulted ceilings, and a funky chandelier. Around the corner, you'll find a cozy sitting room with a woodstove, a large wall of windows, and glass doors that open onto the spacious back porch. The queen-size bed in the upstairs loft can sleep two, and two more guests can sleep comfortably in the sofa bed on the main floor. 
Situated on 70 acres of private property in the Madison-Barbour Rural Historic District, the cabin shares the massive property with the host's main home but offers a completely private stay. With stunning rural views from the front porch and wooded trails accessible from the back porch, this charming rental offers the best of Virginia's outdoors. 
View Cabin on Airbnb
Rustic Cedar Cabin
This Virginia cabin is at an elevation of 3,000 feet and offers a calming retreat surrounded by woods and pastures. 
With 1.5 bathrooms and two bedrooms furnished with a queen-size bed and a double bed, the cabin has more than enough space for a small family or a group of friends. The open-concept living area is well decorated with unique accents, including a spiral staircase, wildlife sculptures, a vintage leather couch, and a kitchen table made from the remnants of a 200-year-old bridge. There is also a front porch and a large backyard filled with diverse wildlife, and the home is appointed with several modern amenities such as Wi-Fi, TV, air-conditioning, and a washer and dryer. 
The property is tucked away in the woods and feels very peaceful and secluded, but the town's main highways are conveniently located just a few minutes away. The Crooked Creek Wildlife Management Area, the Blue Ridge Music Center, and Mount Airy are also close by. 
View Cabin on Airbnb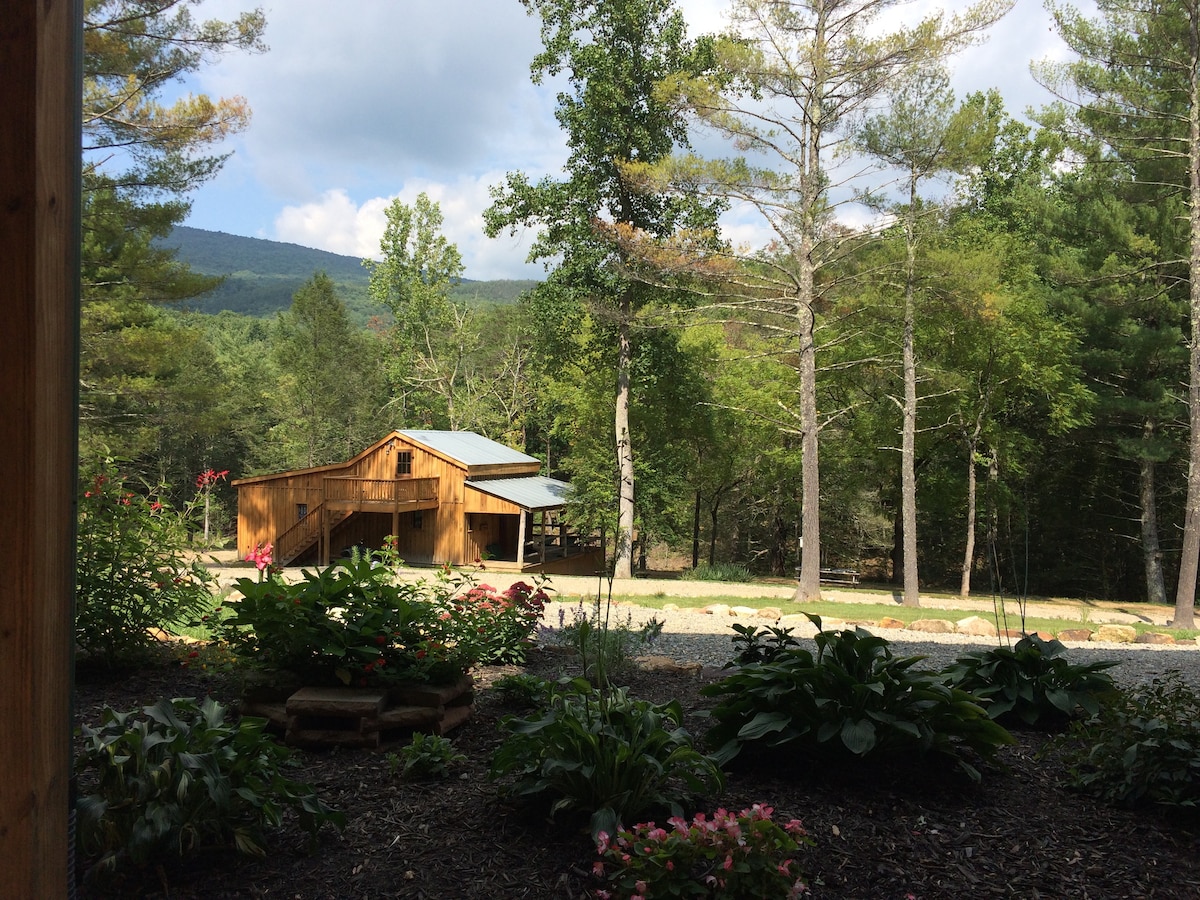 Mountain Shepard Cabin
Rent a cabin in Virginia that offers a calming respite from hectic city life with this secluded home in the mountains. 
This historic rental features a rustic wooden interior and can accommodate up to six guests with a queen-size bed in the main bedroom and one double bed and two single beds in the loft. The focal point of the living room is a 1900s stone chimney with a functional gas fireplace, adjacent to which there is a brand-new kitchen. The space also comes with a modern full bathroom and a wrap-around deck. 
Situated on 100 acres of private land, the cabin offers extraordinary mountain views and overlooks the property's pond. The location is quiet and secluded, and no neighbors are visible from the home. There is also a wooden outdoor stage behind the cabin, and the property offers a large pub with a dining area where guests can grab breakfast. 
View Cabin on Airbnb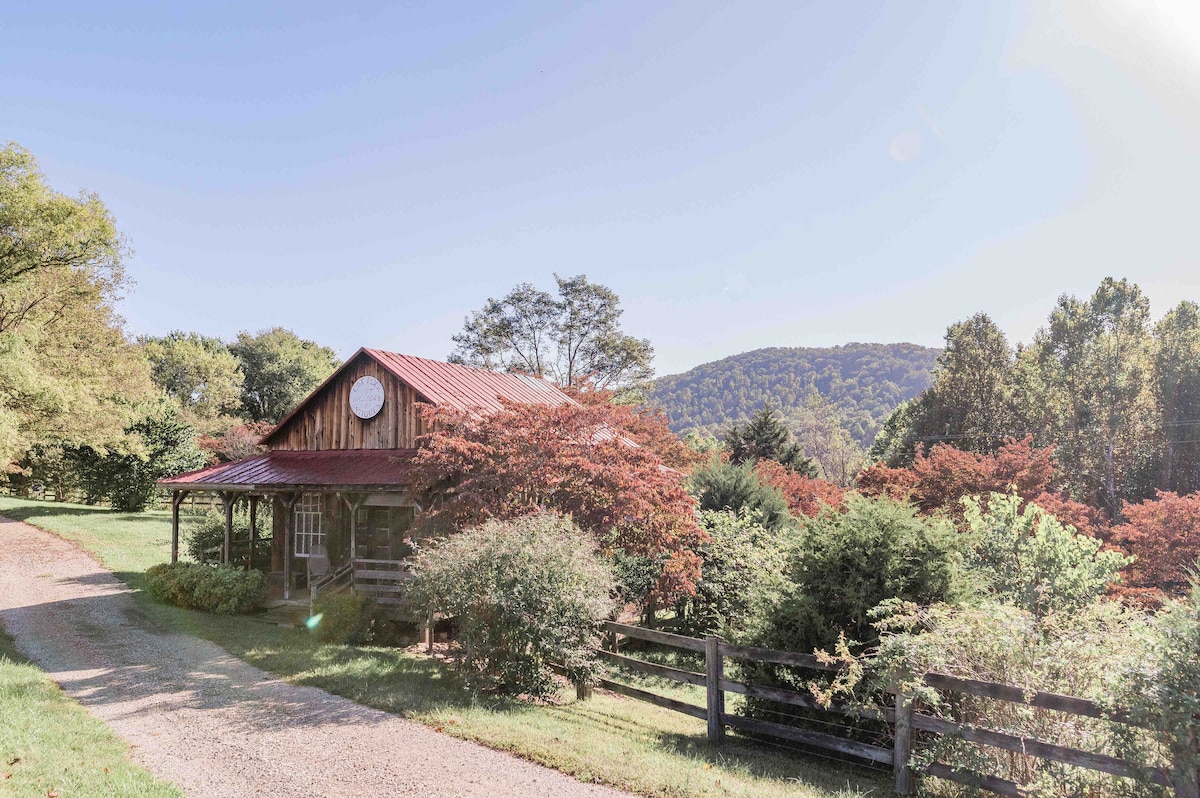 Catrock Cabin
Recently renovated, this modern cabin for rent in Virginia was built in the 1930s and previously operated as a country store. 
Although the cabin boasts a rustic log exterior, the interior is comfortable, modern, and stylish. Soft pastels and unique light fixtures decorate the combined living and dining room, and the cabin offers a beautifully appointed full kitchen perfect for whipping up homemade meals. The bedroom boasts gorgeous reclaimed wood walls, a king-size bed, and an en suite bathroom, and there is a queen-size sofa bed in the living room. The private back porch comes with a gas grill and makes the perfect place to relax and enjoy the mountain views. 
Surrounded by 10 acres of meadows, the rural property is filled with wildflowers and offers a well-maintained walking trail. The main house is located just up the hill and comes with an outdoor firepit, which guests of the cabin are welcome to use.
Conveniently located right off of Route 151, this cabin rental is a great option for anyone interested in checking out the Appalachian Trail or the famous wineries and breweries of Virginia's Nelson County. 
View Cabin on Airbnb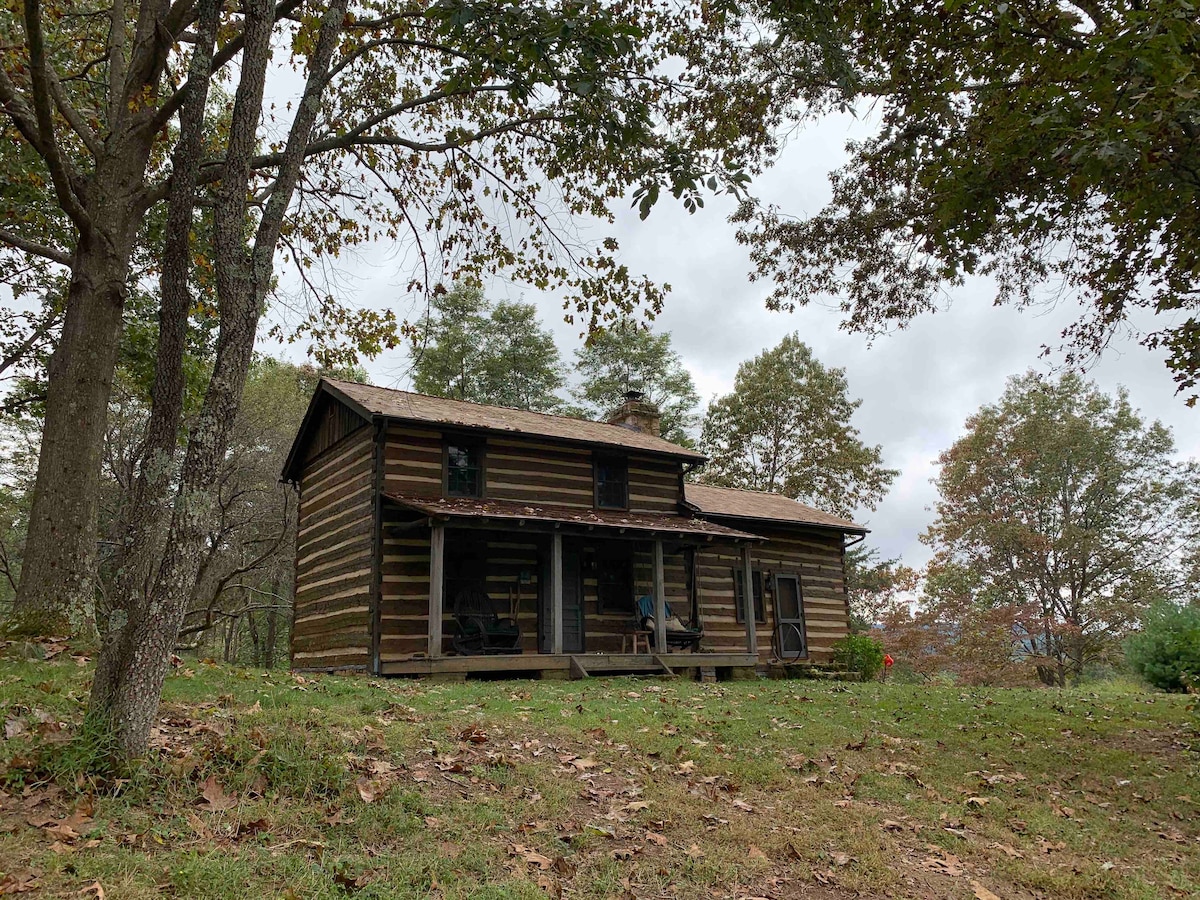 Authentic Appalachian Cabin
This Virginia cabin for rent is another great option for a peaceful getaway with a rich and interesting history. 
Built in 1865, the log cabin was originally occupied by a Civil War soldier and his family and now offers a unique retreat for visitors of Bentonville, Virginia. The interior is clean and cozy but retains its rustic appeal with vintage décor and appliances. A cozy fireplace warms the spacious living room, and there is even a full kitchen with a functional antique stove. Four guests can stay in the two-bedroom cabin, which is furnished with a double bed and a queen-size bed. There is also a full bathroom with a soaking tub inside of the home, but guests also have access to a private outdoor shower. 
Just as impressive as the cabin itself, the vast property offers plenty of hiking trails, a firepit, a private pond, and a breathtaking waterfall. Guests are encouraged to explore the land in its entirety and can feel free to pet the neighbor's horses that frequently peer over the fence. 
View Cabin on Airbnb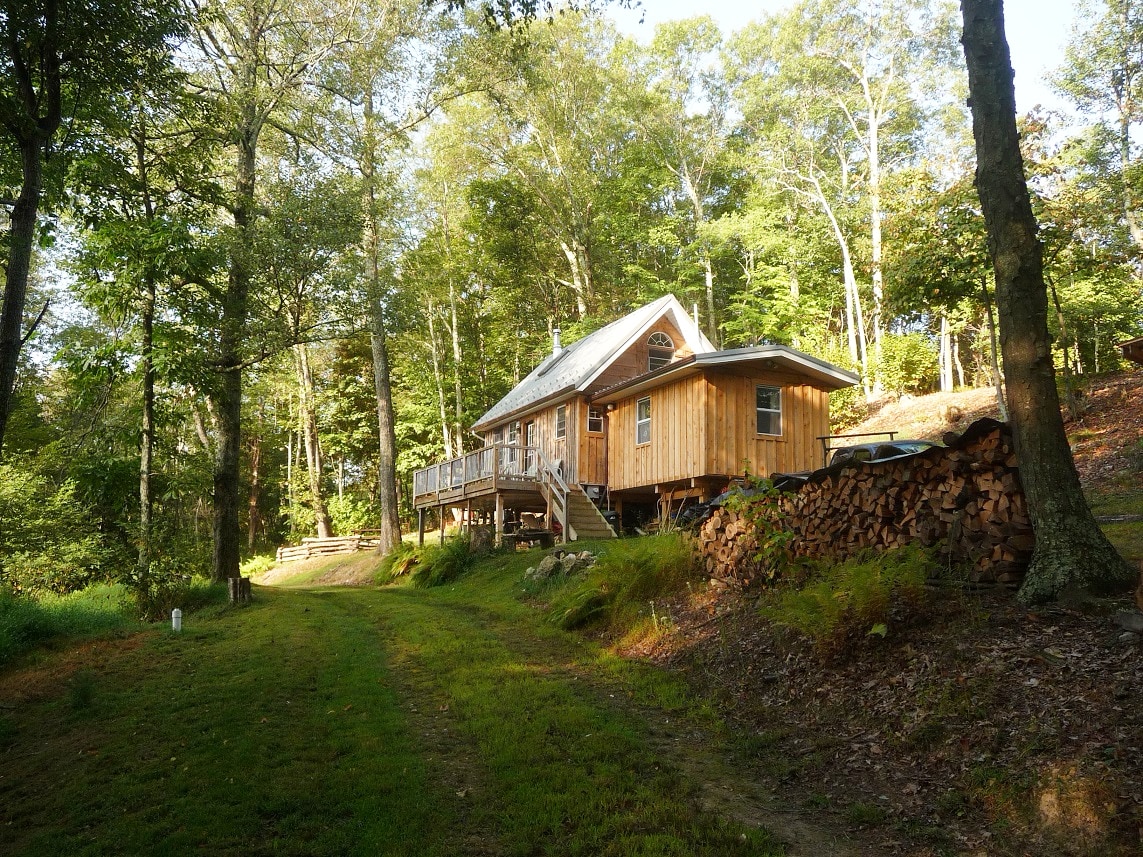 The Bear Cub Cabin
Last but certainly not least, this cozy Virginia cabin offers travelers a comfortable place to unplug and relax.
Known as the Bear Cub Cabin, this charming rental is furnished with a queen-size bed in the bedroom and a single bed in the loft. The cabin is made from local reclaimed materials and is tastefully decorated with nature-themed artwork. There is a cozy living room with a woodstove and a television, and although there is no Wi-Fi or cable, the rental does come with plenty of videos, books, and games for indoor entertainment. There is also a full kitchen and a modern full bathroom as well as a second sitting area in the loft. 
Feel free to explore the property's six wooded acres or take advantage of local opportunities for hiking, biking, and fishing. If you find yourself in need of Wi-Fi or other urban amenities, the small town of Franklin is just 10 minutes away and offers a few shops and restaurants. 
View Cabin on Airbnb
Hopefully at least one of these cabins has caught your eye, and you're almost ready for your trip to Virginia. Whether you're looking for a historic rental in the countryside or a rustic cabin on the river, you can't go wrong with a stay in one of these top-notch rentals.
Reader Interactions