Road Affair is reader-supported and may earn commission from purchases made through links in this article.
Thanks to its vast size, the state of Texas is one of the more diverse parts of the USA. Travel around the Lone Star State and you'll see everything from big city life in Austin, to places in the Texas Hill Country where there's not another soul in sight. And yet, no matter where you go, Airbnb is one of the best ways to find quality vacation rentals in Texas, and there are some great Texas Airbnbs out there waiting for you.
To make planning a trip there easier, we've put together this list of the absolute best Airbnbs in Texas. To ensure that these places are worth your time, only listing with superhosts are included – those are Airbnb hosts who have proven the quality of their property with stellar service. You'll also find a member of the exclusive Airbnb Plus program here, which identifies listings that have been verified with an-in person inspection.
The Silo House At Laughing Llama Farm
Those after an Airbnb in Texas that's a little quirky and unique will find this farm silo a fun option for their next vacation. Situated a little outside the city of Temple, in central Texas, this farm stay is sure to offer plenty of peace and quiet.
While you may be skeptical of staying inside a space built to store grain, step inside and you'll be stunned by how beautiful it looks in there. There are lots of cleverly repurposed materials used here, from an old truck hood used as a headboard to the stair railing made from salvaged pipe. There's even a truly rustic outdoor shower for you to use if you'd like.
Downstairs there's an open concept living room and kitchen, while the loft is home to the bedroom with a queen bed. The silo can sleep up to four guests, thanks to the sofa bed in the living room. Guests also have a pleasant porch area, where they can watch the sunset and use the BBQ grill. To help make things comfortable, the accommodation comes with air-conditioning, Wi-Fi, TV, and a washer/dryer.
View on Airbnb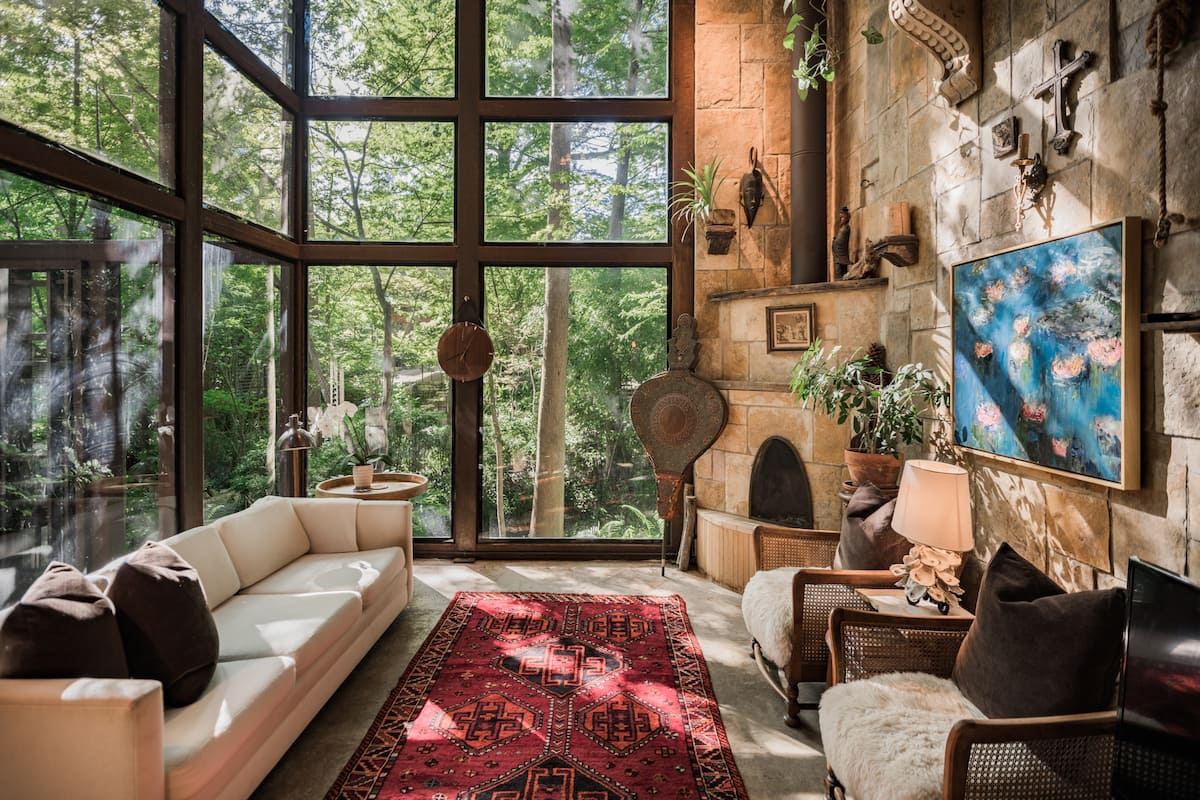 Escape the City to The Extraordinary Treehouse
Looking like something out of an interior design magazine, this gorgeous house is understandably among the best Texas Airbnbs out there. Found in the particularly leafy neighborhood of Little Forest Hills in Dallas, you'll be within walking distance of White Rock Lake and the Dallas Arboretum once you cross the little bridge that leads up to this treehouse.
While this Dallas Airbnb is described as a treehouse, that speaks more to its environment than the actual structure itself. The house is surrounded by lots of trees though, and looking through its large windows will make you feel like you're up in a tree canopy. But there's plenty of beauty to see inside as well thanks to rustic touches.
This extraordinary Airbnb in Dallas is able to sleep up to four people, with a king and queen bed in a bedroom each. Ultimately, you should find there's plenty of space for guests, thanks to the large living room and peaceful front patio. You won't have any problems cooking either with the fully-equipped kitchen, complete with an oven and dishwasher. Other nice touches include laundry facilities, Wi-Fi, and even an indoor fireplace.
View on Airbnb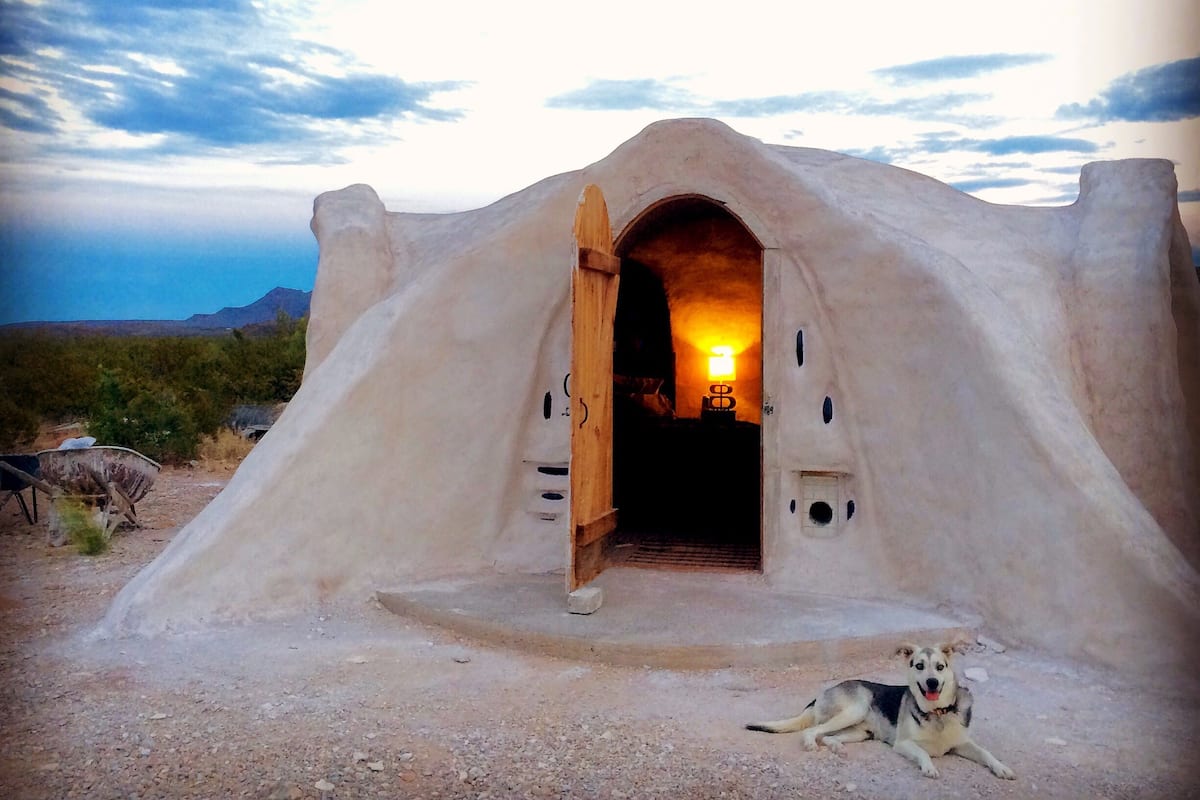 Terluna: Off-Grid Adobe Dome near Big Bend
This is probably the coolest Airbnb in Texas for people looking to get away from the world and go off-grid. Located in the Chihuahuan desert outside the Terlingua Ghost Town, you really are in the middle of nowhere here. That said, it's not far to Big Bend National Park and you will find the odd grocery store and restaurant in the area.
Staying in this earthen dome is not for those seeking creature comforts as you won't find many out here. The home runs off solar power, meaning it can keep the refrigerator running and your phone charged and not much else. This means you won't find amenities like TV or air-conditioning out here, although there is Wi-Fi.
You will be able to cook food no problem though, thanks to the propane stove and oven. As for entertainment, you'll have the incredible landscape and brilliant night sky thanks to a local dark sky ordinance. In terms of capacity, the dome can comfortably sleep two people in the bed, while a third guest may sleep on the couch in the cozy living space.
View on Airbnb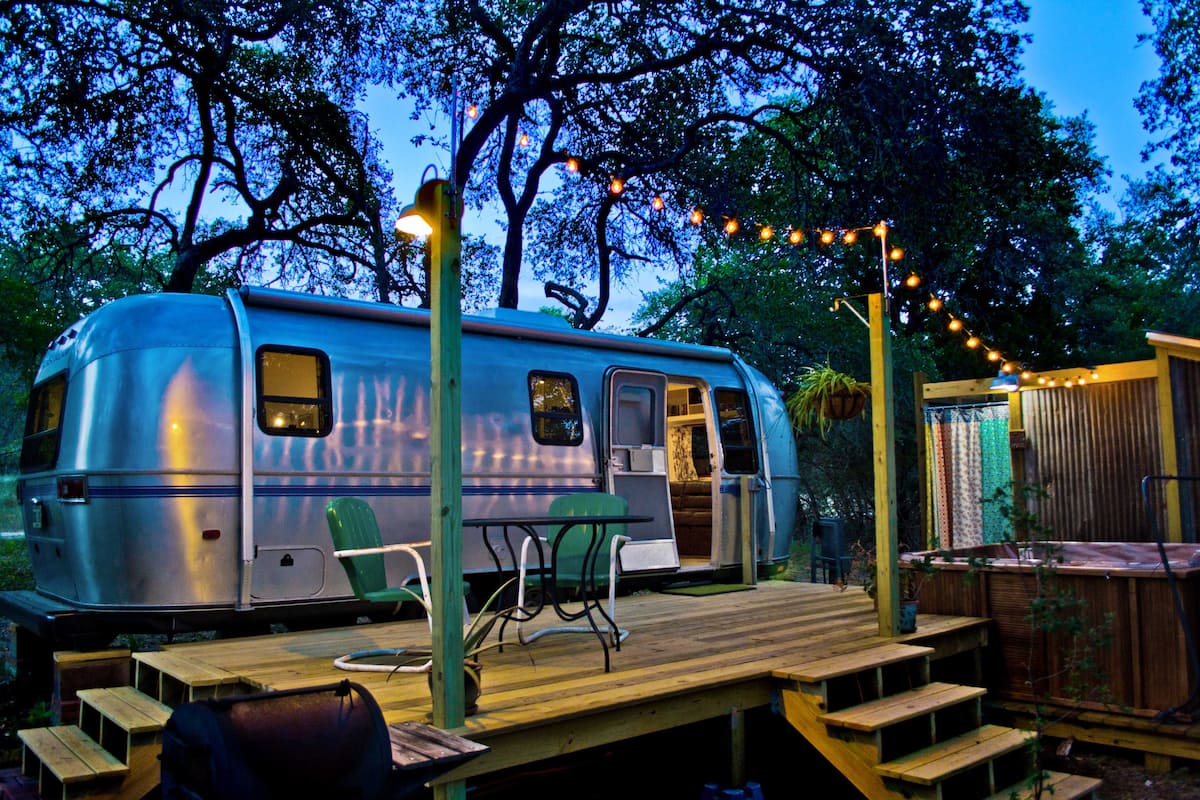 Super Cute Retro Airstream
If you're not too worried about having lots of space, then this retro airstream makes for a great Texas Hill Country Airbnb. Found near the lovely little town of Wimberley, you're sure to have a relaxed stay here with swimming holes and the back country to explore.
Stepping inside this stationary camper you'll be pleased with how it makes the most of its space. That's to stay nothing of the vintage decor inside this renovated Airstream trailer. But don't let the retro vibes fool you, there's plenty of modern comforts too, from the real queen bed for two that's been added, to other things like Wi-Fi and TV.
Other spaces inside include a living room with a couch and desk, as well as a simple kitchen featuring a gas stove and fridge. Everything else you'll find outside, starting with a nice patio with chairs and a hammock. Then you have an outdoor shower over by the hot tub, as well as a fire pit and BBQ grill. Your pets, allowed for a fee, will also enjoy the ample outdoor space around the trailer that you have all to yourself.
View on Airbnb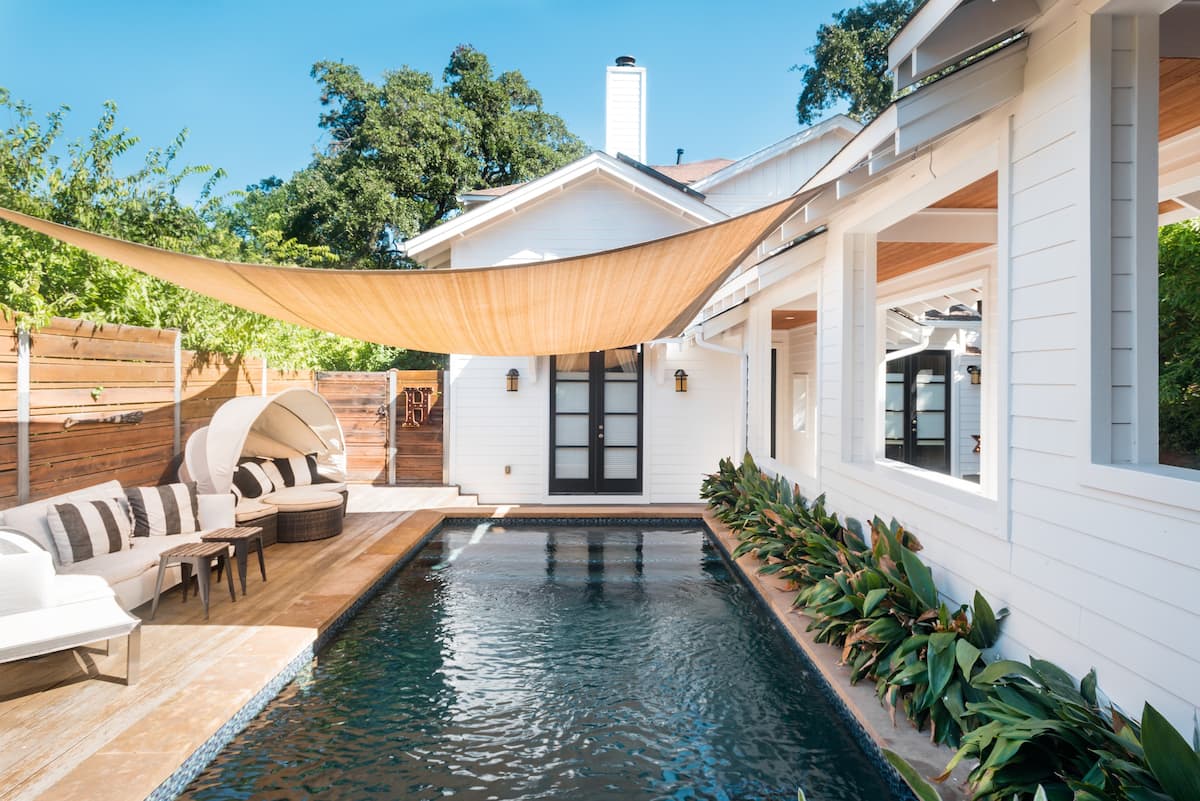 Take in a Dip in the Heated Pool at a Luxury SoCo Retreat
Easily one of the best Airbnb rentals in Texas, this house is the ultimate retreat during your vacation to Austin. Situated in the gorgeous and affluent residential neighborhood of Travis Heights, you couldn't hope for a nicer part of Austin to stay in. Plus, if you want to leave your car in your designated parking spot, you're only a short walk from shops, restaurants, and the riverfront.
At this Austin Airbnb Plus there's plenty of room for couples to make themselves comfortable. The bedroom boasts a king bed with a pillow-top mattress, which, together with air-conditioning throughout the unit, should make sleeping nice and easy. Another way to cool off though is to head out onto the shared patio and take a dip in the outdoor pool there.
The unit features a kitchenette with a mini fridge, microwave, and coffee machine, meaning you can at least prepare basic meals and eat them at the breakfast table. There are also TVs in both the bedroom and living room, offering cable TV to keep you entertained. Of course, failing that there's also Wi-Fi.
View on Airbnb
Thinking about staying in Austin? Take a look at our list of the best Airbnbs in Austin instead.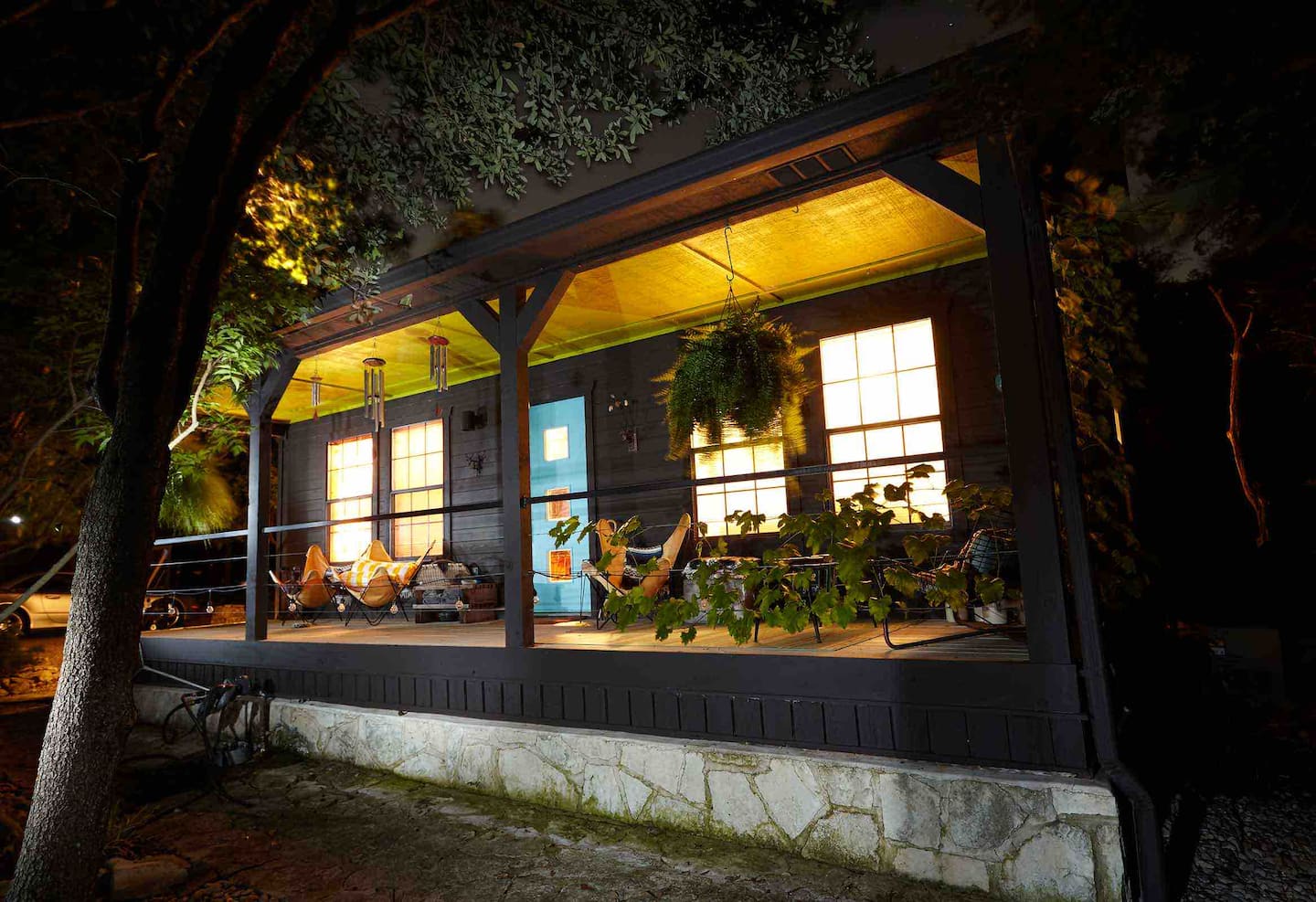 Grey Forest Vineyard Cabin–Pool, Views & Charm
For a relaxing stay enjoying views of the Texas Hill Country, it's hard to go past this inviting cabin. Located in Grey Forest not far from San Antonio, this Texas Airbnb surrounds you with orchards, vineyards, and hills, while still allowing easy access to the city. If you enjoy the outdoors and activities like cycling and hiking, this is the place for you.
The cabin is best suited to couples as it has just one queen bed in the bedroom. As such, you'll find it plenty spacious during your stay, with a cozy living room and great big front porch. Superhosts Sue And Mark have incorporated a lot of nice touches in their cabin, from the eclectic art on the walls to the little library area. They even provide guests with a bottle of their own wine and fresh eggs as a welcome gift.
Back in the cabin, you'll find a fully equipped kitchen with everything you'll need and more, making it ideal for self-catering. Other amenities provided include Wi-Fi, cable TV, and access to the property's shared swimming pool and laundry facilities.
View on Airbnb
Related: 15 Best Cabin Rentals in Texas, USA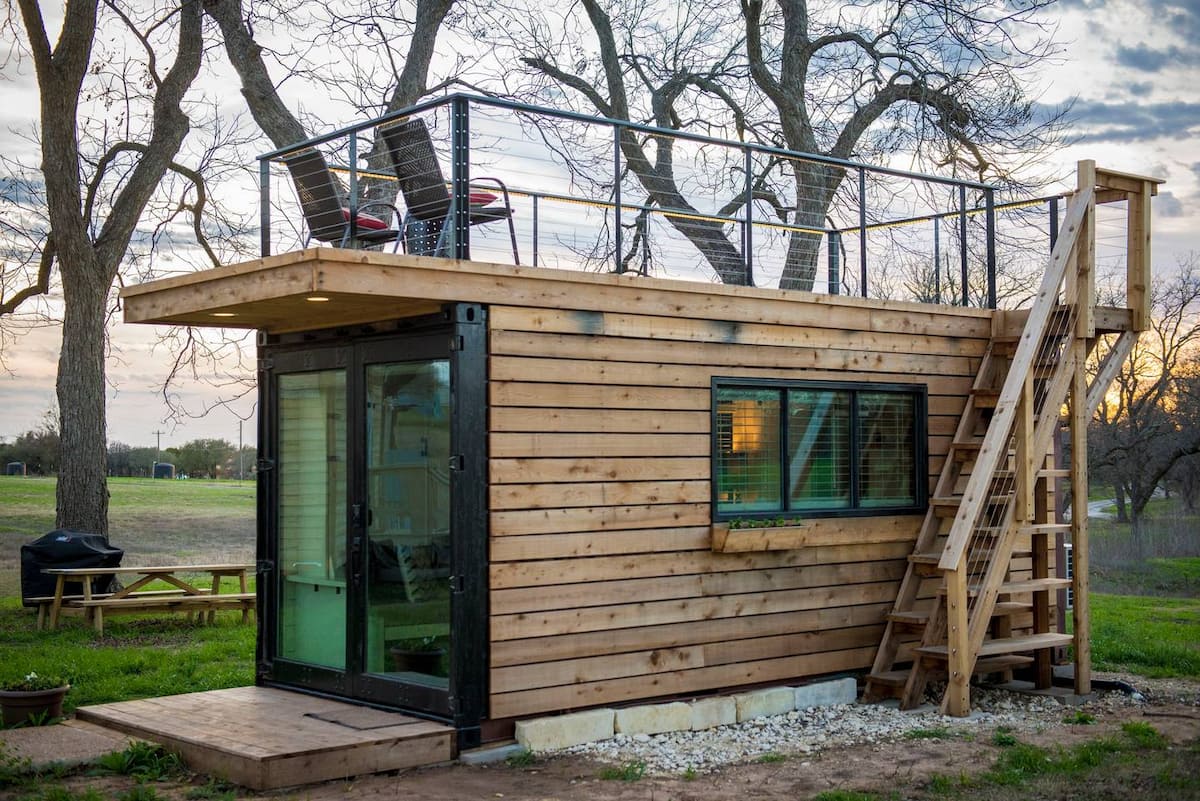 Stillwater House
The idea of staying in a tiny house for your vacation can seem a little unusual, but when done right like this Airbnb in Texas, it can be a lot of fun. Found just to the north of Waco, near the Homestead Cafe, it's easy enough to get into the city with the I-35 interstate nearby.
Made out of an old shipping container, this tiny home makes incredibly clever use of the space available. In fact, you won't believe how much superhost Kenneth has managed to fit into the home without making it feel cluttered. For your sleeping needs there is a queen-size Murphy bed for two that folds down over the sofa when in use.
Further back there is a dining bar opposite the kitchen. There you have an induction cooktop, a fridge, microwave, and a surprising amount of counter space for preparing meals. At the very back is the bathroom with a full-size shower, while there are stairs outside leading to a rooftop deck for you to unwind on. Finally, you have amenities like air-conditioning, Wi-Fi, and TV, meaning you really have everything you could need.
View on Airbnb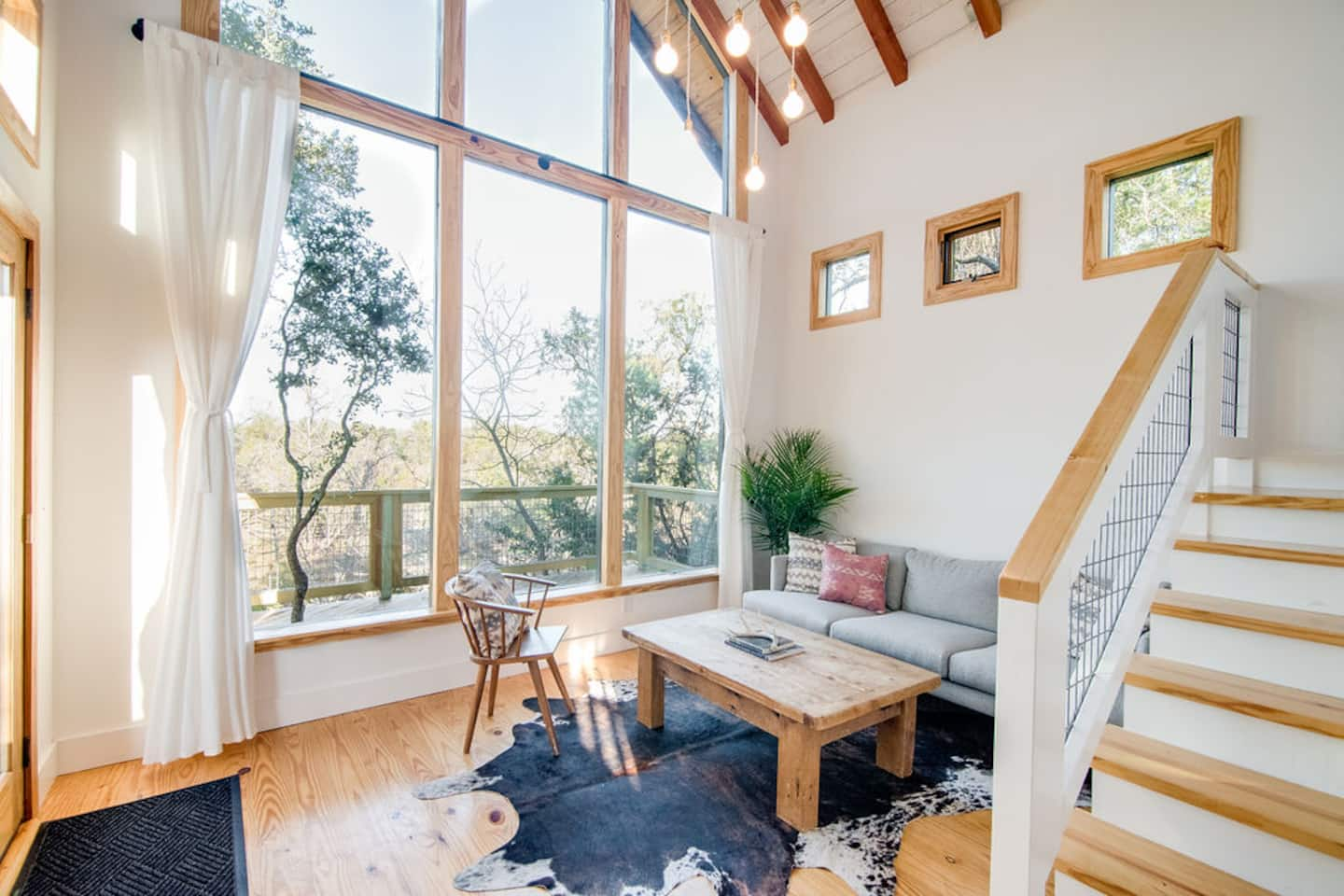 Sycamore Treehouse at HoneyTree Farm
With a bright interior and a blend of modern and rustic design, this is a gorgeous option for those wanting an Airbnb in Fredericksburg Texas. Just a few miles outside the city, a quick drive will see you in downtown Fredericksburg, while it still provides the peace of the rugged countryside of Texas Hill Country.
Cozy, without feeling cramped, this cabin is the ideal couples getaway in Texas. Here you can snuggle up in the living room and gaze out the large windows to the wilderness outside. Alternatively, you can sit outside on the deck and enjoy the view down the nearby creek. If you wander down to the creek and look up at the cabin, you'll see exactly why superhost Jacob refers to this Airbnb as a treehouse.
The bedroom of the cabin features a king bed and sits in the cabin's loft which looks down on the living room's windows. Guests also have a bathroom with a full size soak tub and a well-appointed kitchen equipped with a stove, a microwave, and a fridge. Anyone with a little one will be glad to hear that the property can provide a cot.
View on Airbnb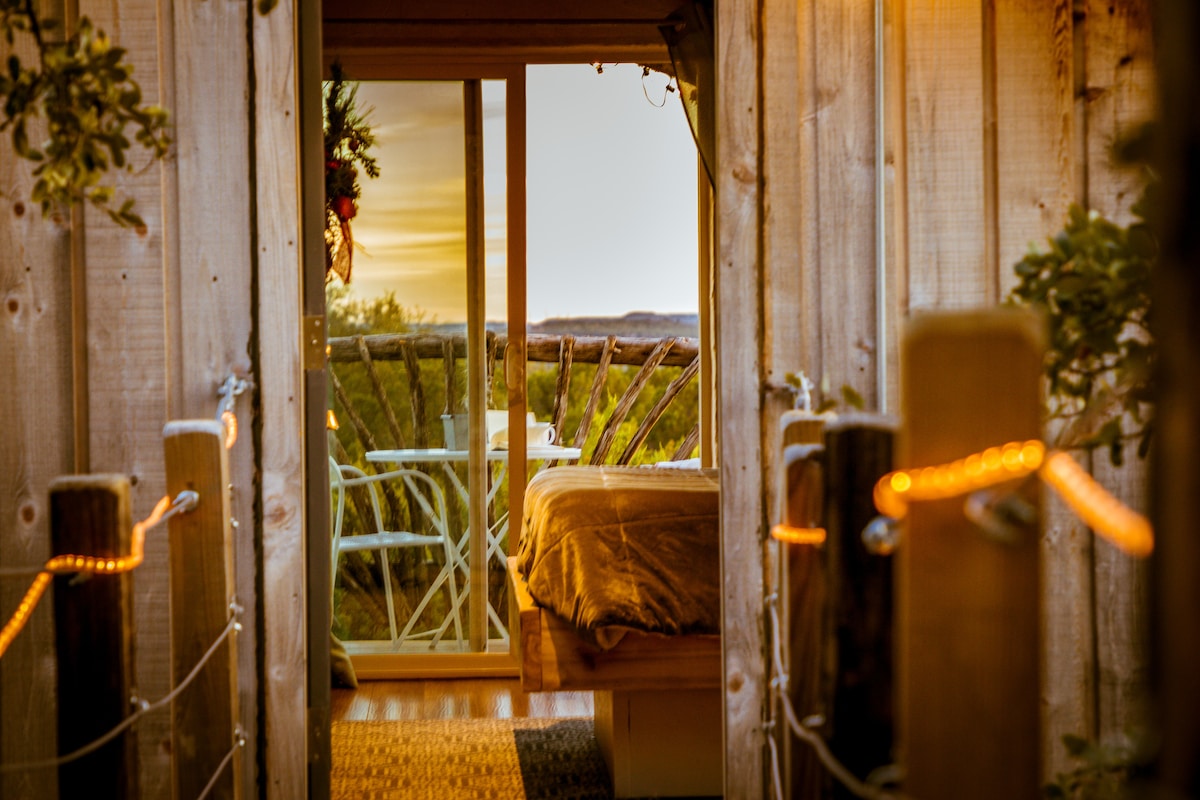 The Birdhouse by Skybox Cabins
People planning on renting a cabin in Texas, won't want to miss out on this gorgeous sky high cabin. Situated in a rural part of the Texas Hill Country, the small town of Glen Rose is the only hint of civilization in the area. But with 50 acres of private land surrounding the cabin for you to explore, you won't have to see anyone if you don't want to.
Even just reaching this fantastic cabin is an experience. You reach the Birdhouse by climbing stairs and then crossing a cable bridge to get to its second floor. No wonder then that this elevated cabin has some superb views for you to enjoy during your stay, best seen from the cozy balcony where you can sit with a cup of coffee and look out across the countryside.
With just one bedroom which has one queen bed, the cabin is only able to sleep two guests. While it does have amenities like electricity and air-conditioning, there is no TV or Wi-Fi, so plan ahead. Finally, there is a small kitchenette with a fridge and microwave, as well as a few snacks provided by superhost Yvan.
View on Airbnb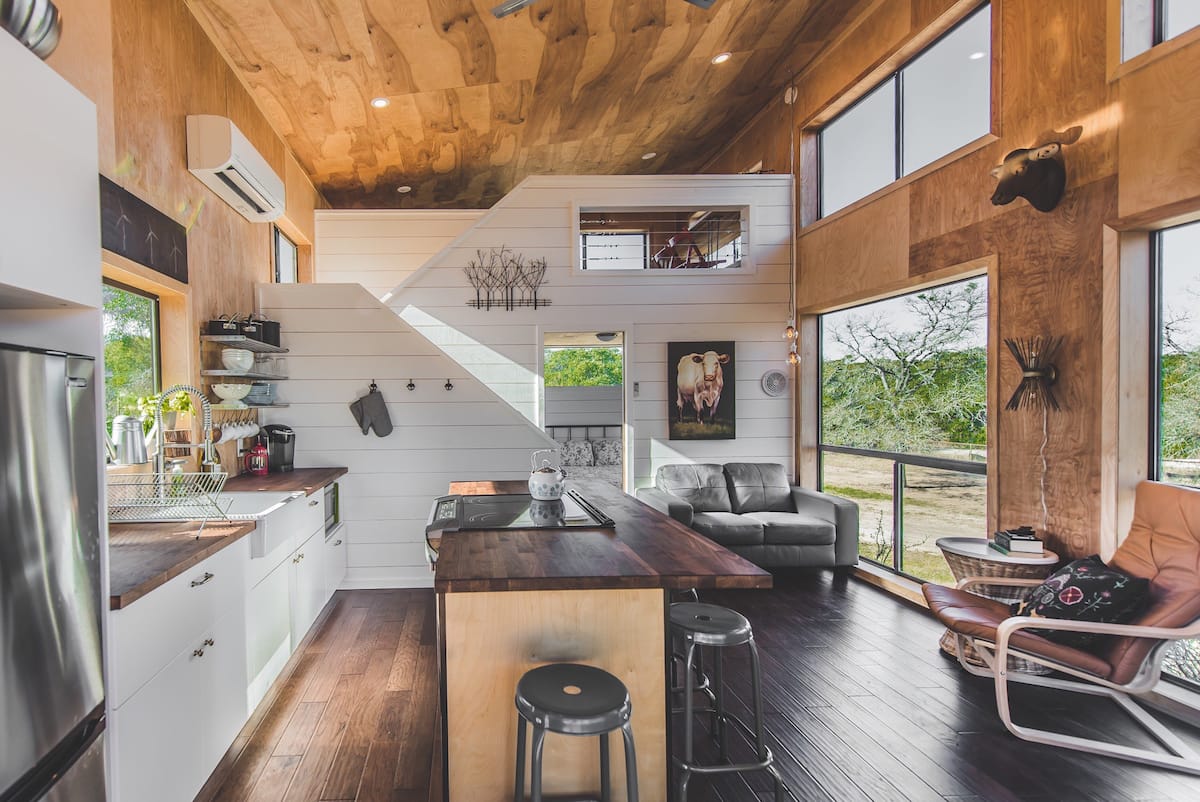 Modern Tiny Cabin
Another option if you're looking for a cabin for rent in Texas is this gorgeous and compact tiny house. Located west of Austin between the communities of Dripping Springs and Bee Cave, this cabin has a nice collection of places within easy drive, from a winery and a couple breweries, to several good restaurants.
Despite being a tiny house, this cabin does quite well to accommodate up to four people. With a queen bed, double bed, and sofa bed to use, families and small groups of friends should find it more than meets their needs. And you'll have no trouble feeling at home here thanks to the cabin's modern design and rustic touches. It helps that superhost Justin ensures coffee lovers are well-cared for, providing several options for you to get your morning coffee fix.
In terms of amenities, the cabin comes equipped with an open-plan kitchen featuring a stove, microwave, oven, and refrigerator. Then there are the home comforts like Wi-Fi, TV, and air-conditioning. Guests can explore the property and see the donkeys and horse in the front corral. What's more, the property is dog friendly, so you can bring your furry friend with you.
View on Airbnb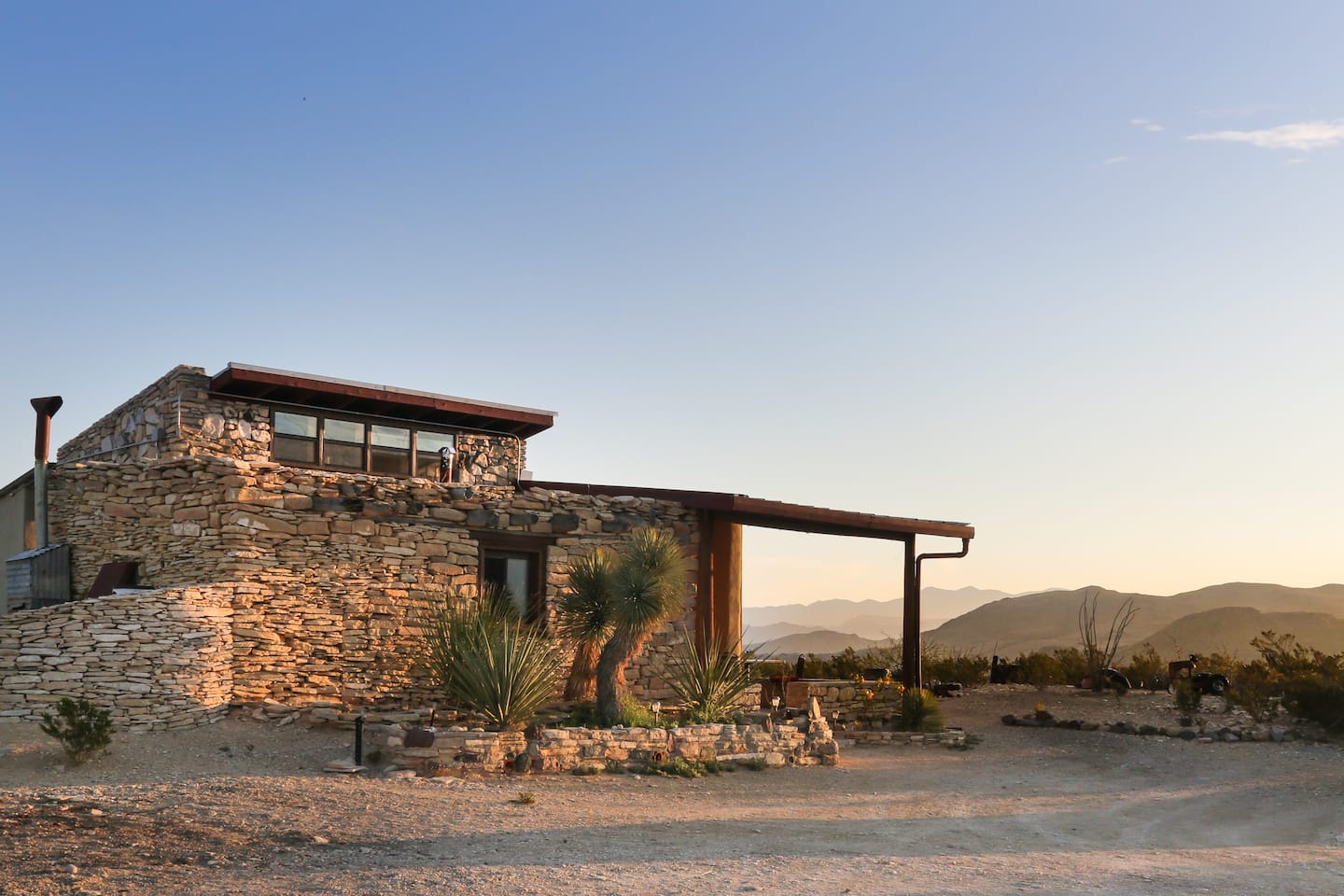 Terlingua Mining Ruin – Lofthouse
Sometimes, we all want to escape to the country, which is why it's so great that homes like this exist on Airbnb. Not that you're completely isolated here in the ghost town of Terlingua, with a coffee shop, restaurant, and choice of bars just a few blocks away. Beyond town, you can easily drive to Big Bend National Park and Big Bend Ranch State Park without too much hassle.
True to its name, this cabin has been converted from an old mining ruin and feels undeniably authentic. Within its simple stone exterior lies a simple, vintage interior that has all the essentials one could need out in the desert. Due to its size and double bed, this cabin fits just two guests. 
Emphasising an older way of doing things, the cabin has an external bathroom that's just steps from the house, and no distractions like Wi-Fi or TV. This means you'll just have to make use of the spacious porch and enjoy the view, or snuggle up in the little loft area and read a book. It does come with a fully-equipped kitchen with a stove, oven, and fridge, allowing you to be self-sufficient.
View on Airbnb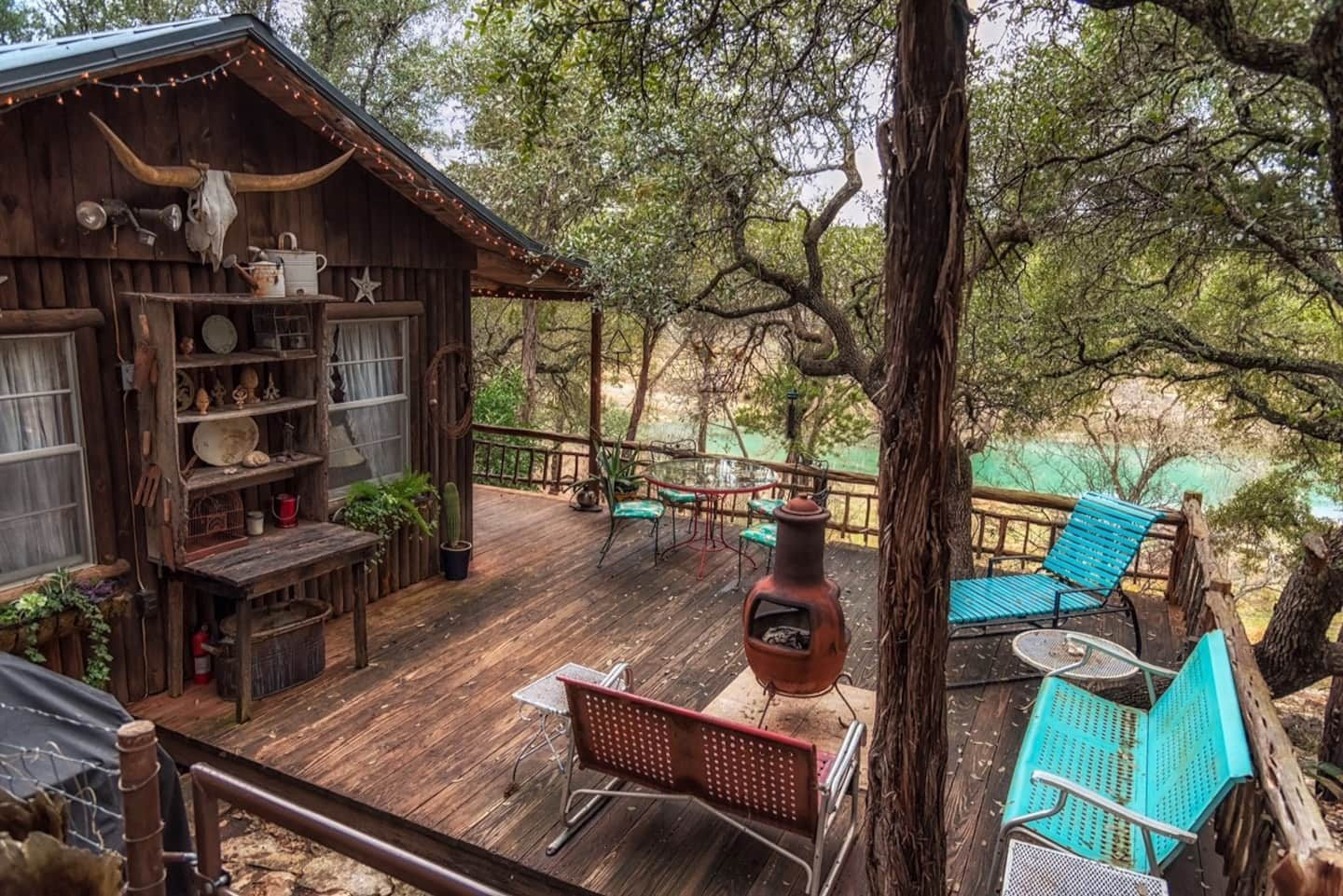 Salvation Cabin
As far as cabins in Texas Hill Country go, few are as full of character as this one. Surrounded by wilderness, up the road from the town of Wimberley, this is the perfect base for those hoping to spend time exploring and embracing the outdoors. There's even a river near the cabin that can be hiked along when it's dry, and which is great for tubes and kayaks when the water is flowing.
Sleeping up to four guests, groups and older families will find this cabin quite comfortable, especially with the spacious living room and nice outdoor porch. Making the most of outdoor spaces, there's also an open-air outdoor shower to go along with the welcoming claw-foot bathtub in the indoor bathroom.
Although breakfast is provided by superhost Adena, the cabin does have a full kitchen with stove, oven, microwave, and antique refrigerator, so that you can cook for yourself. Other useful facilities include a gas grill, an outdoor fire-pit, air-conditioning, and Wi-Fi. Guests are also able to bring pets with them after approval from the host.
View on Airbnb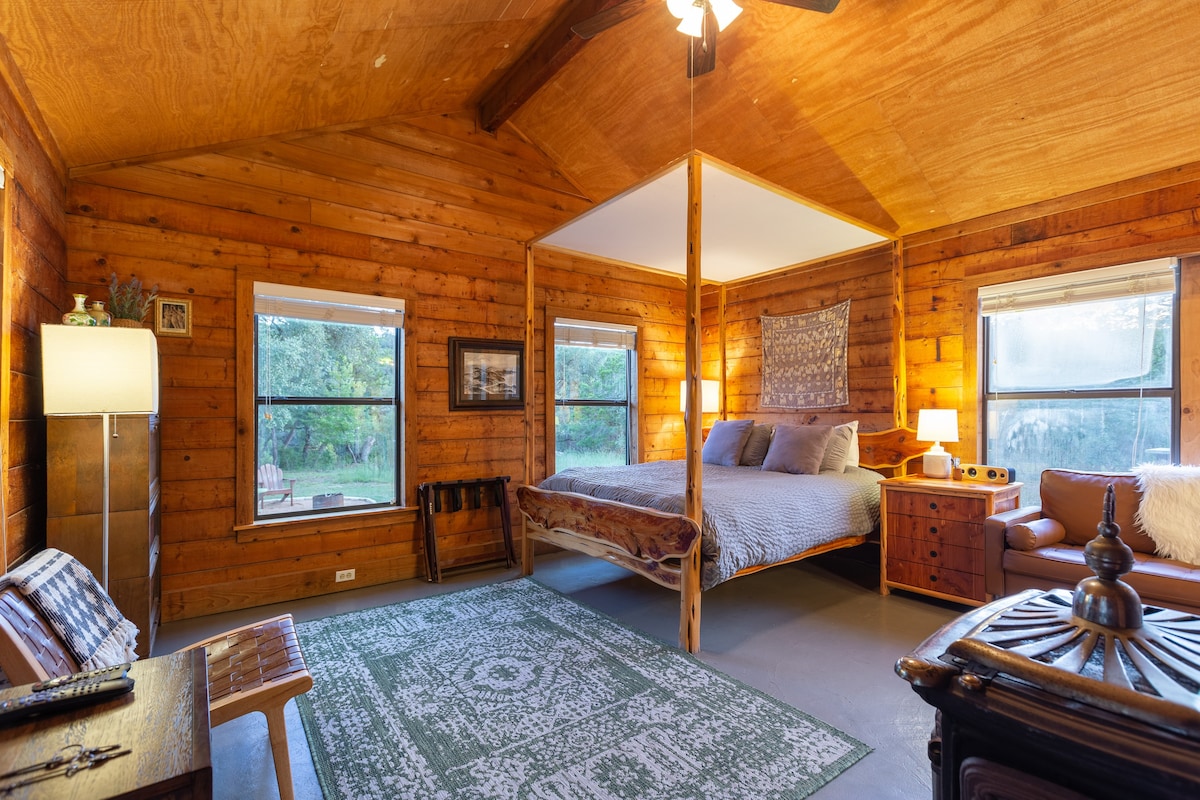 Romantic Log Cabin on Smith Creek
Couples searching for a romantic cabin in Texas will feel like they've struck gold with this beautiful log cabin. Found just outside the quaint town of Wimberley, it's a short drive to the local swimming holes and the great shops and restaurants in town. But there's also the 10 acre property surrounding the cabin that you can explore on nature walks.
Inside and outside this one bedroom cabin you'll find everything you need for a cozy getaway. Within the log cabin is a queen-size canopy bed, as well as a pleasant sitting area, both of which are welcomingly close to the wood-burning stove. The cabin also features a nice little kitchenette, complete with a stove, oven, microwave, and fridge. What's more, superhosts Jennifer and Gregory go the extra mile to ensure a pleasant stay by leaving guests fresh eggs and local organic coffee.
To help you relax during your stay there's both an outdoor hot tub by the cabin, as well as a fire pit for a toasty campfire. Plus, there's Wi-Fi and a TV if you just want to huddle up indoors.
View on Airbnb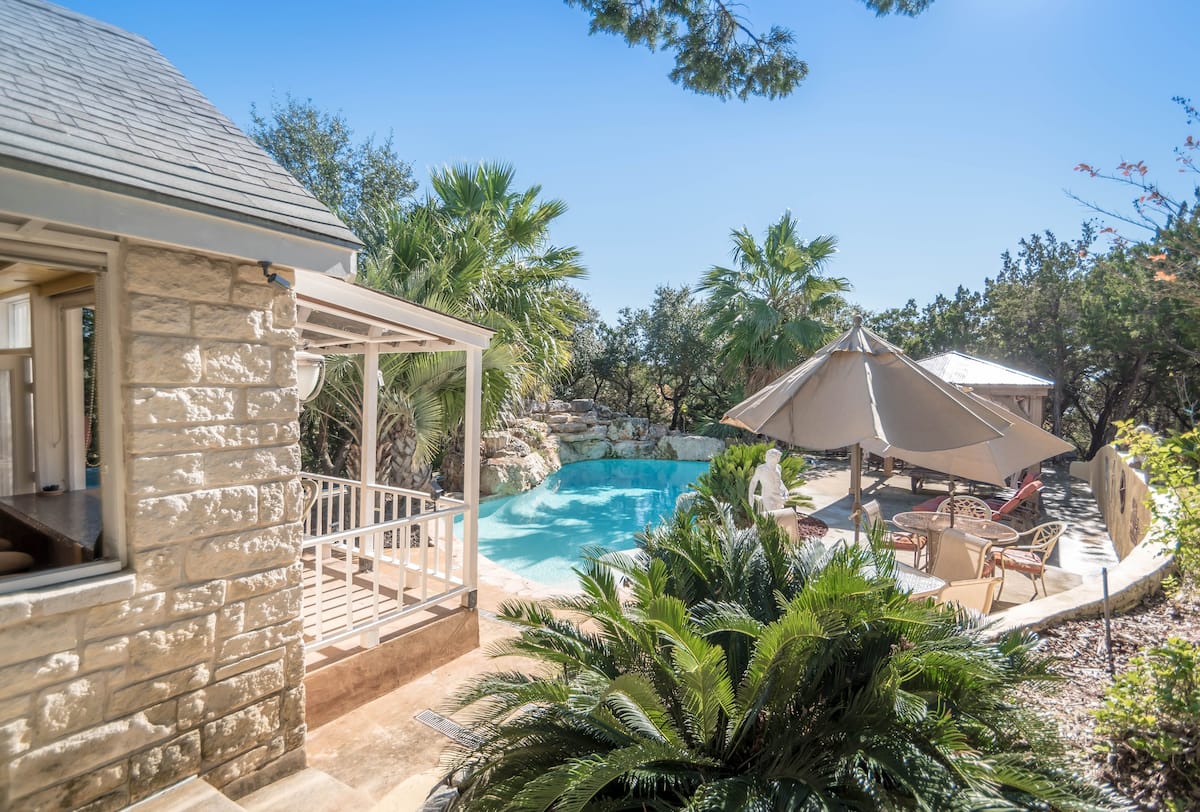 Couples Retreat with Steam Room & Hot Tub
Taking time for yourself is important and shouldn't be a problem when staying at this resort-style home. Situated in the Texas Hill Country not far from Helotes and San Antonio, this house is a real retreat from the city and enjoys some spectacular night skies.
Set inside what feels like a resort, there's so much to like about this spacious unit. Although it may only sleep two people, it boasts a huge bedroom suite with a king bed and a couch. There is also a living area in the den and a deck and dining area by the full kitchen, meaning you won't be starved for space.
One of two self-contained units on the property, some amenities like the pool, cabana, fire pit, and steam room are shared between the units. However, the hot tub on the porch is solely for private use by guests of the unit. Other amenities include Wi-Fi, cable TV, air-conditioning, and laundry facilities.
View on Airbnb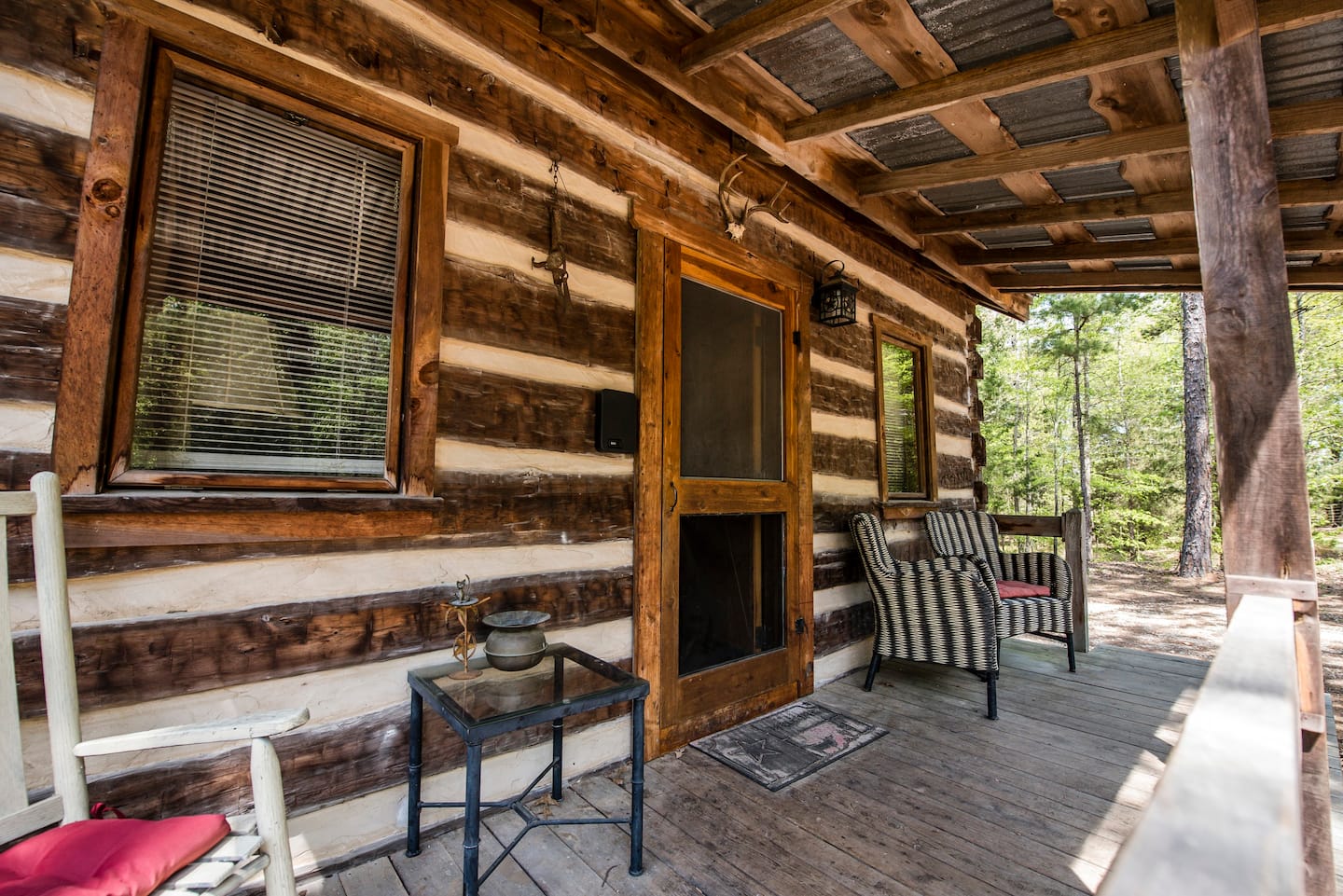 Coyote Creek Cabin, W/ Fireplace & Nature Trail
When you think of a Texas cabin, chances are you're imagining something very close to this fantastic log cabin. Located in the woods, an easy drive to Canton in East Texas, this is one of the best rental cabins in Texas.
Although this large cabin has just one bedroom with a queen bed, it's capable of sleeping up to five guests thanks to a double roll away bed and futon. This means it suits all sorts of guests, from couples to families and friend groups. It doesn't hurt that there's a nice living room area and an outdoor fire pit with hammocks nearby for people to gather at. To cater for yourselves, the kitchen comes with a hotplate, microwave, and refrigerator, plus a charcoal BBQ grill outside. 
While you have the woods and nature around you to keep you entertained, the cabin also comes with board games, darts, books, and a TV equipped with a DVD player. Really, the only thing you're missing here is Wi-Fi.
View on Airbnb
Private, Romantic Yurt – "Sasha Ger" by Yurtopia
One of the more unusual Texas Airbnbs out there is this authentic Mongolian yurt. Found just outside the colorful town of Wimberley, you can spend your day exploring its shops or taking a dip in the area's swimming holes.
Since the yurt is essentially one large room with one king bed, it will best suit solo travellers and couples seeking a quirky place to stay. To compliment the minimal indoor space of the yurt, guests have access to several outdoor spaces including a rooftop deck, a hot tub, and an outdoor kitchen and bathroom. Because of how it's all set up though, you have complete privacy from the other yurts on the property.
In your private glamping kitchen you have access to a refrigerator and a gas grill for barbecuing, plus local coffee beans and a coffee grinder. Other amenities provided include Wi-Fi, cable TV, and climate control to keep the yurt comfortable.
View on Airbnb
Hopefully you can see now just how many great options you have available to you when looking for Airbnbs in Texas. Because really, no matter where in the state you want to go, chances are there's an Airbnb there waiting for you.