Photo: Courtesy of Airbnb
Road Affair is reader-supported and may earn commission from purchases made through links in this article.
New Delhi, the national capital of India, is a bustling historic hub known around the world for its impressive political, commercial, and culinary significance. As one of the most popular tourist destinations in the nation, the colorful capital is overflowing with exciting things to see and do. The incredible abundance of attractions is sure to tucker you out during your stay, so you'll want to find a super-comfy vacation rental to rest your head during your travels. 
To that end, we've created the following list of the best Airbnbs in New Delhi. All of the listed rentals are great options if you're working remotely, as they are equipped with high-speed Wi-Fi. Most of the listings also come with a TV for indoor entertainment and are hosted by experienced superhosts – hosts with a proven track record of providing outstanding hospitality.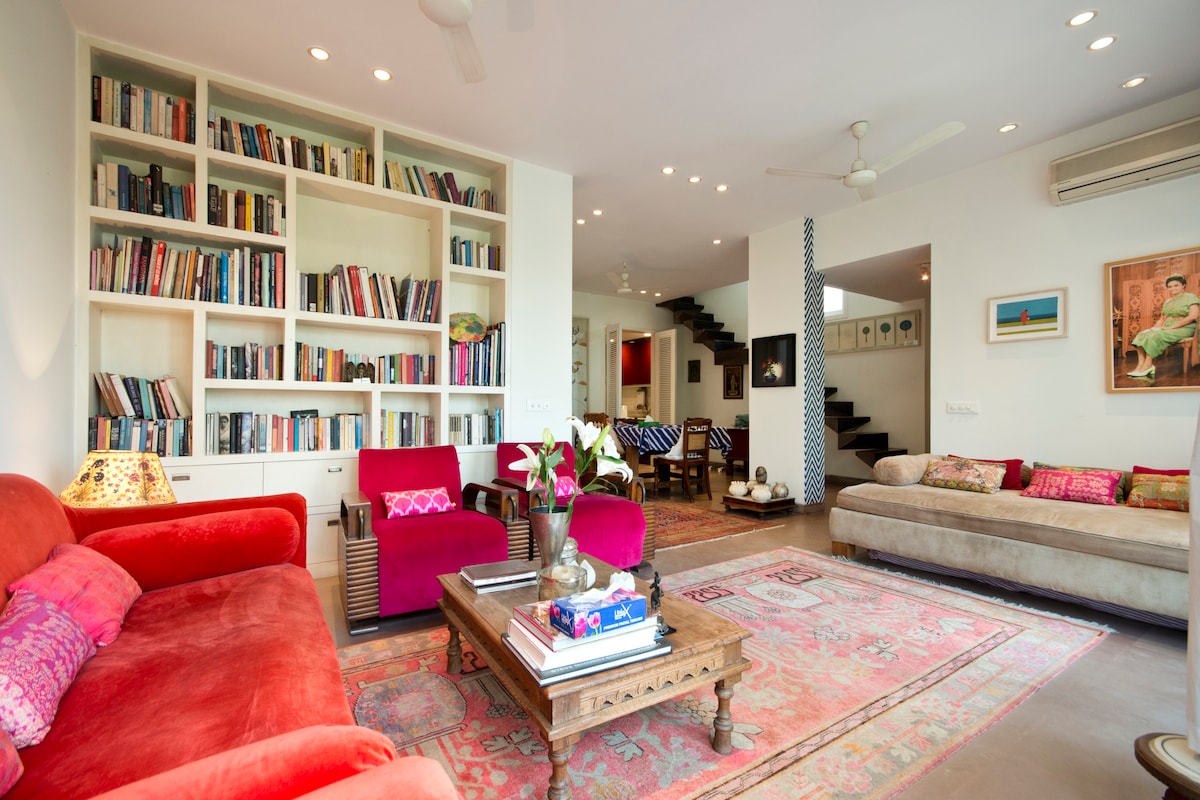 Luxurious Lake View Apartment Rental in New Delhi 
First up is a spectacular New Delhi Airbnb with a unique combination of vintage décor and comfortable modern amenities. 
Overlooking a lake and a historic 12th-century monument, this perfectly positioned two-bedroom apartment makes a beautiful stay for up to four guests. The rental also offers a large living room, a dining room, a well-equipped kitchen, and 2.5 bathrooms. The spacious and light-filled living room is where you'll likely want to spend most of your time. Furnished with bright pink accents and featuring a large wall of bookshelves and a wall of windows, the space also comes with romantic French doors that open onto the scenic private balcony. Additional amenities include air-conditioning, a washer and dryer, and a TV with over 250 channels. 
Nestled in a historic pedestrian neighborhood, this stunning apartment is perfect for anyone interested in staying in the heart of Delhi. Step outside and you'll be amazed by the abundance of galleries, boutiques, restaurants, and pubs in every direction. 
View on Airbnb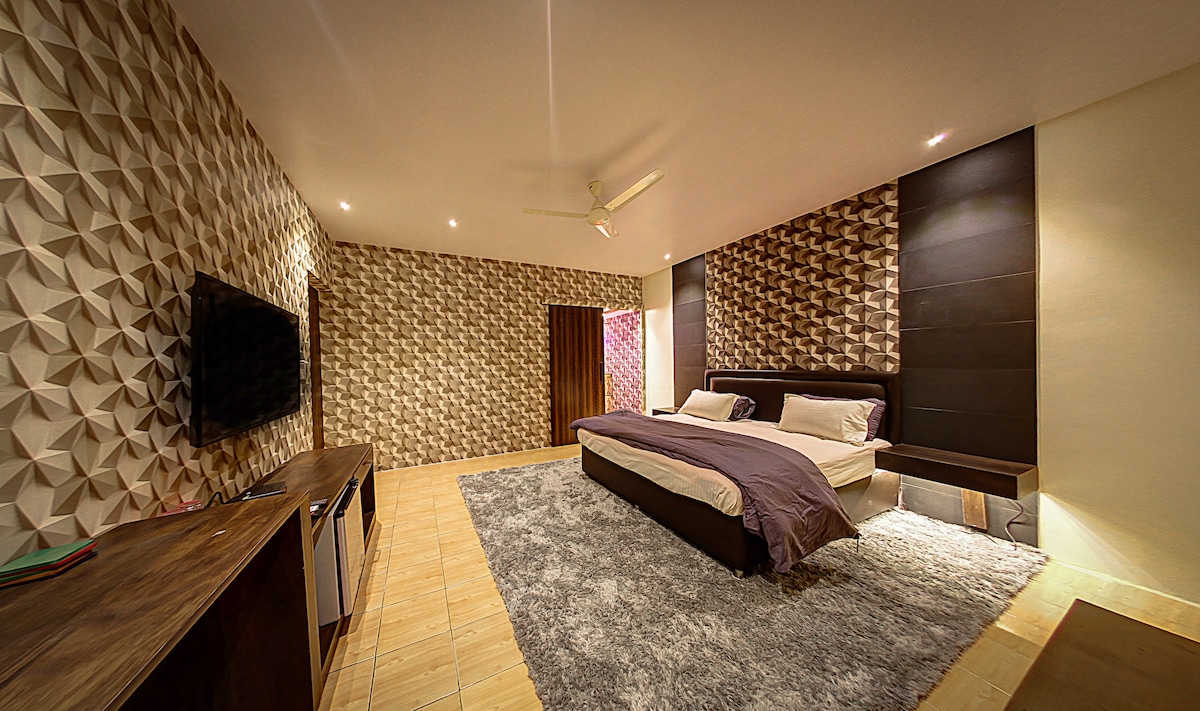 Private Guest Suite in Greater Kailash
This high-end Airbnb in New Delhi offers a comfortable and private stay close to several popular points of interest. 
The guest suite is detached from the host's main home and comes with a large private full bathroom with designer finishes and a well-equipped kitchen. In the bedroom area, you'll find a comfy king-size bed, a spacious desk, and a wall-mounted Smart TV. Pets are allowed in the apartment, and complimentary breakfast and an affordable laundry service is available for your convenience. An extra floor mattress will be provided for additional guests and children, and an extensive selection of baby gear is available upon request. 
Greater Kailash is an upscale residential neighborhood offering plenty of restaurants, pubs, and clubs. Also nearby is the famous India Gate and the Lotus Temple. 
View on Airbnb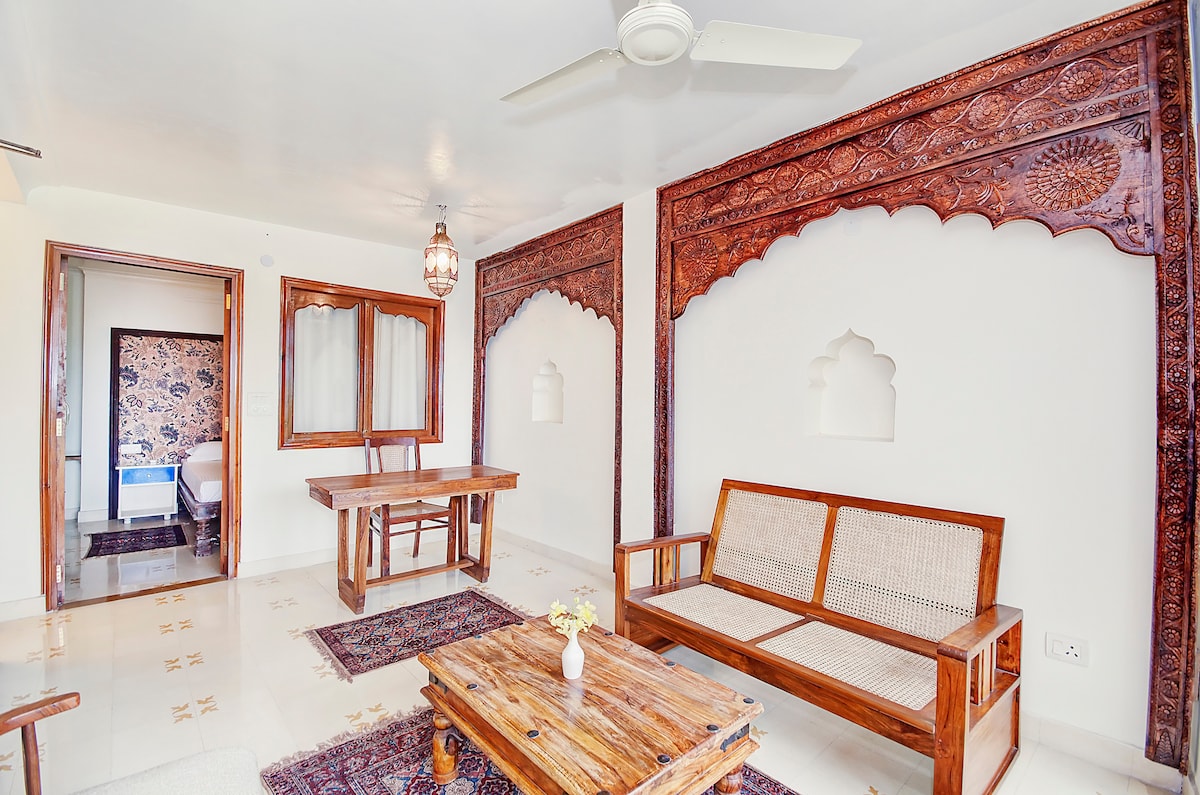 Tranquil Heritage Apartment
Tucked away among a peaceful scene of green, this charming rental apartment in New Delhi offers a calming respite near popular city attractions. 
Ideal for solo travelers and couples, the one-bedroom abode is furnished with a queen-size bed and also offers a private full bathroom and a kitchen. The light-filled living room is adorned with traditional wooden décor and offers plenty of space to relax and a convenient desk to catch up on work. A caretaker is available if you are ever in need of any groceries or supplies, and additional amenities include a TV and laundry facilities. The focal point of the home is the private balcony, which overlooks a beautiful lake and a green park filled with 13th-century tombs. 
Although the location is refreshingly serene, the apartment is still just a short walk away from countless galleries, boutiques, and restaurants. 
View on Airbnb
Independent Studio in South New Delhi
For a quality stay in a private studio rental, check out this spacious apartment near the famous N Block Market. 
Up to three guests can stay in the open-plan apartment, which is furnished with one queen-size bed and one single bed. The rental offers high ceilings and much more open space than competing studio rentals, and you're welcome to bring your pets along for the stay. There is also a private full bathroom with a rain-style walk-in shower as well as a full kitchen with a connected patio. The space is well decorated and fully air conditioned, and additional amenities include a TV and an in-unit washer. 
Set in a very quiet and desirable neighborhood, this convenient New Delhi Airbnb is just a short walk away from shopping malls, green spaces, and the Moolchand Metro Station. 
View on Airbnb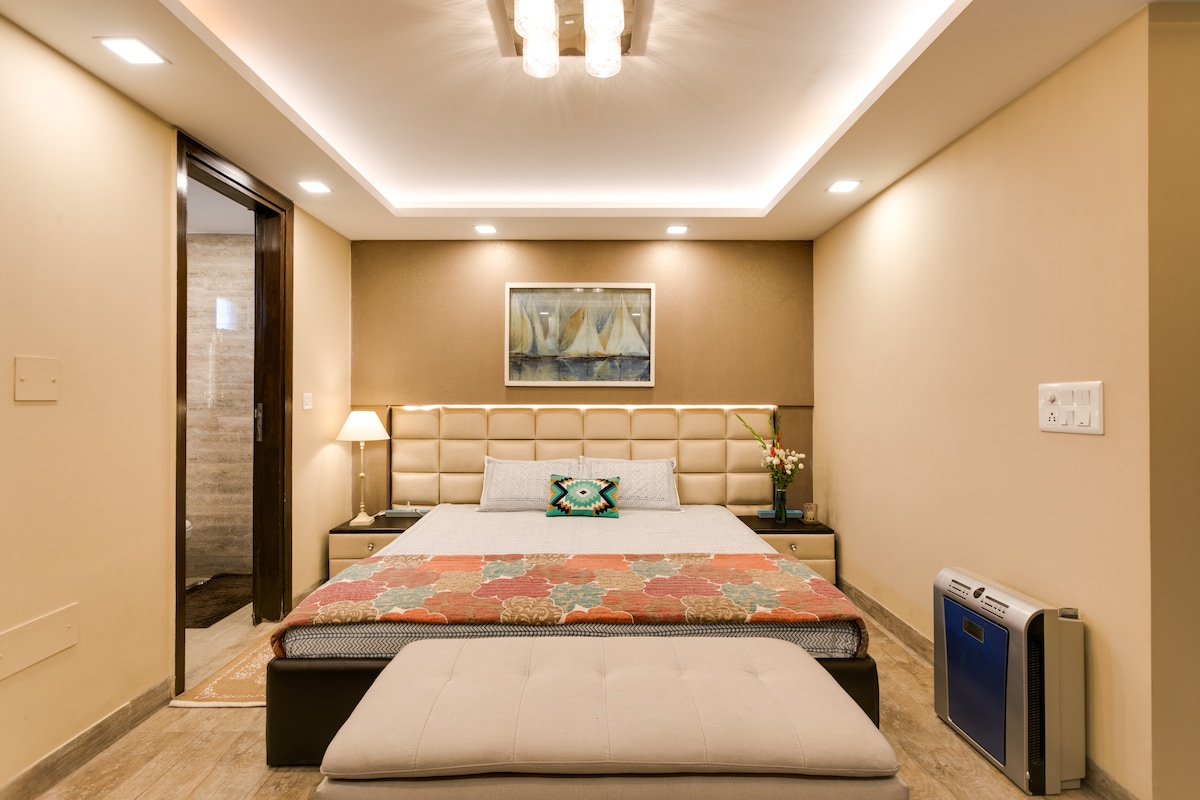 Gorgeous Studio With a Jacuzzi
Ideal for solo travelers and couples, this stunning vacation rental in New Delhi is set on the top floor of an elevator building and comes with everything you need for a comfortable stay – and more. 
The best part of this gorgeous rental is the luxurious terrace, which is partially covered, filled with lush greenery, and surrounded by a bamboo fence for privacy. The impressive outdoor space also features a lovely dining area, an in-ground Jacuzzi, and a firepit for the colder seasons. If you're looking for a romantic getaway, your hosts will prepare a special set up with candles, flowers, and dreamy string lights. The interior is just as impressive, with high-end furnishings, beautiful decorations, and modern amenities. The studio space is furnished with one luxurious king-size bed and comes equipped with a wall-mounted TV, a small kitchenette, and a luxurious full bathroom with updated facilities. The apartment is pet-friendly and air-conditioned, and there is a safe and convenient parking spot available just around the corner. 
The apartment's immediate surroundings are very peaceful, and nearby popular attractions include Central Market, Khan Market, and Lodhi Garden. With a stunning outdoor space, a modern interior, and a convenient location, this one-of-a-kind studio is truly one of the best Airbnb rentals in New Delhi. 
View on Airbnb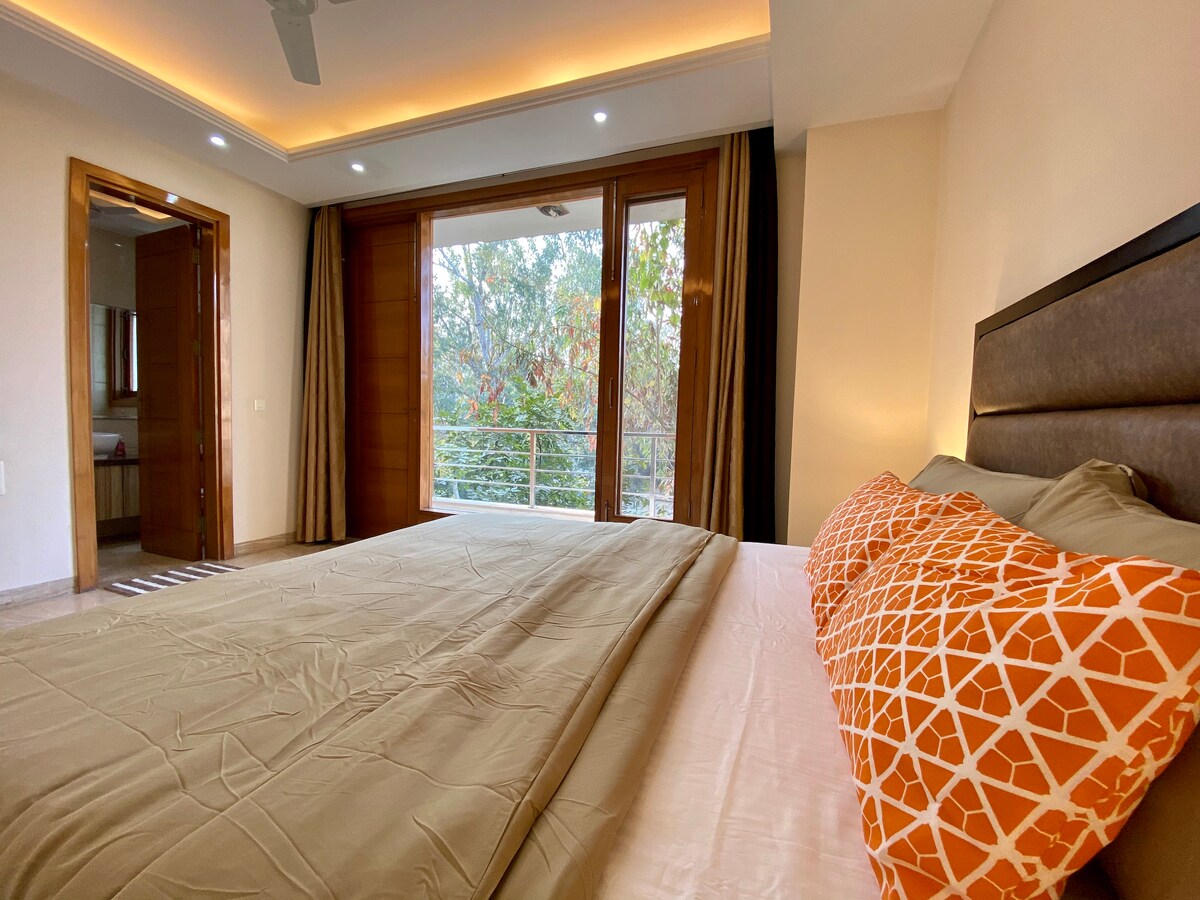 Modern Home With Park Views
A great option for larger groups of friends and family, this three-bedroom, three-bathroom Airbnb in New Delhi can sleep up to seven guests. 
With private parking, an elevator, and a security guard, the building is equipped with all of the necessary amenities for a comfy and convenient stay. The apartment itself is furnished with three king-size beds and a leather sectional sofa, and each of the bathrooms boasts a vessel sink, a luxurious walk-in shower, and granite countertops. Guests also have access to an updated full kitchen and a small dining space, and large windows and private balconies in the bedrooms face a luscious green park. Extra amenities like an in-unit washing machine, a Smart TV, and super-fast Wi-Fi make this one of the best rentals for large groups interested in a luxurious stay in New Delhi. 
The neighborhood is very safe and quiet, and the property itself is gated and guarded for extra security. There are plenty of convenience stores in the vicinity that stay open late, and the area is filled with fantastic designer boutiques and jewelry shops. 
View on Airbnb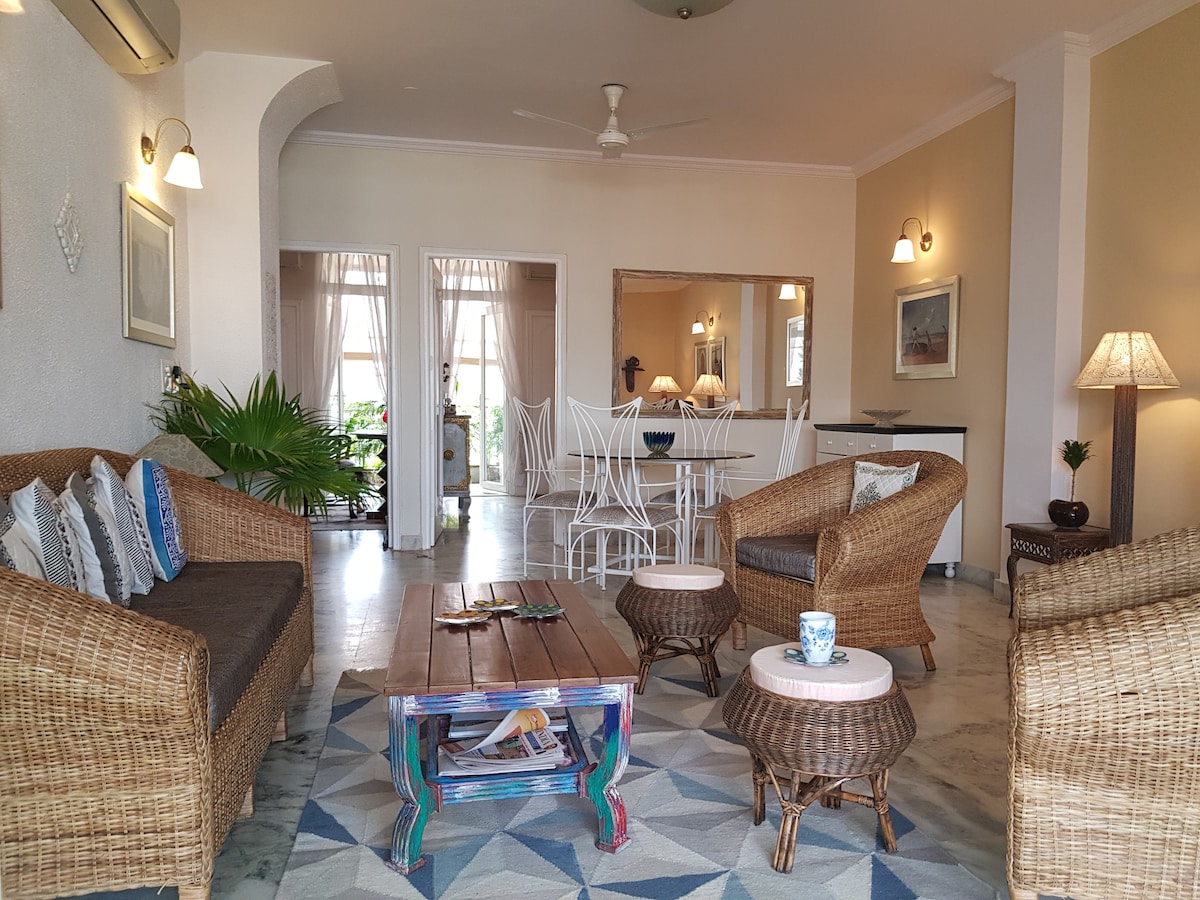 Bright and Airy Apartment in a Quiet Neighborhood
Another beautiful apartment suited to larger groups, this park-facing gem in central New Delhi will make you feel right at home. 
Up to six guests can stay in the three-bedroom, three-bathroom apartment rental, which features two queen-size beds and two single beds. Soft lighting, marble flooring, and lovely pastel accents add a ton of character to the designer interior, and the glass balcony doors let a lot of natural light into the apartment. Indoor plants and beachy wicker furnishings also liven up the space, and the spacious common areas are perfect for the whole family to hang out together. Additional modern facilities include a well-equipped full kitchen, a laundry room with a washer and dryer, air-conditioning, and a TV. There is a private cook available for an additional fee, and daily cleaning services are included in the rental. 
Situated in a clean, green, and family-friendly neighborhood, this quiet New Delhi Airbnb is surrounded by local markets, eateries, and lovely green spaces. There are also plenty of taxis and rickshaws in front of the apartment that will take you to nearby restaurants and N Block Market within minutes. 
View on Airbnb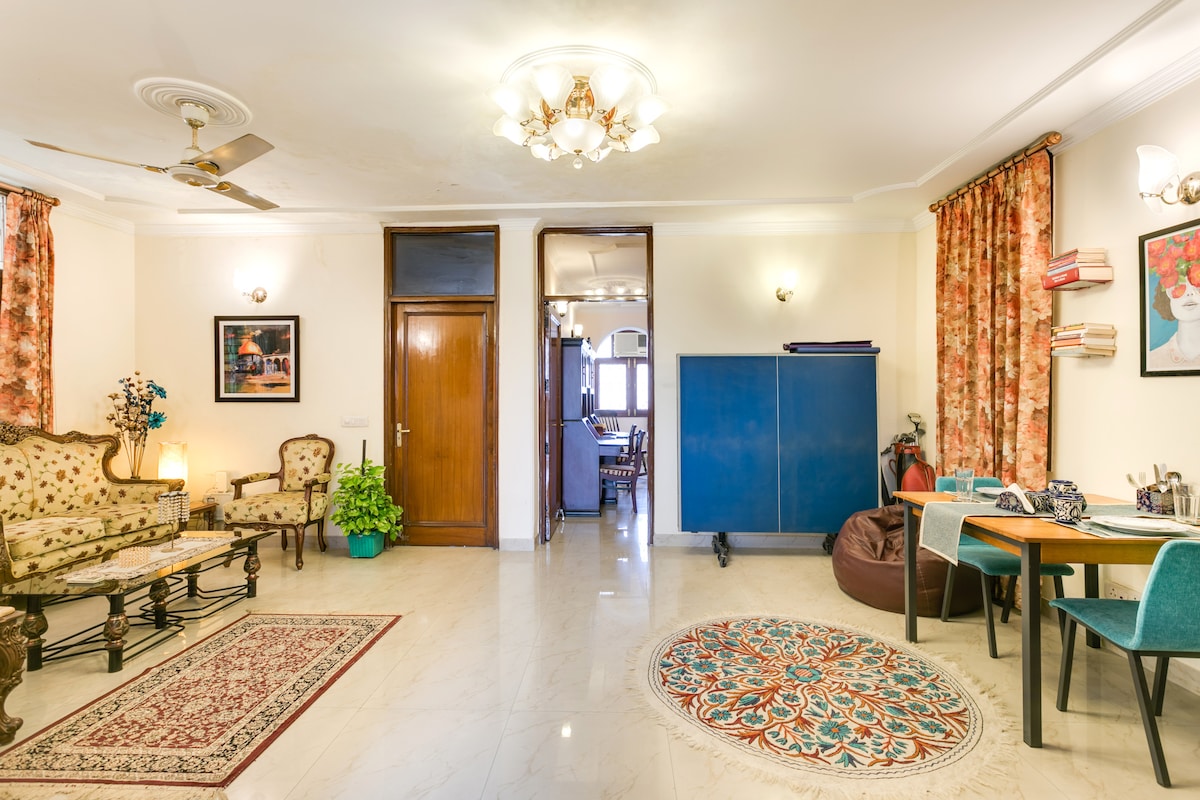 Penthouse Apartment Near Astha Kunj Park
Rent an apartment in New Delhi that offers a charming interior design and generous outdoor space with this quaint two-bedroom flat. 
Filled with tasteful artwork and vintage wooden furnishings, the beautifully appointed penthouse will surely set the tone for an incredible New Delhi getaway. Soaring high ceilings and bright windows make every room feel spacious and airy, and the two bedrooms are furnished with one double bed and two single beds. There are also 2.5 bathrooms, offering larger groups plenty of privacy, and the apartment comes with a well-equipped full kitchen and a stunning garden terrace. Additional amenities include air-conditioning, a washing machine, and an in-building elevator. 
When you feel like venturing out, pop over to the 200-acre Astha Kunj Park and enjoy the wild bunch of colorful peacocks and scenic greenery, or walk just 10 minutes to the famous Lotus Temple. 
View on Airbnb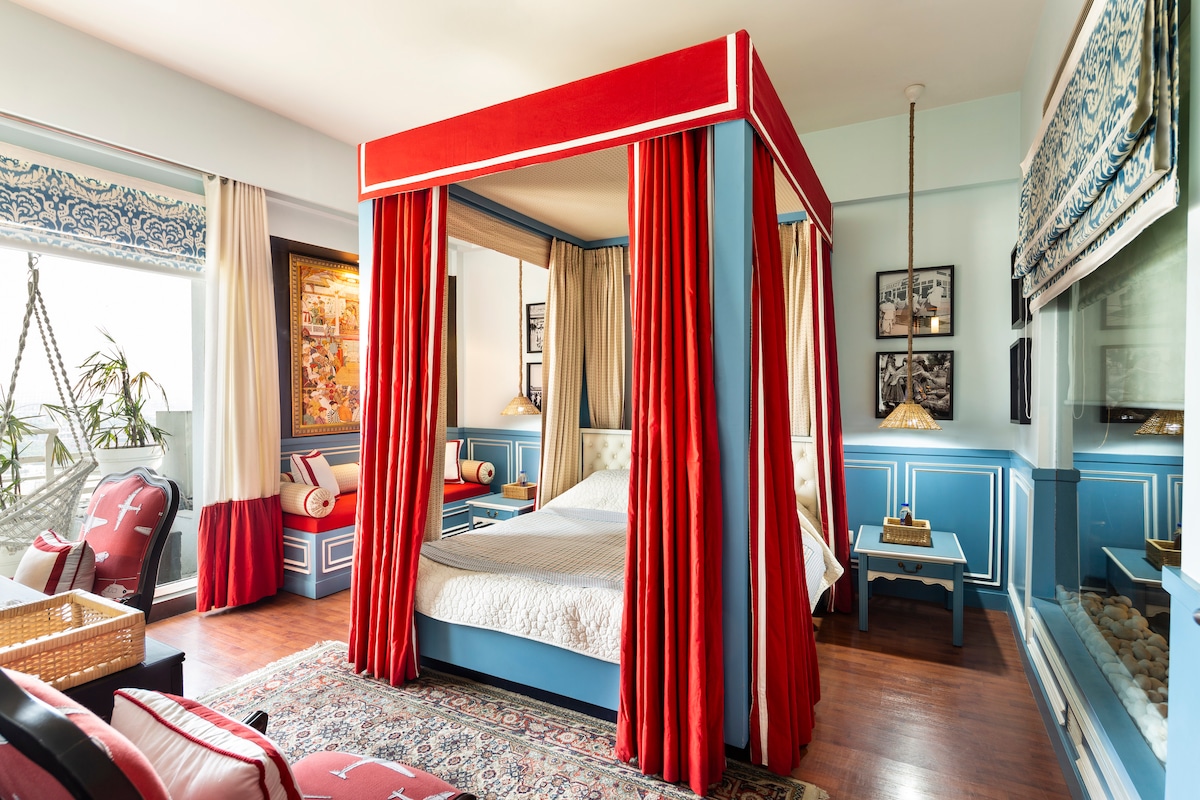 Designer Serviced Apartment With a Balcony
This boutique one-bedroom apartment rental is set within a luxurious gated community with high-end amenities like a health club, a swimming pool, and a salon. 
The modern interior is equipped with a Smart TV, a Bluetooth sound system, a full kitchen, and a luxurious full bathroom with a spa-like soaking tub and plush bathrobes. Up to four guests can sleep comfortably in the one-bedroom apartment, which features a luxurious king-size canopy bed and a comfy sofa bed, and convenient features like an in-unit washing machine and a home office make this a great option for longer stays. There is also a lovely private patio featuring a relaxing hanging swing and a lively selection of greenery, and the charming interior is characterized by an Indo-French-inspired design. The pantries are stocked with gourmet coffee and tea, and breakfast room service is available upon request, making this fabulous Airbnb in New Delhi a great choice for a relaxing getaway or a high-class business trip. 
What's more, the apartment complex is conveniently located near Galleria Market, Golf Course Road, and One Horizon Center. 
View on Airbnb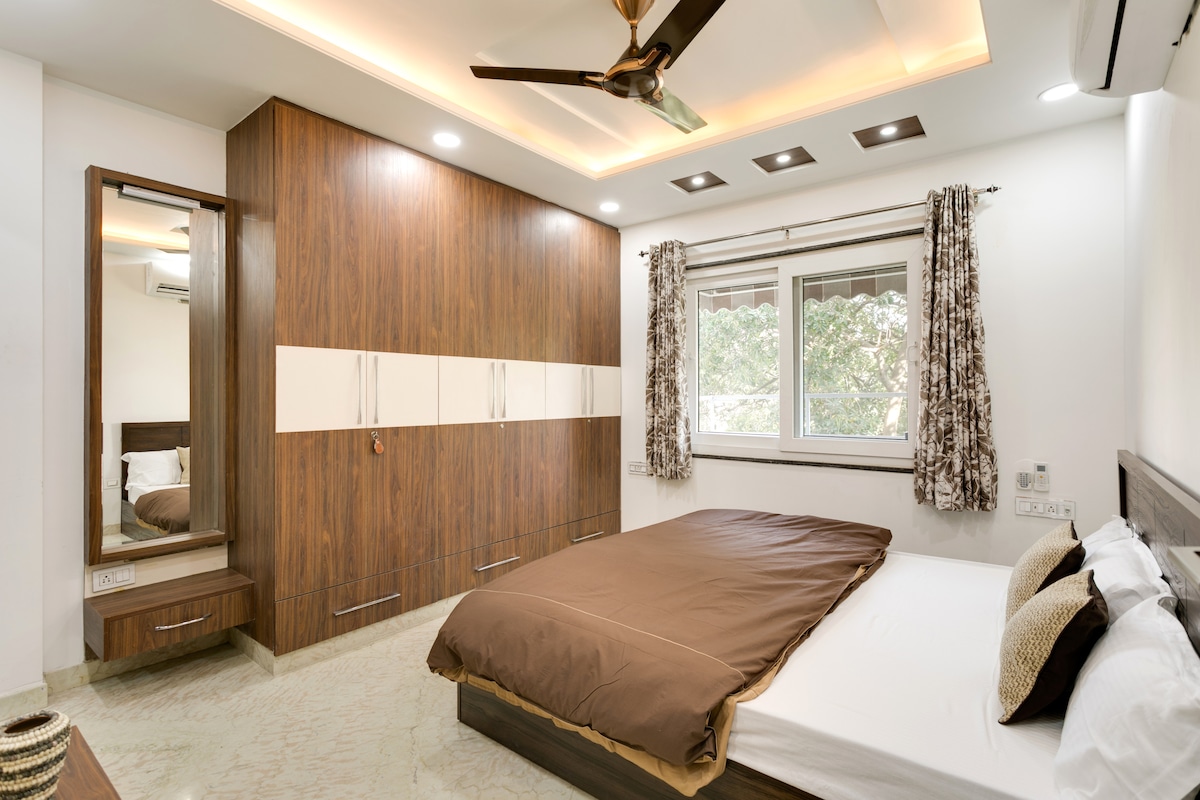 Brand-New Rental in an Affluent Neighborhood
If you're looking for a super-modern vacation rental with brand-new facilities and high-end amenities check out this fabulous Airbnb in West New Delhi. 
The two-bedroom, two-bathroom apartment is perfect for families and small groups of friends, and minimalist décor and sleek modern furnishings make the stylish interior feel incredibly relaxing. Each of the bedrooms is sparkling clean with marble finishes and spacious walk-in showers, and the rental comes with a well-equipped full kitchen with a two-burner stove and a stainless-steel refrigerator. When you feel like relaxing, sit back on the cozy sofa in the air-conditioned living room, which comes with a wall-mounted TV and a convenient center table. The apartment also offers a lovely private balcony with an in-unit washing machine, and right downstairs you'll find a fun playground with lush greenery and plenty of room for children to play. 
Conveniently situated in the high-end neighborhood of Janakpuri, this upscale New Delhi Airbnb is close to several popular destinations such as Rajouri Garden Market, Pacific Mall, and the airport. 
View on Airbnb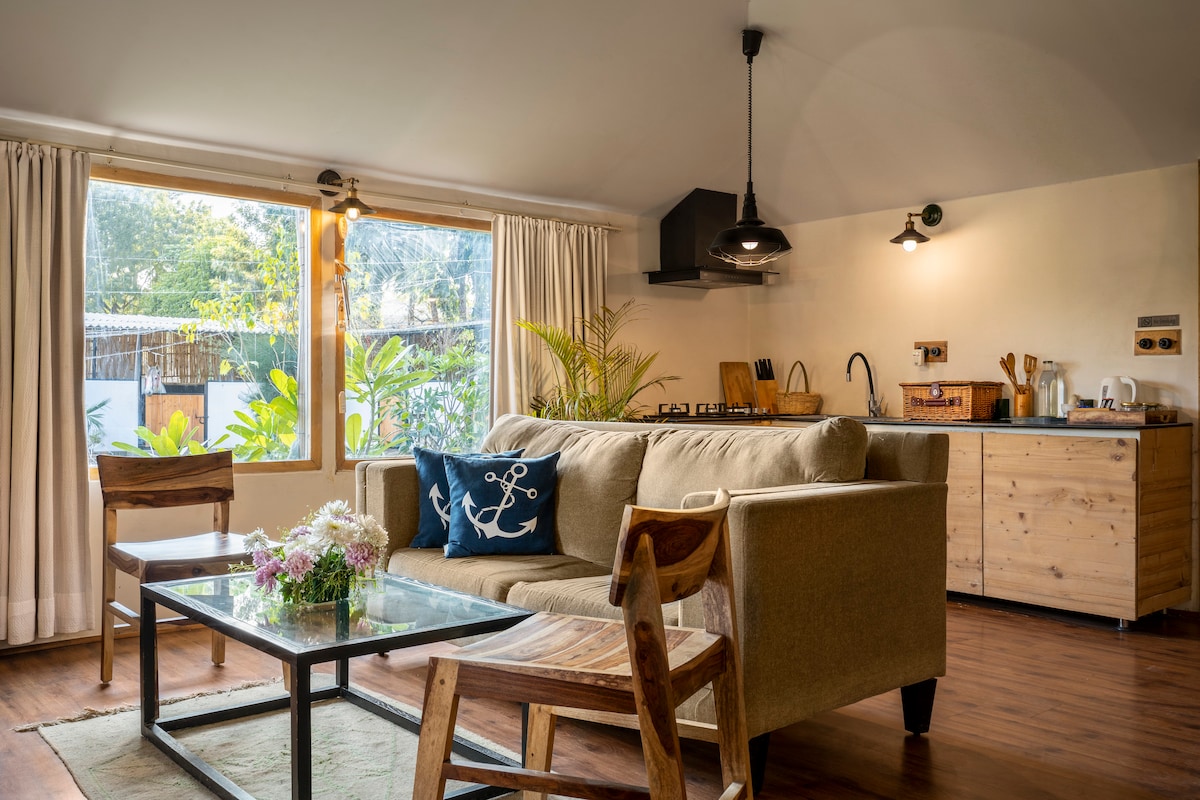 Peaceful Farm Cottage
Set on a two-acre horse farm surrounded by palm trees, this one-of-a-kind farm stay is one of the best New Delhi Airbnbs for a peaceful getaway in the heart of the city. 
Perfect for a solo adventure or a romantic couples getaway, the chic studio cottage combines sleek modern finishes with a distinct rustic charm. The space is furnished with a canopy double bed, a cozy sofa, and a convenient desk space, and the spa-like full bathroom boasts stunning stone finishes and a spacious walk-in shower. The cottage also comes with a well-equipped kitchenette, although the property does offer an in-house kitchen that serves three meals a day. 
This unique experience also comes with opportunities for horseback riding, visiting the stables, and enjoying romantic candlelit dinners on the spacious lawn. Although the property is calm and quiet, it is set right in the middle of the city and in close proximity to supermarkets, malls, restaurants, salons, and public transportation. 
View on Airbnb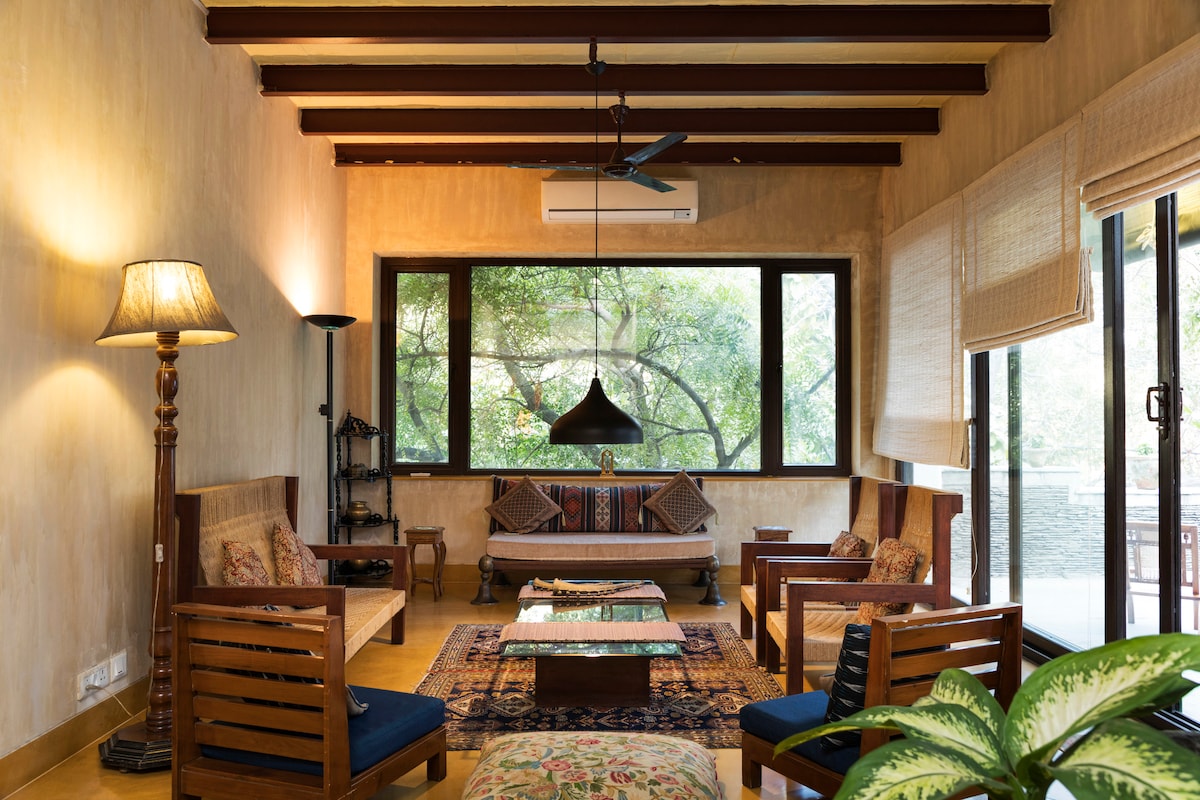 Central Apartment in a Private Oasis 
For another short-term rental in New Delhi with a central yet quiet location, consider a stay in this sunny apartment across from a park. 
With wood-planked ceilings, warm wooden furnishings, and vintage-style décor, the two-bedroom, two-bathroom apartment is stylish and welcoming. The spacious living room is surrounded by picturesque windows and features a cozy dining area and an open full kitchen with modern appliances and an eye-catching blue backsplash. Guests also have access to a private back deck off of one of the bedrooms and a charming outdoor courtyard surrounded by trees. Additional amenities include air-conditioning, an in-unit washing machine, and free parking on the premises. 
Step outside and take advantage of the tree-filled park across the street, or visit the several nearby markets, bookstores, and restaurants. 
View on Airbnb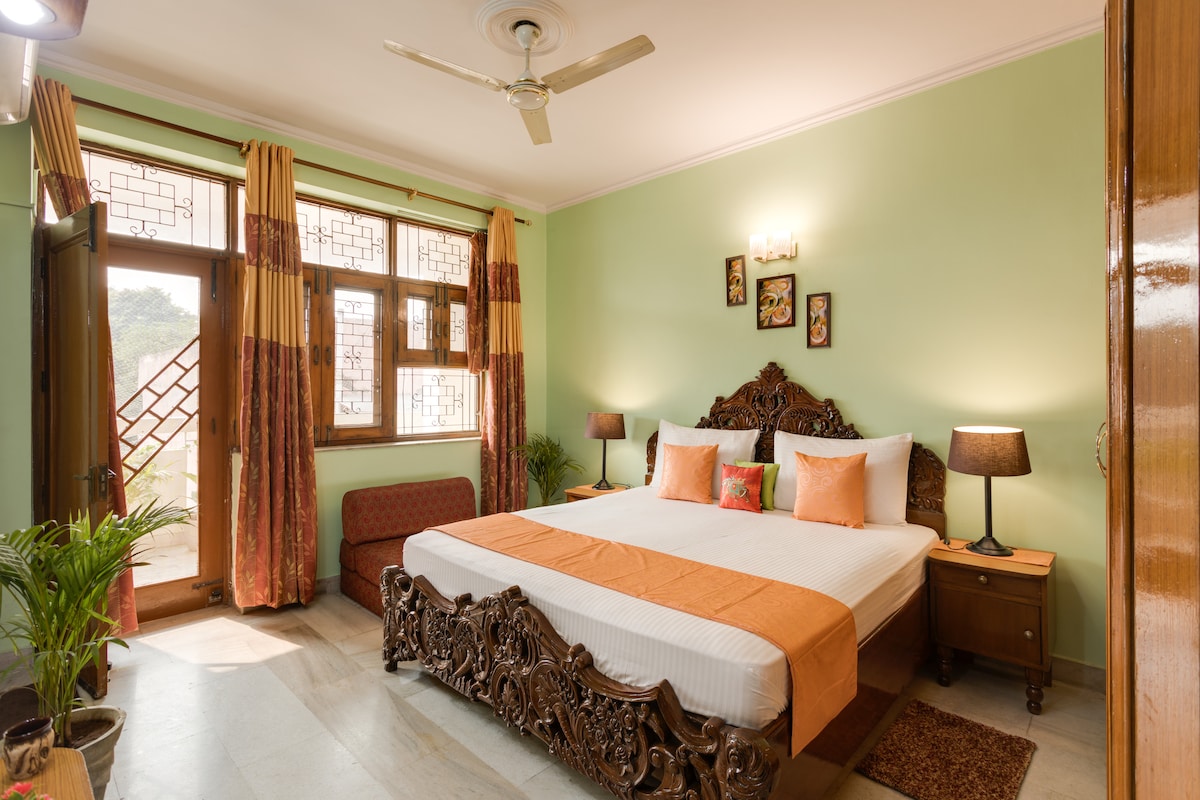 Top-Floor Apartment in Lajpat Nagar
This spacious third-floor apartment rental is set in a modern elevator building and comes with a charming private balcony. 
The three-bedroom, three-bathroom abode is furnished with two king-size beds and one queen-size bed and features an elegant interior with high-end furnishings and artistic wood finishes. The bedrooms are adorned with beautiful built-in wardrobes and stunning décor, and the luxurious living room is decorated with antique furnishings and stone finishes. There is also a fully equipped kitchen in the apartment, and additional amenities include a daily cleaning service, a TV, and air-conditioning. 
Lajpat Nagar is a super-safe community known for its lovely Central Market, making this an ideal Airbnb in New Delhi for families traveling with young children. There is also a nice jogging track and a convenient taxi stand right next to the property. 
View on Airbnb
Spacious One-Bedroom Rental in Hauz Khas Village
Nearing the end of our list is a luxurious vacation apartment for rent in New Delhi with a designer interior and a relaxing hot tub. 
Period furnishings and Spanish-style décor characterize the otherwise modern interior, and the spacious common areas are surrounded by picturesque windows and whitewashed exposed brick. The one-bedroom apartment is furnished with a comfy double bed, and there is an extra single bed and a sofa bed available for additional guests. With one full bathroom, one half bath, and a ton of open space, the 1,800-square-foot interior is well suited to solo travelers, couples, families, and groups of friends. There is also a full kitchen available in case you prefer to cook your own meals, and guests have access to a luxurious private terrace with lush greenery, a cozy outdoor dining space, and a hot tub. 
Hauz Khas Village is a desirable neighborhood at the heart of New Delhi, filled with fashionable galleries, trendy boutiques, and popular restaurants and pubs. 
View on Airbnb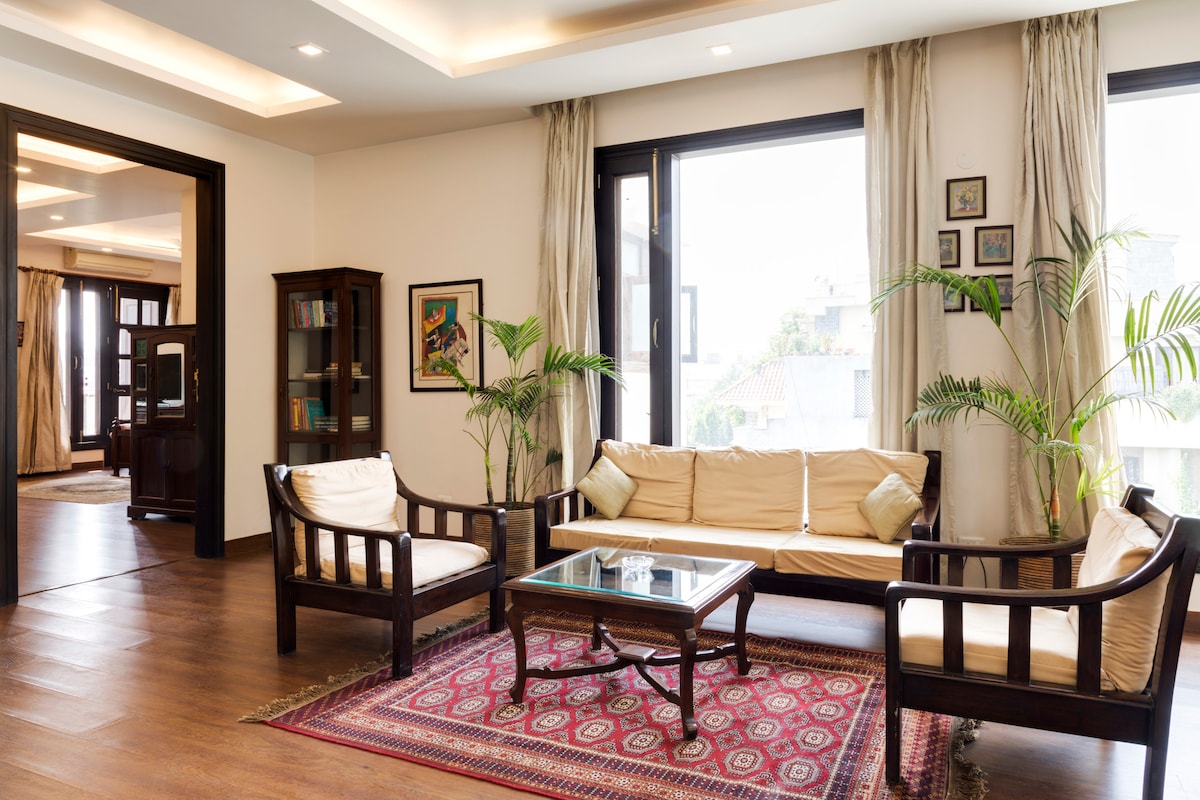 Upscale Bungalow in a Peaceful Neighborhood
Our last New Delhi Airbnb is set just outside of the city and makes the perfect respite for anyone interested in staying away from the hustle and bustle of crowded markets and popular urban attractions. 
Encompassing the entire second floor of a serene bungalow, the two-bedroom rental is equipped with two double beds and two extra floor mattresses, making it suitable for up to six guests. Each of the bedrooms comes with a private balcony, a Smart TV, and an en suite bathroom, and the rental comes with a large living room with a lounge area, a dining table, and an attached terrace. Guests also have access to a shared utility room with a washing machine. Additional amenities include a convenient kitchenette, baby gear and toys, and a portable hotspot on top of the free high-speed Wi-Fi. 
Set amid lush green farmland and beautiful bungalows, this tranquil Airbnb is still just 20 minutes away from the New Delhi airport and neighboring attractions.
View on Airbnb
The abundance of rental options in a bustling city like Delhi can make choosing a place to stay a bit overwhelming. Hopefully our list of the best Airbnbs in New Delhi helps you with your search and one of these fantastic rentals will soon be your perfect home away from home! 
Reader Interactions