Road Affair is reader-supported and may earn commission from purchases made through links in this article.
Located in the Valley of Mexico, Mexico City is full of life and culture. The city as we know it dates back to the 1300s and was home to the Aztecs for hundreds of years. Today, people travel there for music, food, and a glimpse of the many churches, palaces, ruins, and museums that celebrate the history of the area.
If you're going to be touring a city as large as this one, you'll need an excellent place to stay, which is why we've compiled a list of the best Airbnb rentals in Mexico City. To be completely sure we're only recommending the best, all of the featured rentals are run by superhosts, who have an excellent record of service and top reviews. Additionally, some of them are also members of Airbnb Plus, which means the location has been inspected by a member of Airbnb staff for quality.
Related: The Ultimate 3-Day Mexico City Itinerary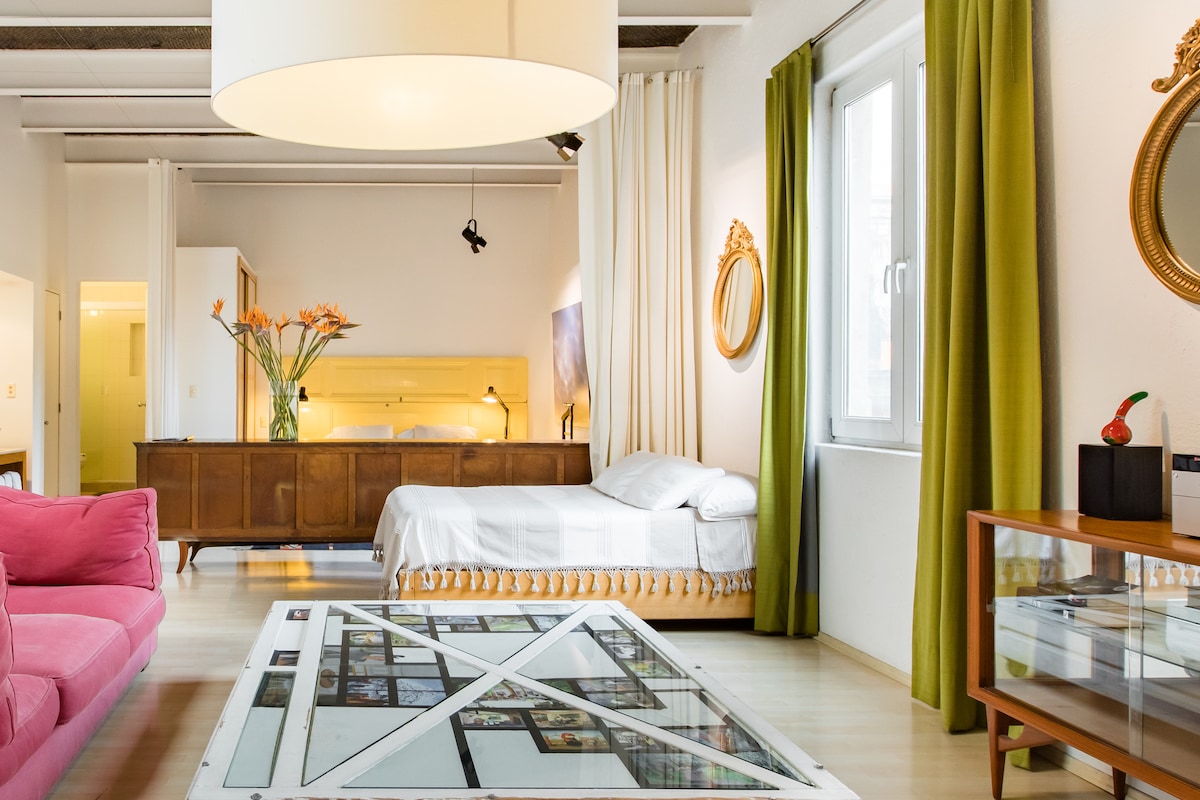 Elegant Loft on Madero Street
Located right on the edge of Mexico City's historic center, this loft is perfect for anyone looking to explore the city's rich background. Additionally, this Mexico City Airbnb has high ceilings, lots of color, and room for up to four guests.
Bedroom and living room areas are laid out in studio-style. The first bedroom area has a king-size bed with nightstands and a combination of white and pale yellow details. It's divided from the rest of the loft by a soft white curtain for privacy. The second bedroom area has a queen bed set near a half-wall partition to also add some privacy. The living room has a bright fuchsia couch, a glass-top coffee table, and windows with olive green curtains. 
In the bathroom, you'll find a bowl-style sink, as well as a walk-in shower with soap, shampoo, and conditioner dispensers mounted on the wall. The kitchen has all the basic appliances you'll need for creating a great meal, including a toaster oven, full-size fridge, microwave, electric kettle, coffeemaker, and purified water dispenser. There's also a formal dining room, with a dining table that can seat four in stylishly mismatched chairs. 
View on Airbnb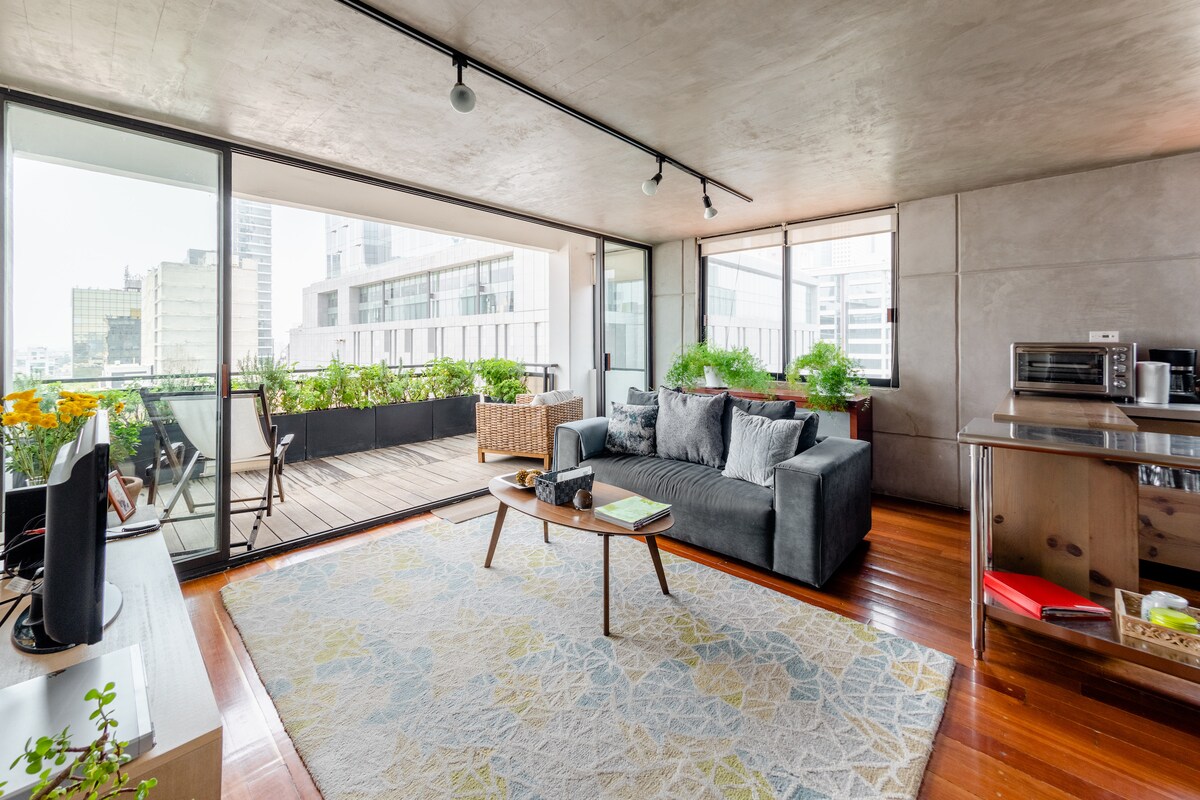 Industrial-Inspired Escape With Terrace
If you're looking for rental apartments in Mexico City in hope of finding something with more modern, interesting style than a typical hotel, this apartment could be a perfect option for you. Here, concrete and steel are artfully crafted into a beautiful industrial space perfect for a couple or a solo traveler.
The kitchen has a stove, toaster oven, full-size fridge, stainless-steel food prep area, and a chalkboard wall to help you take notes on recipes or just doodle while you wait for your food to cook. A dining nook provides a sleek white table and chairs. A big plush couch and an oversized chair face the smart TV in the living room, perfect for enjoying the apartment's sound system while watching the latest movie. 
In the bedroom, a king-size bed is placed in one corner, with avant-garde art hung on the walls. A bathroom is connected and includes two separate vanities and a glass door walk-in shower. The true gem of this Airbnb in Mexico City, however, is the terrace, with a wood floor and a plant wall for privacy. You'll be able to enjoy the open sky and fresh air and even open the glass panel wall of the apartment to create an indoor-outdoor hybrid space. 
View on Airbnb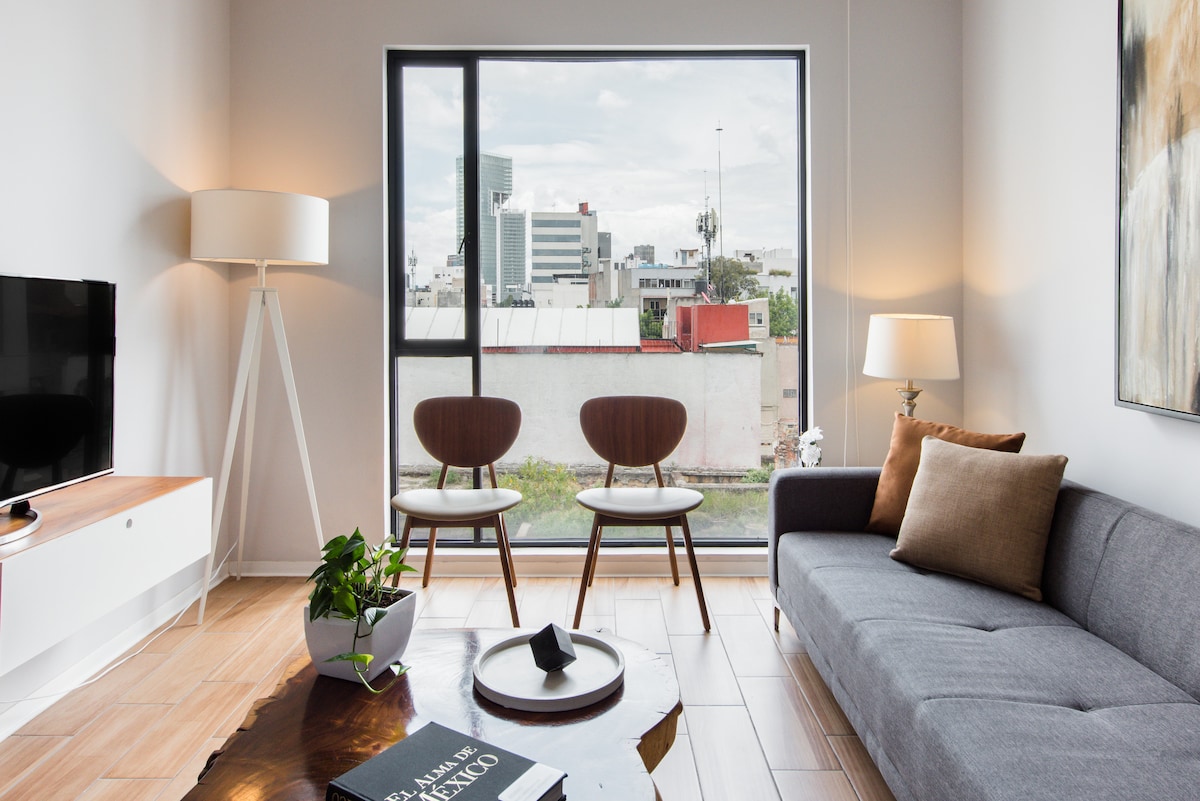 Sleek Modern Apartment
This beautiful apartment is excellent for anyone looking for a place that feels chic and sophisticated without seeming over-the-top. With a predominantly white-and-grayscale color scheme and clean lines, it's easy to see why this is one of the best Airbnbs in Mexico City.
The building has a laundry room and gym available for you to use, plus 24/7 security. Inside the apartment, a TV with streaming services is situated across from a comfy couch in the living room. A picture window on one wall provides tons of natural light and an excellent view of the city. In the kitchen, you'll find an oven, stove, full-size fridge, and a breakfast bar that seats three people. 
The bathroom has a large, tiled walk-in shower. In the bedroom, you'll find a queen-size bed, a full-length floor mirror, and another picture window, so you can fall asleep counting the stars and wake up to warm sunlight. For even more sunlight, head out to the porch, where you'll find decorative plants, benches for sitting, and another great view. 
View on Airbnb
Bright Minimalist Apartment With Street Views
This apartment is skillfully designed to pair minimalist elements with color and personality to create a space that's cheerful and welcoming but also uncluttered and open. With lots of windows, a great view of the street, and room for up to four guests, this Mexico City Airbnb is absolutely worth taking a look at. 
The living room has a big couch and a coffee table, great for relaxing conversations. There are two very big picture windows, but don't worry about noise from the city outside as double glass panels help soundproof the room. For meals, there's a full kitchen complete with a fridge, stove, and microwave. The breakfast bar and dining table can both seat four people.
In the bathroom, you'll find a walk-in shower. Frosted windows along the top of an outside wall provide ventilation. There are two bedrooms, both with room-darkening shades and smart TVs. One bedroom has a queen-size bed, and the other has a king-size bed but can be changed to two single beds if requested. The building also has a shared laundry room, as well as a shared terrace with a barbecue grill and a glass-top picnic table.
View on Airbnb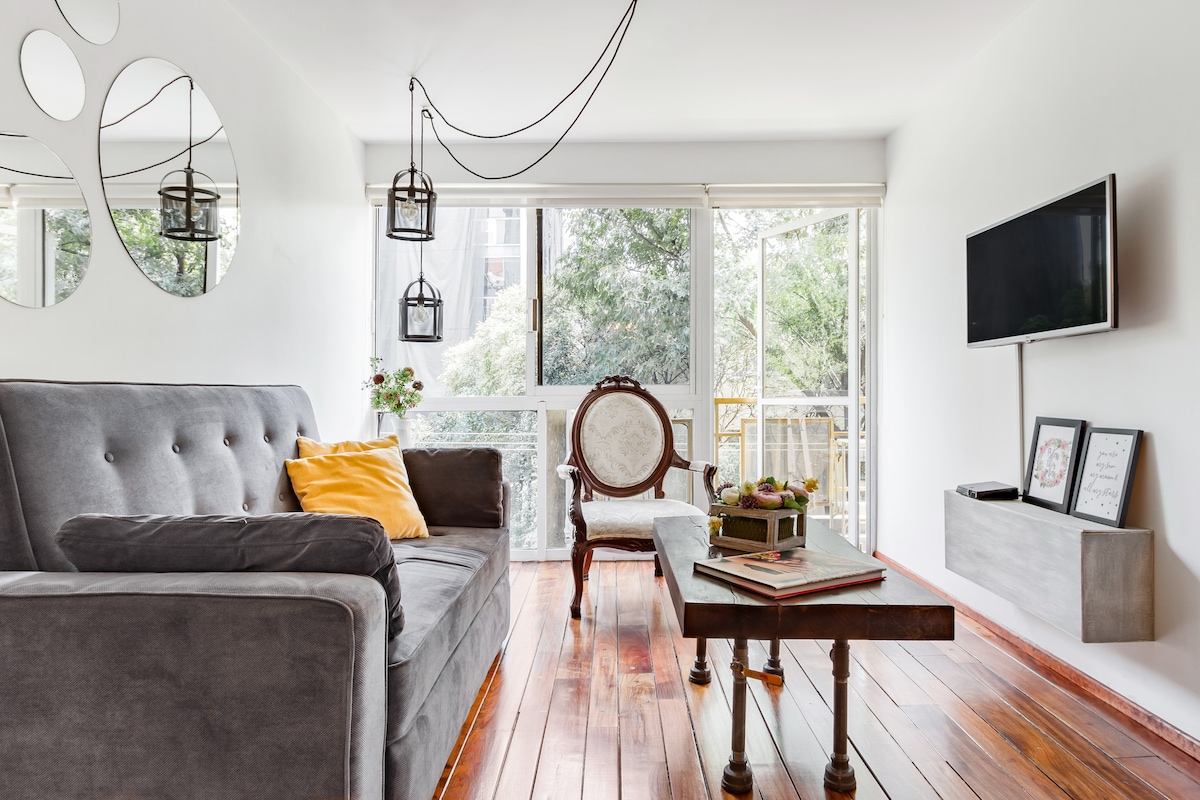 Light-Filled Shabby-Chic Retreat
This two-bedroom apartment is perfect for anyone looking for exceptionally cozy vacation apartments for rent in Mexico City. It has room for up to four guests and is filled with unique design choices that give it a homey feel. 
The first bedroom has a queen-sized bed, plus nightstands with reading lamps and a big floor-to-ceiling window. In the second bedroom, you'll find two single beds and an assortment of rustic wood-and-metal lighting to give the room a warm glow. The shared bathroom has a walk-in shower with patterned tiles and a glass door.
In the kitchen, there's a refrigerator, stove, coffee maker, blender, and toaster. There's also a breakfast nook that seats two. The formal dining room also has seating for two, along with an artsy chandelier and paintings on the wall. Behind the dining area is the living room, where you'll find a big couch, an intricately carved chair, and a smart TV.
View on Airbnb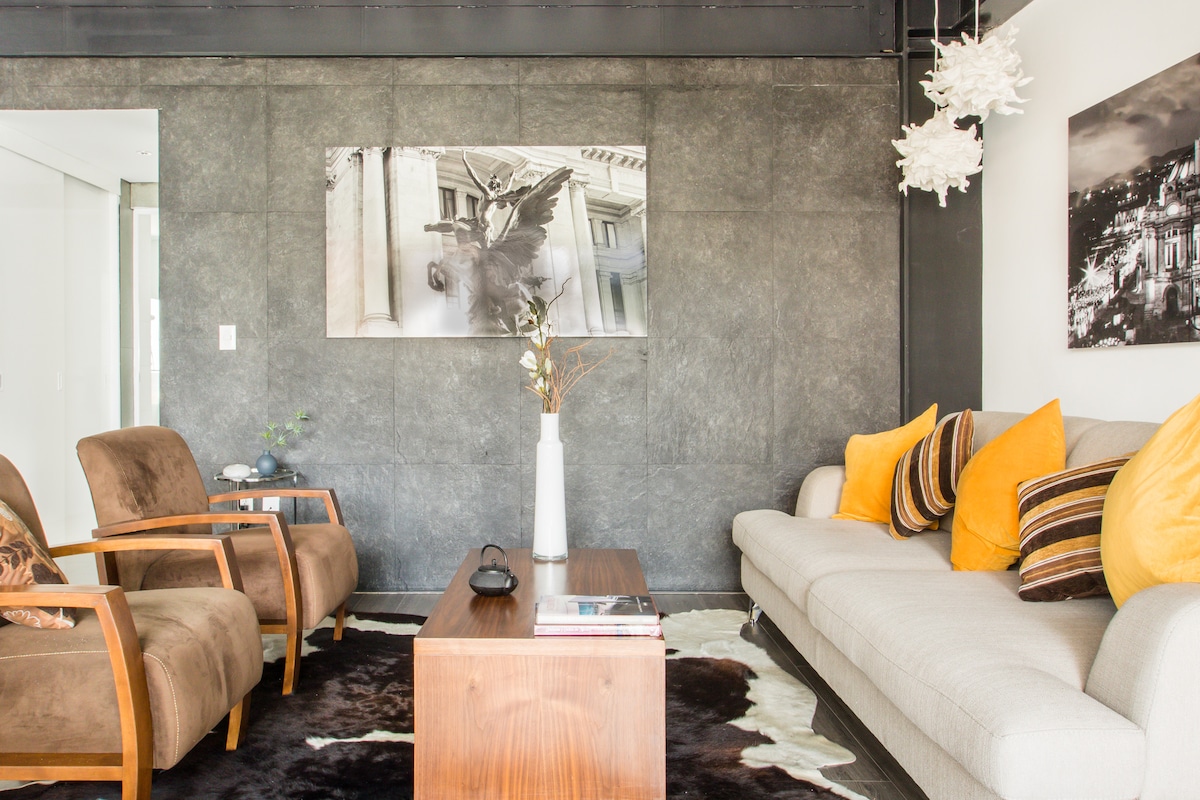 Refined, Elegant Apartment With Balcony
Located between the historic center of Mexico City and Chapultepec Park, this apartment is close to museums, historical sites, shopping, dining, and all the excitement of a bustling city. 
The bedroom is almost all-white, with orange accents bringing a splash of color to the queen-size bed's many pillows. Black and white nature photography hangs above the headboard, and nightstands sit on either side of the bed. The bathroom is all-white as well and has a large mirror, double vanity, and a walk-in shower.
In the living room, a couch and two armchairs face a coffee table in a setup perfect for facilitating conversation or having a board game night. Beside the couch is a wooden work desk and padded chair. You'll find all the appliances you need for any type of cooking in the full kitchen, and for meals you can seat four in the dining room or two on the balcony.
View on Airbnb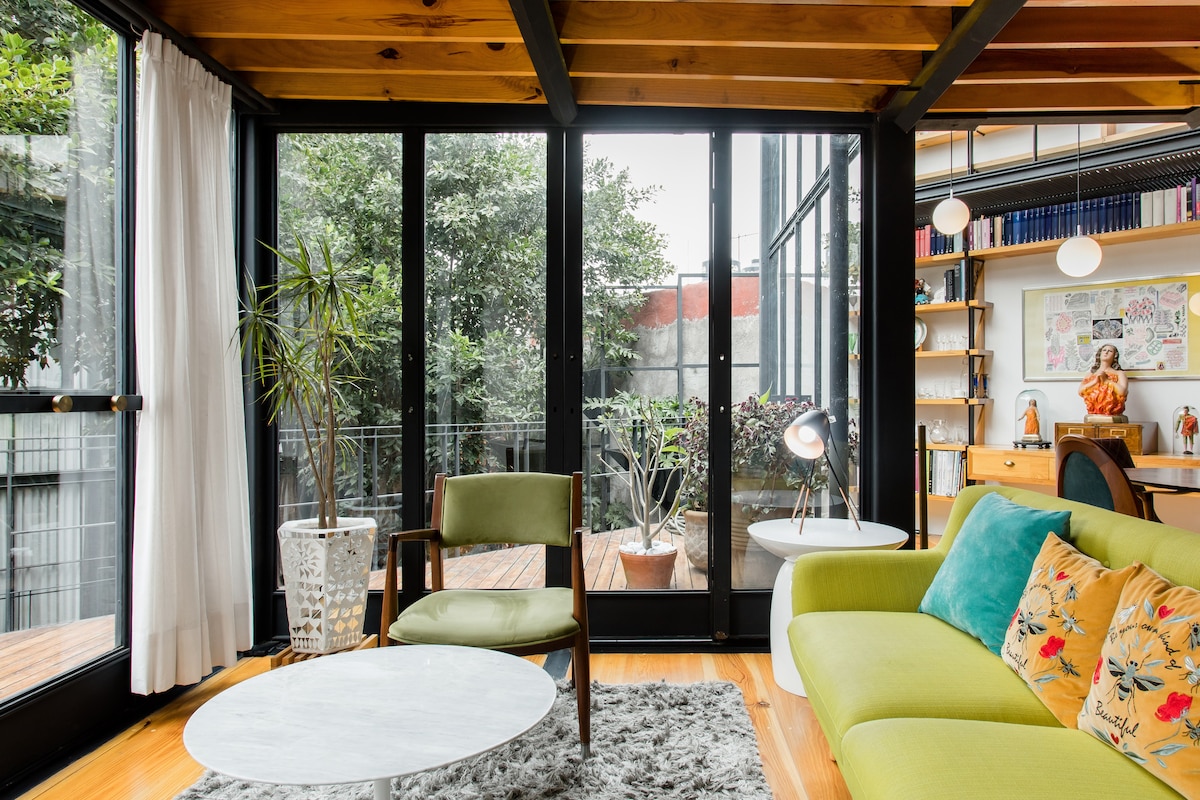 Trendy, Colorful Apartment With Terraces and Library
The highlight of this apartment is certainly the myriad of bookshelves lining the walls in almost every room, but there are even more unique, incredible gems waiting for you here. With room for two guests, this apartment is perfect for a solo traveler or couple hoping to find an exceptionally memorable vacation rental in Mexico City.
The elevated bedroom has a king-size bed, two chairs, and a huge bookshelf. Golden, polished natural wood adorns walls, floors, and furniture, with black metal accents present in safety railings and window frames. By the bookshelf, a floor-to-ceiling window lets in tons of natural light. Windows like this one are present in the combination living and dining room as well, where you can enjoy a garden view while lounging on the couch, watching TV, or eating lunch. 
There's a breakfast bar in the kitchenette that provides a second dining area, and the kitchen is equipped with a stove, microwave, and coffee maker. In the bathroom, a marble stone sink adds some gorgeous detail, and a hair dryer and iron are provided.
View on Airbnb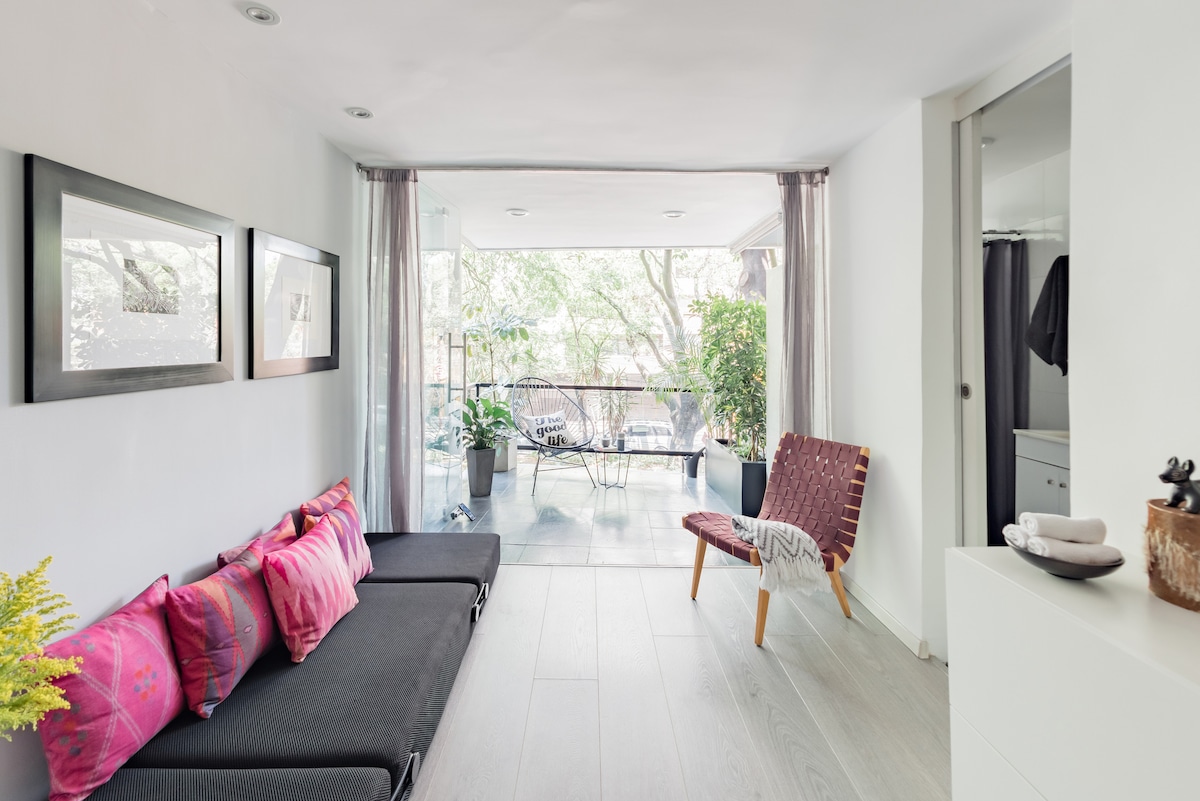 Airy, Romantic Loft With Balcony
In this rental, bright whites and pink accents create a welcoming space for up to two guests to unwind after a long day exploring. Whether you're hoping for a romantic getaway or just want to take some good photos while on vacation, this Airbnb in Mexico City will have you feeling fresh and fancy.
The bedroom has a double bed with lots of extra pillows. A wall-mounted TV has streaming services, so you can snuggle up for your favorite show, and high-positioned windows let in lots of light without compromising privacy. The full bathroom is connected to the bedroom and includes an adjustable showerhead. 
In the living room area, floor cushions create a couch-like lounge space. A full kitchen includes basic appliances, plus a dining table for two. If you'd rather enjoy some time outside, the covered balcony has decorative plants, lounge furniture, and a great view of the street below.
View on Airbnb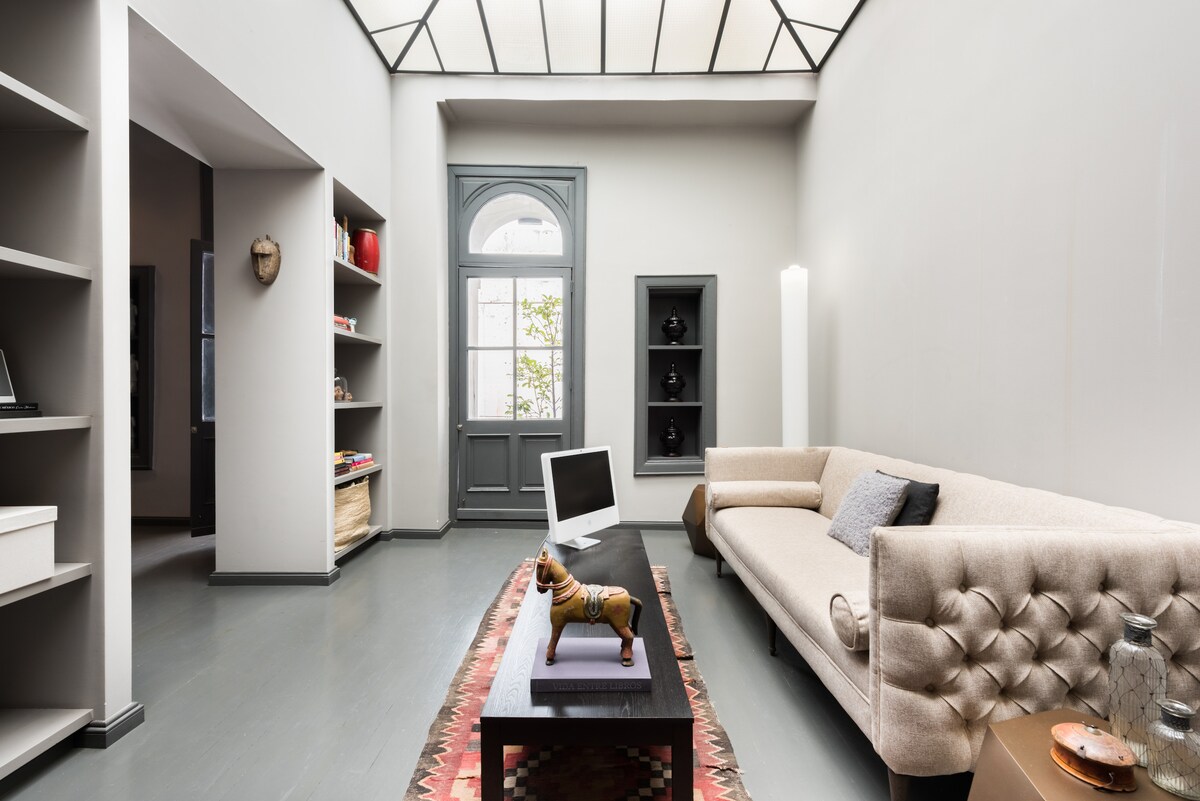 Stylish, Private Hideaway
Designed to evoke feelings of tranquility and comfort, this Mexico City Airbnb is an excellent place for those seeking a place to stay that feels extra private and snug. 
The plush couch faces a small table monitor in the living room, great for watching your favorite show or connecting a game console. In the kitchen, there's a stove, fridge, and dishwasher, and a black stone backsplash and countertops provide striking visuals and also create a space with easy cleanup if you're planning on cooking a lot. The dining room has seating for four and is adorned with nature-oriented art pieces.
The full bathroom continues the stone look with sleek black walls for the sink and a large walk-in shower. In the bedroom, you'll find a king-size bed, a wall-mounted TV, and extra blankets. And pay close attention to the decorations through the home, as details like rugs and sculptures reflect the arts and culture of Mexico.
View on Airbnb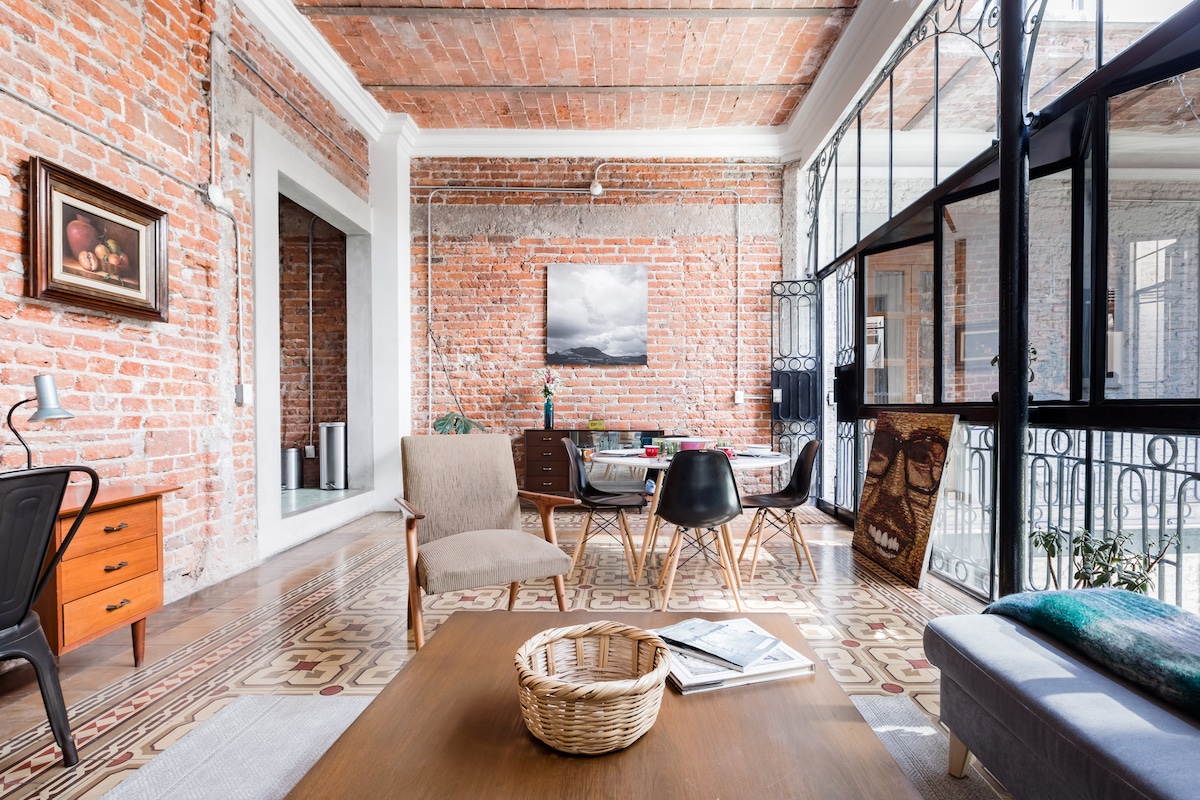 Restored 1940s Art Deco Apartment
If you're a fan of vintage art and colorful spaces, consider renting an apartment in Mexico City that really captures those interests in both history and décor. With red-brick walls and custom-designed windows, this apartment is sure to capture an artist's imagination.
The kitchen has a stove, oven, blender, and a French press-style coffee maker, and windows above the kitchen sink open for extra ventilation. A round dining table nearby seats four and is situated next to zig-zag cutout windows and a wrought metal door that lend the room a garden veranda feel without exposing you to the weather. 
The living room has a couch and chair for relaxing, and a desk for any work you'll need to do while traveling. In the bathroom, you'll find a walk-in shower with cool gray stone walls and a rain-style showerhead. The queen-size bed sits in the bedroom, where a tall glass door opens to a small private terrace. The building's shared outdoor common area is also available, and features stonework, greenery, and a fountain.
View on Airbnb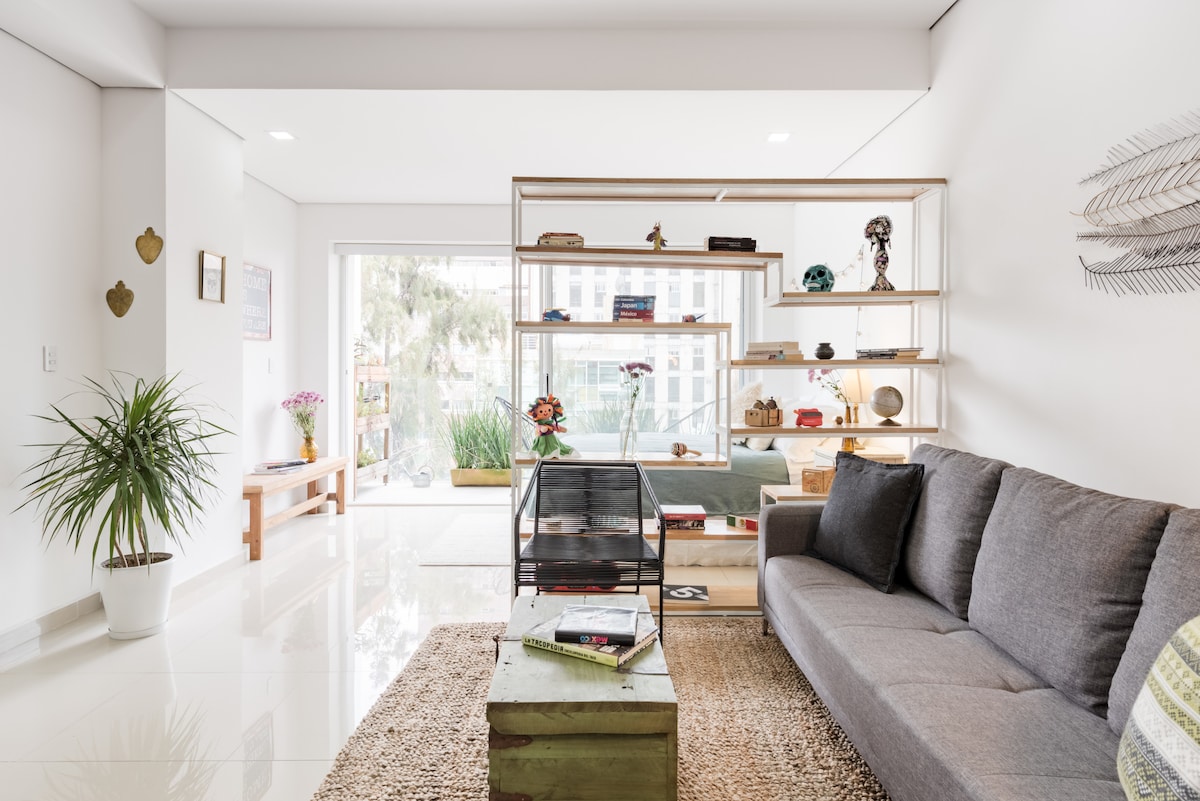 Cozy, Warm Apartment With Balcony and Pool
This apartment is a great option for up to three guests seeking that home-away-from-home type of Airbnb in Mexico City. Located in a building with some extra amenities, this apartment has a classic, lived-in feeling that'll help you rest easily at the end of a long day.
You'll be excited to snuggle down into the queen-size bed's pillow-top mattress in the bedroom area, where string lights and floral accents give it a homey glow. The bathroom has a walk-in shower with a rain-style showerhead, a washer and dryer, and wood-paneled wall accents. 
In the living room, you'll find a couch that pulls out into a second bed, and a TV with streaming services included. A small kitchen provides a microwave, minifridge, stove, blender, and coffee maker, and a table and two chairs act as a dining area. The balcony faces in a direction that receives colorful sunlight from both sunrise and sunset, so it'll be the perfect place to lounge for your morning coffee or evening cocktail. In the common spaces of the building, you'll have access to a gym, a swimming pool, and even a sauna, giving this apartment all the perks of a resort with much less stress on your wallet.
View on Airbnb
Expansive Apartment With Sweeping Views
This home is a fantastic example of short-term apartment rentals in Mexico City that have way more personality and character than a typical hotel or resort would. It has room for up to four people and is ideal for a small family or a group of friends who are looking for a unique place to stay.
The living room has a couch and two large armchairs that face slatted wooden tables and a TV. The room also holds a dining area, where six chairs sit around a rectangular stone table. One entire wall consists of floor-to-ceiling windows, providing an incredible view of greenery outside and bits of city skyline. There's a second dining space in the kitchen, with two stools positioned in front of a breakfast bar. A stove, oven, microwave, and fridge are available as well. If it's a sunny day, consider taking your breakfast out to the rooftop garden, where open sky and more great city views await.
There are two bedrooms, both with queen-size beds. One bedroom includes room-darkening shades for the windows, and the other has a travel crib available for little ones. Two full bathrooms have walk-in showers and rain-style showerheads, and a half bath provides an extra place to get ready in the morning. 
View on Airbnb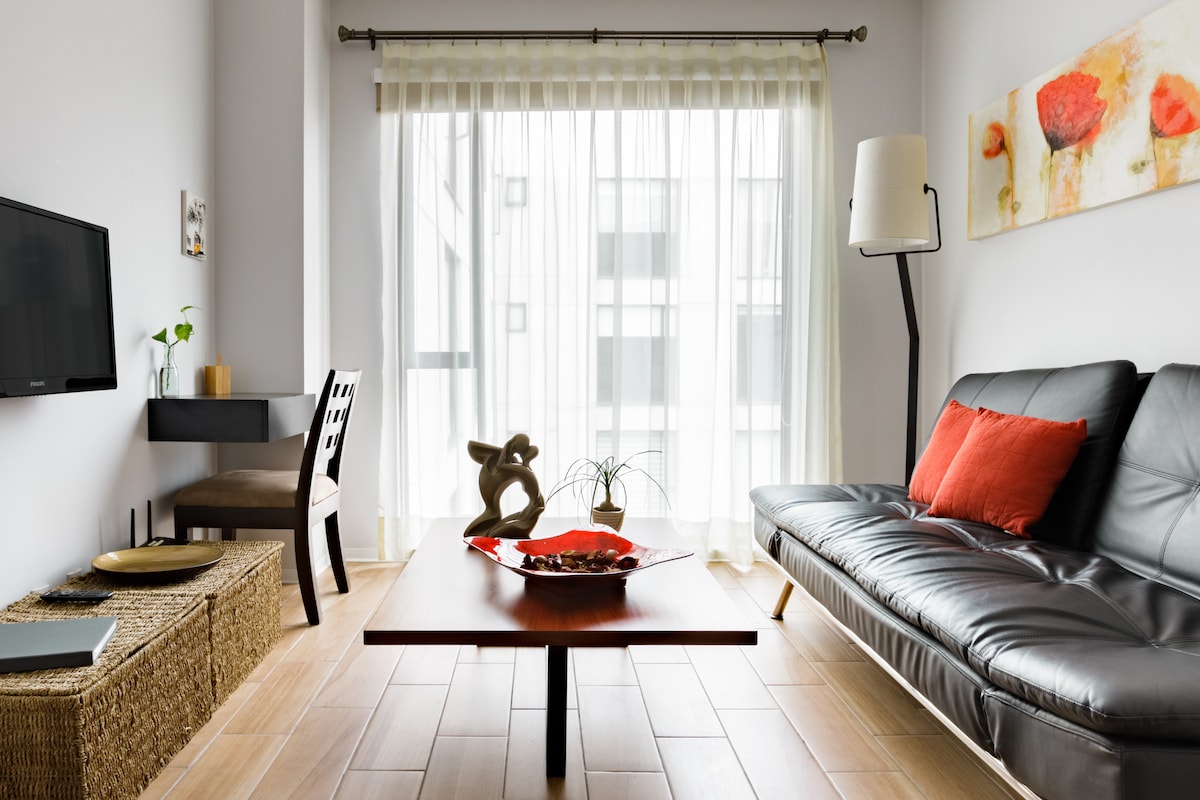 Classic, Clean Apartment Near City Center
With comfy furniture and simple colorful embellishments, this Airbnb in Mexico City is exactly the type of home you might picture when imagining a classic apartment. It has room for up to four guests and provides everything you need for an easy, uncomplicated trip.
The bedroom's queen-size bed sits between night stands with reading lamps, and a TV is mounted on the opposite wall. In the bathroom, colorful towels bring warmth to an all-white design, and the shower has a rain-style showerhead. 
A leather futon-style couch in the living room provides some extra sleeping room and faces a second TV with provided streaming services. A table and chairs seat four in the dining room, and a stove, espresso machine, toaster oven, and fridge give you the opportunity to cook some tasty meals in the kitchen. Common spaces in the building provide access to an exercise room, a terrace with skyline views, and laundry facilities.
View on Airbnb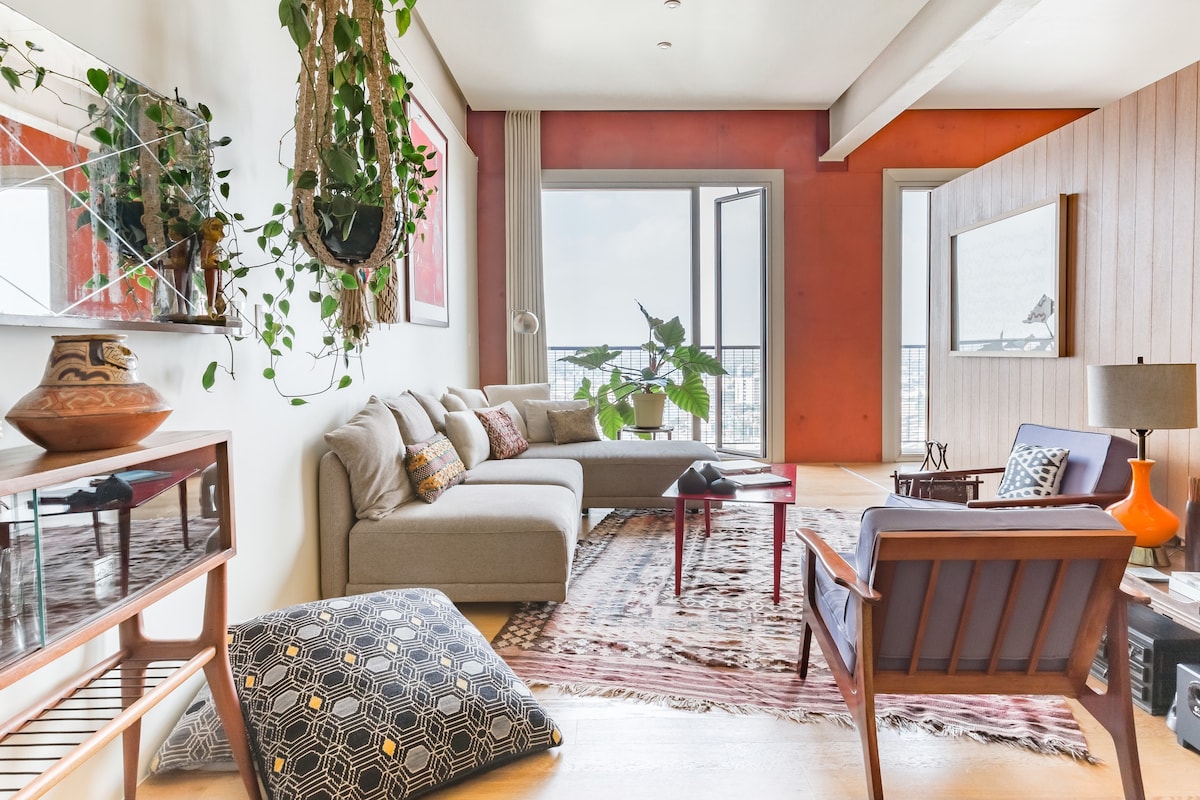 Arty Loft With Rooftop Pool
Novelty lighting, colorful accents, and plants come together in this home to make an energizing ambiance. It has room for two guests and is located just west of the city center, making it a fantastic getaway spot.
In the kitchen, a fridge, blender, stovetop kettle, gas cooktop, and oven are all available for you to cook a great meal. The dining room has chairs for five people set around a round table, with a starburst chandelier hanging above and geometric art on the wood-paneled wall. A sound system is connected to the TV in the living room decorated with wooden furniture and red accents, where a sectional couch pulls out into a bed for extra sleeping space. A door from the living room leads out to a balcony.
In the bedroom, you'll find a king-size bed, another door to the balcony, wood-paneled walls, a red tapestry, and a desk and chair that can serve as a vanity or a workspace. The en suite bathroom has stone walls, a metal sink, and a walk-in shower with an adjustable showerhead. There's also an additional half bath with a similar décor scheme. The building has a rooftop pool with lounge furniture and a trellis-style ceiling to let in some sunlight but also give some protection. There's also a gym and an outdoor terrace with plants and benches.
View on Airbnb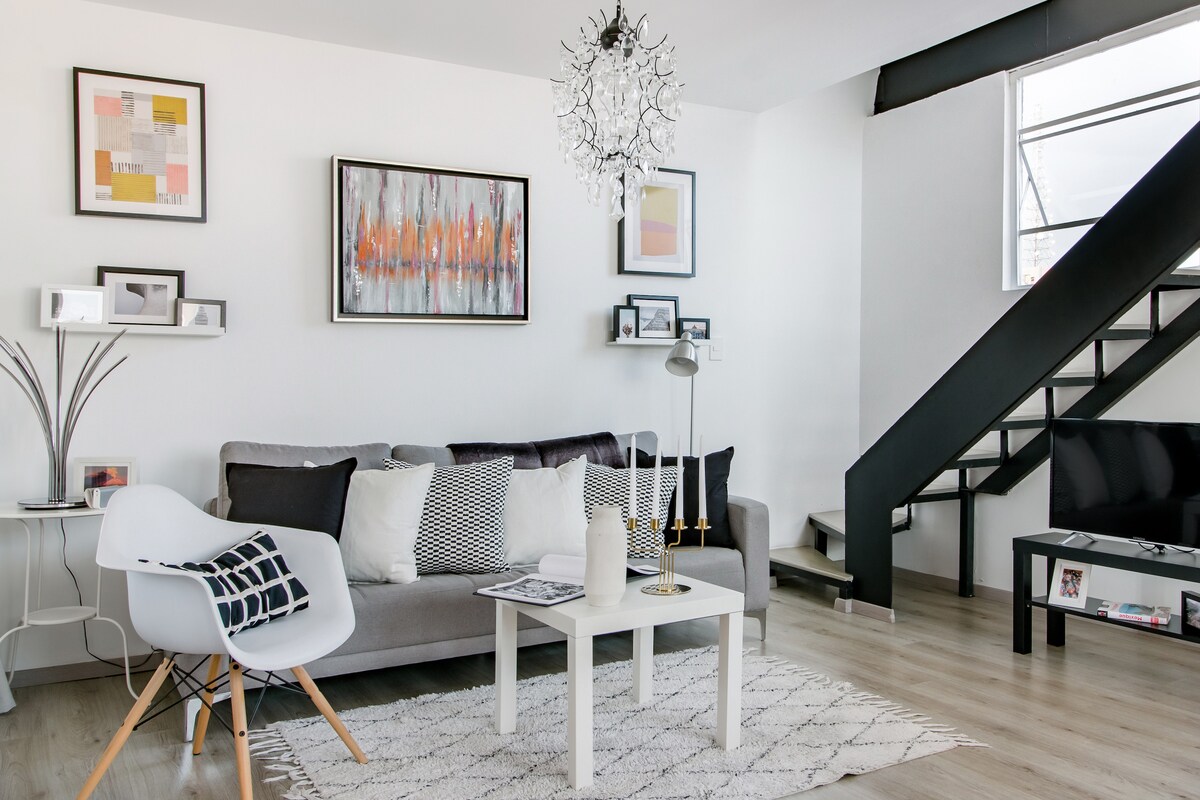 Luxury Penthouse With Rooftop Terrace
If you're traveling with family or friends, you might be hoping to find a Mexico City Airbnb with room for several people. This penthouse apartment suite is an excellent option for groups as it has two bedrooms and can accommodate up to five guests. 
The first bedroom has a queen-size bed, and its floor-to-ceiling windows look out on a private balcony and let in lots of natural light. The second bedroom has a double bed, and an adjustable reading lamp is mounted on the wall beside it. Both bedrooms have en suite bathrooms which include tiled walk-in showers.
In the kitchen, there's a stove, electric kettle, coffee maker, toaster oven, and microwave. A breakfast table can seat four. The living room has wall art, a gray couch with plenty of black-and-white throw pillows, and a smart TV. You'll find another table and chairs on the terrace, along with an umbrella to keep the sun off, a hammock for afternoon naps, and some greenery and flowers.
View on Airbnb
No matter the nature of your trip, Airbnb will have an excellent place for you and your party to stay in comfort. With this list of the best Mexico City Airbnbs, you can be one step closer to planning your next incredible adventure.