Road Affair is reader-supported and may earn commission from purchases made through links in this article.
Darwin, the capital of Australia's Northern Territory, is more widely known as the gateway to the outback. It is also home to the world's oldest living culture, the Aboriginal Larrakia. Darwin's city streets and museums, such as Austin Lane and the Museum and Art Gallery of the Northern Territory, showcase the Aboriginal artwork of this tribe and create a unique experience for visitors. Tourists also enjoy dining, shopping and swimming at both Mindil Beach and Darwin Waterfront Park. 
Whether you are searching for luxury, comfort, or uniqueness in an accommodation, our list of the best Airbnbs in Darwin has ideal rentals for every traveler. All Airbnbs listed below are rented by superhosts to ensure you get the best of the best for your vacation. For those unfamiliar with Airbnb, superhosts are rental owners who have a remarkable history of hospitality.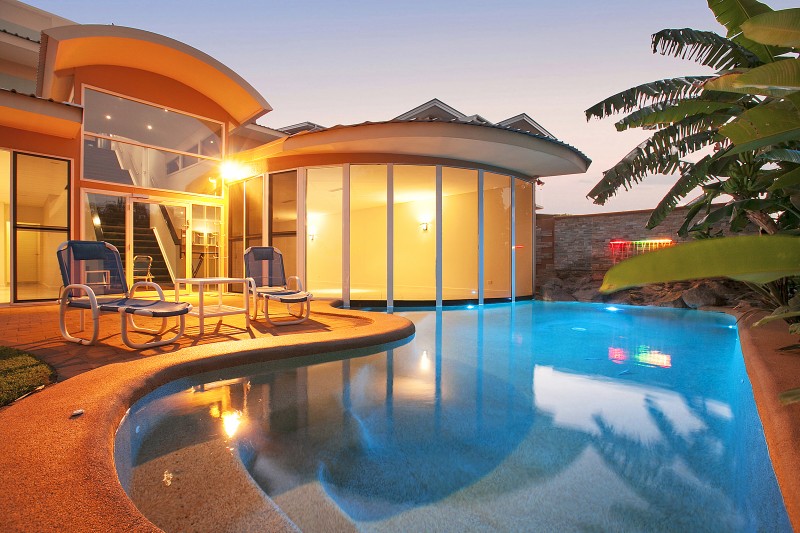 Luxury Mansion in Bayview Harbor
If you and your mates have ever dreamed of renting an extravagant mansion, then superhost Sue's house rental in Darwin is the answer to those dreams. 
This three-bedroom rental can accommodate eight guests and is perfect for large groups or families. All three rooms can be arranged to have two single beds or one king-size bed, and all of the rooms have an en suite bathroom, lounge, and kitchenette. The third room also has a double bunk bed, and two cots are also available. 
There are many unique touches to this home that bring this luxurious rental to the next level. Guests will find fresh-cut flowers, Sheridan ultra-light cotton robes, and complimentary hand soap throughout the house. All the bedrooms are decorated with beautiful aboriginal art prints from local artists, and the home is stocked with toys, dinnerware, cribs, and much more for families. 
The backyard of this beautiful mansion is a tropical oasis. It has a large saltwater pool with a waterfall, lush gardens, a barbecue, lounge chairs, and a patio dining set. The entire yard is also fenced in, so your furry friends can have free rein of the green space. 
View on Airbnb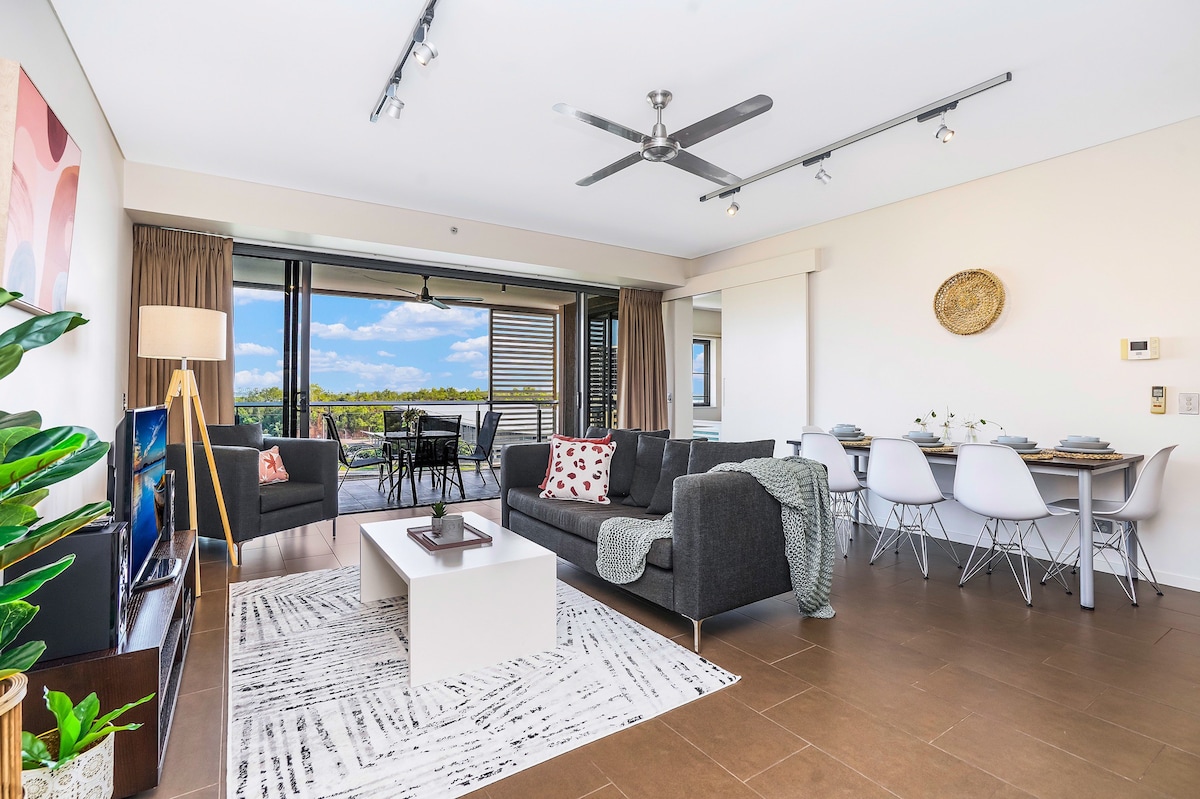 Modern Apartment Beside Darwin Waterfront Precinct
Not only is this apartment spacious and beautiful, it is also right beside some of the best attractions and activities the city has to offer. Take one look and you'll see it's a no-brainer that this is on our list of best Airbnb rentals in Darwin. 
This Darwin Airbnb is located right beside the Darwin Waterfront Precinct – an oceanside development with trendy restaurants, bars, a wave pool, an aqua center, and a sand beach. It is also within walking distance of the Darwin Bus Interchange. 
Inside this tropical, one-bedroom apartment, there is a full kitchen, plenty of comfortable seating, and a washer and dryer. The bedroom has a queen-size bed and is decorated in light blues, giving it a pleasant coastal vibe. The living room is bright and modern, with lush green plants around the space. There is also a large dining table. 
Perhaps the best part of this vacation rental in Darwin is the patio. The ocean view from this space is unbeatable, and since the apartment is on the seventh floor, guests have panoramic views of all the action below. The patio space is covered and is very spacious. It has a ceiling fan to stay cool, as well as plenty of seating options to sit back and enjoy the sunset.
View on Airbnb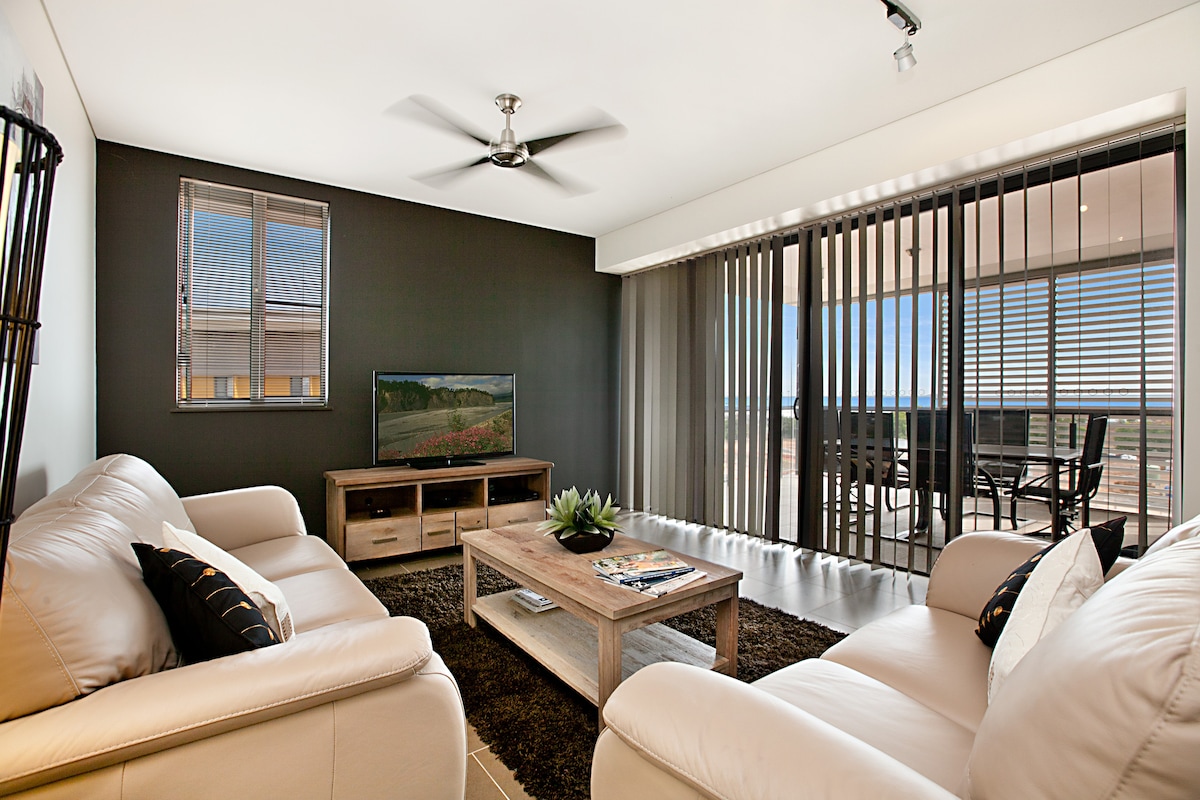 Spacious Two-Bedroom Apartment
This spacious and modern two-bedroom apartment is also located beside the Darwin Waterfront Precinct. However, this Airbnb in Darwin can sleep four guests.
Both bedrooms in this rental have wall-to-wall built-in closets and queen-size beds. In the second bedroom, the queen-size bed can convert into two single beds. The entire living space is decorated with comfortable and modern furniture, while floor-to-ceiling windows allow for plenty of natural light. The bathroom is accented with natural wood tones, creating a relaxing space to enjoy a rinse in the walk-in shower.  
Guests of this apartment will have access to free on-site parking and complimentary breakfast provided by superhost Anthony. Anthony has also provided a stroller, cot, change mat, baby bath, and high chair for families with little ones.  
After a day on the water, guests can relax on the large patio and enjoy ocean views with a glass of wine. Alternatively, guests can enjoy a drink at the many nearby bars and restaurants. Many tourist attractions are within walking distance of this rental, such as the World War Two Oil Storage Tunnels, Crocosaurus Cove, and the Aboriginal Fine Arts Gallery.
View on Airbnb
Stylish Beachfront Studio 
Perfect for couples or solo travelers, this stylish studio located in the Nightcliff neighborhood is ideal for those who want easy access to the beach. 
This vacation apartment for rent in Darwin has everything you need for a relaxing holiday. This rental has a pleasant amount of space for a studio, with the bonus of a patio overlooking the beach. A day in the water can work up quite an appetite, which is why guests of this Airbnb enjoy access to both a barbecue and a full kitchen. There is also a large wardrobe for storage, a queen-size bed, and room-darkening shades in the bedroom area to help ensure a good night's sleep. 
The bathroom includes a large laundry sink and a washer and dryer so that visitors can clean the sand and salt off their clothes. Guests will also have access to free on-site parking and street parking. 
Nightcliff Foreshore Park, where food trucks line the parking lot every night, is located just down the street. A public swimming pool, supermarkets, and restaurants are also within walking distance.
View on Airbnb
Private Room With a Resort-Style Pool
Superhost Sarah would love to host you in her beautiful bungalow. This bright and tropical-themed rental is located in its own building separate from the main house and is perfect for those wishing to rent a room in Darwin. 
This unique Darwin Airbnb is stunning and can accommodate two guests with a queen-size bed and a sofa bed. It has plenty of natural light and includes a wall-to-wall wardrobe, a TV, and a small desk. In the tropical backyard, there is a Bali-inspired outdoor private bathroom with a rain shower. There is also a separate, shared kitchen outside that is completely covered and includes a Nespresso machine, a minifridge, a barbecue, and everything else needed to make a meal. Guests can sit poolside and enjoy this Bali-themed yard at the beautiful timberwood dining table or enjoy a dip in the saltwater pool. 
Guests also have access to board games, a JBL speaker, and free street parking, and Sarah allows guests to use the washer and dryer located in the main house. 
Guests should note that anyone under 18 is not permitted to stay at this Airbnb for safety purposes as it is very close to the pool.
View on Airbnb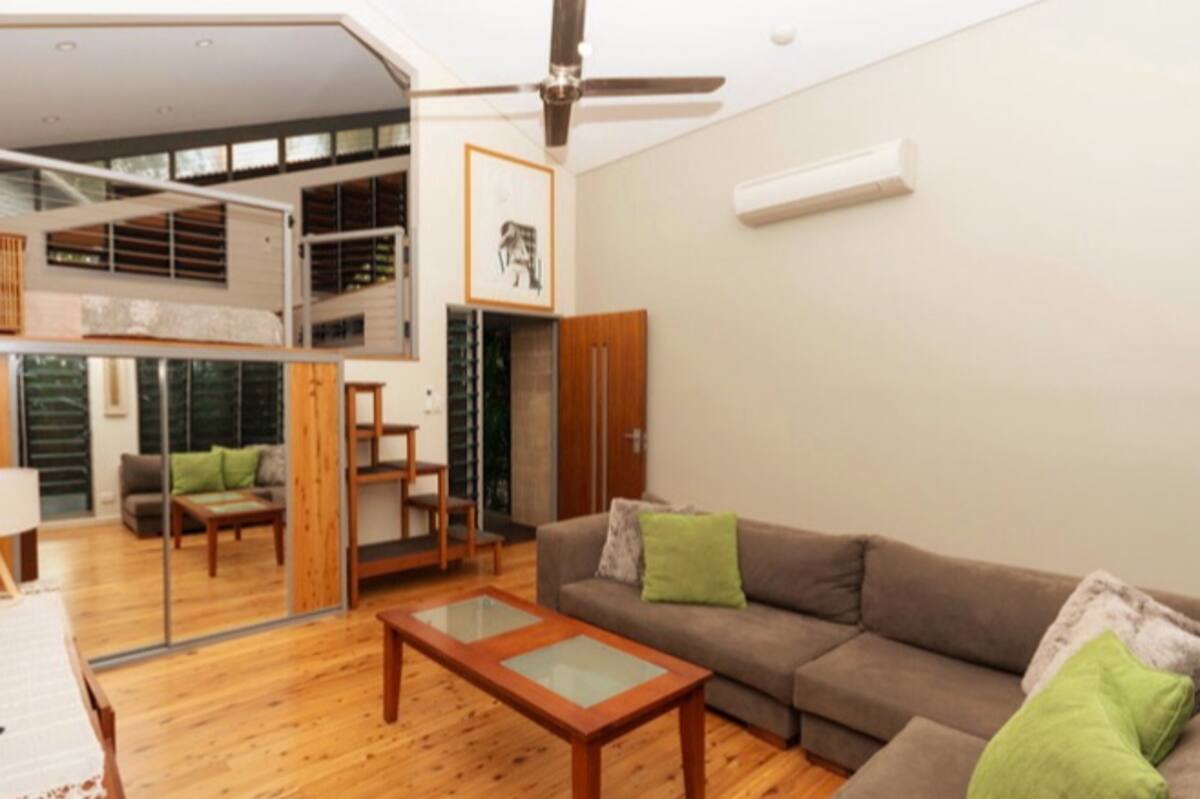 Tropical Studio in Rapid Creek
This ground-floor garden studio is a relaxing retreat for couples or solo travelers looking to rent an apartment in Darwin. 
Inside this earthy and stylish apartment, there is a spacious living area with a large chaise couch and a TV. The space feels quite tranquil as it has high vaulted ceilings, lush plants, and plenty of windows. The bedroom is located in a mezzanine loft and has a queen-size bed. Once in the loft, guests can access another level by a small stepping stool to a dedicated workspace with a desk and chair. 
The full kitchen is located outside in the tropical garden and is fully roofed in with fans so that guests can cook in comfort. The full bathroom is also found outside in a separate enclosure, highlighting a walk-in shower and a solid wood casement window, allowing guests to enjoy the private tropical garden while cooling off. 
Guests of this Airbnb in Darwin also have access to free parking and a shared pool on the premises.If you are looking to venture outside the rental by foot into its Rapid Creek suburb, you'll find that Jingili Water Gardens, a shopping mall, and numerous bus stops are all close by.
View on Airbnb
Modern Apartment With a Pool 
Are you looking for an amazing Airbnb in Darwin with hotel-like amenities? Look no further than superhost Brandi's spacious home in Stuart Park. 
This beautiful apartment can sleep four guests with a king-size bed in one room and a queen-size bed in another. There is also a crib available for those traveling with a baby. The space has been furnished with luxury black leather furniture and stunning marble to give it a very high-class and clean feel. Brandi has supplied complimentary tea and coffee for her guests in the full kitchen and has maximized the patio for outdoor enjoyment. The large terrace is lined with lush, tropical plants and overlooks the city and ocean, which means fantastic sunsets for guests. There is also a barbecue available. 
Guests of this Darwin Airbnb have access to free on-site parking, a shared pool, and a washer and dryer. You won't need a car from this location as the apartment has many supermarkets, bars, coffee shops, and attractions nearby.
View on Airbnb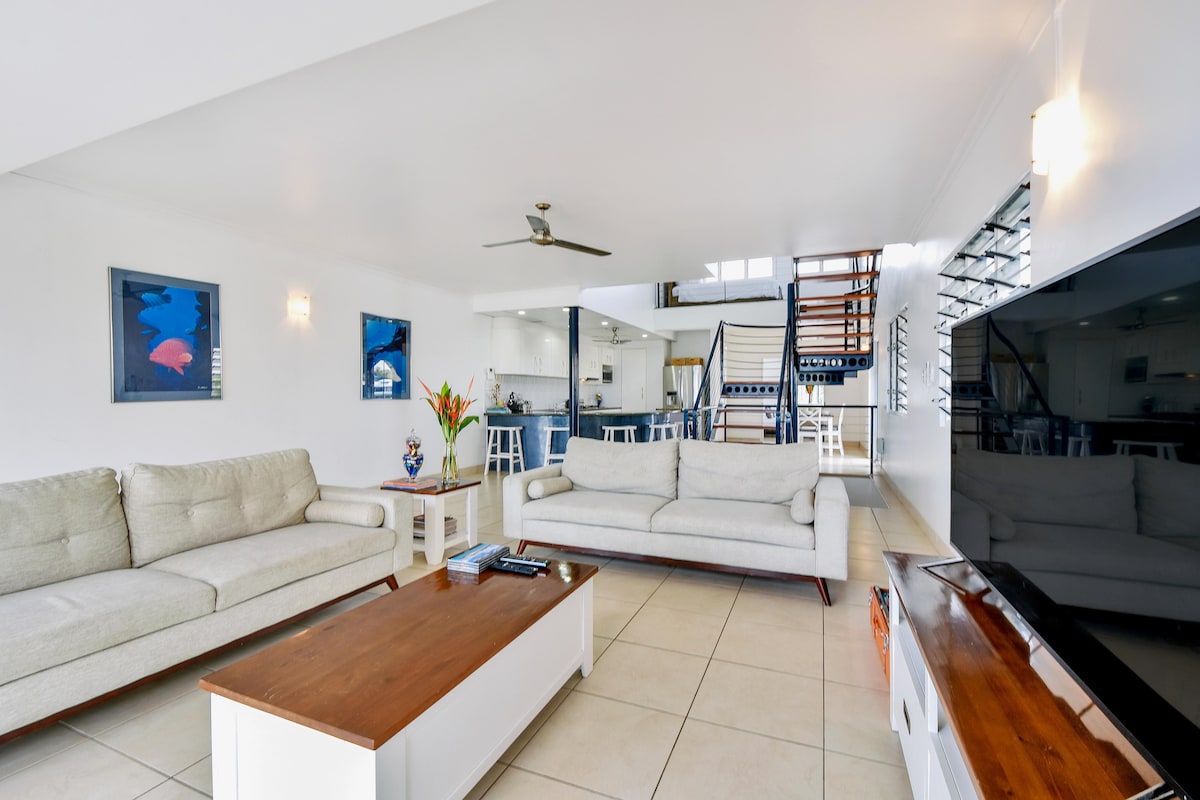 Luxury Beachfront Villa
When looking for a house for rent in Darwin, why not rent a stunning resort-style villa? Just take one look at this luxurious house, and you will understand why it hits our list as one of the best Darwin Airbnbs. 
The backyard of this gorgeous rental is right on the beach, providing phenomenal sunsets for guests to enjoy from either the private balcony or backyard. Superhost Elle has even provided three sea kayaks for visitors to use for their beach outings. A plunge pool, modern lounge area, barbecue, and two dining areas are also found in the backyard, making guests feel like they truly live in their own resort. 
The villa has four bedrooms, three of which have queen-size beds. In the master bedroom, there is a king-size bed, phone chargers, a Smart TV, and an en suite bathroom. All of the bathrooms come equipped with LED makeup mirrors, luxury hand towels, and complimentary toiletries. 
There is plenty of room for up to eight guests in this open-concept home, including a large dining table inside. The full kitchen also comes with complimentary snacks, coffee, teas, and more.
View on Airbnb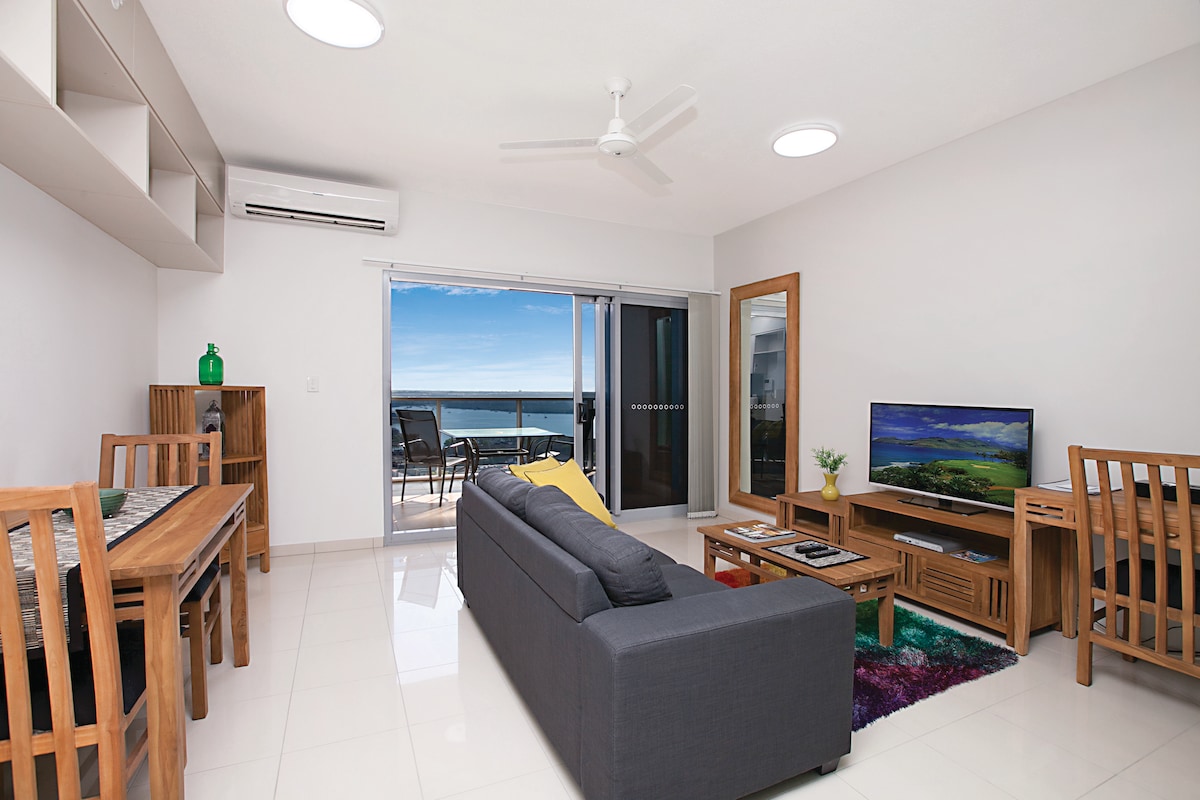 Downtown Darwin Apartment
Plenty of attractions and restaurants are right on the doorstep of this coastally decorated apartment, making it ideal for those looking to be within walking distance of everything.
Pops of vibrant colors and wood furniture give this apartment a fun, beachy vibe for guests to relax in. It also offers fantastic city and ocean views from the private balcony for guests to enjoy a complimentary breakfast provided by superhost Michelle. The apartment complex of this Airbnb has an in-building café with a terrace, free parking, a gym, and a shared infinity pool. Staying here is just as good as a hotel, as visitors can request daily housekeeping in the room.
This modern one-bedroom apartment is perfect for those who are traveling alone or with a friend. The bedroom has a queen-size bed and plenty of storage built around the bed frame. The full kitchen has everything you need to cook plus a built-in washer and dryer. For those traveling with little ones, there is also a high chair and crib available.
View on Airbnb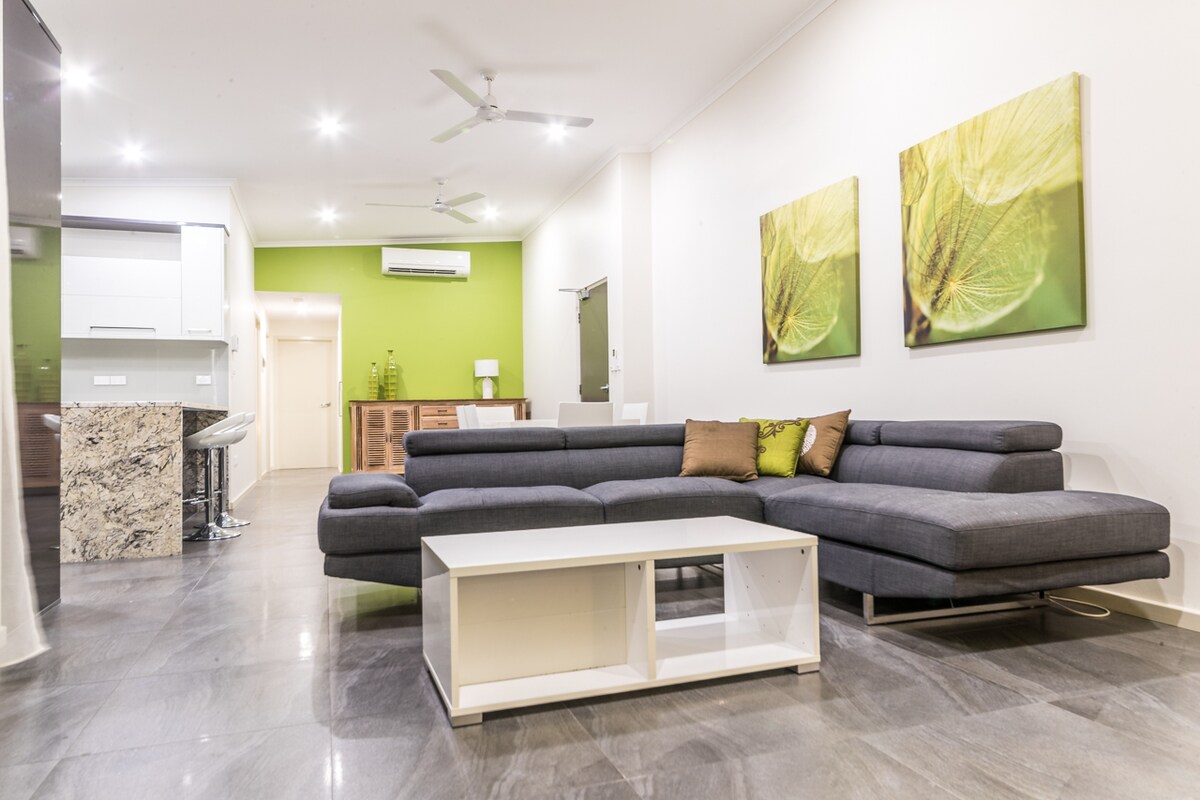 Large Apartment With a Pool 
A top-floor apartment perfect for those with groups of up to six, this Airbnb in Darwin is located within walking distance of downtown and boasts breathtaking views from its private terrace. 
Each of the three bedrooms has a comfortable queen-size bed and a door to the balcony. Bright colors and large windows allow this space to be relaxing and fun for guests to stay in while also providing comfortable and stylish furniture. The full kitchen has been stocked with everything you need to cook, including a breakfast bar and a microwave. There is also a patio dining set on the terrace so guests can enjoy a meal with a view. 
For families traveling with young children, superhost Danielle has made sure to provide a Pack 'n' Play travel crib and a highchair. This rental also comes with free parking and has a washer and dryer. 
Guests of this Darwin Airbnb will also have access to an on-site share pool with lounge chairs to enjoy a day in the sun.
View on Airbnb
Private Penthouse Retreat
Have you ever dreamed of renting an impressive penthouse apartment? Well, then this Airbnb in Darwin is for you. 
Located in downtown Darwin, this three-bedroom rental is perfect for large group getaways. The best part about this rental is not how beautifully designed it is but the private and spacious rooftop terrace and hot tub. The walk-out rooftop terrace boasts impressive panoramic views of the city and a patio dining set to enjoy a meal with friends. 
Each bedroom in this rental has an en suite bathroom with either a walk-in shower or a large soaking tub. Two of the bedrooms have queen-size beds, and one bedroom has two singles. There is also space in the living room for two mattress beds, making this rental a good fit for eight guests.
The entire space has contemporary décor that allows guests to unwind in a modern yet comfortable home. The apartment also has many attractions on its doorstep. Although it comes with free parking, you won't need it as the apartment is within walking distance of many galleries, restaurants, and bars.
View on Airbnb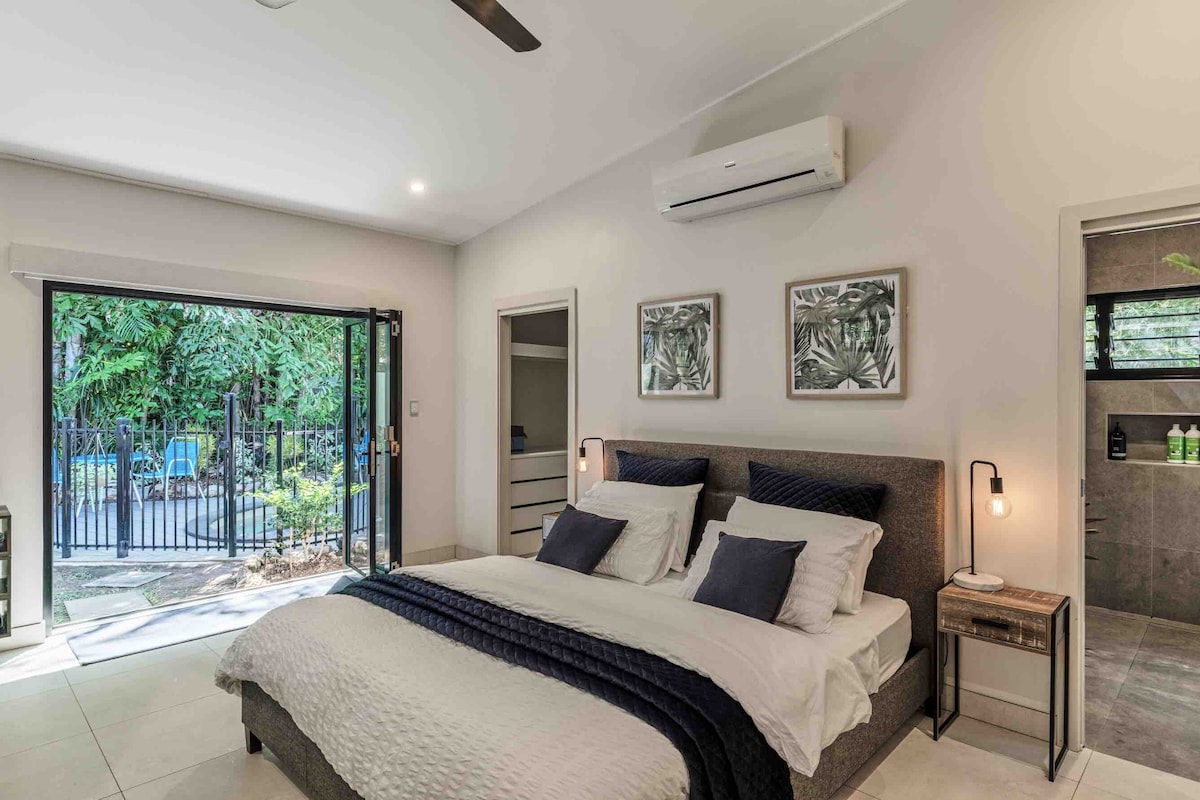 Garden Escape Guesthouse 
Surrounded by lush gardens and modern décor, it's not hard to see why this Airbnb in Darwin is on our list for the best vacation rentals in Darwin. 
This beautiful retreat located in Nightcliff can accommodate two guests and is ideal for solo travelers or couples. The room for rent has been decorated with tropical art pieces and vibrant plants to tie into a lush tropical getaway theme. The kitchenette is located in the bedroom and has a fridge and microwave. Guests will also have access to the barbecue in the yard. Expansive glass bifold doors open to this tropical oasis, which also has a plunge pool and patio set. 
The bathroom in this guesthouse is unique and modern as it has a double shower with a rain showerhead as well as a hairdryer and complimentary shower toiletries. 
This rental is only a short walk to the Nightcliff Foreshore Park and the beach. The bus stop is also only a short walk away and can bring you to downtown and other attractions.
View on Airbnb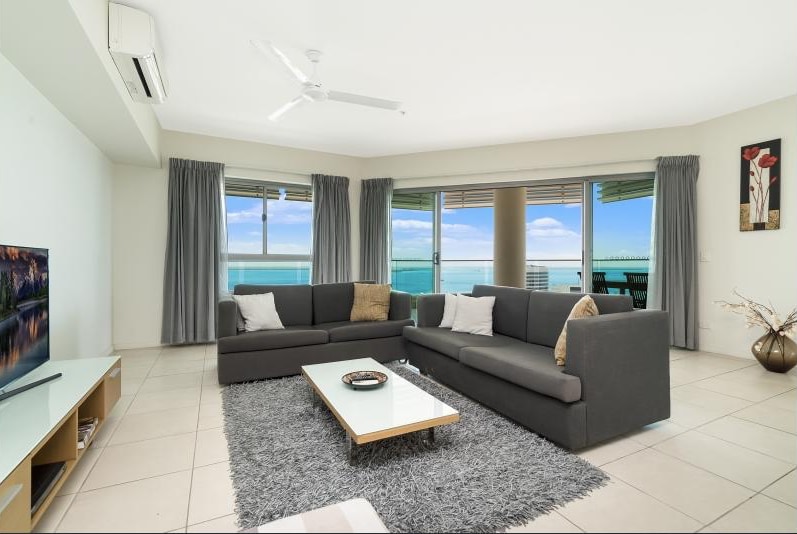 Superior Penthouse Condo in Downtown 
This downtown condo is ideal for anyone looking for an upscale short-term apartment rental in Darwin and luxury accommodation. 
Breathtaking views are a guarantee at this Darwin Airbnb as the rental boasts a panoramic of both the city and ocean from the verandah in Darwin's tallest building. This rental is much like a luxury hotel as guests who stay here will have access to a shared pool, spa, and gym. You won't even have to step out of the building to find a drink as there is an on-site bar, bakery, and coffee shop downstairs. On the sixth floor of this building, guests can also get a massage in the on-site spa. 
Striped furnishings and minimalistic décor create a calming and stylish atmosphere. The rental can sleep up to six guests comfortably as there are two bedrooms with queen-size beds and one bedroom that includes a king-size bed and en suite bathroom with a stunning marble bathtub. 
If you choose to stay here, you will be centrally located in Darwin's Central Business District and within walking distance of popular restaurants, shopping, and attractions.
View on Airbnb
The Penzance Penthouse Apartment 
This penthouse apartment located in the heart of downtown is another excellent Darwin Airbnb for those who crave luxury and relaxation. 
This penthouse apartment can accommodate four guests and has not one but two private balconies for guests to enjoy. In the master bedroom, there is a walk-out private balcony facing the ocean and a queen-size bed. Both bedrooms have en suite bathrooms that have been beautifully decorated with modern touches and TVs. 
On the lower level, the living area is accented with red and black pops, which add a touch of luxury to this space, and it offers guests a space to enjoy views of Frances Bay or unwind with a cup of coffee from the Keurig coffee maker or Nespresso machine.  
Many shared amenities are accessible to guests in this Airbnb in Darwin, including a state-of-the-art gym, a swimming pool, and free parking. The apartment is also within walking distance of many galleries, restaurants, and bars. Popular attractions such as Crocosaurus Cove and the Bicentennial Park Lookout are only blocks away.
View on Airbnb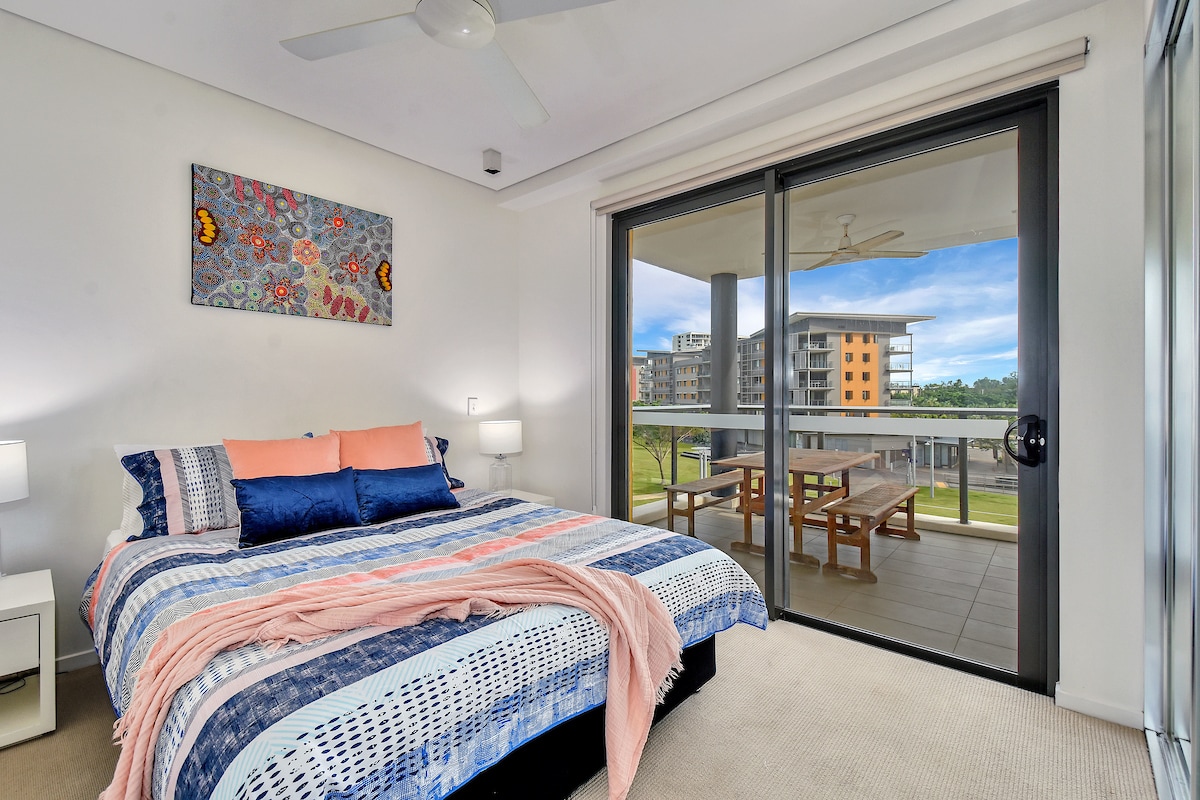 Luxury Waterfront Apartment
This Airbnb is an ideal getaway for those who are looking for accommodation in Darwin with easy access to the water and the city. Overlooking Darwin's Waterfront Precinct, this holiday apartment in Darwin offers convenient access to the Darwin Convention Center, Beach Lagoon, and many other popular attractions. 
Inside this two-bedroom rental is vibrant and modern décor that feels like an upscale hotel. The master bedroom has a king-size bed, a walk-in closet, and an en suite bathroom. The second bedroom has a queen-size bed and a walk-out patio. The full, well-equipped kitchen provides guests with everything they will need to cook, from a microwave and cooking oils to a dishwasher and stove. 
There is a dedicated work desk in the dining area for those looking to get work done while staying. Guests looking to enjoy the sun and water can choose between a day at the on-site shared pool or step outside the apartment and spend a day at the beach. Long-term stays are also permitted here.
View on Airbnb
Whether you are visiting for a tropical getaway or passing through on your way to the outback, each of these Airbnbs provides comfort, style, and a bit of luxury. Pools, ocean views and beaches seem to be the theme of these outstanding Airbnbs in Darwin, but that is just part of the charm.
In a city so small, one thing is guaranteed: You're almost always within walking distance from something beachy or fun.