Road Affair is reader-supported and may earn commission from purchases made through links in this article.
Columbus, Ohio's state capital, is a thriving metropolitan city. There are lots of ways to search for vacation rentals in Columbus, but whether you're on a family vacation or traveling for business, you can make your stay even better by living like a local and staying in an Airbnb. 
All of the Airbnb homes on our list are run by superhosts – hosts with a proven track record of excellence and cleanliness. Several are also Airbnb Pluses. These rentals have passed a rigorous in-person inspection to ensure exceptional quality, comfort, and style. So, if you're looking for a vacation rental, take a look at our list of the best Airbnbs in Columbus, Ohio, to find the perfect one for you.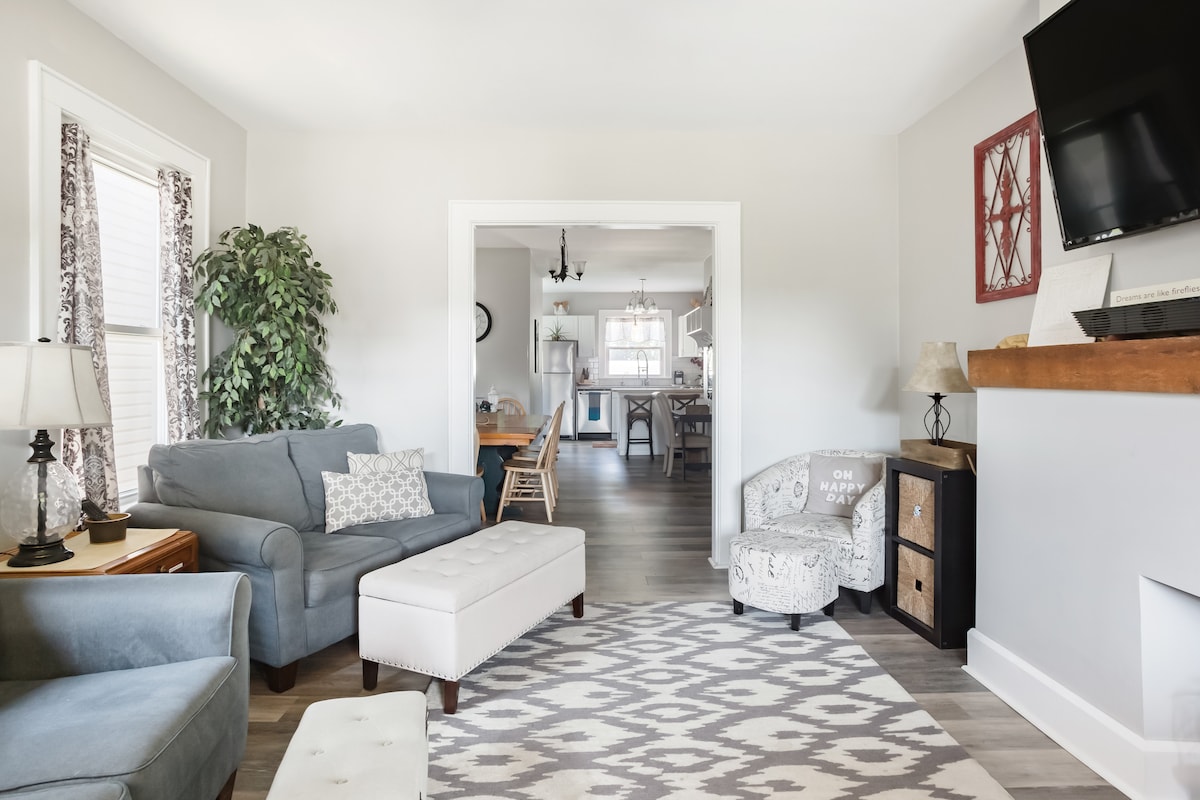 Rustic Townhouse
This spacious and beautiful townhouse in Clintonville decorated in calming neutrals is a three-bedroom, two-bath house built in 1923 that welcomes up to 10 guests. The first room has a king-size bed, and the other two have queen-size beds. Be sure to discuss additional sleeping arrangements with your host.
The kitchen comes fully equipped to meet your cooking needs. There is a dining table and bar seating for a total of 11 guests. The quartz countertops and dishwasher make clean-up simple and easy at the end of the day.
Outside, there's an unfenced, grassy yard to play in and space to park two vehicles. You'll love exploring the city from here because the central location of this Columbus Airbnb is close to the Mapfre and Ohio Stadiums, the Ohio Expo Center and State Fairgrounds, and the Wexner Center for the Arts. There are also a lot of restaurants in the area, the closest being the Crest Gastropub.
View on Airbnb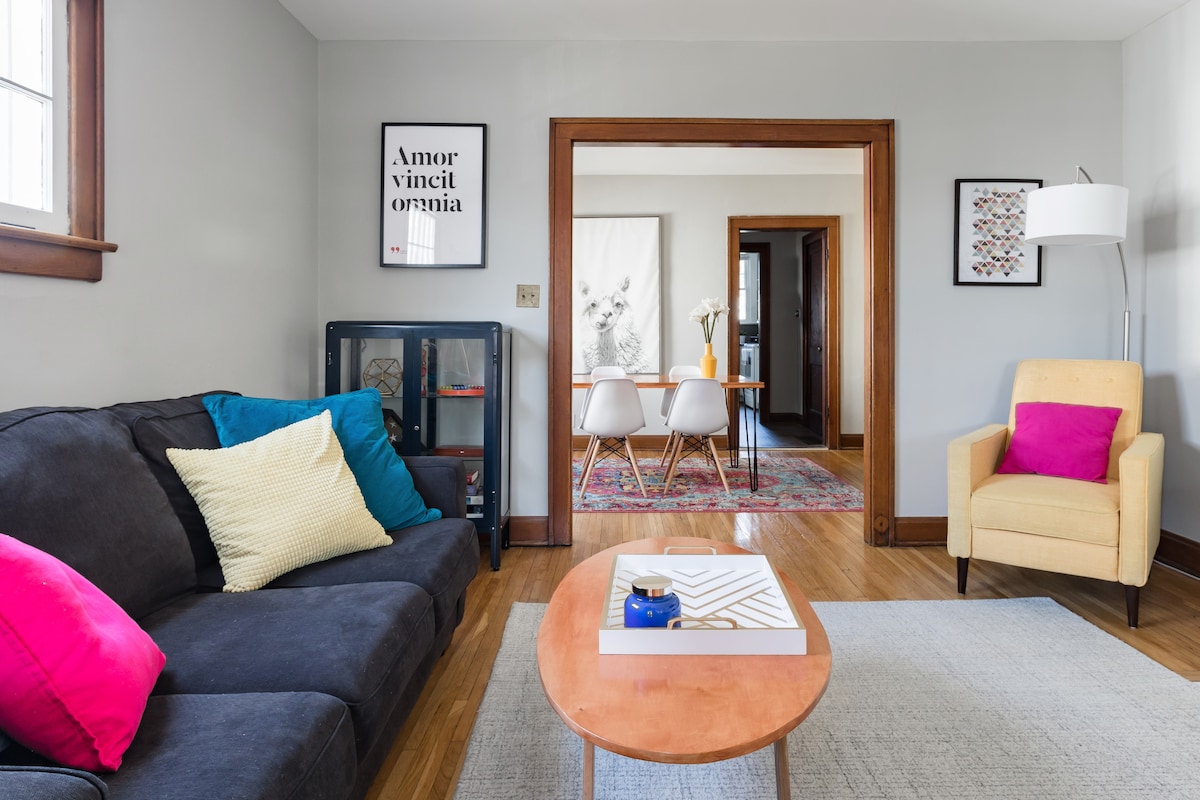 Restored Redbrick With Backyard Patio
Pops of bright colors stand out against the neutral walls of this Airbnb in Columbus. The three-bed, 1.5-bath home can be rented by six guests and includes lots of amenities for families with small children, including a travel crib, a high chair, a baby bath, and a set of children's dishware. The first bedroom has a queen-size bed, the second has a double, and the third has a single. The plush sofa in the living room can also double as a sleeping space.
You may be prioritizing washer and dryer access in your search for short-term house rentals in Columbus, especially if you have little ones in your group. Book confidently knowing this rental offers those amenities. 
The common areas include a living room, dining room, screened-in back patio, and kitchen. The kitchen is a large room of its own that offers views into the yard, and all the appliances you'll need for cooking great meals are available. You can eat in the dining room, or take your meals out onto the patio where there's a table and seating for six.
View on Airbnb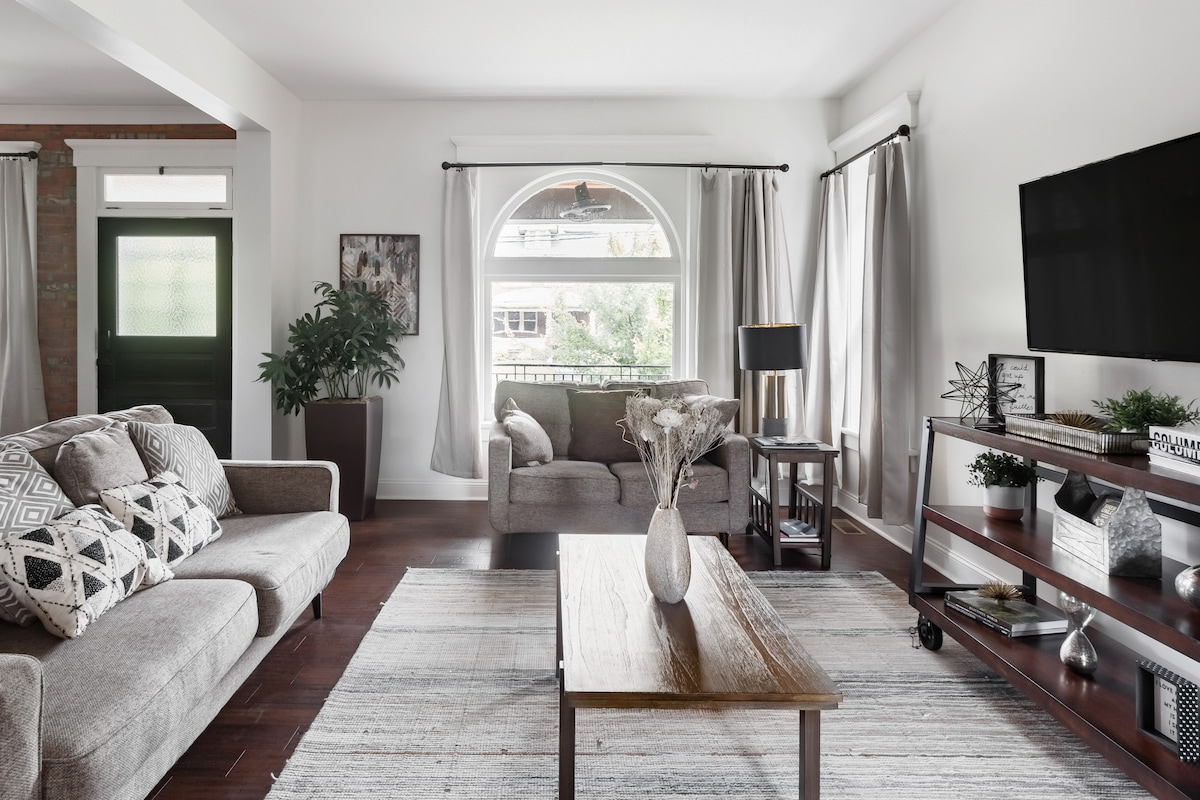 King Lincoln Home With Edgy Décor
This townhouse has a lot of drama that comes from the striking juxtaposition of black and white that can be seen in features like the tiling in the bathroom and the cabinets and countertops in the kitchen. The exposed brick from the original construction is contrasted with modern furniture and color blocking. Houseplants here and there add a touch of green. The look of this apartment will give your vacation an air of sophistication.
Up to nine guests can fit into this townhouse Airbnb in Columbus with its four bedrooms and 2.5 bathrooms. Two of the bedrooms have queen-size beds, and the other two have doubles.
No one will feel crowded or cramped as there is space in this home for every activity. The kitchen is large and allows multiple people to cook together. Dine at the island on stools or the adjacent dining table. At a desk by the back door, you can find some quiet to focus on work. 
Enjoy this refined and beautiful rental home in Columbus, Ohio, for your next vacation.
View on Airbnb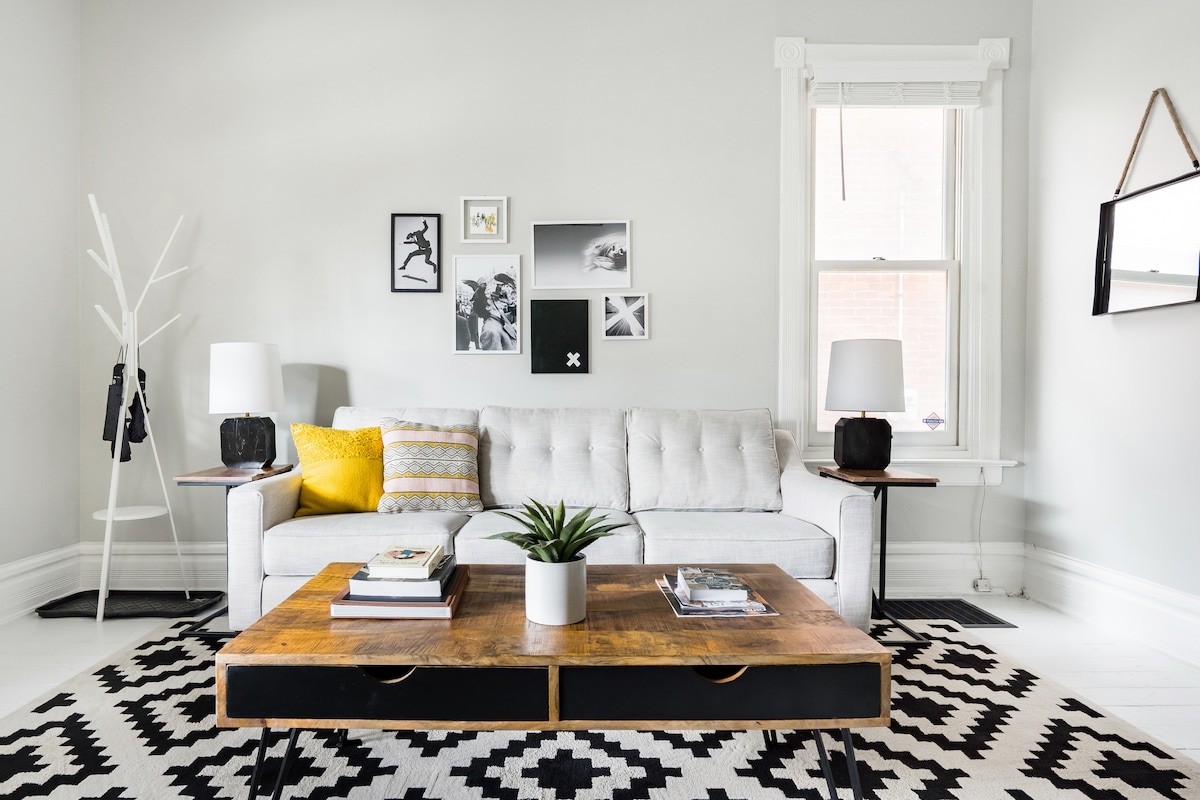 Striking Duplex in Italian Village
Among the best vacation rentals in Columbus is this duplex in the Italian Village. With its black, white, and yellow theme, this house takes color blocking to the extreme. There is an eye-catching rug in the living room, and throw pillows on the couch supply bright punches of color. With its two bedrooms and one full bathroom, this is a modern and fun place to stay. Each room has a queen-size bed and a smart TV. 
This rental's design makes it beautiful, and the many amenities make it incredibly convenient. There is a fully equipped kitchen with a Keurig coffee maker, a washer and dryer, a self check-in system, and a couple of spaces to park vehicles on the premises and the street.
If you're looking to dine out while you're in town, you'll love the location of this Columbus Airbnb. The duplex is within walking distance of tons of restaurants like Bodega and Marcella's. Stop by Jeni's Splendid Ice Creams on your walk home to get a scoop or two for dessert.
View on Airbnb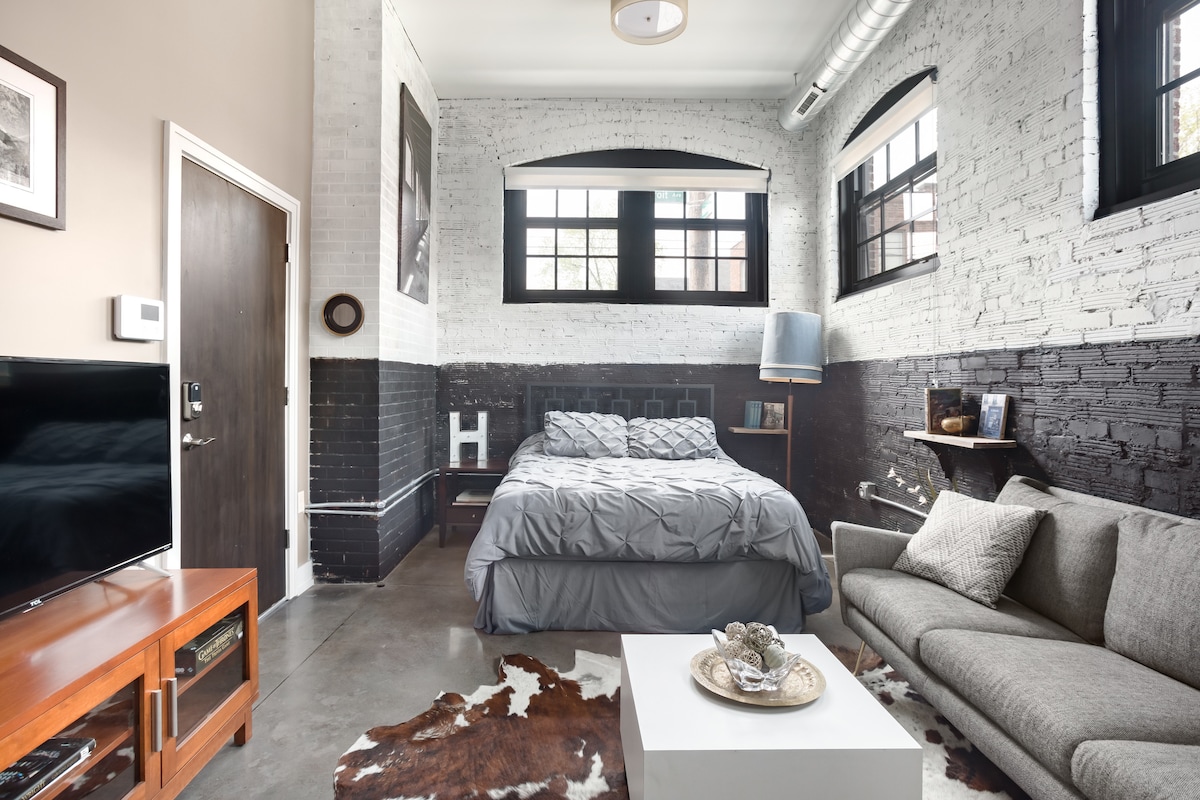 Industrial Studio Apartment
This studio apartment for two is a perfect choice for business travelers. The various shades of gray from the walls and furniture tie the space together without feeling dull. Industrial accents in the design give it an edge. High-set windows let in lots of natural light while maintaining your privacy.
The studio has a simple layout. On the opposite end of the apartment from the queen-size bed is the kitchen, which includes all the appliances you might need, including a washer and dryer set. This compact and efficient space allows you to cook from scratch or warm up leftovers from one of the many excellent local eateries.
The full bathroom is in lighter colors than the rest of the apartment. Let the rain showerhead wash away all your tension and worries. There are extra soaps on hand, so you don't need to worry if you forgot something at home. If you want to rent an apartment in Columbus, make it this one.
View on Airbnb
Stunning Garden Villa
Every inch of this Columbus Airbnb is a photogenic backdrop for making lasting memories. This is a one-bed, one-bath rental that makes a wonderful couple's escape thanks to the romantic gardens that surround the home. On a three-quarter acre lot, the house offers privacy and quiet to guests who want to escape to a serene retreat. It's hard to choose whether the home looks more magical blanketed with snow or surrounded by flowering trees.
The inviting king-size bed is perfect for waking up slowly on a quiet morning. Behind a door, opposite the bed, is a dedicated shower and toilet space. In the bedroom, there is a sink and vanity.
The indoor kitchenette is supplemented by an outdoor cooking space with a tabletop grill. There's also a dining table on the patio.
The most unique feature is the outdoor clawfoot tub for open-air bathing. Surrounded by high walls for privacy and by ferns and other houseplants for aesthetics, taking a good long soak in this 1903 tub will transport you. 
With all of these features and amenities, it's easy to see why this guesthouse makes our list of the best Airbnb rentals in Columbus.
View on Airbnb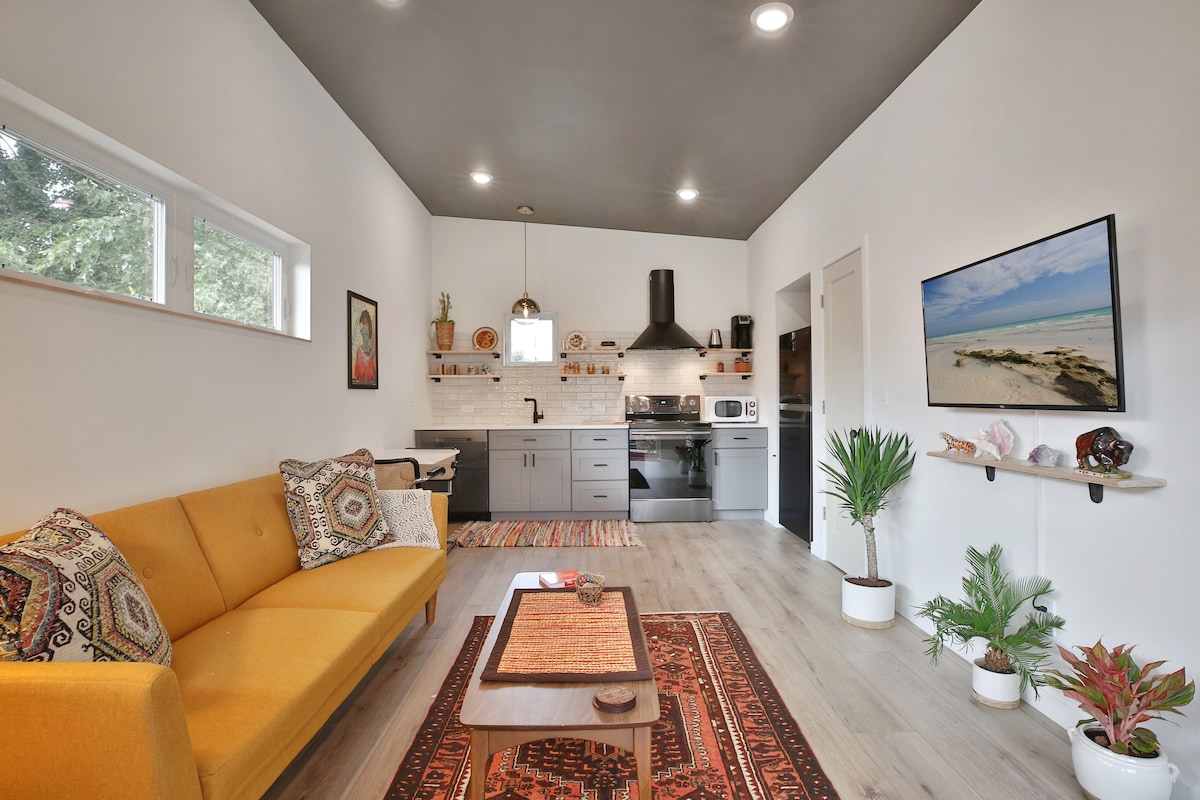 Freedom House
Designed and built specifically to be a vacation rental, this is a one-bedroom, one-bath apartment for three guests called the Freedom House. There is a queen-size bed and a sleeper sofa. The carriage house is stocked up with items you might like to have for your stay such as a first aid kit and iron.
Easy access to street parking makes it simple to come and go as you please, and the area around this Airbnb in Columbus is busy with parks and restaurants. German Village is still in touch with its 19th-century roots, and local shops sell books, traditional fudge, and handmade jewelry.
This vacation home rental in Columbus is decorated with lots of textiles and art that add a rustic feeling to the industrial design. Area rugs like the woven multicolored rug in the full kitchen add color and coziness. 
You'll find it easy to relax on your vacation if you're sipping coffee on the balcony of this Airbnb looking out over its laid-back neighborhood.
View on Airbnb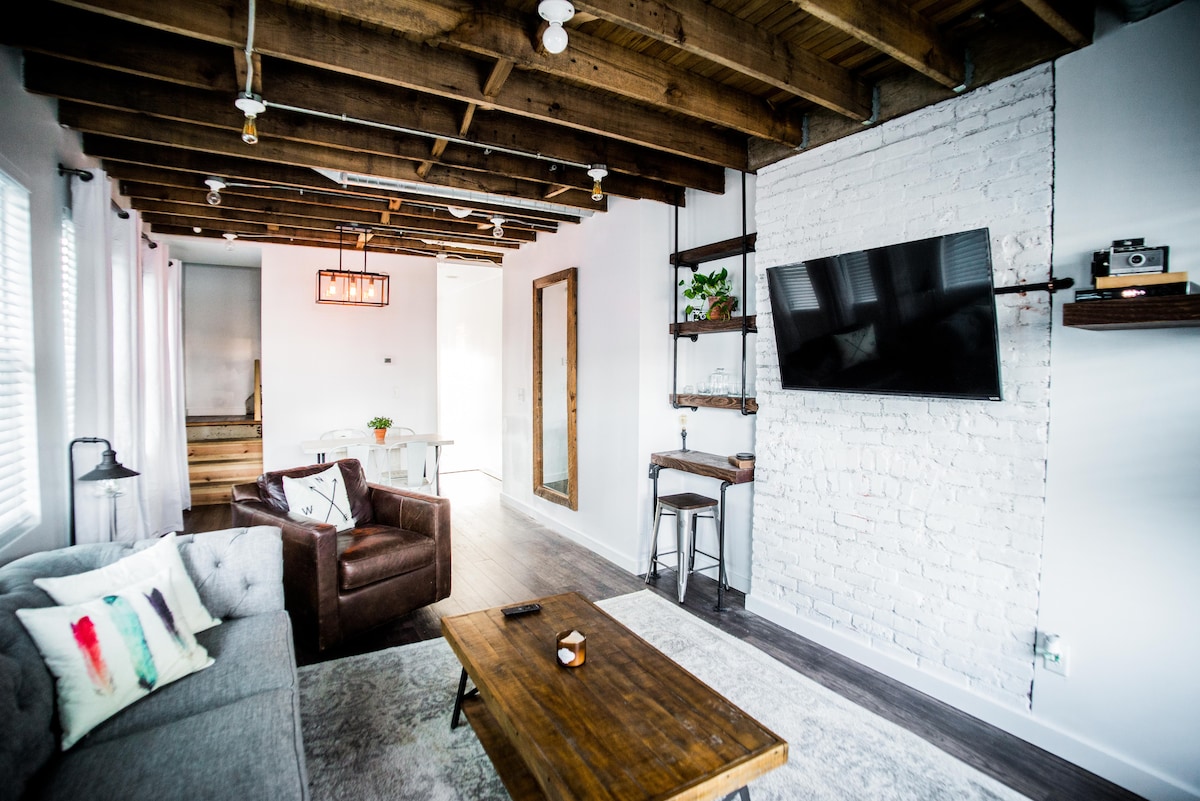 Rustic Duplex
This duplex has two bedrooms, 1.5 bathrooms, and a fenced-in backyard. Up to four guests are welcome at a time, making this Columbus Airbnb a perfect place for a couples' weekend. Each room has a queen-size bed, and the full bath has a gorgeous clawfoot tub perfect for long, gratifying bubble baths.
The patio in the backyard has market lights strung overhead and is completely fenced off from neighbors, including the duplex's other unit. You'll appreciate that privacy when you're spending every evening outside at the fireplace on the cushioned sectional. This nightly ritual of talking around a fire beneath the stars might be your favorite part of your trip.
It isn't just looks that make this duplex a great vacation rental. It's full of practical amenities, too. A washer and dryer, full kitchen, Wi-Fi, and free parking on the premises and street are all available. Beyond the rental itself, you won't be far from the Mapfre and Ohio Stadiums, and you'll love the selection of neighborhood restaurants and stores.
View on Airbnb
Lushly Decorated Rental Home
Great for groups, this two-bed, 1.5 bath home for rent in Columbus with a full kitchen can accommodate up to six guests. The hosts own the second half of this duplex and rent it out through Airbnb as well, so if you have a larger group, consider renting both halves and expanding your space while keeping everyone close.
The sleeping space consists of a California king-size mattress in the master bedroom, a queen-size and a twin in the second room, and a couch in the downstairs living room. Despite technically sharing a room, guests who sleep on the queen-size mattress and the twin have their own space, as the loft where they're located is divided by the stairs. 
Original hardwood floors throughout and exposed brick meet mid-century style in the furniture and décor for a beautiful mix of time periods. Thriving houseplants in every room make the home come alive in bursts of green. You'll never want to leave once you arrive at this beautiful Airbnb in Columbus.
View on Airbnb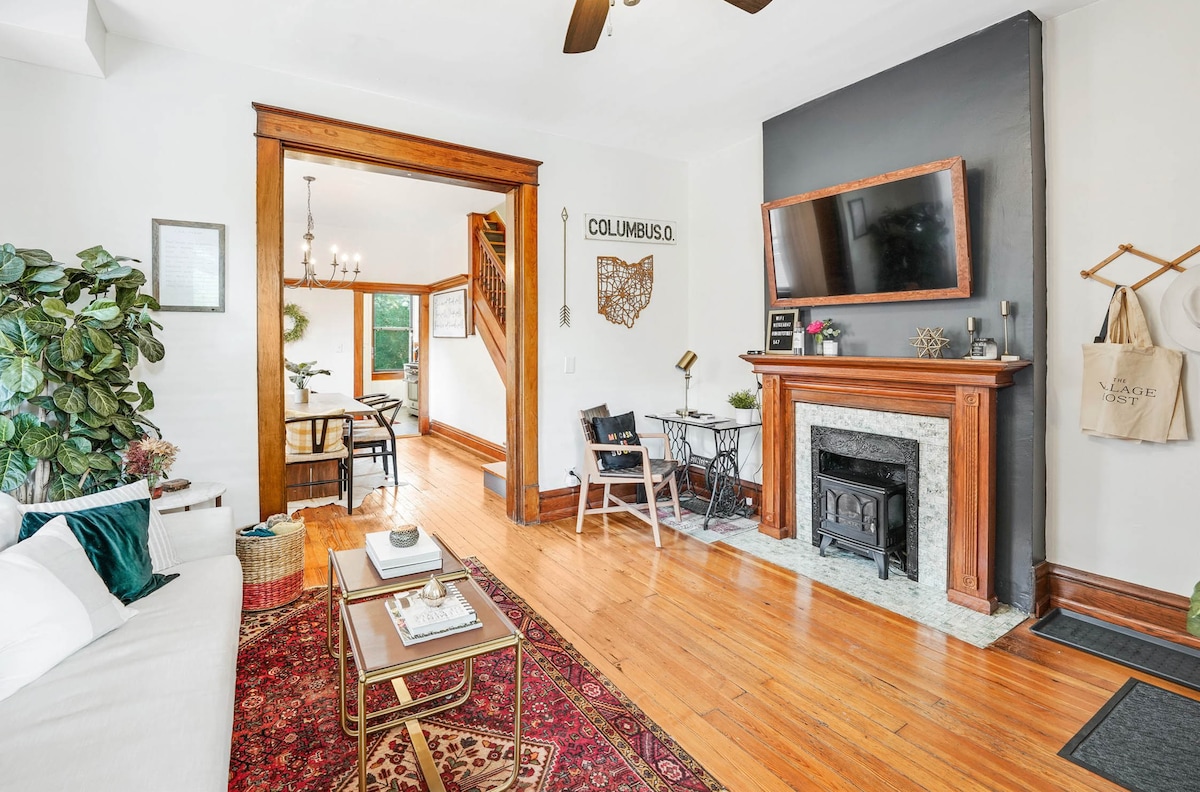 Schiller Park Townhouse
A cheery blue door and original pine wood floors greet you when you arrive at this house for rent in Columbus. This townhouse for six has three bedrooms and 2.5 bathrooms in its 1,200 square feet, as well as a full kitchen, dining room, and dedicated workspace. Amenities include Wi-Fi, air conditioning, central heating, and a washer and dryer.
Each room has a queen-size bed, and all are on the second floor, as are the two full bathrooms. The master bedroom's en suite bathroom has a walk-in shower with a Bluetooth speaker for the ultimate shower concert. The hallway bathroom has a vintage clawfoot tub with a rain showerhead.
On the ground floor, the living room with its large sectional makes a great place to gather everyone for a movie. The dining room table is an elegant but comfortable place to play board games or put together a puzzle. The kitchen is the final room on this floor. Its stainless-steel appliances and granite countertops are sure to be a treat while you're cooking. If you prefer the barbecue to the gas range stove, head out into the fenced backyard. There's a grill, fireplace, and a table for six for outdoor dining. 
Inside and out, this home is the perfect vacation home for any group renting a house in Columbus, Ohio.
View on Airbnb
Contemporary Loft Apartment
Modern and convenient, this studio apartment is perfect for quick visits to Columbus on business. It is run by Frontdesk, a booking company dedicated to excellent service and experiences for its customers. The professional design element can be felt in the uncluttered decoration of the space, which makes use of the floor-to-ceiling windows and their ample light. Neutral colors in the furniture and walls are spiced up with pops of color from the throw pillows and blankets.
The full kitchen is an efficient space with an island that doubles as a place to eat. Any appliance you might need is here, plus some cooking basics like salt and pepper. Most importantly, of course, is the coffee maker – a single-cup Keurig.
The location of this apartment is in central Columbus. You'll have the Ohio Theaters, Nationwide Arena, Brewery district, and the German village all within a mile. Apartment rentals in Columbus, Ohio, don't get more centrally located than this, so book it now for your next business visit.
View on Airbnb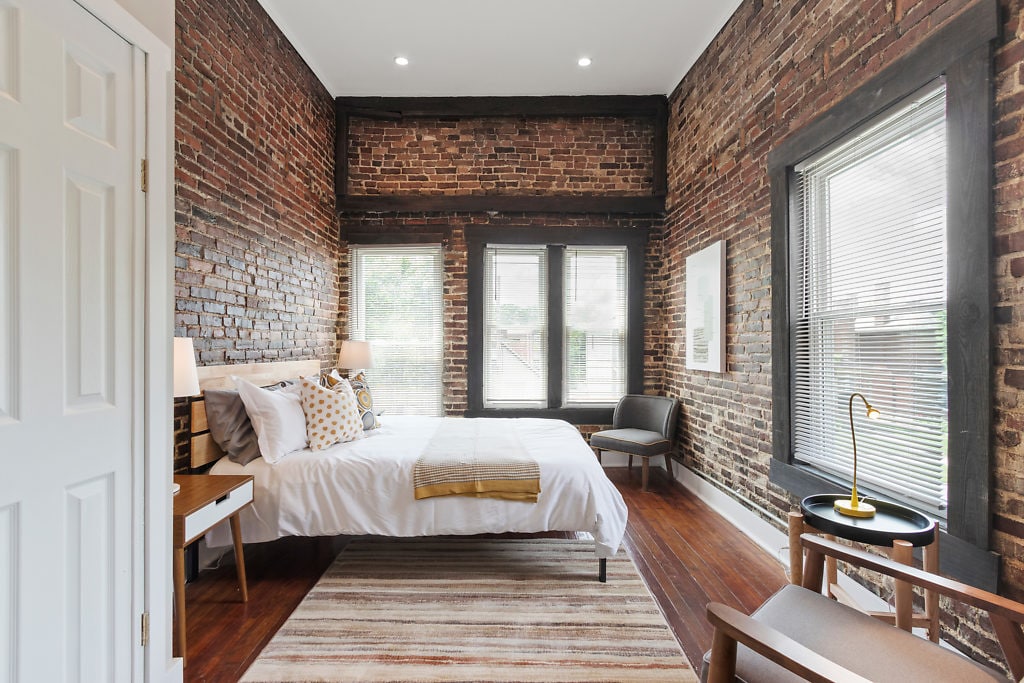 German Village Apartment
This lovely Columbus Airbnb can accommodate five guests. There are two bedrooms, each with a queen-size bed, and two full bathrooms. The third bed is kept in the master walk-in closet and can be left there or brought out into the living room to give the fifth guest more space.
Each bathroom has a large walk-in shower and extra counter space. Extra towels and soaps can be found in the closet. The rooms are uncluttered and feature beautiful exposed brick that contrasts with the stark white interior walls. The floors alternate between tile and hardwood.
The kitchen is the heart of this home with doors that lead to each of the bedrooms, the second bathroom, and the laundry closet. The open layout of the common rooms means guests can sit and talk from the couch while others bustle around the kitchen. Everyone will feel connected while sharing this vacation rental.
View on Airbnb
Cozy Cottage for Six
Jennifer hosts a sweet and practical Airbnb in downtown Columbus for six guests. The home is a two-bed, one-bath "story-and-a-half" structure in close proximity to many Columbus attractions. It's convenient in more ways than one, as it allows long-term stays, early luggage drop-off, and small pets.
Upstairs, the loft area has been divided to create two modest bedrooms. In one room there's a queen-size bed and in the other a double. The couch in the living room unfolds into a full-size mattress for extra room to sleep. There are extra bed linens to dress the pull-out with and a travel crib, if you need it.
Downstairs is the full kitchen, dining room, dedicated workspace, and bathroom. Hardwood floors run throughout this level of the home. And finally, in the basement, you'll find the washer and dryer, along with extra detergent and fabric softener. 
Everything you need is provided for in this lovely rental, leaving you with only the fun parts of vacation to think about.
View on Airbnb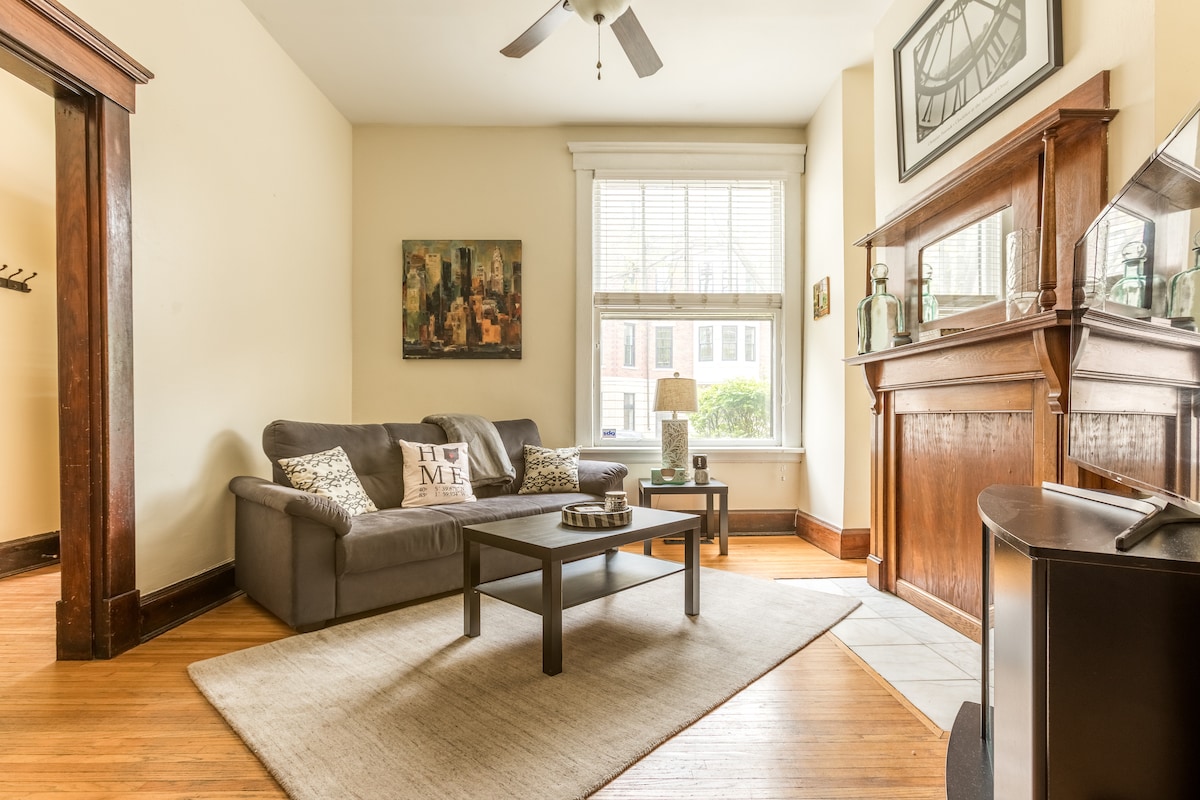 Townhouse in Short North Arts District
If you're staying in Short North Arts District, you want your vacation home to live up to the name of its location, and you'll certainly get that with this beautiful rental. The entryway, living room, and dining room are warmly lit parts of the house in soothing neutrals. The cream-colored walls and hardwood floors come together to create a soft atmosphere that's perfect for relaxing on the plush couch.
The kitchen is a lively contrast to the front rooms. The black and white tiling on the floor and the bright red-painted backsplash are fun reminders of why the kitchen is the heart of the home. Cooking will be a joy and a cinch since all the basic appliances and cooking necessities are available. There is also a half bath on this floor.
The two bedrooms are both upstairs, as is the full bath. In the bathroom, there's a separate shower and tub and his-and-her sinks. Each bedroom has a queen-size bed, a decorative fireplace, and space to hang or put away folded clothes. Altogether there's room for six guests in this Columbus Airbnb. Be sure to discuss additional sleeping arrangements with your host.
View on Airbnb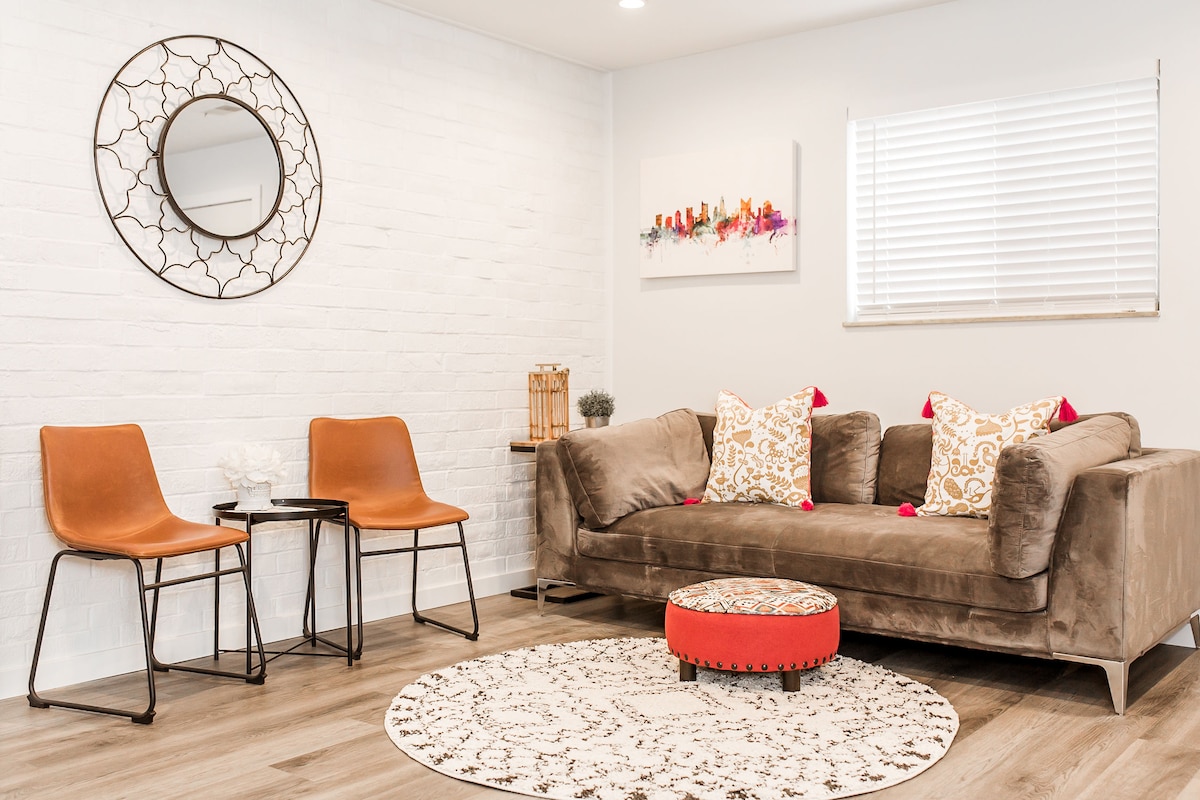 Beautiful Two-Story Apartment
Six guests can share this two-bed, one-bath Airbnb in Columbus at a steal of a price. Close to the Mapfre and Ohio Stadiums and the Ohio Expo Center, this apartment is also beautiful and highly rated in all categories after over 1,000 reviews. The house's simple color palette ties together every room and makes it feel polished.
Each upstairs bedroom has a queen-size bed with extra linens and throw pillows. There are two twin-size foam mattresses that can be laid out in a bedroom or the living room. This gives up to six guests plenty of space at night.
The kitchen is minimally decorated with trendy open shelving that displays all your cooking and dining basics like salt and pepper, dishware, and cookware. Appliances include a refrigerator and freezer, stove, oven, microwave, toaster, and coffee maker. You will also find cleaning supplies under the sink, should you need them.
View on Airbnb
And there you have it! We hope this list of some of the best Columbus Airbnbs has inspired you to make travel plans. Whether you're visiting with a big group or a significant other, there are plenty of quality Columbus Airbnbs to choose from the next time you find yourself traveling to Ohio.