Road Affair is reader-supported and may earn commission from purchases made through links in this article.
For a picture perfect seaside vacation, it is definitely worth considering a trip to Bethany Beach, Delaware. Pristine beaches, charming neighborhoods, and top-notch seafood restaurants await in this marvelous coastal town. What's more, the area is known for its highly rated resort communities, which offer guests access to some of the best outdoor amenities around. 
If you're interested in snagging a premier rental in a highly desirable location, check out the following list of the best Airbnbs in Bethany Beach. To make sure that these Airbnbs are unrivaled in every way, all of the rentals listed are presided over by superhosts – hosts with a proven track record of providing outstanding hospitality. They are also all appointed with convenient modern amenities such as Wi-Fi, TV, and air-conditioning. 
Related: 15 Best Airbnbs in Delaware, USA
Amazing Cottage on the Canal
Situated right beside Bethany Canal, this three-bedroom house for rent in Bethany Beach makes a great stay for a group of friends or a large family. 
Furnished with one queen-size bed, one double bed, three single beds, and a crib, the home can sleep up to six adults and two additional children. The living room is clean, spacious, and full of light, and the kitchen is finished with granite countertops and stainless-steel appliances. There is also a full selection of modern amenities and luxurious features, including laundry facilities and an enclosed outdoor shower. 
When it comes to renting a house in Bethany Beach, private outdoor space can really make your stay, and this spacious cottage has a ton of it. Guests have access to a spacious sunroom, a back deck with a grill, and a front porch. If you're interested in kayaking and canoeing, there is a public boat ramp right across the street, and the beach and boardwalk are just a short walk away. 
View on Airbnb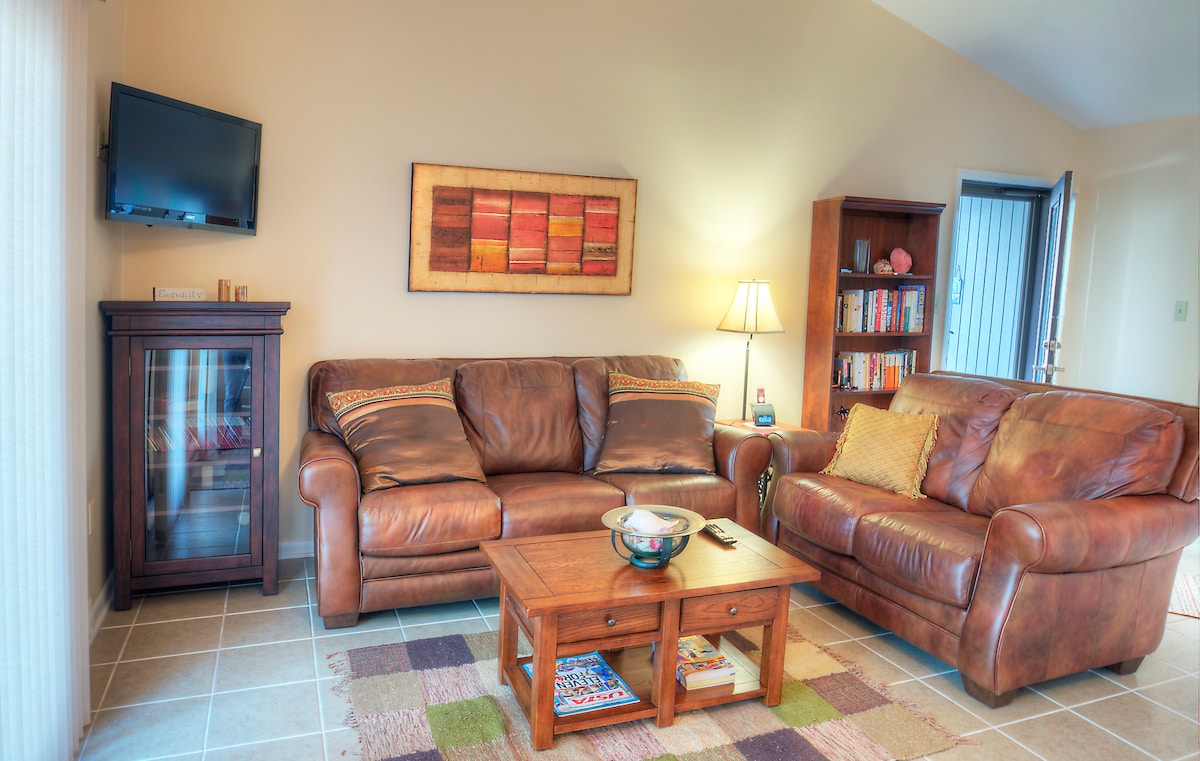 Sea Colony Resort Rental
Sea Colony is a resort community that offers clean, spacious, and modern units located right next to the shore. 
This condo rental in Bethany Beach offers one bedroom furnished with a double bed and two full bathrooms with large walk-in showers. There is also a second bedroom furnished with a twin-size bed that makes a nice space for a child or a third guest and is only available upon request. The living room is bright, open, and furnished with two brown leather sofas, and the connected kitchen and dining areas come with a wooden table that doubles as a dedicated workspace. The unit is beautifully appointed with high-end furnishings and modern amenities, and guests have exclusive access to a large patio. 
The neighborhood is friendly and peaceful, and Sea Colony offers several pools, tennis courts, shops, and on-site restaurants. If you're looking for even more fun attractions, the downtown areas and the beach are both just a short walk away. 
View on Airbnb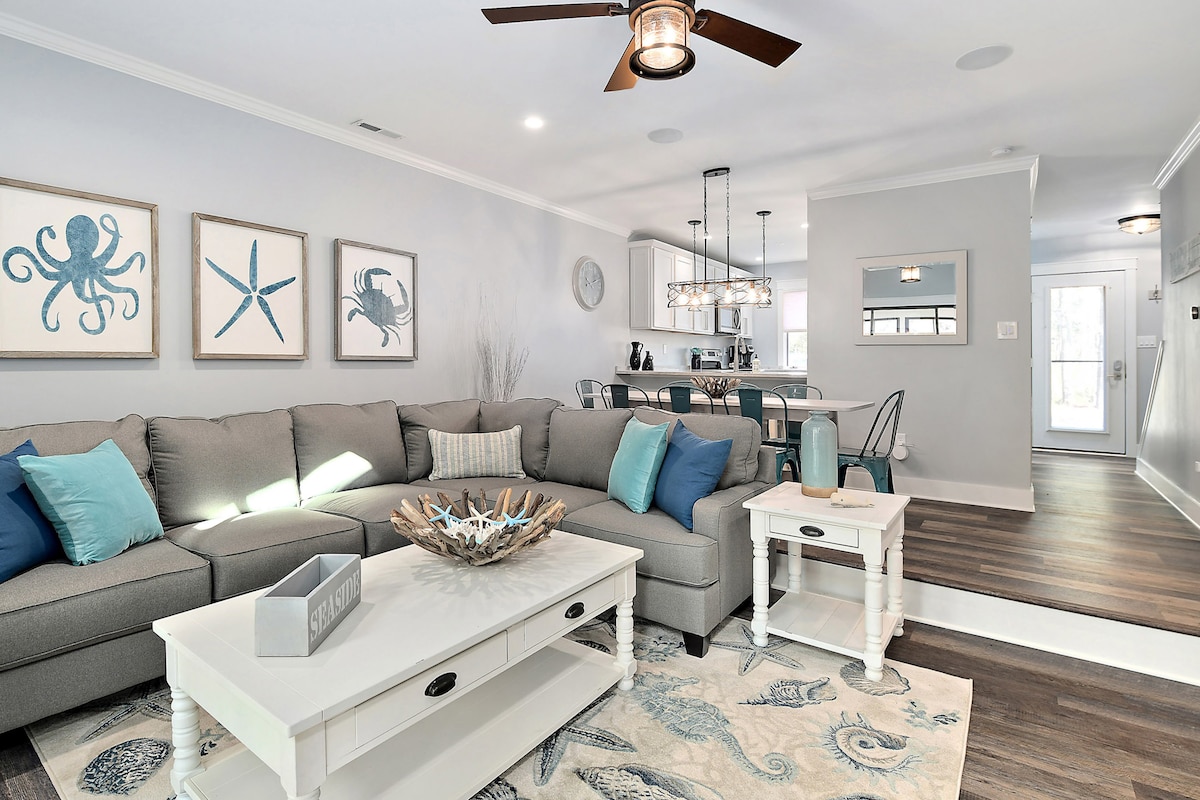 Salt Pond Villa
Another great Bethany Beach Airbnb for larger groups and families is this incredible beach-themed townhouse in a quiet residential community. 
With three bedrooms and 2.5 bathrooms, the home can sleep up to seven guests and boasts extra-large common areas where everyone can relax and hang out together. The interior is stylish and tranquil with cool-toned neutrals, tasteful turquoise accents, and fun décor that is sure to put you in the vacation spirit. In the living room, you'll find a large sectional sofa and sliding glass doors that provide access to the enclosed patio. The kitchen and dining areas are elevated one step above the living room and offer bright white cabinetry and stainless-steel appliances. 
Known as Villas of Bethany West, the townhouse community comes with a pool, a tennis court, a basketball court, and a pond great for kayaking and canoeing. Main attractions, including the beach, the boardwalk, shops, and restaurants, are within walking distance of the rental. 
View on Airbnb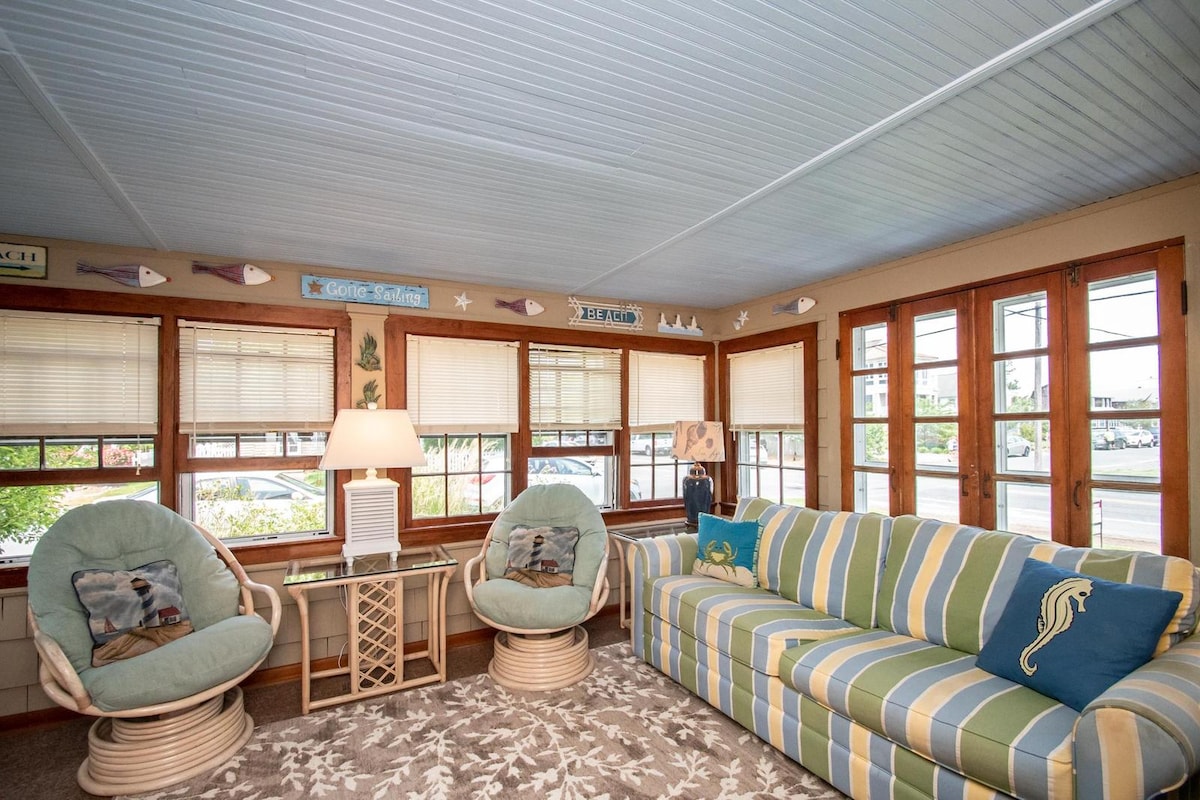 Historic Cottage Near the Beach
If you're looking for a house rental in Bethany Beach that can accommodate even larger groups, take a look at this massive cottage near the shore. 
Originally built in 1937, this vintage five-bedroom home can sleep up to 14 guests and offers two full bathrooms and two half bathrooms. The interior is historic and cozy with original artwork and a full selection of modern amenities. There is a well-equipped full kitchen with full-size appliances and a dining room for enjoying meals, and the two spacious living rooms make great places to hang out. In addition to the indoor living spaces, the home comes with a large sunroom and an enclosed gazebo furnished with a five-person patio table. Outside, you'll find a private backyard with a grill, an outdoor shower, and beach gear and bikes that guests can use. 
Located just 1.5 blocks from the beach and one block from downtown attractions, this convenient Airbnb in Bethany Beach is within walking distance of all major points of interest. Guests can enjoy swimming, shopping, and minigolf, and even attend outdoor concerts. 
View on Airbnb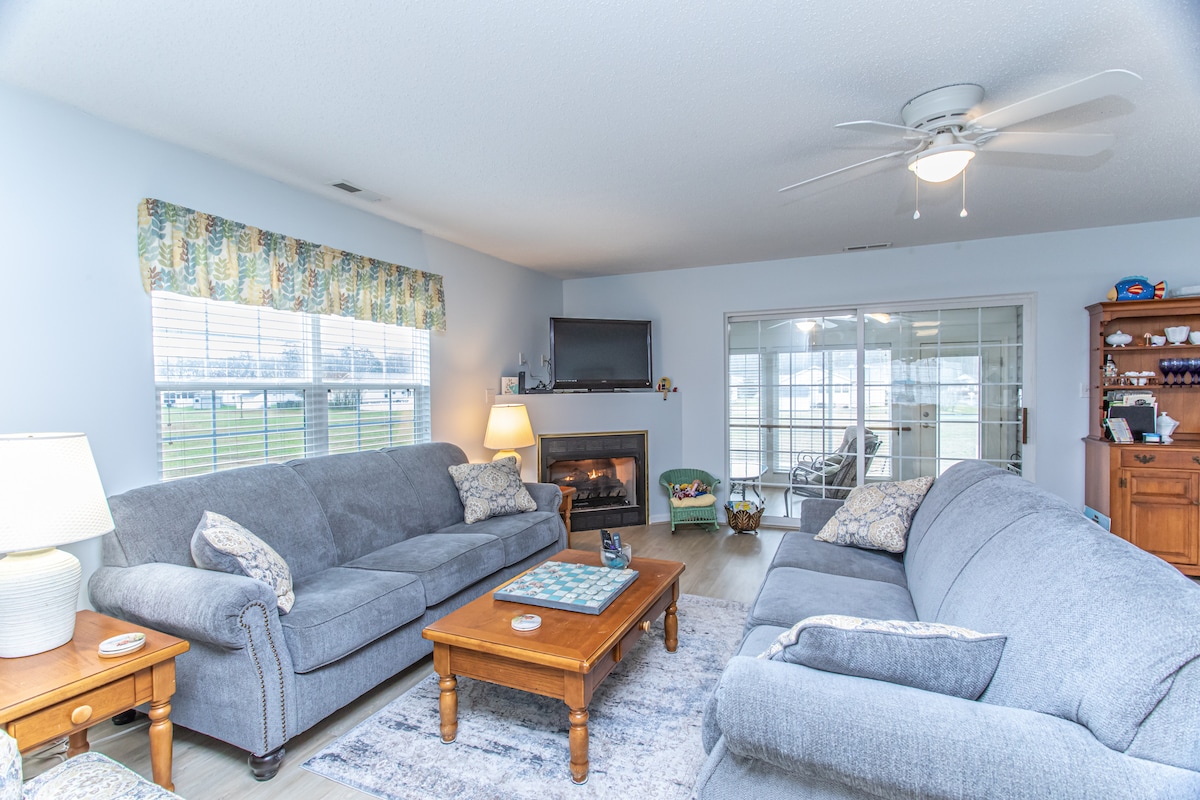 Spacious Beach Retreat
Brimming with beachfront charm and comfortable amenities, this three-bedroom condo is an ideal choice for your Bethany Beach getaway. 
Furnished with two queen-size beds, two single beds, and two comfy couches, the space is suitable for up to eight guests. The open living area is surrounded by grand windows and offers a cozy indoor fireplace for warming up on chilly nights. There are also 2.5 bathrooms throughout the home, a full kitchen with a great selection of modern appliances, and a separate laundry room. 
If you're looking for a rental with ample outdoor space, this could be the perfect choice for you. Guests have access to a community pool as well as a gorgeous stone patio set among a large grassy yard. Located just two miles away from the shore, this Bethany Beach Airbnb is set in a quiet and convenient neighborhood. 
View on Airbnb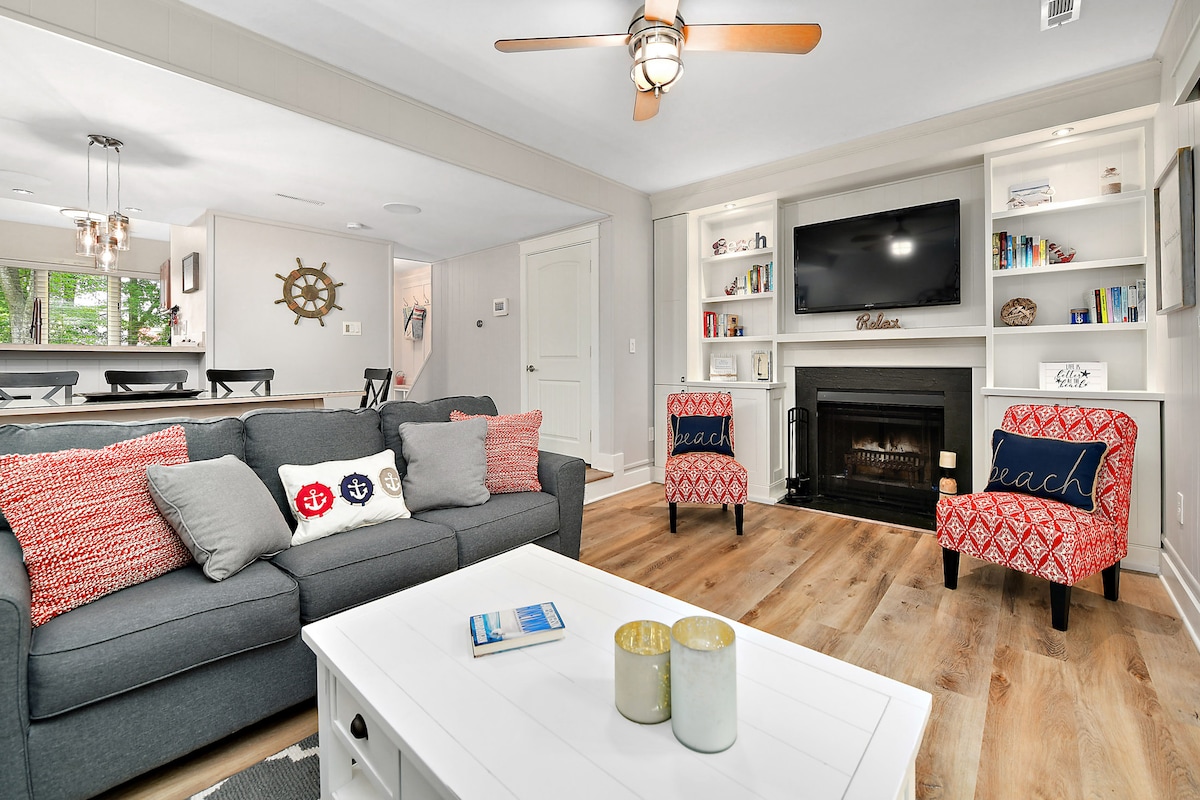 Bright and Cheerful Villa
This colorful and well-decorated townhome is another great option in the Villas of Bethany West community. 
The three-bedroom home offers 2.5 bathrooms and can sleep up to eight guests without compromising on comfort or privacy. Nautical-themed décor brings a splash of color and a ton of life into the spacious living room, and the modern kitchen is appointed with stainless-steel appliances and a one-of-a-kind antique copper sink. One of the bedrooms comes with two sets of bunk beds, and the provision of books and board games makes this fun Airbnb in Bethany Beach a great option for guests traveling with children. There is also a special closet filled with chairs, toys, and anything else you might need for a fun day at the beach. 
Guests can enjoy a relaxing evening in the brand-new three season room, which boasts floor-to-ceiling windows, a comfy patio set, and a three-person bar table. For some beachside fun, take a ride on the Bethany Beach Trolley, which makes a stop right down the street. 
View on Airbnb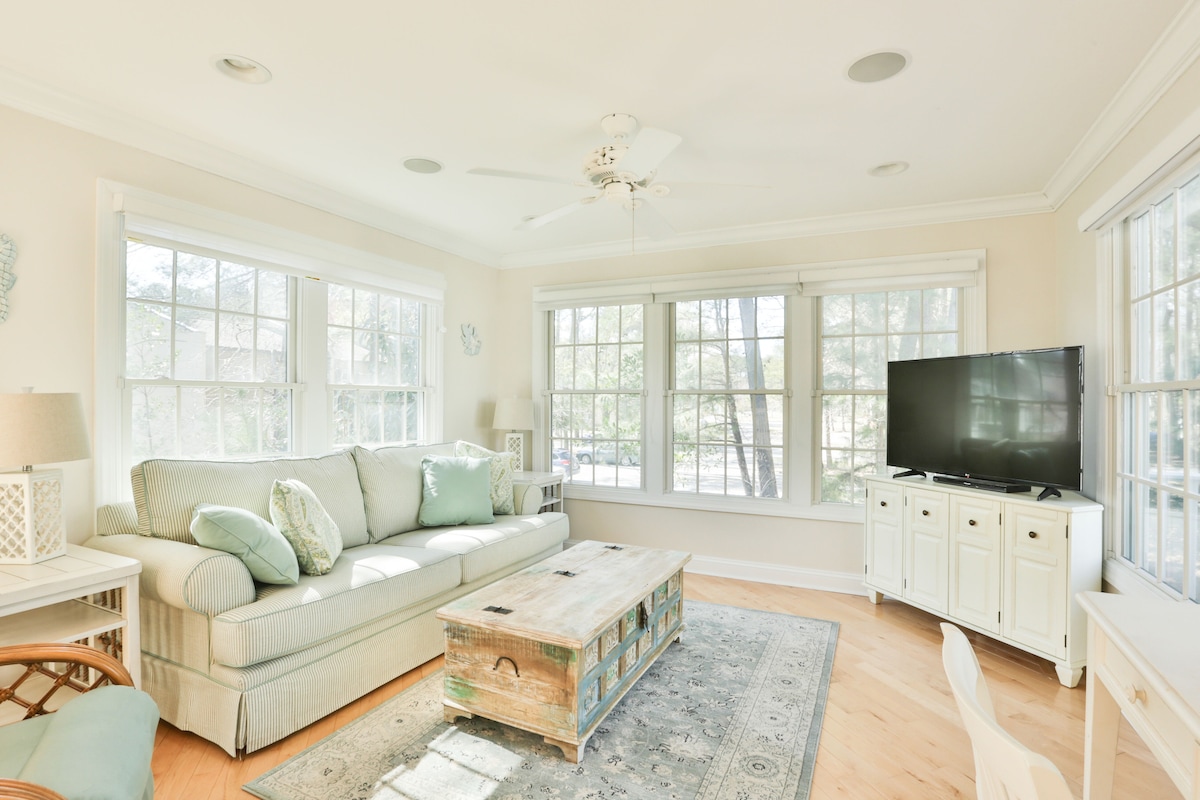 Beautiful and Private Home Rental
Large and luxurious is the best way to describe this alluring vacation home for rent in Bethany Beach. 
High ceilings, elegant chandeliers, and gorgeous pastel walls create a luxurious interior that is sure to take your breath away. The entire two-story house is equipped with modern amenities, high-end furnishings, and elegant decorations, and there are two main living rooms with comfy sofas and Smart TVs. There are also 3.5 bathrooms and four bedrooms, and guests can prepare meals in the spacious kitchen area complete with a lengthy breakfast bar and a 10-person dining table. In addition to the pastel color scheme and white furnishings, massive windows make the entire space bright and airy. 
With four spacious decks, including a screened-in porch, this unique rental is certainly not lacking when it comes to outdoor space. 
The home is located on a quiet dead-end street next to a wooded lot, making it one of the best Airbnbs in Bethany Beach for anyone interested in peace and privacy. Although the rental feels secluded, the ocean is still within walking distance, as is the town's main drag. 
View on Airbnb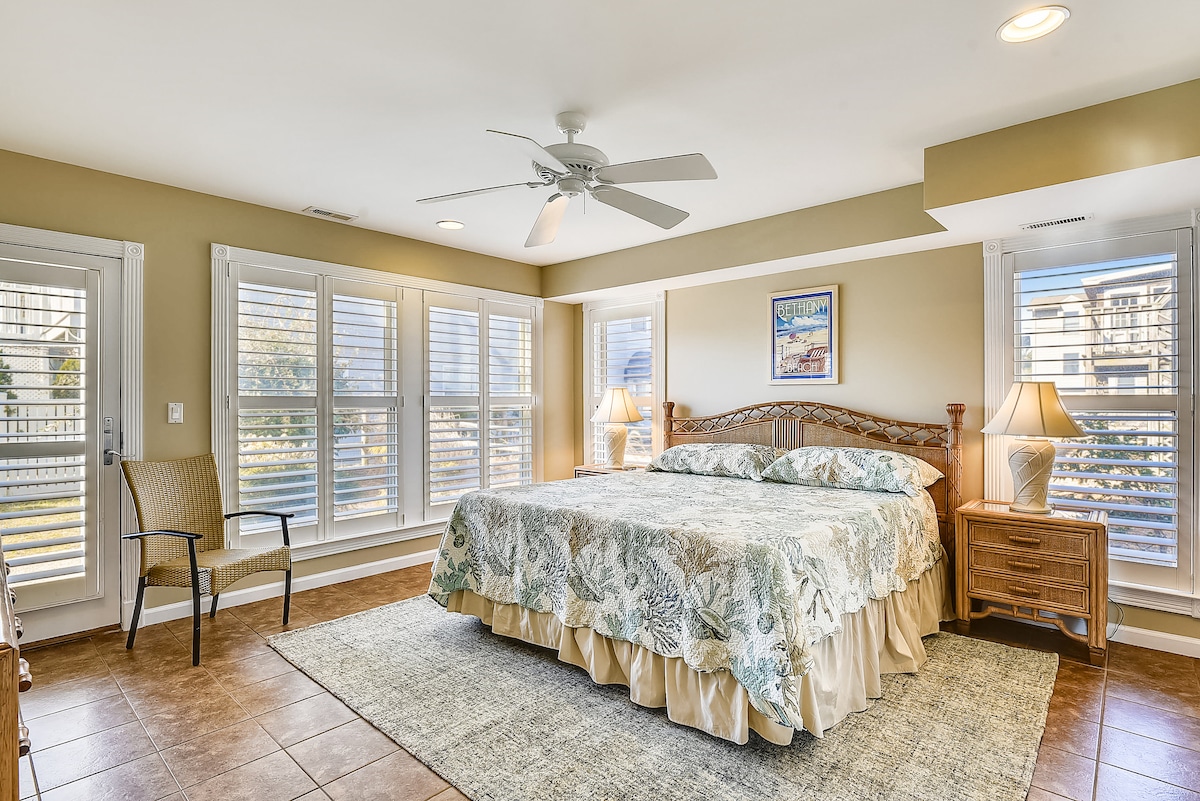 Ocean Views Beach House
What better way to spend your vacation than with a massive oceanfront rental in Bethany Beach? 
This three-floor, five-bedroom, 5.5-bathroom home is equipped with its own elevator and can sleep an impressive 14 guests. Colorful walls, beachy décor, and unique artwork make for a lively interior, and a wall of windows in the main living area provides fantastic views and natural light. The space also comes with a cozy indoor fireplace, a large dining table, and, of course, a gourmet kitchen, and the spacious sunroom makes for another great hangout space. 
Guests have access to five private decks that offer incredible ocean views, including a rooftop patio furnished with rocking chairs. The beach is located right across the street, and the boardwalk is just a short walk away. With picture-perfect scenery, an unbeatable location, and all of the space one could ask for, this is definitely one of the best Bethany Beach Airbnbs for large groups. 
View on Airbnb
Cozy Beach Retreat in a Quiet Neighborhood 
If you're hoping to travel with your furry friends, this pet-friendly Airbnb in Bethany Beach may be the one for you. 
With an attractive blue facade and a matching modern interior, the space is incredibly bright and comfortable. Although this might not be the largest Airbnb on our list, its three bedrooms and two bathrooms are spacious and well equipped with comfortable amenities. Furnished with one king-size bed, one queen-size bed, and one-double bed, the space is ideal for up to six guests. Kick back on the brown leather sectional in the living room or use the gourmet full kitchen to prepare a homemade meal and serve it in the fully furnished sunroom. However you choose to spend your vacation, this peaceful getaway will not disappoint. 
The rental is in a quiet residential neighborhood about one mile away from the beach and just one block away from two different trolley stops. This makes it a great choice for those interested in a peaceful stay that offers easy access to the town's main attractions. 
View on Airbnb
Downtown Oceanside Home
Situated just a few steps away from the beach, this oceanside home is just about as close to Bethany's sandy shoreline as you can get. 
Up to 12 guests can stay in the house, which offers five bedrooms and three full bathrooms. The rental is pet-friendly and family-friendly and comes equipped with all of the beach gear and baby accessories you could imagine, including eight beach chairs, a cooler, umbrellas, and towels. The living room is fully stocked with books, games, and movies, and the open-concept kitchen was newly remodeled to include the highest quality amenities. Off of the dining area, you'll find a beautiful screened-in porch, and guests also have access to a balcony and a private deck. 
Its proximity to the shore makes this beach house in Bethany Beach one of the most convenient options on our list. The driveway has room for six cars, so feel free to park upon arrival and walk to the town's best shops, restaurants, and oceanfront attractions. 
View on Airbnb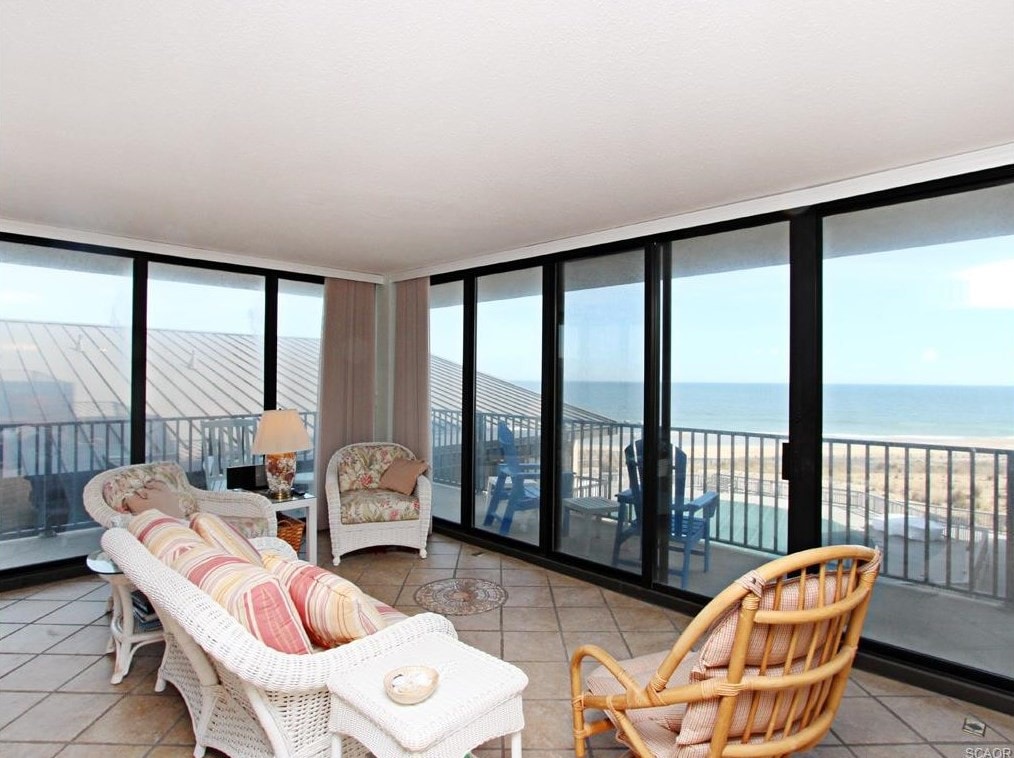 Updated Condo With Beach Views
Another great Bethany Beach Airbnb with ocean views is this three-bedroom condo in Sea Colony. 
With two full bathrooms and several comfortable beds, the space can accommodate up to eight guests. The interior was recently updated to include a number of modern amenities, including three TVs, a gourmet kitchen with granite countertops, and modern bathrooms with spa-like walk-in showers. The floor-to-ceiling windows make it possible to enjoy the stunning ocean views from the comfort of the living room. Additional amenities include games for children and adults, laundry facilities, and access to a community fitness center. 
Step onto the private wrap-around balcony for spectacular views of the beach and one of the community's 12 swimming pools. There are also two tennis courts located directly behind the condo, and downtown Bethany is less than a mile away. 
View on Airbnb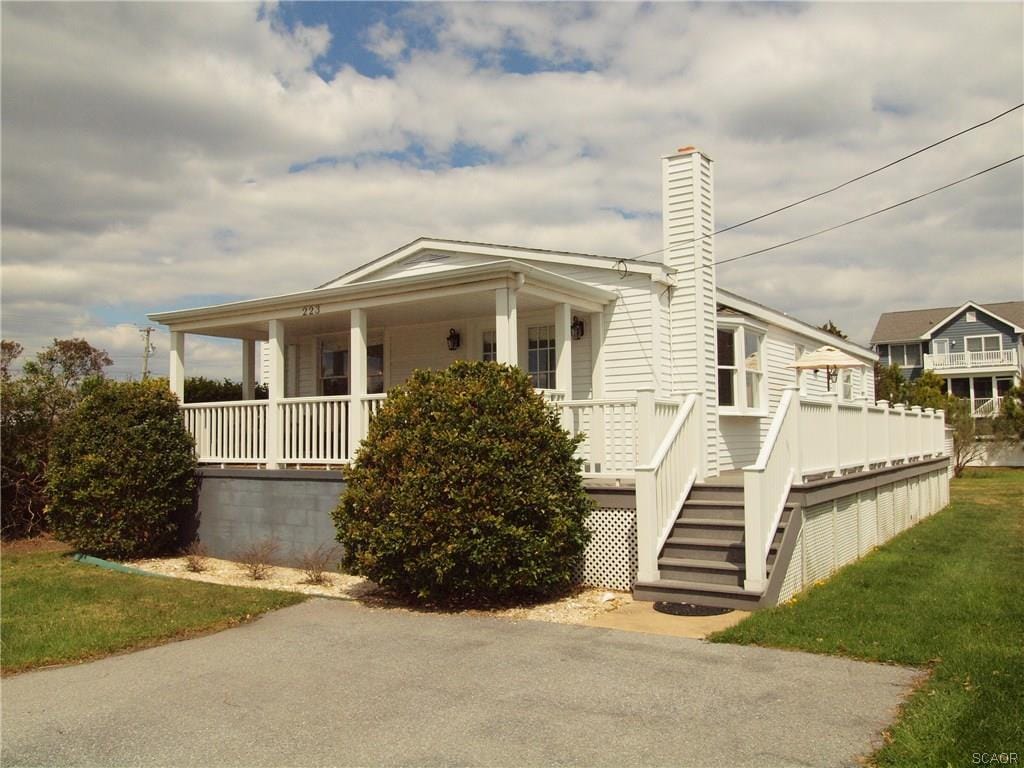 Classic Bethany Beach Cottage
Next up is a charming little cottage with a convenient location and a clean and comfortable interior. 
This three-bedroom, two-bathroom Airbnb in Bethany Beach boasts a bright and colorful open-concept living area equipped with cozy seating options, a wooden dining table, and a modern full kitchen. Large windows and French doors flood the entire home with natural light, and chic chandeliers add a touch of elegance to the warm and welcoming space. The master bedroom offers a queen-size bed and an en suite bathroom, and the second bedroom is also furnished with a queen-size bed. The third room is great for kids and features a twin-over-full bunk bed. Guests also have access to several great modern amenities such as an outdoor shower, a dishwasher, and a washer and dryer. 
Outdoor spaces include a private backyard, a quintessential front porch, and a spacious side deck furnished with a bar-style table. When you wish to explore the town, the beach and the boardwalk are just a few blocks away, and there are several restaurants and shops within walking distance. 
View on Airbnb
Newly Built Beach House
This relaxing vacation rental in Bethany Beach was recently constructed and offers an unrivaled selection of modern amenities and attractive décor. 
The three-floor home is equipped with its own elevator, making this a great choice for guests with accessibility needs. With a total of five bedrooms and four full bathrooms, up to 10 guests can sleep comfortably in the house. The first floor is equipped with two bedrooms, two bathrooms, its own sunroom, and a private exterior entrance. On the second floor, you'll find the main common areas, including a living room, a dining room, and a modern kitchen with granite countertops, a breakfast bar, and brand-new appliances. The second floor also offers one bedroom, one bathroom, and a private exterior entrance; the last two bedrooms and final full bathroom can be found on the third floor. 
Guests have access to ample outdoor space, including a screened-in porch and a south-facing sun deck with a grill. There is also an outdoor shower for rinsing off after the beach and a separate storage area fully stocked with beach gear. The ocean is just 1.5 blocks away from the home, and Bethany Beach's main road can be reached by a short walk. 
View on Airbnb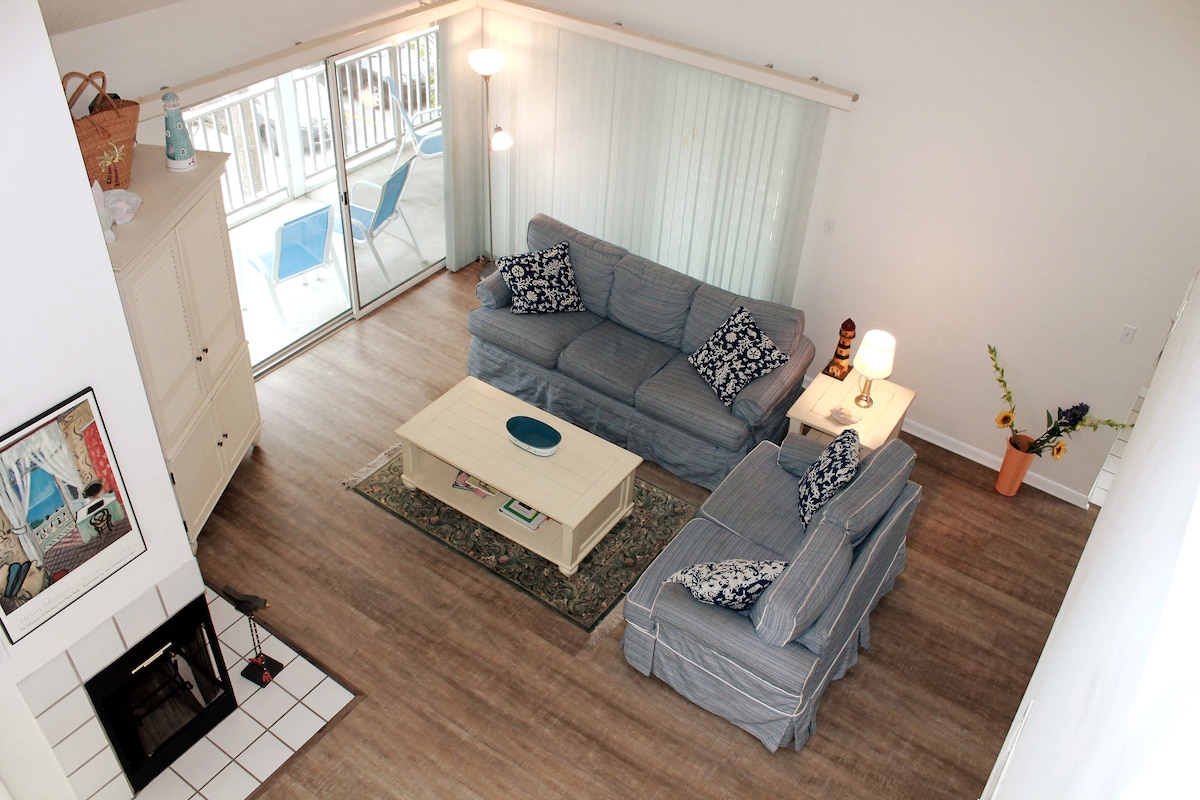 Remodeled Unit in Sea Colony
For a short-term rental in Bethany Beach built for entertaining, check out this three-bedroom Sea Colony condo. 
High ceilings and bright white finishes make the interior lively and inviting, and the open living space is beautifully decorated with simple but colorful artwork. The two main bedrooms are furnished with a king-size bed and a queen-size bed respectively, and the third bedroom takes the form of a lofted sleeping area and offers two single beds. There are also two full bathrooms, a full kitchen, and a laundry closet. 
The large wrap-around porch is partially screened in and surrounded by beautiful trees, making it the perfect place to entertain, enjoy a meal, or relax in the afternoon sun. 
With a central location within the resort community, this convenient rental makes it easy to access all of the surrounding amenities. 
View on Airbnb
Oceanfront Sea Colony Stay
Last but not least is a Bethany Beach Airbnb with a convenient location, stunning views, and brand-new furniture. 
Up to six guests can stay in this Sea Colony condo, which offers 1.5 bathrooms and one large bedroom furnished with a queen-size bed and a triple bunk bed. A massive wall of sliding glass doors brings ocean views into the kitchen, the living room, and the dining room and opens onto a large private balcony. The full kitchen is separate from the main living spaces and boasts a great selection of modern appliances and cooking essentials. A pink accent wall, gorgeous wall art, and unique decorations make the cozy living room the focal point of the home, and the dining table offers bench seating for up to eight guests. 
As with all of Sea Colony's rental units, guests have access to indoor pools, outdoor pools, tennis courts, walking trails, playgrounds, and more. This particular unit is also just a few steps away from the ocean and Sea Colony Market. 
View on Airbnb
Whether you're interested in a quaint cottage or a massive townhome, you can't go wrong with choosing from this list of the best Airbnb rentals in Bethany Beach.