Road Affair is reader-supported and may earn commission from purchases made through links in this article.
Alaska is one of the best places to vacation for breathtaking scenery, diverse wildlife, and unparalleled adventure. Visitors can cruise the crystal clear lakes, explore the state's rich history, experience cabin living, and so much more! 
As a popular vacation spot, Alaska boasts many great rental properties. To help you find the perfect place to stay, we've compiled the following list of the best Airbnbs in Alaska. All of these listings are presided over by superhosts, so you can rest easy knowing that you're staying in a fantastic and consistently well-rated accommodation. For those unfamiliar with Airbnb, superhosts are hosts with a proven track record of providing exceptional hospitality.
Related: 15 Best Places to Visit in Alaska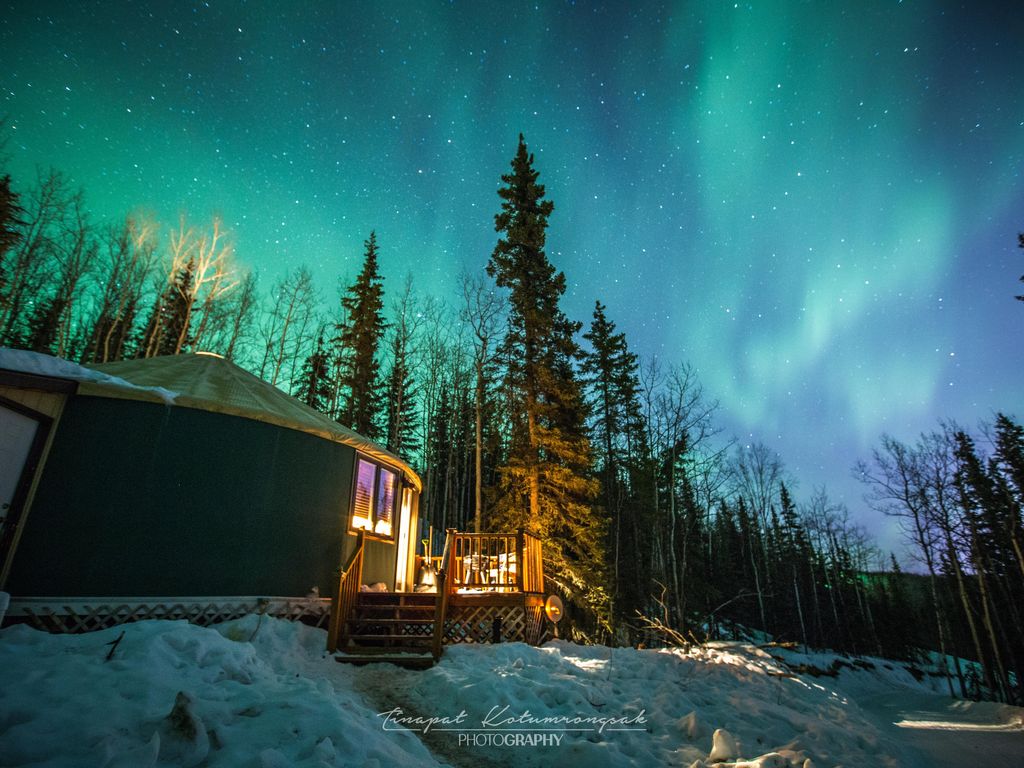 The Aurora Yurt: A Mountain Getaway
Kicking off our list of the best vacation rentals in Alaska is this deluxe rental property in Fairbanks. If you're planning a trip to Alaska, you're probably looking to catch some great views while you're there. In this rental, you'll have premier views of the Alaska Range and, depending on the season, the Northern Lights right outside your door. You can enjoy the views from the warmth of the living area with sunny, south-facing windows and a skylight. 
The yurt is fairly spacious and can accommodate up to five guests. The largest bedroom is furnished with a queen-size bed, and the second bedroom offers two single beds. There is also a loft with a sizable futon. Additional features include a fully stocked kitchen, a full bathroom, and basic modern amenities, such as Wi-Fi, TV, air-conditioning, complimentary toiletries, and a washer and dryer. Most notably, there is an outdoor hot tub with stunning views that guests can access via a short trail through the woods. The home also features French doors in the living area, which open onto a large patio with a grill. 
When you decide to venture off the property, you'll find that the immediate area hosts an endless array of historic sites, natural hot springs, ice sculptures, dog mushing, and more. Your host, Colleen, is a long-time resident of the town, and she is happy to share her local knowledge and suggest the best activities in the area. 
View on Airbnb
The Chena River House South Suite
Located on the westside of Fairbanks, this remodeled home on the Chena River Bank is a great choice for larger groups. Guests can enjoy stunning views of the river from a large private deck, and downtown restaurants, shops, and other attractions are just a short drive away. 
The home is a private unit in a larger building with its own private entrance. It is suited for up to 10 guests, with three bedrooms – one with a king-size bed and two with queen-size beds – and two full bathrooms. There is also a huge master closet with a Murphy bed that functions as a fourth bedroom and a comfortable foldout couch in the living room, and your hosts can provide roll-away and inflatable twin-size beds and travel cribs upon request. 
The luxurious features and top-notch amenities make this Alaska Airbnb an ultracomfortable home away from home. The living room, the three bedrooms, and even the master bathroom all have their own flat-screen Smart TV. The home also boasts full digital cable, high-speed Wi-Fi, a washer and dryer, and a large heated garage to protect your vehicle in the winter months. The full kitchen comes conveniently stocked with cold bottled water, fresh fruit, pasta, soup, and breakfast items. 
View on Airbnb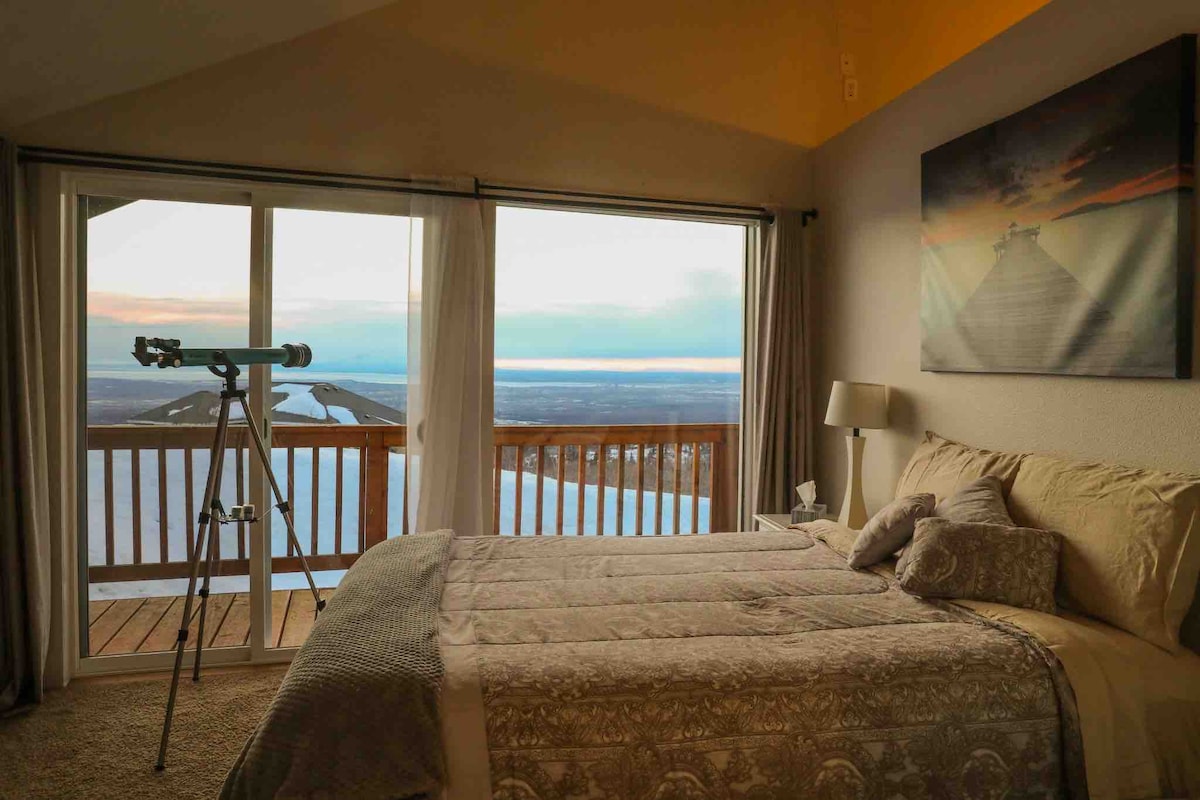 Private Mountain Chalet With Breathtaking Views
Once you lay your eyes on this spectacular Airbnb in Anchorage, we're certain you'll never want to leave. If you choose this luxurious mountain getaway, you will be within walking distance of some of the world's best hiking and skiing trails, 10 minutes from the town's restaurants and shops, and a 20-minute drive from the airport. With its unbeatable views, high-end amenities, and the perfect location, this is one of our favorite short-term rentals in Alaska. 
With one queen-size bed in the separate bedroom and a sofa bed in the living area, the home can accommodate up to four guests but would be more comfortable and spacious for two. This is a great option for couples interested in a romantic retreat as there is a romance package available for purchase. The suite also features a full bathroom with a walk-in shower and a full kitchen with a breakfast table. 
Take in surreal views of the city skyline, ocean, and mountains from the patio or through the floor-to-ceiling windows in the living room and bedroom. Guests can also take advantage of the vast assortment of local activities or just get cozy and warm by the luxurious indoor fireplace. However you decide to spend your trip, you can't go wrong with this incredible Alaskan getaway. 
View on Airbnb
Related: 15 Best Airbnbs in Anchorage, AK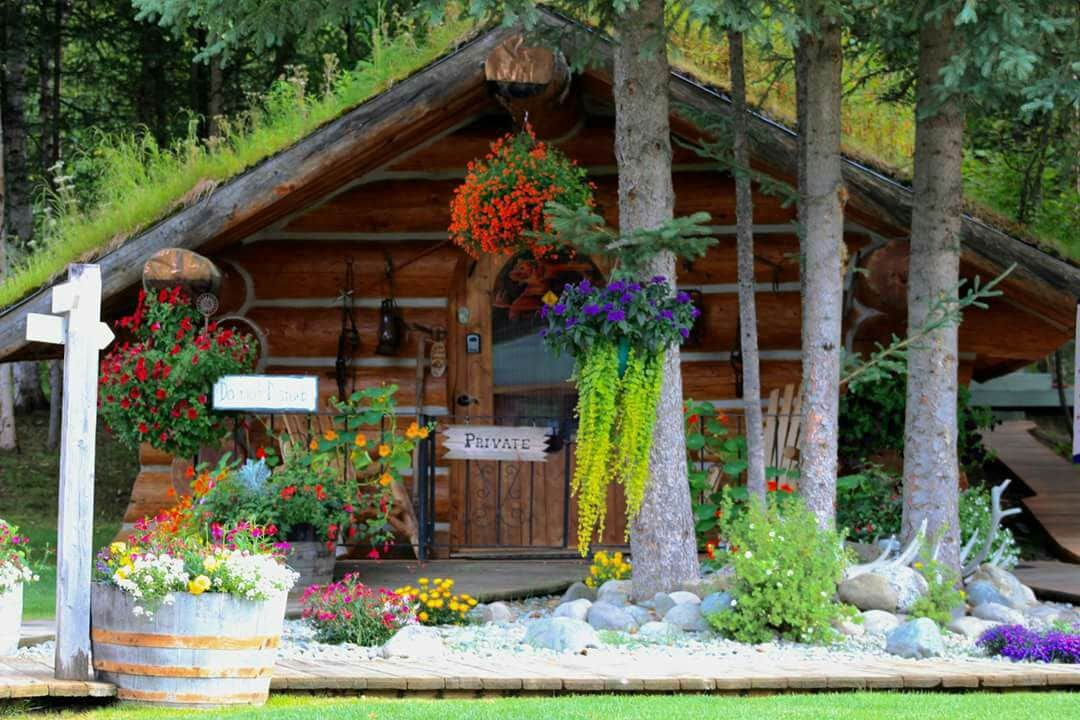 The Hobbit Cabin
Known as the Hobbit House, this unique Airbnb in Alaska was once featured on HGTV's Mighty Tiny Houses. The exterior is that of an authentic log cabin adorned with beautiful Alaskan flowers, and the interior is tastefully decorated with a matching rustic theme. 
With one double bed, this cozy cabin is ideal for a solo traveler or a couple. As an authentic cabin rental in Alaska, this tiny home does not have a kitchen, Wi-Fi, or air-conditioning. However, there is a TV, and guests will have access to a private, full bathroom about 15 feet away from the cabin. 
The rental is located on a beautiful lake, and guests will have the option to use a kayak and pedal boat free of charge. You will also be about five minutes from Talkeetna Town, where you can check out the local amenities and visit Denali Brewing Company. 
View on Airbnb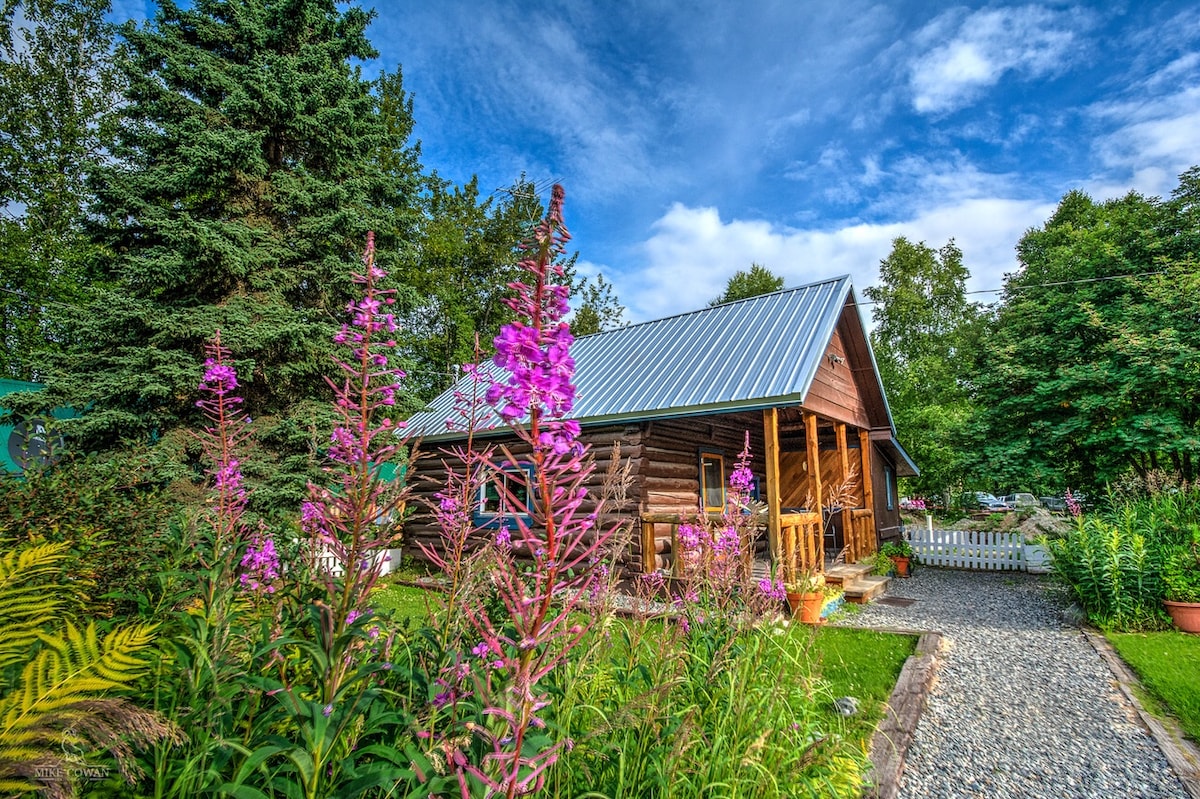 Charming and Historic Downtown Cabin
Located in the heart of downtown Talkeetna, this lovely rental cabin in Alaska is within walking distance of the town's major attractions. One interesting aspect of the private studio cabin is that it holds a spot on the US National Park Service's National Register of Historic Places. 
Furnished with one premium queen-size bed and a twin-size pullout couch, this charming abode welcomes up to three guests. Guests have access to a fully stocked, recently renovated kitchen as well as a full bathroom with a brand-new claw-foot tub. There is also a private and spacious backyard in which guests can enjoy the flowery landscape and beautiful scenery. 
Additional amenities include Wi-Fi, a TV, and a washer and dryer. Children are welcome in the cabin, and the host will thoughtfully provide a travel crib, books, toys, and a high chair upon request. 
View on Airbnb
Related: 15 Best Cabin Rentals in Alaska, USA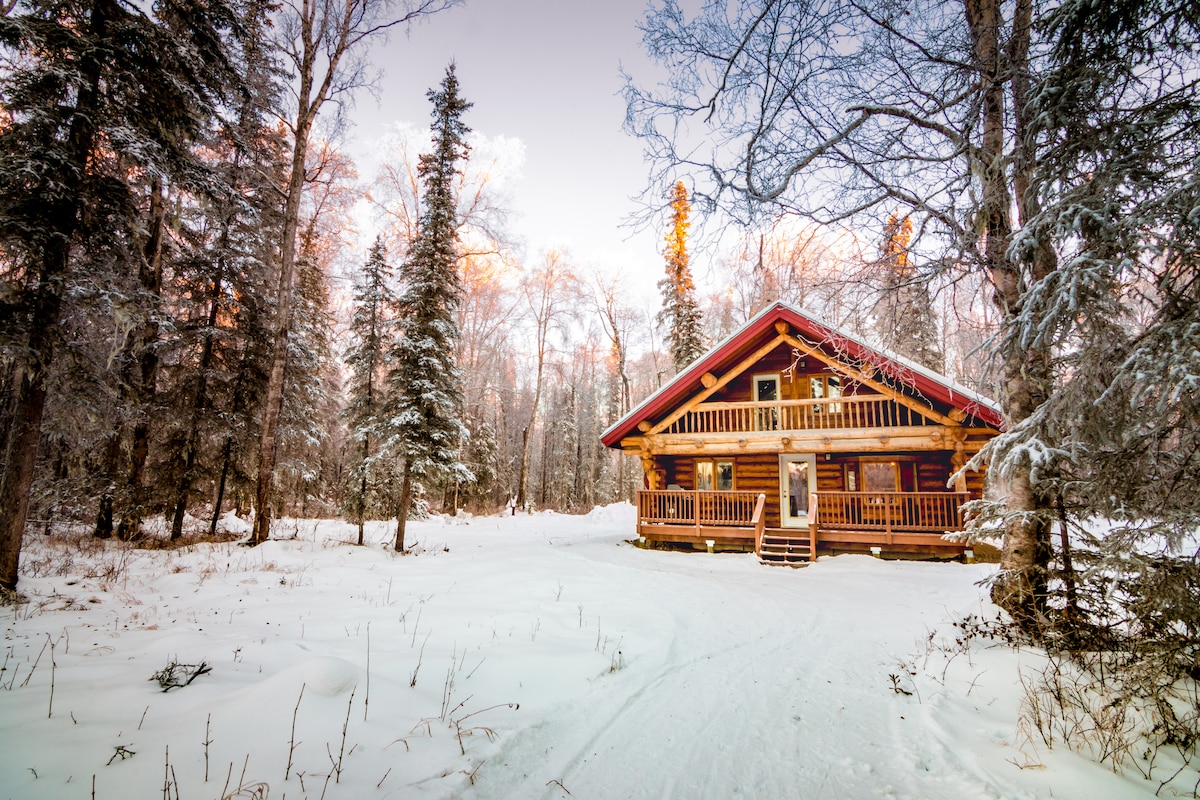 Log Cabin on a Private Pond
Four miles from downtown Talkeetna sits Nana's Cabin, a charming log home built in 1991. The property features a private pond in addition to a walking trail. 
The two-bedroom Alaska Airbnb is suited for up to six guests. Each bedroom is furnished with a queen-size bed, and the living area has two additional single beds and a floor mattress. The cabin has two floors and is very spacious. Both bedrooms are situated on the second floor, and the full kitchen, living room, and dining area are on the first floor. The full bathroom offers the convenience of a washer and dryer, and the kitchen features a fully functional, antique stove and oven, making the cabin a great choice for longer stays. The home also offers an upper and lower deck, the latter of which is furnished with a patio table and a grill. 
If you plan to visit in the summertime, you'll be able to enjoy swimming, canoeing, and wildlife viewing. In the winter, the property is great for skiing and ice skating. Your host, Diana, is also a yoga instructor who offers weekly classes as well as private instruction if guests are interested. Nana's Cabin also offers high speed Wi-Fi, free parking on the premises, and a well-stocked bookshelf where guests are encouraged to take or leave a book. Perfect for a peaceful retreat or family vacation, this cozy log home is an Alaskan gem. 
View on Airbnb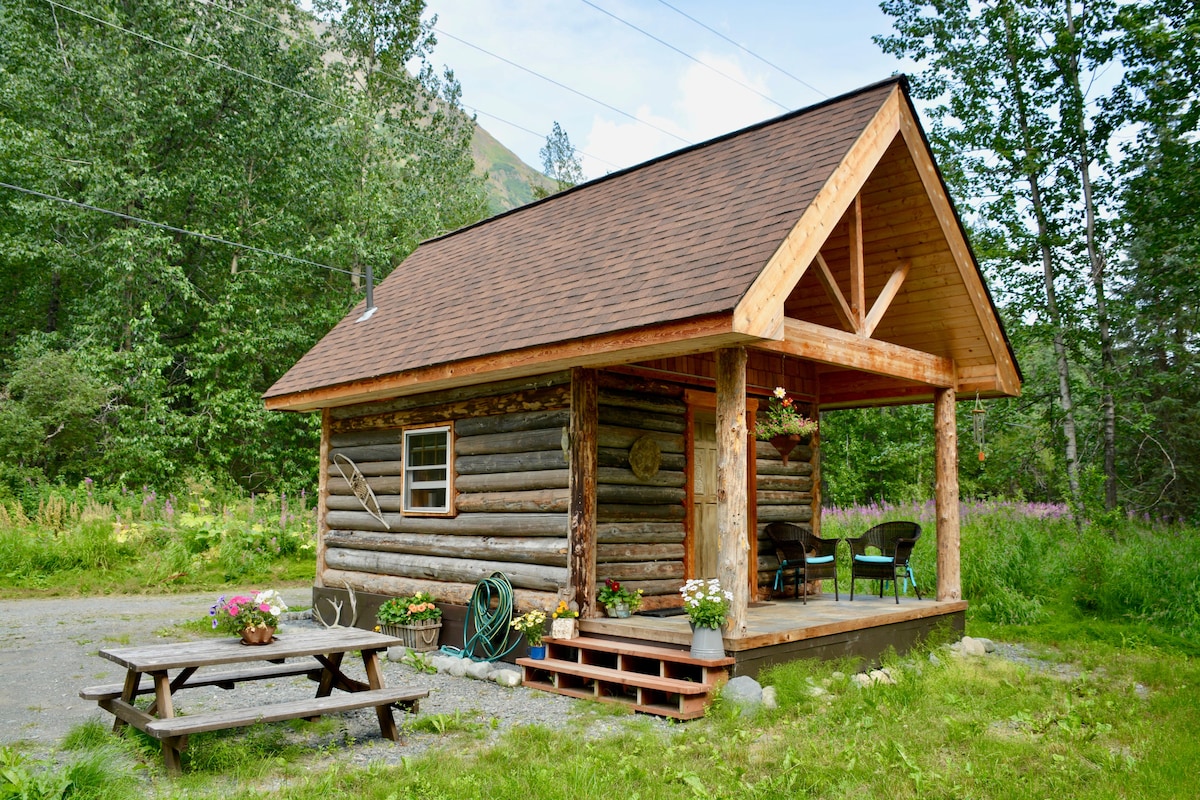 The Bear Cub Cabin
This historic cabin is conveniently located on 10 acres of land in Church National Forest. Close to the seaside city of Seward and the quaint town of Moose Pass, this Airbnb in Alaska is perfect for any solo traveler or couple looking to explore the area's many activities. As an added bonus, world-class king salmon fishing is just a few minutes away!
One or two guests can stay comfortably in the cabin, as it is a small home with a lofted queen-size bed. Guests will need to climb up a fairly steep ladder to reach the bed, making this rental unsuitable for small children and those with accessibility needs.
Rich in history, this charming home was originally built during the first Alaskan gold rush in 1906, and it has moved locations several times throughout the last century. The current owners had the cabin completely reconstructed in 2016, and it now features a wide variety of comfortable modern amenities, including a full bathroom, a full kitchen, and Wi-Fi. 
View on Airbnb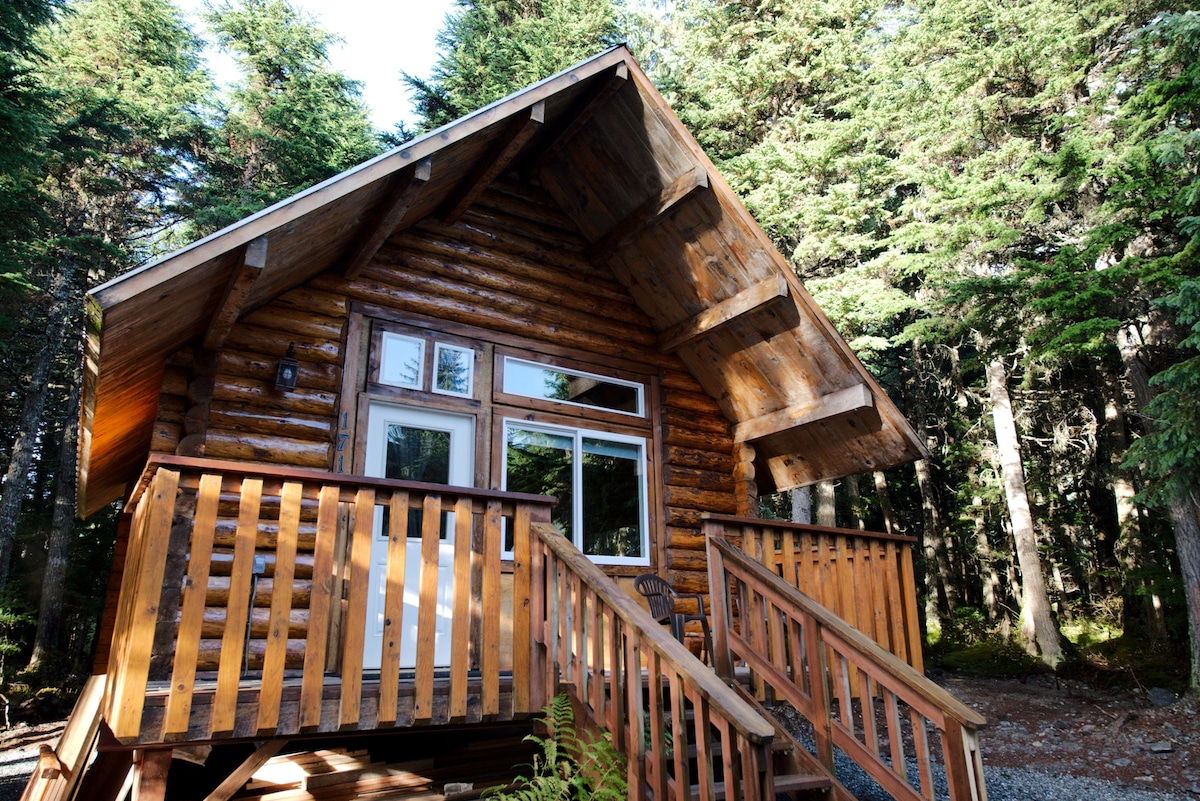 Glacier Cabin
Bordering the Chugach Forest in Girdwood, Alaska, is this charming one-room cabin. At night, the cabin offers breathtaking views of the famous Northern Lights. In the daytime, take a few steps into the woods and you'll find a lovely hiking trail which connects to the larger, six-mile Beaver Pond Trail. Guests can also enjoy skiing on the nearby slopes, kayaking in Spencer Lake, or spotting wildlife at the Alaska Wildlife Center. 
This cabin features a queen-size bed in the living area as well as a lofted queen-size bed, making it suitable for up to four guests. The kitchen is fully stocked with all of the basic cooking essentials, and the full bathroom features a large claw-foot tub, great for relaxing after an adventurous day. The home also offers high-speed internet and a cozy wood stove to warm you up before bed. As an added touch, superhost Lynne bakes fresh blueberry bread for all of her guests upon arrival. 
With endless outdoor adventures to explore and all of the comforts of home, this is definitely one of the best vacation cabins for rent in Alaska. 
View on Airbnb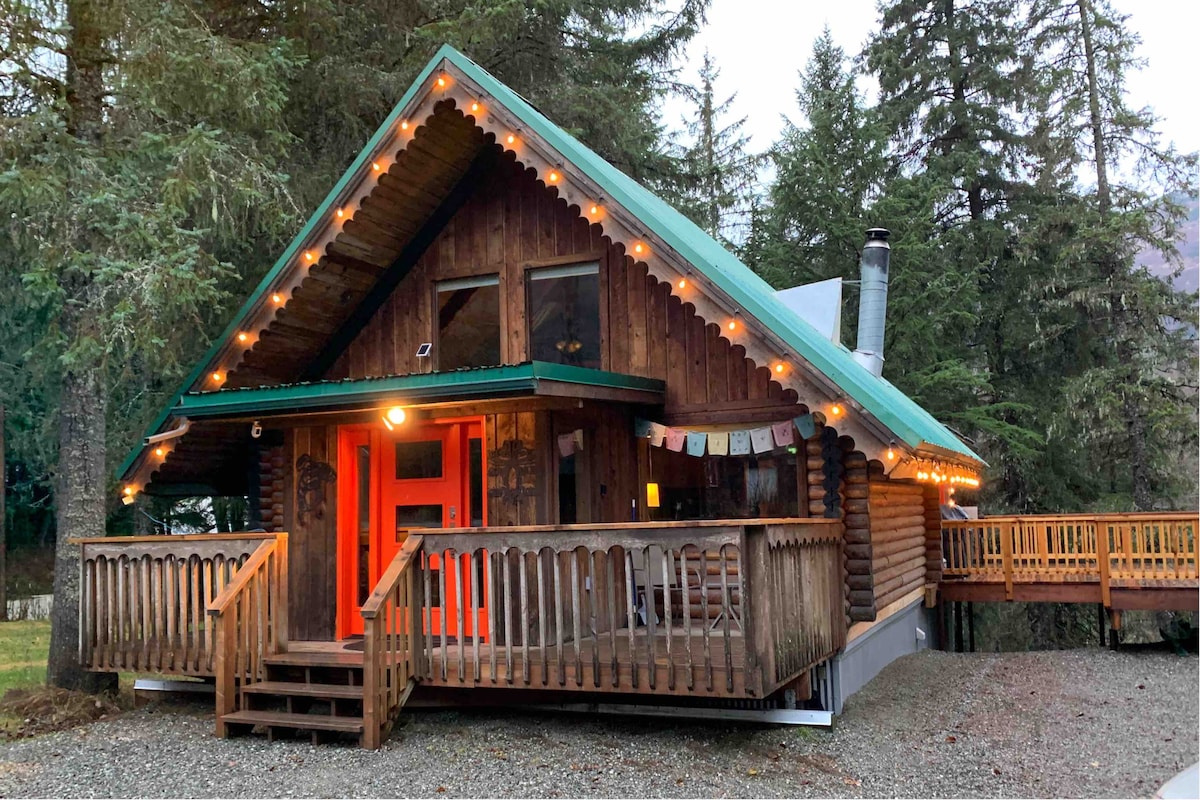 Comfortable and Cozy Girdwood Cabin 
The uniquely spacious and modern interior of this two-bedroom, two-bathroom cabin makes it one of our favorite house rentals in Alaska. 
When you step inside this 1,150 square foot home, you'll be blown away by the enchanting string lights, beautiful rustic décor, and plethora of high-end amenities. The main bedroom features large windows on three walls, providing beautiful views of the surrounding landscape. Additionally, the room offers a queen-size bed and en suite bathroom. The second bedroom is lofted above the living area and is also furnished with a queen-size bed. The pullout couch in the living room means that up to six people can sleep here comfortably. The second bathroom is near the living area and contains a convenient washer and dryer, and the full kitchen boasts stainless-steel appliances and a breakfast bar. Additional amenities include two decks with outdoor furniture, USB outlets, Wi-Fi, a TV, a dishwasher, and an indoor fireplace. 
If you're looking to enjoy the area's natural wonders without being too remote or secluded, this is the Alaska Airbnb for you. Conveniently accommodated a short drive or 15-minute walk away from all that Girdwood has to offer, guests can easily visit the nearby restaurants, galleries, ski lifts, and Anchorage Brewing Company. 
View on Airbnb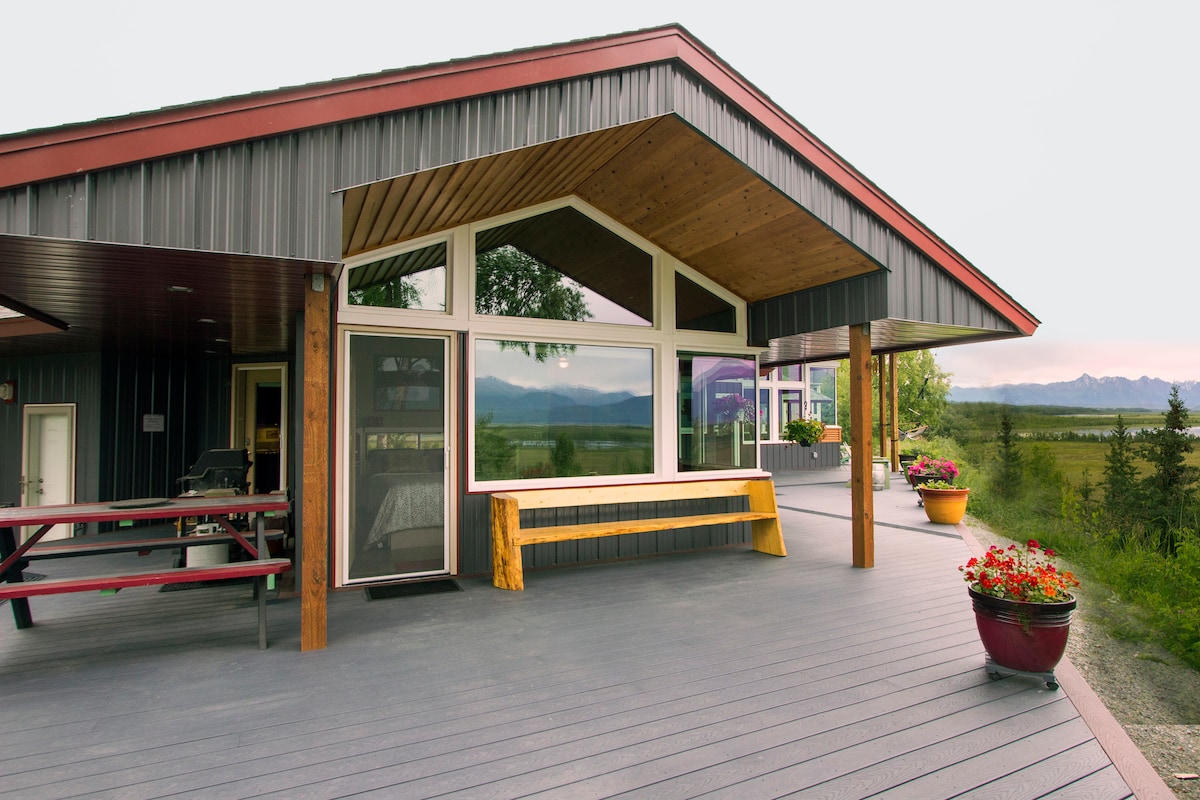 Eyemax Alaska: Deluxe Rental With Unparalleled Views
Spend your time in Alaska in a newly built, luxury accommodation in Wasilla, the home of sled dog racing! With easy access to the Parks and Glenn Highways, Eyemax Alaska is close to countless museums, farms, lakes, and state parks. It is also less than an hour away from the airport in Anchorage and makes a great stopping point on your way to explore all that the state has to offer. 
This private one-bedroom, one-bathroom accommodation is ideal for a solo adventurer or a couple looking for a romantic getaway. The bedroom features an ultracomfy queen-size bed and high thread count sheets. There is also a full bathroom with a large walk-in shower and a kitchenette with a minifridge, a microwave, a toaster, and a coffee machine. The space offers an abundance of amenities including Wi-Fi, a Smart TV, and a huge supply of complimentary toiletries. Guests can make s'mores from the swinging benches under the covered firepit or enjoy a cozy night by the indoor electric fireplace.
True to its name, this cool Airbnb in Alaska offers some of the best mountain views in the state. Each of the several windows in the house is perfectly positioned so that you can enjoy the stunning scenery all day and night. As one of the Best Alaska Airbnbs, this comfortable and convenient rental will not disappoint. 
View on Airbnb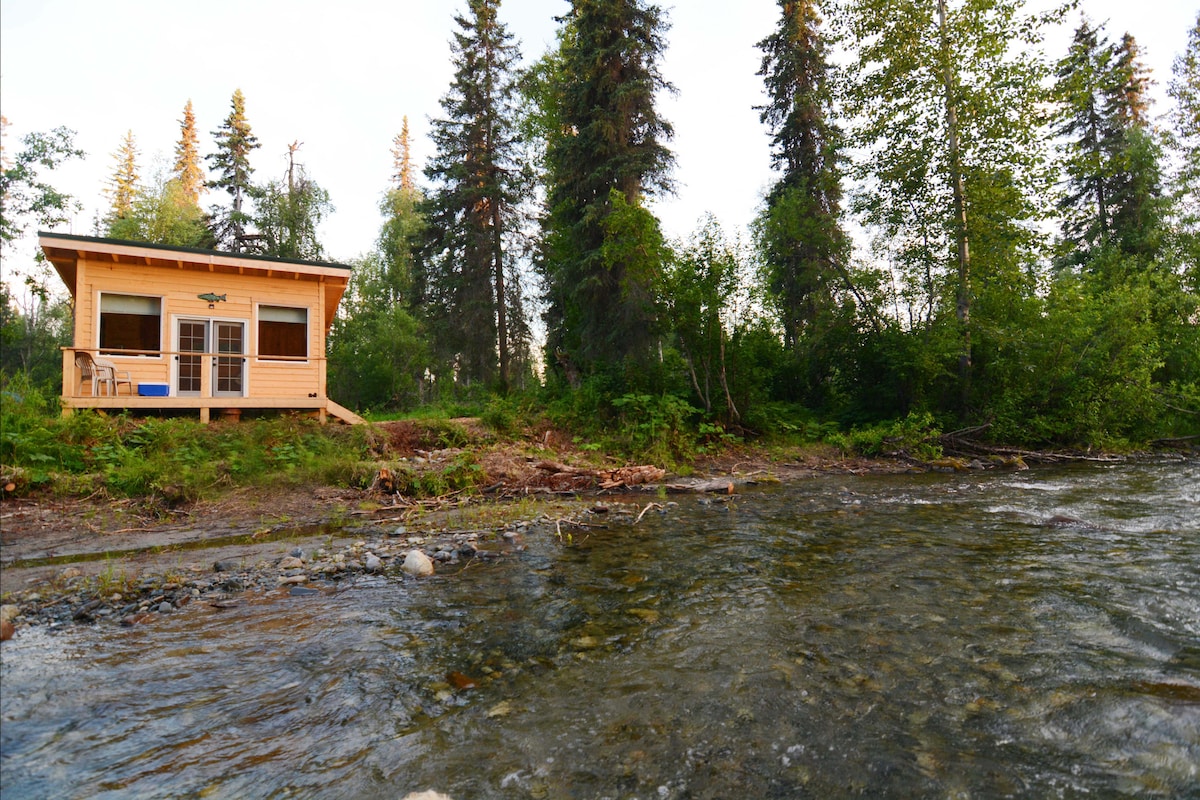 Sliver Cabins at Montana Creek
Rent a cabin in Alaska that makes you feel at one with the environment. This sustainable, solar-powered cabin is located along a stream on a private wilderness property. The entire cabin and all of its furniture were made with materials gathered on the property itself, and guests have access to a wood-fired sauna located just outside the cabin. The hosts accurately describe this cabin as a truly Alaskan experience.
With one queen-size bed and one single bed, the cabin can host up to three guests. Although there is no shower in the home, each of the cabins on the property has a newly constructed, private outhouse. There is also a large viewing deck, a coffee maker, a tea kettle, and a single-burner propane stove. 
This is one of the best Airbnb rentals in Alaska for anyone looking for a sustainable and authentic cabin experience. 
View on Airbnb
Cozy Cabin Retreat for Two 
Step into this charming Alaskan bungalow and feel right at home. The space was originally crafted as a writing retreat and provides all of the comfort and serenity one could ask for. Located in West Fairbanks, just 10 minutes from the airport, this cabin is both private and convenient. Guests will be within walking distance of the Chena River, as well as a variety of restaurants and shops. 
Although small, this cabin has everything you need for a comfortable stay. Up to two guests can sleep on the lofted, queen-size bed, and you will have access to a small refrigerator, a microwave, and a hot kettle. The cabin itself does not have a bathroom, but guests will have exclusive access to a full bathroom in the main house nearby. 
Your host, Jamelle, is a full-time artist who grew up in the area and has handcrafted all of the cabin's lovely décor and furnishings. So if you're interested in renting a tiny house in Alaska, consider this cozy cabin in Fairbanks!
View on Airbnb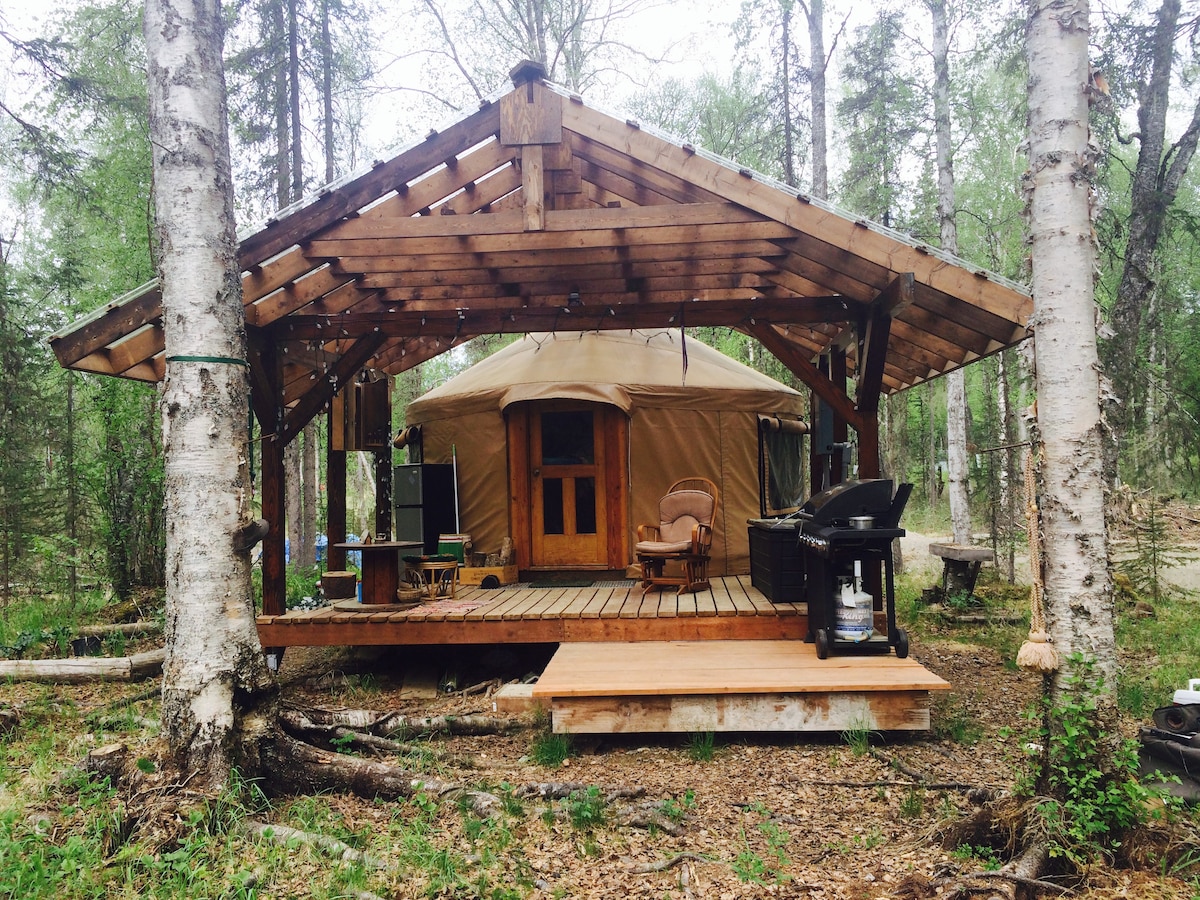 Yurt Cottage
Immerse yourself in Alaskan rural life with this cozy yurt modeled after a traditional Mongolian nomadic home. Located in a quiet neighborhood, a few minutes' drive from Talkeetna, this rental offers seclusion and serenity while being within walking distance of several trails as well as the village's main attractions. 
If you're looking to rent a house in Alaska with modern comforts and luxurious amenities, this is not the rental for you. However, this is the perfect Alaska Airbnb for a tough, independent traveler or a couple seeking to experience the yurt lifestyle. Up to two guests can comfortably sleep on the double bed, and there is a small kitchen with a refrigerator, an oven, and a propane stove. The home has electricity but no running water, and it is heated solely by a wood stove. Guests will have access to the old-fashioned outhouse and can shower at the Talkeetna Roadhouse just a few minutes away.
The most notable aspect of the yurt is the beautiful skydome through which you can connect with the sky, trees, and birds as you lie in bed. Guests will also enjoy spending time on the hammock, large porch, and cooking on the outdoor grill. 
View on Airbnb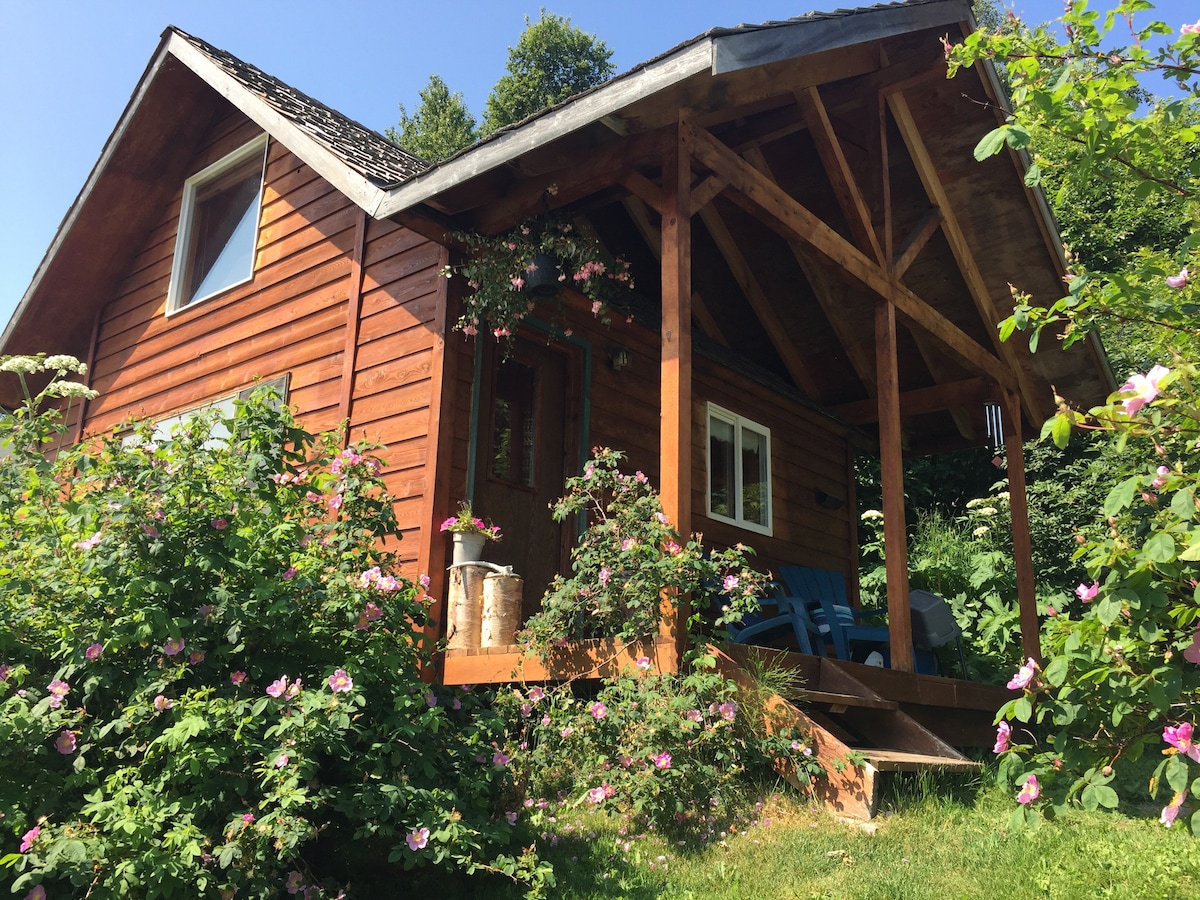 Cabin Getaway in Homer
This Airbnb in Alaska is a great choice for any traveler hoping to combine a peaceful retreat in nature with modern comforts and convenient amenities. The private cabin is located about 10 minutes from town and boasts a gorgeous view of Kachemak Bay. As a guest of this cabin getaway, you will be completely surrounded by lush green and, depending on the season, beautiful flowers. Travel a few minutes up the hill to Skyline Lookout and catch spectacular views of the bay and glaciers. 
Perfect for a lone traveler or a couple, the cabin has a lofted queen-size bed that can accommodate up to two guests. There is a full kitchen in the cabin and two different dining areas. The first is situated in the living room next to a picturesque window, and the other is on the front porch pointing toward the bay. There is also a full bathroom with a walk-in shower, fresh linens, and complimentary toiletries. Guests will also have access to high-speed Wi-Fi and a dedicated workspace where previous guests have written published books. 
Your hosts also live on the property, and they are happy to assist with any requests or inquiries you may have. The cabin is family-friendly, and children are welcome. The hosts have kids of their own and will even offer to have the children play together. 
View on Airbnb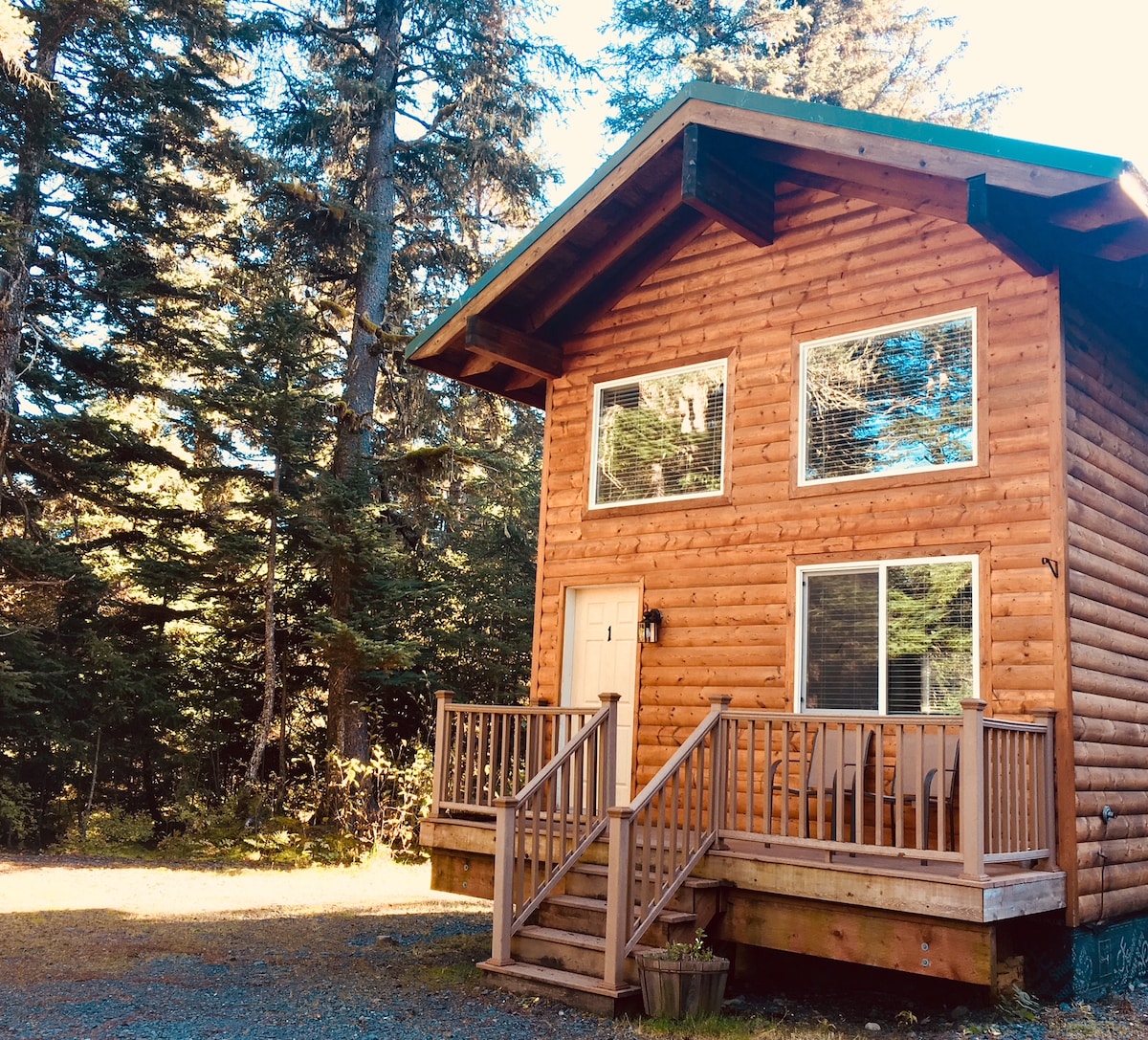 Australis Cabin
Last but certainly not least is an Alaska Airbnb perfect for the entire family. Situated in a quiet neighborhood in the mountains, just a few miles from Seward City, this cabin is known for its ideal location and abundance of high-end amenities. The seaside city of Seward hosts a ton of great activities, including cruises, kayaking, and dog sled tours. Guests can also visit the area's many national parks, the Alaska Sealife Center, and Lost Lake Trailhead, one of the most scenic hiking trails in the area. 
Featuring high ceilings and an open floor plan, the cabin is furnished with three queen-size beds and can host up to six guests. One of the beds is located in the living room, on the ground floor of the cabin, and the other two are lofted above and can be reached by a ladder. The full kitchen is packed with all of the appliances and basics needed for guests to cook their own meals, and there is also a full bathroom with a walk-in shower. 
Spend the day in the large backyard grilling on the porch and the night making s'mores around the firepit. Before bed, wind down with the complimentary Wi-Fi, large Smart TV, and Bluetooth sound system. A convenient and unique feature of this apartment is that guests can utilize free parking on the premises for up to three vehicles. Your hosts will also provide baby gear and board games upon request. 
View on Airbnb
That concludes our list of the best rentals on the Last Frontier. Whether you're looking for a luxury suite, a remote cabin, or a tiny house for rent in Alaska, Airbnb has you covered.