What makes a great travel backpack? It should be roomy enough to hold everything you need, whether you're using it as a carry-on or your only bag for your trip, but also have plenty of pockets and other ways to keep all your gear neat and orderly.
The best travel backpacks are comfortable to carry, because no one wants a sore back or shoulders to ruin their travels. And they need to be durable enough to be stashed in a plane's overhead compartment, thrown in the trunk of a rental car, taken on outdoor adventures, and used to explore a new destination.
Best Travel Backpacks
We've rounded up some great travel backpack options based on customer reviews and ratings. There's a range of sizes and styles to match your travel plans and personality, and every backpack offers lots of functionality and storage options. Read on for our picks for best travel backpacks.
Best Overall Travel Backpack
Cotopaxi Allpa 35L Travel Pack
The Allpa 35 liter travel backpack from Cotopaxi helps you be prepared for almost anything. Store essentials in the main compartment, which features a suitcase-style zippered opening and zippered mesh compartments for optimal organization. A side zipper offers easy access to the interior for grabbing anything you need, and all external zippers have theft-proof webbing sewn across the openings.
Padded laptop and tablet sleeves offer protection when on the go, while a subdivided top compartment corrals cell phones, passports, and other smaller items. For maximum comfort and versatility, the backpack features contoured shoulder straps, a removable hip belt, an adjustable sternum strap, and four reinforced grab handles for easy carrying no matter the situation or adventure.
NO OVERHEAD ANXIETY: 13 Best Underseat Carry-Ons
The backpack has garnered hundreds of five-star reviews, with shoppers calling it "versatile, tough, easy to use," "great for one bag minimalist travel," and "perfect for running through an airport at break-neck speed to try to catch a connecting flight!!" One reviewer says "It is phenomenal. I spent the entire summer traveling back and forth from work and various obligations, and it has shown zero wear and tear." Another calls it "an astonishing, well thought out, brilliantly designed pack/carry on." Cotopaxi's Allpa series also includes a larger version of the backpack as well as tote, duffel, and hip pack bags.
Where to Buy: Cotopaxi and Amazon
Best Splurge Travel Backpack
Nomatic Travel Pack
Ideal for shorter trips, the sleek and stylish Nomatic Travel Pack backpack is made from water-resistant materials and can expand from 20 liters in size to 30 liters for stashing all your must-haves. A full-perimeter zipper and clamshell-style opening make it easy to pack, while a TSA-friendly flap helps get your tech through airport security quickly.
The backpack from Nomatic offers a slew of pockets and compartments for storing sunglasses, shoes, and other travel gear plus features like a magnetic water bottle pocket, RFID-safe pocket, and retractable key leash. There's a luggage handle pass-through, and the bag's straps can transition from a backpack to a briefcase-style carrying option.
The travel backpack has gotten more than 2,000 five-star reviews, with buyers praising it as an "exceptional piece of equipment," "definitely a must buy," and the "best bag I've ever owned!" One reviewer comments, "This is by far the most functional, stylish backpack I've owned." Another says, "I absolutely love this bag…I wanted a bag I could use every day but expand for a few nights away, and this does just that."
Where to Buy: Nomatic
Best Budget Travel Backpack
Eddie Bauer Stowaway Packable 20L Backpack
The highly affordable Eddie Bauer Stowaway backpack makes for an ideal travel companion. Use it as a carry-on for your next flight, or fold it up into its own carrying pocket and stash in your suitcase to use while hiking, shopping, or hitting the beach during your trip. Available in a variety of colors and prints, it's made of lightweight, durable ripstop polyester and features a lightly padded mesh back panel and adjustable shoulder straps for comfortable carrying.
External zippered pockets, elasticized mesh side pockets, and an interior Velcro pocket can hold everything from water bottles and wallets to sunscreen and cell phones. Four front lashing loops make it easy to clip on extra gear for more active adventures.
TRAVEL IN STYLE: 10 Best Luggage Brands
Buyers have given the backpack hundreds of five-star reviews, saying it's a "nice-looking quality backpack," "lightweight and holds a ton," and "the perfect backpack when traveling or hiking." One reviewer says, "It's comfortable to wear when you want to have a hands-free way to carry a few extra things, like a jacket or souvenirs, but isn't so big to overwhelm me." Another says, "I take this pack every time I travel…so easy to tuck away and store away and just as easy to open up and pack full of all your needs."
Where to Buy: Eddie Bauer
10 More Great Travel Backpacks
Peak Design 45L Travel Backpack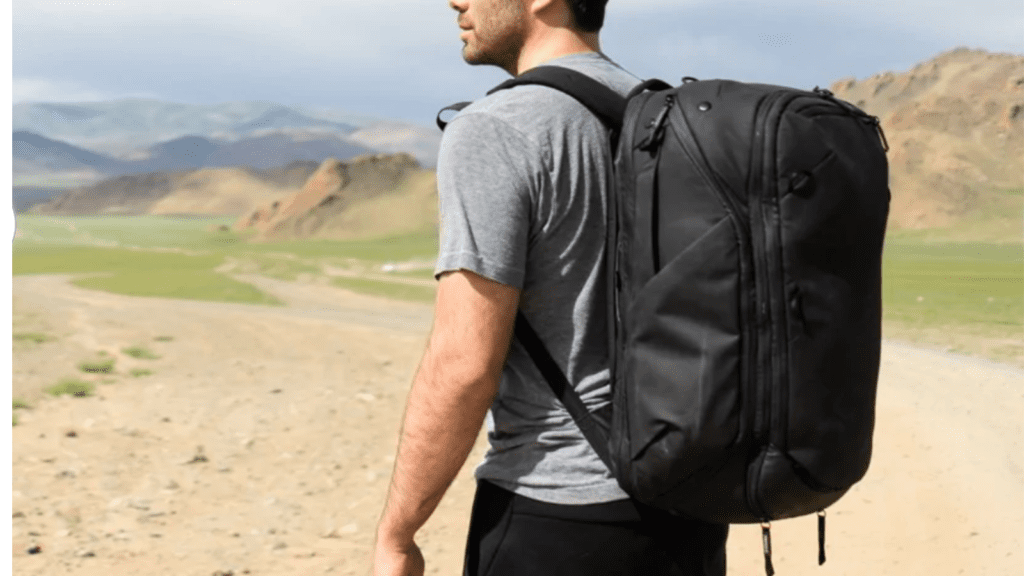 Peak Design's 45-liter travel backpack is an option that's well suited for multi-day trips and offers plenty of features to help you stay organized, including padded laptop and tablet sleeves, expandable side pockets, hidden pockets for things like your passport and wallet, and zippered access to the interior of the bag from the top, side, and rear. Concealed external straps can add to your carrying capacity, and the backpack can contract to 35 liters for use as a day bag during your travels.
Buyers call the Peak Design backpack (which is made with weatherproof, 100% recycled nylon canvas) "very versatile," "the best travel bag I've ever owned," and "easily the best backpack I've used." One reviewer comments, "It's lightweight and is easy to open and easy to pack," while another says, "I travel for a living—this is my every trip bag!"
Where to Buy: Peak Design and Amazon
Dagne Dover Dakota Neoprene Backpack
Available in three sizes, the Dakota neoprene backpack from Dagne Dover has amassed some 2,000 glowing reviews. The large size offers a zippered padded laptop compartment that fits most 16-inch laptops, an interior slip tablet sleeve, an exterior top-panel phone pocket, and lots of small interior and exterior zippered and mesh pockets for chargers, snacks, and other travel necessities. The backpack is made of durable, water-resistant neoprene, while the included shoe bag is made of recycled polyester.
Reviewers says it's an "absolutely amazing bag," "one of the best backpacks I've ever purchased," and "incredibly comfortable and spacious for all my carry-on items." One buyer notes, "It looks great, fits everything I need, and holds up well for daily use and travel." Another says, "I can't rave enough about this backpack. Not only is it beautiful, but it is so functional and can hold SO MUCH STUFF."
Where to Buy: Dagne Dover
Osprey Farpoint Travel Pack Carry-On 40
The popular Osprey Farpoint makes it easy to stash everything you need for a short trip, with features like dual-front mesh pockets, a lockable laptop and tablet sleeve compartment, and compression straps in the roomy main interior compartment to keep items in their place. It's comfortable to carry whether you use the stowaway harness and hip belt or the backpack's padded top and side handles.
KIDS' PACKS: Best Kids Backpacks
Reviewers love the bag's durability and functionality, calling it a "high quality backpack and comfortable," "my favorite for trips," and "hands down the best backpack ever!" One buyer notes that it's the "right size to use as a carry-on and nice to use the backpack straps when you have a long walk between gates," while another says, "This pack just makes everything a breeze."
Where to Buy: Osprey and Amazon
Away The Everywhere Zip Backpack
Away's The Everywhere travel backpack has minimalist good looks, is made of water-resistant nylon, and features an extended zipper clamshell opening to the main compartment for easy packing and unpacking. Interior zipper and slip pockets, a detachable key clip, and several external pockets help keep things organized, while a padded 15-inch laptop pocket protects your electronics. Padded straps, a leather-top handle, and a trolley sleeve provide carrying options, and the backpack can also be stored flat in your suitcase when not needed.
Buyers appreciate the backpack's good looks and quality, calling it "beautiful and well made," "so well designed and thought out," and "a game changer." One reviewer says, "It has so much room, tons of pockets, and is more stylish than the average backpack," while another comments, "It is just what I envisioned it to be: a handy carry-on bag that travels well on your back."
Where to Buy: Away
L.L.Bean Approach Travel Pack 45L
The L.L.Bean Approach Travel Pack is made of durable nylon and can stand up to both outdoor adventures and crowded airplanes. Mesh interior sections keep dirty laundry or shoes away from the rest of your gear, and exterior compression straps help maximize your space. There's also a padded sleeve for up to 13-inch laptops and a top compartment that can be opened easily from both inside and outside the backpack. And whether you're lugging it through city streets or along a mountain trail, the adjustable straps and waist belt help make things comfortable.
VACATION READY: Best Travel Clothing Brands
Shoppers call it a "great travel backpack," "perfect for a long weekend," and "the only bag you'll need!" One reviewer says, "Roomy, yet compact, this backpack is easy on both the shoulders and the eyes. It…was the perfect piece of luggage for a four-day jaunt." Another notes that "it packs like a suitcase but has all the extra conveniences of a backpack."
Where to Buy: L.L.Bean
Nixon Ransack Backpack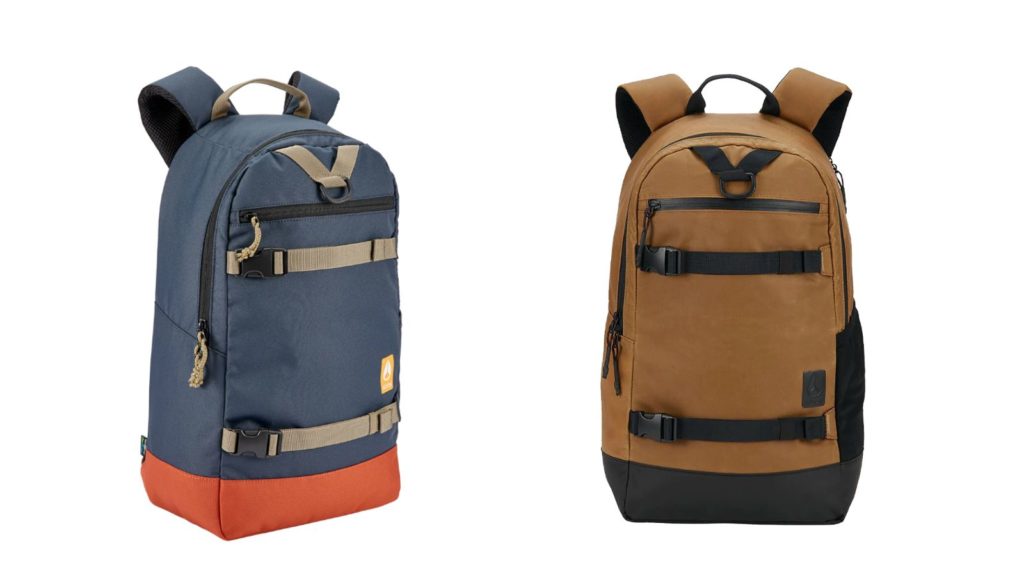 The 26-liter Nixon Ransack travel backpack features a polyester exterior made from recycled ocean plastics, side water bottle pocket, and padded shoulder straps. A side-entry padded laptop sleeve can hold laptops up to 15 inches, while a smaller zippered pocket is ideal for cell phones. More pockets and compartments inside help everything stay tidy.
Reviewers consider it a sturdy, well-made option, calling it a "great buy," "built to last," and "functional AND stylish." One buyer says, "This heavy-duty backpack is ready for action," while another comments, "I bought it for my trip to Germany and it didn't let me down. Best backpack I've owned."
Where to Buy: Nixon and Amazon
Baggallini 3-In-1 Convertible Backpack with RFID Phone Wristlet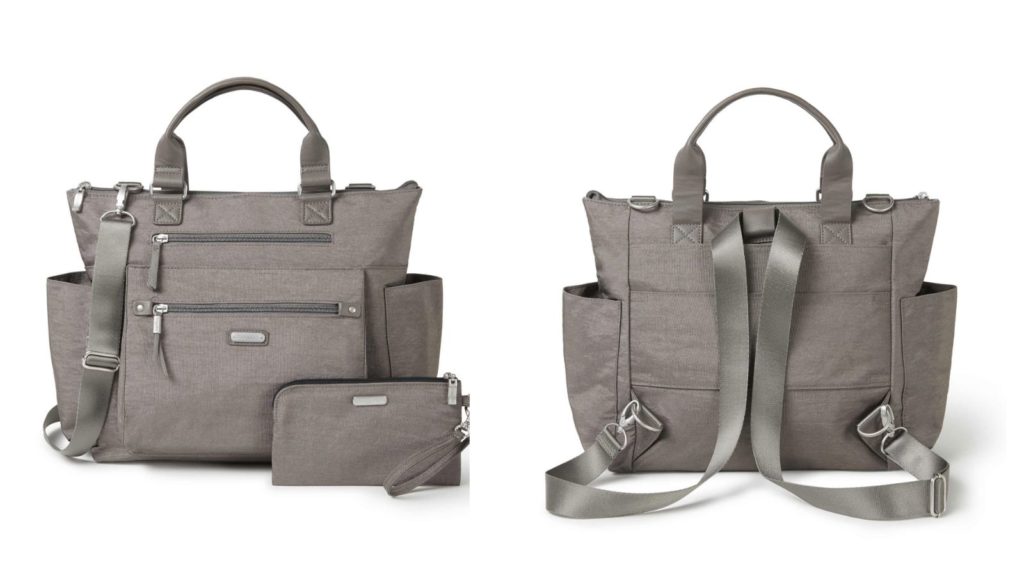 You can call this 3-in-1 convertible backpack from Baggallini a multitasking marvel. Available in a range of solid colors and prints, it can function as either a backpack or crossbody bag thanks to its adjustable, convertible strap. There's a roomy main compartment for stashing all your travel essentials, plus lots of zippered and slip interior and exterior pockets for water bottles, hand sanitizer, and other items you want at the ready. The removable RFID-protected wristlet has 3 card slots and plenty of space for a cell phone for when you want to travel light.
Buyers say it's "the perfect size," "very functional," "lightweight and spacious," and "perfect for airplane travel." One reviewer says, "After having tried various bags for traveling, I have found that the 3-in-1 convertible backpack is the best for vacations! It's perfect as a personal item on a plane, but it can also lay flat in a suitcase to use once you've reached your destination."
Where to Buy: Baggallini and Amazon
Timbuk2 Never Check Expandable Backpack
There's a place for almost everything in Timbuk2's Never Check expandable travel backpack, which features a side-access padded laptop compartment for up to 15-inch laptops, external quick access pocket for passports and boarding passes, and an expandable zippered water bottle pocket. Weatherproof zippers, padded shoulder straps and carrying handles, and an adjustable, removable sternum strap make for comfort and durability.
Buyers sing the bag's praises, proclaiming it an "all around GREAT travel bag," "worth every penny," and "such a high quality and well thought through backpack." One reviewer says, "Solid construction, thoughtful layout, and some killer features make this thing my go-to bag for traveling." Another comments, "This bag is unbeatable. This is genuinely my forever bag now."
Where to Buy: Timbuk2 and Amazon
Travelpro Maxlite 5 Laptop Backpack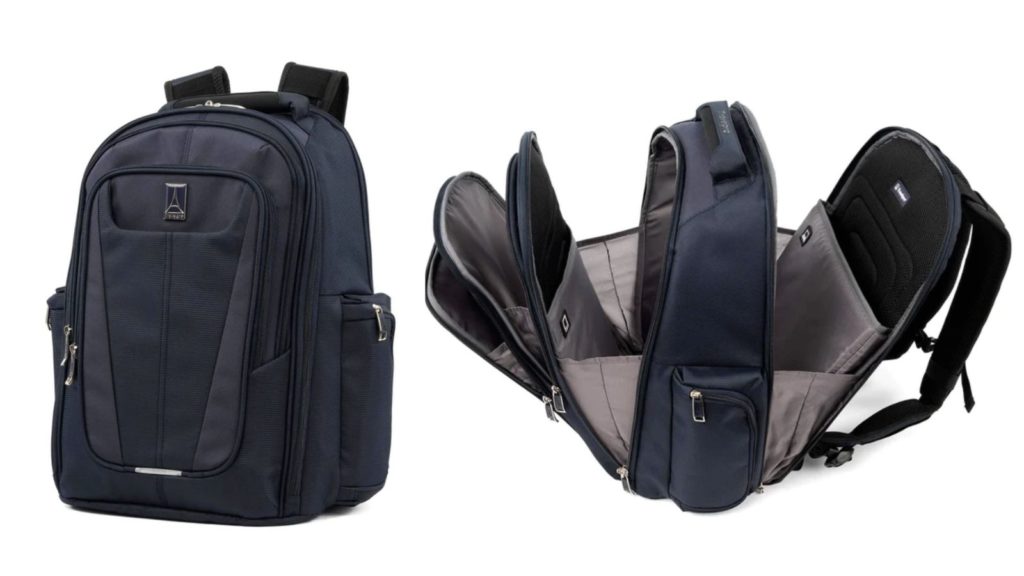 The lightweight Travelpro Maxlite 5 laptop backpack not only offers padded storage spots for laptops (up to 15.6 inches) and tablets, but it also features dual access points to the laptop and main compartments so it's easy to grab or store your items. The bag has lots of built-in pockets for power cords, chargers, and headphones, along with a Travelpro "QuickSlip" pocket with a magnetic closure for things like cell phones and keys. Padded shoulder straps and adjustable sternum straps provide carrying comfort, while a stacking strap allows the bag to be slipped over a suitcase handle.
Reviewers say the backpack is "great for carry on use," "well-constructed, rugged, and good quality," and "very comfortable to wear." One buyer says it "fits a great amount of stuff and is easy to use, get in and out of, and travel with." Another notes, "The backpack is very spacious but compact at the same time. There are multiple compartments which are secure, so you can keep everything you need separated into sections and easily accessible."
Where to Buy: Travelpro and Amazon
Everlane ReNew Transit Backpack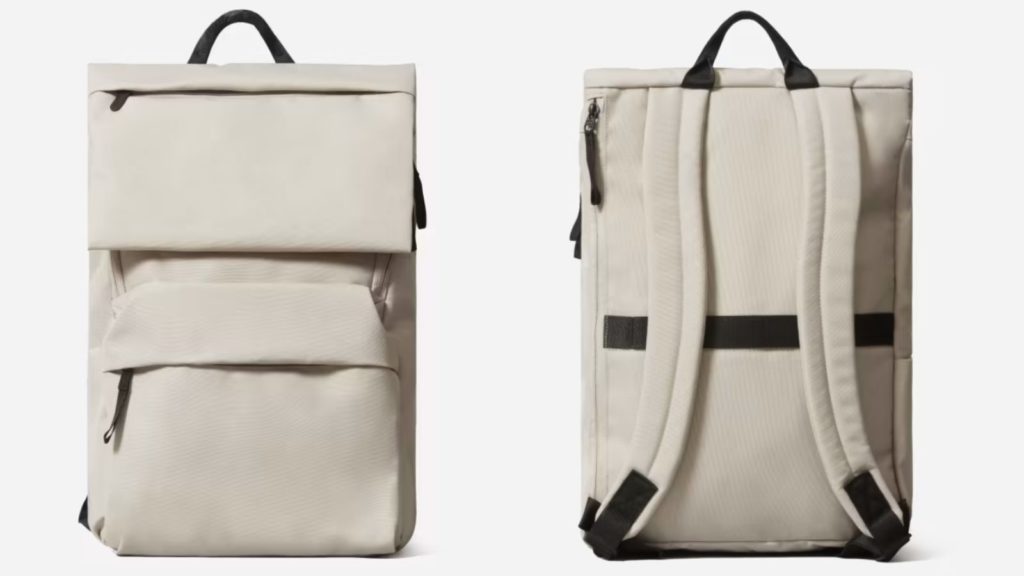 Get through TSA security lines with ease thanks to Everlane's RenNew backpack's 15-inch exterior laptop pocket. Made from 100% recycled polyester, the pack has lots of zippered and slip pockets inside and out for stashing passports, cell phones, magazines, headphones, and water bottles. There's a top handle for an additional carrying option, or use the pass-through strap to attach it to a luggage handle if you're traveling with more gear.
Buyers love its functionality and stylish good looks, calling it a "great travel backpack," "light and roomy," "well made and sturdy," and "a beautiful backpack." One reviewer says, "I can find a place for everything I need in this backpack." Another comments, "I love this backpack for travel! It has tons of room and plenty of pockets for organization and to bring everything you need."
Where to Buy: Everlane
More from FamilyVacationist: