Every year when spring break or summer vacation come around, the best family resorts in the Northeast welcome kids and parents with activities and amenities designed especially for families. Here, kids can begin developing a love of horses, kayaking, hiking, and other pastimes that they can enjoy for a lifetime. From New England to New Jersey (and all the states in-between), these tried-and-true Northeast resorts know just how to please kids and parents alike.
The Best Family Resorts in the Northeast
With options ranging from all-inclusive family resorts to classic dude ranch experiences, there really is a family vacation idea for every kind of family in the Northeast. Here are the most kid-friendly resorts in Maine, Vermont, Pennsylvania, New York, and all the other Northeast states.
COASTAL PLEASURES:  8 Best East Coast Vacations for Families
1. Elk Lake Lodge
North Hudson, New York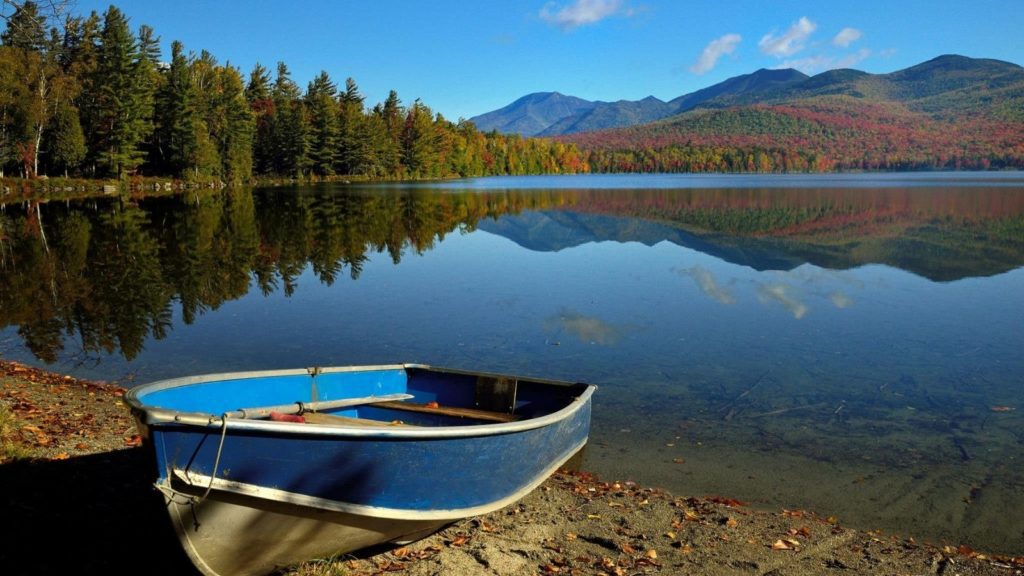 A rustic Adirondack lodge that offers a wilderness experience without sacrificing creature comforts, Elk Lake Lodge is situated on 12,000 acres of privately owned forest preserve with miles of pristine walking trails. A crystal-clear lake is the resort's centerpiece, with kayaks, canoes, and rowboats available for use. Flora and fauna (think deer, beaver, and bald eagles joining wildflowers, ferns, and musk) are abundant. With no television and limited cell phone service, this is one of the best family resorts in Northeast for a screen-free vacation. 
FALL FUN: 10 Best New England Towns for Fall Family Getaways
Rooms in the main lodge each have two single beds and a bathroom, though families will have more space staying in one of the private cottages nestled around the property. A hot breakfast, brown-bag lunch, and simple dinner are included in the rate, as are all activities. Elk Lake Lodge is open seasonally mid-May through mid-October. 
2. The Tyler Place Family Resort
Highgate Springs, Vermont
It's easy to balance family time with adults-only time at Tyler Place Family Resort, one of the best all-inclusive resorts in the entire country. Located in Highgate Springs, this Vermont family resort is an especially great choice for vacations with toddlers.
WINTER WONDERS: 10 New England Winter Getaways for Non-Skiers
A comprehensive and age-staggered children's program is developmentally appropriate for newborns up to high schoolers. Counselors take full of advantage of the rural environment to program nature walks, lake swimming, and lawn games for children, freeing up parents to unwind in a hammock, soak in the Jacuzzi or stretch in a yoga class. Wholesome meals highlight Vermont-sourced products. Guests stay in roomy suites or cozy cottages. 
3. Rocking Horse Ranch Resort
Highland, New York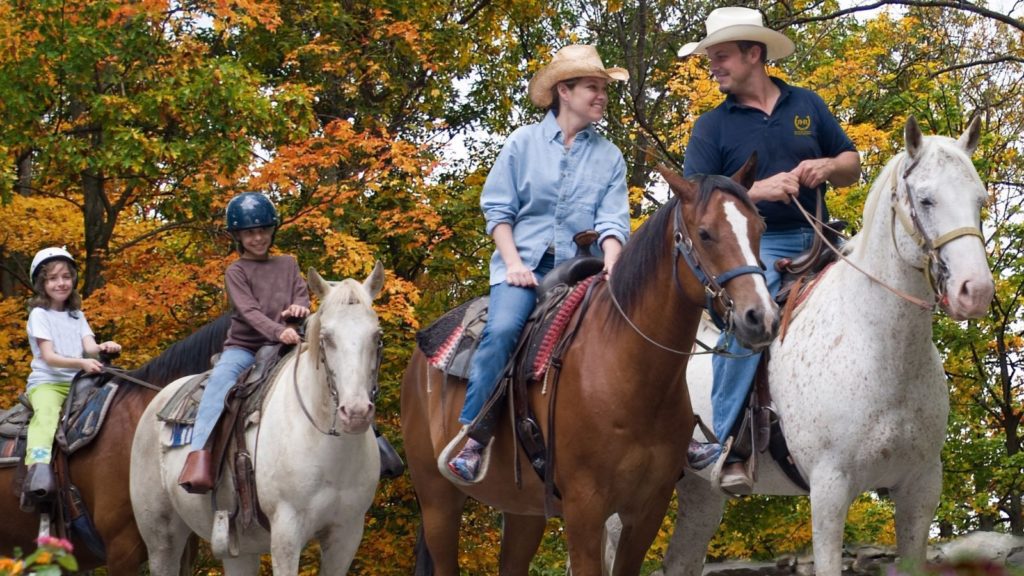 Located in the foothills of the Shawangunk Mountains just a few hours from New York City, Rocking Horse Ranch Resort is a New York vacation with a cowboy's soul. It's an all-inclusive dude ranch-style resort with three robust meals per day guaranteeing no one goes hungry. Faux-log furnishings and Western-themed bedding add decorative whimsy.
WILD WEST: 7 Kid-Friendly Arizona Dude Ranch Vacations Everyone Will Love
But it's the year-round riding program and more than 100 resident horses that truly make this one of the best family resorts in the Northeast, especially for horse-crazy kids. A network of interlocking trails provides ample room to walk, trot, and canter, and the wranglers can offer ride to suit novices all the way to seasoned equestrians. 
Rocking Horse ranch has a supervised children's program with a separate nursery for infants and toddlers. A waterpark, nightly entertainment, and an arcade are family favorites for all ages.
4. Woodloch Resort
Hawley, Pennsylvania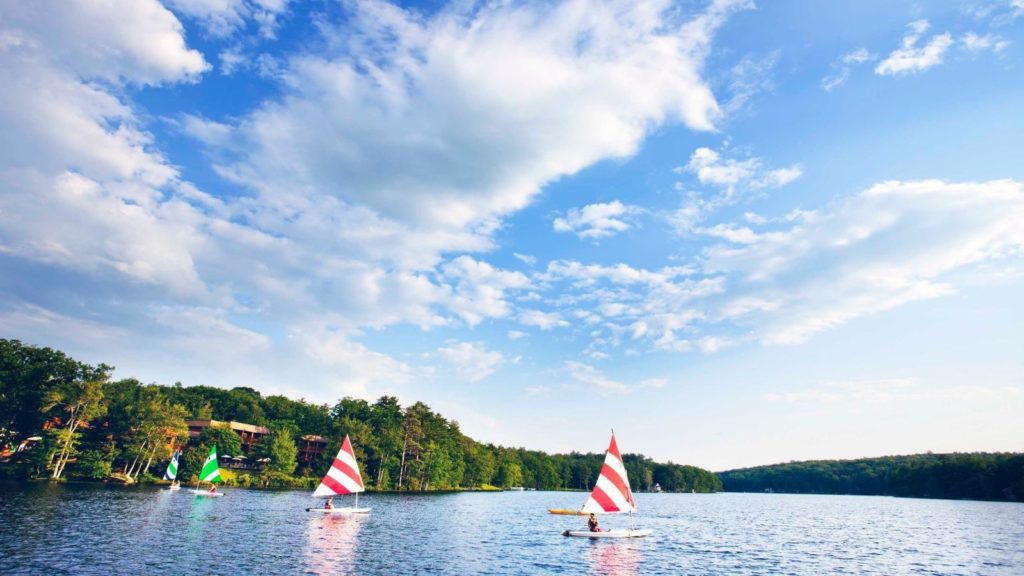 For an easy-peasy lakefront vacation, you simply can't beat kid-friendly Woodloch Resort in the Poconos. Three hearty meals each day, activities galore, and bedtime-friendly evening entertainment are part of the deal at this all-inclusive family-owned Northeast resort.
BEACH BLISS: 11 Best Family Beach Vacations in the U.S.
There's something to please every age and interest at Woodloch, adding appeal for large families, multigenerational groups, and family reunions. Many employees have been working at the hotel for years and are deeply invested in the guest experience, treating visitors like long-lost friends.
A petting zoo, playground, go-karts, pools, and a lake for boating and swimming assures that no one will be bored. Adults who want to recharge and have a child-free afternoon at the sister property's fabulous spa hotel, The Lodge at Woodloch, may book a pampering treatment. Many couples consider the nearby lodge one of the most romantic hotels in Pennsylvania and a perfect babymoon vacation for expecting couples.
5. Mohonk Mountain House
New Paltz, New York
With an air of old-world grandeur, Mohonk Mountain House is a grand Victorian castle circled by pristine hills and rolling meadows a mere 90 miles from New York City (and just 13 miles from Rocking Horse Ranch). Think of this Northeast family resort as a bucolic playground for fresh-air enthusiasts.
GO FOR A DIP: 10 Best New England Lakes for Summer Fun
Active options here take full advantage of the countryside location. Families can hike groomed trails, fish in the lake, or go horseback riding. Tennis, golf, and an indoor pool are additional recreational offerings. In the evening, you can toast marshmallows around a fire.
Rooms are decorated with antique furnishings, stone fireplaces, and private balconies. The resort's dining menus highlight the Hudson River Valley's agricultural bounty. Three delicious meals served by the attentive staff, afternoon tea, and most resort activities are included in the rate. 
6. The Glen House
Gorham, New Hampshire
Ringed by New Hampshire's Presidential mountains, The Glen House is one of the best resorts in the Northeast for families who crave fresh mountain air and activities. This destination for outdoor enthusiasts is located next door to Great Glen Trails Outdoor Center and steps from the Mount Washington Auto Road, a one-of-a-kind scenic road that winds through four distinct climate zones from base to summit.
MAKE MEMORIES: 15 Most Kid-Friendly Family Resorts and Hotels in the U.S.
The resort's lobby has floor-to-ceiling windows that stream in sunlight and a stone fireplace that adds warmth. A fitness center, bike and helmet rentals, an indoor saltwater pool, and a panoramic deck with a fire pit are all popular perks. Guest rooms are spacious and reflect the modesty of Shaker design. Comfortable beds and functional desks are offset by unforgettable mountain vistas. 
Glen House is not an all-inclusive hotel but it is home to The Notch Grille, which serves up a comfort food menu of savory North Country fare. The courteous staff is happy to recommend nearby dining spots.
7. Hidden Pond Resort and Tree Spa
Kennebunkport, Maine
A collection of cottages, bungalows, and treetop lodges immersed in a pristine birch forest, Hidden Pond Resort and Tree Spa in Kennebunkport offers hands-on family fun activities like a daily supervised art class, a gardening program, and tie-dye workshops. Ping pong, lawn games, beach cruiser bikes, a family swimming pool, and s'mores around the campfire offer simple pleasures. And if the kids would like to try their hand at family glamping, Hidden Pond will set them up with a tent, sleeping bags, and lanterns for sweet dreams right on your cottage's private screened-in porch.
KID-APPROVED: 9 Family-Friendly Hotels with Kids Clubs That Are Way Beyond the Ordinary
Hop on the seasonal shuttle and you'll be whisked to the sandy beach at Hidden Pond's sister property, where you can build a sandcastle, paddle a kayak, or simply relax to the sound of the ocean waves. Be sure to sample the local seafood at one of Kennebunk's casual clam shacks.
8. Inn by the Sea
Cape Elizabeth, Maine
Maine's Inn by the Sea is an inviting oceanfront resort with experiential offerings that connect youngsters to the land and sea. Family yoga, gardening, and kite flying are fun options. You can also swim in the heated pool, borrow a bike, or build sandcastles on the beach. 
SUN AND SAND: 11 Most Charming Seaside Villages and Coastal Towns in New England
Favorite seasonal events include strawberry picking in June and a visit from a herd of grazing goats who come annually in mid-summer to help control invasive weeds. Kids may pet the baby goats, perhaps while their parents relax with an afternoon cocktail. 
Inn by the Sea is not an all-inclusive resort, but there is an excellent restaurant on premise and Portland's dynamic dining scene is only a few miles away. Family pets also receive a genuine welcome at this dog-friendly resort in the form of a water bowl, blanket, and nightly turndown treats.
9. Congress Hall
Cape May, New Jersey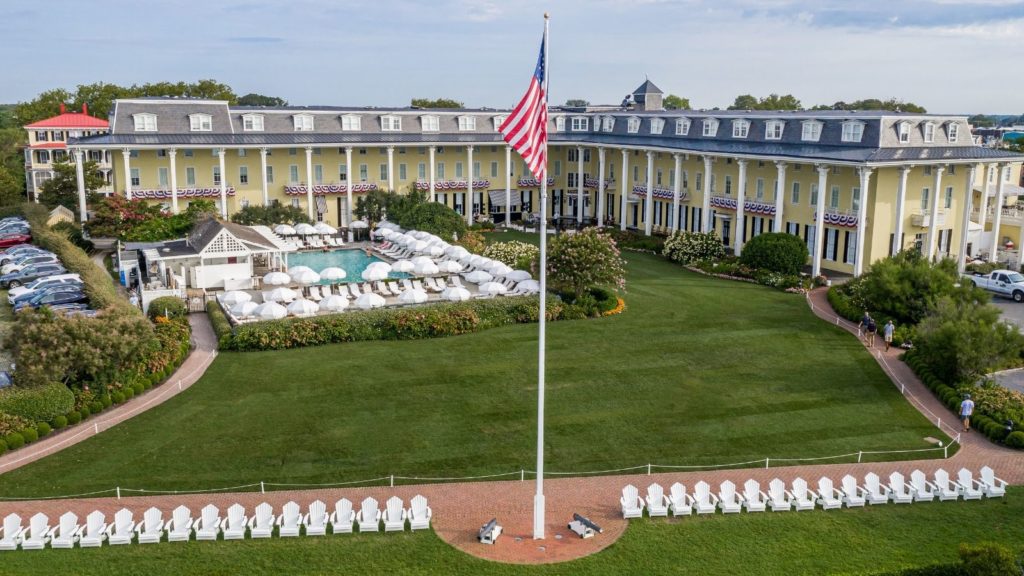 One of America's oldest seaside resorts, Congress Hall in Cape May has been providing hospitality since 1816. Set on landscaped grounds, this Northeast family resort is just a few steps from a sandy beach. (But if you prefer, there's also a gorgeous pool.) Nostalgic pleasures like comfy rocking chairs on the veranda combine with luxurious accommodations. Family-friendly seasonal programming includes lighthouse tours and carnival nights with amusement rides on the lawn.
ONE-OF-A-KIND STAYS: 17 Kid-Themed Hotel Rooms That Will Delight the Whole Family
Visit the hotel's 62-acre working farm to get a sense of the Garden State's agricultural legacy. Stroll or cycle around Cape May, an all-American beach town filled with Victorian homes that ooze yesteryear charm. There you can ride the trolley, munch on saltwater taffy, and shop for souvenirs at independently owned stores. 
10. Weekapaug Inn
Weekapaug, Rhode Island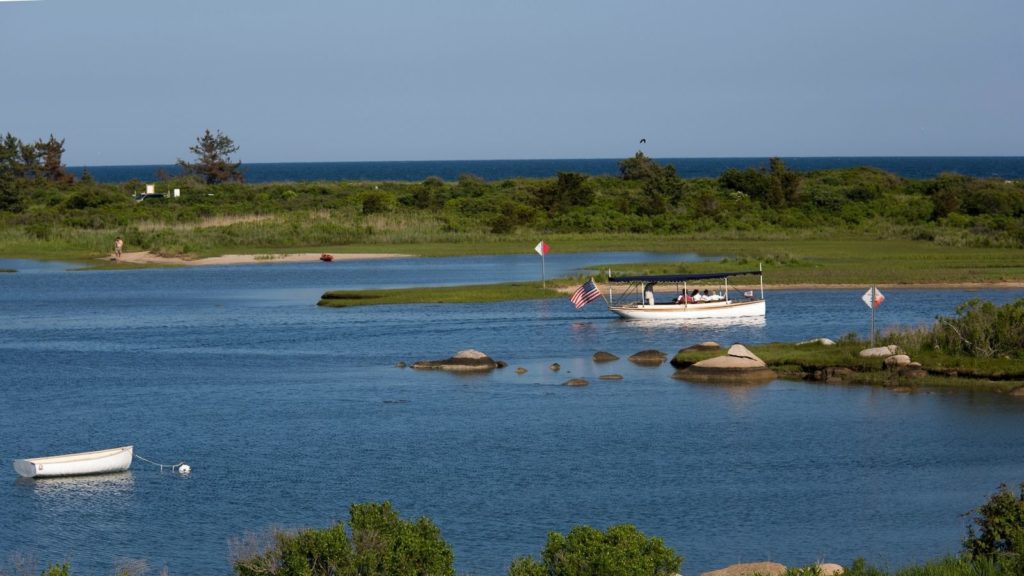 Situated near a salt pond and overlooking a barrier beach, Weekapaug Inn is the Northeast family resort of choice for parents and kids who want a taste of fresh sea air along the scenic Rhode Island coastline. Nature takes center stage here thanks to a dedicated on-staff naturalist who helps guests interpret and engage with local flora and fauna with guided beach walks, boat tours on the Quonnie Queen, biking, bird watching, and stargazing.
Large families and multigenerational groups can spread out and book one of the airy two-bedroom suites loaded with amenities such as iPads and luxurious linens. A stunning saltwater pool, shuffleboard, bocce, sailing, and cycling are a few of the many active options for families.
More from FamilyVacationist: