When it comes to booking travel, the search for a great flight deal often gets the most attention. But it's not always your biggest ticket item. Depending on your destination, it's entirely possible that your hotel stay will be the biggest-ticket item of your vacation. So, it's worth being strategic about which hotel booking sites you're searching for a good hotel deal.
Click on any site in the list below to go straight to the site and start your search. Or, scroll down to read our reviews detailing what you'll get from each site, hotel booking site's strengths and weaknesses, tips for finding the best hotel deals for families and groups, and strategies you can use across all the different hotel booking sites to get the right hotel room for your budget, needs, and preferences every time.
The Best Hotel Booking Sites
Tips for Finding the Best Hotel Deals for Families and Groups
The best hotel booking sites don't just list cheap hotel rooms, they also offer flexible search and filter options, hotel reviews, and customer service so you can get the help you need when you need it. And when you're booking a hotel for a family, sometimes it's those extra touches that make all the difference.
There are a lot of hotel search engines out there, all purporting to be the best. The truth is that no single website for booking hotel stays is going to offer the best deal every time. But, different hotel booking sites stand out in important ways. Some offer better ways to search and filter results. Others offer a wider variety of hotel rooms. A few really do offer better hotel deals more often than the rest.  
CHEAP FLIGHTS: 16 Best Flight Booking Sites
With so many hotel sites to choose among, how do you commit? We've done extensive testing and comparisons across the top hotel booking sites to help you choose the sites that are most likely to get you the hotel stay you want for your family.
1. Start your search far enough in advance to be able to identify pricing trends
Advance planners, this is your moment. Start comparing hotel rates a few weeks or month before your personal booking deadline (this deadline will vary depending on how comfortable you are leaving things open-ended until the last minute). This way, you'll have the data you need to identify when a hotel room is getting cheaper, or more expensive. Some sites will flag pricing trends for you, but if you're looking for the best price on a hotel room, nothing beats keeping tabs on pricing fluctuations on your own. It's a little extra work but means you can jump on savings when you see it. Plus, it's an excuse to think about your vacation well in advance of taking the trip, which adds to the excitement of going.
COMPARE AND SAVE: 10 Best Car Rental Booking Sites for Cheap Prices
2. Compare prices across hotel booking sites
Wouldn't it be great if one hotel booking website offered the cheapest hotel rooms all the time? Until that happens, it's up to you to compare prices not just week to week, but also across hotel sites. You don't have to be too extreme though: Include two to four sites in your search and you're very likely covering your bases enough to be able to see fluctuations.  
3. Always check with the hotel, too
Hotels want you to book directly with them, so sometimes you can get a hotel to match or undercut the price from an online travel agent (OTA) like Expedia or Kayak. This approach can be worth the extra legwork, since it means you can work directly with the hotel if you need to adjust your reservation or have a problem with your hotel booking. 
4. Be sure to compare total price
Some hotel sites always include taxes, fees, and resort fees. Other may not include those fees in the price they display. If you're seeing a particularly cheap rate at a hotel, check both the room type and the total cost to make sure you're comparing apples to apples in your price comparison across hotel booking sites.
ROOM TO STRETCH OUT: 19 Best Vacation Rental Booking Sites
5. Don't forget to read the fine print
There's a lot of fine print when it comes to hotel stays. If you need to cancel, how much of your money will you be able to recover? Will you be surprised by sneaky resort fees or other price hikes at checkout? Before you book, zoom in on the fine print so you know what you're signing up for.
6. Consider your group/family travel booking needs
Families and groups have different hotel needs than other travelers. Adjoining rooms, suites, kitchenettes, and other layout options can make a big difference when traveling with kids or a group. So do amenities like swimming pools. Some hotel booking sites are better for families and groups than others, so be sure to take advantage of the OTAs (mentioned below) that offer these features.
Best Hotel Booking Websites: Our Unbiased Reviews
Pros: Can review multiple accommodations types in one search, family-oriented filters, accessibility filters.
Summary: You're not limited to only searching for hotel stays with Booking.com. This hotel booking site mixes hotels, hostels, bed and breakfasts, vacation homes, and even apartments into its search results. You can sort by price, reviews, and even fun things to do on-property. And you can filter results by budget, hotel chain, star rating, location (distance from city center), and property type (apartment, hotel, hostel, etc.). For families and groups, there are filter options for family-friendly properties, family rooms, and bed type (twin, double, etc.). There's also a newer option to highlight hotels that focus on sustainability.
Booking.com also has an extensive filter list for accessibility options like elevators, wheelchair accessible rooms, roll-in showers, and more. Prices sometimes (depending on destination) include taxes and fees, but other times, they'll be listed separately, which means there may be an extra step in getting an accurate total price.
You can also sort by properties that have health and safety measures in place. Once you click through on a property, you can see property and room amenities, reviews, questions and answers about the property, and the pricing breakdown by room type all in one abundant-but-still-pretty-easy-to-read location. There's also easy-to-find information about things like prepayment, cancellation, and booking flexibility.
Note that Booking.com, Priceline, Kayak, and Agoda are all owned by the same parent company but don't necessarily offer the same prices, so it's worth checking each individually.
Pros: Many different property types (including castles!), less expensive and discounted hotel rooms flagged in search results, ability to limit search results to hotels that offer free cancellation.
Summary: The Hotels.com interface is easy to understand and quick to navigate. There's a remarkably robust mix of property types, including hotels, condo hotels, castles, B&Bs, vacation rentals, and more. You can filter your search by family-friendly properties or by amenities like childcare, bathtubs, pools, and cribs. The hotel booking site clearly labels how many people (including number of kids) can fit into a particular hotel room type. You also have the ability to search for hotels that offer free cancellation. Overall, the Hotels.com search experience is user-friendly and prices are competitive with other hotel sites.
Pros: Easy to use, family-friendly search features, similar experience across all three hotel booking websites.
Summary: Among the best-known of all hotel booking sites, Expedia, Orbitz, and Travelocity have something else in common as well: They're all owned by Expedia, Inc. Prices fluctuate a bit, but the overall design, prices, and experience across all three is very similar. Which in a way is freeing: All you need to do is choose your favorite of the three and include it when you're looking for a hotel deal.
Filters include hotel star rating, property type (hotels, vacation rentals, apartments, B&Bs, and more), neighborhood and proximity to popular attractions (an easy way to gauge how close to a city center you'll be), and more. Of particular interest to families is the fact that you can specify the number of bedrooms you want in the case of vacation rentals. You can also specify that you're looking for a family-friendly list of properties (though you'll need to scroll to the bottom of the list of filters on the left side of the page to find the option in the "Traveler experience" section).
Pros: Mix of hotels and other accommodations types, steep-discount finder feature, easy navigation, flag for properties displaying with lower-than-average prices.
Summary: Priceline is a legacy OTA with a devoted following and an easy-to-navigate site layout. Filters are not extensive, but include the ability to narrow by price, search by amenities (including swimming pool and free breakfast), hotel star rating, neighborhood, and hotel brand. In addition to listing hotels, Priceline also lists alternative accommodations types like apart-hotels, bed and breakfast properties, and rental apartments.
Priceline flags properties that have prices well below the usual rate. Like Hotwire, Priceline offers steep-discount-seekers ExpressDeals and Pricebreakers, options to book a cheap hotel room and then find out the name of the hotel only after you reserve. ExpressDeals can be adjusted to include more than two people per room; however, Pricebreakers are only available for double occupancy, which is fine if you're a family booking multiple rooms of two people each, but won't work if you're looking for a single room that will hold more than two people. 
Note that Booking.com, Priceline, Kayak, and Agoda are all owned by the same parent company but don't necessarily offer the same prices, so it's worth checking each hotel booking site individually.
Pros: Cheap hotel deal finder, price alerts, good source of last-minute hotel deals.
Summary: Hotwire offers the simplicity of a classic hotel booking site layout, but still has a number of the filter options people expect on today's best hotel booking sites. Many people love Hotwire's Hot Rates, which offer cheap hotel deals at undisclosed (until you book) hotels. Hotwire also offers price alerts (available as a button in search listings), which is helpful if you're hoping to wait to book until the nightly rate drops. And it's a good place to search for last-minute hotel deals. Also of note is that Hotwire is pushing its app and says that its best deals are always reserved for bookings made through the app.
That said, it can be challenging to find choices to suit you if you're looking for something that can accommodate a family larger than two people. When I did a search for two adults and two kids in Paris, I first needed to click on individual properties to be able to see the available room types to find those that could sleep more than two people. 
Pros: Sleek design, multiple accommodations types, filters that allow you to see the total price and family-friendly accommodations (though you'll have to select those filters).
Summary: Kayak offers an easy way to compare prices across OTAs with listings that call out the lowest price but also let you see nightly rates across multiple hotel booking sites. With remarkably simple design for a hotel booking site that is delivering quite a bit of information, Kayak is also easy to navigate. You're automatically shown results across a variety of accommodations types including hotels, rentals, resorts, and guest houses. (If you want to narrow your lodging choices down, you unselect those you don't wish to see.)
Note that the default search results style doesn't show you the cheapest hotel rates first; if that's what you're looking for, you'll need to select "Sort by Price." You can also choose how you want prices displayed: by nightly base rate, nightly total rate, or the price of the whole stay including taxes. To find family-friendly properties, you'll need to select "Family" under the "Style" dropdown. You'll have to dig a bit to craft your perfect search, but the tools are there if you're willing. Kayak also offers price alerts (toggle the switch at the top left to on when you're browsing listings).
Note that Booking.com, Priceline, Kayak, and Agoda are all owned by the same parent company but don't necessarily offer the same prices, so it's worth checking one or more of these hotel booking sites individually.
Pros: Easy to navigate design with plenty of ways to search, ability to specify family size and room preferences, small and large group booking functions.
Summary: Agoda's homepage has a simple but customizable search box that allows you to specify family travel (or group travel if you're a multigenerational travel group or are multiple families traveling together). In both the family and the group specialized search, you can specify kids' ages. In the family hotel search, you can give preference to family rooms, and in the group hotel search, you can find group rates if you're booking more than 10 rooms.
Like Agoda's no-nonsense homepage search box, the results page on this hotel booking site feel easy to read but don't skimp on important details. There's a property type filter that lets you search hotels, resorts, vacation homes, and so on (depending on what's available at the destination). Within each of these groupings, you can easily dig down to search by the cheapest hotel rooms, top-reviewed hotels, and distance from popular landmarks in a city. You can also see highly discounted hotel rates using the Hot Deals tab with deeper discounts. This tab also sometimes includes Secret Deals that show you neighborhood and hotel star rating, but not hotel name (until you book).
Note that Booking.com, Priceline, Kayak, and Agoda are all owned by the same parent company but don't necessarily offer the same prices, so it's worth checking one or more of these hotel booking sites individually.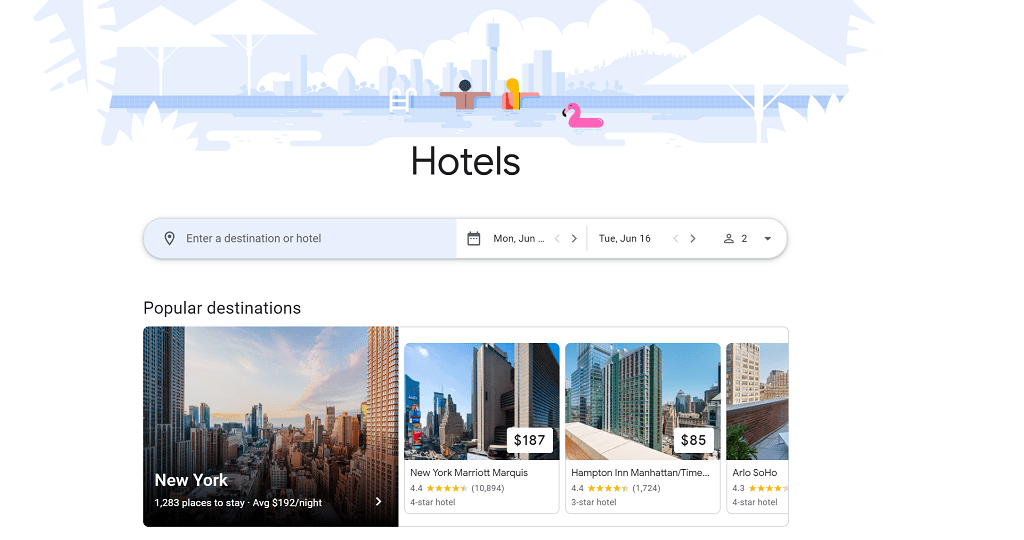 Pros: Combination of helpful destination information and hotel listings, location-centered hotel listings, metasearch hotel pricing listings.
Summary: To access Google Hotels, you have two options: navigate directly to Google's Hotel page (integrated with Google Maps) or just do a Google search using the word "hotel" and your preferred destination. The hotel tool is integrated with Google maps, so if you're a visual person looking to find a hotel in just the right location, it can be great.
Google Hotels, like Kayak, is a metasearch, and once you click through on a hotel, you can see prices across different hotel booking sites. There aren't many filters in general, though if you click on Amenities you'll see filters like "Kid-Friendly" and "Pool." But, as a straightforward hotel booking metasearch option, it's a solid choice, and one that displays automatically with a Google search. 
More Hotel Booking Questions, Answered
1. What are the best hotel comparison sites?
Start your search with any of the sites we've reviewed above and you'll have a solid foundation for your hotel search. But also keep in mind that there's no substitute for comparing prices across a few different sites (including the hotel's own website) over a period of time. By keeping an eye on price fluctuations, you'll be able to act on a good rate when it surfaces and feel confident about the price you book.
2. What hotel booking sites offer the cheapest deals?
No single hotel booking site offers the best price all the time. When you're comparing hotel rates, make sure you're doing an apples-to-apples comparison of the same room type that includes the same taxes and fees. When it comes to finding the best price on hotel stays, there's no substitute for comparing prices and starting your search far enough in advance that you can watch prices for a bit before making your buying decision.
More from FamilyVacationist:
This article about hotel booking sites was originally published in June 2020 and has been updated to reflect the most current information available.